Joe's Lucha Libre Weekly: News & Opinion (10/26/2018)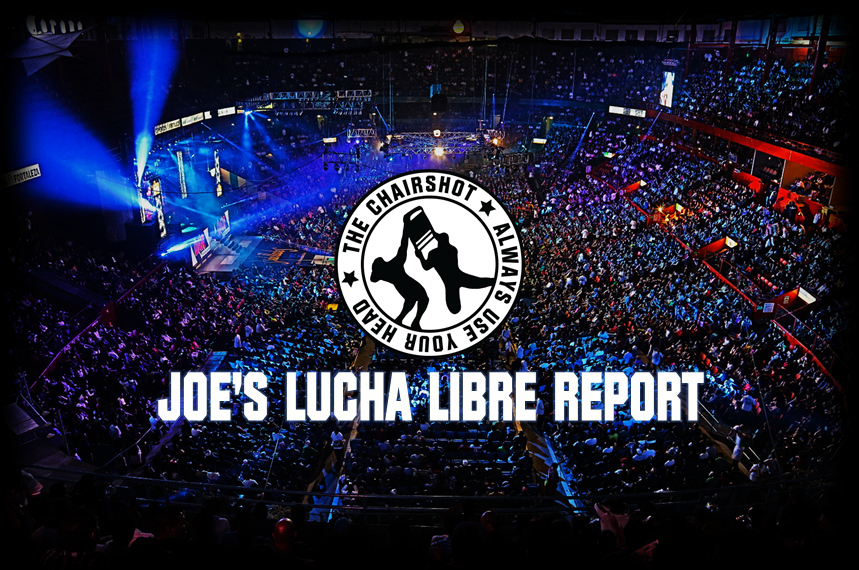 AAA
Let's start with AAA because they have a big show this weekend. Okay so we have some news in that my prediction about the female surprise in the fatal four way match for the Reina de Reinas championship and it will be Scarlett Bordeaux. She was a complete Youtube sensation in AAA. Her debut video got over 7 million views as opposed to her Impact debut which is only around 150k. AAA finally updated the match card taking LA Park off the card. Kross, Murder Clown, a surprise luchador, and Psycho Clown will now be involved in a dome match. At this point I don't know if it's still a tag or a four way. I'm leaning towards four way. Konnan revealed on his podcast that the match will have implications for something they're doing with Facebook which will be a 32 man tournament. Another interesting piece is Konnan said the main event which is Jeff Jarrett vs Dr Wagner in a hair vs hair match, might also be for the mega championship. Which is odd because at TripleMania Fenix won the belt and hasn't been back since. So I guess they'll strip him.
AAA on Twitch
The show that happened last Friday didn't really have any major events happen on it. It was a Twitch only show so it wasn't a TV taping. They had Starfire pin Faby Apache to play up the female four way coming up. One thing that happened and I left it in in my Review is Demus was scheduled for the show and did not show up and they knew so before hand. That's one thing but they played Demus' music and his graphic but Metaleon came out instead. I guess it doesn't matter but card subject to change doesn't mean you can false advertise, it's purpose is to make changes just in case of something unexpected or injuries. Monster Clown attacked Aerostar after the match to build that new feud.
Pagano and Joe Lider faced Taurus and Laredo Kid but the angle here was Lucha Extremos attacking Pagano and Lider after the match. Which are Miedo Extemos and Ciclope. Wagner and Psycho Clown beat Wagner's son and Electro Shock in the main event. The story was them setting up a feud with Wagner and his son, so considering the timing I wouldn't be shocked if his son interferes to help Jeff Jarrett win. His son got extreme heat. He was getting drinks and garbage thrown at him. It was crazy.
Heroes Imortales
Here is the match card
Keyra vs Starfire vs Faby Apache vs Luchadora Sorpresa (Scarlett Bordeaux) for the Reina de Reinas championship.
Maximo, Pimpinela Escarlata, and Mamba vs Mocho Cota Jr, Carta Brava Jr, and Tito Santana vs Laredo Kid, Drago, and Aerostar
Flamita and Bandido vs Texano Jr and Rey Escorpion vs Andrew Everett and DJZ for the AAA tag team championships.
Antonio Pena Copa
La Parka vs Chessman vs Pagano vs Hijo Del Vikingo vs Super Fly vs La Parka Negra vs Hijo Del Fantasma vs Dragon Bane vs La Mascara vs Averno vs Australian Suicide vs Angelikal vs Nino Hamburguesa and some surprises.
Psycho Clown and Murder Clown vs Killer Kross and Luchadora Sorpresa. (It might be a four way)
Jeff Jarrett vs Dr. Wagner Jr in a hair vs hair match.