Daily DeMarco: 2018 Chairshot Man Of The Year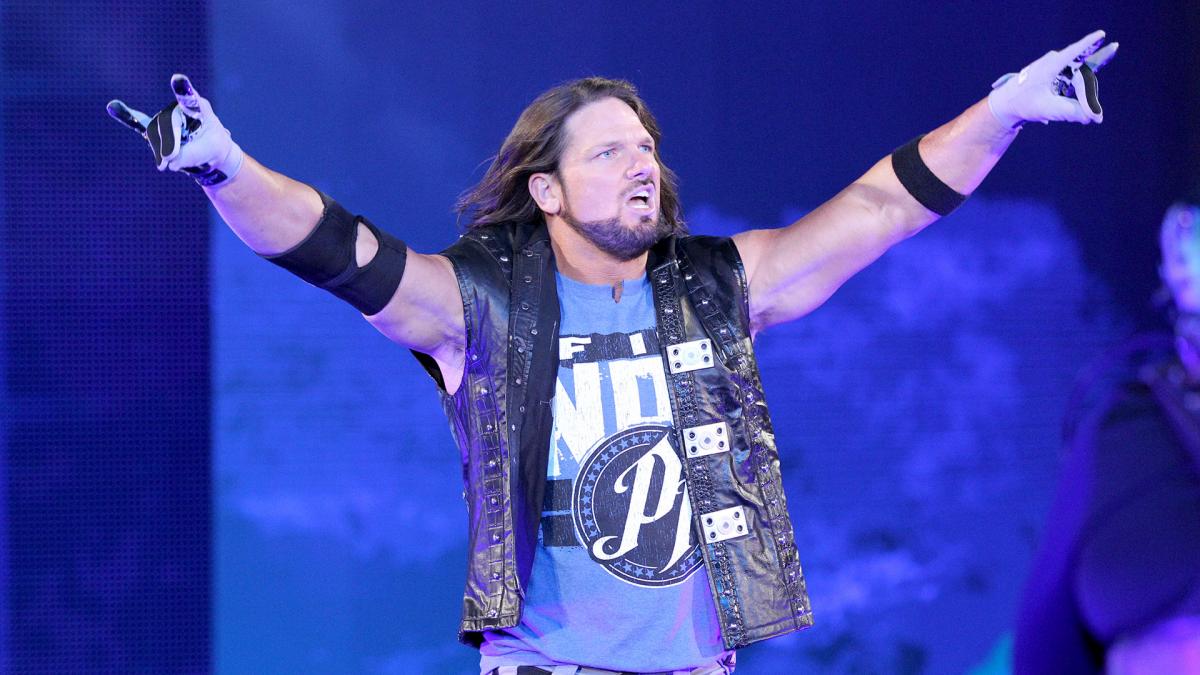 Greg DeMarco presents the Chairshot Man Of The Year for 2018! Who excelled throughout the past 12 months?
2018 was a hell of a year in professional wrestling, but may best be remembered as setting the stage for a 2019 that could legitimately change the business. Who knows what we'll be saying in 365 days, but first we need to take our annual look back as we do so well here at The Chairshot.
In the last edition of The Greg DeMarco Show (rebranding as Worked Over Wrestling in 2019), Patrick O'Dowd, Miranda Morales and myself came together to review the past 12 months and pick the Man, Woman, and Team Of The Year for 2018. Over the next few days, I give you the winners!
2018 Chairshot Man Of The Year: AJ Styles
After a great 2017, The Miz wasn't able to repeat as Chairshot Man Of The Year. This doesn't mean his year wasn't great, as he had several high profile moments, one of the year's best matches against Seth Rollins at Backlash, and is poised for a big 2019. But while you can say he had a "great" 2018, you can't say it was…Phenomenal.
AJ Styles spent most of the year as the WWE Champion. He essentially defeated a tag team in Kevin Owens and Sami Zayn at the Royal Rumble, overcame Shinsuke Nakamura at WrestleMania (and multiple times after, including one of the year's best matches, a Last Man Standing match at Money In The Bank), held together a feud with Samoa Joe that was built on AJ's family, and put on a great performance with Rusev that elevated the Bulgarian Brute. His reign was not in vain, as it ended in a manner that established "The Planet's Champion" in Daniel Bryan…err–the New Daniel Bryan.
In the ring, few can match what AJ Styles was able to accomplish in 2018. He delivered at a high level in nearly every single match, working tirelessly to support the Smackdown brand. It's no surprise he took time off upon losing the WWE Championship, as he previously went through the year without stopping.
AJ Styles' year ended with a bang, and that's putting it lightly. AJ was part of a pre-taped promo with Vince McMahon, which ended with a punch to the face of the chairman. AJ is headed towards a Royal Rumble showdown with Daniel Bryan, but I can't get away from my pick of Styles winning the Rumble match itself and challenging Brock Lesnar at WrestleMania 35.
Consideration was also given to:
Braun Strowman
Roman Reigns
Cody Rhodes
Will Osperay
Tommaso Ciampa
Kenny Omega
Daniel Bryan
Jay Lethal
Click here to see who was named our Team Of The Year. As for who was named Woman Of The Year? Stay tuned the rest of this week to see!
Levin: Television Deal Gives AEW A Chance To Push WWE Around
With the news of Tuesday Night Dynamite on TNT, it should shake things up. How much potential lies in this AEW deal?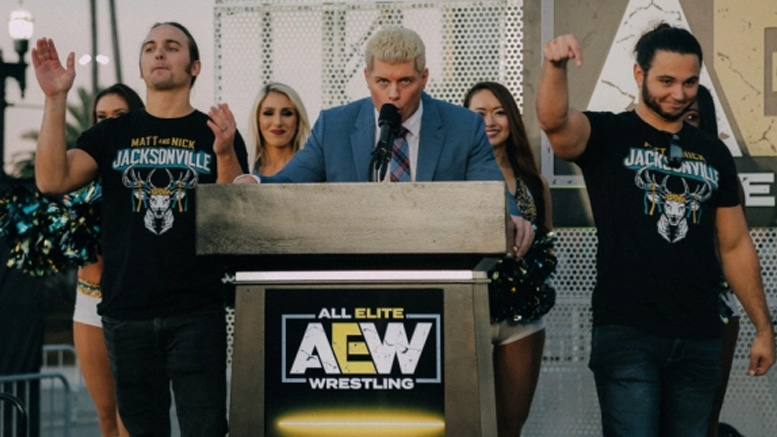 With the news of Tuesday Night Dynamite on TNT, it should shake things up. How much potential lies in this AEW deal?
I don't know if it is competition yet, but the fact AEW has a television deal with WarnerMedia to air live matches in a weekly primetime format on TNT should make things interesting.
I'm not expecting the return of the Monday Night Wars or for Tony Khan to shout from Stone Mountain that he is in the "wrasslin business" as Ted Turner once did to the deaf ears of Vince McMahon. This isn't the same kind of confrontation between two middle-aged men with egos bigger than the state of Florida.
Per the New York Post, "The new wrestling company and WarnerMedia announced the agreement Wednesday morning. TNT will air live AEW matches weekly in prime time starting in the fall, as well as streaming them on B/R Live and on pay-per-view. AEW will be presented to advertisers during the WarnerMedia Upfront at the Madison Square Garden Theater on Wednesday."
If this is the kind of entrance Khan and his performers want to make, then I am all for it. Pro wrestling is moving the needle a bit from the monopoly of the McMahons with NJPW, ROH and the NWA grabbing the attention of fans – away from the stale and pungent feel of what WWE has offered ahead of the Money in the Bank PPV. If anything, there is an injection of adrenaline in a business that has been on life support in some circumstances since the last day WCW was in operation and Billionaire Ted gave in to the struggles of trying to get it right on a weekly basis.
Per Joseph Staszewski," The deal marks the first time wrestling will appear on TNT since the final "WCW Monday Nitro" on March 26, 2001, and officially puts AEW in competition with WWE for prime-time television ratings."
My son wasn't two yet and I was on my first wife at the time.
Now comes the fun of seeing what Khan, who is a huge wrestling fan and part owner of the Jacksonville Jaguars will do with top-level talent (Cody, Chris Jericho, Kenny Omega, The Young Guns and Britt Baker to name a few) at his disposal.
If the branding and storylines follow that of the old NWA with a splash of WCW from the early 1990s mixed in, then Khan and his venture have a chance to rock the wrestling boat. No one is going to knock McMahon off his lofty perch. But the programming and promotion can offer hardened fans a chance to see their old favorites weekly.
What AEW did by making the announcement in grand style is deliver a message to WWE, which signifies this is an upstart that isn't afraid to ruffle some feathers. It was the right time with the right company backing them.
It's time to see if the McMahon old guard is as solid as it once was or can the little engine that could make a dent in a business monopolized for too long.
Greg DeMarco's Three Stars Of The Night: WWE Smackdown (5/14/19)
They had Kayla Braxton interview Lars Sullivan. Really.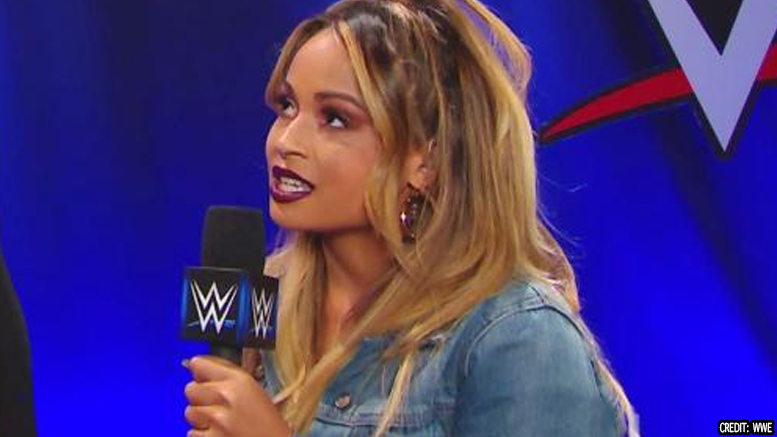 WWE Smackdown is in London this week, and it's the go home SD Live for Money In The Bank. Who stood out?
WWE Money In The Bank is on the horizon, and the WWE Smackdown side takes it home in dramatic fashion. Who delivered big performances this week?
The Third Star for WWE Raw: Andrade
Andrade is the man. Seriously, he's taken tranquilo to the main shows in WWE, and it shows in such a good way. I still wish he was on Raw where he'd be given more opportunity, but he still makes the most out of each moment. Despite the "tranquilo" attitude I referred to, every thing he does actually has far more intensity than almost anyone else not named Brock Lesnar, Drew McIntyre, or Roman Reigns. Traditional thinking means a win here won't lead to a Money In The Bank briefcase retrieval, but if I was booking the show he'd leave Money In The Bank with the WWE Championship.
---
Elisa looks great in her Chairshot gear.
You can, too!
Be like Elisa and get yours at:
https://www.prowrestlingtees.com/related/thechairshot.html
---
The Second Star: Kayla Braxton
These assholes had Kayla Braxton, a mixed-race female, interview Lars Sullivan? LARS SULLIVAN? I don't know what idiot made that decision, but they need some special training of their own. Kayla, of course, handled it like the true professional she is. But I'm biased, because I love Kayla Braxton.
---
Must Listen:
Greg DeMarco Show: Who Should Win and Who Will Win at Money In The Bank

---
The First Star for WWE Smackdown: Kevin Owens
I am so glad Kevin Owens didn't stay babyface for long. He's more than a natural heel–he's a spectacular heel. He told the truth to Kofi ("reality begins…reality ends this Sunday") and it worked. He answered Kofi's babyface challenge, but walked away multiple times, which was long enough to make Sami Zayn's attack unpredictable. He's fat, looks dirty, and wrestles in a t-shirt. But he's so good while doing it. Kevin Owens is the heel we all need, in an era where it's hard to be a true heel.
---
Who are your Three Stars of WWE Raw?
Comment on social media @ChairshotGreg, @theCHAIRSHOTcom,
and use the hashtag #UseYourHead!
---
In hockey, a game's "Three Stars Of The Night" represent the top three performers of the night. For more clarification, I defer to this Pittsburgh Gazette explanation:
"The tradition dates to the 1936-37 season, when Imperial Oil became the principal sponsor of Hockey Night in Canada radio broadcasts and was seeking a way to promote one of its products, Three Star gasoline. The idea of doing so by selecting the top three performers in a particular game purportedly came from a Canadian advertising agency.
Many clubs do recognize the player with the most three-star selections with an award or trophy, usually in conjunction with a corporate sponsorship, at the end of the season (or sometimes, each month). All six Canadian franchises, for example, have an affiliation with a well-known brewery.
The NHL keeps track of its own Three Stars Of The Night selections, but that is done on a league-wide basis. The league employs a system that awards 30 points to a first star, 20 to a second star and 10 to a third – a running total can be found on the league's website – but it does not present an award based on them."
In hockey tradition, the first star represents the best of the three, but all three are considered to be receiving a high honor.