Stardom 8th Anniversary Results From Tokyo (1/14/19)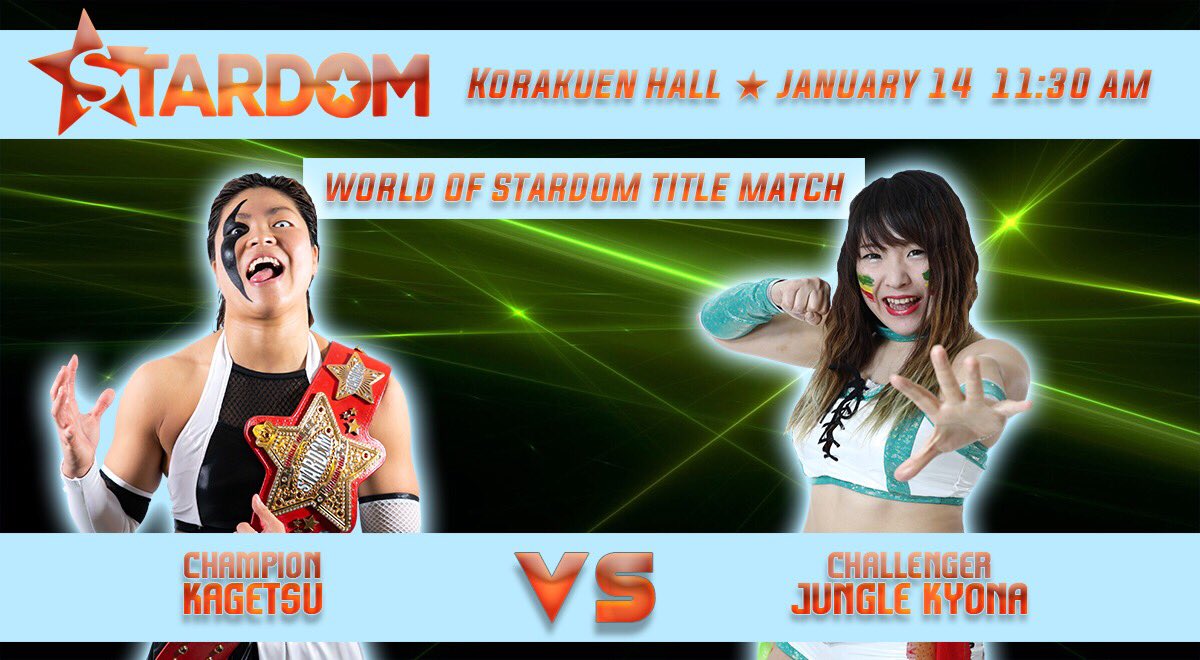 Stardom 8th Anniversary – January 14th, 2019 – Tokyo, Japan
Natsuko Tora defeated Saya Iida
Gauntlet Match: Mary Apache & Natsumi won a match also featuring Hina & Rina, Alex Gracia & Starlight Kid, Hanan & Ruaka
Bobbi Tyler, Hana Kimura & Sadie Gibbs defeated Hazuki, Jamie Hayter & Natsu Sumire
Arisa Hoshiki, Mayu Iwatani & Saki Kashima defeated AZM, Bea Priestley & Konami
SWA & Pro-Wrestling EVE International Titles: Utami Hayashishita defeated Viper to win both titles
Wonder Of Stardom Title: Momo Wantanabe retained over Tam Nakano
World Of Stardom Title: Kagetsu retained over Jungle Kyona
Results c/o PWInsider
January 14 Korakuen Hall
◆Saya Iida Debut Match
Natsuko Tora pinned Saya Iida. Iida joined Jungle Assault Nation. pic.twitter.com/EWxn9DTGai

— We Are Stardom (@we_are_stardom) January 14, 2019
January 14 Korakuen Hall 11:30 AM
◆Trios Match
Hana Kimura, Sadie Gibbs & Bobbi Tyler defeated Hazuki, Natsu Sumire & Jamie Hayter pic.twitter.com/50aqc76Jlb

— We Are Stardom (@we_are_stardom) January 14, 2019
Flaming Oracle: Images of the Past (OWE Match Result)
OWE held a tournament for their new Dragon Legend Championship. Shawn goes into details about the Finals and the inaugural champion!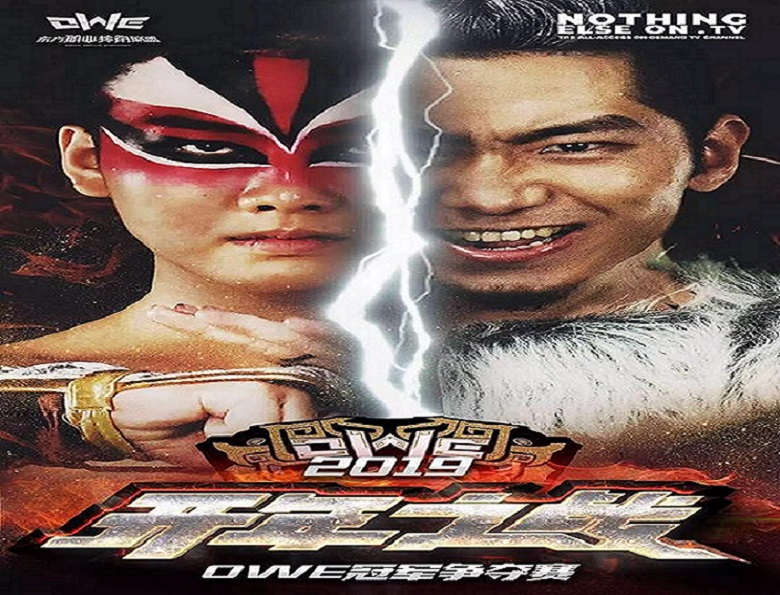 OWE held a tournament for their new Dragon Legend Championship. Shawn goes into details about the Finals and the inaugural champion!
On 20 April 2019, a match took place in Shanghai China which brought back memories of the past.  It has been thirty years removed, since the legendary matches of Ricky the Dragon Steamboat and Ric Flair took place.  I am not comparing the two, only certain aspects of those matches can be considered.  Amazingly both wrestlers have slightly over a year in the wrestling experience.
Oriental Wrestling Entertainment (OWE) held a sixteen man tournament to crown their first Dragon Legend Championship.  On this evening, the final two men faced each other.  General Guan (Zhao Junjie) and Wolf Logan (Fan Hewei) brought back memories past.  The match held multiple technical moves, quick counters, and several near pinfalls.  FIFTY EIGHT minutes of fast paced offensive maneuvers between two equals.  So, if you don't have NEO-TV this is what you missed.
The match started off slow as each competitor tested the other.  Several arm bars, hip tosses, and counters left both men at a stalemate. The fans began their wolf howls in support of Wolf Logan.  The two hit the ropes in multiple combinations and counters between the two gladiators.  Logan attempted a quick pin, but was easily kicked out by the General.
The match continued with a series of slap shots before Logan dropped Guan with a kick to the knee.  The wolf hit the ropes, but General Guan rushed forward slamming Logan down with a shoulder block.  Neither man had the advantage after ten minutes of wrestling.
The fifty minute mark saw Guan throw Logan into the corner, followed by a series of forearm strikes that dropped Logan to his knees. Guan attempted a pinfall, but Logan kicked out at two and a half.  The General continued with a single leg Boston crab.  The hold was broken when the Wolf reached the ropes.
After the break, Logan countered Guan's attempt to send him into the ropes.  Logan performed a Kung Fu round kick followed by a Hurricarama sending the General outside of the ring.  Logan jumped over the top rope to land on Guan. After a short scuffle outside, both men returned to the ring as Logan pulled a snap suplex followed by a low body drop kick to lay Guan flat onto the mat.  The General kicked out of the pinfall after a two count.
Both men were exhausted after fifty minutes.  Guan kicked Logan in the knee and hit the rope to perform a spinning forearm chop.  The referee counted to six before either man began moving again; with General Guan recovered first.  Slamming Logan into the corner and hitting a double arm suplex, once again Logan kicked out at the count of two.  
Following a series of forearms that did little effect on either wrestler, Logan hit two knee drop face plants for another pin attempt.  Guan once again kicked out at the two and a half count by the referee.
Before Logan could start his next attack, Guan hit him with a powerslam.  A second attempt at Guan's finishing move the Dragon Hammer failed. Logan followed the counter with an F5 and a spinning screw kick, but Guan kicked out on a two count. Guan struggled to stand up.  Logan missed a second spinning kick when Guan stepped away from the attack.  The General hit a spinning clothesline for another pinfall attempt.  Logan kicked out on on two.
Guan hit the ropes for a new attack. Logan countered the attack with a superkick.  Once again, Guan kicked out at the two and a half count.
Logan attempted a rope attack, but Guan countered again with a series of blocks.  Guan threw an old school 'Big Show' punch that laid Logan out. It appeared Logan was unconscious as the General performed his Dragon Hammer finish.  
It appeared that Logan kicked out of a two count, but the referee rang the bell at 58 minutes and 18 seconds.  General Guan earned the victory. Both competitors were motionless on the mat as teammates entered to help them. 
Fellow wrestlers came out applauding the performance as teammates helped the competitors regain consciousness.  OWE's president Tony Chen, Michael Nee, and Cima presented the title to General Guan as fellow wrestlers held the first champion up for the presentation.
Flaming Pearl Oracles: Injuries, Event Eesults
OWE news and results and so much more!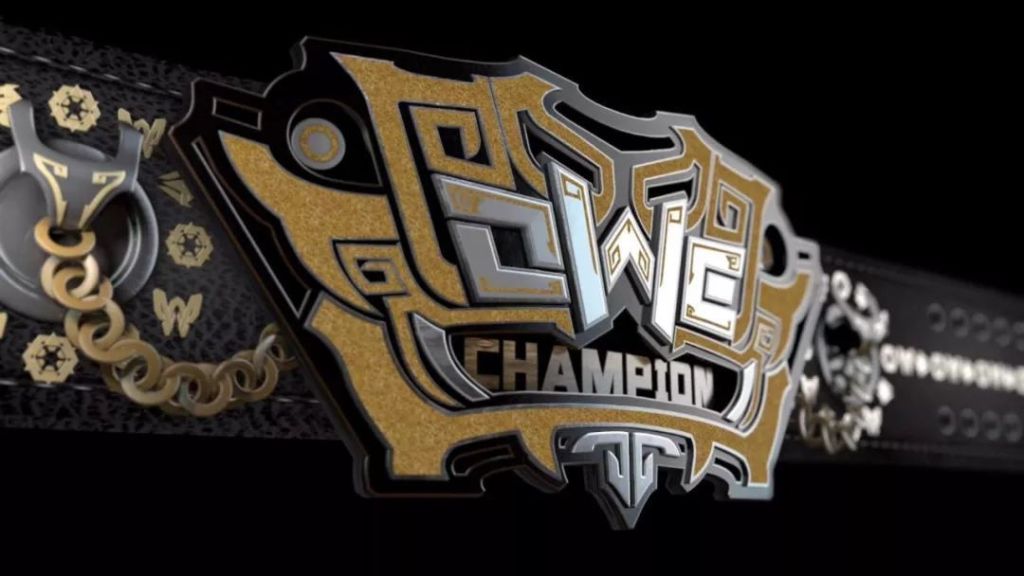 Shawn checks in with results and news from the Asian Pacific!
The Asian promotions have yet to provide match results from event from last Sunday.  I will provide the results that I do have following the major news of the week.
OWE
The week began with the news of Strongheart leader Cima's injury, he was released from the hospital the same morning he entered.  It has been confirmed the injury was a dislocated shoulder. It is great news and currently CIMA is still scheduled for the May 25th All Elite Wrestling event Double or Nothing in Las Vegas.
On the final evening (3 April 19) of the Osaka tournament, a second injury occurred and is more serious in nature.  Strongheart member Takehiro Yamamura was taking part in a tag team match at the time when the young Japanese talent collapsed in the ring.  Though he was conscious, Yamamura was unable to move.  The match was immediately cancelled and paramedics eventually carried Takehiro to an ambulance.
Initial tests failed to discover any abnormalities, although no further information regarding the injury has been revealed.  Yamamura was released from the hospital on Saturday morning.  In a tweet, the young Strongheart commented "Thank You very much for your concern, I am deeply touched by the amount of support by the fans.  Although the future is undecided, I will strive to live a normal life first." which indicates a serious problem which places his career in jeopardy.
Note: The Chairshot staff wishes this wonderful person and performer a quick recovery.
Results
Gatoh Move Pro Wrestling (Thailand) 
Hyde vs Earth –

Winer: Earth with Cross Armbreaker

Johnathan Johnson vs P-Nutz –

Winner: P-Nutz with Axe Bomber

Shivam (debut) vs Hideo vs Paksa –

Winner: No Contest; All were disqualified.
Handicap Match: Moth vs Blue Lotus & Jibzy – Winner: Moth with roll-over pin press lotus.  Jizby attacked Blue Lotus prior to leaving the match and giving Moth the victory

Dr.Gore vs Emi Sakura –

Winner: Sakura wins with a masterful cradle
Triple Threat: Thai Golem (Champion) vs Takanashi vs Ek Baki – Winner: Takanashi with takatonic.
Riot City Wrestling (Australia): Mega Slam
Strength Cup Quarter final results
Kurt Baron def Steve Miller (group a)

Dean Brady def James Kray (group b)

Cadie Tre def Tony Toro (group c)

Rocky Monero def Chris Baso (group D)

RCW Tag Team Title match: Champions Nick and Jeff Armstrong lost to 'Gods and Monsters' Matt Grimm Basso & Brodie Marshall by DQ.
Singles Match: Kit Condor def Bulldog Taurino
Women's match" Miki Fortune vs Savannah Summers Double Countout.
New Taiwan Wrestling vs Oriental Wrestling Entertainment:  All Out War
Gao Jingjia, Scorpion, Black Blue Sky (OWE) def Saka, Flash Flame, Blade White (NTW)
Tag Team (NTW) Zhu Chong, (unk) def Hibiscus Mii, Jade (OWE)
Zhao Yilong/Jingjia/Hyper streak (OWE) def HAKKA, AXE, GAIA HOX (NTW)
Tag Team; Agni, doo (NTW) def Buffa, Happy Ghost Yang Hao (OWE)
Tag Team; Achilles Bēn/Fan Hewei (OWE) def Bear Bear, Froschy (NTW)
Tag Team; Porco/sky (NTW) def Hengha (Xiong Zhiyu/"Mongolian Warrior" Wulijimuren) (OWE)
Tag Team; Tajiriè/Wáng Kazuya (NTW) def T-hawk/Lindaman (OWE)
Wolf King/CIMA (OWE) def The Joker/A-YONG-GO (NTW)

The Joker attacked A-Yong-Go after the match and challenged his belt.
NOTE; This match occured prior to Cima's injury

OWE continues to experience problems with Visa applications and as a result scheduled participants may change without notice.
Malaysia Pro Wrestling;  Event Redemption
Serigala/Mike Su (MKW) def Feral Alliance (Harry Ray/Furious Faizal)
Triple Threat match for the Asian Wrestling Grand Championship NEW AWGC Champion Smart Dave def Shaukat and Ronald Li.
Australian Wrestling Federation; EVENT; SUPANOVA (Day 1)
DNA defeated Shane Saw & Xavier Black to retain the AWF Tag Team Championship
Chris Rukker defeated DCT. DCT after the match set an open challenge to any wrestler in Melbourne to face him at 2pm
DNA defeated Jayson Krash & Zane Zodiac to retain the AWF Tag Team Championship
Dr. Gore w Krackerjak defeated DCT
Chris Rukker defeated Chris Trance
El Technico defeated Joey Eclipse