Stardom New Years Stars 2019 Day 2 Results & Review (1/3/2019)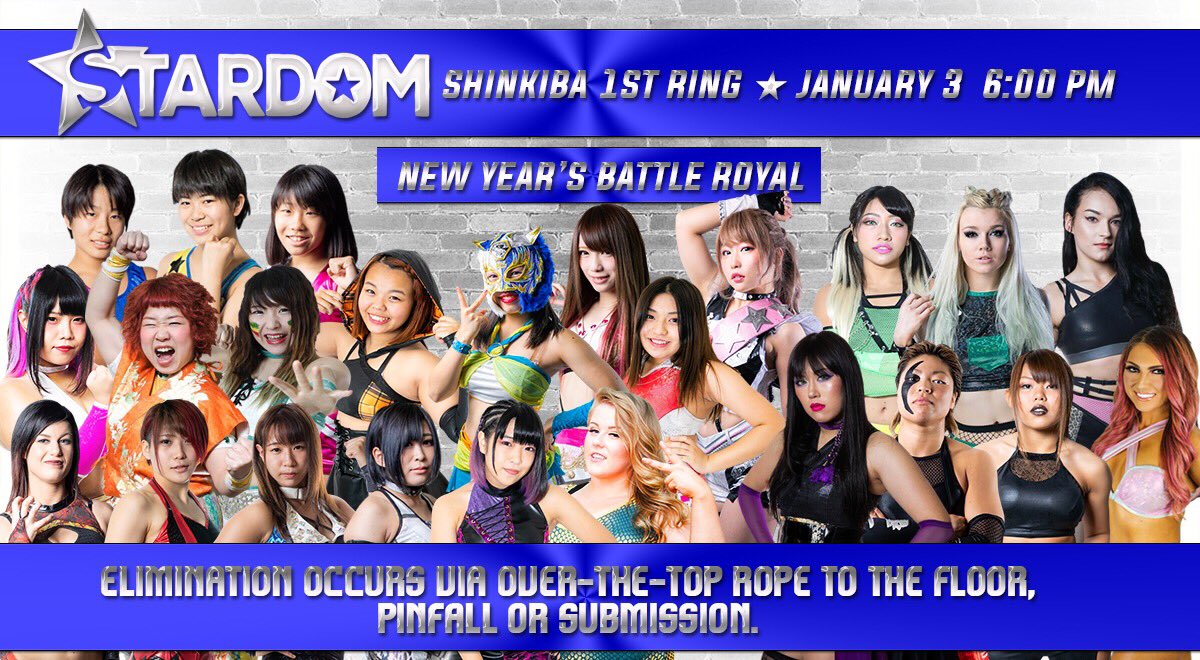 Mathew dives back into Stardom to catch us up with some of the early new year action!
Welcome to the second day of Stardom's New Years Stars show and while the first show wasn't considered great, a lot happened to cover the next show as we have a title match tonight with more hype leading to the 8 Year Anniversary show coming soon.
We got some ground to cover, so let's not waste any time as we…dive right in.
To remind my new readers on how my rating system works:
0 Stars: Dave Meltzer
1 Star: Vince Russo
2 Stars: Tony Schiavone
3 Stars: Eric Bischoff
4 Stars: Bruce Prichard
5 Stars: Jim Cornette
Handicap Match
Mary Apache & Sadie Gibbs vs. Hanan, Hina, Natsumi, & Rina
Review: Our first match is a handicap match with the sisters, Hanan, Hina, and Rina along with Natsumi taking on Sadie Gibbs and Mary Apache. At the first show, Sadie really impressed me in her Stardom debut and she would even get the win for her team also. Will Sadie be able to pull off a second win or will the sisters sneak in a victory?
The sisters and Natsumi would work together well for a little bit with the sisters locking Sadie with the Double Armbar and Leg Lock while Natsumi would apply the Paradise Lock on Mary between the ropes to show they were going to start out strong. After that little bit of momentum though, the match would start to fall apart as it would start to be a little sloppy mess with Hina and Rina being out of sequence while Natsumi not having the right flow as well. Sadie though was the highlight of the match as she would take the moves well against the other rookies and showed great athletic ability when she could as she hits her Cartwheel Moonsault to the outside. Mary Apache wasn't in the ring much except for the last minute or so to finish the match as she hits Rina and Hina with a Double Clothesline that looked weak and pinned them for the finish. Not a good way to start the show.
Rating: Tony Schiavone
Tag Team Match
Queen's Quest (Bea Priestly & Viper) vs. Bobbi Tyler & Hana Kimura
Review: Our next match is a tag team match with Queen's Quest members, Bea Priestly and Viper taking on Bobbi Tyler and Hana Kimura. Bea definitely gained some momentum after winning the elimination match for her team in the main event of the last show and Viper is actually set to defend her two titles against a fellow member, Utami Hayashishita at the 8th Anniversary show, so the two would need some momentum going forward. Hana and Bobbi may have lost Jamie but they still wanna make the most of this tour and win this match. Can Hana and Bobbi get a win or does Queen's Quest take it?
Bea went from one of my least favorites in Stardom last year to someone that I enjoy watching now since she has improved dramatically since I've last seen here and she's been showing a lot of progress here, now I need that to keep on going and she'll have a great career in Stardom. Bea and Viper turned out to be a pretty good team when they tagged up here while Hana and Bobbi are kinda just there at this point. That's how I feel about Hana in Stardom right now, she's just there with no progression in her career there. What should Hana do? I think she should wrestle like how she does everywhere else for once and maybe she should bring in ASUKA to Stardom and they could dominate the tag division and if you haven't checked her out, I recommend you do so. One move that stood out the most was Bea hitting Bobbi with a Codebreaker and she held her there as Viper hits Bobbi with the Senton, looked painful yet awesome. Bea would then hit the Curb Stomp and picks up the win for her team.
Rating: Eric Bischoff
Six Man Tag Team Match
Queen's Quest (AZM, Konami & Momo Watanabe) vs. Alex Gracia, Saki Kashima & Tam Nakano
Review: We got a six-man tag match next with Queen's Quest members, AZM, Konami, and Momo Watanabe taking on STARS members Saki Kashima and Tam Nakano along with Alex Gracia. This is more of a preview match for Momo and Tam due to them having a Wonder of Stardom Championship match coming up at the 8th-anniversary show, so a win here for either of them could change the direction of who could be the winner. Can Queen's Quest win two matches in a row or do Tam and her team get the victory?
Tam and Momo starting the match off was the right call since you want to be invested in the upcoming match when they actually do fight as the two of them keep giving you small samples of what's to eventually come and I got exactly that. I thought it was a fun tag match with all six of these women performed at a solid level with all of them getting equal amount of time to shine in the match. Tam showing a lot more progression in the ring was a nice thing and you can tell how badly she wants to beat Momo for that title, and this type of aggression could exactly be what she needs to make that happen. When Tam and AZM were in the ring, AZM started to show why this young lady can be the baddest bitch on the roster as she would do her best to try and take her out and her members would do a Triple Dropkick for a two count. AZM hits a Tilt-a-Whirl into a Fujiwara Armbar to try and make Tam tap out but she would fail to do so when Saki breaks the hold. Tam hits a Double Knee Drop on the second rope and AZM would kick out at two but Tam would pull her up to hit a Running Knee Strike, and then tops it off with a beautiful Tiger Suplex to get the victory as she looks ready to take on Momo.
Now on Stardom World! Queen's Quest battles STARS in trios action! Only on https://t.co/q8dHnF58vW! pic.twitter.com/8npD4fdnU7

— We Are Stardom (@we_are_stardom) January 9, 2019
Rating: Eric Bischoff and a quarter
Eight Man Tag Team Match
Oedo Tai (Hazuki, Jamie Hayter, Kagetsu & Natsu Sumire) vs. JAN (Jungle Kyona, Kaori Yoneyama, Natsuko Tora & Ruaka)
Review: We now have an eight-man tag match with JAN members, Jungle Kyona, Kaori Yoneyama, Natsuko Tora, and Ruaka taking on Oedo Tai. If you've seen the last show, Jamie Hayter would betray Hana and Bobbi to join Oedo Tai and this will be her first match as apart of her new home, so it's time to see how she'll do. This match is all mostly for more hype between Kagetsu and Jungle Kyona since they'll be fighting each other at the 8th-Anniversary show for the World of Stardom Championship. Will Oedo Tai win or does JAN take it with Kyona pinning Kagetsu again?
Oedo Tai does their little dance without Jamie since she would come out after the dance. Sumire and Kaori start it off and Sumire does her same little shenanigans like the previous show with her Freddie Mercury stuff. Sumire would do the We Will Rock You stomps again and Kaori would hit her to get that heat going in and they stop hitting each other to do the little chant as they do their handshake and tag themselves out. Despite the odd pacing during the match, I thought it was another fun showcase for eight of the women and Hazuki keeps being the showcase for these types of matches with how good she is in the ring. I liked how Kagetsu and Kyona didn't touch each other until near the ending of the match and had enough time together with them going back and forth with the strikes as it's another match I'm very much looking forward to. Kagetsu and Hazuki would do a Double Suicide Dive to the outside and then Kyona would dive onto them right after. Jamie and Ruaka are in the ring now and it looked like Ruaka was going to pull an upset, but Nao Yamaguchi would hit her back with the Oedo Tai sign to distract her and Jamie hits the Running Knee Strike for the win.
Rating: Eric Bischoff
Future of Stardom Title Match
Starlight Kid (c) vs. Utami Hayashishita
Review: We got one of our big matches for the show as Starlight Kid is set to defend her Future of Stardom Championship against Utami Hayashishita. I said before that I felt like Utami going for this belt would be a downgrade for her due to her performance in the Five Star Grand Prix, but it looks like they have other plans for her after she made the claimed that she wanted to win all the belts in Stardom this year and since she can qualify for this belt, this is her first stop. Starlight has held the title since April when she became the first champion and it's about time she has a real opponent for it instead of just AZM, so time to put her to the test. Will Starlight win the biggest match in her career or will we have a new champion?
Starlight and Utami worked really well together and while it's not the same as Starlight and AZM, they still worked. They were technical, they would push each other when they would need to, they played their strengths so well here. The progression between both of these women this year was such a huge improvement that they both are the future of the company, just like the belt that they're currently fighting for now. Starlight started to work on her leg a little bit and it's a smart move since she needs her legs to keep her strength up for when she does her Torture Rack. Starlight had Utami down and she hits her Rounding Frogsplash for a two count and once Starlight went back up to the turnbuckle, Utami would try to get the Torture Rack in and Starlight fights out of it. Starlight would eventually get caught in an Argentine Backbreaker but Starlight would be able to kick out of it. Starlight would try to go for a Headscissor but Utami caught her into the Torture Rack and she would make her tap out as we have a new champion!
It looks like Utami was able to claim a second title and her first singles title in her career. She's able to win two titles in the course of five months, so it looks like Stardom really is going to push forward with the Utami all belts thing and while it's a big gamble since it could slowly backfire if not careful but we'll play it by ear. She now has her match with Viper and if she defeats her, she'll add two more titles to her collection and that'll be a big deal for Utami. Starlight did very well with the title and I can't wait to see what she does next.
The Future of Stardom title is on the line, on Stardom World! Starlight Kid makes her 6th title defense vs the Big Rookie, Utami Hayashishita, who already has one half of the tag team championship! Kid vs Utami, on https://t.co/q8dHnF58vW! pic.twitter.com/lltekGwjoC

— We Are Stardom (@we_are_stardom) January 9, 2019
Rating: Bruce Prichard
Battle Royal
Alex Gracia and AZM and Bea Priestley and Bobbi Tyler and Hana Kimura and Hanan and Hazuki and Hina and Jamie Hayter and Jungle Kyona and Kagetsu and Kaori Yoneyama and Konami and Momo Watanabe and Natsuko Tora and Natsumi and Natsu Sumire and Rina and Ruaka and Saki Kashima and Starlight Kid and Tam Nakano and Utami Hayashishita and Viper
Review: We now have our main event as it'll be a Battle Royal with all the people that were booked on today's show. Not sure what the prize is for winning this but I think the winner does get a title match for any belt they pick. Utami recently won the Future of Stardom Championship, so this would be a good time for her to win and collect another title opportunity if she wanted to. Other people could have a chance to win it, so we'll see how things go. Who will win the Battle Royal?
Oh look, Mayu Iwatani is sitting in the crowd to enjoy the show while she waits to get cleared for an in-ring return. Almost everyone starts fighting outside of the ring except for Kagetsu as she just chills out in the ring while everyone just beats the daylights out of each other. Viper starts off with a little hot streak as she eliminated Rina, Hina, Natsumi, and Bobbi Taylor until people would dog pile onto Viper to get her eliminated. People would start getting eliminated left and right and it looks like some people were missing in the ring, and it turns out that all members of Oedo Tai were sitting with the audience as they started eating some snacks while the others killed each other, a brilliant strategy by our Prime Minister.
While @tmtmtmx deals with Utami, let's check in with @naohime0520 and @jmehytr with this Oedo Tai SnackDown. #StardomWorld #スターダム

➡️ https://t.co/jniqaHHrua pic.twitter.com/s79DTZzPgT

— TDE Wrestling (@totaldivaseps) January 12, 2019
While Oedo Tai is having a picnic outside, Tam and Utami are left in the ring and wouldn't last long as Utami eliminated Tam. Hazuki comes back from her little break as she starts fighting off Konami and Momo for a little bit but Konami and Hazuki would go back and forth while Momo was on the turnbuckle trying not to hit her partner as Hazuki would push Momo off as she held onto the ropes and as Hazuki tried to eliminate her, Konami would flip Hazuki over to make her hang next to Momo. Hazuki got Konami over and she would eliminate the both of them as she somehow gets eliminated by Starlight Kid. Starlight and Utami are alone in the ring once again as Starlight looks to get some revenge from her title loss and the two are still as crisp as they were in their title match. Utami and Starlight are on the apron as they would fight back and forth for a little bit, but Starlight would find a way to overcome her as she hits a 619 on Utami to eliminate her as Starlight won the match! After the match, Starlight would talk about how she lost the belt but challenges Hazuki for the High Speed Championship at the January 6th show and Hazuki told her she's not giving her the belt even though she doesn't need the belt, she told Starlight that giving it to her would decrease the value of it. Starlight was about to close the show but you see Kagetsu feeding Mayu in the background and gets called out on it, that was cute.
Rating: Eric Bischoff and three quarters
Overall: It was just about the same as the previous show but slightly a bit better since it was entertaining with a great title match. I do feel like the show will slowly getting better once we get closer to the anniversary show and we should have more quality as the year goes on, but the first two shows of the new year have been a hit or miss.
Favorite Match: Starlight Kid vs. Utami Hayashishita
Least Favorite Match: Mary Apache & Sadie Gibbs vs. Hanan, Hina, Natsumi, & Rina
Score: 7/10