Chairshot Classics: WCW World War 3 '95 – 60 Men…3 Rings…3 Giants…1 Battle Royal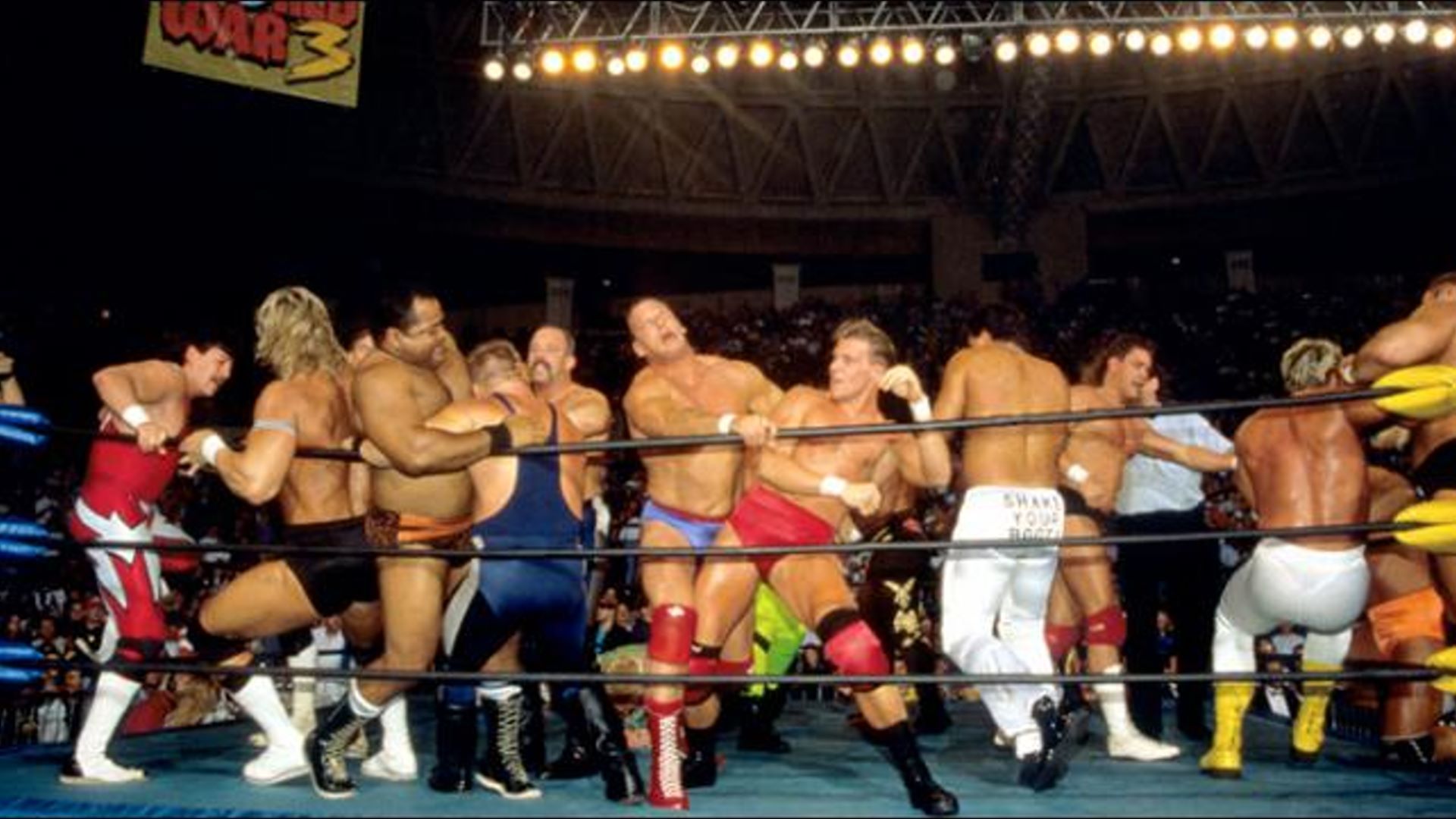 Our weekly Chairshot Classics WCW PPV series continues with World War 3 '95!
Open: "WCW declares war with the biggest battle royal in wrestling history. World Championship Wrestling wages World War 3. Sixty international superstars from around the globe prepare for combat as never seen before. It's all out war with three rings, three giants and one battle royal. It's WCW's World War 3."
In The Arena: 'Mean' Gene Okerlund is standing by with Hulk Hogan, 'Macho Man' Randy Savage & Sting, The Hulkster saying something bad always comes from something good. He talks about the Hulkamaniacs sticking by him as he walked through the darkside, explains he now knows who his friends are and tonight the darkside of himself will be no more. He tears off his black shirt and reveals the red and yellow once again, it burns in a garbage can and Hogan claims he will never again question Sting or Savage. The Stinger proclaims the black is gone for good, Macho Man says that when you're wrong, you're wrong and apologizes to Hulk. The Hulkster thinks it's funny people have claimed Savage is legitimately injured, claims it was just a plan and says that between the three of them, the WCW World Heavyweight Title will wind up with the Hulkamaniacs.
Video: We take a look at the history between Diamond Dallas Page and Johnny B. Badd, which led to The Diamond Doll putting herself up as a prize in tonight's match, making it clear that she was sick of the mistreatment from DDP.
Match #1 is for the WCW World Television Championship & The Diamond Doll's Services: Diamond Dallas Page w/The Diamond Doll vs. WCW World Television Champion Johnny B. Badd
Page has some words for the champion while poking him in the chest, Badd swats his hand away, they lock-up and Page backs Johnny to the corner as the bell rings to make it official. The referee calls for a break, DDP smacks the champion on the chest and taunts him, they tie-up again  and end up on the outside, Johnny connects with a right, but Page goes to the eyes to take control. He looks to drive Badd head-first into the ring post, the champion slips free and shoves DDP into it instead, chases him back into the ring, but gets caught coming in.
The challenger sends him to the ropes for a clothesline, Johnny scores with a crossbody, Dallas switches the momentum and gets a count of 2, then quickly delivers a shoulder block. He hits the ropes and the champion leapfrogs over, powers him up for a samoan drop that gets 2, then brings Page to the canvas with a side headlock. DDP works to a standing position, counters to a top wristlock, Badd begins to overpower him, but Page grabs a handful of hair to rip him down. Johnny reverses his way out to a wristlock, Dallas again uses the hair to pull the champion to the mat, locks in an armbar, then switches back to a wristlock. Johnny rolls through and the challenger again grabs the hair, Badd kips up to his feet, returns the favor and gets scolded by the referee.
DDP tries to ambush him from behind, the champion sees it coming, low-bridges the top rope to send him to the floor, lines up for an outside dive, but puts on the brakes, then slingshots over the top with a crossbody. He calls for the Tutti Frutti, Dallas pulls The Doll in front of him to avoid it, pushes her into the champion, catches him with a sucker punch, then shoots him into the barricade. He deposits Johnny back inside and whips him sternum-first into the turnbuckles, plants him with a back suplex, puts the boots to Badd, then shoots him to the ropes for A Trip To The Diamond Mine. Page calls for a "10" from The Doll and she refuses, he turns back to the champion, peppers him with forearm shots, sends him to the ropes for a kick to the abdomen, but it's blocked.
Badd spins him around, gets leveled by a clothesline, Dallas with a lateral press for 2, corners Johnny and whips him across. He charges in with a shoulder to the ribs, calls for a "10" and again The Diamond Doll won't do it, DDP shoots Badd back across, rushes in for another shoulder, but this time nobody's home and he hits the ring post. He regroups and looks for a kick that misses the mark, scores with a punch, hauls Johnny up and sends him to the ropes for a back body drop, but Badd prevents it with a kick. The champion pulls himself to his feet in the corner, catches Dallas walking in with a kick, splits him with an inverted atomic drop, fires away with lefts hands, then hits the ropes for a big right. He looks to shoot the challenger to the ropes, DDP reverses it for a kick, Johnny blocks it, spins him around, ducks a clothesline and delivers one of his own, then calls for a "10".
The Diamond Doll holds up the "10+" sign, Johnny plants Page with a sit-out powerbomb for a near fall, sends him to the corner and follows in, but eats a back elbow. DDP stacks him up, puts his feet on the ropes and still can't finish it, whips him to the ropes for a tilt-a-whirl side slam, crawls into a cover for 2, gets surprised by a roll-up off the kick-out and Johnny nearly steals it. DDP quickly goes to the breadbasket with kicks, whips him to the ropes and gets caught by a tilt-a-whirl headscissors, Badd steps out to the apron, slingshots in with a splash, but Dallas gets the knees up. The challenger gives himself a "10", cracks the champion with a gutwrench gutbuster for a near fall, hooks Badd for another, Johnny slips out for a german suplex, but gets rocked by a back elbow.
Page lifts him up for A Trip To The Diamond Mine, the champion counters out, spikes him with a tombstone piledriver, but Dallas just barely kicks out at 2. The champion lines him up, connects with Tutti Frutti, DDP spills to the outside, Johnny flies over the top with the Badd Mood, rolls him back into the ring, then slingshots in from the apron with a leg drop to retain.
Winner and STILL WCW World Television Champion: Johnny B. Badd (Slingshot Leg Drop)
After The Bell: The Diamond Doll looks stunned and makes her way into the squared circle, giving Johnny a big hug. 'Mean' Gene plugs the hotline with details on the WWF steroid scandal as he awaits Johnny & The Doll, the champion says Dallas has no idea how to treat a lady and he plans on showing him how it's done, telling her that she will have the chance to be his manager or do what's in her own heart. The Diamond Doll tells him she will think about it, but for now she's just happy that the better man won.
EA's Take: So for the second pay-per-view in a row now, these two have opened the show with a pretty good effort and left it all out in the ring. DDP is really on the cusp of becoming a top star while Johnny continues to be among the best the WCW mid-card has to offer. There's still a lot more to come between these two over the coming months as DDP was not satisfied with this loss and moreover, the loss of The Diamond Doll. Johnny would grant The Doll her freedom and we would finally get to call her by her real name, Kimberly, by the time they'd meet again on PPV at SuperBrawl in February.
Match #2 is a Taped Fist Challenge: Big Bubba Rogers vs. 'Hacksaw' Jim Duggan
Duggan sprints down the aisle and ambushes Bubba as he makes his entrance, clobbers him with right hands, rolls Rogers into the ring, then calls for a 2×4 shot. Big Bubba tries to beg him off, the official tries to stop it and succeeds, Rogers surprises Hacksaw with a shot to the breadbasket, sends him to the ropes for a clothesline, but Duggan ducks it and delivers one of his own. Bubba is reeling, Hacksaw connects with another clothesline, still can't get him off his feet, goes to the ropes for one more and Rogers is sent over the top to the floor. Duggan goes out in pursuit, unloads with more fists, sends him inside another ring, hammers him with more punches on the apron, then sandwiches his head in-between the two ring posts.
Rogers falls to the floor, Hacksaw steps out to the apron, looks to come off with an elbow, Bubba avoids it, Duggan driving himself into the barricade. Big Bubba heads back into the center ring, hits the ropes and slides outside to deliver an uppercut, throws Hacksaw back in and pelts him with a barrage of heavy fists. He chokes Duggan with the bottom of his boot, Hacksaw spills to the floor, looks to escape to another ring, Bubba gives chase and they begin to exchange punches. Rogers looks to come back with a kick that's blocked, brings the other foot around for an enzuigiri, hits the ropes for a big uppercut, pulls out some more tape to re-wrap his hand, then unloads with blows to the ribs. Hacksaw starts to battle back with lefts-and-rights, shoots him to the ropes for a shoulder block, they collide and Big Bubba falls to the outside.
Duggan steps out after him, walks into a right to the abdomen, they make their way back to the center ring, Rogers pulls the tape back out and wraps Hacksaw's arm to the top rope. He unloads with heavy shots, Hacksaw drags himself back to his feet, Bubba hits the ropes and rushes in, Duggan sticks his fist out and Rogers runs right into it. The official tries to untie Duggan and can't free him, Big Bubba staggers back to his feet, charges in again, this time getting elevated over the top to the floor. Hacksaw finally gets loose and goes out in pursuit, decks Rogers with a couple of right hands, deposits him into the squared circle, shoots him to the ropes and delivers a body slam.
He calls for the Three Point Stance, levels Bubba with the clothesline and we see V.K. Wallstreet sneaking his way down to ringside with a chain around his fist. He climbs up to the apron, Duggan goes for the 2×4, buries it into Wallstreet's midsection, but the chain falls to the mat. Bubba picks it up, wraps it around his fist, surprises Duggan with an uppercut, stuffs the chain down his pants and makes it to his feet to beat the count.
Winner: Big Bubba Rogers (Foreign Object)
EA's Take: In case you hadn't figured it out because you skipped over reading the play-by-play, this one was an ugly brawl. I never got the concept behind the Taped Fist Challenge. I understand that loading your fist up with tape would make for a more devastating punch, but it just didn't get over with me and never really seemed to with the rest of the wrestling world either. Also, Schiavone said that "this one has been building for a while", but I don't recall it ever being a part of at least the last four episodes of Nitro leading into this feud-ending bout.
In The Arena: Gene Okerlund is joined by 'Nature Boy' Ric Flair, The Nature Boy claims the whole wrestling world knows he will style and profile over Sting, stating that whether you like it or not, it just happens to be the best thing going today. Flair says his master plan has come together with all his enemies in the building at the same time, proclaiming that after World War 3 he will rule WCW again.
Match #3: Cutie Suzuki & Mayumi Ozaki vs. Bull Nakano & Akira Hokuto w/Sonny Onoo
Mike Tenay has joined commentary for this contest. Akira & Bull go on the attack at the bell, they shoot Ozaki to the ropes for a double clothesline, clobber her with a double big boot and Nakano stays in the ring. She launches Mayumi across the ring by the hair multiple times, makes a tag and Hokuto comes off the top with an elbow to the back. She taunts Suzuki on the apron while holding Ozaki in a side headlock, switches to a wristlock, Bull grabs the other arm and they proceed to sink their teeth into Mayumi's wrists.
Nakano tags in and continues biting the arm, snapmares her to the mat by the hair, Akira comes inside and baits in Suzuki, the ref having to work Cutie back to the apron as Bull rips Mayumi back down by the hair. She lifts Ozaki up by the throat, Hokuto comes off the top to drive Mayumi down to the canvas, Bull goes into a cover for 2, Suzuki coming in late to try and break it up. Nakano hauls Ozaki back up and Mayumi tries to fight back, Bull absorbs the shots, flattens her with a clothesline, ties her up in the ropes and and tags out. Hokuto steps in and shoots her to the ropes, Mayumi springs off the 2nd rope with a forearm, hits the ropes and spikes her with a DDT, then finally reaches a tag.
Cutie hits the ring and shoots Akira to the ropes for a dropkick, covers for a count of 2, quickly hooks on a single-leg crab, Bull steps in to try and break it up, Ozaki cuts her off with a double leg takedown, then slaps on a single-leg crab of her own. Thye both release the hold and order is restored, Suzuki puts the boots to Akira, drives all of her weight down on the right leg, then goes back to the single-leg crab. Nakano sneaks in and rips her off by the hair, Akira quickly rolls to her corner to make the tag, Bull sends Cutie to the ropes, Suzuki ducks under a clothesline and Ozaki grabs Nakano by the arms to hold her. Cutie rushes in for a dropkick, Bull side-steps it and Mayumi gets hit instead, Nakano plants Suzuki with a powerbomb, heads upstairs for a moonsault, but nobody's home.
Ozaki pulls herself to the top turnbuckle, comes off with a double stomp, Cutie hgoes up for one of her own, then they both go back up to do it again for a near fall. They set Bull for a double suplex, Nakano blocks it and hits one of her own, Akira gets the tag, comes in from the top with a crossbody that's off the mark, Suzuki & Ozaki kick Nakano to the floor, then prop Hokuto on the top turnbuckle for a double superplex. Bull rolls back in, rips them both down to the canvas, holds them for Akira who scores with a crossbody. They pick Suzuki & Ozaki back up, send them to the ropes simultaneously, get surprised by in-sync hurricanranas for a double cover, but they only get 2.
They ascend up opposite corners, connect with crossbodys in succession, Suzuki with a lateral press of Akira for 2, then tags out. Ozaki re-enters the match, plants Hokuto with the Tequila Sunrise and still can't put it away, shoots her to the ropes for a clothesline, Akira ducks under it, drives Mayumi down on the back of her head with a german suplex and makes a tag. Nakano comes in and sends her to the ropes for a clothesline, Cutie comes in to break up the cover at 2, gets clocked by a big right hand for her troubles, Bull drags them both up, then sends them to the ropes for a double clothesline.
Suzuki & Ozaki duck under it, here comes Akira off the top with a double missile dropkick, Suzuki & Ozaki spill to the outside, Hokuto goes back up top and flies off with a somersault senton. She tosses Mayumi back into the squared circle, Nakano picks her up onto her shoulders, Hokuto goes to the top rope and they hit a doomsday device, Bull makes the cover, but Cutie just barely saves the match. Akira kicks her back down to the floor, scoops Mayumi up for a body slam, Nakano comes off the top with a Diving Guillotine Leg Drop and that's all she wrote.
Winners: Bull Nakano & Akira Hokuto (Nakano/Diving Guillotine Leg Drop)
EA's Take: Akira Hokuto & Bull Nakano are legends of Japanese wrestling and women's wrestling to a certain extent, but this was just absolutely dreadful, moves for the sake of moves. This is the kind of wrestling that drives me up a wall today with hardly any selling and just a complete cluster of confusion. WCW was continuing to make business dealings with the promotions in Japan, which we will see hit its peak the following month, but women's wrestling still had basically zero interest here in America. Some fans may have been familiar with Bull Nakano, but in America for this time period women's wrestling still didn't stand a chance with a mainstream audience.
In The Arena: 'Mean' Gene plugs the hotline again, which of course he can't talk about on the air, therefore you have to give them a call. He welcomes in Lex Luger & Jimmy Hart, Jimmy mocks 'Macho Man' Randy Savage, informing him that he might be looking at the next World Champion. He claims Luger has it all including himself by his side, Lex stating that he is the flagship of WCW. He warns Savage that he will break him into a hundred pieces, will leave him unable to compete in World War 3 and he will become the new champion.
Match #4 is for the WCW United States Championship: 'Crippler' Chris Benoit vs. WCW United States Champion Kensuke Sasaki w/Sonny Onoo
Collar & elbow tie-up to start off, they jockey for position and Benoit backs the champion to the corner, doesn't break clean and unloads with chops and kicks. He snapmares Sasaki over for a shot to the head, Kensuke regroups, they lock-up again, this time the champion backing The Crippler to the corner. He fires away with chops of his own, snapmares him over for a kick to the spine, Benoit now taking a breather. Another tie-up and the challenger goes to a waistlock, Sasaki tries to counter out, gets taken down by a drop toe hold and The Crippler grounds him with a hammerlock. He switches to a front facelock, Kensuke works to his feet, tosses Benoit away with a back body drop, they regather again and now go into a test-of-strength.
The champion gets the better of it and The Crippler bridges back to a vertical base, brings Sasaki down with a top wristlock, then tries to force his shoulders to the mat. Kensuke finds his footing and they back into the test-of-strength, Benoit works into a straight-jacket hold, the champion battles his way out of it, scoops the challenger up for multiple body slams and covers for a 1 count. He slaps on a rear chinlock to wear Benoit down, The Crippler makes it back to a standing position, pushes him off to the ropes and gets knocked down by a shoulder block. The champion goes back to the ropes, Benoit leapfrogs over, slides underneath, gets caught by a boot to the midsection, Sasaki then powering him up for a military press slam.
He hooks The Crippler for a double leg takedown, the challenger uses his leg strength to roll him away, Kensuke rolls to the outside, Benoit builds a head of steam and flies through the ropes with a suicide dive. He drives the champion spine-first into the ring apron, deposits him back inside, steps in for a snap suplex that only gets 1, then grinds Sasaki down with a headscissors. Kensuke fight his way out of it, shoots the challenger to the ropes for a powerslam, gains a count of 2, lifts him for a vertical suplex, The Crippler slides out of it, plants him with a german suplex, maintains his grip for another, goes for a third, but gets rocked by a back elbow. Sasaki hits the ropes and flattens Benoit with a clothesline, thinks it's over and sets for a tombstone piledriver, the challenger counters out and spikes him with one of his own.
He ascends the corner to the top, connects with the Diving Headbutt, still can't put it away, peppers the champion with chops, then props him on the top turnbuckle for a super hurricanrana. Kensuke barely kicks out at 2, The Crippler puts the boots to him, Sasaki blocks one, drives him into the canvas with a one-arm powerbomb, then slaps on the Strangle Hold. The challenger quickly reaches the ropes with his foot to force the break, reverses an irish whip to the ropes, scores with a clothesline, Sasaki absorbs it, delivers a clothesline of his own, scoops Benoit up for the Northern Lights Bomb and picks up the win.
Winner and STILL WCW United States Heavyweight Champion: Kensuke Sasaki (Northern Lights Bomb)
EA's Take: This one started out a little too slow for my liking, but certainly picked up steam the further it went along. You can see the potential in Benoit and WCW recognized it by putting him in The Four Horsemen not long before this, but early on like this match, he would seem more like a distant member and wasn't around the other three much. Sasaki, who had defeated Sting in Japan for the title just 10 days prior, really becomes the "top guy" for the incoming wave on New Japan Pro Wrestling stars leading into Starrcade.
In The Arena: Gene Okerlund is alongside The Taskmaster, The Giant & Jimmy Hart. The Taskmaster says The Dungeon Of Doom isn't just a part of tonight's Battle Royal, but they will take no prisoners, warning Hulk Hogan, Randy Savage & Sting that they've got friends as well. He claims The Giant is without a doubt the next World Champion, Jimmy stating that they aren't going to run and hide because Hogan is wearing red and yellow again. Gene questions if the rest of The Dungeon won't be out to get the title for themselves, Sullivan retorting that it doesn't matter who it is because The Dungeon will prevail. The Giant says he knows it will be himself and Hogan in the end, which means he will launch The Hulkster over the top to reclaim the title.
Video: "From the beginning, 'Macho Man' Randy Savage never trusted Lex Luger. He accused Lex of a personal agenda and even a cheap shot at War Games. A few face-to-face meetings during Nitro prompted the two to a showdown in the ring. Luger won that match with unexpected help from The Giant. Was Luger a secret member of The Dungeon Of Doom? Did he have a secret agenda as Savage had claimed? It all came to light at Halloween Havoc. Savage showed he was a true friend to Hulk Hogan, Lex Luger showed he was something else. Then two weeks ago on Nitro, Luger & The Dungeon Of Doom attacked."
In The Arena: 'Mean' Gene is joined by 'Macho Man' Randy Savage, Macho thinks it is what it is and in just a few seconds, Lex Luger will find out just who 'The Total Package' is. Savage believes he's at a million percent physically despite his arm, says he likes to stay positive, then heads to the ring.
Match #5: 'Macho Man' Randy Savage vs. 'The Total Package' Lex Luger w/Jimmy Hart
Savage attacks Luger as he enters the ring and we're underway, shoots him to the corner, Lex rebounds out and gets dropped by a back elbow. Macho chokes him over the top rope, wraps his hands around Luger's throat, uses his boot to do some more choking, then drives him head-first into the top turnbuckle. He whips Lex back into the corner, unloads with heavy right hands, grinds the bottom of his boot in Luger's face, then shoots him across to the opposite corner. Savage rushes in and eats a boot to the chin, The Total Package charges out with a clothesline, Macho ducks under it, delivers one of his own, then slaps on a Boston crab.
Luger's too close the ropes and gains the break, rolls out to the apron, Savage steps out in pursuit, drops him to the floor with a right hand, then rams him head-first off the barricade. He rolls Lex back inside, slides in and scoops him up for a body slam, climbs up to the top rope for the Diving Elbow Drop, Jimmy Hart hops on the apron to distract the referee and Macho connects, then makes a cover. He realizes the official is occupied, hauls Luger up, looks to toss him into The Mouth of the South, but Jimmy avoids it and Lex spills to the floor. Savage goes out after him, drives him head-first off the barricade again, looks to whip him into the ring apron, The Total Package reverses it, sending Macho into it instead.
He rolls in-and-out of the ring to break the count, powers Savage up into the Torture Rack on the floor, finally releases it to break the ref's count again, then deposits Macho Man inside. Luger slides in, drags Savage to the middle of the ring, hooks an armbar on the bad limb, the ref checks with Macho and there's no response.
Winner: 'The Total Package' Lex Luger (Armbar)
After The Bell: Lex refuses to release the hold after the bell, Sting comes running down to the ring, has a couple of words for Luger and The Total Package finally lets go.
EA's Take: Well, that was certainly an abrupt and unexpected ending. For as much of a feud as there's been between these guys, kind of an uneventful way for this one to go. There's still a lot of run left in the feud between Hogan, Savage and The Dungeon Of Doom however, whether we like it or not. This is also now the second PPV in a row where they squared off and it lasted less than 5:30.
Video: "Of the many matches between Ric Flair and Sting, the upcoming bout will be the most intense. It began when Flair lost to Arn Anderson at Fall Brawl. After the match, Flair looked to Sting for help, but The Stinger would decline multiple times before finally accepting, along with a stern warning. One week before Halloween Havoc, they were scheduled to team up, but Sting got cold feet. Flair would prove himself and later Sting would stand alongside The Nature Boy. Then came Halloween Havoc with Sting going to the ring alone as Flair received medical attention. The Nature Boy would finally arrive, showing his true colors once he was tagged into the match and revealing the charade."
Match #6: 'Nature Boy' Ric Flair vs. Sting
They go nose-to-nose and they exchange words, The Nature Boy sticks his finger in Sting's face, The Stinger nearly bites it, Flair tries to score with the first shot, but gets knocked down with a right. He rolls to the outside and slides into the adjacent ring, challenges Sting to bring it on, The Stinger obliges, drops Flair with another right hand, then shoots him to the ropes for a military press slam. The Nature Boy tries to beg him off, surprises Sting with a thumb to the eye, pelts him with fists and chops in the corner, taunts the crowd and whips him across. The Stinger rebounds off the turnbuckles with a clothesline, corners The Nature Boy and climbs to the 2nd rope to rain down punches, launches him across the ring with a hip toss, then connects with a dropkick.
Flair rolls to the floor, heads into the ring closest to the aisle, we see Col. Robert Parker & Sister Sherri on the stage and they make their way to the interview area to watch. Sting follows Flair into the ring, they tie-up and The Nature Boy backs him to the corner for chops, The Stinger absorbs them, unleashes a barrage of punches and lays him out. He clotheslines Flair over the top to the floor, The Nature Boy feigns walking off to the back, heads into the squared circle, they lock knuckles and Flair goes to a wristlock. He rips Sting down to the mat by the hair, The Stinger kips right back up, absorbs more chops, The Nature Boy hits the ropes and gets elevated again by a military press slam. He rolls to the outside and goes back towards the center ring, catches Sting coming in with a kick to the ribs, looks to shoot him into the barricade, but The Stinger puts the brakes on.
He turns back and charges Flair for a Stinger Splash, The Nature Boy side-steps it, Sting lands in the guardrail, Flair looks to go for a chair now, but the official takes it away from him. The Nature Boy drives Sting head-first into the barricade, rips at his eyes, steps back inside the center ring and The Stinger pulls himself in from the apron. Flair drags him up for a stinging chop, it seemingly wakes The Stinger up, he grabs The Nature Boy by the throat, Flair grabs the referee and delivers a low blow out of the official's view. He buries kicks into Sting's ribs, shoots him hard into the turnbuckles, scores with a knee drop, struts for the crowd and then starts to target the left knee with kicks.
The Nature Boy struts again and is in full control, deposits Sting over the top to the floor, steps out after him, continues going after the leg, connects with a chop and rakes the eyes before heading into the ring. He drags The Stinger in from the apron, cuts him down with a chop block, rips at his face, plants Sting with a back suplex, then locks on the Figure Four. Flair slaps him with the hold on and The Stinger gets fired up, rolls over to his stomach to reverse the pressure, The Nature Boy releases it, sends him to the ropes for a hip toss, but it's countered to a backslide for a near fall. The Nature Boy takes out his frustration on the referee, Nick Patrick shoves him to his backside, Flair goes back after Sting, sends him to the ropes for a big chop, but it has no affect.
Flair rolls out and heads into a different ring, The Stinger stays in pursuit, whips him to the ropes for a military press slam, follows with multiple clotheslines, but gets caught by another thumb to the eye. The Nature Boy goes to the high-rent district, Sting surprises him with an uppercut, launches him off the top with a military press slam, sends him to the corner, Flair flips out to the apron, lands on his feet, but gets leveled by a clothesline. The Stinger pulls him back in, corners Flair and goes to the 2nd rope for a series of fists, The Nature Boy powers him out for an inverted atomic drop that misses the mark and gets rocked by a right hand. Sting props him on the top turnbuckle, brings him down the hard way with a superplex, hooks on the Scorpion Deathlock and Flair submits.
Winner: Sting (Scorpion Deathlock)
EA's Take: Personally, I always find Sting vs. Flair entertaining no matter how many times I've seen it because of the magnitude of their characters. The in-ring work is always solid, but by now if you've seen them face-off once, you've basically seen all the rest because they kept the same formula though the years. They would always cross paths every so often, meeting one more time at Starrcade before going their separate ways again.
Video: "Three rings, sixty men. The World War 3 Battle Royal is the most unique match in WCW history. When Hulk Hogan agreed to face The Giant at Halloween Havoc in two matches, little did he know that his longtime friend, Jimmy Hart, was plotting against him. Jimmy Hart would get Hogan disqualified, leading to a brutal attack and The Giant left with the belt. Jimmy would reveal that he negotiated that Hulk could lose the WCW World Title by disqualification. WCW officials stepped in and the rest is wrestling history. Now, three rings with the most prestigious title in wrestling history on the line."
In The Arena: 'Mean' Gene welcomes in Hulk Hogan, The Hulkster says he's focused on The Giant tonight, but the main thing is to take the WCW Heavyweight Title, which never should have been taken from him in the first place. He speaks about talking to Sting & 'Macho Man' Randy Savage, states that they are friends, but if it comes down to the three of them, he will rip and tear his way to the title. Hogan talks about it being every man for himself, believes it is the most dangerous match in pro wrestling, but in one swoop he has the chance to prove Hulkamania is the greatest power in the universe.
Match #7 is World War 3 for the Vacant WCW World Heavyweight Championship – The Participants Are:
Arn Anderson
Alex Wright
Brian Knobs
Barrio Brother Ricky
Squire David Taylor
Scott Armstrong
Sting
'Jumpin' Joey Maggs
'Pistol' Pez Whatley
Disco Inferno
Meng
Stevie Ray
Mark Starr
Sgt. Buddy Lee Parker
Lt. James Earl
Lex Luger
Eddie Guerrero
Cobra
The Giant
'Mr. Wonderful' Paul Orndorff
Chris Kanyon
Bobby Walker
Earl Robert Eaton
Chris Benoit
'Macho Man' Randy Savage
Marcus Bagwell
The Yeti
Kurasawa
Hugh Morrus
The Zodiac
V.K. Wallstreet
Diamond Dallas Page
Scott 'Flash' Norton
Brian Pillman
Sgt. Craig Pittman
One Man Gang
Super Assassin #2
Bunkhouse Buck
Kensuke Sasaki
Mike Winner
The Shark
Steve Armstrong
Road Warrior Hawk
Dave Sullivan
Scotty Riggs
Johnny B. Badd
JL
Big Train Bart
Lord Steven Regal
'Dirty' Dick Slater
Max Muscle
Super Assassin #1
Barrio Brother Fidel
The Taskmaster
Jerry Sags
'Hacksaw' Jim Duggan
Booker T
Big Bubba Rogers
Ric Flair
Hulk Hogan
We have one announce team per ring with Eric Bischoff & Dusty Rhodes, as well as Chris Cruise & Larry Zbysko joining for commentary. The bell rings and all Hell breaks loose in all three rings, the screen splitting three ways to show everything taking place, The Yeti gets eliminated very quickly and The Horsemen drags Sting outside through the ropes to do a number on him. Participants slowly start to get eliminated and the melee continues on, The Giant dominates everyone in ring two, The Hulkster staving off a group of stars looking to gang up on him. So far only The Yeti & Mike Winner have been sent packing, Sting saves Luger from elimination, Knobs sends Mark Starr to the floor, Cobra, Buddy Lee Parker & Lt. James Earl all spill to the outside at the same time.
The massive brawl wages on, Sting teams up with Knobs to send Disco on a trip to Pity City, Kanyon & Bagwell get tossed, Bart takes a nasty spill to the floor, Luger & Double-A battling on the floor, but are not eliminated. The Giant clears out a handful of guys in one swoop, ring two is down to 10 guys and merges into ring one, Wallstreet & Norton get sent on their way, all three rings combine and we're now under thirty participants left. Joey Maggs hits the floor, Duggan gets Bubba rocked on the apron, pulls out the tape, wraps his fists and knocks him down. Bubba climbs back on the apron, drags Hacksaw over the top, one of the Armstrongs gets wheeled away on a stretcher, Disco & Dave Taylor both get eliminated.
Hogan tosses Sags & Booker T to the outside, throws The Taskmaster over the top, Luger & Savage go to another ring to fight one-on-one, then out onto the floor. Regal gets knocked off the apron, Johnny B. Badd dumps DDP over, Page hangs on and brings Badd to the floor with him. Benoit & Kurasawa are eliminated next, Meng gets clotheslined over the top, Pillman shoots Zodiac to the ropes, Hugh Morrus elevating him to the outside with a back body drop, but gets quickly eliminated in-turn. Pillman gets tossed over the top, tries to drag Sasaki down to the floor from the apron, Hawk hangs on to help him out, but Hogan comes up from behind to send them both outside.
He powers Mr. Wonderful over the top rope, we're down to our final nine, Guerrero connects with a top rope dropkick to Anderson, Flair quickly picks the leg, locks Eddie in the Figure Four, but Sting grabs Arn for the Scorpion Deathlock. The Giant body slams Savage, Double-A reverses a whip to the ropes from Guerrero, plants him with a spinebuster, Hogan & Sting go to work on Flair, Guerrero getting tossed out on the other side. Sting sends The Nature Boy to the corner for a Stinger Splash, The Giant steps in to help Flair, splits The Stinger with an tomic drop, then grabs Macho Man and plants him with a Chokeslam. Anderson & Flair, set for a spike piledriver on Sting, The Stinger sweeps Arn's legs, catapults him into The Nature Boy on the top rope and Flair falls down to the floor.
The Hulkster clotheslines The Enforcer over the top, Hogan & Savage look to team up against One Man Gang, Luger & Sting doing the same to The Giant. They get the big man rocking with multiple double clotheslines, Giant teeters nears the ropes, Luger & Sting start to topple him over the top rope, Hogan comes up from behind and dumps them all to the ground. The Giant drags Hulk to the floor under the bottom rope, Savage eliminates One Man Gang and the ref calls for the bell.
Winner and NEW WCW World Heavyweight Champion: 'Macho Man' Randy Savage
After The Bell: Hogan can't believe it and slides back in to argue with the official, explains he went outside under the bottom rope, Macho says he didn't see it and The Hulkster plays to the fans to plead his case. Gene Okerlund steps in to confer with the referee, offers him his glasses, but he raises Savage's hand. Hogan states that he never got thrown over the top, Macho Man tells Hulk that they are friends and he values his opinion, but didn't see what happened. He talks about the motto "it is what it is" and wonders if The Hulkster can handle that, Hogan asks the people again to prove him right, Savage claims this was his dream since he came to WCW and it's not cool if there's a black cloud over that. Hulk says that there is because neither one of them went over the top, Savage wants to see the footage and Hogan tells him he can see it tomorrow night on Nitro.
EA's Take: This feels like a great idea on paper or just when you think about it, but the problem with World War 3 is there's almost too much action for me. It's so difficult to follow anything before it gets down to one ring, so it's a bit of overkill. Especially considering that you know who the match is going to come down to in the end. Additionally, they couldn't give Savage the clean win and had to make it controversial so that Hogan still could lay claim to the title, but wouldn't regain it until late-summer of the following year and instead looked to clean up his issues with The Dungeon of Doom. Meanwhile, Savage's first WCW Title run would lead him into a rivalry with a very familiar foe from his WWF days.
EA's Finisher: While the concept of the World War 3 match feels like a good idea, overall it's a little too much for my taste as the action can be hard to follow and the ring is so filled with bodies, whatever's happening likely isn't worth watching anyways. The undercard carries this show which is going to become a running theme for WCW heading into the future, as DDP and Johnny B. Badd have the best match on the card and one of the more entertaining bouts for two events in a row now. Benoit vs. Sasaki is not executed to perfection, but still showcases some great action from a future World Champion and one of the mainstays from New Japan, while Sting & Flair give another entertaining effort even if the manuscript was written long ago. At the same time, you still have the Taped Fist Challenge and the Women's Tag to give you some of that "bad WCW" to go along with the good, so this is probably just under Halloween Havoc if I were ranking how enjoyable they were to watch.
Top Three To Watch
1 – Johnny B. Badd vs. Diamond Dallas Page
2 – Chris Benoit vs. Kensuke Sasaki
3 – Ric Flair vs. Sting
Chairshot Classics: What I Watched #16 – ECW Guilty As Charged 1999
Breaking up the 2018 time travel with a much deeper dive! Harry goes back to some prime ECW with Guilty As Charged 1999!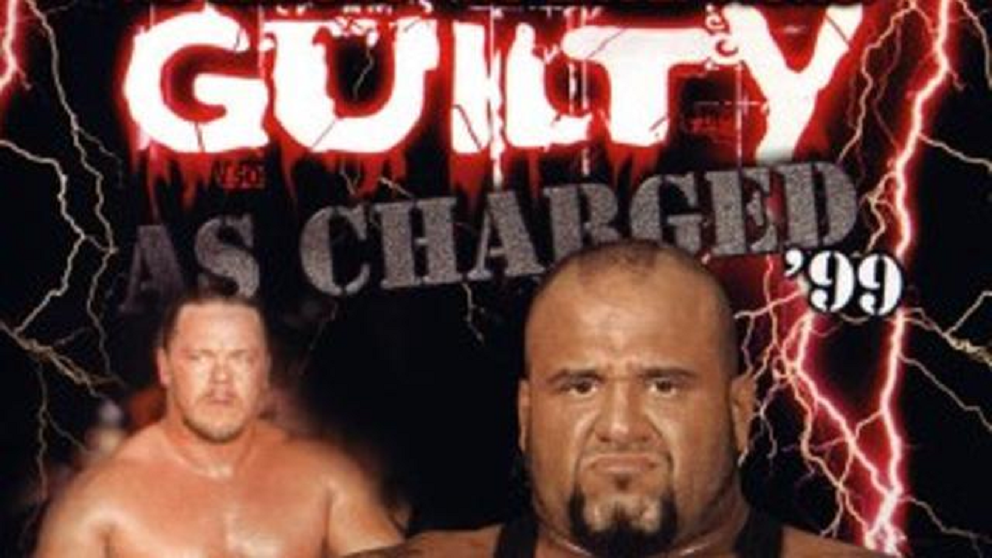 Greetings, salutations and welcome back. Harry here once again with another edition of 'What I Watched'. As the calendar year turns to 1999 on my watch-through of all things 'big three' wrestling, I covered Starrcade 1998 in an earlier edition of WIW. I figured since this is probably the last year where all three major companies are relevant (at least at the start), it could be fun to compare and contrast how I feel about the respective PPVs when compared to some of the independent wrestling I've been covering recently. Or even going back to the PROGRESS or Impact Wrestling shows that I've covered before. I am fully aware there are going to be some bad shows in 1999. But there is also a lot to talk about in a drastically changing industry. Let's do this, shall we?
ECW is in flux as talent losses haven't yet gotten to what they would become but names like Sandman, Mikey Whipwreck, Bam Bam Bigelow and others are no longer with the company. To make matters worse, the ECW-FMW relationship is falling apart now as well as a Chris Candido and Sunny (sorry, Tammy Lynn Sytch) no-show of a scheduled FMW appearance. Paul Heyman himself is the first person we see telling us the card is going to change…how much does it change? The WayBack Machine takes us to January 10th, 1999 in Kissimmee, FL as it's time for ECW to be Guilty as Charged!
What I Watched #16
ECW Guilty as Charged 1999
1/10/1999
Millenium Theatre in Kissimmee, FL
Runtime: 2:40:30 (Peacock)
Commentary By: Joey Styles (PBP)
THE RESULTS
Match 1: Axl Rotten/Ballz Mahoney win 3 team tag elimination match, eliminating Little Guido/Tracy Smothers @ 10:44 (Danny Doring/Roadkill eliminated @ 8:15)

Match 2: Yoshihiro Tajiri pins Super Crazy, dragon suplex @ 11:37

Match 3: Psycho Sid Vicious pins John Kronus, powerbomb @ 1:31

Match 4: Bubba Ray and D'Von Dudley def. New Jack/Spike Dudley, both Dudleyz pin Spike @ 10:05

Match 5: ECW TV Title- Rob Van Dam pins Lance Storm, bridged German suplex @ 17:46

Match 6: Justin Credible pins Tommy Dreamer, That's Incredible on ladder @ 18:44

Match 7: ECW Heavyweight Title- Taz defeats Shane Douglas © by KO, Tazmission @ 22:15
THE BREAKDOWN
Three Team Tag Elimination Match

Started as a straight up 2 vs. 2, but within the first two minutes, Ballz and Axl (Axl making his return to the company after the passing of his grandmother) join the frey and it becomes your traditional ECW three team brawl. Nothing really stands out here but the overall work is good enough for what the match is supposed to be. The elimination of Doring and Roadkill is well done, as a FBI double-team fishermanbuster looks really cool and gets a decisive win for what was to be the original match. They do give the win to Axl and Ballz here, which I get given the fact they are a popular act, but I personally think  that Guido and Tracy were a better team during the time frame. (**½)
Super Crazy vs. Tajiri
Yes, it's the feud that never ends. But this is where it begins. Both men were relative newcomers to the American wrestling scene with both having had limited exposure on WWF TV (both were in the Light Heavyweight title tournament). This is a good match but not a great match and honestly, I think timing is the issue here. Eleven minutes may seem like a lot but knowing what these two would be capable of down the road once there is more of a fan and time investment into their matches, it ends up being a good starting point but probably not the blow away match that ECW was expecting to deliver here. (***)
John Kronus vs. Mystery Opponent
So, ECW fans are notorious for their belief that the "big oaf" style of the WWF and WCW wouldn't work in ECW. Obviously, they are wrong. Guys like Big Dick Dudley and 911 became massive fan favorites due to their look, not anything they could do in a wrestling ring. You can add another name to that list, as Psycho Sid makes his ECW debut here (following an introduction by the 'Judge' Jeff Jones) and absolutely kicks Kronus' ass in less than two minutes. Sid was never anything special in the ring but he is one of the more charismatic big men in wrestling history so the cult-like following is easy to understand. Too short to rate, but fun for what it was. (X)
Dudleyz vs. New Jack/Spike Dudley
Sixteen year old Harry getting into ECW was a huge Joel Gertner fan. Thirty seven year old Harry going back and watching these shows is an even bigger fan of Joel Gertner. Granted, his shtick is incredibly juvenile but sometimes, you just want to laugh…
The match is your standard ECW garbage brawl. Most New Jack matches definitely have a similarity to them that does not hold up well for re-watching. I will openly admit to being a Spike Dudley mark and he does well taking an ass whooping from Bubba Ray. The Dudleyz definitely have their moments in ECW (the best is still to come in my opinion) but this isn't one of their best performances. I will give props to New Jack for taking 3D on the ramp, even if it doesn't come across the cleanest. About what you'd expect, but nothing more. (**)
TV Title- Rob Van Dam © vs. Lance Storm
Rob Van Dam vs. Masato Tanaka was the originally scheduled match and I think it could have been fun. However, Tanaka apparently has visa issues which prevent him from being able to get into the US for the show and thus ECW has to pivot quickly. I do have to give credit to Lance Storm for his pre-match promo here. For someone who is not known as one of the better talkers in wrestling history, he does a really good job explaining the situation with the 3 way that was supposed to happen (Storm vs. Spike vs. Jerry Lynn (cracked pelvis)) and then calling out Rob Van Dam since his opponent wasn't there either. Storm has a really good closing line for the promo too: "I'm not the 'Whole F'n Show', but I am the best damn part of it'. That is one of the lines that sticks with you and you remember it.
The match itself is very good but not great. It is better than anything else on the show, so perhaps I'm rating it on a slight curve for that. Van Dam's selling is sporadic but to be fair, Van Dam's selling is always sporadic. The biggest thing for me is that despite that, they still keep an impressive pace and the match is by and large clean. There is a super weak chair shot by Storm (which the crowd gives him a good ration of shit over), but they do manage to turn that crowd around for the finishing sequence. A little surprised by the choice of finish, but I imagine that has something to do with telling the idea that Storm got caught and wasn't soundly defeated like most of Van Dam's prior opponents had been. (***½)
Stairway to Hell- Justin Credible vs. Tommy Dreamer
The problem for Credible in ECW is that Paul wanted you to believe that Justin was this huge deal but truthfully, the booking never actually treated him as such. Yeah, he won…A LOT…but more often than not, it was almost treated as an afterthought. He very rarely won the big matches on his own and while I get that as a heel, you want to give him that sense of dickishness, as a wrestling fan eventually you have to make it look like the dude could stand up on his own. Dreamer has long been a favorite of mine, even if he has overstayed his welcome in the ring on occasion. You know going in that win or lose, Tommy will bust his ass to give you as good a match as he is capable of. 
As for this match, it never reaches that next level that you expect a gimmicked semi main event of a PPV to reach. It's not actively bad or anything (in fact, probably up there for Credible's best match in ECW to date) but with the stipulation and the gaga around it, it feels like there was so much more it could have been. The finish comes off really flat as well as it renders the whole point of the stipulation useless and only serves to put more heat on Credible by way of Funk. (**½)
Heavyweight Title- Shane Douglas © vs. Taz
So, I'll be a little nicer to this match then some other reviewers I've seen for a couple reasons. It completely accomplishes the goal that Heyman set out for it. Taz comes out of the match looking like a world beater. Douglas comes out of the match as the face of the company who "went out on his shield" as the old phrase goes. Sabu looks like a lunatic and a viable threat to take the title at any time he damn well pleases. Candido comes off as a huge dick and sticks the final knife in Douglas' back for the end scene. So the story telling is magnificent. 
The match itself? At least a good five to seven minutes too long for that story. I get wanting that epic storytelling to fold out but when you guys are down and low on ideas, it might not be the worst idea to take it home. The other issue is that by trying to serve so many masters, Heyman causes the main event to end up being epically overbooked. Granted, that is an ECW trademark but for what was to be the crowning moment for Taz, I don't think the 73rd Airborne needed to be a part of it. Sabu could have just as easily returned post match to set up a run with Taz. Or Candido could have turned on Douglas post match to give him a direction going forward since Taz would be occupied with Sabu. I'm not saying it completely takes away the moment but it does make it mean less than it could or should have in the overall scheme of things. (**)
THE FINAL REACTION
Best Match/Moment:

Rob Van Dam vs. Lance Storm, although I do think their match at the first ECW PPV 'Barely Legal' (which I imagine I'll eventually do) is better

Worst Match/Moment:

The main event. What could have been an awesome moment for the 'Human Suplex Machine' and the biggest ass kicker in the company is ruined with a boring crowd brawl (to the home viewer) and a couple of run-ins that either end up actively taking away from it.

Overall Show Score:

5.5/10

MVP:

Joey Styles is the best thing about this show with his one man performance. There is a reason he was such a major influence on what I did as an announcer.
THE SIGNOFF
It's not a bad show. It's just not a particulary good one either. And while ECW would put out worse, it only barely outdoes Starrcade 98 to avoid the worst show of the return thus far.
So, where do we go from here? January of 1999 had no chill. The very next Sunday would see the first WCW outing of 1999, called Souled Out. The Sunday after that would be the 1999 edition of the Royal Rumble. I'm going to hit both of those but as a fair warning, I'll probably try to mix an Independent show from 2018 in the middle of them. Hope to see you guys at Souled Out. And feel free to check out my archives by clicking on my name at the top of this review. Thanks for reading, everyone.
What I Watched #10b: All IN 2018
Harry decided to abridge his All In write up and bring us the blast from the past while he's on vacation! With only a few weeks until All Out, reminiscing could be fun!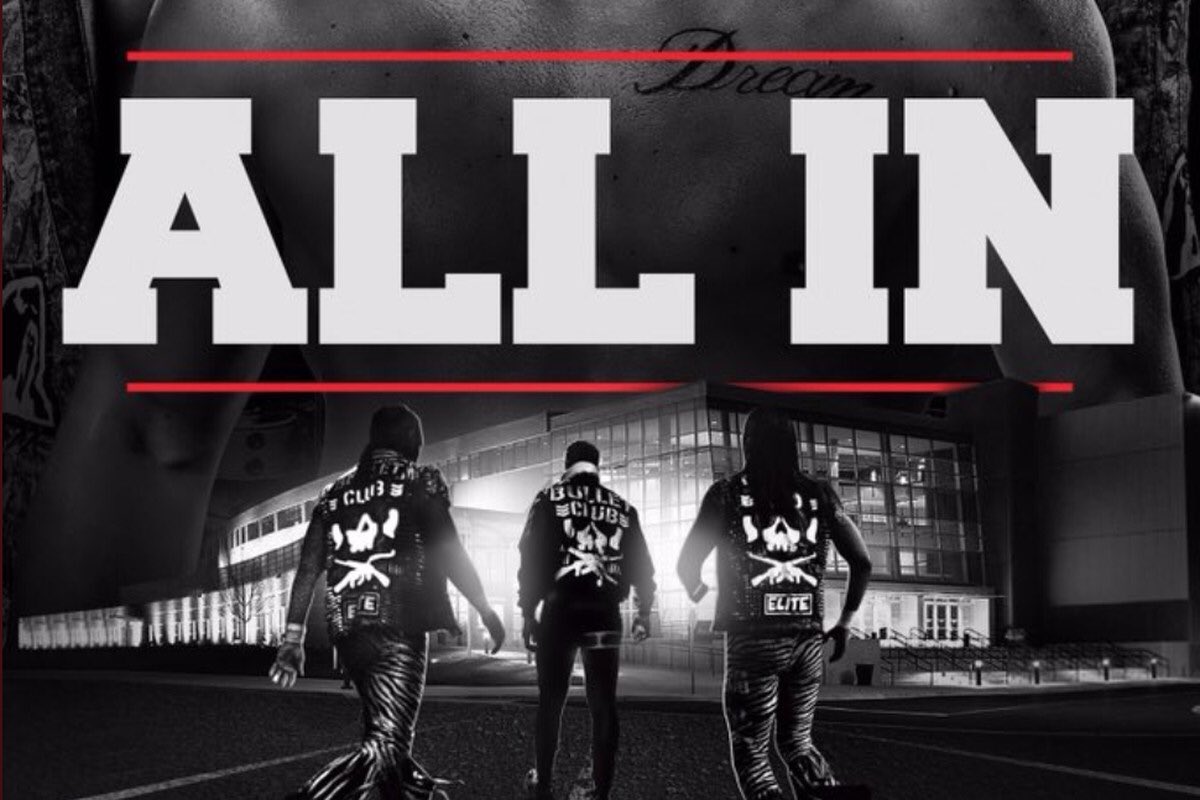 Greetings, salutations and what nots. At the time you are reading this, I will be away from home on vacation with my amazing girlfriend. In the interest of not want to lose everyone's attention in the downtime, I decided to go back to one of my earlier reviews and reformat it to match the current style while giving people who may have not been interested due to the length of the previous review a chance to see what they may have missed as well as share my thoughts on a show that had quite the buzz when it happened.
I mention in my review of AAW's Destination Chicago 2018 (full review available in my archive by clicking my name at the top of this review) that everyone was in Chicago for this particular show. Obviously, though it was presented as part of a deal with ROH (and to some extent New Japan), this ends up being what many consider the launching point for AEW. So join me once again as the WayBack Machine takes us to suburban Chicago on September 1st 2018 and we revisit 'All In' here on 'What I Watched'.
What I Watched #10-B
ROH/NJPW/Friends 'All In' 2018
9/1/2018
Sears Center in Hoffman Estates, IL
Runtime: 4:45:24 (45:27 on YouTube for the preshow, 3:57:57 on Fite.TV/HonorClub/NJPW World/traditional PPV for the main show)
Commentary By: Excalibur (PBP), Don Callis (Color), Ian Riccaboni (PBP/Color)
THE RESULTS
Match #1:

Zero Hour-

Frankie Kazarian/Scorpio Sky def. Jay/Mark Briscoe, Kazarian pins Mark with a powerslam counter to the Doomsday Device @ 12:35

Match #2:

Zero Hour-

Flip Gordon wins the 'Over the Budget Battle Royal' @ 17:11, last eliminating Bully Ray

Match #3: Matt Cross pins Maxwell Jacob Friedman, Shooting Star Press @ 10:07

Match #4: Christopher Daniels pins Stephen Amell, Best Moonsault Ever @ 11:45

Match #5: Tessa Blanchard wins four way, pinning Chelsea Green with the Buzzsaw DDT @ 12:43 of a match that also involved Britt Baker and Madison Rayne

Match #6:

NWA World Heavyweight Title-

Cody Rhodes pins Nick Aldis ©, sitdown on sunset flip attempt @ 22:03

Match #7: Adam Page pins Joey Janela, Rite of Passage off a ladder through a table @ 20:09

Match #8:

ROH Heavyweight Title-

Jay Lethal © pins Flip Gordon, Lethal Injection @ 14:25

Match #9: Kenny Omega pins Pentagon Jr., One Winged Angel @ 17:48

Match #10: Kazuchika Okada pins Marty Scurll, Rainmaker #2 @ 26:06

Match #11: Kota Ibushi/Matt Jackson/Nick Jackson def. Bandido/Fenix/Rey Mysterio Jr., Matt pins Bandido after the Meltzer Driver @ 11:44
THE BREAKDOWN
Zero Hour- SCU (Frankie Kazarian/Scorpio Sky) vs. The Briscoes (Jay/Mark)
*Hell of a way to kick things off and the exact kind of match that you want to put out to people in order to get those on the fence to order the show. I don't know about the $50 price tag that the PPV had, but this would have been enough for me to sign up for Honor Club for $10 to watch the show at least. I'm curious if ROH ever followed up on SCU pinning the ROH tag champions here. I'd imagine so even though the end is near for Kazarian, Scorpio and Daniels in ROH with AEW looming on the horizon. (***½)
Over the Budget Battle Royal
*It was fun for what it was. Maybe a little overcrowded, but there are several people who have got to make a name for themselves off this match. Marko Stunt is all over Game Changer Wrestling (and got a run in AEW as part of Jurassic Express) and Jordynne Grace, who got herself a deal with Impact, being two to spring immediately. I don't rate battle royals but it was entertaining, which is all you can ask for sometimes. (X)
Maxwell Jacob Friedman (MJF) vs. Matt Cross
*Good little opener here for the main show. My misgivings on the rope hanging piledriver aside (MJF calls it the Heatseeker), they worked together well without throwing too much against the wall and burning out the crowd for later. I had hoped Cross would get a chance with AEW but we know that doesn't happen, unfortunately. MJF does become one of the biggest creations AEW has up until this point, but no-one is really sure where his status lies with the company at present. Strong start to open the show and really happy for a genuinely good dude in Matt Cross to have gotten this opportunity. (***)
Christopher Daniels vs. Stephen Amell (special guest referee: Jerry Lynn)
*When this show first happened, I heard a myriad of opinions on this match. Some thought it was really good, others thought it stunk. I fall somewhere in the middle here. Amell, for an actor, put in a pretty good performance here. I'm not saying he should do this full time or anything, but it's not like he embarrassed himself either. Daniels had his own hiccups here as well though. So the blame doesn't fall solely on Stephen. Overall, I'd call it above average given who Daniels' opponent was. But I know first hand that Daniels is capable of much, much more. (**½)
Britt Baker (bay bay) vs. Madison Rayne vs. Chelsea Green vs. Tessa Blanchard
*Not sure if it was just me but the finish looks a little suspect. Tessa getting the win did make sense though at the time (I'd imagine this result changes with benefit of hindsight). As for the match, they worked hard and it by and large came together well. It definitely lost its way a bit towards the end, so I have to dock it a bit for that. All in all, I'd say good effort from the ladies involved and I'd even put it just slightly above the Daniels and Amell match it just followed. (***)
NWA World Heavyweight Title- Nick Aldis © vs. Cody (Don't Call Him Rhodes)
*A very good match but a couple of little things keep it from the next level for me. First, the blatantly missed superkick. I'm not really as upset about that one as some people may be because I get it, shit happens in the moment. The blade job however, I can't forgive. It was terribly obvious. I get the intent behind it to help Cody fight from underneath. I have no issues with blood in general (hell, I watch death matches). But if you can't do the blade job more realistically there, it shouldn't have been done. It doesn't really factor into the match in the grand scheme of things. Also while I personally don't mind the methodical pace, I do know it's not everyone's cup of tea. I dug the match as a whole though. And props to Brandi for eating it on that flying elbow drop. (****)
'Chicago Street Fight'- Adam Page vs. Joey Janela
*This match won't be for everyone. Some people like the old school ECW brawl and some people don't. I do when it's well executed but there seemed to be quite a bit of downtime in this one. Honestly, to me…Penelope Ford came out of this match looking like the biggest star of the three. All in all, I'd say good for what it was but nothing I'd probably want to go back and re-watch either. The finish was dope though. Janela is a crazy person for taking it. (***)
ROH Heavyweight Title- Jay Lethal © vs. Flip Gordon
*Let's not kid ourselves. There was no way that they were going to change the ROH title on a non-ROH show. As much as they enjoyed having the belt defended, this defense was a lock for Lethal regardless of the opponent. Flip getting the match itself is the story here and his performance justifies it. I'd call it good but again, it's nothing that you'll want to re-watch again, despite the impressive agility of Gordon and the sheer nostalgia of Lethal busting out the 'Black Machismo' shtick again. (***½)
Kenny Omega vs. Pentagon Jr.
*Your mileage may vary for sure on this one. Everyone heaped a ton of praise on it and while it is very good, it does not raise to the level of excellence for me. The ridiculously spotty selling and the absolute disrespect to some of the most protected moves in wrestling cause me to take an issue. I do think they worked really well together and the styles meshed a lot better than I thought they might. But there was nowhere near the emotion here that came through clear as day on the Cody and Aldis match earlier. From a pure work rate aspect, it's the best on the show so far. But personally, I prefer Cody and Aldis to Omega and Pentagon Jr. (****)
Kazuchika Okada vs. Marty Scurll
*A little long. But they told a pretty strong story throughout.At the time of this writing, I had made it no secret that I was not sold on Kazuchika Okada as a draw in the US. Clearly, I was wrong. He had the entire crowd in the palm of his and Scurll's hands for basically the entirety of this contest and it was one that I think both raised Scurll's standing in the world of wrestling and confirmed what many people already feel about Okada. That being said, it's a better match if you chop off five to eight minutes from it. (***½)
Young Bucks/Kota Ibushi vs. Bandido/Fenix/Rey Mysterio
*Clearly much shorter than it was probably supposed to be, they packed a ton of action into these almost twelve minutes. I'd have been curious to see what was possible with a full run time but with Rey already gone (he had just resigned with the WWE), there would be no chance to run this back. I think it was a good way to send everyone home happy and get all the marquee moments in, but overall it just ends up being a spotfest fluff match rather than anything that'll be strongly remembered as standing out down the road. (***½)
THE FINAL REACTION
There is a lot to get through here. As you guys saw above, the totality of both Zero Hour and All In run almost five hours. While not all of that is well spent, there is more than enough to sink your teeth into here, even if you wouldn't classify yourself as a traditional 'Independent Wrestling' fan. There are a couple of real good spotfests if you liked the ECW/WCW luchador/cruiserweight style. There's a tremendous call-back to the old NWA days with how Nick Aldis vs. Cody plays out. There is a interesting take on the old 'hardcore' styles that both ECW and the WWF used to enjoy presenting in Janela vs the 'Hangman'. You even get the chance to see the celebrities that get trotted out for the big shows in places like the WWE and Impact Wrestling. Does it all work? No. But a good majority of it does. As I said, it's almost five hours. But by and large, it's five hours well spent. Call it an 8.5 and while there is room for improvement (as with everything), a very strong start for Cody and the Bucks as promoters.
Best Match/Moment: I'll go moment here and go with the obvious of Cody getting to hold the same NWA title his father did in what was an NWA stronghold town. It's cool to see the torch passed like this.
Worst Match/Moment: The fact that the main event with arguably six of the best wrestlers in the world at the time ends up getting the second shortest amount of time.
Overall Show Score: 8.5/10
MVP: I'm going to give this one to Cody, both for the role he played as a producer/agent for the show as well as the performance in the match with Aldis as well. A good night for young Mr. Runnels.
THE SIGNOFF
And that wraps up the first of the 'retro' look backs at previous 'What I Watched' reviews. When I return, I will be coming back with ECW's Guilty as Charged 1999, the first pay-per-view of the last year of the 1900s. Following that, I know the WWF's Royal Rumble 1999 is on the list. I'd imagine I'll get to WCW's Souled Out 1999 and when I do return to the Indies, promotions like IWA-MS, CHIKARA, Freelance, BEYOND, WWR and so many others are within my potentially planned scope. Hope to see you down the road and may you all enjoy quality time with those you care. See you next time and thanks for reading, everyone.