Chairshot Classics: WCW World War 3 '95 – 60 Men…3 Rings…3 Giants…1 Battle Royal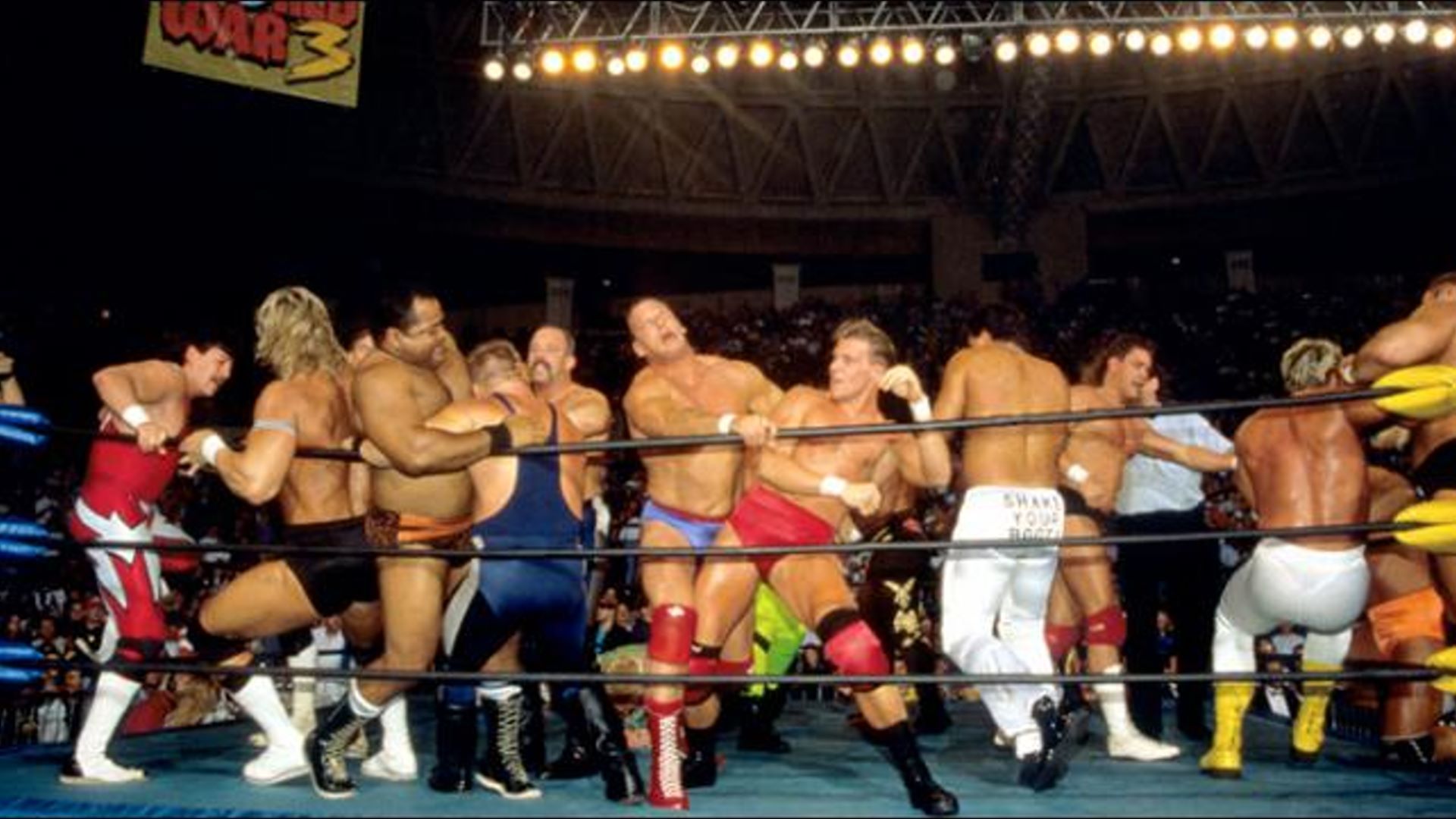 Our weekly Chairshot Classics WCW PPV series continues with World War 3 '95!
Open: "WCW declares war with the biggest battle royal in wrestling history. World Championship Wrestling wages World War 3. Sixty international superstars from around the globe prepare for combat as never seen before. It's all out war with three rings, three giants and one battle royal. It's WCW's World War 3."
In The Arena: 'Mean' Gene Okerlund is standing by with Hulk Hogan, 'Macho Man' Randy Savage & Sting, The Hulkster saying something bad always comes from something good. He talks about the Hulkamaniacs sticking by him as he walked through the darkside, explains he now knows who his friends are and tonight the darkside of himself will be no more. He tears off his black shirt and reveals the red and yellow once again, it burns in a garbage can and Hogan claims he will never again question Sting or Savage. The Stinger proclaims the black is gone for good, Macho Man says that when you're wrong, you're wrong and apologizes to Hulk. The Hulkster thinks it's funny people have claimed Savage is legitimately injured, claims it was just a plan and says that between the three of them, the WCW World Heavyweight Title will wind up with the Hulkamaniacs.
Video: We take a look at the history between Diamond Dallas Page and Johnny B. Badd, which led to The Diamond Doll putting herself up as a prize in tonight's match, making it clear that she was sick of the mistreatment from DDP.
Match #1 is for the WCW World Television Championship & The Diamond Doll's Services: Diamond Dallas Page w/The Diamond Doll vs. WCW World Television Champion Johnny B. Badd
Page has some words for the champion while poking him in the chest, Badd swats his hand away, they lock-up and Page backs Johnny to the corner as the bell rings to make it official. The referee calls for a break, DDP smacks the champion on the chest and taunts him, they tie-up again  and end up on the outside, Johnny connects with a right, but Page goes to the eyes to take control. He looks to drive Badd head-first into the ring post, the champion slips free and shoves DDP into it instead, chases him back into the ring, but gets caught coming in.
The challenger sends him to the ropes for a clothesline, Johnny scores with a crossbody, Dallas switches the momentum and gets a count of 2, then quickly delivers a shoulder block. He hits the ropes and the champion leapfrogs over, powers him up for a samoan drop that gets 2, then brings Page to the canvas with a side headlock. DDP works to a standing position, counters to a top wristlock, Badd begins to overpower him, but Page grabs a handful of hair to rip him down. Johnny reverses his way out to a wristlock, Dallas again uses the hair to pull the champion to the mat, locks in an armbar, then switches back to a wristlock. Johnny rolls through and the challenger again grabs the hair, Badd kips up to his feet, returns the favor and gets scolded by the referee.
DDP tries to ambush him from behind, the champion sees it coming, low-bridges the top rope to send him to the floor, lines up for an outside dive, but puts on the brakes, then slingshots over the top with a crossbody. He calls for the Tutti Frutti, Dallas pulls The Doll in front of him to avoid it, pushes her into the champion, catches him with a sucker punch, then shoots him into the barricade. He deposits Johnny back inside and whips him sternum-first into the turnbuckles, plants him with a back suplex, puts the boots to Badd, then shoots him to the ropes for A Trip To The Diamond Mine. Page calls for a "10" from The Doll and she refuses, he turns back to the champion, peppers him with forearm shots, sends him to the ropes for a kick to the abdomen, but it's blocked.
Badd spins him around, gets leveled by a clothesline, Dallas with a lateral press for 2, corners Johnny and whips him across. He charges in with a shoulder to the ribs, calls for a "10" and again The Diamond Doll won't do it, DDP shoots Badd back across, rushes in for another shoulder, but this time nobody's home and he hits the ring post. He regroups and looks for a kick that misses the mark, scores with a punch, hauls Johnny up and sends him to the ropes for a back body drop, but Badd prevents it with a kick. The champion pulls himself to his feet in the corner, catches Dallas walking in with a kick, splits him with an inverted atomic drop, fires away with lefts hands, then hits the ropes for a big right. He looks to shoot the challenger to the ropes, DDP reverses it for a kick, Johnny blocks it, spins him around, ducks a clothesline and delivers one of his own, then calls for a "10".
The Diamond Doll holds up the "10+" sign, Johnny plants Page with a sit-out powerbomb for a near fall, sends him to the corner and follows in, but eats a back elbow. DDP stacks him up, puts his feet on the ropes and still can't finish it, whips him to the ropes for a tilt-a-whirl side slam, crawls into a cover for 2, gets surprised by a roll-up off the kick-out and Johnny nearly steals it. DDP quickly goes to the breadbasket with kicks, whips him to the ropes and gets caught by a tilt-a-whirl headscissors, Badd steps out to the apron, slingshots in with a splash, but Dallas gets the knees up. The challenger gives himself a "10", cracks the champion with a gutwrench gutbuster for a near fall, hooks Badd for another, Johnny slips out for a german suplex, but gets rocked by a back elbow.
Page lifts him up for A Trip To The Diamond Mine, the champion counters out, spikes him with a tombstone piledriver, but Dallas just barely kicks out at 2. The champion lines him up, connects with Tutti Frutti, DDP spills to the outside, Johnny flies over the top with the Badd Mood, rolls him back into the ring, then slingshots in from the apron with a leg drop to retain.
Winner and STILL WCW World Television Champion: Johnny B. Badd (Slingshot Leg Drop)
After The Bell: The Diamond Doll looks stunned and makes her way into the squared circle, giving Johnny a big hug. 'Mean' Gene plugs the hotline with details on the WWF steroid scandal as he awaits Johnny & The Doll, the champion says Dallas has no idea how to treat a lady and he plans on showing him how it's done, telling her that she will have the chance to be his manager or do what's in her own heart. The Diamond Doll tells him she will think about it, but for now she's just happy that the better man won.
EA's Take: So for the second pay-per-view in a row now, these two have opened the show with a pretty good effort and left it all out in the ring. DDP is really on the cusp of becoming a top star while Johnny continues to be among the best the WCW mid-card has to offer. There's still a lot more to come between these two over the coming months as DDP was not satisfied with this loss and moreover, the loss of The Diamond Doll. Johnny would grant The Doll her freedom and we would finally get to call her by her real name, Kimberly, by the time they'd meet again on PPV at SuperBrawl in February.
Match #2 is a Taped Fist Challenge: Big Bubba Rogers vs. 'Hacksaw' Jim Duggan
Duggan sprints down the aisle and ambushes Bubba as he makes his entrance, clobbers him with right hands, rolls Rogers into the ring, then calls for a 2×4 shot. Big Bubba tries to beg him off, the official tries to stop it and succeeds, Rogers surprises Hacksaw with a shot to the breadbasket, sends him to the ropes for a clothesline, but Duggan ducks it and delivers one of his own. Bubba is reeling, Hacksaw connects with another clothesline, still can't get him off his feet, goes to the ropes for one more and Rogers is sent over the top to the floor. Duggan goes out in pursuit, unloads with more fists, sends him inside another ring, hammers him with more punches on the apron, then sandwiches his head in-between the two ring posts.
Rogers falls to the floor, Hacksaw steps out to the apron, looks to come off with an elbow, Bubba avoids it, Duggan driving himself into the barricade. Big Bubba heads back into the center ring, hits the ropes and slides outside to deliver an uppercut, throws Hacksaw back in and pelts him with a barrage of heavy fists. He chokes Duggan with the bottom of his boot, Hacksaw spills to the floor, looks to escape to another ring, Bubba gives chase and they begin to exchange punches. Rogers looks to come back with a kick that's blocked, brings the other foot around for an enzuigiri, hits the ropes for a big uppercut, pulls out some more tape to re-wrap his hand, then unloads with blows to the ribs. Hacksaw starts to battle back with lefts-and-rights, shoots him to the ropes for a shoulder block, they collide and Big Bubba falls to the outside.
Duggan steps out after him, walks into a right to the abdomen, they make their way back to the center ring, Rogers pulls the tape back out and wraps Hacksaw's arm to the top rope. He unloads with heavy shots, Hacksaw drags himself back to his feet, Bubba hits the ropes and rushes in, Duggan sticks his fist out and Rogers runs right into it. The official tries to untie Duggan and can't free him, Big Bubba staggers back to his feet, charges in again, this time getting elevated over the top to the floor. Hacksaw finally gets loose and goes out in pursuit, decks Rogers with a couple of right hands, deposits him into the squared circle, shoots him to the ropes and delivers a body slam.
He calls for the Three Point Stance, levels Bubba with the clothesline and we see V.K. Wallstreet sneaking his way down to ringside with a chain around his fist. He climbs up to the apron, Duggan goes for the 2×4, buries it into Wallstreet's midsection, but the chain falls to the mat. Bubba picks it up, wraps it around his fist, surprises Duggan with an uppercut, stuffs the chain down his pants and makes it to his feet to beat the count.
Winner: Big Bubba Rogers (Foreign Object)
EA's Take: In case you hadn't figured it out because you skipped over reading the play-by-play, this one was an ugly brawl. I never got the concept behind the Taped Fist Challenge. I understand that loading your fist up with tape would make for a more devastating punch, but it just didn't get over with me and never really seemed to with the rest of the wrestling world either. Also, Schiavone said that "this one has been building for a while", but I don't recall it ever being a part of at least the last four episodes of Nitro leading into this feud-ending bout.
In The Arena: Gene Okerlund is joined by 'Nature Boy' Ric Flair, The Nature Boy claims the whole wrestling world knows he will style and profile over Sting, stating that whether you like it or not, it just happens to be the best thing going today. Flair says his master plan has come together with all his enemies in the building at the same time, proclaiming that after World War 3 he will rule WCW again.
Match #3: Cutie Suzuki & Mayumi Ozaki vs. Bull Nakano & Akira Hokuto w/Sonny Onoo
Mike Tenay has joined commentary for this contest. Akira & Bull go on the attack at the bell, they shoot Ozaki to the ropes for a double clothesline, clobber her with a double big boot and Nakano stays in the ring. She launches Mayumi across the ring by the hair multiple times, makes a tag and Hokuto comes off the top with an elbow to the back. She taunts Suzuki on the apron while holding Ozaki in a side headlock, switches to a wristlock, Bull grabs the other arm and they proceed to sink their teeth into Mayumi's wrists.
Nakano tags in and continues biting the arm, snapmares her to the mat by the hair, Akira comes inside and baits in Suzuki, the ref having to work Cutie back to the apron as Bull rips Mayumi back down by the hair. She lifts Ozaki up by the throat, Hokuto comes off the top to drive Mayumi down to the canvas, Bull goes into a cover for 2, Suzuki coming in late to try and break it up. Nakano hauls Ozaki back up and Mayumi tries to fight back, Bull absorbs the shots, flattens her with a clothesline, ties her up in the ropes and and tags out. Hokuto steps in and shoots her to the ropes, Mayumi springs off the 2nd rope with a forearm, hits the ropes and spikes her with a DDT, then finally reaches a tag.
Cutie hits the ring and shoots Akira to the ropes for a dropkick, covers for a count of 2, quickly hooks on a single-leg crab, Bull steps in to try and break it up, Ozaki cuts her off with a double leg takedown, then slaps on a single-leg crab of her own. Thye both release the hold and order is restored, Suzuki puts the boots to Akira, drives all of her weight down on the right leg, then goes back to the single-leg crab. Nakano sneaks in and rips her off by the hair, Akira quickly rolls to her corner to make the tag, Bull sends Cutie to the ropes, Suzuki ducks under a clothesline and Ozaki grabs Nakano by the arms to hold her. Cutie rushes in for a dropkick, Bull side-steps it and Mayumi gets hit instead, Nakano plants Suzuki with a powerbomb, heads upstairs for a moonsault, but nobody's home.
Ozaki pulls herself to the top turnbuckle, comes off with a double stomp, Cutie hgoes up for one of her own, then they both go back up to do it again for a near fall. They set Bull for a double suplex, Nakano blocks it and hits one of her own, Akira gets the tag, comes in from the top with a crossbody that's off the mark, Suzuki & Ozaki kick Nakano to the floor, then prop Hokuto on the top turnbuckle for a double superplex. Bull rolls back in, rips them both down to the canvas, holds them for Akira who scores with a crossbody. They pick Suzuki & Ozaki back up, send them to the ropes simultaneously, get surprised by in-sync hurricanranas for a double cover, but they only get 2.
They ascend up opposite corners, connect with crossbodys in succession, Suzuki with a lateral press of Akira for 2, then tags out. Ozaki re-enters the match, plants Hokuto with the Tequila Sunrise and still can't put it away, shoots her to the ropes for a clothesline, Akira ducks under it, drives Mayumi down on the back of her head with a german suplex and makes a tag. Nakano comes in and sends her to the ropes for a clothesline, Cutie comes in to break up the cover at 2, gets clocked by a big right hand for her troubles, Bull drags them both up, then sends them to the ropes for a double clothesline.
Suzuki & Ozaki duck under it, here comes Akira off the top with a double missile dropkick, Suzuki & Ozaki spill to the outside, Hokuto goes back up top and flies off with a somersault senton. She tosses Mayumi back into the squared circle, Nakano picks her up onto her shoulders, Hokuto goes to the top rope and they hit a doomsday device, Bull makes the cover, but Cutie just barely saves the match. Akira kicks her back down to the floor, scoops Mayumi up for a body slam, Nakano comes off the top with a Diving Guillotine Leg Drop and that's all she wrote.
Winners: Bull Nakano & Akira Hokuto (Nakano/Diving Guillotine Leg Drop)
EA's Take: Akira Hokuto & Bull Nakano are legends of Japanese wrestling and women's wrestling to a certain extent, but this was just absolutely dreadful, moves for the sake of moves. This is the kind of wrestling that drives me up a wall today with hardly any selling and just a complete cluster of confusion. WCW was continuing to make business dealings with the promotions in Japan, which we will see hit its peak the following month, but women's wrestling still had basically zero interest here in America. Some fans may have been familiar with Bull Nakano, but in America for this time period women's wrestling still didn't stand a chance with a mainstream audience.
In The Arena: 'Mean' Gene plugs the hotline again, which of course he can't talk about on the air, therefore you have to give them a call. He welcomes in Lex Luger & Jimmy Hart, Jimmy mocks 'Macho Man' Randy Savage, informing him that he might be looking at the next World Champion. He claims Luger has it all including himself by his side, Lex stating that he is the flagship of WCW. He warns Savage that he will break him into a hundred pieces, will leave him unable to compete in World War 3 and he will become the new champion.
Match #4 is for the WCW United States Championship: 'Crippler' Chris Benoit vs. WCW United States Champion Kensuke Sasaki w/Sonny Onoo
Collar & elbow tie-up to start off, they jockey for position and Benoit backs the champion to the corner, doesn't break clean and unloads with chops and kicks. He snapmares Sasaki over for a shot to the head, Kensuke regroups, they lock-up again, this time the champion backing The Crippler to the corner. He fires away with chops of his own, snapmares him over for a kick to the spine, Benoit now taking a breather. Another tie-up and the challenger goes to a waistlock, Sasaki tries to counter out, gets taken down by a drop toe hold and The Crippler grounds him with a hammerlock. He switches to a front facelock, Kensuke works to his feet, tosses Benoit away with a back body drop, they regather again and now go into a test-of-strength.
The champion gets the better of it and The Crippler bridges back to a vertical base, brings Sasaki down with a top wristlock, then tries to force his shoulders to the mat. Kensuke finds his footing and they back into the test-of-strength, Benoit works into a straight-jacket hold, the champion battles his way out of it, scoops the challenger up for multiple body slams and covers for a 1 count. He slaps on a rear chinlock to wear Benoit down, The Crippler makes it back to a standing position, pushes him off to the ropes and gets knocked down by a shoulder block. The champion goes back to the ropes, Benoit leapfrogs over, slides underneath, gets caught by a boot to the midsection, Sasaki then powering him up for a military press slam.
He hooks The Crippler for a double leg takedown, the challenger uses his leg strength to roll him away, Kensuke rolls to the outside, Benoit builds a head of steam and flies through the ropes with a suicide dive. He drives the champion spine-first into the ring apron, deposits him back inside, steps in for a snap suplex that only gets 1, then grinds Sasaki down with a headscissors. Kensuke fight his way out of it, shoots the challenger to the ropes for a powerslam, gains a count of 2, lifts him for a vertical suplex, The Crippler slides out of it, plants him with a german suplex, maintains his grip for another, goes for a third, but gets rocked by a back elbow. Sasaki hits the ropes and flattens Benoit with a clothesline, thinks it's over and sets for a tombstone piledriver, the challenger counters out and spikes him with one of his own.
He ascends the corner to the top, connects with the Diving Headbutt, still can't put it away, peppers the champion with chops, then props him on the top turnbuckle for a super hurricanrana. Kensuke barely kicks out at 2, The Crippler puts the boots to him, Sasaki blocks one, drives him into the canvas with a one-arm powerbomb, then slaps on the Strangle Hold. The challenger quickly reaches the ropes with his foot to force the break, reverses an irish whip to the ropes, scores with a clothesline, Sasaki absorbs it, delivers a clothesline of his own, scoops Benoit up for the Northern Lights Bomb and picks up the win.
Winner and STILL WCW United States Heavyweight Champion: Kensuke Sasaki (Northern Lights Bomb)
EA's Take: This one started out a little too slow for my liking, but certainly picked up steam the further it went along. You can see the potential in Benoit and WCW recognized it by putting him in The Four Horsemen not long before this, but early on like this match, he would seem more like a distant member and wasn't around the other three much. Sasaki, who had defeated Sting in Japan for the title just 10 days prior, really becomes the "top guy" for the incoming wave on New Japan Pro Wrestling stars leading into Starrcade.
In The Arena: Gene Okerlund is alongside The Taskmaster, The Giant & Jimmy Hart. The Taskmaster says The Dungeon Of Doom isn't just a part of tonight's Battle Royal, but they will take no prisoners, warning Hulk Hogan, Randy Savage & Sting that they've got friends as well. He claims The Giant is without a doubt the next World Champion, Jimmy stating that they aren't going to run and hide because Hogan is wearing red and yellow again. Gene questions if the rest of The Dungeon won't be out to get the title for themselves, Sullivan retorting that it doesn't matter who it is because The Dungeon will prevail. The Giant says he knows it will be himself and Hogan in the end, which means he will launch The Hulkster over the top to reclaim the title.
Video: "From the beginning, 'Macho Man' Randy Savage never trusted Lex Luger. He accused Lex of a personal agenda and even a cheap shot at War Games. A few face-to-face meetings during Nitro prompted the two to a showdown in the ring. Luger won that match with unexpected help from The Giant. Was Luger a secret member of The Dungeon Of Doom? Did he have a secret agenda as Savage had claimed? It all came to light at Halloween Havoc. Savage showed he was a true friend to Hulk Hogan, Lex Luger showed he was something else. Then two weeks ago on Nitro, Luger & The Dungeon Of Doom attacked."
In The Arena: 'Mean' Gene is joined by 'Macho Man' Randy Savage, Macho thinks it is what it is and in just a few seconds, Lex Luger will find out just who 'The Total Package' is. Savage believes he's at a million percent physically despite his arm, says he likes to stay positive, then heads to the ring.
Match #5: 'Macho Man' Randy Savage vs. 'The Total Package' Lex Luger w/Jimmy Hart
Savage attacks Luger as he enters the ring and we're underway, shoots him to the corner, Lex rebounds out and gets dropped by a back elbow. Macho chokes him over the top rope, wraps his hands around Luger's throat, uses his boot to do some more choking, then drives him head-first into the top turnbuckle. He whips Lex back into the corner, unloads with heavy right hands, grinds the bottom of his boot in Luger's face, then shoots him across to the opposite corner. Savage rushes in and eats a boot to the chin, The Total Package charges out with a clothesline, Macho ducks under it, delivers one of his own, then slaps on a Boston crab.
Luger's too close the ropes and gains the break, rolls out to the apron, Savage steps out in pursuit, drops him to the floor with a right hand, then rams him head-first off the barricade. He rolls Lex back inside, slides in and scoops him up for a body slam, climbs up to the top rope for the Diving Elbow Drop, Jimmy Hart hops on the apron to distract the referee and Macho connects, then makes a cover. He realizes the official is occupied, hauls Luger up, looks to toss him into The Mouth of the South, but Jimmy avoids it and Lex spills to the floor. Savage goes out after him, drives him head-first off the barricade again, looks to whip him into the ring apron, The Total Package reverses it, sending Macho into it instead.
He rolls in-and-out of the ring to break the count, powers Savage up into the Torture Rack on the floor, finally releases it to break the ref's count again, then deposits Macho Man inside. Luger slides in, drags Savage to the middle of the ring, hooks an armbar on the bad limb, the ref checks with Macho and there's no response.
Winner: 'The Total Package' Lex Luger (Armbar)
After The Bell: Lex refuses to release the hold after the bell, Sting comes running down to the ring, has a couple of words for Luger and The Total Package finally lets go.
EA's Take: Well, that was certainly an abrupt and unexpected ending. For as much of a feud as there's been between these guys, kind of an uneventful way for this one to go. There's still a lot of run left in the feud between Hogan, Savage and The Dungeon Of Doom however, whether we like it or not. This is also now the second PPV in a row where they squared off and it lasted less than 5:30.
Video: "Of the many matches between Ric Flair and Sting, the upcoming bout will be the most intense. It began when Flair lost to Arn Anderson at Fall Brawl. After the match, Flair looked to Sting for help, but The Stinger would decline multiple times before finally accepting, along with a stern warning. One week before Halloween Havoc, they were scheduled to team up, but Sting got cold feet. Flair would prove himself and later Sting would stand alongside The Nature Boy. Then came Halloween Havoc with Sting going to the ring alone as Flair received medical attention. The Nature Boy would finally arrive, showing his true colors once he was tagged into the match and revealing the charade."
Match #6: 'Nature Boy' Ric Flair vs. Sting
They go nose-to-nose and they exchange words, The Nature Boy sticks his finger in Sting's face, The Stinger nearly bites it, Flair tries to score with the first shot, but gets knocked down with a right. He rolls to the outside and slides into the adjacent ring, challenges Sting to bring it on, The Stinger obliges, drops Flair with another right hand, then shoots him to the ropes for a military press slam. The Nature Boy tries to beg him off, surprises Sting with a thumb to the eye, pelts him with fists and chops in the corner, taunts the crowd and whips him across. The Stinger rebounds off the turnbuckles with a clothesline, corners The Nature Boy and climbs to the 2nd rope to rain down punches, launches him across the ring with a hip toss, then connects with a dropkick.
Flair rolls to the floor, heads into the ring closest to the aisle, we see Col. Robert Parker & Sister Sherri on the stage and they make their way to the interview area to watch. Sting follows Flair into the ring, they tie-up and The Nature Boy backs him to the corner for chops, The Stinger absorbs them, unleashes a barrage of punches and lays him out. He clotheslines Flair over the top to the floor, The Nature Boy feigns walking off to the back, heads into the squared circle, they lock knuckles and Flair goes to a wristlock. He rips Sting down to the mat by the hair, The Stinger kips right back up, absorbs more chops, The Nature Boy hits the ropes and gets elevated again by a military press slam. He rolls to the outside and goes back towards the center ring, catches Sting coming in with a kick to the ribs, looks to shoot him into the barricade, but The Stinger puts the brakes on.
He turns back and charges Flair for a Stinger Splash, The Nature Boy side-steps it, Sting lands in the guardrail, Flair looks to go for a chair now, but the official takes it away from him. The Nature Boy drives Sting head-first into the barricade, rips at his eyes, steps back inside the center ring and The Stinger pulls himself in from the apron. Flair drags him up for a stinging chop, it seemingly wakes The Stinger up, he grabs The Nature Boy by the throat, Flair grabs the referee and delivers a low blow out of the official's view. He buries kicks into Sting's ribs, shoots him hard into the turnbuckles, scores with a knee drop, struts for the crowd and then starts to target the left knee with kicks.
The Nature Boy struts again and is in full control, deposits Sting over the top to the floor, steps out after him, continues going after the leg, connects with a chop and rakes the eyes before heading into the ring. He drags The Stinger in from the apron, cuts him down with a chop block, rips at his face, plants Sting with a back suplex, then locks on the Figure Four. Flair slaps him with the hold on and The Stinger gets fired up, rolls over to his stomach to reverse the pressure, The Nature Boy releases it, sends him to the ropes for a hip toss, but it's countered to a backslide for a near fall. The Nature Boy takes out his frustration on the referee, Nick Patrick shoves him to his backside, Flair goes back after Sting, sends him to the ropes for a big chop, but it has no affect.
Flair rolls out and heads into a different ring, The Stinger stays in pursuit, whips him to the ropes for a military press slam, follows with multiple clotheslines, but gets caught by another thumb to the eye. The Nature Boy goes to the high-rent district, Sting surprises him with an uppercut, launches him off the top with a military press slam, sends him to the corner, Flair flips out to the apron, lands on his feet, but gets leveled by a clothesline. The Stinger pulls him back in, corners Flair and goes to the 2nd rope for a series of fists, The Nature Boy powers him out for an inverted atomic drop that misses the mark and gets rocked by a right hand. Sting props him on the top turnbuckle, brings him down the hard way with a superplex, hooks on the Scorpion Deathlock and Flair submits.
Winner: Sting (Scorpion Deathlock)
EA's Take: Personally, I always find Sting vs. Flair entertaining no matter how many times I've seen it because of the magnitude of their characters. The in-ring work is always solid, but by now if you've seen them face-off once, you've basically seen all the rest because they kept the same formula though the years. They would always cross paths every so often, meeting one more time at Starrcade before going their separate ways again.
Video: "Three rings, sixty men. The World War 3 Battle Royal is the most unique match in WCW history. When Hulk Hogan agreed to face The Giant at Halloween Havoc in two matches, little did he know that his longtime friend, Jimmy Hart, was plotting against him. Jimmy Hart would get Hogan disqualified, leading to a brutal attack and The Giant left with the belt. Jimmy would reveal that he negotiated that Hulk could lose the WCW World Title by disqualification. WCW officials stepped in and the rest is wrestling history. Now, three rings with the most prestigious title in wrestling history on the line."
In The Arena: 'Mean' Gene welcomes in Hulk Hogan, The Hulkster says he's focused on The Giant tonight, but the main thing is to take the WCW Heavyweight Title, which never should have been taken from him in the first place. He speaks about talking to Sting & 'Macho Man' Randy Savage, states that they are friends, but if it comes down to the three of them, he will rip and tear his way to the title. Hogan talks about it being every man for himself, believes it is the most dangerous match in pro wrestling, but in one swoop he has the chance to prove Hulkamania is the greatest power in the universe.
Match #7 is World War 3 for the Vacant WCW World Heavyweight Championship – The Participants Are:
Arn Anderson
Alex Wright
Brian Knobs
Barrio Brother Ricky
Squire David Taylor
Scott Armstrong
Sting
'Jumpin' Joey Maggs
'Pistol' Pez Whatley
Disco Inferno
Meng
Stevie Ray
Mark Starr
Sgt. Buddy Lee Parker
Lt. James Earl
Lex Luger
Eddie Guerrero
Cobra
The Giant
'Mr. Wonderful' Paul Orndorff
Chris Kanyon
Bobby Walker
Earl Robert Eaton
Chris Benoit
'Macho Man' Randy Savage
Marcus Bagwell
The Yeti
Kurasawa
Hugh Morrus
The Zodiac
V.K. Wallstreet
Diamond Dallas Page
Scott 'Flash' Norton
Brian Pillman
Sgt. Craig Pittman
One Man Gang
Super Assassin #2
Bunkhouse Buck
Kensuke Sasaki
Mike Winner
The Shark
Steve Armstrong
Road Warrior Hawk
Dave Sullivan
Scotty Riggs
Johnny B. Badd
JL
Big Train Bart
Lord Steven Regal
'Dirty' Dick Slater
Max Muscle
Super Assassin #1
Barrio Brother Fidel
The Taskmaster
Jerry Sags
'Hacksaw' Jim Duggan
Booker T
Big Bubba Rogers
Ric Flair
Hulk Hogan
We have one announce team per ring with Eric Bischoff & Dusty Rhodes, as well as Chris Cruise & Larry Zbysko joining for commentary. The bell rings and all Hell breaks loose in all three rings, the screen splitting three ways to show everything taking place, The Yeti gets eliminated very quickly and The Horsemen drags Sting outside through the ropes to do a number on him. Participants slowly start to get eliminated and the melee continues on, The Giant dominates everyone in ring two, The Hulkster staving off a group of stars looking to gang up on him. So far only The Yeti & Mike Winner have been sent packing, Sting saves Luger from elimination, Knobs sends Mark Starr to the floor, Cobra, Buddy Lee Parker & Lt. James Earl all spill to the outside at the same time.
The massive brawl wages on, Sting teams up with Knobs to send Disco on a trip to Pity City, Kanyon & Bagwell get tossed, Bart takes a nasty spill to the floor, Luger & Double-A battling on the floor, but are not eliminated. The Giant clears out a handful of guys in one swoop, ring two is down to 10 guys and merges into ring one, Wallstreet & Norton get sent on their way, all three rings combine and we're now under thirty participants left. Joey Maggs hits the floor, Duggan gets Bubba rocked on the apron, pulls out the tape, wraps his fists and knocks him down. Bubba climbs back on the apron, drags Hacksaw over the top, one of the Armstrongs gets wheeled away on a stretcher, Disco & Dave Taylor both get eliminated.
Hogan tosses Sags & Booker T to the outside, throws The Taskmaster over the top, Luger & Savage go to another ring to fight one-on-one, then out onto the floor. Regal gets knocked off the apron, Johnny B. Badd dumps DDP over, Page hangs on and brings Badd to the floor with him. Benoit & Kurasawa are eliminated next, Meng gets clotheslined over the top, Pillman shoots Zodiac to the ropes, Hugh Morrus elevating him to the outside with a back body drop, but gets quickly eliminated in-turn. Pillman gets tossed over the top, tries to drag Sasaki down to the floor from the apron, Hawk hangs on to help him out, but Hogan comes up from behind to send them both outside.
He powers Mr. Wonderful over the top rope, we're down to our final nine, Guerrero connects with a top rope dropkick to Anderson, Flair quickly picks the leg, locks Eddie in the Figure Four, but Sting grabs Arn for the Scorpion Deathlock. The Giant body slams Savage, Double-A reverses a whip to the ropes from Guerrero, plants him with a spinebuster, Hogan & Sting go to work on Flair, Guerrero getting tossed out on the other side. Sting sends The Nature Boy to the corner for a Stinger Splash, The Giant steps in to help Flair, splits The Stinger with an tomic drop, then grabs Macho Man and plants him with a Chokeslam. Anderson & Flair, set for a spike piledriver on Sting, The Stinger sweeps Arn's legs, catapults him into The Nature Boy on the top rope and Flair falls down to the floor.
The Hulkster clotheslines The Enforcer over the top, Hogan & Savage look to team up against One Man Gang, Luger & Sting doing the same to The Giant. They get the big man rocking with multiple double clotheslines, Giant teeters nears the ropes, Luger & Sting start to topple him over the top rope, Hogan comes up from behind and dumps them all to the ground. The Giant drags Hulk to the floor under the bottom rope, Savage eliminates One Man Gang and the ref calls for the bell.
Winner and NEW WCW World Heavyweight Champion: 'Macho Man' Randy Savage
After The Bell: Hogan can't believe it and slides back in to argue with the official, explains he went outside under the bottom rope, Macho says he didn't see it and The Hulkster plays to the fans to plead his case. Gene Okerlund steps in to confer with the referee, offers him his glasses, but he raises Savage's hand. Hogan states that he never got thrown over the top, Macho Man tells Hulk that they are friends and he values his opinion, but didn't see what happened. He talks about the motto "it is what it is" and wonders if The Hulkster can handle that, Hogan asks the people again to prove him right, Savage claims this was his dream since he came to WCW and it's not cool if there's a black cloud over that. Hulk says that there is because neither one of them went over the top, Savage wants to see the footage and Hogan tells him he can see it tomorrow night on Nitro.
EA's Take: This feels like a great idea on paper or just when you think about it, but the problem with World War 3 is there's almost too much action for me. It's so difficult to follow anything before it gets down to one ring, so it's a bit of overkill. Especially considering that you know who the match is going to come down to in the end. Additionally, they couldn't give Savage the clean win and had to make it controversial so that Hogan still could lay claim to the title, but wouldn't regain it until late-summer of the following year and instead looked to clean up his issues with The Dungeon of Doom. Meanwhile, Savage's first WCW Title run would lead him into a rivalry with a very familiar foe from his WWF days.
EA's Finisher: While the concept of the World War 3 match feels like a good idea, overall it's a little too much for my taste as the action can be hard to follow and the ring is so filled with bodies, whatever's happening likely isn't worth watching anyways. The undercard carries this show which is going to become a running theme for WCW heading into the future, as DDP and Johnny B. Badd have the best match on the card and one of the more entertaining bouts for two events in a row now. Benoit vs. Sasaki is not executed to perfection, but still showcases some great action from a future World Champion and one of the mainstays from New Japan, while Sting & Flair give another entertaining effort even if the manuscript was written long ago. At the same time, you still have the Taped Fist Challenge and the Women's Tag to give you some of that "bad WCW" to go along with the good, so this is probably just under Halloween Havoc if I were ranking how enjoyable they were to watch.
Top Three To Watch
1 – Johnny B. Badd vs. Diamond Dallas Page
2 – Chris Benoit vs. Kensuke Sasaki
3 – Ric Flair vs. Sting
Chairshot Classics: WWE Fastlane 2015 – Reigns vs. Bryan
Looking back at WWE Fastlane 2015 with Roman Reigns vs. Daniel Bryan!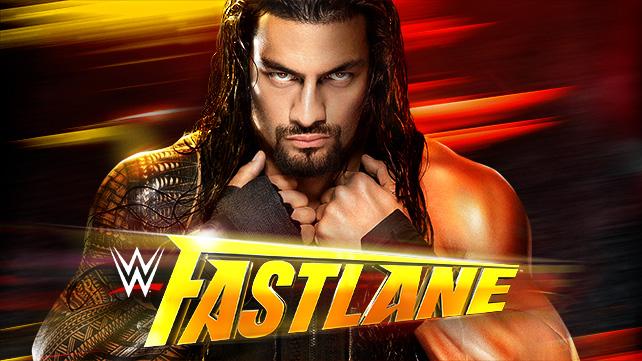 Eric brings you the details of WWE Fastlane 2015 in this edition of Chairshot Classics!
Open: A video talking about destinations and the Road To WrestleMania, highlighting the rivalries between Bryan/Reigns, Cena/Rusev and HHH/Sting.
Match #1: Dolph Ziggler, Erick Rowan & Ryback vs. Big Show, Kane & "Mr. Money In The Bank" Seth Rollins w/J&J Security
A clip from last Thursday's Smackdown, which led up to this 6 man tag. Ziggler & Rollins kick it off, with Rollins leading the charge until Dolph gets a roll-up for a quick 2, goes for a superkick and Rollins ducks out for a breather. Crowd chants "You Sold Out" at Rollins. Rollins with a quick edge, thwarted by a Ziggler dropkick and he tags Rowan who overpowers Rollins. Rowan ducks a kick and gets a pumphandle backbreaker, followed by an elbow for 2. Rollins is able to worm away to his corner and tag Kane. Rowan with a body slam, leg drop and 2nd rope back elbow, but is pushed in the wrong part of town and Big Show tags.
Show unloads in the corner, catches a boot from Rowan, but Show sends Rowan to the outside. Show out after him gets pushed into the ring post, J&J approach but get scared off by Rowan, who then goes for a heel kick, Show moves and Rowan's leg hits the post. Show works over the injured leg and makes the tag to Kane, who follows suit before making a tag to Rollins. Rollins hits a 2nd rope blockbuster for a near fall and then brings back Big Show. Show continues to punish the leg, goes for a Chokeslam, but is countered into a DDT. Show tags Rollins, who cheap shots Ziggler in the corner, but turns around into a heel kick by Rowan using the bad leg.
Rowan is finally able to crawl over and tag Ryback, who goes to work on Rollins with heavy offense. Rollins rolls away from a splash and goes for the Curb Stomp, but gets caught into a powerbomb. Ryback sets-up for the Meat Hook, but Kane slides in and ends up taking it. Rollins misses a move off the distraction, Ryback goes for Shell Shocked, then J&J Security hit the apron giving Rollins the chance for a roll-up that gets 2, immediately followed by a head kick for another near fall. Rollins to the top for a flying knee, Ryback ducks it but takes a kick on the other side. Rollins goes for another 2nd rope blockbuster and gets caught in Shell Shocked.
Show hits the ring and splashes Ryback and quickly rolls back out. Ziggler & Kane gets tags, Ziggler dropkicks Show on the apron, Kane looks for a Chokeslam that gets reversed and Kane is pushed into Show, knocking him to the floor. Jumping DDT by Ziggler for a near fall. Dolph goes for a Fameasser and gets caught in a side slam, countered and Ziggler with a superkick. Rollins tries to get in the ring and takes a Fameasser, then Dolph mounts Kane in the corner. Show hits Ziggler with a WMD from the outside and Kane covers to grab the win.
Winners: Big Show, Kane & Seth Rollins (Kane/Interference)
After The Bell: The Authority celebrates in the ring and Rollins delivers a Curb Stomp to Ziggler. Ryback & Rowan come in, but the numbers game is too much for them. Ryback takes a Chokeslam and Rowan eats a Curb Stomp. They set Ryback up for a Curb Stomp, but out comes the returning Randy Orton, who proceeds to clean house. Noble suffers an RKO and Mercury gets caught coming off the 2nd rope with another. Rollins takes a kick trying to get in the ring with the briefcase and Orton sets him up for the IEDDT, but Big Show grabs Rollins from behind and saves him. Orton hits Kane with an RKO as Rollins retreats through the crowd and leaves the arena.
EA's Take: You had to figure it was about time for Orton to return, as he was never originally scheduled to be off for that long. The match itself was decent with the pace really picking up when Ziggler & Rollins would get in the ring, as you would expect. Rowan is in a really unusual state right now. He's just not clicking as a face with the fans, as he continues to get little to no reaction. Unless you watch Smackdown, then he's as popular as "Stone Cold" Steve Austin. Hopefully now we can see Ziggler, Ryback and Rowan go do something else, they need to get away from this Authority angle already.
Video: Reviewing the dissolution of the tag team and "cosmic" brothers, Gold & Stardust.
Backstage: In the locker room is Goldust. In walks his father, "The American Dream" Dusty Rhodes. He talks about Dustin doing what he has to do, but not hurting his brother in the process. Goldust says tonight he's not facing Cody and he has to beat Stardust so bad that he will never want to wear paint again. "Tonight, I'm not leaving that ring until I bring my brother Cody home."
Match #2: Stardust vs. Goldust
They lock-up and Goldust back Stardust into the corner, tries to clean break and Stardust with a couple shoves. Lock-up again and Stardust backs Goldust up, pushes him again and then receives a slap in return that makes Stardust rethink his approach. Crowd chants "Cody" to Stardust's extreme disdain. We get a nice back and forth, with neither man getting an edge until Stardust is arm dragged into a corner. More loud "Cody" chants. They go back at it with more back and forth, both men posturing until Goldust gets Stardust set-up for the Director's Cut, but Stardust slips to the outside. Dusty Rhodes is shown watching on a monitor backstage.
Stardust tries for a running bulldog that gets countered into a backbreaker, Goldust follows up with a clothesline that dumps Stardust back outside. The "Cody" chants seem to be getting to Stardust. Both men are able to hit duck-under strikes, Goldust sets-up Stardust for Shattered Dreams, but he slips out onto the apron. Stardust goes for a sunset flip, but Goldust moves and heads to the 2nd rope and Stardust gets the boot up in the mid-section. Stardust goes to work on the boot, spilling Goldust to the outside and battering him into the ring apron before rolling him back inside and punishing Goldust's torso. Stardust with a front suplex and an arrogant cover that gets 2.
Stardust just continues going to work on the rib area. Goldust misses a springboard back elbow, Stardust sets-up for Cross Rhodes, but Goldust counters into a roll-up and gets a very shaky 3 count.
Winner: Goldust (Roll-Up)
After The Bell: Stardust looks stunned about the end of the match. Goldust implores Stardust to shake his hand, Stardust grabs it quickly and rolls out of the ring, still looking in shock from the outcome.
EA's Take: Really an odd ending because of the count. Was it supposed to go that way? It almost seemed like it was meant to be part of the story with the way Stardust was reacting. I'd expect this to continue on into a match at WrestleMania for Goldust's farewell.
Video: Seth Rollins from Monday Night Raw last week, referencing that he could host The Daily Show better than Jon Stewart. Jon Stewart has a few choice words for Rollins and then Rollins has a retort, and invites Stewart to show up at Fastlane.
Backstage: Dusty Rhodes and Goldust are talking about the previous match when Stardust walks up and says it looks like a family reunion, but they forgot to invite him. Stardust asks Goldust if he thinks they're done and ambushes him, beating him down. Dusty implores Stardust to stop, calling him 'Cody'. Stardust tells Dusty that he killed Cody, by sending him "this bag of bones" and that he is no longer living in Dusty's shadow.
Match #3 For The WWE Tag Team Championships: WWE Tag Team Champions The Usos (Jimmy & Jey) w/Naomi vs. Tyson Kidd & Cesaro w/Natalya
Video of the dinner between Kidd/Natalya and Jimmy/Naomi from Smackdown 3 weeks ago. Kidd & Jey begin with Jey getting the upper-hand after a flying forearm and a slam, then a tag to Jimmy. Double team move now, a combo backbreaker/top rope forearm gets a 2 count. Jimmy with heavy chops and he hits a corkscrew senton from the top for a near fall. Kidd backs Jimmy in for a tag to Cesaro, shoots Jimmy in and runs him into Cesarom Jimmy counters but Cesaro chops the leg. Jimmy tries to fight out of the wrong corner, Kidd gets a tag and langs Jimmy's leg across the ropes.
Kidd works the leg and makes a tag to Cesaro, for more of that same prescription. Cesaro with a one-legged big swing into a single leg crab, Kidd tags and hits a slingshot leg drop for a count of 2. Kidd continues to work the leg, wrapping it on the ring apron, but Jimmy gets himself a small window of opportunity. Cesaro rolls kid back inside and gets the tag as Jimmy reaches Jey, who hits a flurry of moves exclamated by a Samoan drop. He lines up for the Umaga Hip Attack, but Kidd is on the apron with a distraction that allows Cesaro to get a roll-up for 2. Jey with an enzuigiri and this time connects on the Umaga Hip Attack, but Cesaro is out at 2. Jey ascends the turnbuckle, but Cesaro hits the ropes which crotches Jey.
Kidd makes a tag, Cesaro hits the Swiss Superplex and Kidd follows with a springboard elbow drop that nearly wins them the titles. Kidd wants the Sharpshooter, counter by Jey, Kidd hits the apron and gets a roll-up on Jey, but Jimmy made a blind tag. Uso's hit Alley Us and Jimmy covers, but Cesaro breaks it at 2 and pulls Kidd to the outside. Jimmy eats a kick from Kidd and Jey with an outside dive onto Cesaro. Kidd takes out Jey with a kick and here comes Jimmy who misses a baseball slide, then counters a kick from Kidd to a Samoan drop into the barricade. Jimmy rolls in Kidd and heads to the top, Cesaro's distraction on the apron is thwarted and Jimmy goes for the Samoan Splash.
Kidd gets the knees up and rolls Jimmy into a cover for a near fall, then locks Jimmy in the Sharpshooter. Jey breaks it up with a kick to the back of the head, Cesaro in now and they brawl to the outside as Jimmy crawls to a cover that's only good for 2. Cesaro rolls Jey into the ring which distracts the ref, then swallows a kick from Jimmy. Kidd capitalizes on the distraction and hits the swinging fisherman neckbreaker to capture the gold.
Winners and New WWE Tag Team Champions: Tyson Kidd & Cesaro (Kidd/Swinging Fisherman Neckbreaker)
EA's Take: Lillian Garcia – "Here are your winners and still….the new WWE Tag Team Champions…". Why in the BLUE HELL did they let Justin Roberts walk again? Anyway, this was yet another example of why The Uso's are the best tag team in the business. Not to discredit Kidd & Cesaro because they are great too and I like the different paths they could take with them going forward in terms of challengers. There's a bunch of babyface teams right now with the breakup of Gold & Stardust and the eventual split of The Miz & Damien Mizdow. Add to that the recent call-up of Kalisto to add The Lucha Dragons into the mix.
Video: Triple H talking about his allegiance to WWE, 2 weeks ago on Raw and what has led up to Triple H calling him out for tonight.
In The Ring: It's time for that confrontation and here comes Triple H, who is wearing street clothes and not his usual suit. Triple H talks about last week on Raw, when he was confronted by Ric Flair about Sting and how he regrets losing his cool and apologized to Flair, but doesn't apologize for what he said about Sting. He says he is not standing in the ring as the COO, but as the heartbeat of WWE, The Game, The King of Kings and "Sting, I am waiting for you!". He makes Triple H think about it for a moment and finally "The Vigilante" Sting makes his way to the ring. HHH says that they are past pleasantries and cuts right to the chase, he knows why Sting is here and isn't mad about it, but feels sorry for him.
HHH says Sting backed the wrong horse by being undyingly loyal to WCW, but he respects that Sting "went down with the ship". HHH says that guys like himself made that ship go down and he knows Sting came for him because without HHH & Stephanie the "WWE dies.", but Sting failed and that's what Sting does. HHH offers to let Sting have his legacy back and wants to do what's best for business by putting all this behind them and doing business with Sting. All Sting has to do is walk away and HHH promises to make Sting bigger than ever by putting out DVD's, action figures, loads of merchandise and possibly someday get him a Hall of Fame induction. Sting still says nothing and HHH takes his coat off and says the other option is the hard way, where he will beat the legacy out of Sting and he'll be carried out and his legacy erased.
HHH says the choice is Sting's, but he still doesn't respond. HHH says he can tell by the look in Sting's eye, he's already made up his mind and tries to sucker punch Sting. Sting sees it coming and attacks The Game, but is hit by the microphone and HHH takes over. HHH beats down Sting, yelling at him "I gave you a chance!", before rolling to the outside and grabbing his trusty sledgehammer. Sting pulls a baseball bat out of his jacket and catches HHH under the chin with it, pushing him into the corner until HHH drops the sledgehammer outside. He backs off and points to the WrestleMania sign with the bat, HHH tries to sneak attack, but gets pushed back into the corner and Sting points to the sign again. This time HHH agrees, Sting pushes HHH back again, points to the sign once more and begins to make his exit. HHH comes up from behind, but takes a ball-bat to the gut and receives a Scorpion Death Drop before Sting leaves.
EA's Take: Seems like they are paying homage to the Sting/nWo storyline here a bit, with The Authority playing the nWo role. Loved this segment, Sting didn't have to speak to get his point across. I'm not sure the WCW vs. WWE part of the story is really something that needs to be played up as much as they have been, but they ultimately need to talk about Sting's history for the younger crowd to really understand the mark he's made in the industry.
Backstage: We see Daniel Bryan preparing for his match with Roman Reigns later tonight.
Video: Recap of the Kickoff Show, where The Miz's guest on Miz TV was Paul Heyman. Heyman says it doesn't matter who wins tonight, Bryan or Reigns because they will lose to Brock Lesnar and we can "believe that".
Match #4 For The WWE Divas Championship: Paige vs. WWE Divas Champion Nikki Bella w/Brie Bella
Video of 3 weeks ago on Raw when The Bella's sprayed Paige with tanner, then last week when they stole her ring gear and Paige had to wrestle in Rosebud attire. According to Lillian Garcia, Nikki is the Women's Champion. Brawl to start and Nikki rolls out of the ring, Paige after her with Brie standing in the way, Paige catches Nikki in the ring, then goes for the knees on the apron that is countered and Paige spills to the floor. Nikki sends Paige into the apron and barricade, then back in the ring for a 1 count. Nikki grounds Paige and hits an Alabama Slam for a count of 2. Nikki continues to control until Paige gets in a kick, goes for a roll-up into the bottom turnbuckle, Nikki botches it. Paige with a series of clotheslines and a dropkick for 2.
Nikki ducks a kick into a roll-up that gets 2. Paige connects with the kick this time for another near fall. Paige sets-up for RamPaige, Nikki counters to a facebuster, but Paige retorts with a side kick and crawls into a count of 2. Nikki is caught climbing up top, she counters Paige into a powerbomb for 2. Paige is able to set for the PTO, but Nikki gets the ropes before Paige fully locks it in. Nikki grabs Paige's tights and hauls her face-first into the turnbuckle, then rolls her up and grabs the tights again for the win.
Winner and STILL WWE Divas Champion: Nikki Bella (Roll-Up)
EA's Take: If this is headed in the direction that I think it is, which is the return of AJ Lee to help Paige…then shouldn't Brie have gotten involved to help Nikki win? Maybe AJ is not the plan after all.
Match #5 For The WWE Intercontinental Championship: Dean Ambrose vs. WWE Intercontinental Champion Bad News Barrett
Clip of last Monday's Raw, when Ambrose zip-tied Barrett to the ring post and forced him to sign the contract for an IC Title match. Both men connect with strikes, trying to prove who's tougher, Ambrose with the advantage hits a crossbody and some rights, Barrett avoids a clothesline and ducks outside to regroup. Barrett back in, still can't solve the puzzle of Ambrose, absorbs punishment until he catches Ambrose on the top with a big boot. Barrett sends Ambrose face-first into the steel steps before rolling him in and now he punishes Ambrose in the corner and grounds him. Ambrose gets a couple strikes in, but runs into Barrett's boot and to the outside.
Barrett throws Ambrose in the ring, but he counters with a variation of the pendulum clothesline on the outside. Inside they go and Ambrose hits a tornado DDT and they double down. Ambrose is on fire now with a series of strikes and a running bulldog, he goes to the top, hops Barrett and rolls through. Barrett looks for Winds Of Change, Ambrose reverses into a roll-up for 2. Ambrose delivers a dropkick and a top rope diving elbow for a near fall. Ambrose goes for Dirty Deeds, countered into Wasteland, Ambrose gets out and takes a kick, springs off for a pendulum clothesline again countered and Barrett hits Wasteland for 2.
Barrett sets his sights on a Bullhammer, Ambrose into a roll-up for 2 and then hits with the pendulum clothesline and Barrett rolls outside. Barrett grabs his title and tries to leave, but Ambrose with a suicide dive. Barrett tries escaping through the crowd, but Ambrose gets him back in the ring. Barrett tries to crawl out again, Ambrose catches him and delivers a beat down in the ropes. Ambrose doesn't break on the refs count and the ref calls for the bell.
Winner and STILL WWE Intercontinental Champion: Bad News Barrett (Disqualification)
After The Bell: Ambrose hits Barrett with Dirty Deeds, goes to leave, then comes back in and grabs the IC Title.
EA's Take: This was one of the more predictable finishes of the night, as its been rumored that they're penciled in to go 1-1 at WrestleMania. Decent match that did what it needed to do and advanced the story and rivalry between Ambrose & Barrett.
In The Ring: The Undertaker's druids come out carrying torches to a spiritual chant. Taker's music hits and out comes 2 more druids, pushing a casket down the aisle and up next to the ring. The casket opens to reveal…Bray Wyatt. Bray says there's a wicked feeling in the air tonight. He talks about the first time he saw The Undertaker and how he feared him, but now he has become like everyone else, weak and broken with his soul lost. Bray says it's time for Taker to go home. He knows he can hear him and he wants Taker to know he's not afraid anymore. He is the new face of fear. "At WrestleMania, I will claim the soul of The Undertaker."
EA's Take: Great way to keep the suspense of whether or not Undertaker will accept the challenge by Bray. I'd leave Taker off until WrestleMania or perhaps even the Raw before. Bray Wyatt is pure gold and doesn't need Taker to appear to make this feud interesting. Wyatt is a perfect example of someone when they're firing on all cylinders.
Panel: Renee Young and the rest of the Kickoff panel offer their thoughts on what just happened with Bray Wyatt. Booker T, Corey Graves & Byron Saxton recap the nights events.
Video: The buildup between John Cena and Rusev, leading up to their match tonight for the United States Championship.
Match #6 For The WWE United States Championship: John Cena vs. WWE United States Champion Rusev w/Lana
They feel each other out and circle around, Cena floors Rusev with a right and grabs a headlock. Rusev with a big kick for 2, then begins to dominate Cena with strikes in the corner. Cena fights back and shoots Rusev in, but falls victim to a spinning heel kick and a count of 2, then goes back to beating Cena down. Rusev grabs another near fall off a corner avalanche, Cena's out on the apron and Rusev drives him off into the barricase, rolls him in for a cover and gets 2. Rusev gets distracted by the crowd and hits a dropkick for 2, only to have the favor returned by Rusev for 2 as well.
Cena gets a short burst of energy and takes Rusev down, raining fists, hits a shoulder tackle off the rope, goes for another and gets caught in a fallaway slam. Rusev really in control and gets 2 off multiple elbow drops. Cena uses Rusev to get to his feet and throws some gut shots, whip into the corner and runs into a back elbow, before being grounded by Rusev again. Cena powers out of the hold and takes a kick, Rusev goes for a suplex and Cena reverses, then hits a big clothesline for a count of 2. Cena tries the AA, Rusev counters into a DDT for a 2 count. Splashes in the corner by Rusev only get another 2 and Rusev shows signs of frustration. Cena shows signs of life and makes the comeback, hitting the 5 Knuckle Shuffle and going for an AA, Rusev pushes off and kicks Cena's head off for another near fall.
Rusev tries to go for The Accolade, Cena counters to the STF, Rusev pushes off and hits a Gunnslinger that Rusev can't believe doesn't get 3. Rusev charges Cena and runs into a boot, Cena to the 2nd rope hits a tornado DDT, Rusev kicks out at 2. They slug it out in the middle of the ring, Cena looks AA again, Rusev goes for another Gunnslinger, but Cena turns it into a crossface. Rusev just powers out of the hold and hits an Alabama Slam, Cena kicks after a 2 count. Rusev attempts The Accolade once more, Cena catches his foot and gets him in the STF, but Rusev makes it to the ropes. Cena sets for an AA, Rusev is out with an elbow then a kick, looks for another superkick and this time Cena connects on the AA, but still can't get a 3 count.
Cena climbs to the top and goes for the leg drop, Rusev catches him into a powerbomb and immediately locks in The Accolade. Cena breaks the grip a couple times and is finally able to get to his feet with Rusev on his back. Lana enters the ring and distracts the ref, Rusev with a low blow and then a kick to the face. He slaps The Accolade on again and Cena passes out.
Winner and STILL WWE United States Champion: Rusev (The Accolade)
After The Bell: Trainers check on John Cena, who is still unconscious, face down in the ring. Rusev & Lana celebrate and the Russian flag drops behind them. Cena starts to come-to, but has trouble getting to his feet. He fights off help and heads to the back.
EA's Take: Really liking the mid-card title scene since some of the bigger names have been getting involved. Both the IC & US titles have been begging for a revival and these kinds of feuds will do that. Lana's interference allows for a logical reason to have the rematch at Mania, which is where this is headed. Hopefully, more layers can be added to the story to keep it interesting until then.
Panel: Back to the Kickoff Panel to recap the night before heading to the main event.
Video: The rising tension between Daniel Bryan & Roman Reigns, as they vie for a spot in the main event at WrestleMania.
Match #7 – Winner Gets WWE World Heavyweight Championship Match At WrestleMania: Roman Reigns vs. Daniel Bryan
They posture, lock up and break clean. Dueling Bryan & Reigns chants. They posture, lock-up and break again. Both men still trying to feel each other out, Bryan gains a headlock, Reigns powers out and reverses, catching Bryan with a shoulder, Bryan comes back with a roll-up for 2. Bryan catches Roman's legs and attempts a surfboard, but Reigns powers out, leading Bryan to ponder his next move. Bryan kicks at Reigns, but is overpowered. Bryan flips over Reigns and hits the ropes, Reigns with a tilt-a-whirl slam, then clotheslines Reigns to the outside. Reigns follows him and viciously attacks Bryan using the barricade.
Bryan catches Reigns with a kick back in the ring, trying to cut Reigns down at the legs. Reigns breaks a submission with heavy rights, slingshots Bryan across the top, hits a Samoan drop and a flying clothesline. He charges Bryan, but Bryan with a drop toe hold into the turnbuckle. Bryan charges and is hammered with a big clothesline that turns Bryan inside-out for a count of 2. Reigns hits rolling suplexes and his signature apron dropkick, then sets-up the Superman Punch. Bryan counters with a kick and tries to take advantage, but the ref is checking on Reigns to see if he can continue. The match goes on and Bryan works the mid-section, the same area that Reigns had hernia surgery months before. Cormer dropkicks precede a top rope hurricanrana attempt by Bryan, countered by Reigns into a powerbomb for a near fall.
Reigns crushes Bryan with clotheslines in the corner, props him up top, but Bryan counters and seats Reigns on the turnbuckle. Bryan lands a top rope back suplex that only gets 2. Bryan gets the Yes Lock, but Reigns drags him to the ropes and rolls outside. Bryan hits on 2 suicide dives, goes for a third and is caught into an overhead belly to belly on the floor. Reigns has Bryan in his crosshairs for a Spear, but Bryan side swipes him into the steel steps. Both men struggle to reach the ring before the count of 10, but do. Bryan comes off the top and is caught with a Superman Punch for 2. Reigns tries a Spear and Bryan catches him in a roll-up for a near fall. Bryan with a big kick, and then connects with Knee Plus, but Reigns kicks at 2.
Reigns on his knees and Bryan goes back to the kicks, tries for a head kick, but Reigns catches the leg. Bryan slaps Reigns and snatches the arm, worming down to the mat into the Yes Lock. Reigns finally powers out and mounts Bryan, hammering down with big forearms. Bryan grabs a triangle choke, Reigns is able to lift him up and slam him to break. They double down and then get into a striking contest on the mat, Bryan to his feet and hits the big head kick before setting up for Knee Plus again. Bryan charges and Reigns catches him with a Spear to get the victory.
Winner: Roman Reigns (Spear)
After The Bell: Both men are in the ring, spent. Bryan grabs Reigns and turns him arounf. Face to face, Bryan tells Reigns he better win at WrestleMania and then offers his hand. Roman takes it and then celebrates.
EA's Take: Excellent main event match that exceeded my expectations. Easily, the best match of Roman Reigns' career. A lot of people will attribute that to working with Bryan, but Reigns really answered the call and brought it. Bryan was the perfect opponent to get Reigns ready for Lesnar. Bryan is a very physical wrestler and working that style with Reigns can only help him going into an even more physical opponent, in Brock Lesnar.
EA's Finisher: Overall a much better show than I was anticipating. I half-went in thinking most of the finishes would be DQ's or count-outs so they could build to rematches at WrestleMania. Have to give WWE credit for coming up with alternatives as they could easily have taken that route, especially since this is free trial month and a lot of people are probably not paying anything for this. Bryan/Reigns exceeded all expectations I had and I applaud WWE for sticking to the plan this time around and not giving in to all the post-Rumble noise. Bryan can help out in other ways without being involved in the title picture right now. Doesn't mean he's out of it forever. Storylines for WrestleMania became a lot clearer, with Randy Orton returning for revenge on Seth Rollins. Cena never tapped to Rusev, so that will continue. Sting & HHH are already official for the big show and as an admitted Sting mark, I for one couldn't be more pumped (eventhough that has been the direction since Survivor Series). Also, good to see Tyson Kidd & Cesaro putting themselves on the map. I really like the tandem, especially now that Kidd actually has developed a character to go along with the tremendous in-ring skills we all knew he had. Maybe he can pull Cesaro's out too. Great segment by Bray Wyatt, which has to ultimately lead to The Undertaker accepting the challenge. Why else would they put the thought in our heads if it wasn't going to happen?
Top Three To Watch
1 – Roman Reigns vs. Daniel Bryan
2 – Rusev vs. John Cena
3 – The Usos vs. Tyson Kidd & Cesaro
Chairshot Classics: PROGRESS Ch. 3: Fifty Shades of Pain
Harry brings us another throwback episode of Progress! His play by play style will paint a picture so clear Bob Ross wouldn't even need to add trees!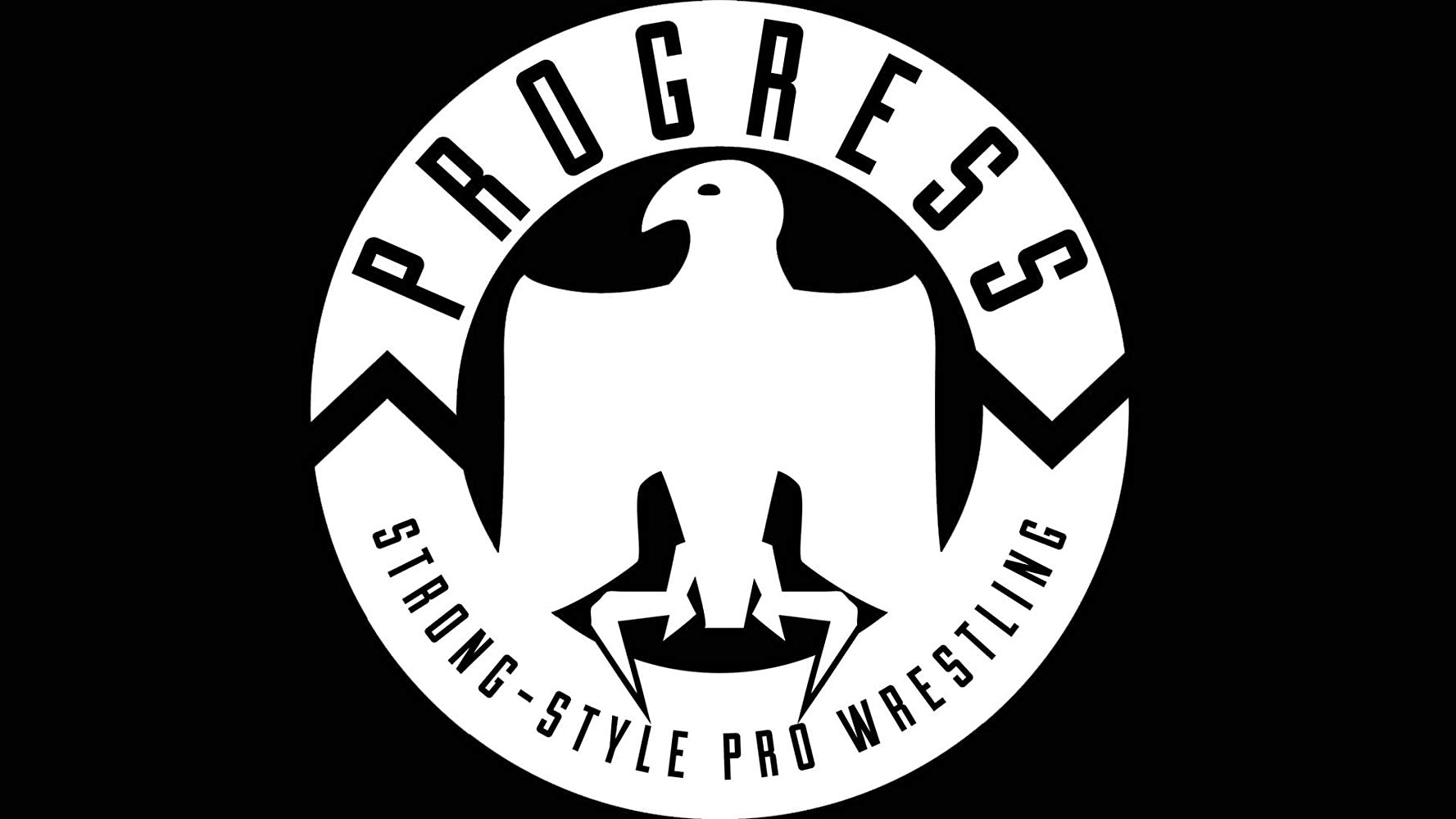 Harry brings us another throwback episode of Progress! His play by play style will paint a picture so clear Bob Ross wouldn't even need to add trees!
Two of these reviews down. Let's go ahead and make it a trifecta. Hopefully, you are enjoying the series as 'What I Watched' returns under the Chairshot Classics banner for PROGRESS (as well as Impact Wrestling. Hopefully, we can eventually cover some other promotions as well). I'll be taking note of all the comments left on these reviews and addressing them as new ones get typed out. In the interest of a somewhat regular schedule of these posting, the first couple PROGRESS reviews are being typed out in advance of their release on the website.
So, to the reason of today's gathering. PROGRESS has had two good (but not necessarily great) shows so far. Instead of going to a more regular occurrence, they stuck with the three months between shows model. Chapter 2 had us in June, whereas this show doesn't take place until September. The bigger story to me though is that the main event is not what I though it would be at the end of Chapter 2. Instead of getting Nathan Cruz vs. El Ligero for the PROGRESS Championship Staff, we are instead getting a tag match with Cruz and Ligero as partners. With that, we once again step into the way back machine and head to September 30th, 2012 as "What I Watched" presents 'Fifty Shades of Pain' or PROGRESS Chapter 3.
WRITER'S NOTE #1: My reviews will not be a play by play recap. I've done that style in the past and honestly, I don't especially care for it. Instead, it'll be more of a stream of consciousness review as I talk about the wrestlers, the matches, the storylines and whatever else happens to pop into my head while I watch.
WRITER'S NOTE #2: As much as I'd like to let everyone make their own decisions on the matches, giving away match results in the review will be a necessary evil. The reason being is that I will discuss what I think everything means going forward and maybe even doing a little fantasy booking of where I would go from where they presently are. I will still post the results as one big listing at the end of the articles as well as my ratings for the contests. The final show review will be after that as well as the 'Final Reaction' for the show. Going forward, I'll have an archive to all of my previous reviews here on the Chairshot if you click on my user name.
MY RATING SCALE: Excellent, Very Good, Good, Above Average, Average, Below Average, Bad, Very Bad, Terrible and SKIP. Some matches will occasionally get a 'N/A' rating as well. That will be reserved for matches that I feel don't warrant a rating.
PROGRESS Wrestling Chapter 3 – 'Fifty Shades of Pain'
From: 'The Garage' in Islington, London, England
Date: September 30th, 2012
Run Time: 2:08:49 (Demand PROGRESS)
WITH SPECIAL THANKS: Ian Hamilton for some of the research that I did while working on this review. (http://www.backbodydrop.com)
*Our opening video focuses on a tag match between the London Riots (James Davis and Rob Lynch) facing Danny Garnell and Darrell Allen. In addition, we see that Marty Scurll will be the special guest referee for our main event. Which apparently will not be the previously thought Cruz vs. Ligero for the PROGRESS Championship Staff, but a tag match instead with Cruz and Ligero as partners…
*There is no Smallman opening promo, as I believe it was it edited into the opening video with Scurll being added to the main event as the referee. Disappointing start, as I find Smallman's opening welcome to be a nice light hearted way to get these shows started.
*Match #1: Noam Dar (1-1) vs. Paul Robinson
The Who: Noam Dar is coming off a victory over Darrell Allen via 'Champagne Super KneeBar' at the last show to even his record up. Paul Robinson is making his in-ring debut for the company and he is replacing MK McKinnan, who was the originally announced opponent for Dar in this contest.
The Why: My guess would be to get Dar more momentum going forward. I don't imagine that Robinson is going to be added last minute and beat Dar, but stranger things have happened.
The Match: They still have the records on the name bar's for the intros. I know that's not something they do any more, but I'm curious how long it sticks around for…both guys get inset promos. Dar's is by far the better, as he informs us that he's going to keep winning so he can get the 'big stick' by which he means the PROGRESS Championship Staff, despite the crowd's borderline racist chants towards him…opening bell rings and we're underway…Robinson shows off the Chris Hero shoulder kips into the forward roll. Pretty sure that dates back to England before Hero, but Hero is where I personally remember first seeing it…commentary starts a little late, but there's Jimmy Barnett, who claims he's not affiliated with Jim Smallman despite sounding a lot like him. That cat is now long since out of the bag…backslide for two and then a super spinning backslide for another two. Seemed a little unnecessary but the fans enjoyed it. Know your audience, I guess…Paul Robinson is a very small guy. Believed the announced weight was just over one hundred forty. For a visual representation, think Spike Dudley…certainly a unique twist on the Garvin Stomp…Dar focusing on Robinson's knee pays off the fans who have watched the previous shows and the 'Champagne Super KneeBar'…Dar repeats the gum spot from Chapter 2. Gross. And the fans appropriately respond with a 'you sick fuck' chant. Not the most hygienic man in wrestling, is he?…lighting for this show is quite a bit better then it has been for previous shows…Robinson with a suicide dive, which could have been a disaster. There is almost no room between the ring and the front row of fans…said it before, say it again: the superkick and the enzugiri are the most overused moves in wrestling…airplane spin however, we could use more of…Robinson tries to drop the Guillotine Legdrop, but Dar moves and Robinson lands hard…pair of fisherman's (both suplex and buster) lead to a grounded kneebar. Not quite the 'Super Kneebar', but it's enough for the tap at 11:41…pretty basic match to kick off the show. The crowd was into it, which is good. But as a fan who watches a lot of wrestling, it never seemed to get out of the first gear and move into being more then just there. Dar's personality make his matches an easy enough watch, but at same point, the in ring product has to be risen up to mean anything. (AVERAGE)
*Match #2: BWC Starlo Scholarship Title: Mark Andrews © (1-0) vs. Xander Cooper (1-0)
The Who: Mark Andrews is a pretty well known name here in the States now. He's coming off a successful title defense against Mike Hitchman at Chapter 2. Xander Cooper wasn't in a match on Chapter 2, but did win a three way match at Chapter 1 with this title on the line,
The Why: Between Chapters 1 and 2, Andrews beat Cooper for the title. Andrews had his previously mentioned defense at Chapter 2 and after that match, Cooper came in through the crowd and attacked him. That led to PROGRESS management scheduling this rematch between the two for the title.
The Match: I believe only the second match in PROGRESS history to have been set up on the show before. The only match on Chapter 2 that was set up at Chapter 1 was the main event, if memory serves…'Man for All Seasons' is such a proper asshole nickname. I dig it…Cooper impressed me at the first show. Andrews and Hitchman had a banger at the second. My expectations are pretty high for this one…both get inset promos. Andrews has the best line: "fool me once, shame on you. Fool me twice and you're just a dick"…bell goes and we're underway…the fans insinuate that Cooper has herpes. Somewhere, Rhett Titus is pissed his chant got taken…pace finally starts to pick up around three minutes in…Cooper busts out Miz's old Reality Check combo. Personality wise, he kind of reminds me of Miz as well…Andrews with a Bubba Bomb. Not something you usually see a guy his size use…standing moonsault senton gets two and looks really cool in the process. Andrews was a lot like Ricochet and PAC early in his career. Not everything made sense, but most of it looked cool…stranglehold Golden Rule by Cooper. That's a first for me…rope assisted enzugiri kick knocks Cooper back into the center of the ring. Andrews comes flying in with a Shooting Star Press (over-shooting just a bit, actually) and that's the closing bell at 8:52…better then the opener, but a step down from what both of them did before. Took a bit of time to get out of the starting block, but once it did, it picked up quite nicely. I would recommend the three way for Cooper and the Hitchman match for Andrews more personally though. (ABOVE AVERAGE)
*Match #3: London Riots (James Davis/Rob Lynch) (1-0) vs. The Bastard Squad- Darrell Allen and Danny Garnell (debut as a team. Allen is 0-1-1 as a single. Garnell is 1-0 as a single)
The Who: London Riots were successful in their debut at Chapter 2 against Will Ospreay and Alex Esmail in what was shaping up to be a good match until Esmail got hurt (broken leg). Allen got a no decision at Chapter 1 in the three way for the Starlo Scholarship and was tapped by Noam Dar at Chapter 2. Danny Garnell won his debut match, pinning Jimmy Havoc at Chapter 2.
The Why: Damn good question and one I don't presently have an answer for. I checked the history of PROGRESS that is maintained at Voices of Wrestling by Rob Reid and found nothing to give any reasons as to why this is happening. Maybe Jimmy Barnett will shine some light on the reason during the match itself.
The Match: Lynch has what I thought was a paddle but was corrected by Barnett is a cricket bat in his hand. Is cricket big in England? Thought that was more of an Australian thing…Barnett informs us that a poll on the PROGRESS website has dubbed Garnell and Allen as 'The Bastard Squad', so my why maybe just as a way to try to build up a tag division…as per the warning I issued during Chapter 2, it is entirely possible that I will screw up Lynch and Davis. If I do so, I apologize…then again, they appear to have keep the one in singlet, one in trunks look. I should be okay…and we're off as a brawl breaks out…man, that one roaming cam is making me sea sick. Super wobbly…Lynch drops Garnell on the floor with a Michinoku Driver…and the official PROGRESS Chapter 3 chair of that fan has been broken…Lynch and Garnell just trading bombs in the center of the ring…high angle release German by Garnell. Lynch lands almost square on the back of his damn head…Allen and Garnell do have quite the big guy/little guy dynamic going for them…first 'This is PROGRESS' chant…Allen has Davis caught in a Octopus but Davis turns it into a wheelbarrow facebuster. Again, another first…Riots grind down the pace of the match on Allen, but it makes sense for them to do so. They have a significant size edge over Allen, why not use it?…one of these shows, I'm going to keep a running enzugiri count. If we don't hit double digits, I'd be stunned…Barnett advocates the old Gorilla Monsoon stance of multiple referees for tag matches…Lynch with an overhead superplex on Allen and Allen lands square on his tailbone. I'm guessing that probably sucked…both men on the ropes and Allen with another enzugiri to knock Lynch to mid-ring. The same thing Andrews did to Cooper in the previous match…Allen tries to come in with a cross-body off the top but gets caught by both members of the Riot Squad. Lynch helps Davis pop Allen up and into a sit out powerbomb which gets the three count at 12:25…a few good moments here and there but not enough to make it anything really worth remembering. It followed the old school tag wrestling formula to a tee. The thing about formulas is that they become formulas because they work. It does here and while it's not going to light the world on fire or anything, it produced an above average tag match that sees the Riot Squad continue their winning ways. (ABOVE AVERAGE)
Post match: The Riots lay in a beat down to Garnell, as one of the chairs from ringside is used multiple times against the knee of Garnell, before they use the cricket bat into the chair to 'Pillmanize' the ankle of Garnell. Microphone time for Lynch afterwards and declares war not just on the tag teams in the UK but on PROGRESS as well, laying down an open challenge for any place, any where, any time. Guess this story will develop more going forward then…
*Match #4: Jon Ryan (0-0) vs. Jimmy Havoc (0-1)
The Who: Jon Ryan makes his PROGRESS debut here, but I'm pretty sure I've seen him before working for wXw out of Germany. Jimmy Havoc is back after a losing effort to Danny Garnell on Chapter 2 as a favor from his friend, Jim Smallman.
The Why: 'Strictly No Blood, No Hardcore' is the tag line for the match. Let's just say that somehow I doubt this…
The Match: Ryan does get booed on his intro and the fans love Havoc, chanting 'Jimmy's Gonna Spoon You', a call back to the great spooning debacle of Chapter 2…apparently Ryan was Havoc's original trainer whereas Garnell was the one who trained him in the ways of technical wrestling…an attempted handshake by Havoc is met by a bitch slap from Ryan. That'll end poorly for him, I feel…Havoc works in a spoon while on the mat to continue that bit…knowing Havoc's reputation, it's weird seeing him in normal matches…and as I type that, Havoc goes for dive and misses but lands on his feet. He turns towards Ryan, who thwacks him with a frying pan for the DQ at 3:36…normally, three minutes is about the mark where I would try to give a match a rating. I don't feel like I can't rate this here given what happens next, therefore I'm not going to…(N/A (ANGLE ADVANCEMENT))
*Post match- Havoc is understandably less then pleased about Ryan going upside his dome with a frying pan, which opened up Havoc's forehead. He demands that Smallman restart the match under 'Hardcore' rules. Smallman warns people that don't like this style of match to move away from the ring but as far as he is concerned: "fucking kill him, I don't care."
*Match #4b: Hardcore Rules: Jon Ryan (0-1) vs. Jimmy Havoc (1-1)
The Match: And thus the lack of rating for the previous match…opening bell once again here…and the first official weapon is a kendo stick. Which Ryan just beats the hell out of Havoc with. I think the kendo stick is one of those overrated weapons. Not enough reaction to justify how much those things actually hurt…cheese grater. It's like every ECW brawl from 1998 on featuring New Jack…there's not really a lot to discuss in a match like this. It's basically just them hitting each other with a bunch of various shit…feel like throwing a bloody person into a group of people's chairs is a bad idea…powerbomb through an ironing board. Not what those are intended for, but it looked cool enough…never cared for staple guns, myself. Similar to the kendo stick, but I guess a little easier to gimmick…staple to the dingus. Because of course he does…I'm guessing this is the match that leads into intermission so they have time to clean up the ring after it. It's a combination of the old WWF hardcore brawls and the ultra-violent style matches you'd see from a CZW or a Big Japan…and now the thumbtacks make an appearance…DVD into the tacks. And the referee wusses out by grabbing a cookie sheet to count on. It was a smart move on his part, but not the most masculine….the problem with matches like this is it takes a while to set up the next spot. Spot, set-up, spot, set-up. Rinse and repeat as necessary…a 'This is PROGRESS' chant breaks out, followed immediately by a 'No, it's not'. That could make for an interesting way to go down the line with it. And a definite divide in the fan base for someone like Havoc…okay, that finish worked. They had set the BW board across two chairs. Havoc tries for a spinning head scissors and gets caught and dropped clean on his head with a package Tombstone (think Tombstone set-up and then Ryan cradled both legs under his own arms). Rather then go for the pin there though, Ryan adjusts his grip around Havoc's waist and launches him through the BW board with a release wheelbarrow suplex. It was all over but the counting and the counting hits three at 14:36…this kind of match is going to be very divisive. There are fans of this genre and there are those who feel like it's a black eye on the sport. I personally enjoy death match wrestling as long as we don't go too over the top with it (needles, fire, stuff that can really hurt someone). I thought this was a pretty good match for the genre while not going too far in order to affect the crowd that may not be as interested in this style. We'll go 'above average' for the rating, but your mileage will vary. (ABOVE AVERAGE)
*Post match- both guys get a nice ovation from the crowd and a 'That was awesome' chant. Let's not go around tossing that out so freely. A sign of respect as a hug and handshake from teacher and student occurs and Havoc pops on the microphone once again to put over the crowd and Jon Ryan as well. He also asks the fans to buy him and Ryan beer and have a chat. Always working, that Havoc…
*Match #5: RJ Singh (0-0-1) vs. Rob Cage (debut)
The Who: RJ Singh returns after getting a no decision in the number one contender's three way at Chapter 2. He still has his entourage with him as well. Rob Cage is a man that I'm not sure I've ever heard of before so we'll see what he can do in this match.
The Why: Can't say I really have an answer for this. My guess would be to help flush out the roster with more people.
The Match: Can't say my expectations are really high here, but I've been pleasantly surprised before. Mike Hitchman at Chapter 2 comes to mind there…the match graphic has Singh listed as 0-1. However, since he didn't get pinned in the three way, I gave him a draw/no decision instead…inset promo for RJ Singh and the 'Singh is King' catchphrase remains in tact. It works for him. Promo wasn't anything special however…opening bell goes as Singh's accomplices make friends at ringside…apparently Rob Cage went the Jimmy Havoc route of campaigning on Twitter in order to get a spot on this show…I do still enjoy the fact that RJ calls his Camel Clutch the 'Ethnic Submission'. It's wrong on several levels, but still funny…Cage gets caught up with Singh's crew and Singh gets a nice looking leaping neckbreaker, done Zig Zag style. That was smooth…running knee strike looks less smooth…Cage goes to the top and the 'Director' pushes him off while the referee was working on getting the other member of the Bollywood Empire out of the ring. That said, it happened so close to the referee that he had to have seen it. Really poor ring positioning…that leads to RJ Singh applying the 'Ethnic Submission' and it leads to a tap out from Rob Cage at 7:27…well, they reached my expectations with this. Worst match on the show thus far. I found RJ to be very entertaining for the role he had in the three way, so this was a major step down for him. As far as Rob Cage, not the best first impression made. For the first time on the show, I go with a 'below average' rating. It's not awful, but if you are in a rush while watching this show, it's seven minutes you can easily skip and not miss anything. (BELOW AVERAGE)
*Post match: it appears that all is okay as Singh offers his hand and Cage accepts it. Until RJ kicks Rob in the junk and puts him back in the Camel Clutch while his cohorts talk trash right in his face. The hold gets broken by the referee and Singh poses on the turnbuckle to celebrate his victory.
*Match #6: Stixx (0-1) vs. Lion Kid (1-0)
The Who: Stixx and Lion Kid both make their return after opening up Chapter 2 with a singles match. As previously mentioned there, I've heard that Lion Kid was the former Wade Fitzgerald, but have never seen any confirmation of this.
The Why: This one is easy. As mentioned, they had a match at Chapter 2. Lion Kid won. Stixx wants revenge. Pretty simple, really.
The Match: The who and the why was pretty easy to get through. I fear the match may not be. These two didn't exactly set the world on fire at Chapter 2. Hopefully, it was just nerves and we get a better performance here…we start hot as Stixx knocks Lion off the apron and proceeds to beat him around ringside before the opening bell…Stixx rolls back in and demands a count-out, despite the fact we've not had an opening bell (at least, not one I've heard)…appears Lion Kid caught a knee injury in the floor brawl, but we're a go now with an opening bell and everything…huge Black Hole Slam forty seconds in and I thought that was three. It wasn't, but it wouldn't have surprised me. Looked really good…huge Flair shin breaker by Stixx. He's definitely looked better tonight then last outing…Lion Kid looked for a reverse rana but Stixx powered him back up. Kid transitions right into a victory roll, which I believe is how he won at Chapter 2. It only gets two this time…Stixx with a nice looking variation of the half calf, but Kid does eventually get to the ropes…series of chops sees Lion Kid 'roar up', but a shot to the knee keeps Stixx in charge…half crab giant swing. That's just a dick move…Lion Kid goes for a springboard and falls. Crowd chants 'you fucked up', but I don't think he did. I think it was on purpose to sell the knee and if it was, bravo…the crowd continues the 'roar' chant to rally Lion Kid. As Jim Smallman said in the favorite chants video he did, it's just fun to say 'roar'…avalanche tabletop (fall away slam to vertical) suplex. Don't believe I've ever seen that done from the buckles before…Stixx is being almost Anderson like in his focus on the leg here. These guys are putting on quite the show here…very cool turnbuckle sequence leads to the big guy coming in with a frog splash on the knee…Lion Kid with a series of roll-ups to put over how desperate he is. Psychology, psychology, psychology…Stixx tries the Black Hole again but Lion Kid counters into a tornado DDT. Lion Kid goes for a 450, but Stixx rolls in. Lion Kid lands on his feet. Normally, that's a good thing. With a bad knee, not so much. Stixx hauls Lion Kid up and drives him into the mat with Splash Mountain (Crucifix PB set-up but into a standard PB finish. I dub it the River Stixx). After a quick debate of a submission attempt, it's a three count instead at 12:21…well done, gentlemen. Way to make me eat my words. After being significantly less then impressed with their match at Chapter 2, they turned things around and put on in my opinion the best match of Chapter 3 thus far. A big credit for this goes to big man, Stixx. He put on a technical clinic in this match, which you wouldn't expect from a guy his size. Lion Kid more then held up his end of the bargain as well. You mix psychology with solid in ring work and no noticeable blown spots, it makes for a happy reviewer. I would rate this match as 'very good'. (VERY GOOD)
*Match #7: Nathan Cruz (3-0, PROGRESS Championship Staff Holder) and El Ligero (2-1, #1 Contender to Nathan Cruz) (debut as a team) vs. Dave Mastiff (debut) and Greg Burridge (0-1) (debut as a team)
The Who: Cruz and Ligero are the champion and challenger elect for the next time the PROGRESS Staff is on the line. Cruz won the four way on the first show for the Staff. Ligero won a three way on the second show for the number one contendership. Dave Mastiff is making his PROGRESS debut here. From what little of him I've seen on NXT UK, he's impressed me. Greg Burridge took the loss in the three way at the last show. Marty Scurll is the referee and he's probably not going to be an unbiased one as he has issues with both Cruz and Ligero.
The Why: If I'm being entirely honest, I don't have a damn clue for this one. I expected we'd get Cruz vs. Ligero here, but instead it's this tag match. Burridge wanting revenge on Ligero makes sense. Burridge wanting a crack at Cruz makes sense. Where Dave Mastiff fits into this is anyone's guess. As for Scurll, that's easy. He was cheated out of the title by Cruz at the first show. He had Cruz beat at the second show while the referee was down. Ligero attempted to interfere and superkick Cruz, but Cruz ducked and Ligero wiped out Scurll. Despite not hitting his intended target, Ligero didn't seem especially upset about it. Cruz got the victory and Scurll got screwed once again. How does this all tie together? Hell if I know. Let's find out…
The Match: Man, this is a clusterfuck and a half just based on the description I had to type…once again, Cruz is greeted with the 'shit Zack Ryder' chants. Probably still my favorite one thus far in PROGRESS…Scurll gestures that he'll call it down the middle during intros. I doubt that…Ligero and Mastiff are both in NXT UK. I think Burridge is now retired. I think Cruz just came back to wrestling, but I'm not sure…Mastiff's beard is not nearly as impressive as it is these days…inset promos for only Cruz and Mastiff. Nathan Cruz is laying on the Shawn Michaels impression a bit thick. He is not only the 'Show-Stealer', he's also the 'Leader of the New Generation'. Bloody hell, mate…opening bell and we're underway…Burridge and Ligero to start, until Ligero tags out to Cruz…I can't entirely tell with the accent, but I believe that Burridge is calling Cruz a 'slag'…I believe Cruz and Burridge are the two biggest guys height wise in PROGRESS (maybe outside of Stixx to this point). I'm almost certain that Mastiff is the heaviest…tags made on both side and we go to Ligero and Mastiff…do believe that Mastiff just called Ligero a cat. Or something similar. It was of the feline variety…Mastiff with a massive delayed vertical…and Burridge comes in to beat the hell out of Ligero…Ligero turns the table by going to the knee of Burridge and takes control…and that explains why Scurll wasn't allowed to wrestle on this show. It was around the time of his 'British Boot Camp' run with TNA. And TNA were being dicks about their people working elsewhere due to not wanting injuries…last few minutes of this match has been all Ligero and Cruz working over Burridge's knee. Smart wrestling, but not always the most entertaining…the f bombs are flying in this one. Viewer discretion is advised…little bit of in-fighting between Cruz and Ligero leads to Burridge making the tag to Mastiff…even back here some six years ago, Mastiff moves very well for a guy his size…Cruz and Ligero try to work together to suplex Mastiff. It doesn't go well. Mastiff takes them both over with a double vertical…Ligero clearly gets caught calling a spot. I usually try to get the guys the benefit of the doubt, but that was blatant…Ligero trying to trade shots with Burridge. Why would he want to do that?…breaks down to Ligero and Mastiff in the ring. Top rope cross body attempt by Ligero just bounces off Mastiff. Mastiff tries to climb, but Ligero dropkicks the legs and then hits the Del Rio corner double stomp. Scurll refuses to count for Ligero and shit cans him to the floor…Cruz gets caught in a submission but manages to escape and hit his version of the Whiplash. Again, Scurll refuses to count though…Ligero goes for his tornado DDT, but Cruz tags himself in and sets up for his superkick. He goes for it on Mastiff but Ligero superkicks him mid-move. Ligero again shrugs his shoulders and rolls out of the ring as Mastiff lands on Cruz with a huge cannonball senton in the corner. He pulls Cruz to center ring and a follow-up cover gets the three count for the 'Bastard' Dave Mastiff at 18:10…took a bit to get going, but once it did, it was pretty entertaining. I'd say basically the first ten minutes of this match are a wash though, as it's mostly mat wrestling and then leg work on Burridge that gets completely forgotten about in the closing stretch. I understand the idea of having Ligero and Cruz lose here. I even get the idea of Cruz taking the pinfall. To me, it would have made more sense for Burridge to get the pin since it would validate his point from the last show. Then again, we'd never see Greg Burridge in PROGRESS (to this day, I believe), so in hindsight, Mastiff was the right choice. The first half of the match was average, the closing sequence was pretty good. So we'll settle in the middle and give this a good rating overall but easily the lowest quality of the three main events to this point. (GOOD)
*Post match: Mastiff gets mic time, saying that he did what he said he was going to do, which was something Scurll couldn't do. He says that Cruz may be the man around here, but he'll never be a 'Bastard'. Mastiff and Burridge exit, with Scurll following shortly behind…Cruz gets the microphone as he's recovering and points out that he's still the champ and that picking up a win on the scraps of Ligero means nothing…eventually, it leads to Ligero making his way back out and security having to separate Cruz and Ligero. Smallman yells at them for screwing around at this end of his show and makes the title match official for Chapter 4. Smallman then cuts a quick version of his usual opening promo and we're officially out for Chapter 3.
RESULTS
Match #1: Noam Dar taps Paul Robinson with a grapevined kneebar @ 11:41 (AVERAGE)
Match #2: BWC Starlo Scholarship Title: Mark Andrews © pins Xander Cooper with a Shooting Star Press @ 8:52 to retain (ABOVE AVERAGE)
Match #3: Riot Squad (J. Davis/R. Lynch) defeat Darrell Allen and Danny Garnell when Davis pins Allen after a sit out powerbomb @ 12:25 (ABOVE AVERAGE)
Match #4: Jimmy Havoc defeats Jon Ryan by DQ @ 3:36 (N/A (ANGLE ADVANCEMENT))
Match #4b: Hardcore Rules: Jon Ryan pins Jimmy Havoc with a release wheelbarrow suplex through a barbed wire board @ 14:36 (ABOVE AVERAGE)
Match #5: RJ Singh taps Rob Cage with the 'Ethnic Submission' (Camel Clutch) @ 7:27 (BELOW AVERAGE)
Match #6: Stixx pins Lion Kid after a Splash Mountain Bomb @ 12:27 (VERY GOOD)
Match #7: Dave Mastiff and Greg Burridge defeat El Ligero and Nathan Cruz when Mastiff pins Cruz following a corner cannonball senton @ 18:10 (GOOD)
FINAL SHOW THOUGHTS
Rather then do positives and negatives here, I feel it's easier to save those for the Final Reaction going forward. Two reasons for that…one, the Final Reaction gets a bit redundant if I'm typing the same thing there that I am here. Two and just as importantly is it'll help decrease the length of these reviews a bit.
As far as 'Fifty Shades of Pain' goes overall, I'd say it's the weakest of the three shows thus far, but that doesn't necessarily mean it's a bad show. Once again, we top out with a 'very good' match on the scale. This time though, we do see the 'below average' make a return to the scale as well. Consistency is key and while top to bottom, the shows are watchable, there is nothing really blow away that the company would eventually be known for having show in and show out down the road. We see more stuff coming together for the future of the company and the cream is starting to rise to the top in guys like Scurll, Andrews, Ligero, Cruz and the London Riots.
So, where does this leave us all? Well, it'll leave me coming back to watch 'The Ballad of El Ligero' or PROGRESS Chapter 4. It'll leave you all hopefully wanting to come back and read when I do so. I'm once again off to find food. Honey Buns sound really good right about now.
THE FINAL REACTION
Best Match/Moment: Has to be the surprise contest of the evening to me. The super redeeming effort that we got from Lion Kid and Stixx earns them best match.
Worst match/moment: That RJ Singh and Rob Cage match was rough. From both an in ring content and from a 'suspension of disbelief' perspective. I've seen better from RJ but Cage was a definite disappointment in his first outing here.
MVP: This one is going to go to Dave Mastiff, who debuted in the main event of the show for the company and didn't even look the slightest bit out of place doing so. Not only did he get to showcase his impressive arsenal, he even got to pin the champion in the center of the ring, even if it was under somewhat dubious methods.
FINAL SCORE: 5.5/10
Until next time: "This Is PROGRESS" and that's "What I Watched". Catch you all for Chapter 4: "The Ballad of El Ligero".