Perfect Symmetry: Becky Lynch vs. Ronda Rousey vs. Charlotte Flair at WrestleMania 35
Becky Lynch is on a collision course with Ronda Rousey at WrestleMania 35 but if Charlotte Flair is added, the match will indeed be perfect symmetry.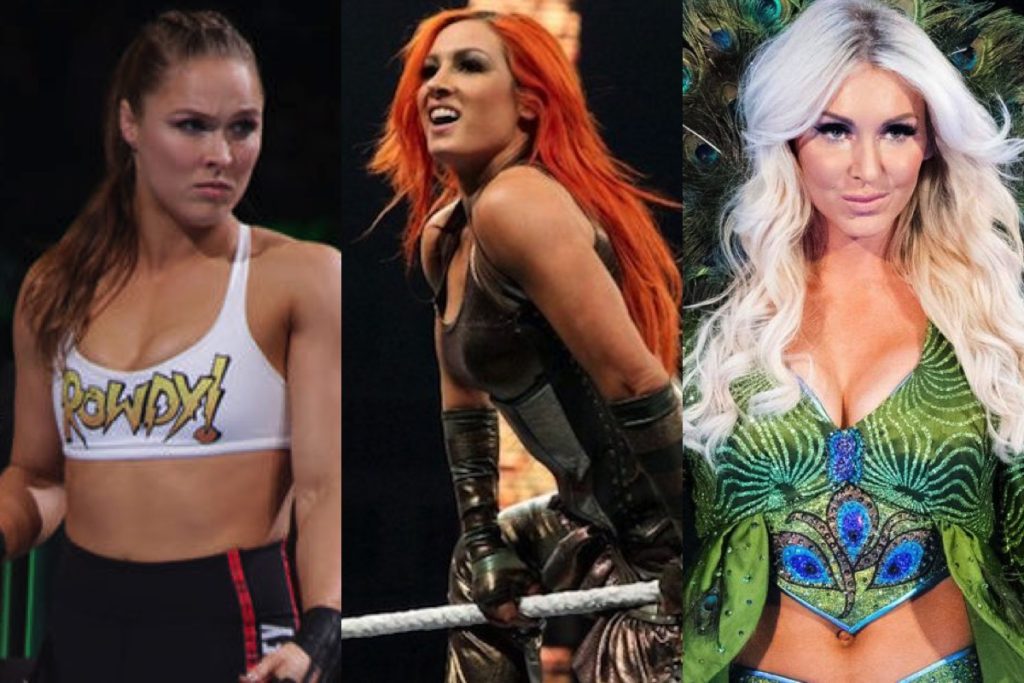 Becky Lynch is on her way to the main event of WrestleMania 35. "The Man" is red-hot right now and her path to The Grandest Stage of Them All really became clear in 2018, when her new persona exploded in the company. From the moment that she embraced her dark side and took charge of her character, Becky began paving the way to April 7.
Fans went along for the ride and they haven't left yet. WWE caught lighting in a bottle with Becky Lynch and now she's on a collision course with Ronda Rousey after winning the Women's Royal Rumble. But it appears that Charlotte Flair could also be added to the match at WrestleMania. Despite what some fans believe, this is a good move for everyone involved.
This situation is a great bit of booking that is really perfect for the angle between Lynch and Flair. Becky's heel turn last year happened because she felt that Charlotte was always stealing her thunder. Lynch couldn't believe that her best friend would consistently feel the need to overshadow her, but that's exactly what happened.
Every time Becky managed to take a step forward, Charlotte always seemed to push her a step back. Most WWE fans perhaps never saw this, or even realized it was happening. But when Becky vocalized it, everyone suddenly seemed to agree: Charlotte had become a problem.
But to believe that Becky had become the problem-solver was to believe that she would eventually overcome Flair in the ring. The only issue with that direction of course is that if Becky remained heel, she was probably only be doing so to get Charlotte over. 
This is something that fans perhaps did see from the very beginning. Jealousy and betrayal are age-old storyline points in pro wrestling and the same is definitely true in WWE. Much of the time, those betrayals occur to reinforce a Superstar's positioning as a strong babyface. The only way to build a face's personality is to provide adversity, then allow that face to rise above the adversity.
So had Becky Lynch been just another bitter heel that wanted to humiliate her best friend, she would probably have done so and then floated down. Today's women's division would indeed be much different at the top and fans would be looking at Flair versus Rousey at WrestleMania 35.
But Becky did not travel the predictable path. Charlotte is not the undisputed top star of the women's division. Lynch caught fire because she rebelled, because she had the guts to push back and fight the status quo. Her heel turn was complete storyline of course and she went along with the plan. 
However that plan only worked because fans believed that she could pull it off. They saw something in her that was too irresistible to ignore. More importantly, they wanted a reason to hate Charlotte again. So when they saw the opportunity to do so, they took it. 
Becky did not fade into the mid-card of WWE. instead, she's on top and she's heeding to the biggest match of her pro wrestling career in April. But if Charlotte Flair joins her, it will indeed be a perfect bit of symmetry. What better way to finally prove to Charlotte that she's the better talent than to defeat her on the company's biggest night of the year?
That storyline is now writing itself. The only way Lynch can truly grab the top spot and fully live the moment, is to take Flair down when it matters the most. The Rock only rose to the top after proving he was the better man over Stone Cold Steve Austin. The same is true of Becky Lynch and Charlotte Flair.
But fans must also think about another bit of symmetry that's playing out between Flair and Rousey. Ronda and Charlotte have unfinished business. Flair destroyed Rousey after their match at The Survivor Series and The Baddest Woman on the Planet has yet to get her revenge. This can finally happen if Flair is added to the match at Mania.
Of course the most curious part of this situation is Rousey herself. Ronda has had one impressive match after another since arriving in WWE. She works hard, she trains hard and she's arguably the most believable female performer in the ring today. Yet no matter how well she does, she continues to be hated. 
Fans can't wait to turn on her and they do it every time they get the chance. She was booed against Charlotte and she will be booed against Lynch. If anyone in this match has the ability to turn heel and make it work, it's definitely Ronda Rousey. The fans won't turn her back because they hate her so much right now. How does that play into the match between the three women at WrestleMania?
The fact is that the women's division has moved beyond anything that most fans likely expected it would. Getting the main event match at WrestleMania is a dream come true and that's the case for anyone that's ever wanted to become a pro wrestler. But for the women, it means so much more. 
WWE needs Ronda in this spot. Becky has earned this spot. Charlotte belongs in this spot. There is something positive to be said of all three and there's more to gain by them performing in the same match than there is by splitting them up. WrestleMania is coming and history is coming with it.