Chairshot Classics: Impact Wrestling United We Stand 2019
With Rebellion on the horizon, Harry brings us Impact's WrestleMania week show! Is it time to start buying in to the company again?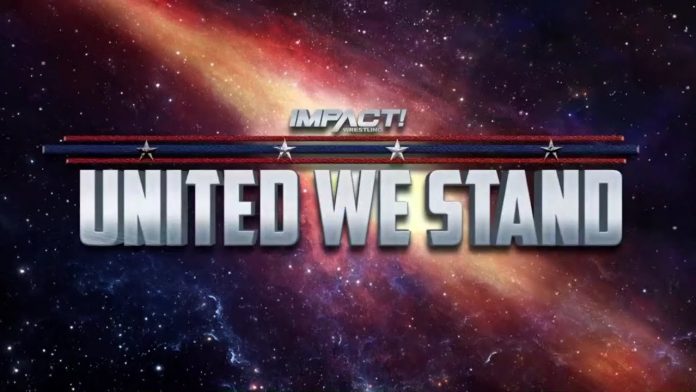 With Rebellion on the horizon, Harry brings us Impact's WrestleMania week show! Is it time to start buying in to the company again?
Hello everyone and welcome back to 'What I Watched', now under the 'Chairshot Classics' banner. This will be the eighth review here for me. PROGRESS Chapters 1-4 as well as Slammiversary and Bound for Glory 2018 from Impact Wrestling are already posted on the site and are available in my archive, which you can reach by clicking my name at the top of this article. To update everyone on future plans for 'What I Watched', Chapter 5 of PROGRESS is currently in the queue. I'll be getting to Chapter 6 soon to help keep those rolling. In addition, there are definite plans to get to both CHIKARA and AAW in the future here on the reviews as well. We've also tossed around the idea of getting Club WWN, which could lead to reviews of companies such as EVOLVE and SHINE down the road. I have yet to review the 'Homecoming' pay-per-view for Impact from January of 2019, but the plan for that remains that it'll be done once we get closer to 'Rebellion' later in the month of April.
That brings us to why we're here today. Impact Wrestling finally decided that as a wrestling company, they should probably be involved in the biggest weekend of the wrestling calendar year. That of course being WrestleMania weekend. This will be there contribution to the festivities that took place. The main event is Rob Van Dam and Sabu returning to Impact to face the current Impact tag team champions of the Lucha Brothers, Pentagon Jr. and Fenix. In addition we have 'Ultimate X' announced, Tessa Blanchard takes on Joey Ryan and much more I'm sure. With that said, it's into the slightly back machine, as we head to April 4th, 2019 as 'What I Watched' presents Impact Wrestling's 'United We Stand'.
WRITER'S NOTE #1: My reviews will not be a play by play recap. I've done that style in the past and honestly, I don't especially care for it. Instead, it'll be more of a stream of consciousness review as I talk about the wrestlers, the matches, the storylines and whatever else happens to pop into my head while I watch.
WRITER'S NOTE #2: As much as I'd like to let everyone make their own decisions on the matches, giving away match results in the review will be a necessary evil. The reason being is that I will discuss what I think everything means going forward and maybe even doing a little fantasy booking of where I would go from where they presently are. I will still post the results as one big listing at the end of the articles as well as my ratings for the contests. The final show review will be after that as well as the 'Final Reaction' for the show.
MY RATING SCALE: Excellent, Very Good, Good, Above Average, Average, Below Average, Bad, Very Bad, Terrible and SKIP. Some matches will occasionally get a 'N/A' rating as well. That will be reserved for matches that I feel don't warrant a rating.
Impact Wrestling: 'United We Stand'
From: Rahway Rec Center in Rahway, New Jersey
Date: April 4th, 2019
Run Time: 2:31:00 (Fite TV)
Pre-show: 37:15
Total Run Time: 3:08:15
*GENERAL NOTES: The setup actually looks pretty cool. Rahway Rec is a pretty good building for wrestling. ROH has run here before and if memory serves, it was the home of a company called JAPW (Jersey All Pro Wrestling), which long time independent wrestling fans should know. Building is pretty full as well. I wouldn't call it a sellout or anything, but it's definitely not as empty as some of the old Impact shows could be.
*There was a pre-show on Twitch. Honestly, if you don't watch it, you don't miss much. One of the referees commandeers what looks to be a GoPro and goes around showing various people. Otherwise, there doesn't appear to be much of significance, at least until we actually get a pre-show match…
*Match #1: (Pre-Show) WrestlePro Tag Titles: New Heavenly Bodies (Desirable Dustin/Gigolo Justin) vs. KM/Fallah Bahh vs. Team Espana (Jos A/Jos B) ©
The Who: This is sadly going to come off uncultured here, but I can't say I'm super familiar with any of the six. Desirable Dustin and Gigolo Justin are doing the old Jimmy Del Rey and Tom Prichard deal from Smoky Mountain which later moved into the WWF in 1994. They were apparently known as Dustin and Justin Corino before they became the new Heavenly Bodies. I can not confirm any ties to Steve Corino however. Team Espana (pronounced 'Hose A' and 'Hose B' respectively) are the WrestlePro Tag champs and it comes off to me as a Hispanic soccer stereotype gimmick. KM and Fallah Bahh are the team I am most familiar with here. I've seen them in bits and pieces when I did watch the Impact TV show on Pop, but in the two PPVs I've covered here on the Chairshot, neither has appeared thus far.
The Why: It's a pre-show match to get the fans hyped up before the show went live on Fite TV.
The Match: Let's see if these six can impress me in my first time seeing this. Plus, this is a match that had the chance to secure a couple last minute buys for the show on Fite, so we'll see if they put their best foot forward…opening bell here…KM calls the GoPro holder 'Kid Ref' (Kris Levin) and has to at the last second censor calling him 'baby dick'. Oops…Fallah does move well for a heavyweight…wouldn't that double splash that KM and Fallah do hurt Fallah more then the opponent?…watching this move through a GoPro makes you really appreciate the hard work that the camera crews do…KM chops the bejesus out of Jos B. One way to tag someone into a match, I suppose…hey! No New Age Outlaw finishes!…Black Hole Slam by Fallah. Abyss just left, man…the teamwork for the NHB is impressive. They don't stand out on personality, but the ring work is not bad…Rocket Launcher by the NHB. I always appreciate the classics…moonsault attempt off the second rope by Jos B almost nails referee Brandon Toll. Yeah, that could have been very bad…KM gets a tag late and goes to town on all four opponents. Some of it more realistic then others. A comedy steamroller spot sets up the big man Bahh going Lucha with a tope to take down the other four on the floor. Jos A gets rolled back in and KM greets him with the 'Ego Driver' (powerbomb into a backcracker a la 'Project Ciampa') and that gets the three count at 9:58…Much better then I personally expected it to be. KM and Fallah have become quite the team, even if they don't always get the opportunity to show it. For as generic as the gimmick is, Team Espana held their own here. I was honestly the most impressed by the teamwork of the New Heavenly Bodies. I seem to recall them being on Impact before and I do think they would make for a strong addition to the tag division on a permanent basis for the company. All told, given my expectations and the performances, I'm going with a GOOD rating here. Well played, boys. (GOOD)
*Cold Open is here and it's not bad, but it's nothing blow away either. As I said above, I do like the setup for the show and it looks like we'll open with 'Ultimate X' for a future title match against the X Division champion.
*Match #2: 'Ultimate X' for future X Division Title match- Jake Crist vs. Dante (AR) Fox vs. Pat Buck vs. Ace Austin (replacing Jack Evans) vs. Johnny Impact
The Who: Jake Crist is one half of the Crist brothers alongside Dave. They are currently members of oVe (Ohio Versus Everything) which is led by Sami Callihan. They also previously made up the tag team known as Irish Airborne. Dante (AR) Fox has made waves across the US independent scene in companies such as CZW and DG-USA. He's coming off his first major national exposure in Lucha Underground and would make an excellent (IMO) addition to Impact. Pat Buck: yeah, I can't help you guys here. Apparently a star for WrestlePro (who runs at the building they are running in. Upon a bit of research, he also owns WrestlePro. Which makes this make a lot more sense. Ace Austin has been on Impact a bit recently. I've not seen much of him, but what I have seen has been impressive. That being said, he hardly seems like a fair replacement for one of the best high flyers in wrestling in Jack Evans. Johnny Impact is the current Impact Wrestling Heavyweight champion, having beaten Austin Aries for that title at Bound for Glory in 2018 (review available in archive). Johnny recently turned heel on an episode of Impact and decided that he didn't wish to be a part of Team Impact later in the show, thus he put himself into this match instead.
The Why: In addition to putting one of the biggest spectacle matches Impact has on a major scale, Impact is also using this match as a way to crown a 'Money in the Bank' style eventual challenger for the X Division title down the road.
The Match: Kotto Brazil of MLW was also advertised for this match but ended up not being here for it. Tried to look into this, but couldn't find anything of relevance to share here…opening bell goes here…near miss sequence to open leads to everyone down but Impact. Cute but a little gimmicky…Impact and Fox renewing acquaintances reminds me how much I miss Lucha Underground…camera crew misses a pair of dives during the dive sequence that almost always happens in X Division matches. Not sure if that's on the boys or on production, but it shouldn't happen…good thing I don't do play by play anymore. A lot of stuff going on early here…hiptoss on the apron to Ace Austin. Why?…and the audio issues hit again in full force as the chase to the X begins. You are literally a television company, Anthem. The fuck, guys?…Austin reaches out and gets the 'X'. Buck grabs him and tries to pull Ace down. Austin loses his grip and ends up landing square on the side of his face. Yee-ouch…nice looking superplex there by Jake…and now it's every indie match ever with the Tower of Doom spot…splash mountain bomb (Razor's Edge) lift into a urinage by Johnny Impact. Alright, that was new…match of the powerbomb. That was like the fourth or fifth one already…imploding shooting star plancha by Dante Fox. I see you, Dante. Get that contract…and that was just fucking stupid, Ace. I hope he's okay…thankfully, it looks like he is….Jake and Pat recreate the Edge-Jeff TLC spear spot. Not bad but not quite as impressive with the height difference…the Crist and Austin cutter off the cables looks a lot cooler. Ace is clearing showing the most of the men in this match…and mere seconds after I write that, Impact grabs the 'X' to win the match @ 13:03…Lots of effort from all five guys here, all of whom bumped their asses off to sell the danger of the match. Not much of a story but in a car crash such as this, there doesn't really have to be. A special shout out to Ace Austin, who as I mentioned above impressed me the most. (GOOD)
*Backstage: Eddie Edwards, Moose and Brian Cage discuss the upcoming Impact vs. LU match. I'd tell you what I think, but the sound went out during it so I couldn't hear anything anyone was saying…
*Match #3: Team Lucha Underground (Aerostar/Daga/Drago/Marty 'the Moth' Martinez) vs. Team Impact Wrestling (Brian Cage/Eddie Edwards/Moose/Tommy Dreamer)
The Who: Team Lucha Underground has several people most will be familiar with. Daga has appeared in Impact before but I don't believe he's been used regularly in a while. Aerostar and Drago were two third of the Lucha Underground Trios champions at one point with I want to say Fenix. Marty Martinez, known as Martin Causas on the Tough Enough re-launch a few years back, really came into his own as a singles competitor on Lucha Underground. He's someone I genuinely hope Impact gives a shot, much more then any of the rest of the team (okay, Drago's pretty cool too). Team Impact has people you'll know from my previous reviews. Cage is the current number one contender, scheduled to face Johnny Impact for the title at Rebellion. Eddie Edwards on TV is currently teaming with Eli Drake (who recently got himself fired for comments made during an interview). Moose is kind of in limbo but he's grown on me quite a bit over the years. Tommy Dreamer…well if you don't know who Tommy is by now, I can't help you.
The Why: Much the same way they did last year before WrestleMania, Impact and Lucha Underground are facing each other here. I wouldn't mind if this became an ongoing theme on the Impact TV show as well since Lucha Underground is probably not getting a season five.
The Match: It was originally played up as a four on three advantage to Team L.U. since Johnny Impact decided he was out. He is replaced with Tommy Dreamer, as you saw above…opening bell goes here…I like Tommy more then most, but he should not be a regular wrestler in 2019. For the sake of this show and it's location, it at least makes some sense here…fun exchange by Edwards and Aerostar to get us going. Matthews (for as much crap as I've given him in the past) is really good at putting over Edwards' credentials…Martinez is definitely more sizzle then steak, but sizzle is something I think Impact could use more off…Cage battles Daga and I'm guessing these two are really familiar. It sure flows like they are…Cage busts out the Cesaro apron superplex on Drago to the floor onto everyone…that was fucking gross, Eddie. I'm with Don here…we've already seem some of the old Lucha Underground elements sneaking into Impact. I would not mind a full on roster vs. roster invasion battle playing out on Impact TV…don't care for Daga and Drago's double-team work. Comes off really clunky. Aerostar and Drago work much better together…add the diamond cutter to the superkick and enzugiri on my list of most spammed indie moves…and Moose lays out Cage with a spear, one assumes to set himself up as a title contender should Cage beat Impact at Rebellion…match breaks down with in-fighting from the Impact team. Tommy cracks Moose with Kenny the Kendo Stick after the spear and Edwards dives onto Moose once Moose goes to the floor. In the ring, it leaves Dreamer open to a butterfly implant DDT from Martinez and that's a three count at 10:22…solid but not great. Effective for the finishing angle but leaves the rest of the match feeling inconsequential as a result. I like Marty, but not sure this is enough to get him a spot with Impact. Call the match itself ABOVE AVERAGE, which has to be a disappointment given the talent involved. (ABOVE AVERAGE)
*Taya Valkyrie promo…yeah, I'm still not sold on her. I know she's a big deal in Mexico, but I feel there are better performers in Impact to carry the crown.
*Match #4: Impact Knockouts Title: Taya Valkyrie © vs. Rosemary vs. Katie Forbes vs. Jordynne Grace
The Who: Taya Valkyrie is Mrs. Johnny Impact and the current champion, having won the title from Tessa Blanchard back at Homecoming (sumbitch). While I'm may not be sold, I will say that she does carry herself like a star. I'm sure there are other factors at play in terms of her elevated status, she portrays herself as the biggest deal in this match. Rosemary has recently returned from an injury and lost her best friend in Impact when Allie got killed off by Su Yung and the Undead Brides. Katie Forbes is making her Impact debut, one assumes because of the relationship with Rob Van Dam (who returns to the company himself later). Her ring entrance does proceed to set the women's revolution back about a decade and a half. Jordynne Grace has really been a breakout star in Impact over the last six months or so. I think she has a new hair style here and it looks good on her. A much more dignified entrance too.
The Why: It's for the Knockouts title. Pretty self explanatory for this one.
The Match: Production issues in full force for Rosemary's entrance. You can't hear a word Josh or Don are saying because of how cranked up the music is. I like Rosemary's music but some may not be as forgiving…opening bell goes here…Rosemary gets sent to the floor and it sets up a triple knuckle-lock eventually leading to a series of roll-ups. I do like that they incorporate more then two into the opening sequence…running hip attack square to the jaw followed by a double knees in the corner. Forbes literally taking it on the chin in this match…Rosemary is by far the best character in this match. Certainly the best developed of the four. I'd say that Jordynne and Taya are both better workers, though…Forbes looks clunky in the ring. But I don't think she's been active that long. A quick Google search tells me three years, which really doesn't surprise me. Her timing and fluidity is not even close to the level of the other three…car crash spot puts all four down. It looked good though…the 'Upside Down' by Rosemary. Touch on the nose with the name there but it looks visually impressive. Reminds me of Candice Michelle's old rope choke…Forbes goes for a double Samoan Drop but loses Rosemary. So Grace missile dropkicks Forbes into a Samoan on Taya. Good save…looks like Rosemary has put on a little weight during her downtime. I'm sure it's a factor of not being back in the ring regularly…Su Yung shows up and it draws Rosemary's attention, leading to them brawling (somewhat poorly) to the back. Forbes lifts Grace up onto her shoulders and proceeds to squat with her. That seems a bit gimmick infringing there, Katie…not sure what Katie is going for but Grace escapes and plants her with a Grace Driver (Matt Sydal's old Here It Is Driver). That would be a three count for Jordynne but Valkyrie tags with a single foot dropkick to the mush and takes the pin herself at 9:00…had it's moments but the result was never in doubt with the TV already taped and the Knockouts title match for Rebellion of Taya vs. Grace already being set. Unsurprisingly, Forbes eats the pinfall which protects everyone else. The story to tell coming out of this though is that Grace had the match won with the Grace Driver until Taya stole the pin. AVERAGE match but a good finishing sequence helps. (AVERAGE)
*Tessa Blanchard promo: Tessa comes off like the biggest star in the division hands down and I think you could make the argument for the biggest star in the company. Seamlessly transitions from talking about want her title back to how she'll make sure Gail Kim gets what's coming to her at Rebellion to making Joey Ryan famous for being Tessa Blanchard's bitch tonight. Very well done.
*Hype video here for the LAX vs. Ricky Martinez and LowKi match. LowKi's voice sounds so dignified. It's really too bad that the guy behind the voice is such a massive asshole.
*Match #5: LAX (Santana and Ortiz) vs. Promociones Dorado (Golden Promotions) (LowKi and Ricky Martinez)
The Who: LAX has been arguably the best thing going on Impact since I started reviewing these show. The '5150 Street Fight' at Slammiversary and the 'Concrete Jungle' match at Bound for Glory were both amazing performances for Santana and Ortiz. Promociones Dorado, I don't as much about since I don't really watch MLW. Ricky Martinez is a new name for me. Can't say I know much about him other then he was on an episode of 205 Live a while back in a losing effort to Lio Rush. LowKi is someone who has been everywhere. WWE, ROH, TNA, New Japan, Zero-1. You name it, he's probably worked for them before.
The Why: There's a bit of history between LowKi and LAX, which is addressed in the hype video that airs before this match. Ricky Martinez and LowKi came together in MLW to form the Promociones Dorado team and in this instance, that gives a challenge to the former multiple time Impact Tag Team champions.
The Match: Instrumental version of 'The Truth' by Beanie Sigel brings out LowKi and Martinez. Quasi shout out to another one of LowKi's former tag team partners in Homicide, with whom LowKi formed the Strong Style Thugs…if the tag title match for Rebellion wasn't already set, I'd be more expecting of a LAX loss here. Now, I don't see it…I question why LowKi thought the Irwin R Schyster school of ring gear was a good decision. Yes, I get the whole 'Hitman 47' character but still seems like it would be a pain in the ass to wrestle in…opening bell goes here…Josh kissing corporate ass by talking about the Impact and MLW relationship. Don Callis takes the chance to put over "Joey Ryan's Penis Party" (things I'd never thought I'd type)…took almost two full minutes for the first physical interaction. Crowd's invested though…LowKi is still so sudden almost two decades in. I've never doubted his in ring ability. His attitude sucks most of the time though…cross armed northern lights suplex by Ortiz. That's a new one for me…double team wheelbarrow X-Factor by LAX. I'd say they are top three in the world in terms of their tag work. Them, the Young Bucks and the Revival for me…and now a little double teamwork from Martinez and Ki. Kitchen sink knee lift into a basement dropkick…Martinez busts out the skullfucker. Throwback to an old X Division rival of LowKi's in Alex Shelley…corner kangaroo kick by LowKi. Almost a tip-up version of the Warrior's Way/Ghetto Stomp (take your pick)…one way to get into a hot tag, I suppose…Ortiz just clocks LowKi with a missile dropkick. That looked super snug…action is way too fast here to call it all. Another LAX double team (superkick assisted Tower of London) gets broken up by a Swanton from LowKi…Doomsday gamengiri by Promociones. Good looking move. A clean kickout by Ortiz tells me it's not their finisher though…Santana sends LowKi face first into the post. In the ring, Ortiz counters Martinez and lifts him up into a Death Valley Driver, which is enough for the three count at 12:39…GOOD but the anti-climatic nature of the finish hurts it from going any higher. When you get double team after double team during the course of the match, you come to have a certain expectation for finishing sequence. Especially when LAX has one of the best double team finishes in pro wrestling with the 'Street Sweeper'. Match was strong up to that point though despite the slow start, so I can't knock it too bad overall. I wouldn't be against more of LowKi and Ricky as a team in Impact but we'll have to see there. (GOOD)
*Sami Callihan promo: the cult leader type persona that Callihan has with oVe fits him so well. He's one of the better promo guys on the indies. I'm actually really looking forward to the Monster's Ball match a little later on the show…
*Match #6: Tessa Blanchard vs. Joey Ryan
The Who: Tessa Blanchard is in my opinion one of the five best women's wrestlers in the United States currently. She is the complete package as she can talk, she has a presence about her, she's a strong worker and she has the ability to get a crowd to react to her. Joey Ryan is a bit of a mixed bag. While I think Joey is a competent wrestler, his current persona does absolutely nothing for me.
The Why: I can truthfully say I have no clue.
The Match: So, I'm coming into this match with a bad bias and I'll be the first to admit such. Having seen as much PWG as I have, I'm very well aware of what a focused Joey Ryan is capable of. His current shtick (and it's a lot of shtick) does nothing for me. I don't really have an interest in this match because with Tessa having the match with Gail Kim coming up, any efforts that Impact may have put into making Tessa a viable threat to Gail will be damaged by the shenanigans that will occur here…then again, Joey's selling a shit ton of merch, so what do I know?…Callis pops Josh (and myself) by approving of Joey's Speedo…that blow pop spot with the fan. Pretty sure that's how you get herpes…the 'you sick fuck' chant towards the fan is well deserved. Couldn't pay me enough to do that…opening bell goes here…and Joey tries to go with the 'touch it' penis spot early. Tessa naturally responds the national bird of the USA, the middle one…Callis keeping popping Josh on commentary. He used to do that all the time to Joey Styles in ECW and Kevin Kelly in New Japan. I don't think Don gets nearly enough credit for how good he is at the comic relief aspect of his color commentary duties…corner trap chestblower by Tessa looks really good…see, that's the Joey Ryan I know. The 'Technical Lizard' Joey Ryan. For all the sizzle he currently uses, there's a lot of steak there. He just doesn't show it enough…top rope senton and a beauty by Tessa…pumphandle suplex by Ryan just launches Tessa in retaliation…Blanchard is so smooth in the ring. It's too bad her attitude is what it is because could easily be the biggest star in women's wrestling if it wasn't…Callis is at least making the Ryan shenanigans more entertaining then usual…match is making Tessa look resilient at least…Ryan goes for a superplex. Tessa fights it off and tries a tornado DDT which Ryan counters by putting Tessa back on the top rope. A palm strike to the boob (I think, bad camera angle) sets up another try at the superplex. Tessa knocks Ryan back into the ring and then comes flying in with 'Magnum' (she'll be sponsored by Trojan soon) which gets the three count at 10:46…better then I expected but not what it could have been due to the antics involved. Tessa came out of this looking much better then I feared she would and Joey kept it to a greatest hits of the sleaze department while still working a reasonable match. I'll call it AVERAGE+, which is as good as possible given the circumstances. (AVERAGE+)
*Quick plug for the Rebellion PPV and the impending title match between Johnny Impact and Brian Cage. I believe (if memory serves) they went one on one at Homecoming as well. That'll be my next review here on the site to get everyone ready for the Rebellion show on April 28th.
*Match #7: X Division Title Match: Rich Swann © vs. Flamita (representing AAA)
The Who: Rich Swann is the defending champion here and has re-established himself as one of the better Jr. Heavyweight workers in the world since he arrived in Impact in June of last year. Flamita is someone I know almost nothing about. I don't watch a ton of legitimate Lucha Libre so Triple A isn't on my view list. Upon some research, I find out he's 24 with about a decade of experience, having debuted at the age of just fifteen in his native Mexico. He's also worked with Dragon Gate in Japan and is a former Tag Team and Jr. Heavyweight champion there.
The Why: For Swann's X division title. This is actually a replacement match as Rich Swann was originally supposed to defend the title against Dragon Gate's YAMATO.
The Match: Little disappointed that we aren't getting YAMATO here, but I've heard good things about Flamita…opening bell sends us on our way…amazing athleticism in this match early. These are the kind of matches the X Division was based around back when TNA started in 2002…once we go back to the ring after Swann's dive, pace is a lot slower though…Flamita comes out with a tope of his own. I think Swann was fancier but Flamita's was smoother…tiger bomb into a lungblower by Flamita. The innovation on this show in general has been quite impressive…Swann with a Buzzsaw kick, ala Tajiri. Wonder what he's up to these days. Last we saw him was briefly in NXT…Flamita reminds me of 2 Cold Scorpio in the way he strings high impact offense. I'm not sure if that's a compliment or not…breaks down in a strike exchange. Not what you'd expect from these two…the Tyler Bate style fake out by Flamita was nice. It was immediately undone by a Rich Swann handspring ace crusher, but still appreciated…leap of faith (Jigsaw from CHIKARA style) frankensteiner by Swann pulls Flamita from the buckle. Once Flamita is down, Swann goes up to the second rope, where a Phoenix Splash (impressive from the second as far as timing goes) equals a three count at 7:46…I get that it was super late by this time and I'm guessing the building had a curfew. That being said, that is just tragically short given what these guys are probably capable of doing with another four or five minutes. What we did get was entertaining, but ultimately the brevity holds it back from being anything super memorable. Call it GOOD but a little disappointing given what it could have been capable of. (GOOD)
*Van Dam and Sabu promo: Van Dam does most of the talking, which really isn't a surprise. Hearing Sabu actually talk is still something I'm not sure I can wrap my head around…it's not that I dislike Van Dam and Sabu because I don't. A match like this shows that Impact still hasn't quite gotten that they need to focus on their own talent rather then relying on stars of the past. That has always been TNA's mistake in the past and it seems like those who don't learn from history are doomed to repeat it…
*Match #8: 'Monster's Ball': Jimmy Havoc vs. Sami Callihan
The Who: Jimmy Havoc has been a focal point of my PROGRESS reviews, so I'm quite familiar with him. There's actually a lot of similar between he and Sami . Both are kind of death match hybrid wrestlers in that they can work basically anything style without being too far out of their element. Sami Callihan is the bigger deal in Impact since Jimmy rarely comes over to the US. Callihan was involved in my pick for the 2018 Impact match of the year as well with his brutal war with Pentagon Jr. back at Slammiversary in the 'Mask vs. Hair' match.
The Why: Well, frankly, because why not? I don't think there was anything specific that set this match up but it should be good all the same.
The Match: No music for Jimmy that I can hear. Either it's muted on the feed or someone at the venue screwed up. Either are likely, truthfully…and Callihan assaults Don with his hat. What is with wrestlers picking on announcers these days…opening bell goes here…Callis laments being the poor official in this contest and I couldn't agree more…thumbs up by Sami is countered with Jimmy figuring out the national bird of the US as well followed by a short right that gets us going…staple gun to the vest. Sounds good but probably not very painful. The follow up one to the balls is most likely a little more effective…crowd chants 'you sick fuck'. Josh wonders if they are talking to Callihan or Havoc. In unison, Callis and I say both…Sami lawn darts a chair at Jimmy and Jimmy comes up bleeding…chain in the mouth choke. That checks…fake out by Jimmy leads to a chop to the back. What a jerk!…that trash can almost went into the crowd like it was a ladder at an ROH show…not sure what the hell happened there, the camera missed it…running eye poke by Jimmy. Effective, I suppose…Cactus Driver on the apron and he stuck him with it. Dangerous as all hell spot but very visually appealing…sunset flip attempt is countered with a stapler. Well, of course it is. Why wouldn't it be?…and Sami kicks Jimmy clean in the dingus…ECW staple of the frying pan gets introduced. Using it to the back doesn't sound as good as the head shots did, but probably safer…lemon juice in the cut. I'm gonna be sick…baseball swing with the trash can by Havoc…paper cuts are now a weapon. Those damn things hurt…Sami needs a shower…as if lemon juice wasn't enough, now its time for salt…he's biting the bare foot. Now I really am going to be sick. I don't do feet stuff…death valley driver into the trash can…colorful building blocks…piledriver onto said building blocks gets a one count. DISREPECTFUL!…Sami grabs the baseball bat and smacks Jimmy in the side of the face with it. A pair of chairs get set up facing each other and Callihan delivers a piledriver onto the standing chairs. That's your three count at 13:50…not as bloody as the old Abyss 'Monster's Ball' matches used to be but I'd say that's a good thing. Some innovative spots here and there but ultimately not nearly what these two are capable of. As a death match, I've seen both of these guys involved in far more gruesome matches. For the needs of this show though, it worked. The fans were invested, the guys busted their butts to give the fans their money's worth and all in all, its not a bad way to spend about fourteen minutes. Call it a GOOD rating, but know they are capable of much worse if you are into that kind of thing. (GOOD)
*We recap everything that has happened thus far. Josh then plugs the Rebellion PPV and we see the same hype video we saw earlier promoting the Cage and Impact title match. After that, it's a hype package for the main event, which is next.
*Match #9: Lucha Brothers (Fenix/Pentagon Jr.) vs. Rob Van Dam/Sabu
The Who: Fenix and Pentagon Jr. are one of the hottest acts in the US independent scene right now. Both were incredibly successful during the Lucha Underground series and as such, have been catching promoter eyes all around the country. Rob Van Dam is a former multiple division champion in TNA who is just now making his return to the company. He's also signed a deal that will keep him around for a while going forward. Sabu at one point was considered to be the best high flyer in the world. Father time has not been kind to him recently but he's hoping to at least capture the magic one more time while teaming with former ECW Tag Team championship partner Van Dam.
The Why: Some would say it's a dream match. Personally, I'm not one of those people but I am a fan of three of the four men in this match. Specifically Van Dam, who I've always said is either in my top five for favorite wrestlers or just outside of it (Jericho, Punk, Hero, Daniels and Quackenbush are the other usual suspects).
The Match: I appreciate everything Sabu has done for the sport of professional wrestling, but at some point you have to know when to let go. That time for come for him but he insists on sticking around. Hopefully, the rest of the guys in this match can help him make his way through…not sure why the Lucha Brothers entrance video went full screen as long as it did but it does look cool…Pentagon Jr. is someone who could easily be a main event player in Impact. I don't know if I could say the same about Fenix though…Hulka Blues knock off is about a pretty good rip. It's not quite to the level of Harry Slash and the Slashtones but it's close…Sabu comes out with a woman who I'm not sure I've seen before. To the Google, I go…and Google is of no help. Maybe Josh will tell us her name…Van Dam has his old TNA theme song. Still doesn't make a damn lick of sense. Van Dam is still in pretty good shape for his age. We'll see if it translate in ring…production has to get better to justify the cost of these shows. Josh spends a good minute putting over Van Dam's accolades and you can barely hear them over the music…Don almost calls Josh 'Joey'. As in Styles. That's just blasphemous, sir…opening bell here…Sabu does look to be in good shape here. Given that he was bedridden in a hospital recently, that's a good thing I guess…once again, almost two minutes before the first physicality…breaks down into a brawl at ringside real quick…Van Dam almost brains Fenix with a leg lariat and clips Sabu with the kick as well…Van Dam doesn't get anywhere close to any of Rolling Thunder. Sabu's flipping legdrop did look good though…Van Dam makes up for it with a huge monkey flip on Fenix…rope springboard 360 kick by Fenix. That looked nice…Sabu just eats a double superkick…excellent double team work by the Lucha Brothers with the wheelbarrow splash…Josh plugs the Van Dam documentary called 'Head Strong'. Gee, I wonder why…that is not a good looking table…alright, the old school double legdrop through the table does bring bit a nice bit of nostalgia…Van Dam looks for the Five-Star and eats chair from Pentagon Jr., which sends Van Dam spilling to the floor. A double kick puts Sabu down and once Sabu is grabbed up by Pentagon Jr., the double team Fear Factor (double stomp assisted package piledriver) spells the three count for a Lucha Brothers victory at 8:03…kept short for obvious reasons, but fun enough while it lasted. Van Dam and Sabu aren't going to be able to put on the fifteen to twenty minute wars that they used to, so it made sense to use them for the name value to pop the crowd and to give your tag champions a big win. This match was too short to tell if Van Dam will add anything to the Impact roster, but I will give credit to Sabu who looked a lot better then I thought he would here. Call the match AVERAGE but that's actually higher then what I anticipated. (AVERAGE)
*Show of sportsmanship mid-ring post match, as Josh hyperbolically states that it's a night we'll never forget. That is how we go off the air for United We Stand.
RESULTS
Match #1: WrestlePro Tag Titles- Fallah Bahh/KM defeated Team Espana © and the New Heavenly Bodies, KM pins Jos A with the 'Ego Driver' @ 9:58 (GOOD) (Pre-Show)
Match #2: Ultimate X for #1 Contendership to X Division title- Johnny Impact grabs 'X' to win match @ 13:03 (Match also involved: Ace Austin, Dante (AR) Fox, Jake Crist and Pat Buck) (GOOD)
Match #3: Team Lucha Underground (Aerostar/Daga/Drago/Marty Martinez) defeat Team Impact (Brian Cage/Eddie Edwards/Moose/Tommy Dreamer), Martinez pins Dreamer after a butterfly implant DDT @ 10:22 (ABOVE AVERAGE)
Match #4: Impact Wrestling Knockouts Title- Taya Valkyrie © wins 4 way, pinning Katie Forbes after stealing the pin from Jordynne Grace following the Grace Driver @ 9:00 (Match also involved: Rosemary) (AVERAGE)
Match #5: LAX (Santana/Ortiz) defeat Promociones Dorado (LowKi/Ricky Martinez), Ortiz pins Martinez after a Death Valley Driver @ 12:39 (GOOD)
Match #6: Tessa Blanchard pins Joey Ryan, 'Magnum' @ 10:46 (AVERAGE+)
Match #7: Impact X Division Title- Rich Swann © pins Flamita with a 2nd rope Phoenix Splash to retain @ 7:46 (GOOD)
Match #8: Monster's Ball- Sami Callihan pins Jimmy Havoc with a piledriver through a pair of open chairs @ 13:50 (GOOD)
Match #9: Lucha Brothers (Fenix/Pentagon Jr.) defeat Rob Van Dam/Sabu, Pentagon Jr. pins Sabu after a springboard double assisted Fear Factor @ 8:03 (AVERAGE)
FINAL SHOW THOUGHTS
It's a mixed bag to me. There are things that are definitely worth your time to check out. 'Ultimate X' and 'Monster's Ball' are both fun matches. But there's some stuff that will leave you scratching your head as well. I get why they put Katie Forbes into the Knockouts title match but she definitely brought it down. Wasting Tessa Blanchard on Joey Ryan pisses me off. The eight man tag match basically turning into just a storyline development tool does no favors to any of the men in that match. It's not all good, it's not all bad. But there is quite a bit of both.
So where does this leave us? It leaves me getting ready to type the preview and introductions for Homecoming since that show is just five days away at the time I finish this (see, I can math Andrew). It leaves you guys hopefully continuing to check these reviews out here on the Chairshot. Finally, it leaves me on my way to the fridge to get something to drink. Not hungry yet but I will be by the time I get Homecoming started, I'm sure.
THE FINAL REACTION
Best Match/Moment: I'm going to go with 'Ultimate X' here and specifically Ace Austin's performance therein.
Worst match/moment: The whole Joey Ryan and Tessa Blanchard debacle. I don't put that on the performers though. I blame the match making committee for this one.
MVP: Don Callis for being super entertaining throughout the show. No one individual effort stood out to me so I'll give it to Don.
FINAL SCORE: 6/10
My next review that isn't with PROGRESS will be Impact Wrestling's Homecoming 2019 to get everyone ready for Rebellion. In addition, check out PROGRESS Chapter 4, which is available now in the archives. Chapter 5 should be out soon and once I finish Homecoming, I'll begin work on Chapter 6. I would also hope that you guys will check out the Raw Reaction every Monday night at 11:30 PM (EST) to hear Tony Acero, Andrew Balaz and myself break down the important news and cover Monday Night Raw over on the Chairshot Radio Network.
Chairshot Classics: WWE TLC (2015) featuring Sheamus vs. Roman Reigns
As we approach the 2020 edition of WWE TLC, we look back at one from the past featuring  a very different Sheamus against a very different Roman Reigns!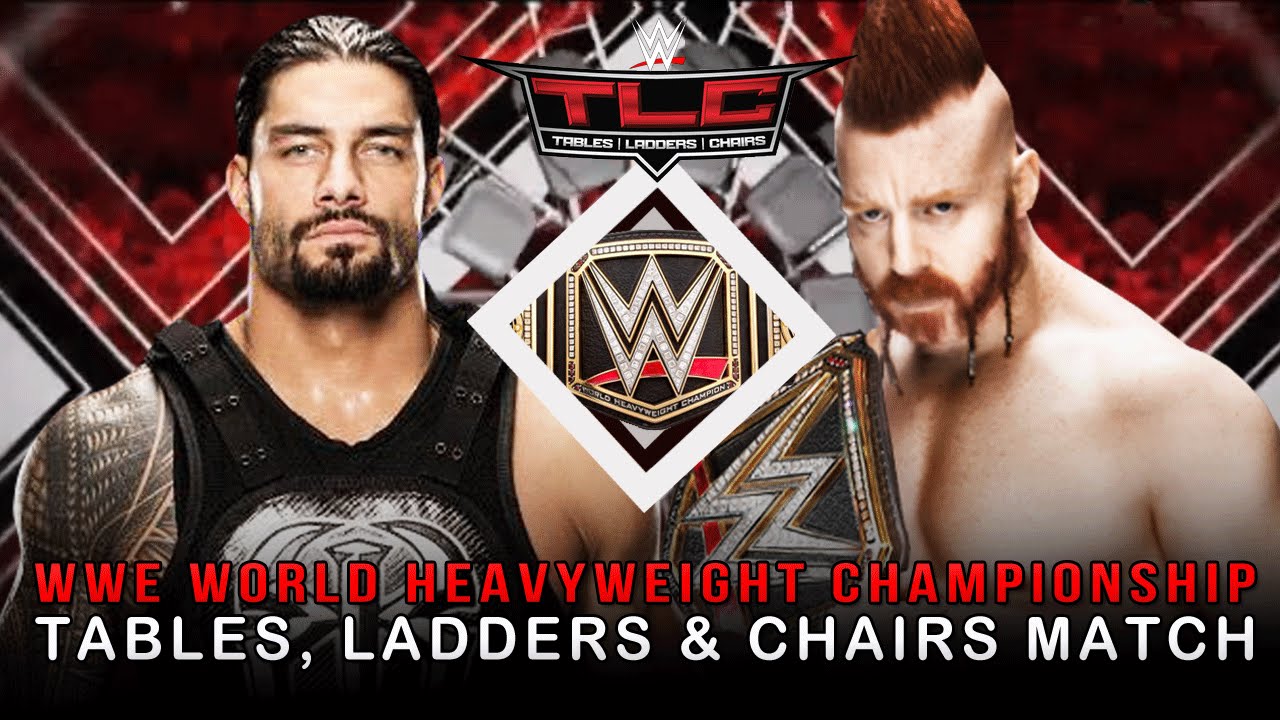 As we approach the 2020 edition of WWE TLC, we look back at one from the past featuring  a very different Sheamus against a very different Roman Reigns!
As we get closer to closing the book on 2018, we're approaching WWE's December pay-per-view TLC, so today we're looking back at one from the past with TLC 2015! After cashing in Money In The Bank on Roman Reigns after a grueling tournament to crown a new WWE World Heavyweight Champion, Sheamus must now face Reigns fair and square in a TLC Match! Let's get into the action…
Kickoff Show Match: Sasha Banks w/Naomi & Tamina vs. Becky Lynch
Collar & elbow tie-up to kick things off, Sasha with a side headlock, Becky counters into one of her own, Banks attempts to roll her away, but Lynch hangs on. The Boss reverses an irish whip to the corner, charges in and scores with a monkey flip into a cover, celebrates a little early and Becky rolls her up for a quick 2. Banks tries to pick the leg, Becky counters and gains a side headlock, Sasha pushing her to the ropes and scoring with a shoulder knockdown for a count of 2. Back to the ropes they go, The Boss tries a leapfrog, Lynch hooks the leg and Banks faceplants into the canvas, The Lass Kicker looking for the Dis-Arm-Her, but Sasha squirms to the ropes to escape.
Lynch tries to slingshot The Boss to the mat, Sasha lands on her feet and connects with a big forearm, rushes in and gets caught in an armbar. She pushes Becky off to the ropes, follows in and Lynch with an armdrag, going right back to the armbar. Banks attempts to roll her away, Becky maintaining the hold, ducks a right hand and rolls Banks up for multiple 1 counts, then slaps the armbar back on. The Boss creates some separation with stiff forearms, sends Lynch to the corner and charges in, The Lass Kicker hopping up and over, controlling Sasha with another armbar. The Boss backs her into the corner using the hair, briefly breaks clean and tries to sneak in a forearm, Becky avoids it and connects with a springboard kick.
Naomi climbs to the apron and gets dropped back down for her troubles, Lynch turns back to The Boss and rushes in, Sasha side-steps and Becky hits the ring post shoulder-first. Banks planks her across the middle rope and drops down the double knees, taking control as we head to a break….The Boss chokes Lynch on the bottom rope when we come back, Tamina with a cheap shot behind the official's back. The Lass Kicker tries to battle back with forearms, sends Sasha to the ropes for a clothesline, Banks counters into a tilt-a-whirl and cracks her with a backstabber. She rolls through, crosses Becky's arms across her faces and wrenches back, grinding Lynch down to the canvas.
The Lass Kicker powers to her feet with Banks on her shoulders The Boss turns it into a victory roll for a near fall, Becky with a roll-up off the kick-out and she gets 2. She catches Banks rushing in with another roll-up for 2, drops The Boss face-first on the 2nd turnbuckle, then builds momentum with a flurry of clotheslines and a heel kick. She drops a leg, tries for another and Sasha avoids it, planting her with a cross-arm neckbreaker, covering numerous times and only getting 2 counts. The Boss slaps Lynch in the face, Becky comes back with a heavy shot, pushes Sasha to the ropes and throws her with a LassPlex, Banks grabbing the bottom rope at a count of 2.
Sasha kicks her way back to her feet, Becky takes her down with an armwhip, slaps on a cross armbreaker, The Boss tries to roll her way out and Lynch hangs on for the Dis-Arm-Her. Banks switches the momentum into a roll-up for 2, The Lass Kicker hangs onto the arm on the kick-out, going right back to the Dis-Arm-Her, Tamina getting to the apron to distract the referee, allowing Naomi to sneak in and kick Lynch in the face. The Boss takes the opening and scores with the backstabber, rolls through into the Bank Statement and Lynch is forced to tap.
Winner: Sasha Banks (Bank Statement)
EA's Take: Solid showing on our Kickoff match from both ladies, The Boss getting the big win in her hometown with help from the unity of Team B.A.D. Becky's in an odd spot right now, seemingly playing the 3rd wheel between her former Team PCB members, Paige & Charlotte. With performances like this it will be very difficult to keep Becky & Sasha near the bottom tier of the Divas division for much longer, especially if the "We Want Sasha" chants continue.
Open: After Seth Rollins cashed in his Money In The Bank briefcase at WrestleMania, Roman Reigns' luck as it pertains to winning the WWE World Heavyweight Championship has been less than stellar. He finally reached the mountaintop at Survivor Series, winning a tournament to gain the vacant title, only to have Sheamus cash in his Money In The Bank and steal the championship. Tonight, Roman looks for revenge with tables, ladders and chairs.
Match #1 – Triple Threat Ladder Match for the WWE Tag Team Championships: WWE Tag Team Champions The New Day (Big E & Kofi Kingston) w/Xavier Woods vs. Lucha Dragons (Kalisto & Sin Cara) vs. The Usos (Jimmy & Jey)
Xavier joins commentary for this match, the bell rings and the brawl is on, Jimmy & Sin Cara send Big E to the ropes, Jimmy drops down and Sin Cara scores with a dropkick. Jey, Kalisto & Kofi attempt to bring ladders in, Big E clears the ring, pushes back on Kalisto & Jey, then pulls Kingston's ladder inside. New Day stand it up and start to climb, The Usos are there to meet them, toss Kofi outside and then pair-off with Big E & Sin Cara. Kingston & Kalisto climb up opposite sides of the apron, springboard into the ring and land on their feet on the ladder.
The Usos playing defense, everyone takes a turn climbing up with no success. Big E & Kofi get thrown outside, climbs to the 2nd rope on the apron and fly with synchronized moonsaults to New Day. The Usos grab the ladder in the ring, knock The Lucha Dragons off the apron with it, then throw it outside, New Day & Luchas catching it in the air. The Usos hit the ropes and take flight with crossbody planchas onto the ladder, taking all 4 of their opponents out. They head back in and set the ladder up under the titles, Kingston slides in, hops through the middle of the ladder for a dropkick, gets his feet caught and The Usos dump him over the top to the floor. Big E rolls in behind them, pushes the ladder into The Usos and sends Jimmy flying outside.
Kofi smashes him with a ladder as Big E stomps a hole into Jey in the corner, Kingston comes in and they sandwich him behind the ladder. Big E whips Kingston in for a basement dropkick, Jimmy rolls inside and gets caught, E tossing him onto the ladder with an overhead belly to belly suplex. The Dragons are back in the ring and clock Kingston with another ladder, attempt to smash Big E, but he powers them back to the corner. Kalisto climbs to the top, hops through the ladder and lands on Big E with a seated senton, Kofi gets to his feet and drills him with a superkick. Sin Cara goes to the 2nd rope with the ladder, Kingston scales up to meet him, gets knocked down and Sin Cara rides the ladder down into a splash on him.
He takes The Usos out on the outside with a baseball slide into a ladder, hits the ropes and jumps onto the ladder on the floor with a somersault senton on Jimmy & Jey. Kalisto spears Big E with a ladder back inside, sets it up over his prone body and starts the climb up, Big E benchpressing him up, but Sin Cara hops on it to bring it back down. E benchpresses it again with both Luchas on it, Sin Cara falls and gets hanged on the top rope, The Usos slide in and Kalisto jumps off with a crossbody. Jimmy & Jey catch him in the air, Jey plants him with a spinning side slam, then they drop Big E with a double superkick. The Usos prop him in the corner and sandwich him with a ladder, Kingston comes in for a save and gets leveled, Jimmy & Jey charging into the corner with a dropkick to the ladder.
Kofi comes to and elevates Jimmy to the outside, Jey pulls a smaller ladder into the ring, slams Kingston on it then heads up top. Kingston crotches him on the top turnbuckle, climbs up and gets sent back down, getting his foot caught in the ropes and hanging in the tree of woe. Jimmy passes a ladder to Jey and he hammers Kingston, holds it in front of Kofi and Jimmy charges in with the hip attack. The Usos are alone in the ring now, stand a ladder up, The Dragons are their to meet them and we get a staredown before everyone takes a shot at climbing. Sin Cara assists Kalisto into a senton on Jimmy, they place a ladder over his body and Sin Cara flips his partner into a 450 splash on top.
Lucha Dragons now holding the ring and starting to ascend the ladder, Kofi's back in to lay them out with forearms, then planks another ladder between the ropes and the standing ladder. He attempts to drive Kalisto into it, Kalisto slides under, pushes the ladder into Kingston's ribs, springs off of it with a hurricanrana and Kofi hits the ladder head-first, spilling to the floor. Kalisto heads up after the titles, The Usos hit the ring climbing up opposite sides, Sin Cara pulls Jimmy down to the canvas as Kalisto is sent down as well. Kalisto springs back up, climbs over Jey, hooks him for Salida Del Sol and they both go crashing through the planked ladder. Sin Cara climbs upstairs and follows with a somersault senton.
Kalisto & Jimmy drag themselves up the ladder and reach for the championships, Kalisto gets knocked down and Jimmy's all alone. Big E hits the ring to make the save, pulling him down and pushing the ladder over, looks to toss Jimmy to the floor, but he turns tables and E is sent outside. Jimmy attempts a suicide dive and runs into a forearm, E grabs a ladder to bring into the ring and Jimmy hits with a baseball slide. He looks to the corner, scales to the top rope and jumps to the floor onto the ladder, squashing Big E with the Uso Splash. Kalisto stirs around in the squared circle and drags himself up the ladder, Woods leaves commentary, grabs the trombone and throws it into Kalisto's back, Kingston quickly sliding in and flipping him off the ladder to the mat. Kofi climbs up, unhooks the titles and The New Day retains.
Winners and STILL WWE Tag Team Champions: The New Day
EA's Take: Wow, the tag division just spat on the rest of the roster and proclaimed "Follow that!" with this match. Amazing high-spots and some pretty innovative stuff here, Kalisto's Salida Del Sol being the showstealer. This is going to be very difficult for anyone to measure up to the rest of the night and we're just getting started. I think it's a little odd that New Day retained, they're starting to run out of babyface challengers at this point after running through everyone for the majority of 2015. Unless someone's getting called up from NXT, they may end up having to turn themselves.
Match #2: Rusev w/Lana vs. Ryback
Rusev jumps Ryback right at the bell, clobbers him in the back and whips him to the ropes, The Big Guy hanging on and catching Rusev coming in with a back elbow. He sends The Bulgarian Brute to the outside after a shoulder tackle, follows him out and drives Rusev into the barricade before rolling him back in. The Big Guy heads up top and scores with a double axe handle, presses Rusev over his head, drops him face-first and follows with a splash for a count of 2. He rams The Bulgarian Brute back into the corner and fires away, climbs to the 2nd rope for right hands, Rusev powers him out and drops him on the ropes with a hot shot.
He takes control and chokes Ryback on the bottom rope, rams him head-first into the top turnbuckle and drives shoulders to the solarplexes, flattening The Big Guy with a short-arm clothesline. Rusev grabs the neck with a nervehold to ground Ryback, The Big Guy fights to a vertical base, gets clubbed in the back and The Bulgarian Brute hooks him for a vertical suplex. Ryback blocks and they trade suplex attempts back and forth, The Big Guy finally plants Rusev and starts to build a head of steam with multiple shoulder blocks. He squashes The Bulgarian Brute in the corner, Rusev reverses a whip across, charges in and runs into a boot, Ryback following up with a 2nd rope dropkick that gets a 2 count.
The Big Guy's ready to finish it, picks Rusev up and gets driven into the corner, The Bulgarian Brute attempting a splash, but Ryback side-steps and goes to the top rope. He connects with a crossbody that gains a near fall, drops the straps and sets Rusev in his crosshairs for a Meat Hook. The Bulgarian Brute wisely rolls out of the ring and walks off with Lana at his side, Ryback giving chase up the aisle and brings him back by the hair. Rusev breaks the grip with a back elbow, he pushes The Big Guy and he falls back, running into Lana and sending her down. Ryback is distracted, turns around and gets clocked by a superkick, Lana springing to her feet and celebrating after deceiving The Big Guy.
The Bulgarian Brute rolls Ryback in the squared circle and covers for 2, calls for The Accolade, but The Big Guy blocks it, powering to his feet with Rusev on his shoulders for Shellshocked. Rusev slips out of it, scores with a roundhouse to the head, locks in The Accolade to a knocked out Ryback and the official calls for the bell.
Winner: Rusev (The Accolade)
EA's Take: Now don't get me wrong, it's not that this was a bad match. It's just that…who cares? The story was a little absurd heading into it and both of these guys have really fallen off the map in comparison to where they were at the height of their WWE runs thus far. Ryback is still missing something, it's tough to put my finger on exactly what it is. It's certainly not his ability, which you can also say about Rusev as well.
Backstage: Dean Ambrose warms up for his match when Roman Reigns comes in. He tells Dean he was just speaking to The Usos and it's down to them tonight to hold it down for the family. Reigns is excited for tonight, describing how good it will feel to regain the WWE Title and put a hole in Sheamus' head with a ladder. Win, lose or draw, tonight's about making a statement. Ambrose says he had a different vision and that's for both of them to be standing in the ring later as champions.
Match #3 – Chairs Match for the WWE United States Championship: WWE United States Champion Alberto Del Rio vs. Jack Swagger
Ringside is littered with set-up chairs, both guys slide out to the floor after a chair at the bell, roll back in and the duel is on. They drop the chairs and Swagger hits a clothesline, the champion rolls to the outside, The Real American in pursuit and Del Rio tries to drive him into the post, only to get rammed into the steel instead. The challenger bounces Alberto's head off a chair multiple times, back into the ring they go and The Real American looks for the Swagger Bomb, El Patron sticking a chair up and catches him in the throat. The champion scores with a clothesline that gets 1, sends Swagger sternum-first into the turnbuckles, then rams the chair to the ribs and smacks it over his back.
He props the chair flat between the ropes in the corner, the challenger firing away with right hands, Alberto reverses a whip into the chair, The Real American puts on the brakes to avoid it, but Del Rio makes him pay with a backstabber for a count of 2. El Patron hammers the challenger in the back with a chair, sets his sights on a superkick, but Swagger is able to throw the chair in his face to avoid it. He ducks a clothesline, hits the ropes for one of his own, follows with another, then connects with two more in the corners. The Real American wants the Swagger Bomb again, Del Rio gets the feet up, Swagger catches the foot and goes for the Patriot Lock, but the champion is able to kick him away. Swagger rushes right back in and is split with a tilt-a-whirl backbreaker for a near fall, tosses The Real American out to the floor, then throws a pile of chairs onto him.
He sends the challenger back in the squared circle and covers for 2, calls for the Cross Armbreaker, Swagger counters out and sends him shoulder-first into the ring post, follows with a roll-up and nearly gets the 3 count. The Real American pounds Del Rio's back with a chair, wraps his ankle in it and slaps on the Patriot Lock, the champion crawling to grabs the apron, but there's no breaks in this match. El Patron works his way out of the ring using the ring skirting, Swagger ducks his head out to grab the champion and takes a chair shot to the breadbasket. Alberto heads upstairs with a chair-in-hand, The Real American catches him coming down with a slam, finally hits the Swagger Bomb and Del Rio kicks at 2.
The challenger slides to the outside and sends a handful of chairs into the ring, pummels Alberto in the back again, then props him on the top turnbuckle and climbs up. The champion pushes him away, picks the arm and hangs over the ropes with the Cross Armbreaker, releasing the hold on his own accord. He heads back inside and unleashes a barrage of chair shots to the back in the corner, stacks the chairs up under Swagger, climbs up top and delivers tree of woe double stomp for the 1-2-3.
Winner and STILL WWE United States Champion: Alberto Del Rio (Tree Of Woe Double Stomp)
EA's Take: Brutal, physical match between two of the better technicians in the company, showing they can also deliver a good brawl. The chairs were really used to perfection and were a real focal point of the match, which is what you'd expect from a chairs match. I get that Swagger & Del Rio have a history, so it only makes sense for The Real American to be one of the first challengers to Alberto's title. I just don't like that I'm supposed to take Swagger as a serious contender after months and months of being relegated to Superstars, most of the time on the losing end.
Chairshot Classics: 2015 WWE Hell In A Cell
With WWE Hell In A Cell 2020 looming, Eric takes a look back at the 2015 edition featuring The Undertaker vs. Brock Lesnar inside the Cell!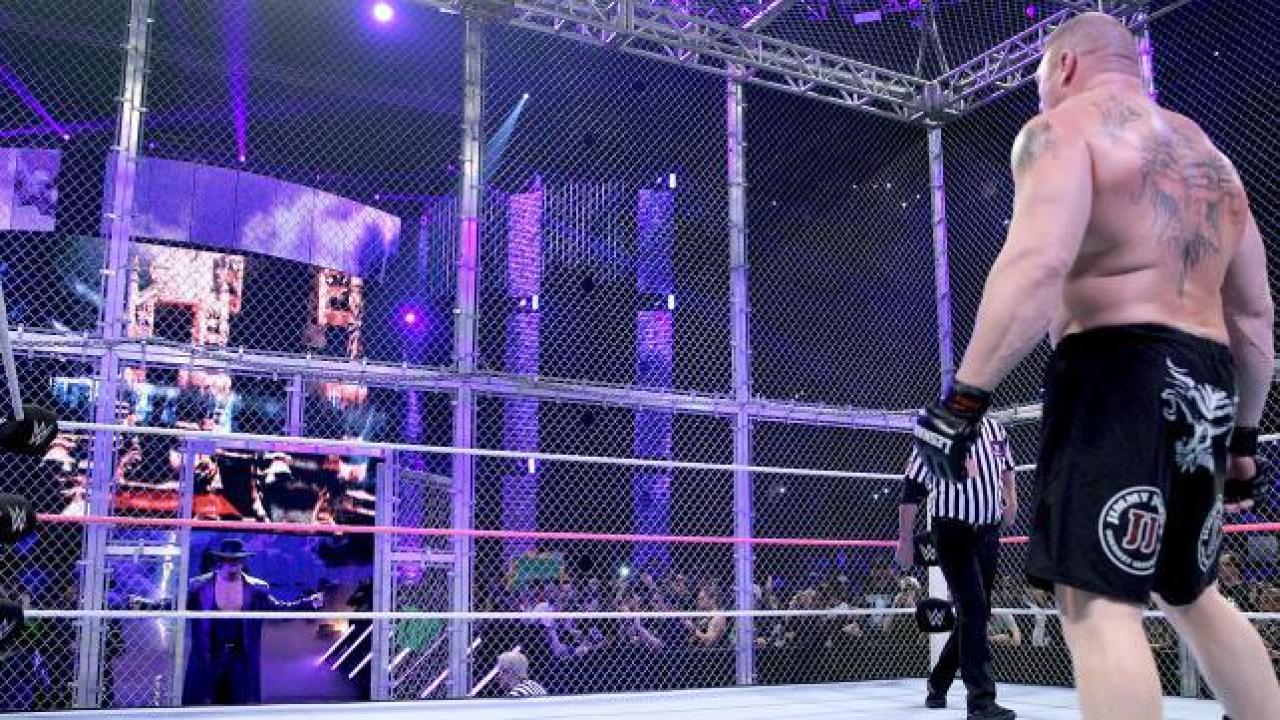 With WWE Hell In A Cell 2020 looming, Eric takes a look back at the 2015 edition featuring The Undertaker vs. Brock Lesnar inside the Cell!
Before you get to Sasha vs Bayley, Roman vs Jey and Drew vs Randy, check out the happenings of the 2015 version of WWE Hell In A Cell, emanating from the Staples Center in Los Angeles!
Kickoff Show Match: Dolph Ziggler, Cesaro & Neville vs. Rusev, King Barrett & 'Mr. Money In The Bank' Sheamus
Stardust & The Ascension are sitting at ringside again with a "Stardust Section" sign. The Man That Gravity Forgot & The Celtic Warrior to kick things off, collar & elbow, Sheamus powers Neville into the corner and goes to the midsection. He whips him into the ropes, Neville slides through the legs and scores with a flurry of kicks, misses a dropkick, then slips out of a slam attempt for an enzuigiri. Cesaro gets the tag, slams Sheamus, goes to all fours and Neville jumps off his back into a corkscrew splash on Mr. MITB that gets 2 for The Swiss Superman. He quick tags back out to Neville, Sheamus sends him hard into the corner and brings in Barrett.
The King fires away a headbutt, quick tags out to Rusev and The Bulgarian Brute pummels The Man That Gravity Forgot. The Celtic Warrior off the tag with more heavy shots, Neville tries to battle back, but Sheamus catches him for a suplex. The Man That Gravity Forgot counters and lands on his feet, gets the tag to Ziggler and he comes in on fire, dropping Mr. MITB with a jumping clothesline. The Show Off splashes Sheamys in the corner, drops him with a neckbreaker and plants an elbow drop to the chest. Dolph knocks Rusev & Barrett off the apron, goes for a Fameasser, The Celtic Warrior catches him into a powerbomb, but Ziggler with a reversal back into the Fameasser for a near fall. Barrett slides in and distracts the ref, Rusev coming in from behind and decapitates Dolph with a superkick, Mr. MITB slides over into a cover and Ziggler kicks out at 2 as we go to break…
The King controls The Show Off with a rear chinlock when we come back, Dolph tries to gain his footing and gets slammed to the canvas by the hair. Barrett maintains control, posting his knee to Ziggler's spine and wrenching back on the arms. The Show Off powers to a vertical base, gets sent into the corner, tries to hop over a charging Barrett and takes a kick to the midsection for 2. Sheamus off the tag with stiff right hands, The Bulgarian Brute takes a turn and stomps away at Ziggler in the corner. He eggs The Show Off on to make a tag, but unloads with clubbing blows when Dolph reaches out. Rusev scores with a kick to the back for a count of 2, The Celtic Warrior re-enters the match and plants Ziggler with a release vertical suplex before going to a rear chinlock.
Dolph battles to his feet and spikes Sheamus with a jumping DDT, Rusev gets a tag and barely prevents Ziggler from making it to his corner. He props The Show Off up in the corner, runs to the other side to build a head of steam and goes to splash Dolph, but misses and hits the ring post. Barrett gets a tag as Cesaro enters, he drops Sheamus off the apron with a big boot, then unleashes a series of running uppercuts to the King, going from corner to corner. The Swiss Superman levels Barrett with a running big boot, the King reverses a whip into the ropes and Cesaro flips himself out to the apron, lifting a boot to Barrett's face. The King Of Swing jumps onto Sheamus from the apron with a somersault senton, runs around ringside and unloads an uppercut to Rusev, then back around to deliver one to Mr. MITB.
Cesaro heads to the top rope, connects with a crossbody back in the ring to Barrett, but only gets a 2 count. The Swiss Superman calls for the Cesaro Swing, Rusev slides in to stop it and takes a back body drop. Neville hits the ring, Cesaro tells him to hit the ropes and sends The Man That Gravity Forgot to the outside onto Sheamus & Rusev. Barrett sets for the Bullhammer behind Cesaro, Dolph slides in and hits a superkick, Cesaro puts him in the swing and Neville tags to finish the King with the Red Arrow.
Winners: Dolph Ziggler, Cesaro & Neville (Neville/Red Arrow)
EA's Take: GREAT opening contest here, the babyfaces get the win, but Cesaro looks like a million bucks coming out of this. I would have preferred to see the heels win with help from either Stardust at ringside or Tyler Breeze, generally I prefer to advance a story when it comes to who wins matches. Certainly one of the better kickoff show matches I can remember seeing though.
Open: "Hell comes in many forms." Tonight, Seth Rollins looks to hang on to his WWE World Heavyweight Title, while Kane looks to keep his job as Director Of Operations. After a controversial finish at SummerSlam, Brock Lesnar & The Undertaker walk into Hell In A Cell seeking revenge in the final chapter of their rivalry. "It all ends…in hell."
In The Arena: WWE United States Champion John Cena heads to the squared circle to a chorus of boos. The champ says he had a long winded speech, but it sounds like everyone's ready to get down to business. The US Open Challenge starts….now. Zeb Colter comes out on a motorized scooter, talking about how some people like Cena and some people don't. He calls Cena a divider and it's time for people from all different countries and backgrounds to come together. More importantly, it's time for John to lose the US Title to this man…
Match #1 for the WWE United States Championship: WWE United States Champion John Cena vs. Alberto Del Rio w/Zeb Colter
Collar & elbow tie-up to start, Cena goes to a side headlock, Del Rio pushes him into the ropes and John scores with a shoulder knockdown. They lock-up again, Alberto grabs a side headlock this time, Cena pushes him into the ropes, leapfrogs over and Del Rio with a kick to the leg that forces John to regroup outside. Loud dueling Cena chants as John goes to the striking game, firing away with right hands in the corner, whips Del Rio across, charges in and Alberto side-steps, going into an armdrag and holding an armbar. Alberto goes back to a leg kick, Cena crawls to the 2nd rope, Del Rio attempts a running senton and misses, spilling to the outside. The champ rolls Alberto back inside, charges at him and Del Rio splits him with a tilt-a-whirl backbreaker for a count of 2.
El Patron heads upstairs, connects with an overhead chop and gains another 2 count before utilizing a rear chinlock. The champion powers to his feet, Del Rio with a kick to the breadbasket and an attempted suplex, Cena blocks and hits one of his own. John climbs to the top, the challenger quickly scales the corner and scores with an enzuigiri, dropping the champion to the canvas for another near fall. Del Rio climbs to the top once more and again hits an overhead chop for a count of 2, then calls for the Cross Armbreaker.
Cena explodes to his feet, flattening Alberto with a clothesline. They exchange right hands, Cena hits his shoulder tackles, plants Alberto with a spinning back suplex and hits the 5 Knuckle Shuffle. He sets for the AA, Del Rio slips out and cracks Cena with a backstabber, follows with a superkick and we have a new champion.
Winner and NEW WWE United States Champion: Alberto Del Rio (Superkick)
EA's Take: What a surprise return, it takes a lot for me to not see something coming and I was stunned, eventhough I knew there had been talks between Del Rio and WWE about coming back. I'm a little shocked at the way that it happened also though, as I feel like the execution was not as it should have been. Cena has had incredible US Title matches during his reign and successfully defended it, but this match didn't quite live up to any of those. Great coup for WWE either way, hopefully they can keep the title relevant as Cena is slated to step away until the end of December.
Backstage: The Authority is watching with enjoyment at the start of the show, Seth Rollins comes in and agrees with them. However, Rollins has some thoughts about tonight when Kane interrupts. He tries to apologize, but Seth isn't buying it and they bicker back and forth. Hunter stops them and says this is a private meeting, Kane's attendane isn't required. Kane wishes Seth luck, telling him he's going to need it.
Match #2 is Hell In A Cell: Bray Wyatt vs. Roman Reigns
Roman strikes first with a kick to the gut and right hands, drives Wyatt into the top turnbuckle and continues to fire away. Bray takes it right back to Reigns, shoots him into the ropes and The Big Dog explodes with a jumping clothesline, then tosses Wyatt with multiple pumphandle throws. He goes for a Samoan Drop, Bray battles out, but eats a big right hand, crawling to the ropes. Roman to the outside, looks for the Drive-By, Wyatt avoids it, but Reigns comes right back with another right hand, this time hitting the Drive-By. The Big Dog introduces Bray to the cage, sends him into the steps, then rolls him into the ring.
The New Face Of Fear rolls back to the outside, goes to Reigns' eyes, then pulls out a kendo stick and goes to work, taking control of the match and swinging away at Roman's back. Wyatt tries to send The Big Dog into the corner, Reigns fights back briefly, but Bray goes to the lower back with the kendo stick again. He clotheslines Roman to the outside using the cane, heads out after him and tosses him into the cage. The Eater Of Worlds finds a chair under the ring, goes to swing at Reigns, changes his mind and instead sits down, whacking Roman with the kendo stick and begging him to fight back. Bray props the chair and cane in the fencing, Reigns with a quick burst of energy, but Wyatt drives him into the cane, splitting it in two.
The Big Dog with another adrenaline rush, hammers Bray with fists and sends him into the chair, then back into the cage. He finds 2 kendo sticks and stalks Wyatt before combining them and unloading to Bray's chest. Roman seeks out a table and slides it in the ring, then pulls out another and sets it up on the floor. Wyatt throws the other table out of the ring, Reigns notices and connects with another Drive-By, setting the other table up on the opposite side of the ring. Reigns pulls himself to the apron, avoids a charging Bray and hits a series of kicks, goes to suplex Wyatt through the table, but gets put through it himself with a one-arm slam.
The Eater Of Worlds rolls Roman in and covers for a count of 2, squashes him with a running senton for another 2. Wyatt dumps Roman to the outside, rushes at him and squashes him into the side of the cell. He pins Roman's head up against the ring post, gains some speed and squashes him again. The New Face Of Fear pulls another table out and slides it in the ring, places Reigns in the corner and drives a knee to the head before setting the table up. Bray props The Big Dog on the top turnbuckle, hooks him for a superplex, Reigns blocks, drops down and powerbombs Wyatt through the table for a near fall. Both guys struggle to their feet, Roman unleashes a flurry of clotheslines in the corner, hits the ropes and Bray catches him for Sister Abigail.
Reigns counters into a schoolboy for a count of 2, then comes right back with a Superman Punch, Wyatt kicking out at 2. The New Face Of Fear rolls out to the apron, Roman goes out to meet him, hitting a Spear off the apron to the floor and going through a table. The Big Dog drags Wyatt into the ring, crawls to a cover and still can't get a 3 count. Roman sets up for a Spear, Bray gets his boot up and plants him with Sister Abigail, but he can't get the 3 either. The Eater Of Worlds goes to the 2 kendo sticks, delivers a shot to the midsection and hooks them up in the turnbuckles like javelins. Bray goes to drive Reigns into it and he blocks, connecting with kendo stick shots, sends Wyatt into the cane instead, then follows with a Spear to get the win.
Winner: Roman Reigns (Spear)
EA's Take: Excellent brawl here with a couple of nice spots. Reigns finally seemingly gains revenge on Bray which makes me wonder if he'll turn his attention back to the WWE Title. I can't find much to complain about with the match, however the "No Color Policy" always seems to put a bit of a damper on these kinds of matches. Cage matches are supposed to be brutal, bloody brawls and these kind of matches make me miss those days.
Match #3 for the WWE Tag Team Championships: WWE Tag Team Champions The New Day (Big E & Kofi Kingston) vs. The Dudley Boyz (Bubba Ray & D-Von)
Prior to the match, Kofi thanks the WWE Universe for all their support towards Xavier Woods. Big E calls today a sad day, almost as sad because the broken trombone is all they have of Woods. They promise to play the drums with D-Von's head and Bubba's belly. Kingston & D-Von kick off the action, Big E provides a distraction and Kofi takes quick control. He sends D-Von into the ropes, D-Von with a jumping back elbow, follows with a diving headbutt and covers for a count of 2. Bubba tags in, The Dudleys with a double shoulder knockdown and double elbow drop for 2, Bubba whips Kofi to the corner and he scales to the top, but gets caught and slammed to the canvas.
New Day collects themselves on the outside, Big E tries to give Kofi another distraction to no avail, Bubba shooting him into the corner for a splash. D-Von back in, The Dudleys go for a double team move and botch it terribly. D-Von whips Kofi into the ropes, ducks his head and eats a kick, Big E tagging in and leveling D-Von with a clothesline. New Day with frequent tags in their corner, taking turns stomping away at D-Von, Big E eventually whipping Kofi into a corner dropkick. Kingston chokes D-Von on the 2nd rope, spikes him with a DDT and covers for a 2 count before going to a wristlock. D-Von battles to his feet, Kofi hits him with a jawbreaker, then drags him to the corner and brings Big E in for a splash that gets a count of 2.
Kingston back in, they set D-Von up for a Wazzup Headbutt, but D-Von kicks Kofi away and crawls to a tag. Bubba with clotheslines to Kingston, elevates him with a back body drop, then scores with lefts and rights to Big E. The Dudleys connect with the Wazzup Headbutt, Bubba is about to call for the tables, but Kofi springboards in the ring, taking them out with a dropkick. He slides out and grabs the trombone, tosses it to Bubba and drops to the mat as if Bubba nailed him with it The ref argues with Bubba and goes to call for the bell, but decides against it because he didn't see it.
Bubba snaps the trombone in half over his knee, D-Von tags and they plant Kingston with a combination back suplex/neckbreaker for a near fall. Bubba tags back in, they call for 3D, Big E slides in and drills Bubba with the trombone behind the ref's back, then disposes of D-Von. Kingston scores with Trouble In Paradise to Bubba, makes the cover and retains.
Winners and STILL WWE Tag Team Champions: The New Day (Kofi/Trouble In Paradise)
EA's Take: Maybe it's just me, but the shine of The Dudley Boyz's return seems to be wearing off already. I'm not sure what move they were going for during the match, but they botched it horribly and couldn't cover for it. I still believe that The Dudleys will get their 10th title run, but the time just isn't right. There are not enough heel teams to justify taking the titles off New Day, not to mention the fact that New Day are arguably the hottest heels in the company.
Match #4 for the WWE Divas Championship – Everyone Banned From Ringside: Nikki Bella vs. WWE Divas Champion Charlotte
They lock-up to start, Charlotte backs Nikki into the ropes, the ref forces a clean break and they tie-up again, this time Charlotte backing Nikki into the corner. Nikki doesn't break clean, charges out of the corner with a clothesline, Charlotte ducks it and scores with a modified neckbreaker. She puts the challenger in the corner, climbs to the 2nd rope and reigns down right hands, Nikki tries to counter to a powerbomb, but the champion reverses with a hurricanrana. Charlotte with more right hands, hits the ropes and the challenger fires a stiff forearm that sends the champion to the outside.
Nikki gives chase, tosses Charlotte out into the crowd, the champion looks to bring the fight back at her and gets caught, Nikki jumping off the barricade with a kick. She drives Charlotte spine-first into the ring post, tosses her into the barricade, then rolls her in the ring for a count of 2. Nikki sticks the point of the knee into the back and pulls back on the champion's neck, drags her to her feet and hits a snap suplex for another 2 count. The challenger goes for a slingshot suplex, Charlotte lands on her feet, delivers a plate of patented Flair chops, Nikki ducks one and goes to a backslide for a near fall, then turning it into a modified facebuster, but still can't get 3.
Nikki uses a single leg crab to punish the champion, breaking it on her own accord. She catapults Charlotte off the ropes down on the knees, covers for 2 and then sends the champion into the corner. Charlotte flips around, explodes out and levels the challenger with a big boot for a near fall. The champion tries a suplex, but her back gives out and Nikki keeps control, continuing to pummel the lower back. The champion ducks a right hand, turns around into a spinebuster and Nikki gets another count of 2 before trash talking Charlotte and slapping her in the face. Charlotte comes back with chops, the ref has to seperate them and Nikki takes advantage, looking for a springboard kick and missing, hurting her knee in the process.
The champion takes the opening planting Nikki and then climbing to the top for a moonsault. Nikki sees it coming climbs up with her for a german suplex and Charlotte lands on her feet, splitting the challenger with a spear. She locks in the Figure Eight, but can't bridge due to her injured back, Nikki crawling to the ropes to force the break. Charlotte charges Nikki and gets dumped to the floor, the challenger following her outside and scoring with an Albama Slam on the apron. She rolls Charlotte back inside, attempts the Rack Attack and the champ counters, locking in the Figure Eight and Nikki's forced to tap.
Winner and STILL WWE Divas Champion: Charlotte (Figure Eight)
After The Bell: Paige & Becky Lynch hit the ring to celebrate with Charlotte, raising her hand in victory.
EA's Take: Finally a good Divas match for the main roster. Not anything on par with what Sasha Banks & Bayley have been doing down in NXT, but I really enjoyed this one. The Divas Division has been begging for a 1 on 1 match like this and while it won't change things overnight, WWE keeps making steps in the right direction. Too bad they couldn't have taken those steps at the beginning of the 'Divas Revolution'.
Backstage: Sitting in the locker room is Roman Reigns when Dean Ambrose comes in offering congratulations on finishing things with Bray Wyatt. Dean talks about them knowing what's next, but Reigns wants to talk about that tomorrow. Ambrose agrees because tonight they'll celebrate.
Match #5 for the WWE World Heavyweight Championship – If Kane Loses, He's No Longer Director Of Operations: WWE World Heavyweight Champion Seth Rollins vs. Kane
The champion has some harsh words for the challenger at the bell, pushes him and ducks a right hand, delivering a series of his own. He shoots Kane into the ropes, ducks his head and The Devil's Favorite Demon spikes him with a DDT, following with a low dropkick. He knocks the champion to the floor with a right hand, goes out after him and drives him head-first into the announce table. The challenger clears the spanish announce table, Rollins tries to scurry away into the ring, hits the ropes for a suicide dive and gets caught, then planted on the floor. Kane rolls him back inside, whips Seth into the ropes and hits with a flapjack.
The Director Of Operations heads to the top, The Architect sees it and drops Kane to the apron, then hangs him on the top rope, dropping Kane to the floor. Seth flies to the outside with a somersault plancha, places The Devil's Favorite Demon on the apron and drives elbows to the throat. Back in the ring, Seth scores with a sling blade that only gets a 1 count, chokes The Big Red Machine on the 2nd rope, then plants him with a neckbreaker that barely gets 2. The champion goes to a rear chinlock, Kane attempts to battle up and Rollins with a kick to the chest. He scales the top turnbuckle, jumps down and meets a big right hand, but side-steps a big boot in the corner.
Seth splashes him and stomps away, runs to the other side to build momentum and scores with a running forearm. The Architect goes to the well again and gets leveled with a clothesline, but again avoids a charging Kane in the corner. Seth climbs up top, Kane catches him with a right hand and then connects with a superplex. The Big Red Machine hits multiple corner clotheslines, attempts a tilt-a-whirl slam, Rollins lands on his feet, hits the ropes and runs into a big boot that gives Kane a 2 count. The Devil's Favorite Demon goes to the top again, the champion runs up the turnbuckle to meet him, gets pushed off and Kane scores with a top rope clothesline. He grabs Seth for a Chokeslam, Rollins slips out and hits an enzuigiri, tries to follow with the Pedigree, the challenger powers out and plants the champion with a Chokeslam, but only gets 2.
He calls for the Tombstone, The Architect slips out and retreats to the outside, Kane in pursuit to drive the champion spine-first into the apron. Kane drops Rollins back-first on the announce table, clears it off and tosses Seth over it. He drags Rollins up, Seth slides out and powerbombs the challenger on the spanish announce table, but it doesn't break. Rollins rolls in the ring and the ref starts his count, Kane making it back in at a count of 8. The Architect goes for another Pedigree, gets tossed to the apron, Seth scores with an enzuigiri, then comes off the top with a flying knee.
The champion goes back up and connects with another flying knee, then lands two superkicks to finally drop the challenger. Seth goes up once more and hits a frog splash, but still can't put The Devil's Favorite Demon away. The champion can't believe it and seemingly has a conversation with himself, goes back over to The Big Red Machine and he gets Seth by the throat. Rollins delivers a kick to the breadbasket, drives Kane into the canvas with a Pedigree and picks up the 1-2-3.
Winner and STILL WWE World Heavyweight Champion: Seth Rollins (Pedigree)
EA's Take: I'm not certain that I'd call this match good or not. I wouldn't say it was bad, but it went exactly the way I figured it would go. There was never any doubt in my mind that Seth wouldn't retain, so this didn't do a whole lot for me. I am glad however that they allowed Rollins to win clean. They've done a good job of weening Seth off of the tainted wins which will serve his character well (not to mention whoever finally beats him) in the long run.
Match #6 for the WWE Intercontinental Championship: Ryback vs. WWE Intercontinental Champion Kevin Owens
The bell rings and The Big Guy goes right at the champion, Owens trying to retreat to the outside, then back in and catching Ryback with boots. KO hits the ropes and runs into a big shoulder, the challenger powers Owens into the corner and drives shoulders to the midsection, lifting him and tossing KO with a back body drop. The Big Guy goes for a military press, the champion slips out, attempts a suplex and Ryback counters into one of his own. He charges KO in the corner, Owens side-steps and Ryback goes shoulder-first into the ring post. The champion looks to take control, Ryback uses his power again and plants Owens with a powerslam, KO rolling to the apron and getting blasted to the floor with a clothesline.
Ryback tosses Owens back inside, puts him in the corner and reigns down rights from the 2nd rope. The champion escapes out, crotches the challenger on the 2nd turnbuckle, following with a running senton for a 2 count. Owens sets his sights on a Cannonball, The Big Guy pops to his feet and catches him in a spinebuster, then puts Owens in his crosshairs for the Meat Hook. KO ducks it, but can't avoid Ryback's powerbomb and the challenger gains a near fall before climbing to the top. Owens has it scouted, dropping the challenger to the apron and then connecting with a superkick, spilling Ryback to the floor.
The Big Guy makes it back in the ring at the ref's count of 9, charges into the ring and gets dropped throat-first across the 2nd rope, KO grabbing him in a schoolboy for a near fall. He sends the challenger into the ropes for a Pop-Up Powerbomb, Ryback counters with a Meat Hook, then lifts him for Shellshocked. KO grabs the ropes to get out of it, goes out to the apron and rakes the eyes, following with the Pop-Up Powerbomb to finish it.
Winner and STILL WWE Intercontinental Champion: Kevin Owens (Pop-Up Powerbomb)
EA's Take: It's officially time for both of these guys to move on. I'll be honest, I completely forgot this match was even on the card and it appears as if most everyone else did too. It shows how much the company really cares about this feud, as they're given the spot between the WWE Title match and the main event. Generally, this spot on the card is the one that gets time taken away from it or cut completely. This rivalry has done nothing for either of these guys.
Match #7 is Hell In A Cell: Brock Lesnar w/Paul Heyman vs. The Undertaker
They meet face to face in the ring, Taker giving Lesnar the throat-cut sign and the bell rings. Lesnar uses his quickness to duck right hands, looks for a german right off the bat, but Taker hangs onto the ropes. The Beast goes to the midsection, drives shoulders into the breadbasket in the corner, The Deadman reverses a whip across and follows in with a clothesline. The Conqueror buries a knee to the ribs, hooks The Phenom for a german suplex again and Taker sends him flying to the outside. Undertaker follows, delivering right hands, Lesnar countering a whip into the cage and he elevates Taker for an F5. The Demon Of Death Valley slips out of it, pushes Brock face-first into the ring post and he's been busted open.
The Phenom uses the cell to his advantage, driving Lesnar face-first into the cage, then pulls a chair out and heads back inside. The Beast is there to meet him, planting Taker into the mat with a double leg, getting his hands on the chair and smashing it into The Deadman's back. Brock falls into the corner and the ringside doctor comes in to check on Brock's cut, cleans him up a little bit and Lesnar takes the chair again, smashing it into Undertaker on the floor. The Conqueror tosses Taker into the cage again, attempts a suplex on the floor and The Phenom blocks, delivering one of his own. The American Badass has been cut now, rolls Lesnar inside, props the chair under his throat and slams down on it, covering Brock for a count of 2.
Undertaker hammers away at Lesnar's cut, shoots him into the corner, Brock rebounds out and ducks a right hand, snapping off a german suplex. The Beast scores with a couple more, elevates Taker and connects with an F5, but The Deadman kicks out at 2. The ringside doctor comes in the ring again to check on both guys, Lesnar tosses the doctor aside and plants The Phenom with another F5, but still can't get 3. The Conqueror goes out to grab the steel stairs, tosses them in the squared circle and clobbers The Deadman for a near fall. He takes the steps again, attempts to slam them on Taker's leg, but he's able to roll out of the way. The Beast goes for it again, Taker kicks him away and the stairs land on Lesnar's head, cutting him open again.
The Deadman locks in Hell's Gate, Brock fires off lefts and rights and pounds Taker into the mat to break the hold. Lesnar notices a rop in the ring mat, tears it open and exposes the boards underneath, allowing The Phenom time to get to his feet, grab Brock and plant him with a Chokeslam on the wood. Taker powers Brock up, spikes him with a Tombstone, covers and The Conqueror kicks out at 2. The Deadman calls for another Tombstone, Brock goes with a low blow, delivers an F5 on the exposed boards and finally ends it.
Winner: Brock Lesnar (F5)
After The Bell: Lesnar gets help getting to the back from Heyman, leaving Undertaker in the ring alone. It takes a couple of attempts for him to be able to sit-up, but he finally does to a loud "Thank You Taker" chant. Undertaker makes it to his feet, but the lights go out and The Wyatt Family makes their way to the ring. They surround the ring, step-up to the apron and go on the attack with Bray watching. Strowman, Harper & Rowan hold The Deadman up for Bray and he continues the beatdown, mocking The Phenom in the process. They carry Taker out of the arena as the show comes to an end.
EA's Take: What an absolute war and rightfully so, the end to this rivalry needed to be done justice and this match provided it. I'm left wondering about the "No Color Policy" I spoke about earlier, as both men get busted open here. I completely understand why they do it, but nobody can sit there and tell me with a straight-face that it didn't add to the drama of this match. This was one of the few times where the match lived up to all of the hype and now we have another classic Lesnar/Taker Hell In A Cell match to go back and watch on the WWE Network.
EA's Finisher: This PPV is one of those "in-betweeners" for me, there were some decent matches and some nice moments, but it was not the greatest thing WWE has ever produced either. The return of Alberto Del Rio was a great surprise and choice to hold the US Title while Cena's away, as long as WWE can capitalize on Del Rio's return. Both HIAC matches delivered to me, especially Taker/Brock as it was an absolute war, the likes of which we don't see enough of at this point in time. The Divas stepped up to the plate tonight finally as well, but the other 3 title matches were nothing to write home about. Owens/Ryback was completely forgettable, the tag match was basic at best and the WWE Title match went exactly how I pictured it would.
Top Three To Watch
1 – Brock Lesnar vs. Undertaker
2 – Roman Reigns vs. Bray Wyatt
3 – Nikki Bella vs. Charlotte