Steve Cook's Top 5 Worst Tag Team Names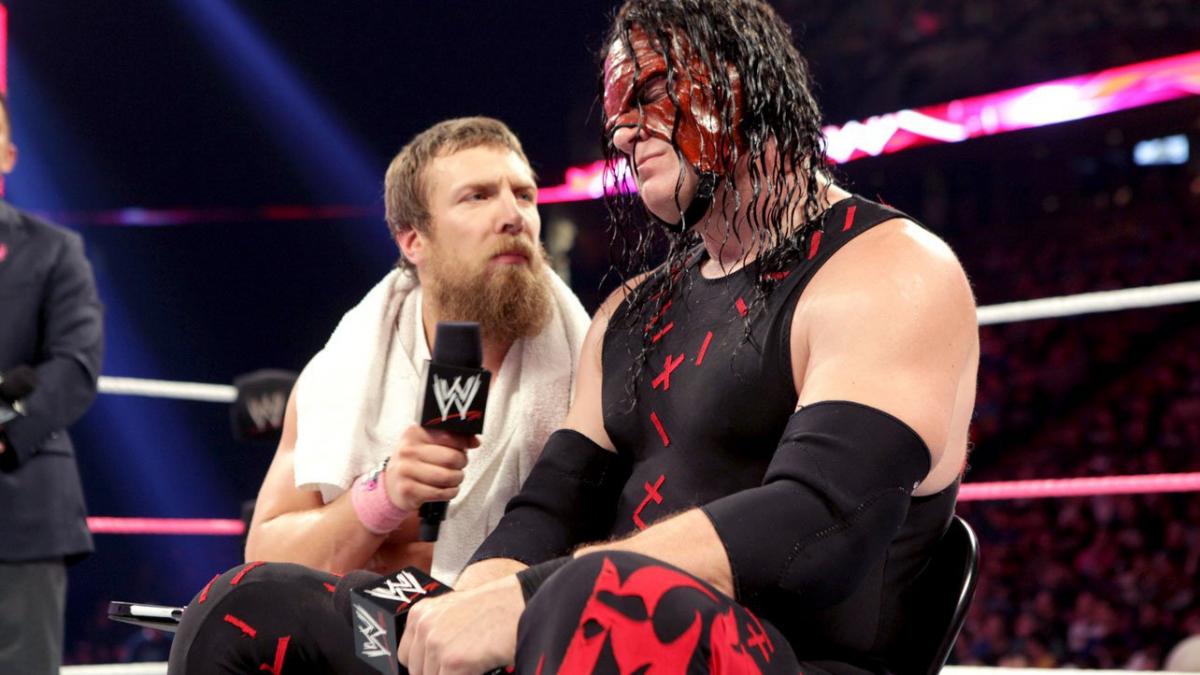 Truly inspired by The Viking Exprience, Steve Cook takes a look back at the Worst Tag Team Names in his latest Top
 

5!

The Superstar Shakeup brought some new faces to Monday Night Raw & SmackDown Live. In what was considered a bit of a surprise as they're currently NXT Tag Team Champions, Hanson & Rowe made their debut on Raw. Only they weren't Hanson & Rowe, they were Ivar & Erik. They also weren't the War Raiders. Instead, they were The Viking Experience. A week later they've changed to the Viking Raiders, which is slightly less horrible but brings back memories of the NFL during World War II when we had the Phil-Pitt Steagles.

The only solace fans can take is that Ivar & Erik won't be sunk on the main roster because they're known as the Viking Experience or the Viking Raiders or whatever else. They'll be sunk on the main roster because they're a tag team. And hey, it's not like they're the only tag team ever to have a crappy name. Here's five others!
5. Team Hell No (Daniel Bryan & Kane)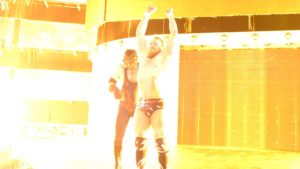 Don't get me wrong, I loved the dynamic between Bryan & Kane. If there are two wrestlers I would like to see/hear do a talk show, it would be the newly Trumpian Glen Jacobs & The New Daniel Bryan. They have amazing chemistry as a unit, though they couldn't be further apart as wrestlers or on the political spectrum.
The name though…the WWE Universe screwed this one up. Team Friendship was right there for the taking. It would have been the perfect name for Kane & Bryan based on the counseling they had gone through with Dr. Shelby. It was one of those names that would have been stupid and awesome at the same time. Instead, they went with the lazy mish-mash. Which made even less sense when they reunited years later with Bryan firmly in Yes Mode.
4. The Gangstanators (New Jack & John Kronus)
I am kinder to mish-mash names than most. I see a lot of hate out there for names like Jeri-Show, Jeri-Miz, Rated-RKO, Rybaxel and other names that wrestling writers obsessed with Brangelina gave tag teams. For me, the best part of Ryback & Curtis Axel as a tag team was their name.
A team that came along before Brangelina was a much worse example of this fad than anybody that came along after. Kronus was part of the Eliminators, and his partner Perry Saturn decided to get some work with WCW. New Jack was part of the Gangstas. I don't know what happened to his partner Mustafa, but nobody else seemed to care.
So New Jack & Kronus decided to team based off of mutual respect. Nothing wrong with that. The name was terrible though. If they had plans for this duo, they really should have come up with something new, instead of something that reminded us of two tag teams that we liked more.
---
Elisa looks great in her Chairshot gear.
You can, too!
Be like Elisa and get yours at:
https://www.prowrestlingtees.com/related/thechairshot.html
---
3. TM-61 (Nick Miller & Shane Thorne)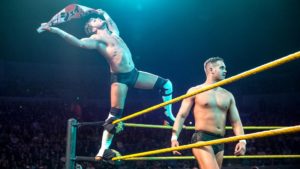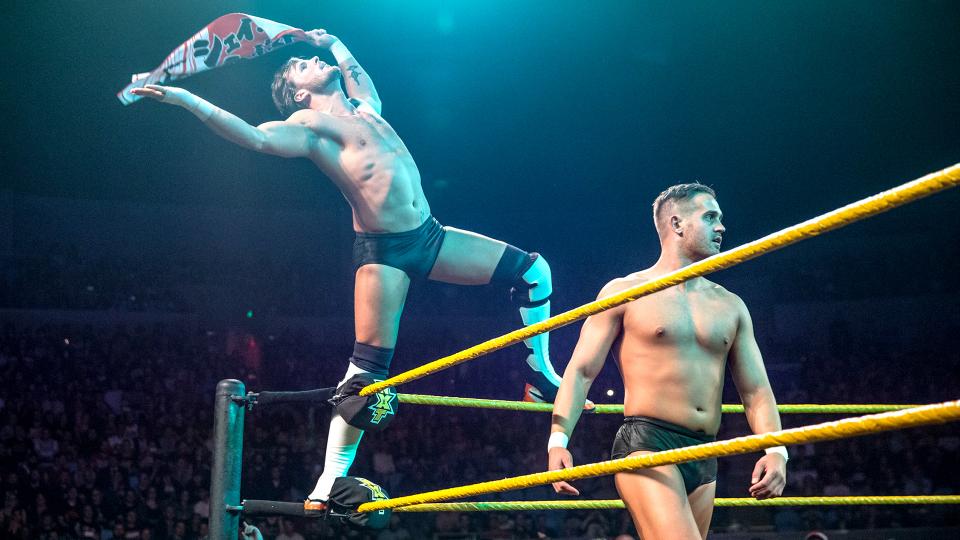 Miller & Thorne were known as The Mighty Don't Kneel, or TMDK for short, during their run throughout Australia, Japan & the American independent scene. WWE likes to change these things up, for obvious reason. So Shane Thorne got to keep his name, but Mikey Nicholls became Nick Miller, which gives us the TM part. 61 is the dialing code for Australia. So it's kind of clever.
Here's the hitch in the getty-up: No good tag team name needs this much of an explanation. You see Ax & Smash, and you understand why they're called Demolition. Bret Hart & Jim Neidhart walk out accompanied by Jimmy Hart, and The Hart Foundation sounds apt. Heck, Honky Tonk Man comes down with black-haired Greg Valentine and you get Rhythm & Blues right away. This thing…well, there's a reason they changed it to The Mighty once they turned heel.
2. The New (fill in the blank)
New anything is bad news. Especially in pro wrestling, with the exception of the original New World Order. Remember the New Blackjacks? The New Rockers? The New Midnight Express? If you're my age, you're probably trying to forget these teams, as they were nothing but a pale imitation of the original teams.
The New Blackjacks were Blackjack Bradshaw & Blackjack Windham. Marty Jannetty brought along his buddy Leif Cassidy to form the New Rockers. The New Midnight Express were Bodacious Bob & Bombastic Bart. I might be mixing those up, but I don't care enough to look it up. It was that bad. I'm pretty sure Ricky Morton & Robert Gibson have never retired because they're afraid somebody will try to make a New Rock N Roll Express.
People are learning, though. When Konnan put Santana & Ortiz together as a new tag team for him to manage in Impact Wrestling, he was smart enough not to call them The New LAX. They got to be LAX while Homicide & Hernandez had to be The OGz during their feud.
1. Air Devils (Fast Eddie & Matt Sydal)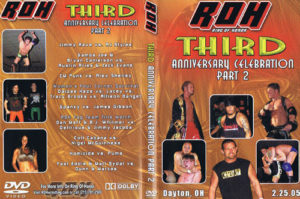 This may require some explanation. Matt Sydal was a young up & comer in the Midwest indies back in 2005. The boy had all the high-flying moves you could ask for, and a look that any babyface would love to have. He was ready to take ROH by storm, but he needed a partner! It seemed like it would be Joey Matthews for a minute, but Matthews had other business at hand with Johnny Nitro & Melina. Hardly an opportunity a wrestler would turn down. So Fast Eddie got the nod, as he'd had some ROH appearances in the past.
The ROH message board got the opportunity to vote on a name for Matt & Eddie, and I can't tell you what the other options were, but I can tell you what won. The Air Devils. See, daredevils, air devils, haw haw. A name so bad that the ROH commentators crapped on it during their debut match in Dayton, Ohio, which happened to be the very first ROH show I saw live. It was the Air Devils' first & last match together, as Fast Eddie turned on Matt Sydal and joined Prince Nana's Embassy.
Just a terrible piece of business, though it worked out in the long run for Sydal. He got over with ROH fans and had a pretty good run there. Fast Eddie…well, I'd be lying if I said I remembered a thing he did with the Embassy. When that faction won a Trios Tournament at another Dayton show I attended, they were represented by Alex Shelley, Jimmy Rave & Abyss. No Fast Eddie. He never saw his dismissal coming.
Did anybody else notice that fans chose two of these names? It goes to show that even if "The Viking Experience" is a terrible name, there's no guarantee that we would have done better.
Greg DeMarco: Box Office Brock Lesnar And The New WWE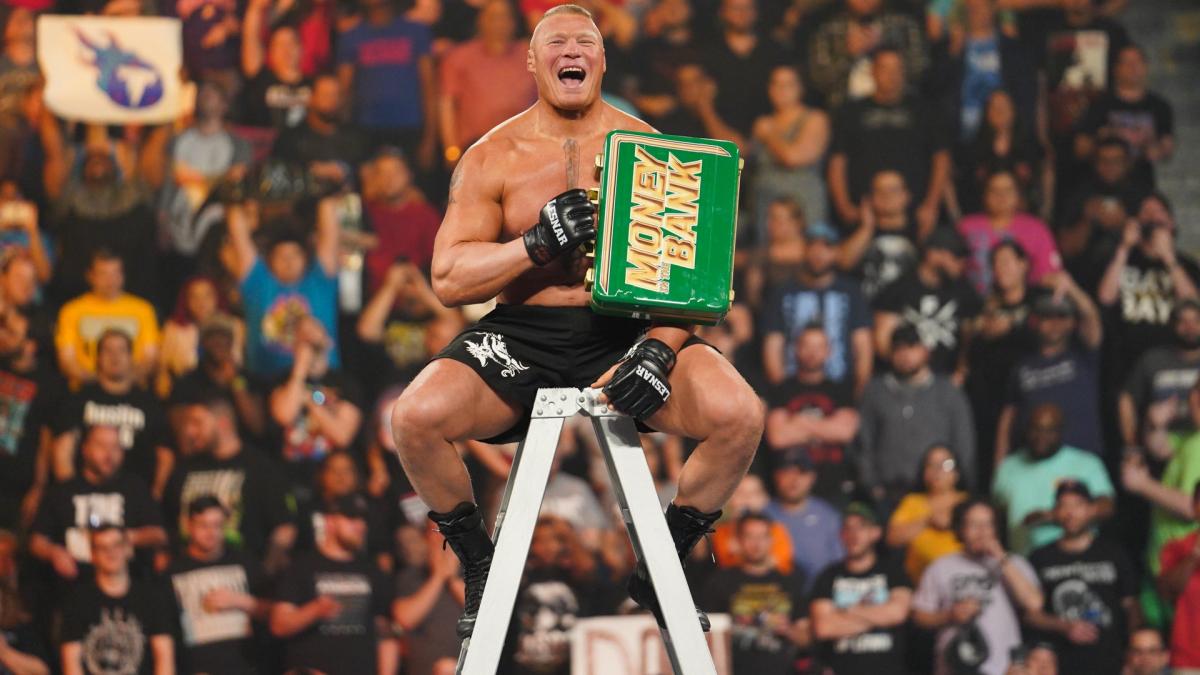 After a hard-hitting WWE Money In The Bank, Greg DeMarco offers perspective on Brock Lesnar winning the Money In The Bank briefcase and the obvious shift in the WWE product & presentation.
I know you read that headline and wondered what in the hell I was smoking. Brock Lesnar leaves Hartford with the Money In The Bank briefcase, and I'm calling it a new WWE? I have to be insane, right? Well, that perspective is 100% wrong. (I mean…I may be insane–but not for that reason!) WWE Money In The Bank was shock and awe from start to finish, and you have every reason to be excited. The reactions I am seeing prove that the online community doesn't want to enjoy WWE. Hopefully, for me, some mainstream fans will read this article too!
Box Office Brock Lesnar
I know what you're thinking…same ol' sh*t, right? I can't say I agree. On the technicality side, Brock Lesnar has never held the Money In The Bank briefcase, so it's wrong there. But I get it, you're tired of seeing Brock on top. The truth of it is, he's Box Office. And WWE needs box office.
What is "Box Office," exactly? It's the ability to get fans to spend money, which is how WWE makes money. Brock Lesnar sells the WWE product–to fans, to viewers, to advertisers, and to networks. Wrestling Twitter is a vocal minority, and appeasing them got WWE nowhere with WrestleMania 35, or as I was calling it for the months leading up to it, "HappyMania." Brock is back, and I think it's fantastic.
Disagree with me? Great, but the sold out crowd in Hartford blew the roof off the joint when his music hit, so they obviously agree. Brock will likely cash-in in advance, proclaiming his championship opportunity for WWE Super ShowDown in Saudi Arabia on June 7. Then we get to give the briefcases a rest, as we continue to shuffle the rosters up and use fun words like Wild Card (bitches…yeehaw!).
One prevailing thought I have seen is that the other seven guys in the match busted their asses for no payoff. I can't agree with that either–their payoff is a paycheck. They're businessmen. Those who complain about how they are booked don't get the business. And as All Elite Wrestling is proving, they don't take too kindly to people complaining about booking, either.
A New WWE?
I know a lot of people don't see it, because they're too worried about booking. But the WWE product shifted tonight. And as dangerous as it is, I hope it sticks.
The product got way more physical at WWE Money In The Bank–way more physical. It started with the Women's Money In The Bank Ladder Match, which in reality doesn't need a gender specific distinction. Money In The Bank describes both ladder matches tonight, as both delivered in both brutality and story. Everyone put their bodies through hell during those matches, and they deserve to be praised.
But it didn't end there:
Rey Mysterio vs. Samoa Joe…brutality.
Shane McMahon vs. The Miz…brutality.
Tony Nese vs. Ariya Daivari…brutality.
The entire segment with the Women's Championships…brutality.
Roman Reigns vs. Elias…brutality.
Seth Rollins vs. AJ Styles…brutality.
Lars Sullivan and The Lucha House Party…brutality.
Kofi Kingston vs. Kevin Owens…say it with me…brutality.
Sense a theme, here? WWE provided a more physical product, and did things that make sense. Yes, there were botches that everyone wants to blame on the refs. In each instance, it appeared to me that the talent messed up, and the commentators covered by blaming the officiating. And that makes sense to me. You didn't think they were going to blame the wrestlers, did you?
It's really funny that this comes after AEW reveals that they'll present a more realistic, athletic oriented product after the onset of their TV deal. It's probably the single bad move they've made (okay, maybe second to the whole PAC/Page ordeal), announcing their plans to the world and giving WWE a heads up on what's coming so they can beat AEW to it.
Seriously, it's like they went "Here's our formula!" without even realizing WWE had a high profile PPV to air 6-days before Double Or Nothing. C'mon guys… #UseYourHead.
At the end, it looks WWE is going back to what works for them: giving the fans what they need, and not what they want. Imagine going to the doctor and misdiagnosing yourself. Would you rather the doctor provides you with what you want and now what you need? You'd sue that doctor for malpractice! It's getting to be that same way with WWE. Prescribe to us what we need, Vince. Even if we don't like the taste when it goes down, it's for the best in the end.
Andrew's Top 5 Matches: Week Ending 5/19/2019
Best of Super Juniors 26 and Money in the Bank are the big things this week. Let's see what matches made the cut, and if there were any surprises!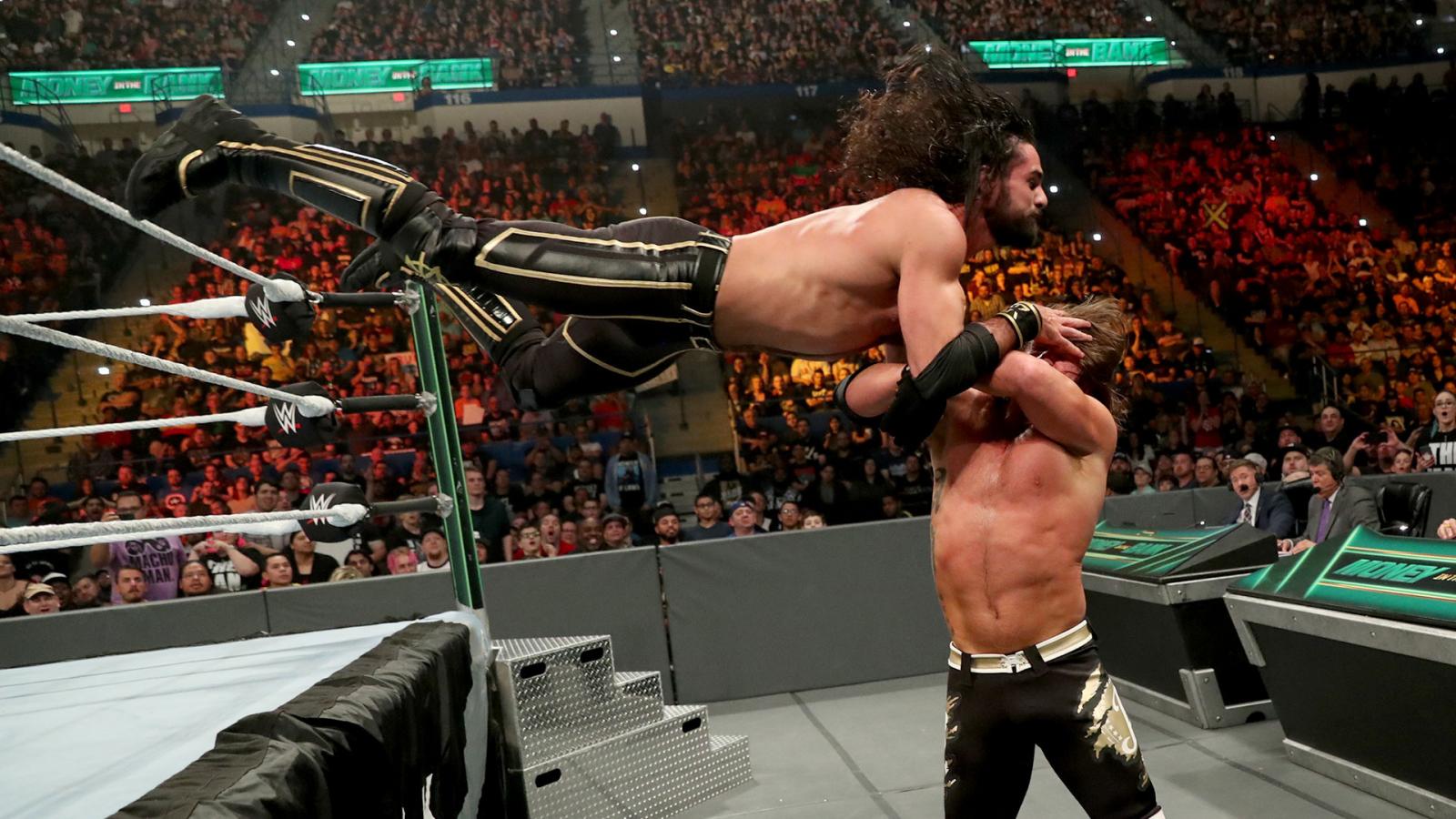 Best of Super Juniors 26 and Money in the Bank are the big things this week. Let's see what matches made the cut, and if there were any surprises!
Last week was an interesting week since it wasn't a normal Top 5 and we had two Sami Callihan matches. When it came down to it though, IMPACT: oVe Rules 8 Man: oVe vs Tommy Dreamer vs Fallah Bahh vs Rich Swann vs Willie Mack, won the vote for the week. I'm always a happy when less popular matches or companies get a fair shake in the rundown.
Either way, let's see exactly how much New Japan shows up and if anything from Money in the Bank was worth a watch!
5. NJPW BOSJ 26 Night 2: Ryusuke Taguchi vs YOH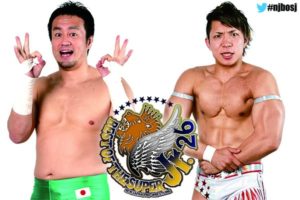 Taguchi has been having a crisis of character so to speak. He's become more of a comedy wrestler who's history doesn't really inject respect or fear into his opponents. YOH is up and coming, and was trained by Taguchi in the New Japan Dojo. So YOH is trying to establish himself beyond the tag realm and Taguchi is trying to refind himself.
We saw an interesting match. Taguchi showed a little of both worlds from comedy to more of his extensive moveset. YOH was a walking reference to older wrestlers; he even mastered the Paradise Lock apparently. Taguchi picks up the win with the variation of the Dodon that he used to remove Prince Devitt from New Japan. Very good match.
Winner: Taguchi via Dodon's Throne
Rating: ****
4. NJPW BOSJ 26 Night 4: Will Ospreay vs Rocky Romero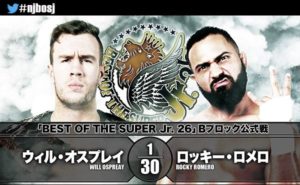 This was a little similar to the earlier Taguchi match. Rocky had something to prove. CHAOS members, and Rocky is perceived as being past his prime, but he wanted to prove he can still hang. It's been 3 years since his last BOSJ, how does the most decorated Junior Tag wrestler fair against the Aerial Assassin?
We got a great match. Rocky had numerous hope spots, hit the Forever Lariats, his half of Strong Zero and reversed the Stormbreaker first attempt into a legit Huricanrana. Ospreay turned out too be just a little too big, a little too athletic and a Shooting Star Press followed by a Stormbreaker ends this great match. Very good.
Winner: Ospreay via Stormbringer
Rating: **** 1/4
3. IMPACT: Michael Elgin vs Rich Swann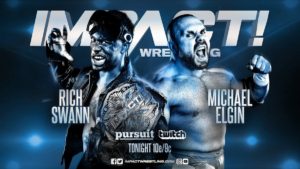 From My Analysis:
So damn this main event went 2 commercial breaks, but it was really solid. Swann wouldn't stay down and even had great hope spots. A Super Frankensteiner countering the Avalanche Powerbomb, Lethal Injection, 450, but Elgin kicked out. Swann tried a top rope Phoenix Splash, and missed. Elgin hits Splash Mountain, and Rich kicks out. Elgin rolls to the outside, catches Rich and repeatedly Powerbombs him into the post. Kid Ref tries to get the match back in the ring, Elgin pushes Kid Ref and Powerbombs Swann again for posterity. Kid Ref calls for the DQ and then runs for his life. This was a great match, the "non-finish" is rather annoying coming out of a roughly 25 minute match. But love him or hate him, Elgin can wrestle.
Winner: Swann via DQ
Rating: **** 1/4
Honorable Mentions:
NJPW BOSJ 26 Night 3: Dragon Lee vs SHO
Winner: Dragon Lee via Desnucadora
Rating: ****
WWE MiTB: Men's Money in the Bank Ladder Match: Drew McIntyre vs Baron Corbin vs Finn Balor vs Ricochet vs Andrade vs Randy Orton vs Ali vs Brock Lesnar
Winner: Brock Lesnar
Rating: *** 3/4
NJPW BOSJ 26 Night 1: Dragon Lee vs Taiji Ishimori
Winner: Ishimori via Bloody Cross
Rating: *** 3/4
WWE MitB: WWE Championship: Kofi Kingston (c) vs Kevin Owens
Winner: Kofi via Trouble in Paradise
Rating: *** 1/2
NXT UK: Ligero vs Jordan Devlin
Winner: Devlin via Snap Saito Suplex
Rating: *** 1/4
NJPW BOSJ 26 Night 2: Robbie Eagles vs Rocky Romero
Winner: Eagles via Ron Miller Special
Rating: ***
SmackDown Live: Randy Orton vs Finn Balor vs Andrade vs Ali
Winner: Andrade via Hammerlock DDT
Rating: ***
NJPW BOSJ 26 Night 2: El Phantasmo vs Bandido
Winner: Phantsmo via Greetings from Chasewood Park
Rating: ***
205 Live: Tony Nese vs Ligero
Winner: Nese via Running Kneese
Rating: ***
WWE Raw: Fall Count Anywhere: Braun Strowman vs Sami Zayn
Winner: Zayn via Claymore
Rating: ***
NJPW BOSJ 26 Night 4: Ren Narita vs Robbie Eagles
Winner: Eagles via Turbo Backpack
Rating: ***
WWE MitB: The Usos vs Rowan & Daniel Bryan
Winner: Usos via Double Uce
Rating: ***
2. WWE MitB: Universal Championship: AJ Styles vs Seth Rollins (c)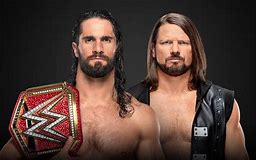 Snippet from Mitchell's Coverage:
Now it's Rollins who has to come up with something else to put Styles away. Fans rally up as Rollins stands. Rollins still has the tried and true, "Burn It Down!" He mule kicks then runs, but Styles dodges to roll Rollins to a Calf Crusher! Rollins endures but Styles cranks back hard! Rollins rolls it back and kicks Styles away! His leg is free but it is hurting! Styles crawls away but Rollins pursues. Styles hops up, moonsault DDT! Cover, TWO!! Rollins escapes with one good leg! Styles gets back up and waits for Rollins. Rollins stands and SUPERKICKS Styles down! Both men are down again, but fans rally and duel again. Styles and Rollins crawl for each other to start throwing hands! Rollins hits, Styles hits, repeat. Rollins CHOPS but Styles punches again.
Fans duel, Styles goes for the Phenomenal Blitz, but Rollins dodges to enziguri! And dodges the Pele! Mule kick! Curb Stomp countered! STYLES CLASH!! Cover, TWO!?! Rollins survives THE Styles Clash?! No one can believe it, but the fans are loving it! Styles grits his teeth as Rollins starts sitting up. Styles goes to the apron, takes aim and springboards. Phenomenal misses! Revolution Knee hits! And then, SUPERKICK! Styles is on his face, but Rollins gets back up! CURB STOMP!! Rollins put so much into that, he has to crawl to a cover! Rollins wins!!
Winner: Rollins via The Stomp
Rating: **** 1/4
1. NJPW BOSJ 26 Night 1: SHO vs Shingo Takagi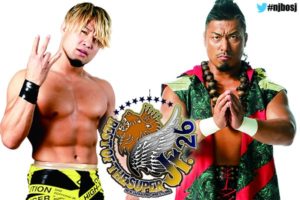 This match has had a great build all year. SHO is the power of Roppongi 3k, and throughout the LIJ and Roppongi feud for the Junior Tag Titles, we always saw SHO try to go at Shingo. Shingo called him out a little and this is a great rivalry. SHO has something to prove, but Shingo doesn't want to be upstaged by someone who was a Young Boy only a few years ago.
We saw the story unfold beautifully. Shingo dominated early, until SHO fired up and showed he wasn't just going to roll over. As the match progressed SHO started to anticipate Shingo's moves and stay a step ahead. Both men hit all of their signature moves, and neither wanted to really budge. This was just so well done, and more of a heavyweight style because they are both bigger Juniors. Shingo edged out SHO by hitting Last of the Dragons after numerous Pumping Bombers. But damn this was great.
Winner: Shingo via Last of the Dragons
Rating: **** 1/2
Thoughts:
Shingo and SHO, there is no other answer. This has been a feud that started at the end of last year and persisted through the entire year so far. Long term booking is always fun, and when both men put on a great story telling match, it's even better. Plus there's no guarantee it's over since SHO still has to surpass Shingo to feel completed.
Don't sleep on Ospreay and Romero though, that was a great match, just didn't quite match up to SHO and Shingo.