Steve Cook: 10 Commandments For Wrestling Fans
Be a good fan.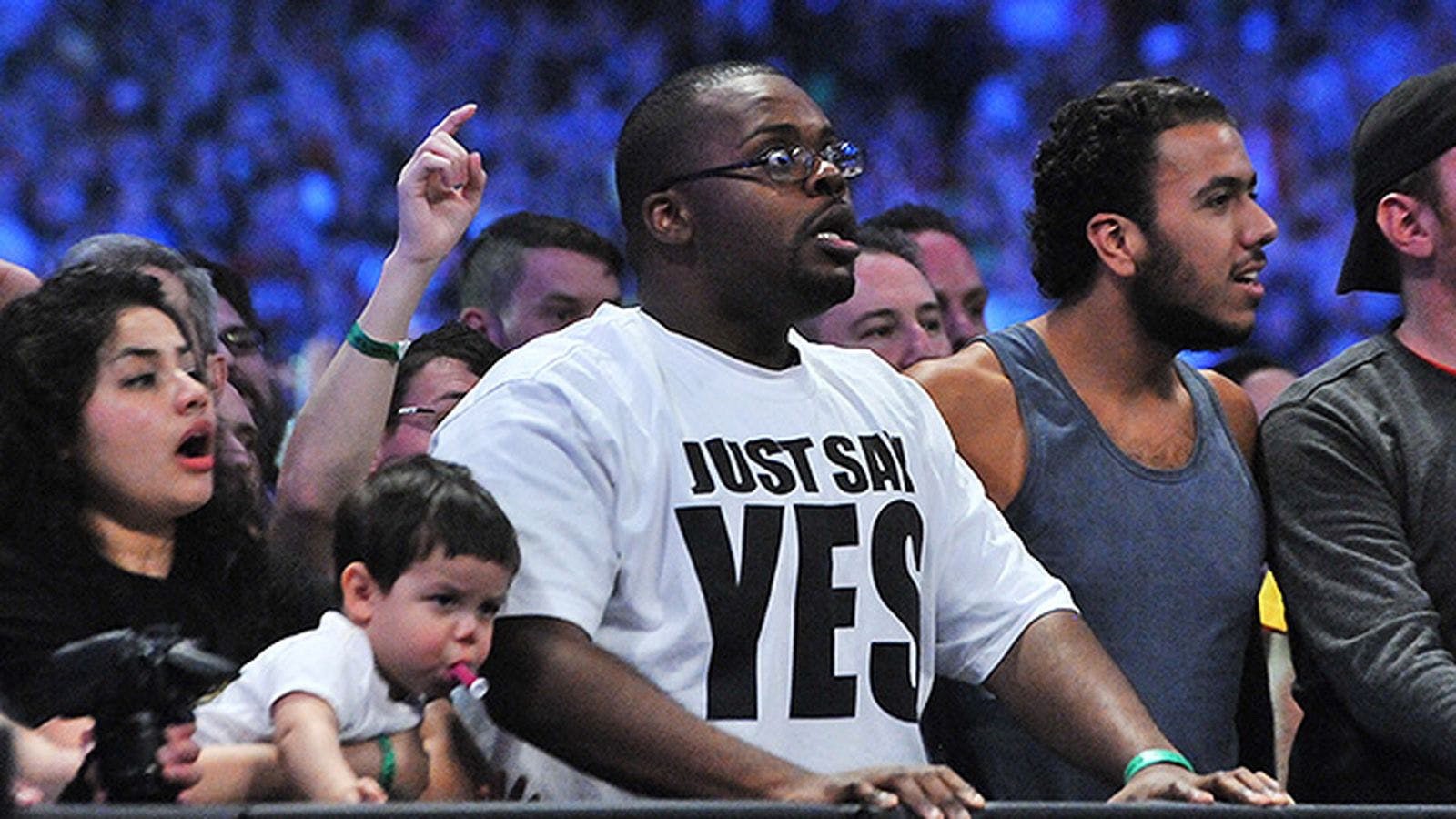 It's an amazing time to be a fan, but that great power brings great responsibility. Steve Cook steps in with an all-too-important list of commandments for wrestling fans!
We live in a crazy time. I feel like it's getting crazier the further we move along. I'm not sure what I can do otherwise than try to set behavioral standards for wrestling fans attending events right now. I would prefer not to do such a thing, but wrestling fans are not giving me a choice with their antics recently. If they acted like rational people I could remain silent, but instead they choose to act like assholes and force my hand. I wish they wouldn't, but I have no choice but to strike them down.
I have 10 Wrestling Commandments for Wrestling Fans, and they need to accept them.
10. Thou shalt apply deodorant
This is the biggest common courtesy you can do for your fellow wrestling fans. Let's be honest, a lot of us are going to be sweating buckets during a show. The experience is never going to be lemony fresh. Deodorant does make a difference. It's one layer to suppress the stink, and maybe it ends up losing the battle, but it puts up a good fight.
9. Thou shalt not consume more than you can handle
Knowing your limit & staying under that limit suppresses a lot of situations. I'm one of those guys that can consume way too much and not do anything too crazy most of the time, but not everybody has my constitution. Which is great for them, as they don't have to worry about dying of liver failure before they hit 50.
8. Thou shalt not hold up signs blocking fans' view
I can only name one time I could approve of such a thing. I attended the 2012 Royal Rumble in St. Louis. A fan right in front of me had a sign. I was outraged at first, but then I realized the sign said "I Paid To See Daniel Bryan". Then I shook the man's hand and gave him my approval as a fellow Daniel Bryan fan. As it turned out, Bryan worked the opening match, so I didn't have to deal with it most of the night.
7. Thou shalt not compare African-American Wrestlers to other African-Americans
The worst fan experience I can remember being a part of was an ROH show in Dayton, Ohio with Jay Lethal in the main event. I don't know why that was the time they felt the need to compare Lethal to Gary Coleman or Webster or other famous African-Americans they could think of, but it was a humiliating experience as a wrestling fan without racist tendencies, and I understood why ROH would be hesitant to bring Japanese talent to the Montgomery County Fairgrounds. Just so so bad.
6. Thou shalt spend freely at the merchandise table
The merch table is where the wrestlers make most of their money on most of the shows you will attend. If you really want to show your appreciation for a wrestler, this is where you will spend your money.
5. Thou shalt not use profanity
This is one I've been guilty of far too frequently. I grew up watching Tony Soprano & Al Swearengen, so profanity is undeniably part of my vocabulary. Especially at sporting events with quality opposition & questionable officiating. It's not an admirable trait though, especially when pro wrestling is most enjoyed as a child. Try to keep it clean if a child is within eyesight. They'll learn these words eventually, but you don't want it to be from you.
---
Time to pick up a new Chairshot shirt!

Get yours at:
https://www.prowrestlingtees.com/related/thechairshot.html
---
4. Thou shalt not use "insider terms"
The problem I have is with people who use insider terms wrongly. Also, with people that use them to heckle the wrestlers. I hate people that try to act like they know things when they really don't. I've been writing these columns for years and have read more than most people on the Internet, but I still wouldn't use insider terms to heckle wrestlers. If I wouldn't go there, you shouldn't.
3. Thou shalt cheer for whomever you please
This is a debatable one. One popular school of thought, especially among wrestlers, is that fans should cheer the faces & boo the heels no matter what. It's said to reflect poorly on a heel if he gets cheered, therefore if a fan truly appreciates the bad guy wrestler they should boo anyway.
I reject all of this nonsense. If you like a wrestler, cheer them. I don't want to train fans to lie, so I won't. I mean…can somebody really boo Chris Jericho in 2019? He's an evil man, but I would cheer if he walked out in an arena I happened to be in. I couldn't help myself. The man is a wrestling legend. If Jericho, or Flair, or somebody on their wavelength came out, I would cheer regardless of whatever a wrestling promoter told me to do.
2. Thou shalt not touch the wrestler, unless thou art high-fiving a fan favorite
This seems like common logic, but it's been ignored far too often lately. Scarlett Bordeaux had the temerity, the unmitigated gall to work a show in Cancun over the weekend, and some overeager ringsider wanted to get all touch-feely.
Scarlett Bordeaux was groped by a fan at yesterday's AAA Worldwide event in Cancun. Security watched and did nothing. pic.twitter.com/coz0ZwGkvD

— HeelByNature.com (@HeelByNatureYT) June 16, 2019
What the hell? In what universe is that kind of behavior acceptable? I don't give a damn about Scarlett's persona or her ring attire or whatever. What makes fans think they have the right to cop a feel on anybody? Money? I know we elect people to public office based off of money, and we don't care if our presidents grope females, but we hold wrestling ringsiders to higher standards than our Presidents apparently.
We should hold our Presidents to higher standards, but this isn't a 10 Commandments for Presidents column. If somebody higher on the foodchain wants me to write that column, I will with pleasure.
1. Thou shalt remain on your side of the barrier
This seems like the easiest commandment to live by. As fans, we should all know our place is in the audience. We're not getting paid to be part of the show. Yet, some dumbass marks think they are part of the show and need to participate. Very recently, there was the asshole that got owned by an angry Samoan.
Someone learned the hard way why fans shouldn't cross the barricade at PCW Ultra tonight, courtesy of @SAMOANWEREWOLF pic.twitter.com/RihAqcshax

— SoCal UNCENSORED (@socaluncensored) June 15, 2019
I wish I had an angry Samoan at hand to deal with people that annoyed me. I don't, but most wrestling shows do. My feeling is that once you cross the barrier, you are subject to whatever punishment the people employed by the company feel is acceptable. If it's getting your ass kicked by an angry Samoan, it is what it is. You are entering into their workplace. Their workplace often involves violence. It isn't their fault if you don't know how to work.
NXT Minus 6: Too Early To Fantasy Book War Games?
Everyone loves fantasy booking. Right?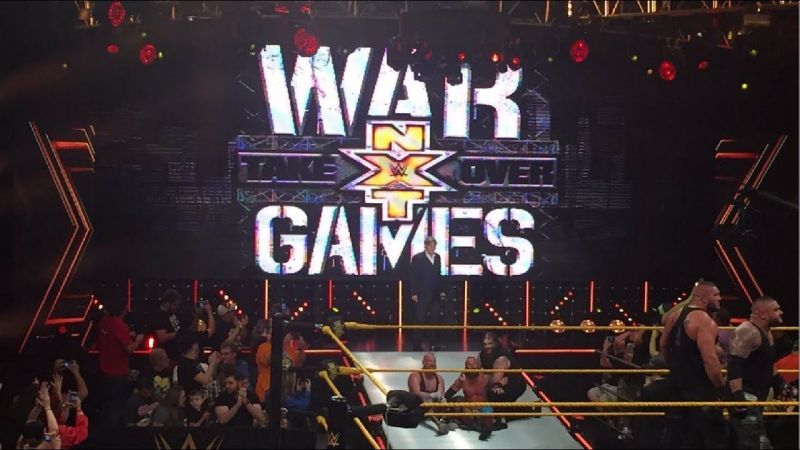 The answer is No. It's not too early.
6. NXT teases us with a Matt Riddle-Arturo Ruas match that went 3 minutes? I know it's not happening, but those guys deserve a Takeover spot. Kudos to NXT for playing up the mma aspect. Everything from Mauro's commentary to the ref stoppage made this feel like it should have been in an octagon. If you haven't already seen it, check out Ruas' match from the Evolve 10th Anniversary show. Dude is a killer.
5. We got the final opening round match of the Dusty Rhodes Everyman Classic. Bronson Reed is good. He delivered what might be the biggest frog splash I've ever seen. There is always a place for athletic big men, but he's not the story.
4. Dexter Lumas is creepy. The key to wrestling is to crank your personality up to 11. If this creepy thing is any part of Dexter Lumas, I don't want to be in a room with him. I don't trust him around my kids. I wonder how many crimes against humanity he's already committed. Creepy in a way that Bray Wyatt can only hope to be.
3. Tyler Breeze enters the running for Savage Burn of the Year. He looked at Jaxson Ryker and asked "Weren't you Buddy Murphy?" Brutal. That line alone is worth the return of Prince Pretty.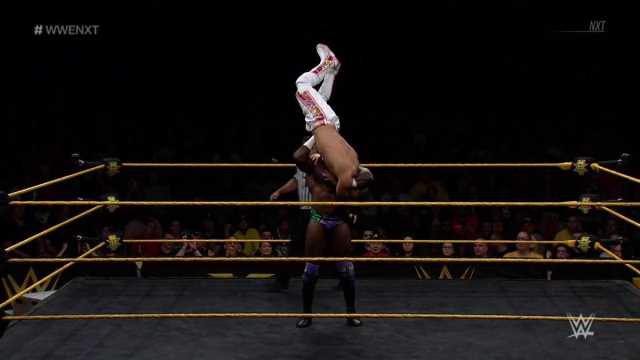 2. I finally got the moment I was waiting for: an interesting KUSHIDA match. I was ready to send him to 205 in exchange for Akira Tozawa. And if this is Apollo Crews, I will gladly take him back full time in NXT. Stellar matchup and worth watching. 4.4 stars. 
1. Oh no, this cannot be happening. They're turning Keith Lee into Kassius Ohno 2.0? He's talking about getting passed over for the new guys? And he's jobbing to Damian Priest next week? Been here a year and zero Takeover matches? The Ridiculous Keith Lee deserves better. THIS…CAN…NOT…BE…HAPPENING!!!
Bonus time: Old school versus new generation. Tyler Breeze heads up a cast of NXT OGs to take on Undisputed Era in (cue William Regal voice) War Games to determine NXT supremacy. Keep Apollo around. Throw in Cesaro and Harper, maybe even Samoa Joe, and you've got yourself one hell of a brawl. Either that or Undisputed Era versus the Club. I'm cool with both.      
Tiffany's Takes: WWE NXT (7-17-19)
Who will be the first to challenge Adam Cole for the NXT Championship?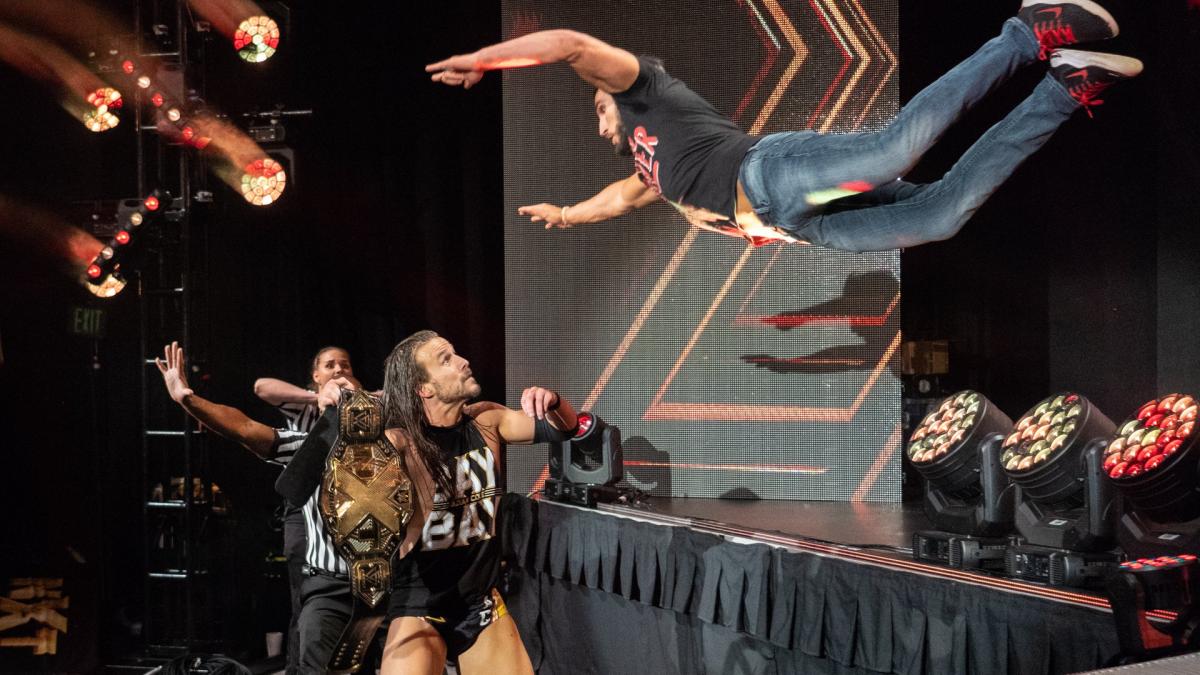 Who will be the first to challenge Adam Cole for the NXT Championship?
Have I ever told anyone that I can't stand Matt Riddle? I have? Okay. I don't even know what it is, but he sets my teeth on edge. I will give him props for having a good match with Arturo Ruas, but I'm not sure what they're doing with his character, except teasing a heel turn after that NASTY beatdown of Ruas. I am here for Killian Dain vs Riddle, that even sounds like fun!
Looks like we are going to Undisputed Era vs Street Profits at some point, but I'm waiting for UE to make a big deal about Street Profits being on the Main Roster for the last couple of weeks.
I love that Mia Yim is learning from everyone's mistakes in dealing with Shayna Baszler and is going after Baszler's friends, who are the real reason she's stayed on top for so long. This feud is going to get nasty in a hurry and I can't wait!
The next match of the NXT Breakout Tournament  had a lot to live up to after two AMAZING matches and one not so amazing. I'm not sure what in the world Australian Strong Styles is, I'm guessing it's like any 'Strong Style' in that it's pretty hard hitting. I also didn't know Australia had a Black Forest, it was never on 'Crocodile Hunter'. I did like this match, however. I can't say it was as amazing as some of the other matches, but it was really good. Bronson Reed won the match for Australia, so we'll see what happens in Round 2.
Someone should tell Tyler Breeze that having a beard doesn't make you a man. I've seen teenagers with better facial hair. I did love the little dig at Forgotten Sons, but I don't think Breeze really wants to pick a fight with Jaxson Ryker, that's not going to end well.
Well, it looks like we'll likely get a confrontation between Io Shirai and Candice LeRae next week, unfortunately for Kacy Catanzaro, she's going to be Shirai's punching bag before that.
I wasn't really into KUSHIDA vs Apollo Crews. I'm just not a huge fan of either guy. The match was really good, but I don' t think anyone really thought Crews was going to beat KUSHIDA, who is getting built into a title contender, but it was a longer match than Crews has been having for most of his WWE run, so there's that.
I'm still not into Keith Lee, I just don't get it, but I'm super stoked  about the prospect of Lee vs Damian Priest, that promises to be a wild match.
So, it's officially official, we WILL be getting Adam Cole vs Johnny Gargano III and it sounds like it's going to be the last one. I did like Gargano comparing his victory tour of trying to inspire young people in Cleveland with Cole's obnoxious antics at the Gargano restaurant. Also, love the 'Johnny Badass' thing, very cool. NXT TakeOver: Toronto II is going to be a wild ride in that Three Stages of Hell match! Thank you, William Regal for booking that!
That's it for Tiffany's Belated NXT Takes! Tune in Monday for Monday Night RAW!