Finals of the Junior League along with a GHC Heavyweight title fight! Pro Wrestling NOAH brings all the good stuff and Hisame fills in any blanks!
CURRENT TOUR RECAP
Before NOAH began the big summer event in Kultz Kawasaki, they held a small interim show in Niigata.
I am afraid that with it being the provinces, I don't have much information coming out of it regarding who said and did what, but some information did come out; Junta Miyawaki won his first singles match, albeit over Kinya Okada. He said it didn't matter much as Okada is only a junior, but he will be seeking bigger fish.
RATELS teamed together, with HAYATA & Tadasuke managing to get on, although at the end of the match there was a small spark of friction between them with Tadasuke grinning at HAYATA before he slipped out of the ring. Marufuji teamed with Stinger, and "accidentally" caught Kotaro Suzuki with a knee.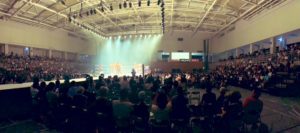 Kultz Kawasaki was held on the 27th July, and looks to be becoming an annual event. Last year NOAH visited the venue for the first time as part of the anniversary for the Kawasaki Sports Association, but this now looks to be becoming an annual thing, that Hajime Ohara will have a big hand in arranging (he is not involved in the booking of the show though).
The event might not have been sold out, but at 1, 455, NOAH managed a bigger attendance than last year, and opened more of the floor for seating.
Junta Miyawaki and Hitoshi Kumano took on Daisuke Harada and YO-HEY (rare teaming), but ultimately lost. Junta Miyawaki showed that he has prowess as a technical wrestler, especially with his new judo inspired armbar.
Chris Ridgeway had his final match with NOAH for now (he will be returning though later in August, plus appearing on the hyper "Satoko's Room", which will make him the first gaijin to do so) when he teamed with Stinger against Naomichi Marufuji, Minoru Tanaka and Hi69.
Marufuji and Suzuki will be having a singles match at NOAH's anniversary show (this will only be their second since March 2002 when Marufuji defeated Suzuki in 13 minutes, 31 seconds). Suzuki discovered that Marufuji can bust you open with just one chop…
Following the match, Hi69 and Minoru Tanaka intimated that they would be challenging for the GHC Junior Heavyweight tag titles…which Stinger say they want to keep, but do not want to defend.
Go Shiozaki and Hideki Suzuki had their long anticipated singles match, with Suzuki being somewhat more technical than Shiozaki, so you saw more ground mat work than you would with Shiozaki vs Sugiura (who beat the hell out of each other) with Suzuki applying lock holds and submissions to Shiozaki's knees and shoulders. He even used that most eighties of moves…a sleeper hold.
When he had Shiozaki in a leg lock, Suzuki told Kenta Kobashi (Go Shiozaki and KENTA'S teacher, who is on commentary) to "take a good look".
The match went to a time limit draw.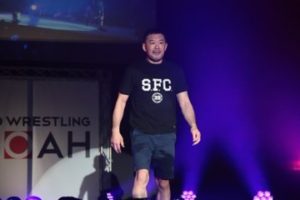 In the interval, NOAH made two announcements.
The first was NOSAWA Rongai bringing out the "World Class Celebrity" who was a "friend of a friend", who turned out to be Kazushi Sakuraba.
Earlier this year Sakuraba had given Kaito Kiyomiya some training in MMA ahead of his title match with Naomichi Marufuji, and said that if NOAH could make him an offer then he would consider it. It has been announced that he will appear at NOAH's Edion Arena event on the 16th September in Osaka. Match is yet to be announced, but there is hints that it might be involving Takashi Sugiura.
Kongoh faced off against The Sugiura Army, with Kinya Okada being defeated by his rival, Yoshiki Inamura.
After the match, Kenoh gave the usual rant about LIDET, but the big announcement came from Atsushi Kotoge.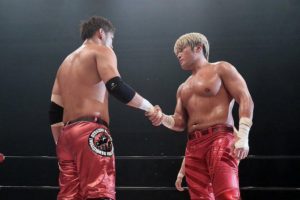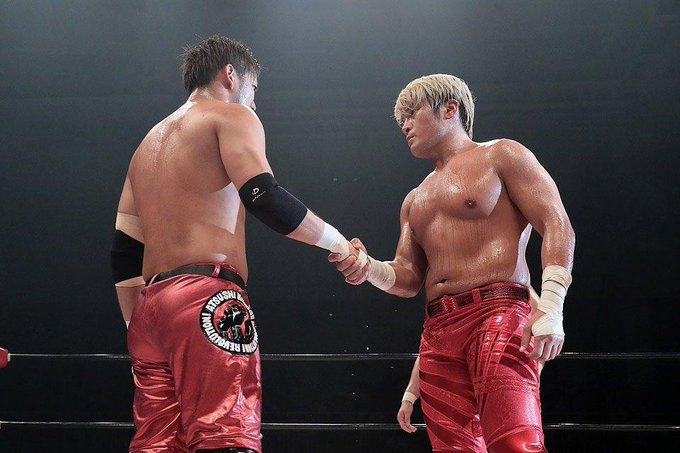 Since joining Kongoh, fans have noticed that Kotoge has become more and more unhappy (even Masa Kitamiya admitted it in an interview that he was "struggling"), Kotoge it seemed himself had decided that enough was enough, and announced that he was not only leaving Kongoh, but he was also leaving the heavyweight division and heading back to the juniors. Kotoge's decision to go to the cruiserweights was given as his being of the opinion that he could be more use there. Personally, I think it is because Kotoge knows he will probably never go further than GHC Heavyweight tag champion, but in the junior leagues, he can quite happily hold the equivalent of the GHC Heavyweight, the GHC Junior. It also means he can put on the cape again as "The Revolutionary Hero".
After making his announcement, a few days later he posted on Twitter a poll asking whether the cape should come back or not, and he slowly seems to be returning to his old (unhinged self).
As for Kongoh, there was no bitterness, and they did not attack him or throw him out of the ring, there were handshakes all round and Kenoh wished him well and told "you assholes" to watch him.
With Kotoge leaving Kongoh this opens up both a new position in Kongoh and a new spot in the heavyweight division.
Naomichi Marufuji joked he should join, and Kenoh responded by pretending not to know his name. Kenoh also took the chance to rant against Kaito Kiyomiya the day after the title match following Kiyomiya's comments on the match and the future, and Kiyomiya being Kiyomiya, politely ignored him.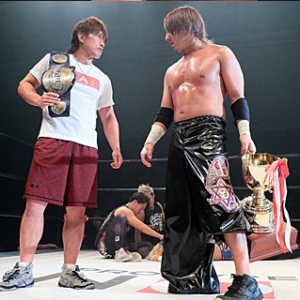 Tadasuke and HAYATA faced off for the Global Junior league finals (Daisuke Harada and YO-HEY remained neutral with Harada seconding HAYATA instead of YO-HEY, while YO-HEY seconded Tadasuke), and put on an epic match, with HAYATA prevailing and getting the win. Afterwards, Minoru Tanaka got into the ring and HAYATA made a rare show of speaking on the microphone. He only said a few words, "next the belt". Normally he just points at it. Afterwards, RATELS put their squabble aside, and they all posed with the trophy, doing their usual arm pose around it in their usual places, YO-HEY & HAYATA on one side with Tadasuke and Harada on the other.
Title match has been set for the 4th August (NOAH's 19th birthday). Event will be broadcast live.
There were no post match promos afterwards, Tadasuke said nothing and although HAYATA was asked to speak, he listened to the questions, looked like he might answer, and then walked off.
Kaito Kiyomiya defeated Katsuhiko Nakajima to retain the GHC Heavyweight title, in a match that he found very hard, as Nakajima is a very different opponent to anyone he has faced before.
There was no challenger following the match due to the looming N-1 Victory, and Kiyomiya announced that he would not be competing in the league as he wished to face the winner, and only the winner. This will probably set a precedent for the champion in years to come, and will make it a marked different from the GHC Global Heavyweight League of the past.
EVENT RECAPS
Post match interviews – Mutusu Grand Hotel, Aomori
Event recap – Aore Nagaoka Arena, Niigata, 26th July 2019
Post match interviews – Aore Nagaoka Arena, Niigata
Event recap – Kultz Kawasaki, Kanagawa, 27th July 2019
Post match interviews – Kultz Kawasaki, Kanagawa
NEWS
NOAH PARTNERS WITH MLW
Pro Wrestling NOAH have officially announced a partnership with Major League Wrestling (MLW) with Alexander Hammerstone and El Hijo de Dr. Wagner Jr taking part in the inaugural N-1 Victory.
The partnership with IMPACT will continue.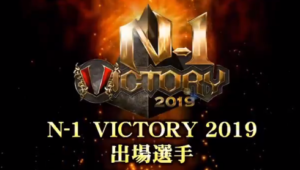 THE N-1 VICTORY
The competitors for the N-1 Victory (formerly "Global Heavyweight League") have been announced. The league is small and simple, split into two blocks and with only five competitors in each block, which means a total of ten athletes will be competing. As stated, the GHC Heavyweight champion has chosen not to enter, which will most likely set a precedent for later years as the champion has traditionally entered.
BLOCK A
Naomichi Marufuji
Takashi Sugiura
Go Shiozaki
Masa Kitamiya
Alexander Hammerstone
BLOCK B
Katsuhiko Nakajima
Shuhei Taniguchi
Kenoh
Masaaki Mochizuki
El Hijo de Dr. Wagner Jr
MEGARAGE
Despite Kultz Kawasaki now being over for another year (and there is no reason to assume that it will not return next year), NOAH's association with MEGARAGE has proved so popular, that a further two additional dates have been announced; Takashi Sugiura will appear on the 7th August, with Hajime Ohara and Kinya Okada at a later date.
All events will be broadcast live on YouTube.
CURRENT CHAMPIONS
TOUR TIDBITS
~ YO-HEY arrived late at Kultz Kawasaki as he got lost at the station and missed his train
~ Kaito Kiyomiya was reminded of a story by someone who knew him as a child, of a tantrum he threw as a little kid during a hometown festival on a Mikoshi
~ Kazushi Sakuraba apparently refused to wear one of the Sugiura Army "Company Dog" t-shirts, as he is a supporter and not a member.
BROADCASTS
NOAH's big Kawasaki Kultz event (and the GHC Heavyweight title, plus the final night of Global Junior League 2019) will air on the 2nd August on G+ at 8.30PM JST
NOAH will be broadcast live on Sunday 4th August at 11.30am JST on G+
LINKS
"A Stranger Or A Fool" ~ Hideki Suzuki reforms the NOAH mat
"Return to Origins" Kiyomiya's hometown return for fifth defense against Nakajima
"Come At Me You Bastards" ~ Kenoh's column 
"I was not expecting to…" Kazushi Sakuraba's NOAH participation on 16th September in Osaka
GHC Heavyweight champion, Kaito Kiyomiya, defeats Katsuhiko Nakajima in 5th defense and pulls out of the N01, "I want to fight with the winner"
Go Shiozaki vs Hideki Suzuki: First single match is timed out
Picture credit: Noah GHC, PKDX