Tiffany's Takes: SmackDown Live (7-9-19)
It's the last Smackdown and the overall go home show for WWE Extreme Rules. Did it deliver?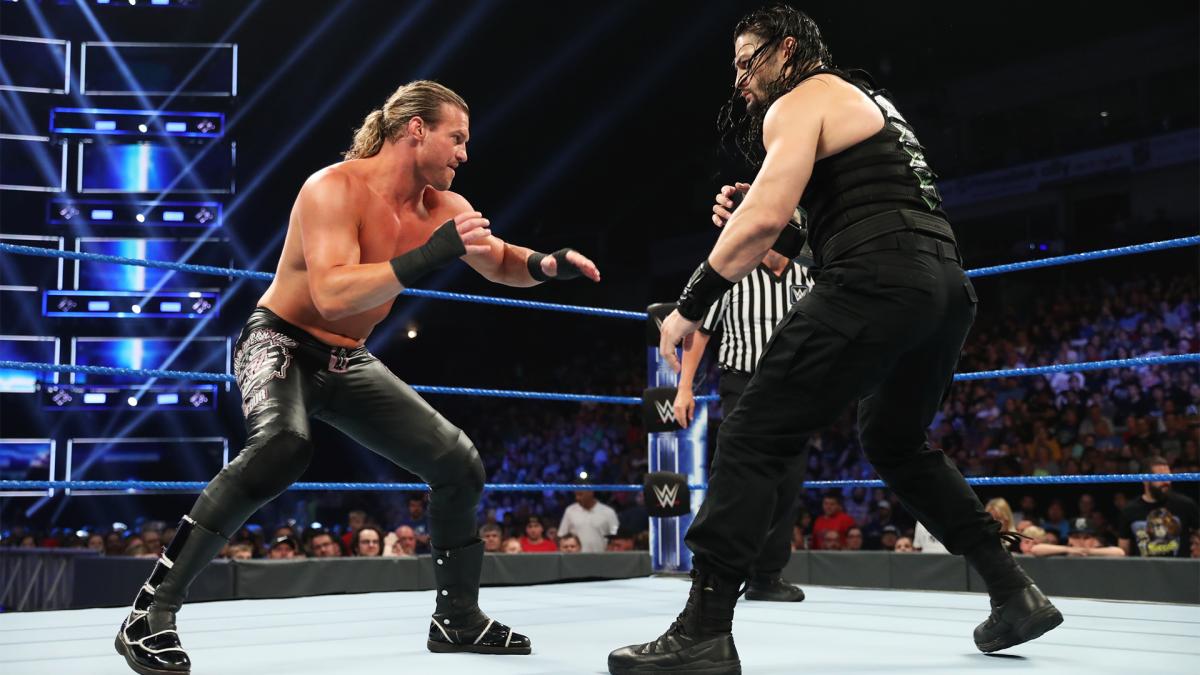 It's the last Smackdown and the overall go home show for WWE Extreme Rules. Did it deliver?
The Eric Bischoff's first SmackDown (kinda) didn't get off to quite the start Heyman's RAW did, will this week wow?
Ugh. Dolph Ziggler's whining is getting annoying. This is a hell of a way to get me to like Kevin Owens and I hope Owens has full coverage on that car. So, our main event is cancelled because Ziggler picked a fight with Owens and Shane McMahon took Ziggler's side. We know where this is going.
What fucking universe did I just wake up in? I am CHEERING Kevin Owens! What the hell?! Shane, he's saying what the WWE Universe has been telling your family for MONTHS: SHUT UP and get off our TVs! Kevin Owens disrupting SmackDown at every turn is good business tonight.
I'm going to be honest, I don't get Shinsuke Nakamura. I've really tried, I've been trying to get wowed by him for two years and I don't get him, plus his entrance gives me a headache. I honestly don't get Balor either, since his non-demon persona is…boring, so I didn't have high hopes for this match. It was a good match and it looks like we'll probably have the title match at Extreme Rules or SummerSlam, but I can't say I'm thrilled at the prospect. Bright side, both guys were on TV this week, so there's that.
Why do I have a feeling the Owens situation is going to tie into Shane's feud with Roman Reigns? At least, it's another SmackDown guy instead of bringing Miz in. Also, do NOT want Ziggler in this. He can go try and refresh his bleach job.
RUMOR is that Kofi Kingston tweaked his back, which is probably why we got a solo Samoa Joe promo, but that's okay. I honestly can't wait for this match at Extreme Rules.
I love how Kayla Braxton is getting a bigger interview role on SmackDown.  The way this Bayley/Nikki Cross is shaping up makes me wonder why Alexa Bliss is even needed at this point. Bayley and Nikki are doing a pretty good job of telling this story without her. Also, as I've said several times, I LOVE this new edge Bayley's gotten!
Yay for Carmella getting a segment that has nothing to do with R-Truth! Boo for her getting trounced by Nikki! Carmella was a great Women's Champion and is helping get the 24/7 belt over and she basically got treated as cannon fodder. That sucks! Do better, WWE!
Okay, so Kabuke Warriors got a win over the IIconics in Tokyo, so they SHOULD be getting title shots. I do think Paige has forgotten that she's not in charge anymore because she keeps acting like the General Manager and picking a fight when she knows they can't retaliate, which begs the question of who the actual heels are.
I love cocky Roman Reigns, but I still think Owens is going to be involved in tonight's main event.
I'm surprised it only took a week for Eric Bischoff to start bringing back the Attitude Era in some way. Tag Team Summit was basically a wash, but the Triple Threat was okay, except for the fact that nothing was at stake, which I hate. I don't think Greenjerks (Planet's Champions) will lose on Sunday, but you never know.
Did anyone notice Drake Maverick hiding under the table during the Ember Moon/Mandy Rose segment? I'm really over this feud between Moon and Fire and Desire. Sonya Deville is a really good wrestler, but Rose STINKS! I THINK I know who Moon's partner will be next week, but we'll see.
I LOVE Ali, and I love the message he puts out. I SO want him to be in title picture!
Cesaro being Aleister Black's mysterious knocker was NOT who I was expecting. However, I'm not going to complain until I see this play out on Sunday, but it felt like a huge let down.
Another weird segment from Shelton Benjamin. Is he possessed or something?
Okay, so Kofi was on SmackDown despite the injury rumors.
I believe this is the second week in a row that Reigns has been on SmackDown, so that's a start! I'm not sure what was up with Shane not wanting to shake Byron Saxton's hand, but it was weird. Reigns vs Ziggler was really good, even with all the goon squad at ringside. Also, didn't I tell you Owens would get involved in this? Reigns gets the win and Owens gets the last laugh on Shane.
That's it for Tiffany's SmackDown Takes! Stay tuned for 205 Live!