Chairshot Classics: WWE Hell In A Cell '15
With WWE Hell In A Cell 2019 looming next Sunday night, Eric Ames takes a look back at a Hell In A Cell from yesteryear, featuring The Undertaker vs. Brock Lesnar inside 'The Devil's Playground'!
With WWE Hell In A Cell 2019 looming next Sunday night, Eric Ames takes a look back at a Hell In A Cell from yesteryear, featuring The Undertaker vs. Brock Lesnar inside 'The Devil's Playground'!
Kickoff Show Match: Dolph Ziggler, Cesaro & Neville vs. Rusev, King Barrett & 'Mr. Money In The Bank' Sheamus
Stardust & The Ascension are sitting at ringside again with a "Stardust Section" sign. The Man That Gravity Forgot & The Celtic Warrior to kick things off, collar & elbow, Sheamus powers Neville into the corner and goes to the midsection. He whips him into the ropes, Neville slides through the legs and scores with a flurry of kicks, misses a dropkick, then slips out of a slam attempt for an enzuigiri. Cesaro gets the tag, slams Sheamus, goes to all fours and Neville jumps off his back into a corkscrew splash on Mr. MITB that gets 2 for The Swiss Superman. He quick tags back out to Neville, Sheamus sends him hard into the corner and brings in Barrett.
The King fires away a headbutt, quick tags out to Rusev and The Bulgarian Brute pummels The Man That Gravity Forgot. The Celtic Warrior off the tag with more heavy shots, Neville tries to battle back, but Sheamus catches him for a suplex. The Man That Gravity Forgot counters and lands on his feet, gets the tag to Ziggler and he comes in on fire, dropping Mr. MITB with a jumping clothesline. The Show Off splashes Sheamys in the corner, drops him with a neckbreaker and plants an elbow drop to the chest. Dolph knocks Rusev & Barrett off the apron, goes for a Fameasser, The Celtic Warrior catches him into a powerbomb, but Ziggler with a reversal back into the Fameasser for a near fall. Barrett slides in and distracts the ref, Rusev coming in from behind and decapitates Dolph with a superkick, Mr. MITB slides over into a cover and Ziggler kicks out at 2 as we go to break…
The King controls The Show Off with a rear chinlock when we come back, Dolph tries to gain his footing and gets slammed to the canvas by the hair. Barrett maintains control, posting his knee to Ziggler's spine and wrenching back on the arms. The Show Off powers to a vertical base, gets sent into the corner, tries to hop over a charging Barrett and takes a kick to the midsection for 2. Sheamus off the tag with stiff right hands, The Bulgarian Brute takes a turn and stomps away at Ziggler in the corner. He eggs The Show Off on to make a tag, but unloads with clubbing blows when Dolph reaches out. Rusev scores with a kick to the back for a count of 2, The Celtic Warrior re-enters the match and plants Ziggler with a release vertical suplex before going to a rear chinlock.
Dolph battles to his feet and spikes Sheamus with a jumping DDT, Rusev gets a tag and barely prevents Ziggler from making it to his corner. He props The Show Off up in the corner, runs to the other side to build a head of steam and goes to splash Dolph, but misses and hits the ring post. Barrett gets a tag as Cesaro enters, he drops Sheamus off the apron with a big boot, then unleashes a series of running uppercuts to the King, going from corner to corner. The Swiss Superman levels Barrett with a running big boot, the King reverses a whip into the ropes and Cesaro flips himself out to the apron, lifting a boot to Barrett's face. The King Of Swing jumps onto Sheamus from the apron with a somersault senton, runs around ringside and unloads an uppercut to Rusev, then back around to deliver one to Mr. MITB.
Cesaro heads to the top rope, connects with a crossbody back in the ring to Barrett, but only gets a 2 count. The Swiss Superman calls for the Cesaro Swing, Rusev slides in to stop it and takes a back body drop. Neville hits the ring, Cesaro tells him to hit the ropes and sends The Man That Gravity Forgot to the outside onto Sheamus & Rusev. Barrett sets for the Bullhammer behind Cesaro, Dolph slides in and hits a superkick, Cesaro puts him in the swing and Neville tags to finish the King with the Red Arrow.
Winners: Dolph Ziggler, Cesaro & Neville (Neville/Red Arrow)
EA's Take: GREAT opening contest here, the babyfaces get the win, but Cesaro looks like a million bucks coming out of this. I would have preferred to see the heels win with help from either Stardust at ringside or Tyler Breeze, generally I prefer to advance a story when it comes to who wins matches. Certainly one of the better kickoff show matches I can remember seeing though.
Open: "Hell comes in many forms." Tonight, Seth Rollins looks to hang on to his WWE World Heavyweight Title, while Kane looks to keep his job as Director Of Operations. After a controversial finish at SummerSlam, Brock Lesnar & The Undertaker walk into Hell In A Cell seeking revenge in the final chapter of their rivalry. "It all ends…in hell."
In The Arena: WWE United States Champion John Cena heads to the squared circle to a chorus of boos. The champ says he had a long winded speech, but it sounds like everyone's ready to get down to business. The US Open Challenge starts….now. Zeb Colter comes out on a motorized scooter, talking about how some people like Cena and some people don't. He calls Cena a divider and it's time for people from all different countries and backgrounds to come together. More importantly, it's time for John to lose the US Title to this man…
Match #1 for the WWE United States Championship: WWE United States Champion John Cena vs. Alberto Del Rio w/Zeb Colter
Collar & elbow tie-up to start, Cena goes to a side headlock, Del Rio pushes him into the ropes and John scores with a shoulder knockdown. They lock-up again, Alberto grabs a side headlock this time, Cena pushes him into the ropes, leapfrogs over and Del Rio with a kick to the leg that forces John to regroup outside. Loud dueling Cena chants as John goes to the striking game, firing away with right hands in the corner, whips Del Rio across, charges in and Alberto side-steps, going into an armdrag and holding an armbar. Alberto goes back to a leg kick, Cena crawls to the 2nd rope, Del Rio attempts a running senton and misses, spilling to the outside. The champ rolls Alberto back inside, charges at him and Del Rio splits him with a tilt-a-whirl backbreaker for a count of 2.
El Patron heads upstairs, connects with an overhead chop and gains another 2 count before utilizing a rear chinlock. The champion powers to his feet, Del Rio with a kick to the breadbasket and an attempted suplex, Cena blocks and hits one of his own. John climbs to the top, the challenger quickly scales the corner and scores with an enzuigiri, dropping the champion to the canvas for another near fall. Del Rio climbs to the top once more and again hits an overhead chop for a count of 2, then calls for the Cross Armbreaker.
Cena explodes to his feet, flattening Alberto with a clothesline. They exchange right hands, Cena hits his shoulder tackles, plants Alberto with a spinning back suplex and hits the 5 Knuckle Shuffle. He sets for the AA, Del Rio slips out and cracks Cena with a backstabber, follows with a superkick and we have a new champion.
Winner and NEW WWE United States Champion: Alberto Del Rio (Superkick)
EA's Take: What a surprise return, it takes a lot for me to not see something coming and I was stunned, eventhough I knew there had been talks between Del Rio and WWE about coming back. I'm a little shocked at the way that it happened also though, as I feel like the execution was not as it should have been. Cena has had incredible US Title matches during his reign and successfully defended it, but this match didn't quite live up to any of those. Great coup for WWE either way, hopefully they can keep the title relevant as Cena is slated to step away until the end of December.
Backstage: The Authority is watching with enjoyment at the start of the show, Seth Rollins comes in and agrees with them. However, Rollins has some thoughts about tonight when Kane interrupts. He tries to apologize, but Seth isn't buying it and they bicker back and forth. Hunter stops them and says this is a private meeting, Kane's attendane isn't required. Kane wishes Seth luck, telling him he's going to need it.
Chairshot Classics: "Stone Cold" Steve Austin vs. The Rock from WWE Backlash 1999
Ahead of WrestleMania Backlash, Chris King takes a stroll back to WWE Backlash 1999 as Stone Cold Steve Austin defends his WWE Championship against The Rock.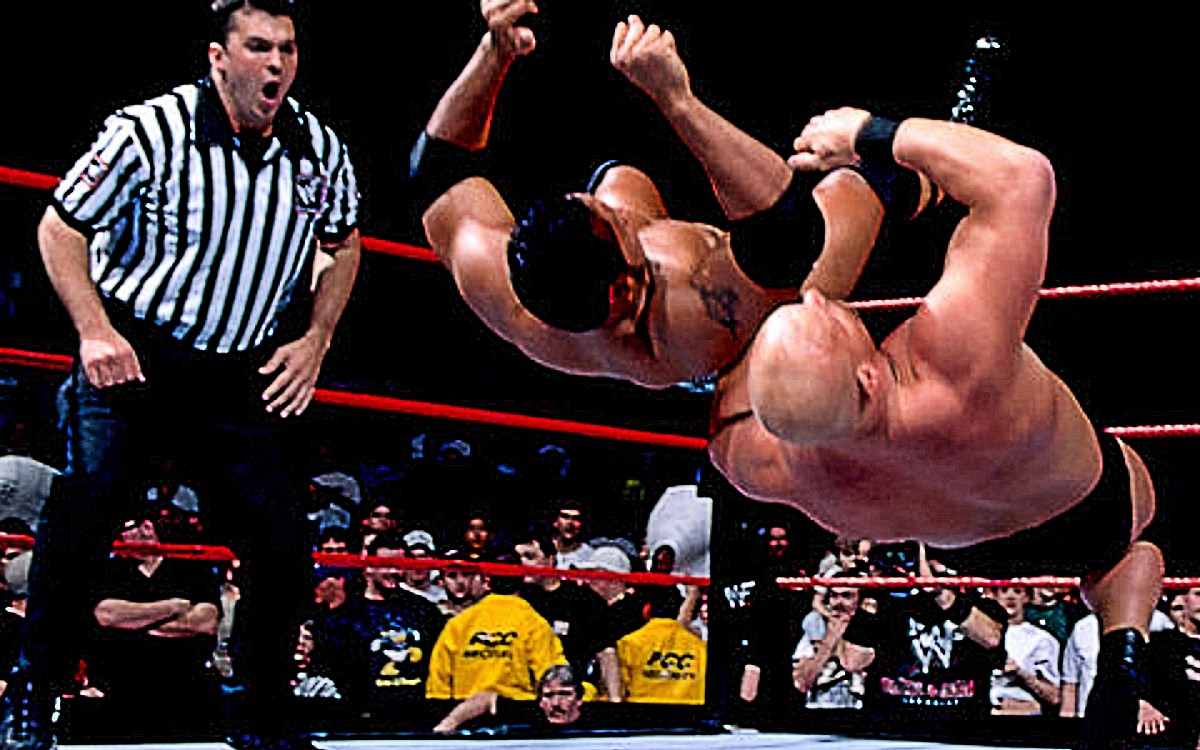 Ahead of WrestleMania Backlash, Chris King takes a stroll back to WWE Backlash 1999 as Stone Cold Steve Austin defends his WWE Championship against The Rock.
Let's set the scene for a minute, you've got "The Texas Rattlesnake" and Corporate Rock going one-on-one at WrestleMania XV. Austin wins the championship and the McMahon family is livid. Stone Cold wants his Smoking Skull Championship belt back, and Vince and Shane McMahon are trying to keep it from him by hook or by crook.
Damn, things were different during the Attitude Era, The Rock threw Stone Cold over a bridge and held a funeral for his rival. The storytelling was captivating and exciting, and it kept you guessing what would happen next. Keep in mind this match was conclusively built around a championship belt, something that would never work in the current product.
It was a high-octane no disqualification match with Shane as the special guest referee for their latest encounter. Austin began the match running straight into the ring for a brawl which spilled out all over the arena.  I miss how exciting these two superstars were. Rock hit a vicious Rock Bottom through the Spanish announce table and then got on commentary to talk some smack.
The arrogant challenger took the camera to talk trash while Austin laid on the other announce table, and ate a Stunner through the table. Man, the WWE Universe was on fire throughout the entire match. I feel like both superstars can't put on a bad match because they have such strong in-ring chemistry.
The finish of the match came when Austin had Rock set up for the three-count but Shane refused to count. Vince came down and struck Shane with the Smoking Skull belt. Austin hit another Stunner and decked the challenger with the belt for the victory. Vince then tossed his rival his precious Smoking Skull Championship.
Attitude Of Aggression #274: The Big Four Project Chapter 2: WrestleMania III & Survivor Series '87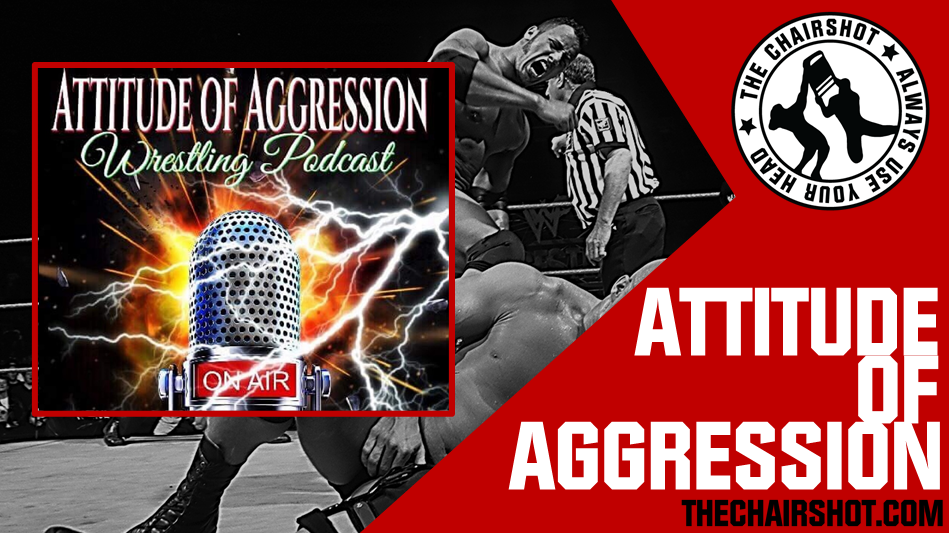 The Attitude Of Aggression returns for Chapter 2 of The Big Four Project, a chronological analysis, review, and discussion about WWE's Big Four PPVs. On this Episode, Dave is joined by the one and only PC Tunney to discuss two hugely important events in pro wrestling history, WrestleMania III and the inaugural Survivor Series. WrestleMania III is, of course, known for its missive live crowd, the titanic clash between Hulk Hogan and Andre The Giant for the WWF World Championship, and the epic encounter between "Macho Man" Randy Savage and Ricky "The Dragon" Steamboat for the Intercontinental Championship, a match considered by many to be the greatest WrestleMania match of all-time. The backstory for the very first Survivor Series is fascinating and shows how nasty things were between the WWF and NWA many years before the Monday Night Wars even existed. The first Survivor Series was loaded with great action and featured, quite possibly, the greatest Survivor Series team of all-time. Curious? Intrigued? You should be as Chapter 2 of The Big Four Project covers a stretch in WWE history that might very well have been the most important year in the history of the industry. Tune in and enjoy!
About Chairshot Radio
The rebirth of Chairshot Radio will see a rotating cast of hosts delivering you new shows and content. Sports, Entertainment, and Sports Entertainment is the umbrella under which we seek to invade your earballs. So sit back, relax and LET US IN…
For the latest, greatest and up to datest in everything pro wrestling, sports and entertainment head to TheChairshot.com and remember to ALWAYS #UseYourHead.
About the Chairshot Radio Network
Created in 2017, the Chairshot Radio Network presents you with the best in wrestling and wrestling crossover podcasts, including POD is WAR, Women's Wrestling Talk, Chairshot Radio daily editions, The #Miranda Show, Badlands' Wrestling Mount Rushmores, The Outsider's Edge, DWI Podcast, Bandwagon Nerds, the Greg DeMarco Show, 3 Man Weave, Five Rounds, Turnbuckle Talk, The Reaction and more! You can find these great shows each week at theChairshot.com and through our distribution partners, including podcasting's most popular platforms.
The Chairshot Radio Network


Your home for the hardest hitting podcasts and radio shows!
Listen on your favorite platform!
iTunes  |  iHeart Radio  |  Google Play  |  Spotify
Listen, like, subscribe, and share!
---