King's NXT UK Takes– Trent Seven vs. Noam Dar
Who's Kingdom is NXT UK Imperium or Gallus? The Battle Lines Have Been Drawn!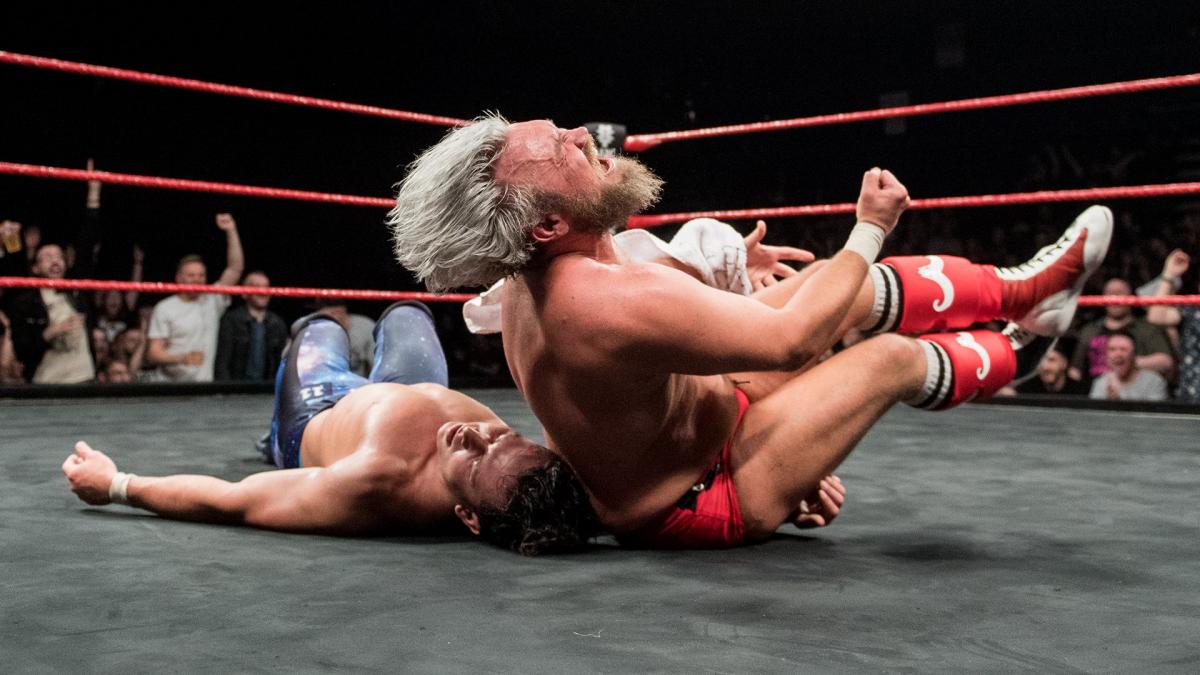 Who's Kingdom is NXT UK Imperium or Gallus? The Battle Lines Have Been Drawn! 
While the dominant Imperium is addressing the state of "their" kingdom they are so rudely interrupted by Gallus who is draped in gold after Mark Coffey and Wolfgang won the NXT UK Tag Team Championships last week. The arrogant trio mocks the quartet and then leaves.
Oliver Carter and Ashton Smith vs. Grizzled Young Veterans
The babyfaces were in control for a good ten minutes overpowering Gibson and Drake at every turn. The heels took over after some taunting by Carter. There was some great high-octane action from both teams with Carter and Smith working like a well-oiled machine to silence the former tag team champions.
There was even a miscue from Gibson and Drake that almost cost them the match but they wisely avoided disaster. After a quick fury including a blue thunder bomb, the heels finished their opponents off with Ticket to Mayhem for the win. After the match, Grizzled Young Veterans continued the attack until Mark Andrews and Flash Morgan Webster made the save sending the heels packing.
Ligero vs. Travis Banks
What a terrific match this was. Both Banks and Ligero threw everything including the kitchen sink at the other. Dozens and dozens of near-falls were attempted here and several stalemates led to incredible action. Unfortunately, though both men thought the same thing executing a backslide pin with both competitors' shoulders on the mat to end this one with a draw. Both men were left disappointed with the result.
Main Event: Noam Dar vs. Trent Seven 
Before the bell rang Dar drilled Seven with a dropkick followed by a vicious attack on his shoulder all around the ring post. Throughout the match, Dar was like the proverbial shark smelling blood in the water relentlessly attacking Seven's arm. The arrogant and cocky Dar mocked Pete Dunne's finger manipulation and tried to add insult into injury by executing Tyler Bates' Tyler Driver 69 but Seven fought out.
This was an incredible match even better than it had any right to be. Each dastardly attack and insult led to the moment we all expected when Seven was going to knock Dar's lights out and silence him once and for all. Seven execute Bop and Bang followed by snapping Dar's fingers and then Burning Hammer for the gutsy win.
In twenty years of being an avid pro wrestling fan, I've never seen a superstar that can sell being injured and barely able to stay in the fight and persevere to the right moment as Seven does. It's absolutely incredible to see his guts and determination pay off in the end. Hopefully one day it will lead to a United Kingdom Championship!