Andrew's NOAH RATEL'S Produce SHOW TIME! Ratings & Analysis: 11/24/2019
Pro Wrestling NOAH and their YouTube channel provide gifts again! This time, in the form of the RATEL'S produced show!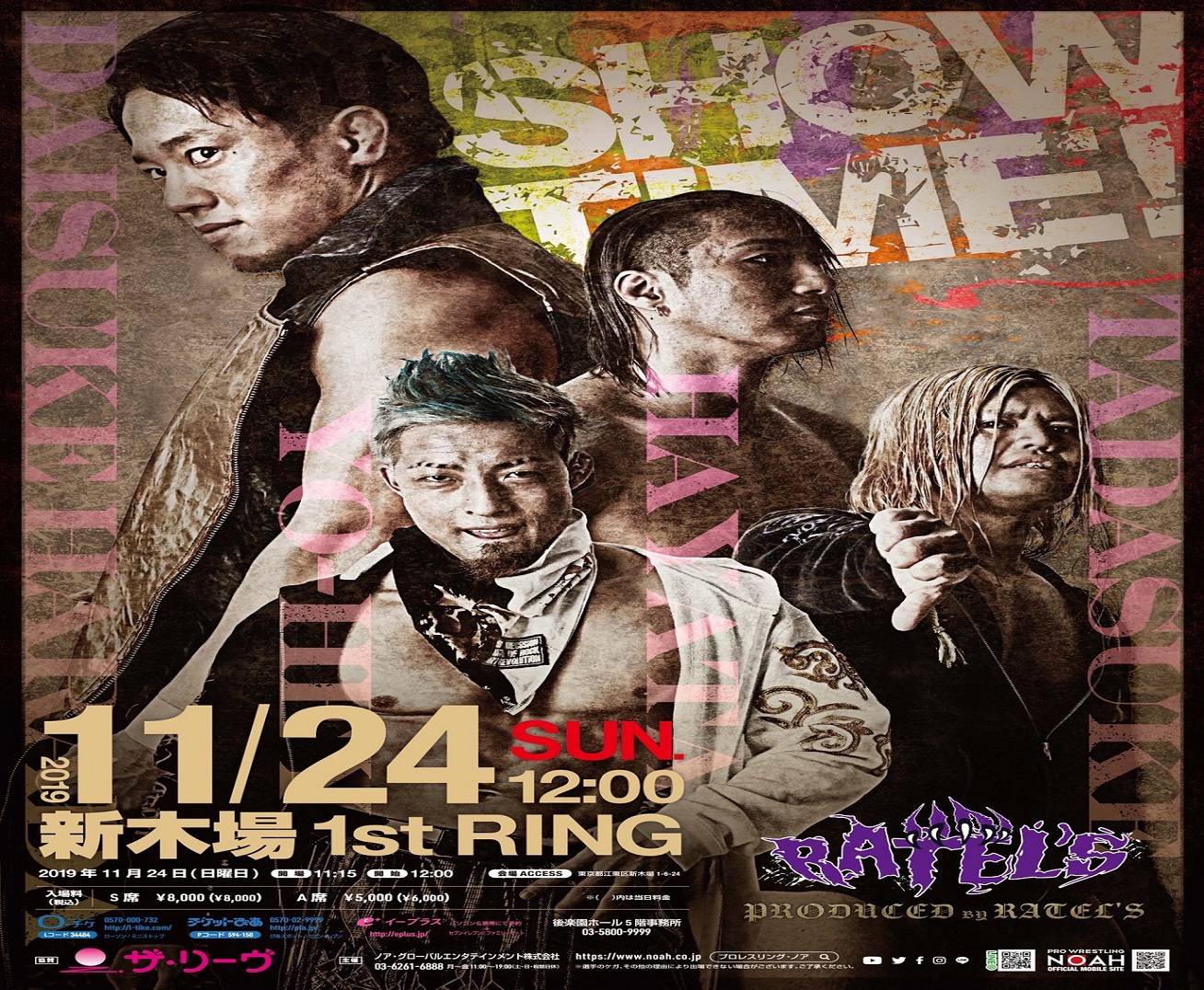 Pro Wrestling NOAH and their YouTube channel provide gifts again! This time, in the form of the RATEL'S produced show!
So for those unfamiliar, it's not unusual for stables or wrestlers to have their own one off shows. TAKATaichimania some may have heard of, Riki Choshu's Power Hall and Kenta Kobashi's Fortune Dream, just to name a couple.
This is slightly different where it's more like Marufuji's Flight last year, since NOAH still has some involvement and it's not purely an independent venture.
Either way, this is RATEL'S show, with mostly matches against the rival faction Stinger. So let's see if RATEL'S stands tall at the end of their own show, or if Stinger plays spoiler.
Ratings:
Masao Inoue vs Shuhei Taniguhi vs Mohammed Yone: Taniguchi wins via Maybach Press @8:20 – **
YO-HEY vs Yoshinari Ogawa: Ogawa wins via Figure Four ref stoppage @11:55 – *** 3/4
Kotaro Suzuki vs Daisuke Harada: Harada wins via German Suplex Hold @8:15 – ***
Chris Ridgeway vs Tadasuke: Ridgeway wins via Straightjacket Suplex Hold @12:30 – *** 1/4
Atsushi Kotoge vs HAYATA: Time Limit Draw @20:00 – *** 1/2
Hi69 & Junta Miyawaki vs Hajime Ohara & Kinya Okada: Ohara wins via Muy Bien @8:25 – ** 1/2
8 Man Tag Elimination Match: Stinger (Atsushi Kotoge, Yoshinari Ogawa, Kotaro Suzuki & Chris Ridgeway) vs RATEL'S (HAYATA, YO-HEY, Daisuke Harada & Tadasuke): Kotoge wins via Killswitch @28:40 – ****
Analysis:
Masao Inoue vs Shuhei Taniguhi vs Mohammed Yone – Since Inoue was involved, we knows there's a comedy aspect…but this is probably his best comedy match I've seen. Taniguchi and Yone ignored him until he tried to steal a pin, and then it was more just "beat up Masao". Inoue got a small moment where he held the ring and tried to get them to help him, but alas, he wasn't getting any help. The match became a handicap match to the point where they weren't even breaking the pinfalls. Inoue yelled at the other person a few times that it's a Triple Threat, but it ended with Yone Scoop Slamming Inoue for the Maybach Press and just posing with Taniguchi during the pinfall. Good comedy.
YO-HEY vs Yoshinari Ogawa –  This was a tremendous but simple match. YO-HEY used his speed early against the veteran, but had a big miss on the outside and landed on his left knee. From that point forward, the technical genius that is Ogawa, focused on the knee. Knee Bars, Heel Cranks, Indian Deathlocks, Figure Four Leglocks, Driving the Knee into the mat to jam it…just great. Ogawa wrapped YO-HEY's leg around the ring post a few times, went for a chair, HAYATA stopped that, but distracted the referee, so Ogawa hit the bad knee with the ring bell. YO-HEY tried to fight back, but his knee was worthless, but he kept fighting. HAYATA showing up played a big part since the finish is HAYATA throws in the purple RATEL'S shirt as the symbolic towel, forfeiting for his stubborn friend. I wonder if this leads to more of a fracture between them. Great old school simple match, just awesome to watch.
Kotaro Suzuki vs Daisuke Harada – Harada and Suzuki have a lot of recent history, since when Suzuki came back last year, he tried to make an example of what he thought was a weak Junior Division. So there's that, plus the very recent tag division heat, this should be great.
It starts off simple with Harada selling the sternum shots like he got hit with a bowling ball, but the deliberate pacing is great to show that both know what one another are capable of. Once things pick up we get both men hitting signatures. Tiger Feint, Blue Destiny tease and Endless Waltz were the big spots from Suzuki. Harada tried his Cradle Capture, but couldn't quite get that finished, Knee Upper and German Suplex Hold for a rather abrupt win. Good match, but it was shorter than I expected. I'm also bias because I like both of these guys a lot, so I'd always prefer 20 minutes over 8.
Chris Ridgeway vs Tadasuke – Tadasuke finally earned his first belt in NOAH with the Junior Tag Team title, and he's been on a little bit of a high. Ridgeway however, is the next contender for HAYATA's GHC Junior Heavyweight title, so it's hard to imagine the number one contender losing. Aside from the lack of believability for Tadasuke to win the match, this was a really hard hitting and solid affair. Tadasuke had plenty of shining moments, even doing the Jumbo Tsuruta "OH" to hype the crowd. Ridgeway though has read from the same books as Zack Sabre Jr, since he had Tadasuke all twisted up at different points. Great submission attempts, but Ridgeway manages to slow down Tadasuke enough to hook in the Straightjacket Suplex Hold.
Atsushi Kotoge vs HAYATA – This was an odd match. Odd in the respect that Kotoge really seemed indifferent about his involvement in the match. The Marshawn Lynch line of "I'm just here so I don't get fined", really encompassed his attitude for the first half of this match.
Kotoge stalled on occasion, and didn't really pick up his pace until after they brawled out through the crowd. After then we saw a lot of top rope attempts and signature moves. Some were too slow, like when HAYATA intercepted Kotoge and tossed him off the top rope, but other things like the dueling missed Moonsaults and flurry at the end were really fun. Once they heard the time limit was drawing near, HAYATA went for 2 Michinoku Drivers to no avail and Kotoge hit an Air Raid Crash, right as time expired. So it took a while to get going, but ended very fun.
-Intermission at this point, which feels a lot like a reset since we're getting an undercard style match followed by the main event of the two factions we saw in singles competition; RATEL'S vs Stinger.
Hi69 & Junta Miyawaki vs Hajime Ohara & Kinya Okada – This was a nice post intermission match since it gave the main eventers a little more time to rest, highlighted the younger wrestlers of Okada and Miyawaki and gave the fans time to settle in for the big match. Much like Japanese fans have grown to understand with younger wrestlers, it was a solid match and more of a learning on the job kind of training. Miyawaki showed great fire, Okada however got a bit overshadowed by everyone else. But it's always fun to watch Ohara lock in the Muy Bien.
8 Man Tag Elimination Match: Stinger (Atsushi Kotoge, Yoshinari Ogawa, Kotaro Suzuki & Chris Ridgeway) vs RATEL'S (HAYATA, YO-HEY, Daisuke Harada & Tadasuke) – Everyone pairs off into their singles match opponents, but Ogawa makes sure to keep YO-HEY in the middle of the ring and working that left knee. Ogawa and Suzuki take turns torturing YO-HEY with a variety of knee focused offense, and then we get a big melee. When the dust settles, Ogawa tries to go back to YO-HEY but he hits a desperation Headlock Takeover into Head and Leg cradle for the first elimination. Suzuki comes in and hits a Tiger Driver to finish off YO-HEY. Tadasuke then has a decent back and forth with Suzuki before catching him in a back hand spring and transitioning into a Gedo Clutch for a surprise victory. Ridgeway's turn to try and take someone out, which provokes HAYATA. HAYATA and Ridgeway get one another over the top rope and fight on the apron. HAYATA Superkicks Rideway off the apron for the elimination, but Ridgeway grabs HAYATA's foot and pulls him off the apron with an ankle lock, so they eliminate each other technically. Kotoge is left to fight both members of GHC Junior Tag champs and the man who took the IPW Junior belt off him a little more than a week ago. Kotoge manages to dump Tadasuke onto the apron over the top rope and Dropkicks Harada into him, eliminating Tadasuke. Last 8 minutes are a grudge rematch. Harada goes to try and finish this the same way he won the IPW title with the Avalanche German Suplex Hold, Kotoge fights back, two Killswitches later, Kotoge wins! So Stinger ruins the RATEL'S party by edging them out in the main event.
Overall Score: 7/10
All in all, this was a damn entertaining show. Being a one off RATEL'S produced show, it's a little self contained, but still played very well into current storylines. Ridgeway and HAYATA seem like equals, Kotoge came out looking great beating or drawing with all of the Junior champions and even the opening comedy match was pretty fun.
Nothing was really intended to blow you away, but I still had a lot of fun with this show and probably enjoyed Ogawa versus YO-HEY match more than most people. Deliberate technical yet simple wrestling has a beauty to it. Plus YO-HEY sold his ass off and never did too much to make you question the damage.
A good show to have on YouTube for free, also great since it highlights a bunch of guys with a bright future.
Andrew's AJPW Champion Carnival Results & Match Ratings: 4.11.2021
Day 3 of the Champion Carnival had video on demand issues, so it wasn't uploaded until the 12th. Hopefully Day 3 continues the positive momentum the first two days have already created!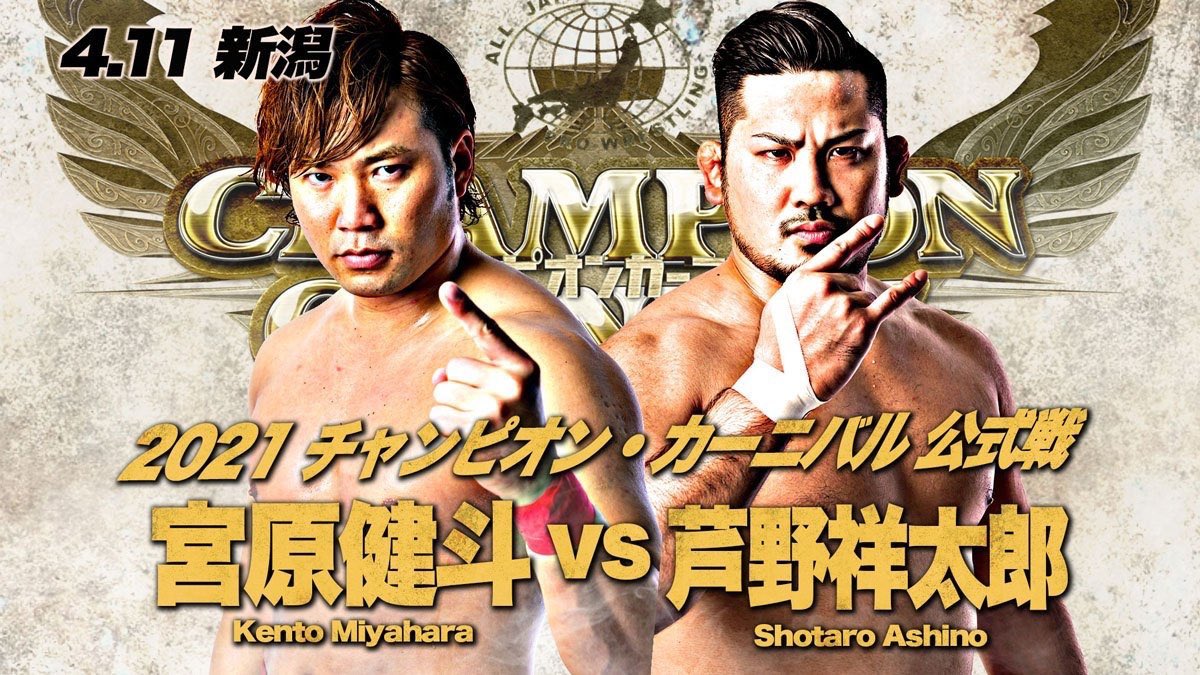 Day 3 of the Champion Carnival had video on demand issues, so it wasn't uploaded until the 12th. Hopefully Day 3 continues the positive momentum the first two days have already created!
Hard to say I wasn't a little annoyed the VOD took so long to post, but better late than never; especially when the next event isn't until the 17th.
Anyway though! Zeus looks to topple the current Triple Crown champion and continue his undefeated Carnival streak and Ashino has to do something to get off the bubble; but Kento is a big ask. We could be looking at a quick favorite to win as well as the walking dead.
Let's hope nothing too drastic happens! Check it out!
Match Ratings:
Jake Lee vs Koji Doi: Jake wins via D4C @8:10 – **
Shuji Ishikawa vs Yuma Aoyagi: Ishikawa wins via Single Leg Cradle @11:13 – ***
Kento Miyahara vs Shotaro Ashino: Ashino wins via Grapevine Ankle Lock @12:11 – *** ½
Zeus vs Suwama: Zeus wins via Jackhammer @19:52 – *** ¾
Results:
Jake Lee vs Koji Doi
Total Eclipse inner faction fighting! Since Jake is the leader, he starts off in typical heel leader fashion telling Koji to lie down and eat the pin. Koji lies down; Jake drapes himself in a cocky cover, so Koji goes for the crucifix at the 2 count. Jake snaps up and he looks shocked that Koji went against an order, but then we get to a match.
Koji does a solid job keeping Jake off balance with power attacks, Shoulder Tackles and an interesting Football Tackle with the lift and slam. Jake eats a decent amount of offense, including a few short arm Lariats, before he starts stabilizing with Knee Lifts and Yakuza Kicks.
Lucky for Jake, even though Koji countered the D4C once, after Giant Killing, Koji wasn't countering anything. Jake hits D4C and gets his second win of the tournament! Not a flashy match honestly felt a little silly at points with how quiet and echoed the arena made the match feel. Hopefully the setting doesn't continue to plague the atmosphere of the matches.
Shuji Ishikawa vs Yuma Aoyagi
Now this was decent, though the hollow quiet atmosphere of venue is really detracting from the matches. Yuma was trying to find openings, but Shuji continued to run him over and abuse him with power early. And it was during these slower spots, the deafening silence of the venue made for weird watching.
Even though Shuji hit a Scoop Slam into the corner of the arpon, multiple Tsunamis and a flashing Scoop Fire/Thunder Driver, Yuma stayed resilient. Yuma nearly made the bigger man tap in End Game, but Shuji was able to find the ropes. Yuma hits an O'Connor Roll into the Japanese Leg Clutch, Shuji manages to get out of that, goes for a Tsunami, Yuma slides and tries to scoop Shuji for a Roll-Up, but at two Shuji manages to reverse the Roll-Up, grab a single leg and keep Yuma down for a three count!
Even though I have yet to be convinced by Yuma, the fact he got a finish that still made him look strong while putting up a good fight against a decorated opponent like Ishikawa; that says a lot about his potential rise on the card.
Kento Miyahara vs Shotaro Ashino
Ashino is in the unenviable position of last place after two days. With a 0-2 record, he really REALLY needs this…and he of course has Kento as his roadblock. They've traded wins in the past, and come off as rivals who don't really like one another.
The match starts quick with Ashino shooting the half, grabbing a leg and searching for the Ankle Lock early. Kento fights out, but Kento is surprised and Ashino stays on him. Ashino pulls Kento to the ring post and wraps Kento's left leg against the post a few times. Kento fires and Snake Eyes lands Ashino into the corner of the apron.  This gives Kento plenty of time to walk off the early ankle damage and play into his cocky arrogance, all while messing with the referee and his opponent.
Whenever Ashino managed to get back in the ring, he was greeted by Blackouts to the front and back of his head. It wasn't really until Kento went for the Shutdown Suplex, that Ashino hit a second wind. Both men trade German Suplexes, Ashino continues with a Deadlift Overhead suplex and he starts building momentum back.
He teases a German from the apron to the floor, but Kento blocks, fights off and Piledrives Ashino instead. Kento fires off Blackouts as Ashino once again barely beats the count out, but after landing his ninth Blackout of the fight, Ashino grabs the left leg, rolls through and goes for the Ankle Lock. Kento tries to fight off, but Ashino refuses to let go, readjusting, rolling through, pulling Kento back into the center away from the ropes; eventually dropping down into the Grapevine. Kento has no other option but to submit!
Ashino finally gets on the board, and Kento joins him in the 1-2 portion of the standings! I wonder how much the ankle will play into the rest of Kento's carnival.
Zeus vs Suwama
Last year during Zeus' carnival winning run, he had a match with Suwama which resulted in Suwama sustaining an arm injury. Thanks to this knowledge, and the sting of a failed challenge when Suwama recovered, Zeus came out attacking the arm and trying to replicate some of his success from last year.
The beauty in Zeus' arm attacks, is not only were the Key Lock and Arm Bars effective to play on the old injury, they also inhibited Suwama from executing the Last Ride Powerbomb. Zeus' attack really did great, as well as giving him the power advantage against someone who can usually match him in that department. Zeus lifted out of Boston Crabs, met Suwama head on with Biceps Explosions and even broke out the Frog Splash a few times.
In a nice reference, Suwama was able to fight out of the Arm Trap Facelock this time, but Zeus had too much of an advantage. Zeus peppered in Chokeslams, Lariats, another Frog Splash and eventually ended the match with an impactful Jackhammer. This was a solid struggle throughout, injured only by the awkward venue setting.
Who will be the first person to hang a Carnival loss on Zeus since 2019?
Overall Score: 6.75/10
While there wasn't really a lot to complain about in terms of action, I really hated the venue. With the Japanese crowd rules of not being able to scream and having to just clap or stomp, it was very noticeably irritating in this event.  Slower moments felt empty and stupid, almost back to the empty Quarantine times, which definitely impact smaller events and smaller companies.
Aside from that, we got a lot of really great finishes. Ashino finally getting on the scoreboard AND over Kento is great. Zeus continuing his streak from last year, Jake well…doing Jake things and Shuji looking strong as a current title holder should. Otani and Sato were missed a little today, but let's check out the standings!
 Standings:
Zeus: 3-0 – (6 Points)
Shuji Ishikawa: 2-1 – (4 Points)
Jake Lee: 2-1 – (4 Points)
Shinjiro Otani: 1-1 – (2 Points)
Kohei Sato: 1-1 – (2 Points)
Shotaro Ashino: 1-2 – (2 Points)
Kento Miyahara: 1-2 – (2 Points)
Suwama: 1-2 – (2 Points)
Koji Doi: 1-2 – (2 Points)
Yuma Aoyagi: 1-2 – (2 Points)
Lucha Central Weekly: NXT Takeover Stand & Deliver…DELIVERS! Plus Too Many AEW Factions, WWE WrestleMania Week, and more!
The world of Lucha Libre comes alive on the Lucha Central Weekly podcast, discussing Takeover, AEW Factions, and more!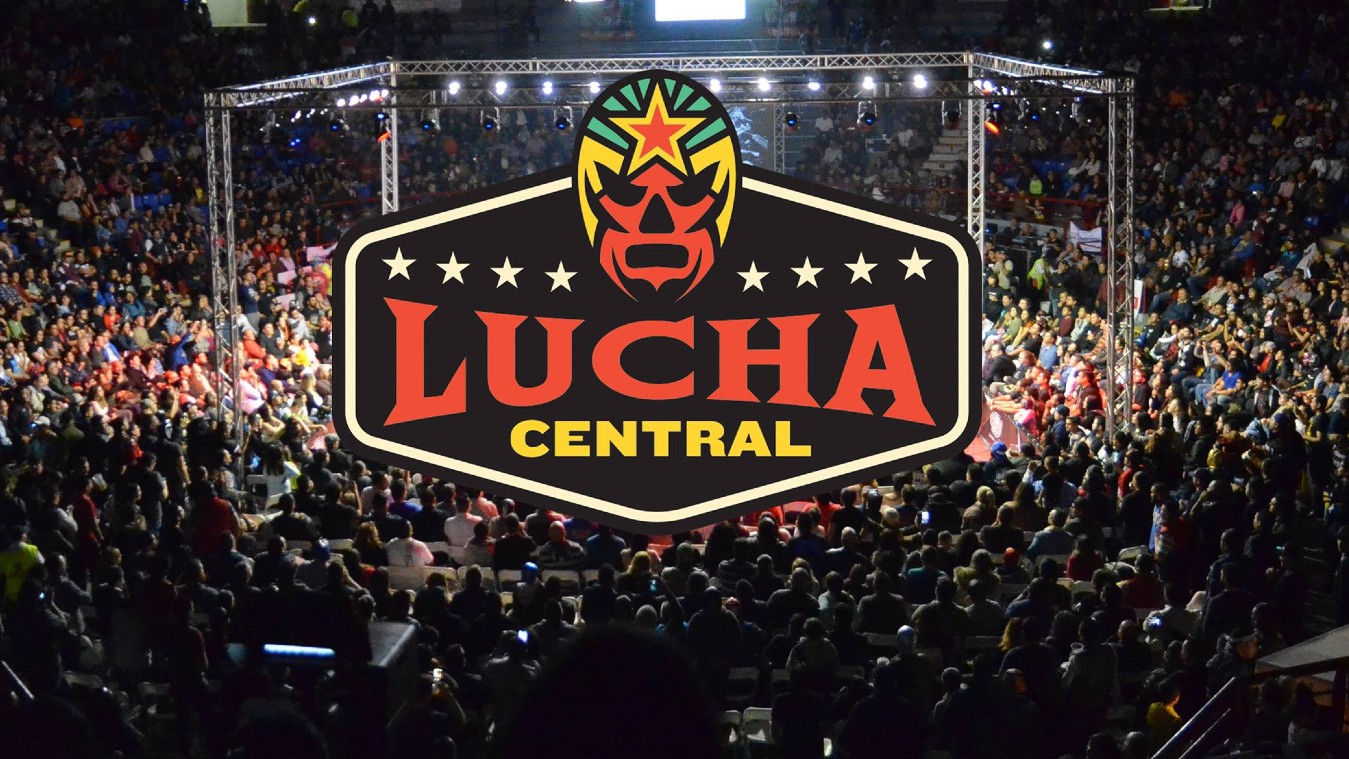 The world of Lucha Libre comes alive on the Lucha Central Weekly podcast, discussing Takeover, AEW Factions, and more!
Powered by RedCircle
Join Miranda Morales, Brendan Barr, and Dusty Murphy as they bring you another edition of Lucha Central Weekly–one just as action packed as lucha libre itself!
This week the trio discusses the abundance of factions on AEW, the week-long celebration that is WWE WrestleMania, and a look at NXT Takeover Stand & Deliver!
About Lucha Central Weekly
Your one-podcast stop for all of the week's top stories from around the world of lucha libre and lucha libre around the world. Join hosts Miranda Morales, Brendan Barr, and Dusty Murphy along with special guests as they cover Lucha Libre AAA, CMLL, top Mexico indies as well as lucha related matches in WWE, Impact Wrestling, All Elite Wrestling, Ring of Honor and beyond. Whether you are trying to dive deeper into the world of masked mayhem or you've been following for decades, you are going to find things here you won't find on any other airwaves!
About the Chairshot Radio Network
Created in 2017, the Chairshot Radio Network presents you with the best in wrestling and wrestling crossover podcasts, including POD is WAR, Women's Wrestling Talk, The #Miranda Show, Badlands' Wrestling Mount Rushmores, The Outsider's Edge, DWI Podcast, Bandwagon Nerds, the Greg DeMarco Show, 3 Man Weave, Five Rounds, The Hardy Wrestling Podcast, Turnbuckle Talk, The Reaction and more! You can find these great shows each week at theChairshot.com and through our distribution partners, including podcasting's most popular platforms.
The Chairshot: Always Use Your Head
---
The Chairshot Radio Network


Your home for the hardest hitting podcasts and radio shows!
Listen on your favorite platform!
iTunes  |  iHeart Radio  |  Google Play  |  Spotify
Listen, like, subscribe, and share!
---