Andrew's New Japan Cup Results & Match Ratings 7.11.20: Final Day
New Japan Cup Finals! EVIL vs Okada! Master Wato's gimmick debut match!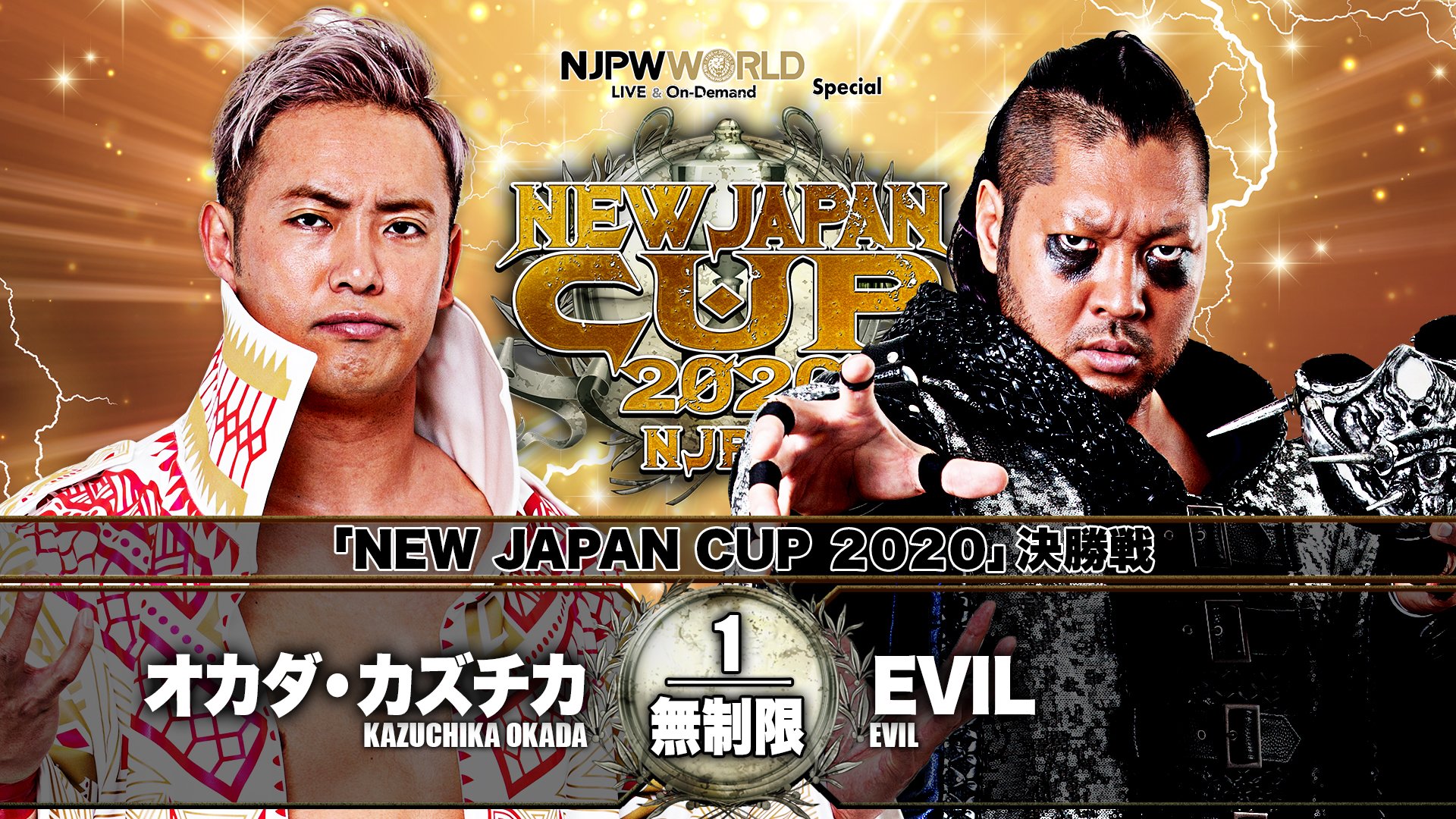 Wrestling in front of fans is back! Granted it looks like they only made about 50% of the tickets available since the floor fans had a chair gap between one another. I also read that they staggered entry depending on your section. They really attempted to reduce crowded sections and situations, and it looked like everyone in attendance wore a mask.
The real reason we're here though is to see Master Wato's debut match! RIGHT! Okay of course not, but it was too easy not to mention. EVIL has had a great run in the New Japan Cup, even though he's won every match after low blows and assorted chairshots. If you're name is EVIL, you're not supposed to really follow the rules, right?
Will the Finals be, "Okada wins lol" or "Everything is Evil"?
Let's get to it!
Ratings:
Yuya Uemura & Yota Tsuji vs Great Bash Heel (Tomoaki Honma & Togi Makabe): Makabe wins via German Suplex Hold @9:15 – ***
TenCozy (Hiroyoshi Tenzan & Satoshi Kojima) vs Hirooki Goto & Gabriel Kidd: Kojima wins via Gowan Lariat @9:55 – ** 1/2
DOUKI vs Master Wato: Master Wato wins via RPP @7:45 – ***
Yujiro Takahashi & Taiji Ishimori vs SANADA & BUSHI: Yujiro wins via Pimp Juice @9:20 – ** 3/4 
Yoshinobu Kanemaru, Zack Sabre Jr, El Desperado & Taichi vs Kota Ibushi, Hiroshi Tanahashi, Ryusuke Taguchi & Yuji Nagata: Desperado wins via Pinche Loco @12:45 – *** 1/4 
CHAOS (Tomohiro Ishii, SHO & Toru Yano) vs LIJ (Tetsuya Naito, Hiromu Takahashi & Shingo Takagi): Natio wins via Rolling Jacknife Cradle @15:00 – ***
New Japan Cup Finals: EVIL vs Kazuchika Okada: EVIL wins via Everything is Evil @31:50 – ****
Results:
Yuya Uemura & Yota Tsuji vs Great Bash Heel (Tomoaki Honma & Togi Makabe)
So we have come to expect Young Lion teams to lose more often than not, but the fun is watching how far they progress from match to match. Tsuji has become a competent power wrestler, even sending Makabe reeling at times, catching him with a Spear and getting the best of a strike exchange. Yuya is turning into a bit of a suplex specialist. His Double Overhook Belly to Belly Throw is unique and effective; he even broke out a pinning combination where he does a bit of an Inverted Gator Roll before going into the Cradle.
Another thing that can't be overlooked is the fact that Makabe bumped a fair bit here. Not sure if it was the reinvigoration of fans in attendance or what, but Makabe helped the Young Lions a lot. Makabe won with his German Suplex Hold that he tends to use of younger guys, but this was a really fun starter.
TenCozy (Hiroyoshi Tenzan & Satoshi Kojima) vs Hirooki Goto & Gabriel Kidd
Much like the last match, the finish was never in question. I do appreciate that New Japan brought out veterans/fan favorites for the first show with fans in 4 months. It's nice to watch some of the old guard get a win in front of more energetic fans.
Tenzan and Kojima both proved to still be equal to Goto in different departments, where Gabriel showed improvement. He still needs a lot of work on how to facially sell through strikes, but he's come a long way since that awful match against ELP. It was cool to see TenCozy take out Goto with their Tandem Cozy Cutter finish, to then focus on the Young Lion. Gabriel managed to fight off the tandem move, and focus on the legal man. But Kojima caught him, with what I think the announcers were calling the Gowan Lariat…and it did look more like Go Shiozaki's than the Cozy Lariat. So I'm going with Gowan.
DOUKI vs Master Wato
Well it's the blue nightmare against the fall guy of Suzuki-Gun. Now I know I set this up like a joke, but New Japan set this in motion like a joke. Underwhelming debut, dorky voice over "Way into the Grandmaster" video package and then getting attacked by DOUKI…sheesh, only thing worse would've been YOSHI-HASHI making the save and landing on his face.
Setup aside, okay, this was a pretty solid match. Wato may look like the worst pre-transformation blue Power Ranger in history, but his moves were crisp. The Master Wato gimmick works with the move set, since it's many martial arts strikes, mixed in with some fun lucha style dives. Wato pulls out a nice Tornillo, a kick combination that ends with a spinning backfist, Brazilian Kick and his finish is the Spiral Tap/Yang Time. It is apparently called RPP…if I figure out what that stands for I'll plug it into a future article.
Either way, Wato looked good. DOUKI took a bunch of shortcuts, but the Grandmaster prevailed. Not a bad first match back, for a gimmick that seemed dead on arrival.
After the match Yoshinobu Kanemaru attacks Wato, but Tenzan makes the save. They might be trying to use the general favor that fans have for Tenzan to help get over the new gimmick. 
Yujiro Takahashi & Taiji Ishimori vs SANADA & BUSHI
This match was interesting since both SANADA and Taiji played to the crowd, which you could see amused them during the match. Taiji took BUSHI to the corner to work on taking off his mask, and played to the crowd to boo. Japanese crowds don't audibly boo much, but there was a solid portion who played along. SANADA pulled off the Paradise Lock and the place roared with applause so SANADA acknowledged the applause a bit before the Dropkick to unlock the hold.
As for the match on a whole, it was alright. Lacked a little from some of the previous undercard matches, but the crowd involvement had to be fun for fans in attendance. It's also nice to see Yujiro pin BUSHI with Pimp Juice after a little bit of a counter exchange. A little slow, and not the best, but Yujiro tends to get overlooked for one reason or the other.
Yoshinobu Kanemaru, Zack Sabre Jr, El Desperado & Taichi vs Kota Ibushi, Hiroshi Tanahashi, Ryusuke Taguchi & Yuji Nagata
Even without the Suzuki and Nagata thread to play with in this match, it was still pretty good and added nicely to the story leading to the Heavyweight Tag title match tomorrow. Tanahashi took a lot of early offense, as Taichi may have started, but Zack ran interference almost immediately. Kota tried to match the interference, but the heels were much more adept at it.
In a small sprinkle of humor, Taguchi broke up a few pins by just messing with Despy. He would come in the ring, so Despy would break the hold and anticipate an attack, then just clap and root on Tanahashi like a good coach as he goes back to the apron. That happened twice before Desperado just cut him off and was done with the shenanigans.
Which that small interaction played well for the finish, since the last two were Despy and Taguchi; with Taguchi continuing occasional mind games. Taguchi looked to be about to win with Dodon, but Despy counters, they jocky for position, referee gets turned around so Despy clocks Taguchi with the closed fist. After eating the punch, Despy hits Pinche Loco and the heels win again.
After the match, ZSJ and Taichi double team Ibushi until Tanahashi makes the save. Ibushi and Tanahashi hit Taichi with a Double Side Effect, and stand tall with their belts. This is interesting since if you count Cup matches, the Aces only have 1 win in matches with ZSJ or Taichi since the return, and normally heels pose before the title match. So it's an interesting look of instead of winning a brawl afterwards to "get heat back" the champions did it to "save face". 
CHAOS (Tomohiro Ishii, SHO & Toru Yano) vs LIJ (Tetsuya Naito, Hiromu Takahashi & Shingo Takagi)
Given the fact that this was mostly built around the SHO and Shingo match, it was still fun interactions all around. Ishii seems to have not forgiven/forgotten about his New Japan Cup loss and goes at Hiromu for a bit. Yano takes pot shots at Naito and Hiromu, while Shingo and SHO really seem like the only serious ones.
At one point when SHO was asking for a tag, Shingo was on the apron and yelled over to him and it seemed like "Wait for me to get tagged in. You want to be a big man? We go at each other" and SHO obliged. He did get tagged first, but gave Shingo the opportunity to get in the ring and go crazy. SHO even got a little bit of time with Naito, and he is definitely a star in the making.
Funnily enough, the finish was perfect since it involved Yano. Yano almost upset Naito a few times, but as he grabs Naito and Shingo's hair, Hiromu pops in, grabs Yano by the hair. They throw him into the corner, hit a few combination moves and Naito does the flourish with the Rolling Jacknife Cradle for the pinfall.
New Japan Cup Finals: EVIL vs Kazuchika Okada
This match played into their past, EVIL's current trajectory and Okada doing the Okada thing. EVIL got a quick jump on things, as he's done in the past, but Okada won't fall in a 2 minute match. EVIL applied his signature chairs with the chair wrapped around the arm into the ring post and of course, the Home Run Chairshot. Red Shoes was bumped and bullied quite a few times allowing EVIL numerous moments to uppercut Okada between the legs, Garvin Stomp the boys and even counter the Cobra Clutch with a well aimed backwards leg.
EVIL brought back memories of their first meeting when he hit Darkness Falls on a pile of chairs. Much like their first meeting, this match ended well for EVIL. At first when we saw Gedo run out to distract the referee and Yujiro hit the Miami Shine on Okada, announcers and everyone seemed confused. But once EVIL hit Everything is Evil to win the Cup, it all made sense.
He calls down Naito, they exchange a few words, Naito offers the LIJ fist bump and well…watch the gif below.
Welcome to the #BULLETCLUB 🤘 @151012EVIL

Replay "NEW JAPAN CUP 2020 FINAL" (July 11)
Watch on New Japan World▶︎https://t.co/CcdQ1XrpWA#njpw #njpwworld #njcup pic.twitter.com/bGRWlPgUM3

— njpwworld (@njpwworld) July 11, 2020
Overall Score: 7.5/10
Big story moments in this show, along with EVIL finally breaking out, made this show something special. All of the championship matches for Dominion were set up for a final punctuation tomorrow, and the return of a live crowd helped the overall experience.
Most New Japan fans thought that Taichi's wins over the Golden Aces in the Cup were to make the challenge seem more credible even though the Aces would retain. Now, with the Aces standing tall over Taichi in particular…that makes you wonder who's really winning tomorrow. Shingo versus SHO will probably exceed most expectations, but with EVIL leaving LIJ…I can't see Shingo dropping the belt already.
Moving us to the main event, I personally don't see Naito losing both belts fresh off a betrayal and wrestling hiatus. This will probably be the usual gang warfare style of match, since Bullet Club will interfere, so LIJ should repay that in kind. Since EVIL has been targeting the jimmies all New Japan Cup, and Naito loves baseball, if he doesn't wear a cup during the match I'll be shocked.
There we go, even after a fairly mediocre New Japan Cup, the final day pays things off and we have some great forward momentum.