Andrew's NJPW Dominion Results & Match Ratings 7.12.20
EVIL wins the New Japan Cup and betrays LIJ! Can Naito overcome the betrayal or fall victim to the World of Darkness?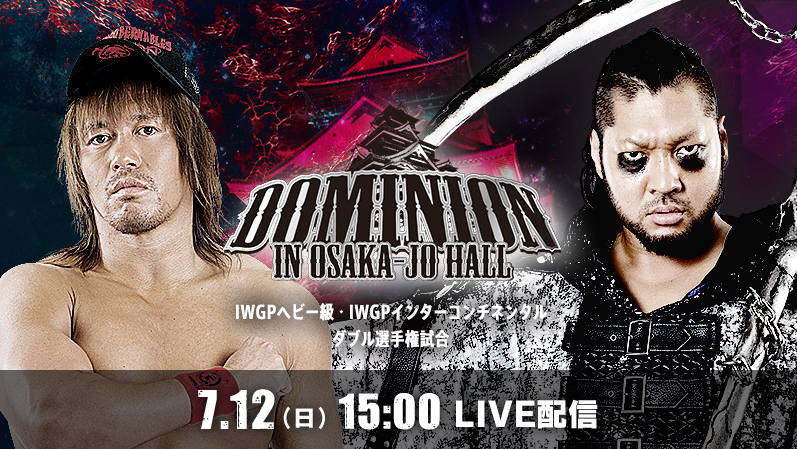 EVERYTHING! EVERYTHING IS EVIIIL. BULLET CLUB IS EVIIL – what, too much?
Okay so if you're reading this, you know that EVIL won the New Japan Cup thanks to joining the Bullet Club and betraying Los Ingobernables de Japon. But that's not the only big match tonight.
Kota Ibushi and Hiroshi Tanahashi have been holding the tag team titles as the Golden Aces, but Dangerous Tekkers made their challenge right before we went on hiatus. Taichi has since solidified the claim by beating not only Tanahashi, but also Ibushi in the New Japan Cup. Do the Golden Aces rise above the cheating ways of Suzuki-Gun, or will ZSJ and the Holy Emperor dethrone the super team?
Openweight championships don't always live up to their moniker. Many of them tend to just be for tough guys doing tough guy things. Finally we have a champion in Shingo, which brings believability to all challengers. SHO earned his shot by beating Shingo in the New Japan Cup, avenging the losses he absorbed last year from Shingo in the Junior Division. Does the Shock Arrow slay The Dragon?
Time to find out!
Ratings:
Satoshi Kojima, Yuji Nagata & Ryusuke Taguchi vs Tomoaki Honma, Gabriel Kidd & Togi Makabe: Nagata wins via Nagata Lock II @9:25 – ** 1/4
BUSHI, Hiromu Takahashi & SANADA vs Yota Tsuji, Toru Yano & Tomohiro Ishii: Hiromu wins via Boston Crab @10:15 – **
Yuya Uemura, Hiroyoshi Tenzan & Master Wato vs DOUKI, Yoshinobu Kanemaru & El Desperado: Desperado wins via Pinche Loco @9:45 – ** 1/2 
Taiji Ishimori & Yujiro Takahashi vs Kazuchika Okada & Hirooki Goto: Yujiro wins via Pimp Juice @9:40 – *** 1/4
NEVER Openweight Championship: SHO vs Shingo Takagi (c): Takagi retains via Last of the Dragon @20:10 – **** 3/4
IWGP Heavyweight Tag Team Championship: Golden Ace (Hiroshi Tanahashi & Kota Ibushi) (c) vs Dangerous Tekkers (Taichi & Zack Sabre Jr): Tekkers win via Tensho Zack Driver @28:45 – *** 1/2 – TITLE CHANGE!!!
IWGP Heavyweight & Intercontinental Championships: Tetsuya Naito (c) vs EVIL: EVIL wins via Everything is Evil @40:05 – *** 3/4 – TITLE CHANGE!!!!!
Results:
Satoshi Kojima, Yuji Nagata & Ryusuke Taguchi vs Tomoaki Honma, Gabriel Kidd & Togi Makabe
Ahh the tradition continues of the multi-man match with the Young Lion to take the fall. This was a solid enough starting match, where most of the veterans got their stuff in, and Gabe had a few moments to shine; but we all know what this is. Makabe did his laughing punches, Honma managed to hit a Kokeshi, even after Taguchi teased him a bit with his own variation; but the team with the Young Lion loses. It was what we've grown to expect from a New Japan opener, and that's not really a bad thing. It's nice for the veterans to have a moment to shine, since many fans still love them.
BUSHI, Hiromu Takahashi & SANADA vs Yota Tsuji, Toru Yano & Tomohiro Ishii
To say this is somehow less captivating is a little mean to the overarching point. Hiromu has "Why?" written on his wrist tape, multiple times and LIJ is obviously recovering from the betrayal. So it's actually a great match to have them go against one serious threat, Yano and a Young Lion. LIJ didn't miss too many beats, there was a small miscommunication with Hiromu and SANADA, but they still pulled off a few of their renown well timed triple teams.
Yuya Uemura, Hiroyoshi Tenzan & Master Wato vs DOUKI, Yoshinobu Kanemaru & El Desperado
Well this match built from yesterday's Cup Finals show. After defeating DOUKI, Wato was attacked by Kanemaru, and Tenzan made the save. So we see the Suzuki-Gun Juniors against a rag tag trio. Since we've seen how the previous two matches have gone, we know that Yuya will lose this match, but it does take a while.
Surprisingly, Wato continues to impress in terms of his ring skill. His look is still a meme and I enjoy screaming his name like Wario…but he's really quite talented. Wato was attacked from multiple angles by DOUKI and Kanemaru mainly, where Tenzan tried to enforce some power, but the heel tactics were too much. After getting space, Wato tags in Yuya against Desperado, and that was the beginning of the end. There was a brief moment where I thought that Wato and Tenzan would win, because they wouldn't tag in the Young Lion. But the formula persists.
Thankfully this is the last Young Lion involved telegraph match.
Taiji Ishimori & Yujiro Takahashi vs Kazuchika Okada & Hirooki Goto
On paper, this is a crazy mismatch. But let's unravel a few threads, before we assume the finish is known. Ishimori and Okada, as well as, Yujiro and Goto had New Japan Cup matches. Plus, we also have Yujiro's involvement in the Finals match, hitting Miami Shine on Okada to allude to the EVIL alliance change. Given all the cheating and subterfuge, we can only assume Gedo has a plan for this match since he sees the mismatch as well.
Okada comes out with tape on the neck and upper shoulders (the same area that was taped during his feud with Kenny). Okada wants Yujiro, but gets Taiji and from that point forward we do get solid action. Taiji uses his speed and agility to take advantage of a banged up Rainmaker, while Yujiro mostly picks his spots. It looks like the smaller Bullet Club team is done towards the end, but Gedo comes out and starts beating and choking Okada with a wrench while the referee is paying attention to the ring.
So Goto hits the Ushigoroshi on Yujiro, looks for a finish, but Taiji slides in. Backstabber and Bloody Cross stop Goto enough to fall victim to Pimp Juice. Gedo throws in Okada, and Yujiro hits him with Pimp Juice for good measure. So Bullet Club will be Okada's hurdle for the foreseeable future.
*Cleaning Intermission*
NEVER Openweight Championship: SHO vs Shingo Takagi (c)
SHO brought everything and then some in this match. It starts off fast with strikes and power moves and never really feels like it slows down. SHO has a very smart game plan, by focusing on Shingo's right arm the entire time. This took a lot of sting out of Pumping Bombers, strikes and made it harder for Shingo to pull off his two big moves Made in Japan and The Last of the Dragon.
Both men showed a lot of heart and resolve during the bout, and it reached a point where anyone could've won. SHO locked in a cross armbar, which transitioned into a Triangle Choke when Shingo tried to fight out of it. But Shingo either barely made it to ropes, or found just enough strength left in his arm to lift up SHO and slam him. Death Valley Drivers, Powerbombs, sometimes countered, but always impressive that Shingo just refused to look weak.
There was great selling, tremendous action and two guys just beating the hell out of each other. Shingo did manage to retain, but he looked beat to hell. Which allowed El Desperado to attack him after the match and most likely issue a challenge for the belt.
IWGP Heavyweight Tag Team Championship: Golden Ace (Hiroshi Tanahashi & Kota Ibushi) (c) vs Dangerous Tekkers (Taichi & Zack Sabre Jr)
So Golden Ace got a quick jump, dumped out ZSJ and double teamed Taichi early on. But despite the fast start, it became slow, painfully slow at times. Taichi and Ibushi trading kicks, ZSJ flying around trying on different submissions, but nothing really caught attention. It wasn't until there was a dual submission spot where Taichi had Ibushi in the Stretch Plum and ZSJ flew across the ring to put Tanahashi in a Guillotine Choke, that the match started to pick up.
From here we see a lot of illegal everyone in the ring shenanigans, but at least it was starting to get interesting. Apparently the tandem Side Effect that I called it yesterday is called the Golden Blade. But aside from that, Tanahashi nearly wins the whole thing himself with a High Fly Flow, but ZSJ gets his knees up. At this point, ZSJ distracts Red Shoes and Taichi pulls out the Iron Fingers from Hell. Taichi wipes out Ibushi, Tanahashi dodges the initial swing, but just when you think there's a comeback in the midst, they dissect the Ace. Taichi holds Tanahashi and ZSJ does what feels like a dozen Dragon Screws and Inverted Dragon Screws to both of Tanahashi's legs.
After crippling the Ace, they punctuate the match with the Tensho Zack Driver (Superkick/Michinoku Driver combination). And…wait…we have new champions! This was the match that felt like it had the most chance for a title changes, but WOW, curious where Ibushi and Tanahashi go from here.
IWGP Heavyweight & Intercontinental Championships: Tetsuya Naito (c) vs EVIL
EVIL with new ring gear, music and a cape with shoulder pauldrons instead of a cloak and scythe. Naito on the other hand comes out in a black suit instead of his usual white. Black being the color of mourning, seems very fitting.
After powdering for the first minute or so, Naito hits him with the Baseball Slide and goes after him on the outside. Naito throws EVIL into the barricades rather unmercifully and you can see the hurt and betrayal in his eyes. However, like all offensive bursts, EVIL turns this around eventually. EVIL maintains a cocky air about him the entire time. He even goes as far as to grab Milano's light up scythe and break it. This enrages Milano to the point of coming over the barricade from the announce table, but EVIL hits him in the gut and tosses him into the guardrail.
EVIL continues with the heel tactics, removing the turnbuckle pad, hair pulling and of course weapons. The biggest spot being when EVIL drove Naito through a table, knee first (we all know Naito's knees are awful). This was amplified when Red Shoes grabbed a piece of table as a shield to stop EVIL from destroying Naito's knee further with a chair. Even with his back cut open, Naito beat the 20 count. From this point forward it was a dog fight.
EVIL's arrogance slowed the pacing down, which allowed for Naito to get some offense back in. But with every incredulous stomp, or swipe across the head, you could nearly see Naito's expression just being that of disappointment. The type of emotion where you can't believe the person betrayed you like this. We do finally learn the name to Naito's new move, Esperanza.
However, this is the day of newer moves getting official names, yet the champion still loses. Ishimori and Jado first interfere, but Hiromu runs them off. Then someone comes out in what seems like a BUSHI mask and LIJ gear. Naito lowers his guard think it is BUSHI, only to get choked out. EVIL hits Everything is Evil…and we have a new double champion!
Dick Togo is revealed as the masked man, EVIL's pareja, and Hiromu runs back down to the ring. Hiromu demands answers and then issues a challenge for at the very least, one of the titles. EVIL smirks, doesn't respond and walks off. Hiromu is left in the middle of the ring, screaming and carrying on. His world, his family, his match dreams with Naito…all destroyed in two days, by EVIL.
Overall Score: 7.25/10
You could feel in every match, except SHO and Shingo, that this entire return month has been a little throw together. They did the best with what they have, and that can't be understated; but much of this seems a little random if you try to marry it up with how things were going before quarantine. So while it was a decent show, some of the outcomes are definitely wait and see, to see if they suck or not.
Shingo and SHO had a match that could be considered a MOTY by some. Taichi finally getting a real taste of Heavyweight gold in New Japan is nice. That does however, leave us all wondering what to do with Tanahashi and Ibushi. Maybe NJPW just needed to free them up for singles angles against the new 100% heel champion EVIL?
Speaking of EVIL, I don't think many people really predicted this. With the popularity of LIJ, Naito's reign being truncated by a pandemic and a betrayal. Many, including myself, thought this would be Naito persevering since it's finally his time. Apparently, Gedo felt differently and now we have to wonder if Naito will ever get a respectable run, or if he's just cursed to be in this popular but not champion role. I was however saying that this tournament was a chance for EVIL to breakout, I just didn't anticipate THIS much.
Now New Japan is part of the Darkness World. IWGP Heavyweight Championship, IWGP Intercontinental Championship, NEVER Six Man Tag Team Championship…the triple crowned King of Darkness…EVERYTHING IS EVIL!