Andrew's NJPW Strong Ep.3 Results & Match Ratings 8.21.2020
We reach the Finals of the New Japan Cup USA! Will it be KENTA or David Finlay to earn the right to challenge Jon Moxley?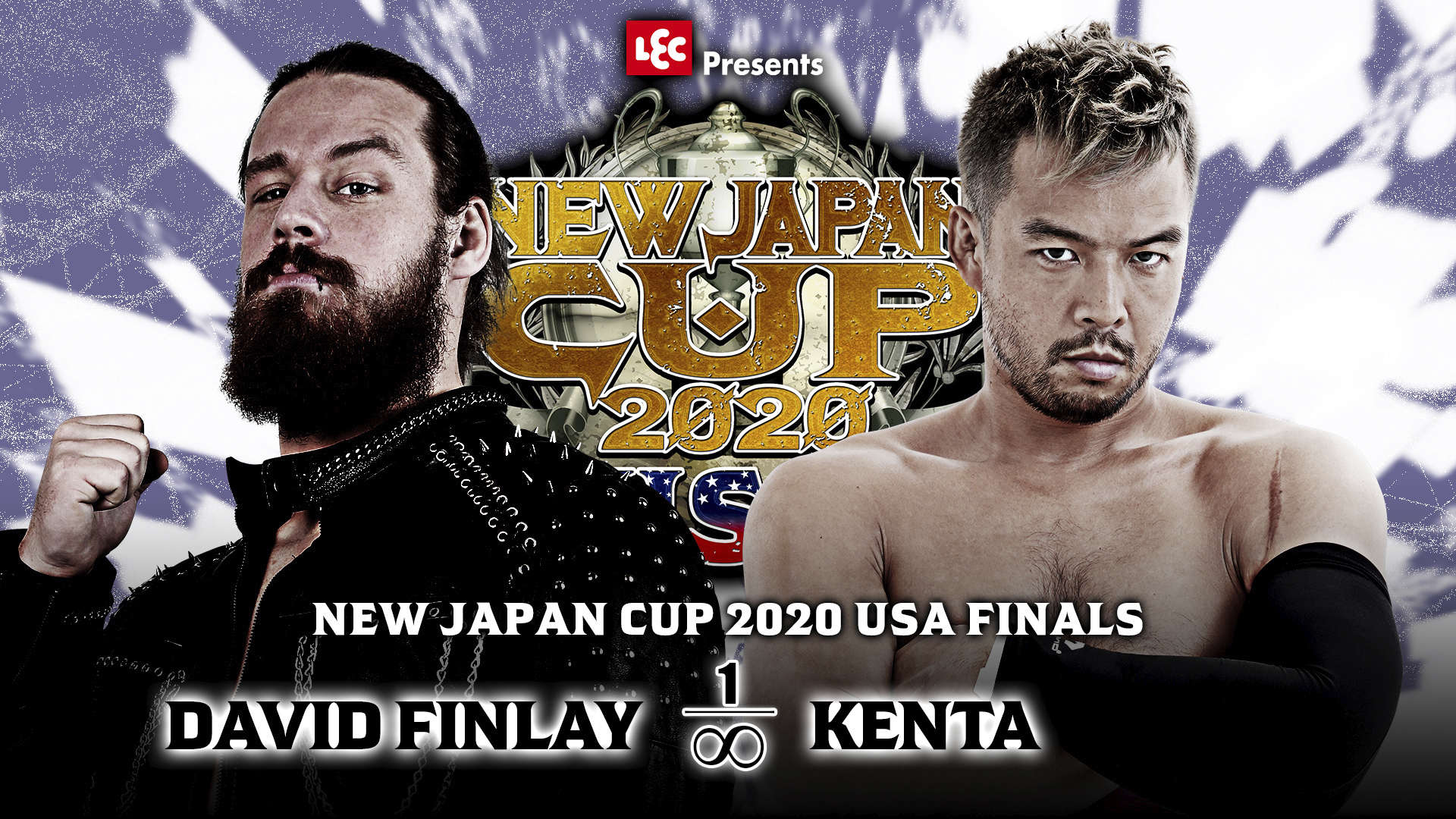 We reach the Finals of the New Japan Cup USA! Will it be KENTA or David Finlay to earn the right to challenge Jon Moxley?
In other news, the pre-Quarantine defacto leader of Bullet Club, Jay White, returns to a New Japan ring. Is this a precursor for another Bullet Club civil war?
It's time to put a bow on this tournament!
Ratings:
Rocky Romero & Adrian Quest vs Danny Limelight & The DKC: Rocky wins via Shiranui – **
Brody King & Flip Gordon vs Jay White & Chase Owens: King wins via Over the Shoulder lift into Piledriver – ***
NJPW Cup USA Finals: KENTA vs David Finlay: KENTA wins via Go 2 Sleep – *** ¾
Results:
Rocky Romero & Adrian Quest vs Danny Limelight & The DKC
So, this feels like one of those ROH style matches that people complain about with New Japan in American buildings. Rocky is proven and that's great to see him back…but what the hell is the rest?
Let's break things down, Limelight apparently had a few Lion's Break matches and Rocky took some interest. Limelight does have some promise, his moves were decent, but this was a flat match. The DKC on the other hand…he's awful. Firstly, you've been wrestling for 2 years, you can't sell, you look like a dweeb, you ain't THE anything, except maybe THE Jobber or THE Fall Guy. Terrible name, lame work, he was the biggest black eye on this match.
Adrian Quest however showed some promise and athleticism, especially at the end when he hit a big Springboard Corckscrew Moonsault to open the finish for Rocky. When it comes to overall ring work, it was mostly alright. But DKC made this a hard watch and the lack of a tangible reason to care made this yet another boring opener.
Brody King & Flip Gordon vs Jay White & Chase Owens
Even though there isn't much of a story here, we're dealing with people most of us are aware of at least.  The Bullet Club tandem keep Flip mostly grounded and isolated through a good portion of this match. Jay continues to remind everyone about his cerebral approach to the profession, and Kevin Kelly furthers that by implying that Jay had something to do with EVIL's betrayal.
A really solid tag match, where Jay had a great spot after snapping off two quick DDTs on Flip and Brody, it looked like Chase was gonna clean up. But when Brody matched up with him, Chase just didn't have the size to pull off the Package Piledriver, so Brody flung him around, Flip cleared out Jay and then Brody murdered Chase.
After the match Hikuleo hits the ring, after Jay tried to Blade Runner Flip. A nice big boy battle ended with Hikuleo hitting a Lifting Flatliner and looking like the dominant big man. Nice to see Hikuleo back and healthy, and looking more competent in the ring.
NJPW Fighting Spirit Unleashed tour is announced to be the content for the next few Strong episodes. So that basically solidifies that NJPW Strong is basically gonna be the NJPW USA show.
NJPW Cup USA Finals: KENTA vs David Finlay
This was surprisingly hard hitting given that KENTA has been a very half-assed heel version of who he used to be and David Finlay isn't exactly the brawler that his father is/was. Finlay did come out with a solid plan, but KENTA fell back on his powdering out and this stalling heel tactic.
Finlay was caught in the ropes a few times and left open for big kicks and that Jumping Knee Strike, but he never stopped coming forward. Finlay fought back the entire match, even exploding from the corner with a great Spear. It looked like Finlay was trying to focus on KENTA's injured shoulder and neck, to soften him up for Prima Nocta. But honestly, it was very back and forth, so it turned into more of a fight then a methodical attack.
KENTA however never seemed to waver from his plan. Sure the match was a scrap, but every time it got a little too hot, he'd powder, or shove Finlay into the referee and hit the trademarked kick to the boys. Finlay did manage to kick out from the Low Blow that took down Jeff Cobb, but he still succumbed to the Go 2 Sleep.
Not Finlay's best match ever, but his best match in a while. If we get more of this Finlay, he might be a legitimate single contender soon.
Post-match KENTA starts in English saying it's his time and he's coming after Jon Moxley. But as he goes into his Japanese promo, Jeff Cobb hits the ring still pissed about the cheap way KENTA beat him in the semis.  So KENTA will likely have to defend the briefcase rights against Jeff Cobb during the Fighting Spirit Unleashed tour.
Overall Score: 6.25/10
So the opening match really was less than inspired and didn't do much to help excitement for the rest of the show. However, with Jay White's first match since quarantine and the first time we've seen Hikuleo in NJPW since his injury in 2018. It looks like the excursion experience in RevPro really helped polish his ability a bit.
Plus we got a pretty good main event match, when you can never be sure with KENTA's current persona. The show also did a good job trying to build possible feuds with Jay White and Flip, Hikuleo and Brody King, and of course, Jeff Cobb wanting revenge on KENTA. So with the USA division seemingly self-contained, we finally have tangible stories and something to build towards.  A strong finish with good story points helped this show turn from irrelevant to pretty damn decent.