NOAH WEEKLY NEWSLETTER VOL.125 ~ 11TH MARCH 2021
Right before Mutoh's first GHC Heavyweight title defense; Hisame breaks down the preliminary NOAH action and a title change!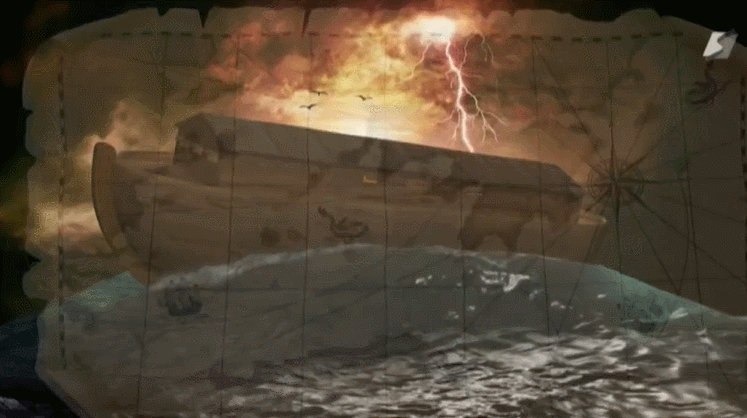 Right before Mutoh's first GHC Heavyweight title defense; Hisame breaks down the preliminary NOAH action and a title change!
NEWS
The AGGRESSION return
For months NOAH had been building up to an eventual Masa Kitamiya vs Takashi Sugiura showdown, which was the main story of the title match on the 7th March at the Yokohama Budokan, when THE AGGRESSION challenged The Sugiura Army (Takashi Sugiura & Kazushi Sakuraba), for the GHC Heavyweight Tag Belts. The sub-story was Katsuhiko Nakajima being a target for Kazushi Sakuraba's "Calf Cutter", which had won The Sugiura Army the last pre-match, and it played its role in the final stages of the match when Kitamiya had to break free of Sugiura to get into the ring and break the submission hold, which puts pressure on the area following the kick.
The final stages of the match came down to Takashi Sugiura vs Masa Kitamiya. After a Prison Lock (which Sakuraba broke, causing Nakajima to scream at Kitamiya to finish the match), a Saito Slam and a brutal punch flurry, Kitamiya locked in another Prison Lock and seeing that Sugiura was not going to quit, he delivered a brutal headbutt, which caused blood to cascade down his face, and took the pin for the win.
No challengers came forward immediately, but Kitamiya did say the next day at the traditional day after press conference, that he had had enough of what he termed as "Old Man matches" and would be looking for a young team to challenge.
"Just what did happen in Tokyo, Kenoh?" ~ Kenoh, Kendo Kashin, the infamous press conference and a new challenger. 
 NOAH has had it's press conference fights (usually involving Kenoh), it's non-scenical promos (YO-HEY), it's people who don't turn up because they don't want to and in the end NOAH stop asking them (STINGER), but it's never ever had anything like what happened on the 4th March.
After Kenoh had finished growling about Kendo Kashin, Kendo Kashin sent a message via Ally (the NOAH ring announcer), apologizing for not attending, and addressing Kenoh by his real name (Daisuke), he had a giant box wheeled in. Kenoh (after instructing Ally to open it, which he didn't), went to open the box and then jumped back (with a smile on his face I might add), as a figure rose out of the box and fired a streamer. Kenoh was too distracted by this to notice a familiar figure, (Kendo Kashin in the "Cheap Pirate" or "Pirate Maru"), sneaking up behind him to attack him. The figure in the box, who turned out once again to be NOAH's much put upon bus driver, Mr Orange, made a hasty retreat and Kenoh was left lying in the shreds of "the present".
Kendo Kashin wasn't through with Kenoh, and kept up his antics; attacking him dressed as one of THE LEAVE MASKS (LEAVE MASK NUMBER 4 to be exact), at the FULL THROTTLE produce. Kenoh had thought nothing of the figure wearing it and playing with his phone when he made his entry, believing it was just one of FULL THROTTLE. Later, after being jumped after the match, Kenoh was angry at the fans for not telling him that Kendo Kashin (who claimed to be Hajime Ohara), was standing behind him. Kenoh later admitted that Kashin had gotten into his head.
Fortunately for Kenoh, Kendo Kashin (and only Kendo Kashin), turned up for the title match. Enraged beyond Kaito Kiyomiya levels, Kenoh came to the ring shouting at Kashin, and then without even doing his pose, he threw aside his coat and the match began. I don't think Kenoh has ever had a match like this, let alone such feud, as it involved Kashin grabbing some perspex from the commentary table and trying to somehow choke Kenoh with it, loosening his boot which meant that when Kenoh went for the ankle lock the boot slipped off, and the usual low blows, which had Kenoh squirming around on the mat. However, Kenoh won the match by two brutal P.F.S, and retained the title after 11 minutes and 13 seconds.
Planting his angry red boot firmly on Kendo Kashin's chest, Kenoh got on the microphone and started looking around for a new challenger. He found him at ringside, someone as far removed from Kendo Kashin as possible, someone who wouldn't dress up in a variety of madcap costumes to attack him. This person would make him the strongest if he defeated them.
This person was the man who further damaged Go Shiozaki's eyesight, made one of his eardrums tear and made his hearing worse, and dislocated his jaw…Kazuyuki Fujita.
Fujita accepted Kenoh's challenge by getting into the ring, and putting his own heavy foot on Kashin's chest, Fujita accepted the challenge. Then they got into a scuffle, which was quickly broken up by their seconds.
At the press conference the next day, (which for Kenoh's sake was free of the threat of strange presents or men in masks), Kenoh addressed the title match saying that he was terrified of Kashin, and had nominated Fujita as challenger for two reasons, the first being that he wanted to use the GHC National to protect NOAH and get rid of "the old men", likening NOAH to a retirement home, and the second being that if he could defeat Fujita, he would become the strongest.
Title match has been set for Korakuen Hall on the 21st March.
Mutoh vs Kiyomiya, Go Shiozaki hints at challenge
The final pre-match between Keiji Mutoh and Kaito Kiyomiya ended in frustration, when neither pinned the other in Yokohama on the 7th March. Kiyomiya left the ring looking angry, after slapping the mat.
The match signing was held on Monday 8th March. Mutoh did most of the talking (including saying that the red light district in Fukuoka, which seemed to be more of a risk to him than Kaito Kiyomiya), but Kiyomiya did hint that he had a special move up his sleeve, and one he had been saving since he last fought Mutoh in August 2020.
Go Shiozaki is waiting in the wings, commenting that if Mutoh challenged then he would challenge Mutoh, if Kiyomiya won then he would challenge Kiyomiya. However, Naomichi Marufuji has also hinted that he is after a belt, and I doubt he is going to give up the chance to challenge Mutoh. Shiozaki said that he was looking forward to seeing what happened in Fukuoka, and it may well be something he was not expecting.
"Funky Express"
With a new hair and new clothes, Shuhei Taniguchi has become a disco dancing machine, complete with funky glasses, and a yellow boa. Naomichi Marufuji seems pleased with the idea, saying that Shuhei Taniguchi looks happier than he has seen him for a long while, Akitoshi Saito, however is not as impressed.
After The Anti Wrestlers Alliance had beaten Funky Express on the 8th March in Yokohama, Saito asked Taniguchi why he was wearing such clothes, to which Taniguchi said he was "Funky with Yone". Yone told Saito that he could talk, no one wore such "Showa style" clothes as him anymore. Saito said they did. Eventually a challenge was formed, the losing team will wear the costume of the winning team, and if Akitoshi Saito is to be believed, Masao Inoue is going to be put in charge of making them. The match will take place on the 21st March at Korakuen Hall.
I get the impression that this is going to be far more than just a comedy match, it will no doubt have some repercussions.
EVENT RECAPS & POST MATCH PROMOS
Event recap: "Engine Zenkai" ~ The FULL THROTTLE PRODUCE (Saturday 6th March, Yokohama Radiant Halls)
Event recap: "Great Voyage in Yokohama" (Sunday 7th March, Yokohama Budokan)
ELSEWHERE IN NOAH
~ Kenoh is refusing to discuss the CyberFight Festival
~ Junta Miyawaki will be facing Yoshinari Ogawa on the 14th March in Fukuoka. Kotaro Suzuki is not going to be the ref this time.
~ Daisuke Harada posted a video of him training in the NOAH dojo with 120kgs of Yoshiki Inamura on his back.
~ At The FULL THROTTLE produce, YO-HEY was waving around a glowstick, which Hajime Ohara took off of him, and handed it to Seiki Yoshioka…who handed it back to YO-HEY.
~ Masao Inoue's fifty-first birthday was celebrated in traditional NOAH style. This means that he was chopped, this year by Go Shiozaki. Inoue claims he is only 40.
~ Keiji Mutoh wrestled NOAH's Yokohama Budokan event suffering from enteritis. He says he lost 5kgs during his illness.
~ Atsushi Kotoge won the final pre-match between himself and Seiki Yoshioka.
~ After the Kongoh juniors intruded into NOSAWA Rongai's match against FULL THROTTLE at their produce, Hajime Ohara, using untypical language for himself, declared war on Kongoh saying "Hey, Kongoh! They aren't your only enemies! We, Full Throttle, are too! It's a full scale war, assholes!" The issue between NOSAWA and Tadasuke has been resolved (according to NOSAWA), which leaves FULL THROTTLE to fight Kongoh.
~ Go Shiozaki appears to have found a home with his fellow NOAH born, Kaito Kiyomiya and Yoshiki Inamura.
CURRENT CHAMPIONS
THIS WEEK IN NOAH
Friday 12th March: Kenoh will be the special guest on BATTLEMEN
Sunday 14th March: "Great Voyage in Fukuoka" (Starts 15:00 JST)
BROADCASTS
*Please note, unless stated it is a free stream, you must be a subscriber to WRESTLEUNIVERSE to view events. Subscription is free for first month, then 900 yen per calendar month. You can sign up from anywhere in the world. All ABEMA shows are eventually put on WRESTLEUNIVERSE.
"Great Voyage in Fukuoka" will be broadcast via the following:
~ ABEMA
Free and worldwide. Coverage starts at 2:30 JST. If you cannot catch the event at the time of broadcast, you can watch it for seven days afterwards before it gets put on WRESTLEUNIVERSE.
Japanese commentary.
~ FITE TV
The event can be purchased for $19.99. English commentary. Please check the FITETV twitter account as they often have competitions were you can win a free viewing code.
LINKS
The Sugiura Army & The AGGRESSION: GHC Heavyweight Tag Match signing
Invitation to the "young guys who think I am", new tag champions Nakajima & Kitamiya press conference for the first title defense 
To counterattack Fujita, National Champion Kenoh declares, "Hunting the strongest old man…"
Manabu Soya ~ Press conference for match against Kazuyuki Fujita
"Switch off Kotoge", champion Yoshioka to build a new landscape, 14th March GHC Junior match signing ceremony
GIFS taken from NOAH Official YouTube and WrestleUniverse
Picture credit: Daisuke Harada
Andrew's AJPW Champion Carnival Results & Match Ratings: 4.11.2021
Day 3 of the Champion Carnival had video on demand issues, so it wasn't uploaded until the 12th. Hopefully Day 3 continues the positive momentum the first two days have already created!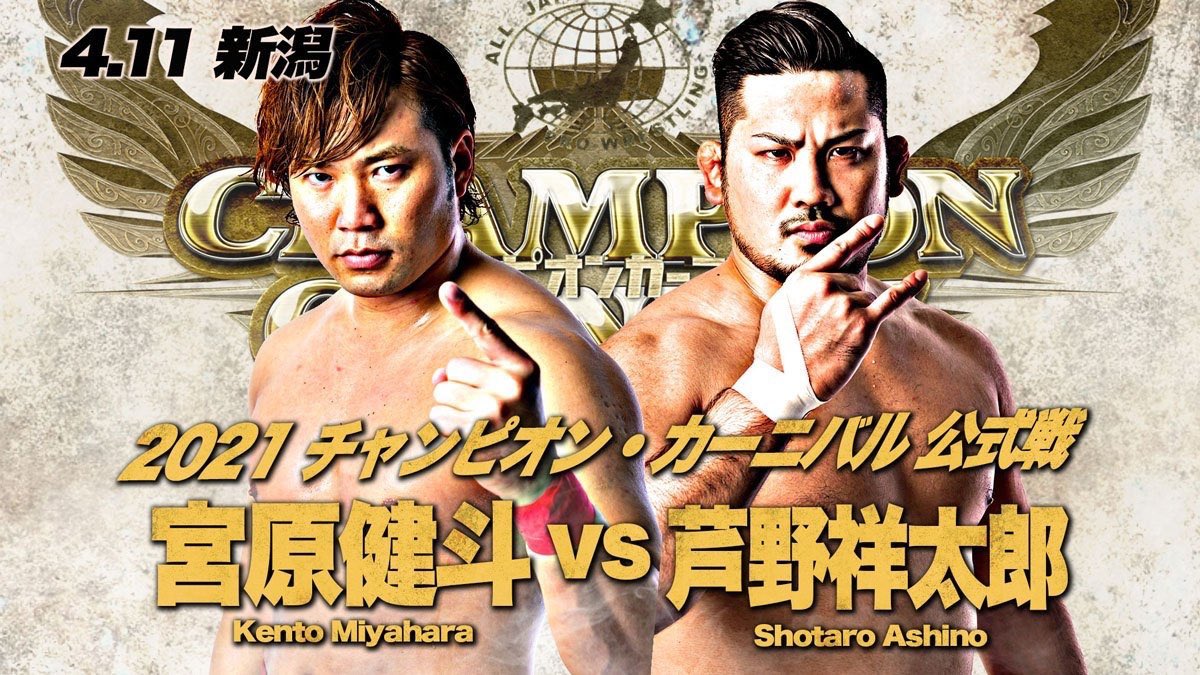 Day 3 of the Champion Carnival had video on demand issues, so it wasn't uploaded until the 12th. Hopefully Day 3 continues the positive momentum the first two days have already created!
Hard to say I wasn't a little annoyed the VOD took so long to post, but better late than never; especially when the next event isn't until the 17th.
Anyway though! Zeus looks to topple the current Triple Crown champion and continue his undefeated Carnival streak and Ashino has to do something to get off the bubble; but Kento is a big ask. We could be looking at a quick favorite to win as well as the walking dead.
Let's hope nothing too drastic happens! Check it out!
Match Ratings:
Jake Lee vs Koji Doi: Jake wins via D4C @8:10 – **
Shuji Ishikawa vs Yuma Aoyagi: Ishikawa wins via Single Leg Cradle @11:13 – ***
Kento Miyahara vs Shotaro Ashino: Ashino wins via Grapevine Ankle Lock @12:11 – *** ½
Zeus vs Suwama: Zeus wins via Jackhammer @19:52 – *** ¾
Results:
Jake Lee vs Koji Doi
Total Eclipse inner faction fighting! Since Jake is the leader, he starts off in typical heel leader fashion telling Koji to lie down and eat the pin. Koji lies down; Jake drapes himself in a cocky cover, so Koji goes for the crucifix at the 2 count. Jake snaps up and he looks shocked that Koji went against an order, but then we get to a match.
Koji does a solid job keeping Jake off balance with power attacks, Shoulder Tackles and an interesting Football Tackle with the lift and slam. Jake eats a decent amount of offense, including a few short arm Lariats, before he starts stabilizing with Knee Lifts and Yakuza Kicks.
Lucky for Jake, even though Koji countered the D4C once, after Giant Killing, Koji wasn't countering anything. Jake hits D4C and gets his second win of the tournament! Not a flashy match honestly felt a little silly at points with how quiet and echoed the arena made the match feel. Hopefully the setting doesn't continue to plague the atmosphere of the matches.
Shuji Ishikawa vs Yuma Aoyagi
Now this was decent, though the hollow quiet atmosphere of venue is really detracting from the matches. Yuma was trying to find openings, but Shuji continued to run him over and abuse him with power early. And it was during these slower spots, the deafening silence of the venue made for weird watching.
Even though Shuji hit a Scoop Slam into the corner of the arpon, multiple Tsunamis and a flashing Scoop Fire/Thunder Driver, Yuma stayed resilient. Yuma nearly made the bigger man tap in End Game, but Shuji was able to find the ropes. Yuma hits an O'Connor Roll into the Japanese Leg Clutch, Shuji manages to get out of that, goes for a Tsunami, Yuma slides and tries to scoop Shuji for a Roll-Up, but at two Shuji manages to reverse the Roll-Up, grab a single leg and keep Yuma down for a three count!
Even though I have yet to be convinced by Yuma, the fact he got a finish that still made him look strong while putting up a good fight against a decorated opponent like Ishikawa; that says a lot about his potential rise on the card.
Kento Miyahara vs Shotaro Ashino
Ashino is in the unenviable position of last place after two days. With a 0-2 record, he really REALLY needs this…and he of course has Kento as his roadblock. They've traded wins in the past, and come off as rivals who don't really like one another.
The match starts quick with Ashino shooting the half, grabbing a leg and searching for the Ankle Lock early. Kento fights out, but Kento is surprised and Ashino stays on him. Ashino pulls Kento to the ring post and wraps Kento's left leg against the post a few times. Kento fires and Snake Eyes lands Ashino into the corner of the apron.  This gives Kento plenty of time to walk off the early ankle damage and play into his cocky arrogance, all while messing with the referee and his opponent.
Whenever Ashino managed to get back in the ring, he was greeted by Blackouts to the front and back of his head. It wasn't really until Kento went for the Shutdown Suplex, that Ashino hit a second wind. Both men trade German Suplexes, Ashino continues with a Deadlift Overhead suplex and he starts building momentum back.
He teases a German from the apron to the floor, but Kento blocks, fights off and Piledrives Ashino instead. Kento fires off Blackouts as Ashino once again barely beats the count out, but after landing his ninth Blackout of the fight, Ashino grabs the left leg, rolls through and goes for the Ankle Lock. Kento tries to fight off, but Ashino refuses to let go, readjusting, rolling through, pulling Kento back into the center away from the ropes; eventually dropping down into the Grapevine. Kento has no other option but to submit!
Ashino finally gets on the board, and Kento joins him in the 1-2 portion of the standings! I wonder how much the ankle will play into the rest of Kento's carnival.
Zeus vs Suwama
Last year during Zeus' carnival winning run, he had a match with Suwama which resulted in Suwama sustaining an arm injury. Thanks to this knowledge, and the sting of a failed challenge when Suwama recovered, Zeus came out attacking the arm and trying to replicate some of his success from last year.
The beauty in Zeus' arm attacks, is not only were the Key Lock and Arm Bars effective to play on the old injury, they also inhibited Suwama from executing the Last Ride Powerbomb. Zeus' attack really did great, as well as giving him the power advantage against someone who can usually match him in that department. Zeus lifted out of Boston Crabs, met Suwama head on with Biceps Explosions and even broke out the Frog Splash a few times.
In a nice reference, Suwama was able to fight out of the Arm Trap Facelock this time, but Zeus had too much of an advantage. Zeus peppered in Chokeslams, Lariats, another Frog Splash and eventually ended the match with an impactful Jackhammer. This was a solid struggle throughout, injured only by the awkward venue setting.
Who will be the first person to hang a Carnival loss on Zeus since 2019?
Overall Score: 6.75/10
While there wasn't really a lot to complain about in terms of action, I really hated the venue. With the Japanese crowd rules of not being able to scream and having to just clap or stomp, it was very noticeably irritating in this event.  Slower moments felt empty and stupid, almost back to the empty Quarantine times, which definitely impact smaller events and smaller companies.
Aside from that, we got a lot of really great finishes. Ashino finally getting on the scoreboard AND over Kento is great. Zeus continuing his streak from last year, Jake well…doing Jake things and Shuji looking strong as a current title holder should. Otani and Sato were missed a little today, but let's check out the standings!
 Standings:
Zeus: 3-0 – (6 Points)
Shuji Ishikawa: 2-1 – (4 Points)
Jake Lee: 2-1 – (4 Points)
Shinjiro Otani: 1-1 – (2 Points)
Kohei Sato: 1-1 – (2 Points)
Shotaro Ashino: 1-2 – (2 Points)
Kento Miyahara: 1-2 – (2 Points)
Suwama: 1-2 – (2 Points)
Koji Doi: 1-2 – (2 Points)
Yuma Aoyagi: 1-2 – (2 Points)
Lucha Central Weekly: NXT Takeover Stand & Deliver…DELIVERS! Plus Too Many AEW Factions, WWE WrestleMania Week, and more!
The world of Lucha Libre comes alive on the Lucha Central Weekly podcast, discussing Takeover, AEW Factions, and more!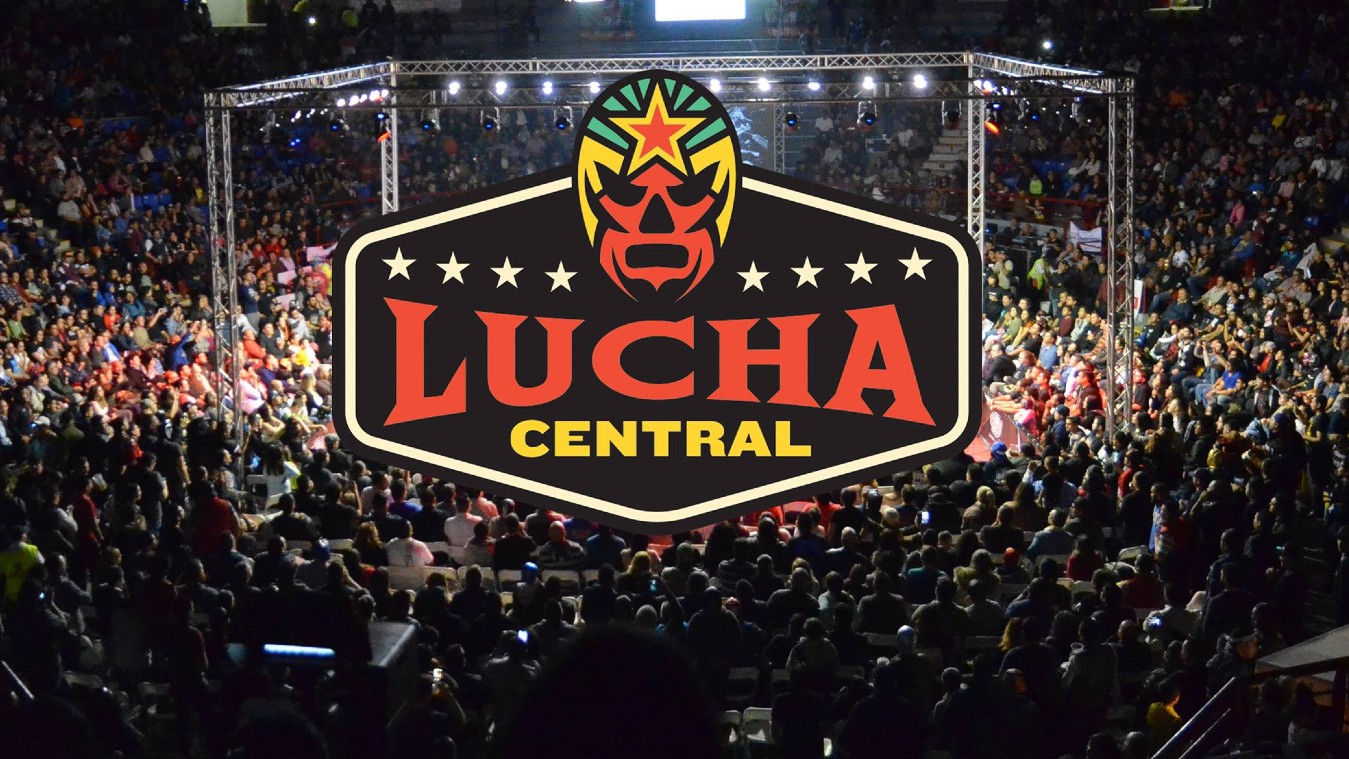 The world of Lucha Libre comes alive on the Lucha Central Weekly podcast, discussing Takeover, AEW Factions, and more!
Powered by RedCircle
Join Miranda Morales, Brendan Barr, and Dusty Murphy as they bring you another edition of Lucha Central Weekly–one just as action packed as lucha libre itself!
This week the trio discusses the abundance of factions on AEW, the week-long celebration that is WWE WrestleMania, and a look at NXT Takeover Stand & Deliver!
About Lucha Central Weekly
Your one-podcast stop for all of the week's top stories from around the world of lucha libre and lucha libre around the world. Join hosts Miranda Morales, Brendan Barr, and Dusty Murphy along with special guests as they cover Lucha Libre AAA, CMLL, top Mexico indies as well as lucha related matches in WWE, Impact Wrestling, All Elite Wrestling, Ring of Honor and beyond. Whether you are trying to dive deeper into the world of masked mayhem or you've been following for decades, you are going to find things here you won't find on any other airwaves!
About the Chairshot Radio Network
Created in 2017, the Chairshot Radio Network presents you with the best in wrestling and wrestling crossover podcasts, including POD is WAR, Women's Wrestling Talk, The #Miranda Show, Badlands' Wrestling Mount Rushmores, The Outsider's Edge, DWI Podcast, Bandwagon Nerds, the Greg DeMarco Show, 3 Man Weave, Five Rounds, The Hardy Wrestling Podcast, Turnbuckle Talk, The Reaction and more! You can find these great shows each week at theChairshot.com and through our distribution partners, including podcasting's most popular platforms.
The Chairshot: Always Use Your Head
---
The Chairshot Radio Network


Your home for the hardest hitting podcasts and radio shows!
Listen on your favorite platform!
iTunes  |  iHeart Radio  |  Google Play  |  Spotify
Listen, like, subscribe, and share!
---