Mitchell's WWE Raw Talk Report! (7/19/21)
Raw Talk gets twisted!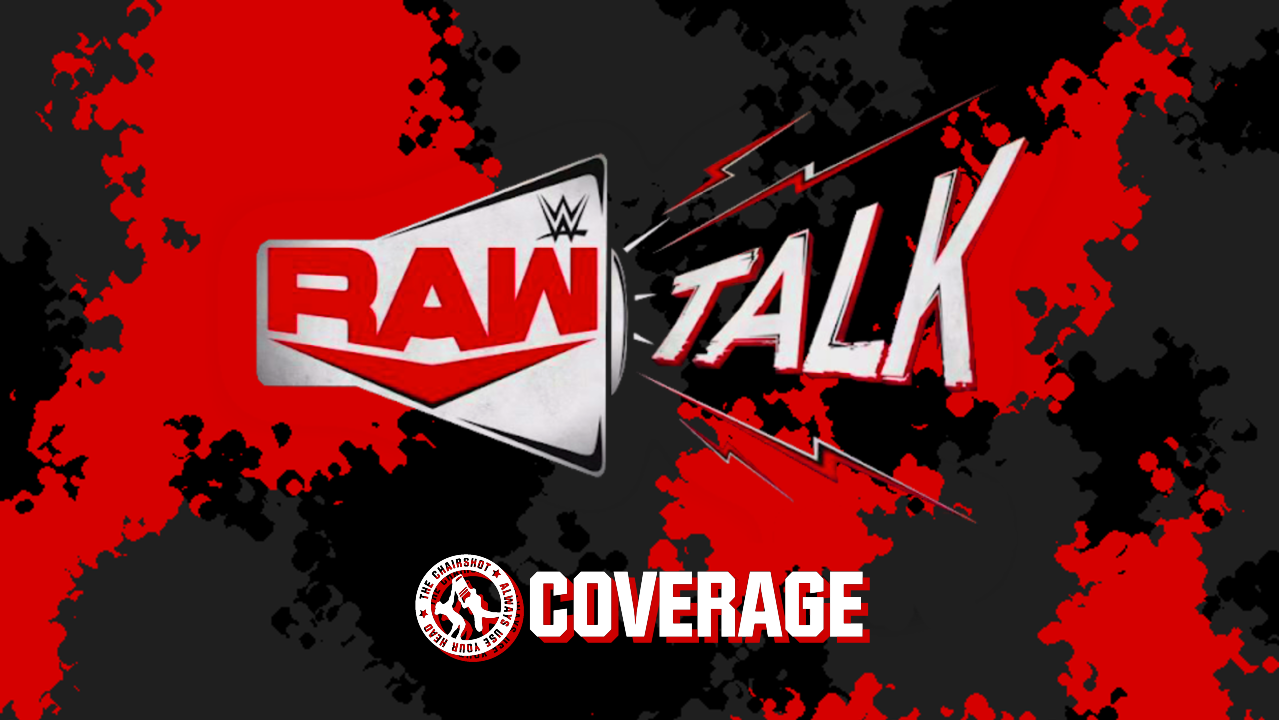 Raw Talk is live in Texas!
Fresh off the MITB Fallout, Raw Talk has the Scottish Warrior, the NEW WWE 24/7 Champion, and BOTH Alexa Bliss and Lilly! Are things gonna get twisted in Dallas?
In a grueling rematch with Rhea Ripley over the Raw Women's Championship, Charlotte Flair used Champion's Advantage to retain the title. But then Rhea got her right back for it, and that left The Queen vulnerable! Enter Nikki ASH, Almost a SuperHero, and THE 2021 Ms. Money in the Bank! Cash-in, win, we have another NEW Raw Women's Champion! Dallas exploded as it celebrated with Nikki,
Kayla Braxton welcomes us to the show!
She and Matt Camp are the cohosts for this one, from the WWE Command Center, but Kayla knows that's not really what's important. What IS important is Nikki Ash becoming the NEW Raw Women's Champion! Congratulations to Nikki, Kayla is so excited and proud. Matt says that was a moment. Nikki is Almost a SuperHero but she IS Raw Women's Champion! MITB wasn't the pinnacle, that was just the start, as Nikki closes Raw out as champion. But let's promote her to full superhero! She deserves it. She's been in the WWE for almost five years, and to have this moment in front of fans, that's awesome. And she also maintains the Women's MITB contract having a 100% success rate!
Another big moment was the return of John Cena! He showed his face, or did he? Yes, we could see Cena, both at MITB last night and Raw here tonight. But there was also Bobby Lashley's Open Challenge. It was answered by a returning Keith Lee, Lashley still won, but then after all that, GOLDBERG returned! Matt and Kayla were watching together, and they said this was a dream match teaser here. No one thought this would happen outside of the video games. But finally, Goldberg and Lashley cross paths! Goldberg was last here at the Royal Rumble, and he says he's next! We don't know yet what's happening, but clearly Goldberg has a title in mind. MVP is trying to shrug it off but there was no way MVP saw Goldberg coming.
Goldberg is always confident, but getting in Lashley's face could be what brought out a different side in Lashley. And whether that's a good or bad thing depends on who you ask. Ask Kofi Kingston, he probably got this side out of Lashley, and Lashley handled business last night and tonight. Two big wins in two nights, Goldberg was back, we all feel this is heading for a WWE World Championship, but time will tell. Kayla says we're going back on location to Dallas to talk with Alexa Bliss.
Alexa, and Lilly, are still in Alexa's Playground.
Alexa says if Lilly behaves, she can have all the ice cream and candy she could want. Lilly whispers and Alexa looks over to see Sarah walk in. She thanks them for having her, it's a pleasure to be here. A couple questions about tonight. Want to have a seat? No, that's quite alright. Sarah's in a dress, it'd be a bit awkward. Alexa likes the dress. Sarah likes Alexa's dress, too. But let's talk Eva Marie & "Doudrop" being on the Playground, interrupting Lilly's return. They said Lilly should be in the trash, what is Alexa's reaction to that? Alexa says she can't help but laughs at saying the name "Doudrop." Doudrop Doudrop Doudrop. You try it, Sarah. Okay. Doudrop. Sarah does admit, it's fun.
But anyway, Alexa says people say silly things all the time. Eva's being silly, and Alexa feels bad for her. Eva doesn't know what happens when you're mean to Lilly. But she'll fine out, teeheehee. Sarah did want to ask about Eva tripping on her way out. Care to comment? Alexa says Eva is just clumsy. She might've tripped on the high horse she rides on, but Eva's just silly. Bit delusional, that one. Uh-huh… Sarah thanks Alexa for her time and having her on the playground. Any time! Lilly and Alexa wave good-bye, and we go back to the studio.
Kayla feels that might've been the most normal moment on Alexa's Playground. But after the break, Kayla and Matt will talk Cena's return, and have an interview with the NEW WWE 24/7 Champion, Reginald!
Raw Talk returns to talk about John Cena!
The leader of the Cenation returned just as Roman Reigns was patting himself on the back at the end of MITB last night, and Roman was not happy about that. Cena explained the reason for that tonight, "It's because Roman Reigns is an a**hole." Cena also promised to be on SmackDown this Friday to get in Roman's face again! Kayla says we all saw that, the crowd got so loud in Fort Worth. Just when you thought the show was over, it was not, and that was a great moment. Matt says a sound like that is hard to replicate. But so many people heard it live, and then heard it again on Raw tonight.
Everything Cena said indicated that he is still going for number 17! The record! Could Cena use the Universal Championship for that? Kayla is sure fans want to see it, and just as Goldberg showed up to call out the Chief Hurt Officer, it seems Cena is aiming for the Head of the Table. It is that time of year with SummerSlam on the horizon in Las Vegas. But Matt noticed something else: Cena did some nail calling, cut to the core of Roman. That takes Matt back to No Mercy 2017, similar comments about Roman again. But this is a very, very different Roman now. Roman's moment was interrupted, of course he's upset. But this is John Cena, who shakes Roman to his core.
Matt says Roman does anything it takes to win, whether using Paul Heyman or the Usos, but he is still champion. We're nearing one full year of Roman being Universal Champion. If Cena dethrones Roman, he sets the new record for most WWE world titles. Seeing that in Vegas, the sound we heard at MITB will be that much louder at SummerSlam. Then how will Roman respond? Watch this Friday! Roman won't be happy, but since when was he last happy? He has a great smile but it might not happen now.
Back to what happened on Raw, a very unexpected development with Shayna Baszler, Nia Jax & Reginald. After another loss, Shayna & Nia dump Reggie but he wasn't down in the dumps for too long. The 24/7 Championship scene appeared and Reggie won the title! How does he even move like that in slacks?! Reggie was knocked down, literally, by Nia, but then he gets right back up to take a title! Kudos to Reggie for being able to stay aware of his surroundings. We're going back to Dallas for an interview!
Kevin Patrick interviews Reginald.
K-Peezy says there's no chance this smile is leaving Reggie's face any time soon. The NEW 24/7 Champion! Congrats, Reginald! Reggie thanks Kevin for that, and says he feels incredible now! Imagine this: first time performing in front of the WWE Universe, you win the 24/7 Championship! Reggie is just so excited. But Kevin knows from talking with R-Truth that with this title comes a lot of pressure. He can see Reggie now, head on a swivel, a bit of anxiety. Reggie's watching for R-Truth and Akira Tozawa, among others. Reggie tells Kevin that as he just said, with this title comes great responsibility and stress. Reggie says he'll be alright, but also, he has to go. Reggie heads off, will the slippery sommelier ever get caught?
Kayla says not to get cocky but Matt likes that Reggie was keeping track of his surroundings. It's what you have to do. People are always aiming for the 24/7 Champion. But after the break, we'll have the Scottish Warrior!
Raw Talk returns to talk Drew McIntyre.
Before we hear from McIntyre himself, Kayla wants to talk what happened the last 48 hours for the Scottish Warrior. Matt surely agrees, the name of the game was revenge. At MITB, Jinder Mahal, Veer & Shanky made sure McIntyre knew they cost him the Men's MITB contract. Not so fine gentlemen those three, as this escalated the back and forth between stealing the sword then wrecking the motorcycle. McIntyre was so focused on the briefcase, he never saw these three coming. Kayla and Matt are both fans of McIntyre, this was his best chance of getting back to the world title, especially since the ban against challenging Lashley is in effect.
McIntyre clearly realized, despite the pain he was in, he was in a worse situation in regards to the title, so what is he to do next? Well, tonight on Raw, he ruined Mahal's birthday celebration with an attack with a chair! That one chair got worn out on Shanky's back, then a second chair does. Bumps, bruises and so much more. Matt gets that McIntyre is so focused on being world champion in front of fans, he was screwed out of it, he needed to do something. This is the first time in over a year that he has gone after something that wasn't the title.
Kayla asks if unleashing his rage like this is a sign McIntyre has nothing left to lose. Matt can't be sure, but he figures McIntyre must be thinking along the lines of, "I can't go after Bobby Lashley and the WWE Championship, I have absolutely no choice at this point." McIntyre goes out there, vents all that frustration and anger out on Shanky's back. What could be next? Jinder Mahal's in trouble, all the focus is on him. Everything McIntyre wanted is washed away, he only has revenge left. He might use more than just chairs, too. Watch out for the sword! Kayla agrees, and sends it back to Dallas!
Sarah is with McIntyre and asks about the "absolutely brutal attack" on Mahal and his men. What brought that on? Well the world should know that. We all saw MITB, how Mahal and his henchmen cost him his last chance. So all that time, all that energy directed at the world title, has now shifted to taking out Mahal. McIntyre would've much rather ended it tonight, getting Mahal down with the chair and unleashing chair shot after chair shot after chair shot on him. But Shanky got in the way. He was collateral damage. But in a way, it's a good thing. Mahal had to watch that in person. Mahal is probably home now, afraid of McIntyre, having nightmares about him.
They go back 10 years, Mahal knows what McIntyre is capable of. That was a reminder, and it felt very good for McIntyre. Any other questions? Yes, Sarah wants to know how the energy from the Dallas crowd felt, as well as Fort Worth at MITB. What is it like to have fans back? McIntyre says it is awesome. He would've loved to have been WWE Champion at this point, but he's not and he can't challenge Lashley for it again. But hey, that beating for Shanky, that was probably the worst one in WWE history. McIntyre can't take all the credit for it. There was adrenaline pumping, anger flowing, the WWE Universe supporting him. The louder they got, the harder he hit.
So for the next few weeks, next few months, McIntyre doesn't care what it takes, he will go after Mahal again and again. If Mahal gets away, one of his goons will get it. Tonight, it was Shanky. He's gone. It can be Veer, it can be a new guy, that's fine. Inevitably, it will come down to Mahal and McIntyre. And Mahal knows hell is coming with McIntyre, and McIntyre can't bloody wait! Sarah thanks McIntyre for his time, and send sit back to the studio.
Kayla says McIntyre is a good guy. A really nice guy. But she loves the ruthless, angry McIntyre. Sorry, Maharaja, that's what you're in for. Matt agrees and says Mahal would've been better off to just have taken that beating because then it'd be done. But now, McIntyre is going to keep focused on Mahal. He said it himself, McIntyre can't go after the world title right now. As happy as he is to have fans back, he also wants something else right now. Mahal robbed McIntyre of his goal, now McIntyre is coming after Mahal. An angry McIntyre is a bad thing for Mahal, but a great thing for the fans to watch!
Kayla says this was fun, this different style of Raw Talk. She thanks the fans for watching, again congratulates Nikki Ash on winning the Raw Women's Championship, and there's some breaking news! Matt says Nikki Ash will be on this week's The Bump, LIVE in studio! Do not miss that this Wednesday! It probably won't be the last time, either. Have a great week, see you again soon!
---
My Thoughts:
A very good Raw Talk, and it seems the format for this and Talking Smack are already set. A little disappointed this one isn't on location, and it seems Kayla Braxton and Kevin Patrick are trading shows. I suppose that's just so fans can't get too rowdy and hijack the show. Alexa had a good segment, teasing Lilly is going to get involved with a feud again. Reggie had a good segment, but I really wish we'd gotten a cameo from Truth to plug the continuity from the literal months with him and Kevin on Raw Talk. Truth could've easily run in, Reggie could've run out, and Truth could've shouted, "You're letting me down, K-Peezy!" before running off after Reggie. The little details make all the difference.
McIntyre had a good segment, but it was a bit odd how he ended up recycling a bit of the in-studio conversation. Though, I suppose he couldn't hear what they said and they couldn't have known what he'd say. But they all make a good point: with McIntyre only concerned about the top title, and now not being able to go after it, what is to stop him from focusing all his attention and aggression on Mahal? Maybe some day down the line, McIntyre realizes he could go for the Grand Slam with the US Championship, but for now, a good grudge match feud will help him and Mahal.
I do find it interesting that title or not, a lot of McIntyre's feuds have been with former friends. Dolph Ziggler at the start of the pandemic, Sheamus and Keith Lee once WWE moved into the ThunderDome, and now Mahal as we get back to having fans in the arena. Actually, there was that period where McIntyre was palling around with Lashley and Baron Corbin, so McIntyre's feud with Lashley counts towards that, too. After facing Mahal, who knows where McIntyre goes, he might even get "drafted" to SmackDown in the Fall, but there are more possibilities for McIntyre than just the titles, so I guess we just wait and see.
News From Cook's Corner 9.20.21: The Column From Hell
Plane rides aren't the only thing on the docket! Cook's News corner is definitely unique this week!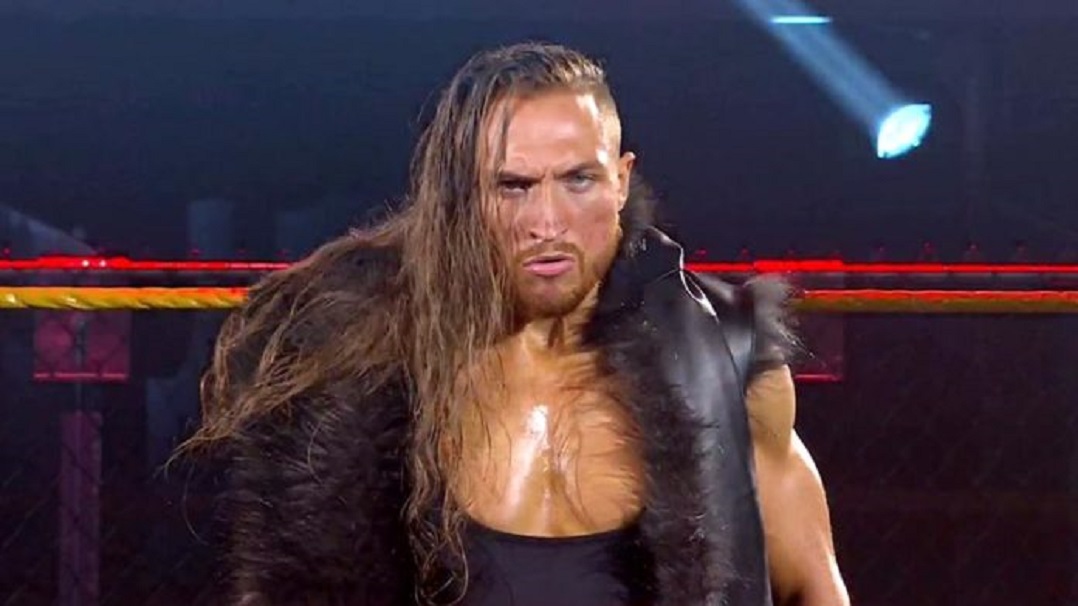 Hi, hello & welcome to News From Cook's Corner! I'm Steve Cook, and it's been a rather eventful week in the world of wrestling. Big E became WWE Champion on Monday night. The new NXT debuted Tuesday night & had a pretty eventful outing that got their best rating in quite some time. About 85 million things happened on Dynamite, as is typically the case. There are no shortage of current wrestling events to talk about here.
So of course we're talking about the Plane Ride From Hell instead of all that stuff.
This might be a first. I don't think previous Dark Side of the Ring episodes led to people getting punished at their workplace. We've had some people come off poorly on that show, but nothing led to anybody getting any sort of punishment other than being yelled at on the Internet. Which, as somebody that's been yelled at on the Internet pretty often, I can say isn't the biggest deal. Annoying, sure, but you move on.
WWE once created a whimsical web animation about "The Flight From Hell," an incident recently profiled on true crime documentary series "Dark Side of the Ring." It was in fact the first story they chose for their cartoon series. They were proud of it. https://t.co/a79PLpnQaC

— L., MA (@leslieleeiii) September 19, 2021
One had a feeling that a re-visit of the Plane Ride From Hell could lead to issues for some people. You know how it is…we tend to forget things. Those of us around back then heard most of the steamy details. Since it was the early to mid-2000s, most of us didn't think too much about it. We laughed at Michael Hayes getting his ponytail cut off. Curt Hennig & Brock Lesnar getting into a fight seemed amusing. Nobody was surprised to read about Scott Hall falling off the wagon. We laughed at Dustin Rhodes singing to his ex-wife…and yep, we laughed at Ric Flair doing his signature robe spot. As detailed in the documentary, Ric had done the "naked under the robe" thing on numerous occasions. It was part of what made Ric Flair Ric Flair. Wrestlers & wrestling writers told us this, so we believed them.
Now, this is the part where I have to plead ignorance, which annoys those wishing to excuse Ric's behavior by telling us that everybody already knew this stuff, and we're just getting hot & bothered now because it's 2021. I didn't really follow up on the story when the lawsuit went down, didn't look at the legal documents or anything like that. I was just a 411 wrestling writer with a weekly "news report" where I took the piss out of everything. So, I had no idea that Ric Flair did anything on that flight other than the robe stuff, which is pretty gross in its own right because who needs to see that?
As for the the point that peoples' reactions to this type of stuff have changed in the nearly two decades since this all happened…well, duh? Some people do evolve. When the Plane Ride From Hell happened on May 5, 2002, I was a senior in high school. I was no different from most high school boys, a sex-crazed idiot that didn't know anything about anything when it came to sexual harassment or inappropriate behavior. As most of my 411 columns from the 2000s will show, that phase lasted awhile. As I got older & learned things I should have learned a long time ago but didn't for a myriad of reasons, my viewpoints have changed. Some people don't understand how it's possible to change your mind on something over the course of twenty years, as we see in politics. They keep their head in the sand & believe the same things they believed before they had any type of life experience, which must be nice.
Just because I say Ric Flair is the greatest wrestler of all time doesn't mean he was the greatest person to ever lace the boots. Two different things.
For those of you that didn't see the broadcast, I recommend you do so since I won't be able to paint the full picture here. We'll run down some of the major points here.
-Tommy Dreamer has been suspended from his position with Impact Wrestling, where he serves on the creative team & wrestles fairly often on television. Dude got a title match on his 50th birthday not that long ago, which was made a big deal of because everybody in the business loves Tommy Dreamer. At least they did until he went on this program and made an ass of himself. Dreamer somehow managed to make himself come off worse than the actual subjects of the show, which is fairly impressive.
I've seen some people upset over Dreamer being punished because it's not like he was one of the people forcing themselves on the flight attendants or anything like that. Thing is, when you're in a position of authority, as Dreamer is with his role on creative and as a veteran leader of the locker room wherever he goes, people have higher expectations for you. When you go on national television blaming sexual assault victims for what happened & bemoan the fact your ugly hairstyle probably offends people since everybody gets offended these days, your reputation is going to take a hit. Some people in Tommy Dreamer's locker rooms aren't going to look at him the same way now. That lessens his value as a "locker room leader" greatly.
Dreamer did the social media apology thing that everybody does now. I figure he'll be back in Impact eventually & will say the right things to rehab his image with most of his wrestling peers. It'll take some time though. It's interesting that Dreamer will probably get the biggest punishment out of anybody involved here…but at the same time, at least the people that actually did the acts can claim that they're different people now. Scott Hall & Dustin Runnels have talked openly about their past and the fact they've changed for the better without substances controlling them. As far as we know, they have. They also got punished at the time, Hall being fired & Runnels getting fined.
Dreamer doesn't have that as an excuse. He's just an idiot who wishes he could go back to the ECW Holiday Inn.
-Ric Flair's future could be a little murky. CarShield has "paused" their national commercials featuring him for the time being. More importantly, one has to wonder how this affects his future plans within pro wrestling. Everybody figured he would end up in AEW pretty soon, as he's friends with Tony Khan, his son in law needs a manager, and a good percentage of his old friends already work there.
The question will be if Tony thinks it's worth the potential backlash that could happen if Flair makes an appearance. It was already kind of debatable if a Ric Flair in his early 70s would add a ton to AEW's presentation. Add in the current heat on his name, and AEW's probably best served to wait until this thing dies down. One has to think that WWE isn't too sad to have Ric off the payroll at the moment.
Also of note: Flair recently said on Renee Paquette's podcast that if this program tries to paint him in a bad light, he's going to take everybody down with him. So be on the lookout for that. Could be an interesting week.
-Brock Lesnar showed Terri Runnels his penis. Jim Ross apparently heard of multiple incidents involving Brock Lesnar's penis appearing at inappropriate times. This one's flying under the radar mostly because…well, do you want to get Brock mad at you? I wouldn't mention it myself if I had a larger audience.
-Scott Hall has no recollection of any of this. Not surprising.
-One possible issue for Dark Side: Was Vince McMahon on this flight? Multiple people on the show say he was, but reporting from the time period suggests that Vince did not make the Europe trip. Vince not being there would explain why certain members of the talent roster felt more emboldened to do dumb things. Or at least dumber than usual, since Vince was on a number of other flights where things got hairy. One untruth on a documentary is enough for many to cast aspersions on everything else on the program. The producer stated on Jim Cornette's podcast that everybody they talked to said Vince was on the plane.
-Another possible issue for Dark Side: Getting people to go on their show in the future! Jeez, if I was a wrestler and saw how poorly most of these people on this show came off, the last thing I'd want to do is go on it myself.
Definitely one of the most interesting Dark Sides yet, with the most fallout from a given episode. Next week's will feature the story of Chris Kanyon, and there's a good chance that some people will look bad there too. I think most of them are retired, but there may be somebody I'm forgetting!
NXT Contract Update
Contract updates have become a weekly feature of Internet reporting, as it seems like our favorite Internet reporters have a better idea of when these things come up than WWE does. Wild, isn't it? All I can say about it is that Fightful must have quite the mole in that front office.
Pete Dunne re-signed with WWE for three years. It's fair to wonder what Dunne's ceiling is in WWE. He's a talented wrestler, but is much smaller than the athletes WWE tends to feature, and doesn't seem to have the charisma to make up for it. It's still the right move for Dunne, as when you're a foreign talent wrestling in America, it makes sense to stick with your current company as long as possible. Otherwise, you'll get sent home. If Dunne wants to stay in America, staying with WWE is the easiest way to do that.
Johnny Gargano's contract is set to expire in early December. I could see keeping him around as a veteran to work with the young guys that WWE sees potential in, but don't be surprised if Dexter Lumis carrying an axe around with him leads to something. Not that WWE does murder.
Yang Time?
Remember Andrew Yang? Yeah, the guy that ran for President in 2020, then later promised to go after WWE for their third party policy that kept their "independent contractors" from using certain sites for profit. He went off to do other things for a minute, including a run for Mayor of New York City that went nowhere. Now he's talking about wrestling again, which is good because there were a ton of people that got fired during this pandemic that might have used some help. Fortunately, Andrew Yang is with us now!
Had a call with the Department of Labor. If you are a current or former @WWE performer who feels you were misclassified as an independent contractor contact @lkmiddleb and let's get you what Vince owes you. Been a long time coming but this storyline is real.

— Andrew Yang🧢🗽🇺🇸 (@AndrewYang) September 16, 2021
Yang says that early returns are positive. He also used the phrase "bolieve", so we can only hope that Bo Dallas becomes the star witness in whatever happens here. I don't think we'll get much, especially since it involves a politician.
Welp, that's all we have time for tonight. We've got a big week coming up though, with the Week 3 NFL Picks (actually done on time this week!) and some Extreme Rules Gambling Picks! Yep, that show's next Sunday! Thanks for reading, and until next time, keep your stick on the ice.
News From Cook's Corner 9.13.21: We're Outta Time!
Cook's News is filled with some odd, awkward and unexpected criticisms. Let's see what we got on tap this week!
Hi, hello & welcome to News From Cook's Corner! I'm Steve Cook, and it's been a pretty wild weekend. There's a pretty good chance that this will be the only weekend where both of my football teams won games. Expectations aren't too high for the University of Louisville or the Cincinnati Bengals. U of L won handily, but didn't do much to inspire confidence when they play real teams, like this Friday when they get UCF.
Those Bengals though…well, their division's still pretty stacked. But Ja'Marr Chase can catch passes! That can only be a good thing. Let's get to the wrestling news now so I still have something to write about for Thursday.
We're Outta Time!
Time has always been one of the biggest enemies of pro wrestling and its fans. How many times did Mid-South Wrestling run out of time in the middle of a main event or a major happening? Of course, Bill Watts' shows were designed with that flaw in mind. If you run out of time at the right time, fans want to see more. They might even pay to see what you deprived them of.
Of course, here in the twenty-first century when wrestling shows run short on time, it's almost never by design. Unlike back in the old days when regional promotions taped or filmed their programming before sending it to their TV stations for airing at their convenience, these national promotions are airing their shows live on major TV networks or cable outlets. Unlike back in the not quite as old days when WCW & the WWF were allowed to run super late with their live shows, the networks have hard outs. Fox isn't going to let WWE run into its local news timeslots. TNT wants their movies to start at 10:00 sharp.
This means that formatting shows and making sure everything has its proper amount of time is super important. If people early on the show go long, that extra time they took has to go out of something else. We saw that happen twice on prime time television this week, and the companies involved took different approaches to solving the problem. Both managed to anger the fans. We're easily angered though, so let's take a closer look and see just what happened here.
Wednesday night's AEW Dynamite card was set to be highlighted by a clash between local Cincinnati maniac Jon Moxley & his rival from New Japan, Minoru Suzuki. I admit to being skeptical of the booking because of previous experiences I've had with Southwest Ohio wrestling crowds. Let's just say they didn't exactly have their finger on the pulse of Japanese wrestling. I wasn't convinced they would recognize Suzuki, and I knew that online wrestling fans were going to clown Cincinnati because they didn't sing along with Suzuki's music like Chicago did.
As it turned out, neither of these things were problems. Cincinnati recognized Suzuki, even mustering up a "Holy Shit" chant for The King. They didn't sing along, but they didn't get the chance to, as the music cut off before Suzuki could enter the ring to "KAZE NI NARE". The Internet complained about that until the match ended seven minutes later, then they complained about the match being too short.
The legend @suzuki_D_minoru + his protege & longtime partner #LanceArcher were both furious about preferential hometown treatment @JonMoxley received last night at #AEWDynamite! We'll hear from Suzuki-gun NEXT WEDNESDAY on #AEWDynamite, where they'll issue a new challenge to Mox! pic.twitter.com/vJKlMKSpGh

— All Elite Wrestling (@AEW) September 9, 2021
Honestly, the match length didn't bother me. Suzuki got busted open, they threw some heavy lumber, you got pretty much everything you could expect out of a match with those two. Mox's finisher hasn't been looking great lately, and he messed Suzuki up on the first one, but you take the good with the bad. You could have trimmed a couple of minutes off of Moxley's celebration, though it's understandable that AEW would want to show Jon Moxley celebrating with his hometown fans. Feel-good moments are a good thing, right? I mean, I like feeling good. It happens so rarely!
But yeah, cutting off Suzuki's entrance was pretty egregious, and was pretty fixable. You can't tell me you can't cut thirty seconds from that show somewhere. The celebration seems the obvious part, but there were some other choices. Dustin Rhodes & Malaki Black had a good match, but Malaki could have killed Dustin sooner. MJF probably went long with his promo, but it was good stuff. Some were saying they could have cut Dan Lambert, but the guy made the trip to Cincy so that wouldn't have been nice. Maybe could have lived without the Dark Order match…but wasn't it nice to see FTR on Dynamite?
See, all this is trickier than we think. When you have a big roster with a lot of mouths to feed, it's tough to tell them to eat less. Just ask WWE. They ran into a similar problem on the SmackDown broadcast this Friday. Some early things went long, so WWE had to make some cuts to later things on the show. They opted to cut a tag team match pitting Zelina Vega & Carmella against Liv Morgan & Toni Storm, instead of taking time away from anything else on the show.
Ordinarily, I don't think most people would see this as a big deal. Zelina, Carmella, Liv & Toni don't really seem to be a WWE priority at the moment, and it's one of those things you can put off until next week. However, as Eric Bischoff likes to say: context is king, When you realize that WWE spent most of that Friday hyping their 9/11 documentary and patting themselves on the back for how they were the first major live entertainment event after the attacks, you'd think they'd be happy to put somebody who lost their father in the attacks on their television show. Apparently not!
nevermind. pic.twitter.com/xyyrIA1wYR

— 𝕿𝖍𝖊𝖆 𝕿𝖗𝖎𝖓𝖎𝖉𝖆𝖉 (@TheaTrinidad) September 11, 2021
The whole Zelina/WWE thing has been weird for awhile anyway. First she leaves because she got hot over WWE's policy towards third-party platforms. Then she comes back. Then, before she even appears on television again, her husband gets fired. Now she's cut from a show that was undeniably important to her & her family given it was the day before the 9/11 anniversary in her hometown.
I know there are plenty of excuses to be made here, and it's just the nature of live television. But man…it's such a bad look. Somebody should have thought for a minute and came up with "huh, maybe we want Zelina on our television given that we're celebrating the 9/11 anniversary and tooting our own horn over how we treated it". I mean, did Roman Reigns really need eight minutes for his entrance? Couldn't we have carved a little out of Usos/Street Profits?
These are tough choices, I don't deny that at all. I just happen to think that WWE made the worst possible choice there, and one that could have been avoided. That's all.
Not everybody in AEW is happy
One thing people have noticed about all these new arrivals in AEW is how happy everybody seems to be. I don't think I've ever seen CM Punk this pleased with life. Ruby Soho has never been so smiley. Adam Cole is pretty glad when Tony Schiavone isn't around trying to steal his girl. Even before these new folks showed up, people have noted that you don't hear about a lot of discontent on AEW's roster. Certainly not compared to the top wrestling promotion in the world, where nobody seems happy unless they're looking at their bank accounts.
However, it would be foolish to assume that all the workers at any company feel exactly the same. No matter how rosy things look on the surface, there's always going to be somebody that you could classify as disgruntled. You gotta have a big ego to succeed in wrestling, and if you're working for a major company and not doing enough, you're going to wonder why you're not doing more.
Or maybe your spouse will wonder why you're not doing more. That's the situation Brian Cage finds himself in. Cage is one of those guys with a million dollar body that stands out in an airport. He's appeared in AAA, Lucha Underground, Impact Wrestling & other shows before, and got some major matches early in his stint with the company. Lately, Cage has been used to put Ricky Stars & Powerhouse Hobbs over after getting bounced from Team Taz. Cage had been the featured player of the group, but is now feuding with the younger members in order to increase their standing. It makes sense to me, but Cage's wife, Melissa Santos, isn't a big fan:
💫 @MrGMSI_BCage #AEW pic.twitter.com/jO1zdFHHFD

— Melissa Santos (@ThisIsMelSantos) September 9, 2021
I'll admit it up front: when it comes to Melissa Santos, I am a big fan. Loved her work in Lucha Underground, where she was the most effective ring announcer since Howard Finkel's heyday. Great voice, great performance, great look, loved the whole presentation. Liked seeing her in Impact by Cage's side, and I wouldn't have minded her showing up in AEW at some point. Barring this story being part of an angle where Melissa comes in as Brian's taskmaster, I don't see that happening anytime soon. Which is a shame, but what can ya do.
It'll be interesting to see if anything comes from this. Maybe it's Cage leaving when his contract expires, or maybe it's Cage getting more of a push. I mean, if Melissa was making suggestions to me I'd be willing to listen. Dunno if Tony Khan is as easily persuaded as I am, I'm guessing probably not.
Samoa Joe Drops The NXT Championship
For the third time in its history, the NXT Championship has been vacated by a wrestler due to injury. Samoa Joe made the announcement Sunday night on social media, releasing a video where he stated that WWE doctors ordered him to take some time off to recover from an unstated injury. This comes just days before the long-awaited NXT relaunch, and it'll be interesting to see which direction WWE goes with the decision. Do they go with an established veteran to carry the top spot, or will they choose somebody that exemplifies the new direction they want to go in. I have the feeling most online fans would prefer the former. I'd go for the latter, though of course it would have been better had they defeated Samoa Joe.
As for Joe himself, we wish him a speedy recovery, and a steady direction once he returns.
Death Before Dishonor Results
Since I have to write about ROH every week, it's only right that we include the major results of their big event here. Death Before Dishonor took place on Sunday night at the 2300 Arena in Philadelphia. Looked like a healthy crowd from what I saw, hopefully they leave healthy too.
Alex Zayne won an Honor Rumble to earn a future world title shot: Zayne had most recently been seen on WWE's 205 Live program as Ari Sterling. He made two ROH appearances in early 2020, including a victory over Bandido at the Honor Reigns Supreme show. So this is an interesting way to bring him back. I'm not sure I've seen him wrestle, since it's not like I was watching 205 Live at any point this year.
Taylor Rust beat Jake Atlas: Apparently this match got cut short due to an injury for Atlas, which would be disappointing. Atlas got a ton of hype coming into WWE but had some ups & downs while there that led to him not meeting that potential. Hopefully he'll get a chance someday.
Josh Woods won the Pure Championship from Jonathan Gresham: Bit of an upset here. Woods hadn't really featured as strong on television recently even though he'd been established as a contender previously. It's Gresham's first loss in the division and leaves the Foundation without any championships.
Shane Taylor Promotions retained the Six-Man Tag Team Championship against LFI: Taylor missed most of the match after Kenny King took him out prior with a steel chair. He returned to aid his group at the end, delivering a chair shot to King's skull. I have a feeling this will get some discussion for ROH, and not in a good way. People aren't big on the chairs to the head in 2021.
Rok-C pinned Miranda Alize to win the ROH Women's Championship: This was the right choice, Rok-C had been one of the most impressive competitors in the tournament throughout. As for what's next, a feud with Angelina Love seems likely, as Love can claim her arm injury was the reason she lost in the tournament. Max The Impaler also recently extended their contract, so one could see that as a match as well. Neither will get five snowflakes, but both should further establish Rok-C as a likeable competitor.
Bandido retained the ROH World Championship in a 4-way: Makes sense, Bandido hasn't really been properly established yet on top & ROH likes to have long title reigns. The longer the better.
There were a couple other matches, but those are the main results you'll need to know to keep up during work conversations. After all, it's not like FITE aired anything else of note this weekend. ROH currently has nothing outside of TV tapings scheduled.
Thanks for reading! Hope you have a great week, and keep your stick on the ice.