WrestleMania 31: Bay Area Beatdown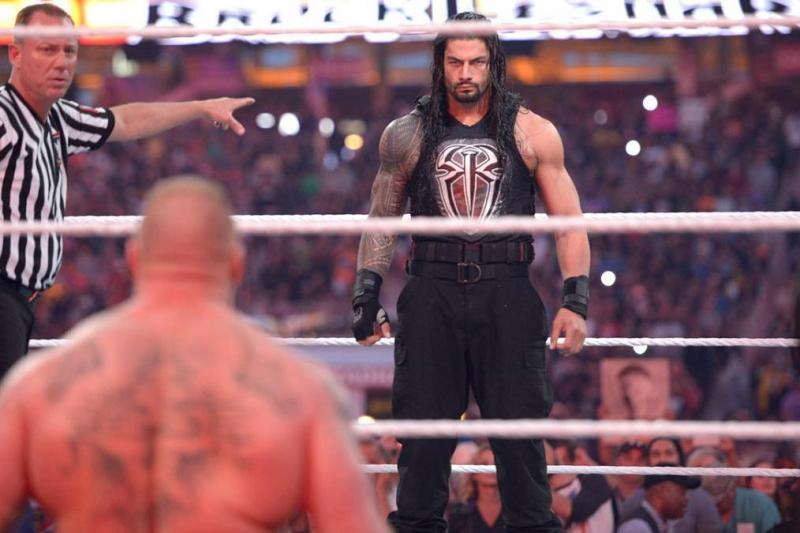 WrestleMania 31 is a very special one for your humble commentator, this is the very first WrestleMania I got to watch live, thanks to the Network. My parents aren't into wrestling and we couldn't afford the PPVs anyway, so getting to watch a WrestleMania live made it very special to me.
WrestleMania 31 comes to us from the San Francisco area and it marks the first time Roman Reigns main evented WrestleMania. It would also feature a dream match of the Monday Night Wars, the return of the Undertaker after his shocking defeat at the hands of Brock Lesnar at WrestleMania 30, and Daniel Bryan's return from a career threatening neck injury. So how does WrestleMania 31 hold up to all this potential? Let's find out!
Pre-Show
We start with LL Cool J talking about what 'Mania' means and a montage of Mania moment. Not much to talk about, it was really quick.
Fatal 4-Way Tag Team Match for the WWE Tag Team Championship: Tyson Kidd & Cesaro (with Natalya) vs Los Matadores (with El Torito) vs New Day (with Xavier Woods) vs The Usos (with Naomi)
Usos are coming out first to a really good pop, especially being announced from San Francisco. Los Matadores get no reaction. New Day get no reaction, which is weird to hear, considering how over they became. Kidd and Cesaro get the best pop.
I'm not sure why every team in this has a manager, but we start off with Cesaro and Kofi. Cesaro gets tagged out and attacks Jey Uso (I think).
This is a really good match, but all the teams made it a little hard to keep track of what was going on. All the teams looked great, and Jimmy Uso trying to win it all by himself was really over with the crowd.  All the managers at ringside just seemed to add to the chaos of this match and not in a good way. It was almost a 12 person mixed tag.
Winner: Cesaro retains the titles for his team by pinning Big E.
Highlights: Jimmy Uso trying to win the titles by himself. Los Matadores hitting a Powerbomb/Backstabber combo. El Torito taking out Kofi and Natalya taking out El Torito.
Comments: This was a good match, but there was too much going on that was unnecessary.
Andre the Giant Memorial Battle Royal
No one is getting an individual entrance for this, which is sad. I forgot that the tag teams from the previous match are also in this thing. Axel is running his mouth over the Royal Rumble (Dude, you were never IN the Royal Rumble, shut up) and is thrown out by the majority of the participants.
The final three comes down to Big Show, Miz, and Mizdow. Miz tells Mizdow that they'll take out Show together, but Mizdow refuses. Miz gets up in Mizdow's face and basically TELLS him that they're going to take on Big Show together. When Mizdow STILL refuses, Miz throws a fit and starts poking him in the chest, HARD. Mizdow's finally had enough and eliminates Miz, to Miz's fury. Meanwhile, Show just stands in the corner and waits for them to work their issues out.
Now that Miz is gone, Show and Mizdow can get down to business. Show doesn't think Mizdow has a prayer of getting him over, but Mizdow is going to try. Show throws Mizdow over the top rope, but Mizdow hangs on and takes it to Show. Mizdow gets Show into the ropes, but Show is just too big and strong. Mizdow gets Show over the top rope to the apron, but Show catches him in a chokeslam. Mizdown tries to pull a Benoit from 2004, but Benoit was a lot stronger than Mizdow and Show eliminates him.
Winner: Big Show by eliminating Damian Mizdow. Show finally won a battle royal.
Highlights: Axel being eliminated, Gabriel and Fandango eliminating each other. Mizdow FINALLY turning on Miz. Itami eliminating Bo Dallas.
Comments: That was a really good match. Good for Big Show.
Opener
We start with Aloe Blacc singing 'America, the Beautiful'. He sounds fantastic.
We start with LL Cool J talking about how people have been brought together since radio and TV and how WrestleMania is the same way. We get a montage of WrestleMania moments.
Ladder Match for the WWE Intercontinental Championship: Bad New Barrett vs Dean Ambrose vs Daniel Bryan vs Luke Harper vs Dolph Ziggler vs R-Truth vs Stardust
Bryan is out first to a huge pop. Barrett is out next a chorus of boos. Ziggler gets a great pop. Stardust gets little reaction, though his outfit looks…cool. Harper gets little reaction. R-Truth gets an okay reaction. Ambrose gets a huge reaction.
This was a really great match. Everyone got their spots in and it really could've been anyone's game. I darn near had a heart attack when Dean was put through the ladder.
Winner: Daniel Bryan retrieves the IC belt. The crowd LOSES it.
Highlights: Ambrose's elbow drop off the ladder. The 'Cody' chants. Stardust's special ladder. The fate of said special ladder.
Comments: That was a great opening to WrestleMania. This would be Bryan's last WrestleMania appearance for a few years due to his seeming retirement due to concussion-related brain injuries.
We get a promo for Tapout and a video package for Orton/Rollins
Randy Orton vs Seth Rollins (with J&J Security)
Seth and company get a great pop. Seth seems pretty chipper. I remember how much I hated him back then. Orton gets a great pop. He's achieved that status where he's cheered whether he's a face or heel.
This match gets off to a slow start, but these two are equally matched. Something I'm hearing that is irking me greatly is that somehow Rollins is a relative newbie in the business, when he's actually been working in professional wrestling about as long as Orton has, and most of the guys in the first few generations of NXT.
Randy is one of the few people who can take the turnbuckle bomb correctly and with Rollins out, he turns his attention to J&J, but that costs him because Seth hits the suicide dive.
The commentators make a good point, Randy's getting too caught up in the emotion, or he's too arrogant to take Rollins seriously.
This was a really great match in terms of story and ring work. Orton and Rollins have very similar styles and are equal in terms of experience, so it made the match very nice to watch.
Winner: Randy Orton by pinfall
Highlights: Orton countering the Curbstomp into an RKO.
Comments: I really enjoyed this match, they were a good pairing
We have a promo for the WWE Double Attack Figures.
We see Ronda Rousey in the audience and she's having a blast. Lawler jokes that Ronda looks like she wants to get in the ring herself.
We get a video package for Triple H vs Sting.
No Disqualification Match: Triple H vs Sting
There's a drum group with makeup like Sting's performing his entrance. Sting gets a really great pop. He looks like he really wasn't expecting that reaction. Something is smoking in the background, I hope that's supposed to happen.
Triple H's entrance starts with a video of the Bay Area and then it turns apocalyptic. Oh, that's right, they put Arnold in the Hall of Fame and he let them borrow the Terminator for Triple H's entrance. Even the robots know Trips is going to be booed.
ave to admit, Triple H's Terminator/Skull King gear is pretty cool, and he gets a great pop on top of it.
JBL tries to say Sting is intimidated, Sting doesn't look impressed, in my opinion. The man's faced off with a lot of legends, he's not worried about Triple H.
We start with a face off, both men trying to play mind games. This match really isn't going anywhere. Even if I didn't know what was going to happen, it looks like they're waiting for something to happen.
This commentary about Sting is getting on my nerves in a BIG way. I realize that Cole, Lawler, and JBL are more familiar with Triple H, but their shock over Sting being good and being dominate is really annoying me. Also, JBL saying that Sting tried to put WWE out of business is certainly not true and was uncalled for.
The whole DX/NWO thing would've been cool right after WCW went under, but almost fifteen years later, it's feeling a little flat.
All in all, this was a really good match, but I wish they hadn't waited until AFTER the run ins to pick up the pace.
Winner: Triple H by pinfall, but honestly, I really think Sting should have, so the fans see Triple H get his. Afterwards, both factions get into the ring to check on their guys and we have a standoff. Triple H extends his hand to Sting and they shake hands
Highlights: NWO/DX face off, even though the three original members of the NWO were top WWE guys first.
Comments: I liked this match, but I would've preferred Sting/Undertaker instead. The run ins of the NWO and DX made things a mess. Also, this would be Sting's only WrestleMania appearance. He would retire due to injuries in 2016.
Maria Menounos has an interview with Daniel Bryan and we get this really irritating (at least to me) segment where he gets congratulated by former IC champions.
Halftime show time: Travis Barker, Skylar Gray and Kid Ing (I think). This is okay, but I'm still against taking time out just for a musical act.
The Bella Twins vs Paige and AJ Lee
Paige and AJ both get good pops. Surprisingly, so do the Bellas, despite being the heels.
Paige draws first blood, but Nikki fights back, takes out AJ and hits Paige with an Alabama Slam. The Bellas take control pretty quickly and without AJ, this is pretty much a handicap match.
I really liked this match because the women of Total Divas, the Bellas especially, get a bad rap for only being on the roster for their looks. Nikki, Brie, and Paige really showed that they were every bit as athletic and talented as the guys or the women in NXT.
Winner: AJ gets the submission. The Bellas aren't happy, but Nikki's still the champion.
Highlights: The Bellas showing why they aren't people to dismiss or take lightly, despite what the naysayers want to believe.
Comments: The thing that annoys me most about this match is the fact that AJ did basically nothing but got the victory for her team. However, this would also be AJ's final WrestleMania. She would retire shortly after this match.
United States Championship Match: Rusev (with Lana) vs John Cena
Rusev's entrance starts 'Russian' soldiers, Russian flags, tanks, cannon, the Russian National Anthem. Lana comes down to the ring bearing the US Title, escorted by soldiers. The cannon and tanks fire blanks and Rusev comes out ON a tank. The crowd is not happy about this, but it looks cool. For whatever reason, Rusev's ACTUAL theme doesn't start until he gets to the ring. We also get the start of the falling out between Rusev and Lana that would be a big storyline (for better or worse) during the summer.
Cena's response is a tribute to American greatness and ingenuity. Even with all that, Cena's pop is mixed. And he doesn't come out in a tank.
Rusev is a jerk to Eden Styles and insists on being introduced first, much to Eden's annoyance.
Cena draws first blood and goes for the quick pin, not sure why, Rusev responds and this match gets physical very quickly.
This was a rough and physical match, but the story was really great and Rusev and Cena worked really well together. Rusev plays the arrogant heel very well, but he's not a coward, thankfully. This match was very back and forth and Rusev really looked great.
People griped at the time about Cena beating Rusev, but the way he beat him actually protected Rusev. Rusev was beaten because of a distraction after accidentally hitting Lana, so the win was a luck break for Cena, not a burial.
Winner: John Cena by pinfall, we have a NEW US Champion. Rusev is furious and berates an injured Lana and storms off, leaving Lana behind.
Highlights: Rusev's entrance. That was seriously awesome.
Comments: I really liked that match.
Triple H and Stephanie announce that WWE has set a new attendance record for Levi Stadium: 76,976!!!
The Streak: Undertaker vs Bray Wyatt
Wyatt comes out first and as he makes his way to the ring, seems to bring zombie scarecrows to life, which is really creepy. It's not dark enough for the fireflies to come out and the lantern looks a bit ridiculous, but it's an eerie entrance.
It's not dark enough for the lights to go out for Taker, but that's okay, the entrance is still creepy. The Deadman Cometh to a great pop. Wyatt looks like he's about to pee his pants. As JBL puts it 'Bray Wyatt wants to dance with the devil? Welcome to hell!'.
Taker looks much better than he did at WrestleMania 30 and Wyatt looks like it's just occurred to him what he's gotten himself into: He just called out the devil, and the devil isn't happy.
Wyatt tries some mind games, but it's like an amateur trying to outdo the master. Wyatt finally charges at Taker and gets a boot to the face for his trouble.
Oh, this is much better than last year. Taker looks in much better shape and he's taking this fool to the woodshed. Wyatt gets in his first offensive move, but Taker gets up. Wyatt clotheslines Taker to the outside, but Taker lands on his feet and pulls Wyatt outside.
This match was 100% better than the match with Lesnar. Taker looked terrible in the Lesnar match. He looked like a sick old man and the concussion he received during the match just made it worse. In this match, he looks much healthier and seems to be firing on all the cylinders.
Winner: The Undertaker by pinfall. The Streak is 22-1
Highlights: Taker sitting up during Wyatt's spider move and Wyatt folding like a cheap chair. Wyatt's face when Taker gets him in a chokeslam.
Comments: There was some controversy over Taker coming back. A lot of people didn't see the point because the Streak was over, and Taker had only been coming back for WrestleMania, but I love that he came back. It was as if he wanted to prove that the Streak was not the only thing about his career that mattered and to dispel the image of the old man who lost to Brock Lesnar.
WWE World Heavyweight Championship: Brock Lesnar (with Paul Heyman) vs Roman Reigns
Roman comes out to a mixed reaction. He got a lot of flack for all the security, but given the reaction and the amount of people, it's totally understandable.
Lesnar gets a good pop, Heyman insists on introducing Lesnar himself.
Roman makes the first move but Lesnar dominates this match, but Roman keeps getting up.
This isn't a technical match, this is a fight, and it was a stiff one. Lesnar dominated most of the match, but Roman gave as good as he got, especially when it came to slugfests when he found an opening. Neither man pulled punches and Lesnar's face was starting to look lumpy from all the bruises. I was a little disappointed that Roman didn't get more offense in, but I think it was to play up Lesnar being an arrogant heel.
Rollins got a huge pop when his music hit and everyone knew what this meant: He was going to cash in and not only be the first to cash in at WrestleMania, but the first to cash-in mid-match and we have a Triple Threat match. Seth makes a mistake though, but targeting Lesnar instead of Roman. Lesnar was bleeding, but he wasn't so far gone that someone Seth's size could take him out. Lesnar gets Seth up in a F-5, but Roman's spear saves Seth, who thanks him by giving HIM the curb stomp for three and we have a new champion!
Winner: Seth Rollins by pinfall on Roman Reigns. Seth stays just long enough to get his hand raised then takes off like a bat out of hell.
Highlights: Seth's cash in. Roman making Lesnar bleed his own blood. Seth celebrating with the title.
Comments: The ending of this match enraged me in 2015, but looking back, I can see that Roman wasn't ready to be the top guy just yet. He still needed to grow and develop his ring and promo skills, whereas Rollins was ready for that spot.
Overall Comments
So, how did WrestleMania 31 do? Overall, it did really well. I'll admit that I noticed issues that I didn't notice when I first watched it because I was so excited about getting to see my first WrestleMania LIVE, and enjoyed some matches more than I had the first time around. This was a really good show overall and it's one I recommend watching for its own merits.
Snoozers: Triple H vs Sting. It started too slow and they were clearly waiting for the run ins.
Stinkers: Tag Team match. The match was good, but every team having a manager and the managers getting involved made it too chaotic.
Match of the Night: Cena vs Rusev. That was really an awesome match.
Hall of Fame: Randy Savage, Rikishi, Alundra Blayze, Larry Zybszko, Tatsumi Fujinami, Kevin Nash, The Bushwhackers, Arnold Schwarzenegger
Warrior Award: Connor 'The Crusher' Michalek.
Final Thoughts: I enjoyed this show, and had a lot of fun watching it when my Network would cooperate.
---
Always Use Your Head and visit the official Pro Wrestling Tees store for The Chairshot All t-shirt proceeds help support the advancement of your favorite hard-hitting wrestling website, The Chairshot!

---
Chairshots Classics: SummerSlam 2008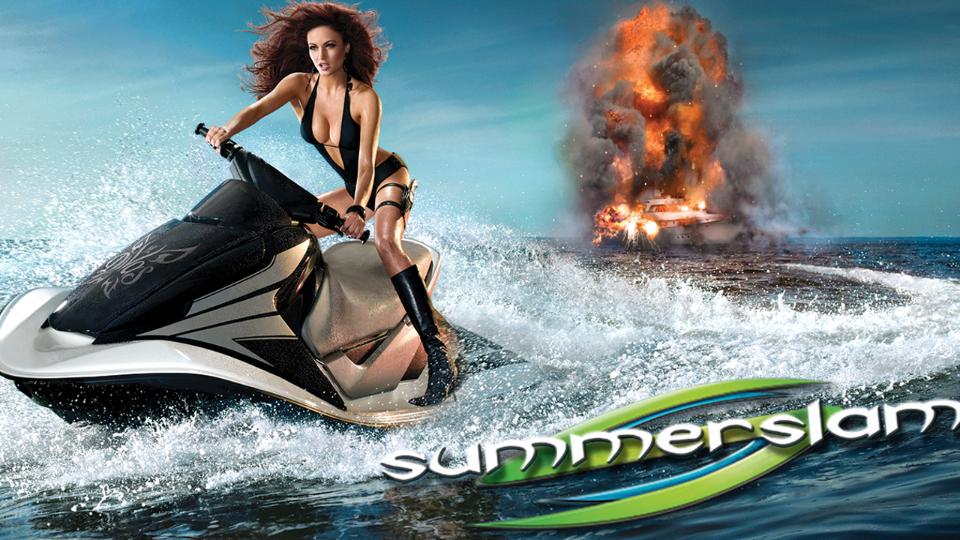 SummerSlam 2008 gives us The Undertaker and Edge in a Hell in the Cell match.  CM Punk and JBL go face-to-face for the World Heavyweight Title,  Matt Hardy squares up with Mark Henry for the ECW Championship and on the WWE side of the Strap we get Triple H and The Great Kahli….all this and so much more in this edition of The Chairshot Classic.
Today we will spend the evening in The Conseco Fieldhouse, home of the Indiana Pacers, in Indianapolis, Indiana. The show is sold-out with 15,997 in attendance and another 447K tuning in on PPV at home. The theme song for the night will be "Ready to Roll" by Jet Black Stare and the event is sponsored by the 20th Century Fox film "Street Kings". On a sidenote this is a great movie that stars Keanu Reeves and Forrest Whitaker. Its the story of crooked cops and one mans journey to bring it all down. Check it out. This is also the first PPV after the WWE went to a PG rating, the last one of the PG-13 era being The Great American Bash. Let's head to the arena and see if this effects the overall product as it's time for "The Biggest Blockbuster of the Summer"!
The show opens with a movie trailer that is done to make SummerSlam seem like the Blockbuster event of the Summer. It goes on to show Vickie Guerrero reinstate The Undertaker and grant him his Hell in a Cell match with Edge. This a feud that carried over from WrestleMania and Taker and Edge were the first to Main Event both events in the same year. This is a well done package and ranks up there in best opens at SummerSlam for sure.
After the package ends Jim Ross welcomes us into the sold-out show and he introduces the other announcers, Jerry "The King" Lawler and Michael Cole. The three men run through the nights card and the first competitor of the night is introduced. Jeff Hardy enters and he gets the usual love from the fans. Or as a JR says "A Michael Phelps-like welcome."  JR is tasked with calling the first match and his partner is Tazz. I wish they would move past this mutli-brand announcing as I am a fan of just one announce crew, not three. Montel Vontavious Porter, or MVP is next out for what looks to be a good opening bout.
As soon as the bell sounds, MVP goes for a big opening kick but Hardy dodges it. This opens a window of opportunity for Jeff to land a series of haymakers to the midsection. MVP rolls from the ring to recover and Hardy is quick to follow him. MVP uses this to his advantage and slides right back into the ring, hoping to get the upper hand. This backfires, and Jeff pulls him back out of the ring by his feet. Hardy then slams MVP into the security wall getting the first nice pop of the night. After high-fiving some fans, Hardy bounces MVP off the apron and returns him to the ring. A springboard leg drop and a pin attempt follow, but MVP gets his foot on the rope to break the count. An armbar is next, and when Hardy transitions into a standing variety of the hold, MVP is able to find the ropes. Hardy keeps the advantage for some time but it starts to shift after MVP hits the charging Hardy with a belly-to-belly toss into the turnbuckle. MVP tries for a cover but Hardy gets the shoulder up at two. MVP works Hardy with an armlock next and every time Hardy is close to escaping, Porter nails him with strikes to keep the hold applied. This eventually leads to Jeff Hardy being put in the camel clutch in the center of the ring. Jeff manages to escape it, but MVP is quick to put him into a variation of  a single leg crab. Hardy finally finds the ropes and the official is forced to break the hold.
Hardy rolls to the apron to escape the stomps of MVP and tries to springboard back into the ring. This doesn't go as planned and MVP catches Jeff, mid springboard, with a right hook. The crowd have a little "MVP" chant here as he brings Hardy back into the ring. Porter tries for a cover and is shocked when he is only rewarded a near fall. An Alabama slam is next, and this leaves Hardy suspended in a tree of woe position. After a quick argument with the official, MVP slams Hardy to the mat and goes for another cover. He is again only gets a near fall and pick Hardy back up. He puts Jeff into a Razor's Edge like set-up but Hardy escapes with the backslide and catches MVP with a reverse neckbreaker. Hardy lands the mule kick and this sends MVP into the corner. When Hardy charges him, MVP pulls off the ropes for momentums and dropkicks Hardy square in the chest. This had some nice impact and sends Hardy sailing across the ring. MVP is quick with another cover attempt, but for the fourth time he only gets the two count. MVP then whips Jeff into the corner, and when he bounces back out, MVP sends him right back into it with a dropkick. MVP tries for the Drive-by Kick but Hardy explodes from the corner and catches him with a slingblade. Both men lay prone as the ref starts his count. They both slowly return to their feet at the count of seven and Hardy gets the advantage with a Russian leg sweep. Hardy tries for the leg drop cover but it's MVP's turn to kick-out. Hardy explodes into a springboard Whisper in the Wind and so does the crowd when this happens. Hardy is quick to return to the top rope, and when he gets up there we see Shelton Benjamin appear at ringside. Hardy crossbodies him and returns right to the top rope. Jeff tries for the Swanton Bomb, but the interference allows MVP to roll from harms way. Hardy hits the mat hard and this allows MVP to hit the Drive-by Kick. When MVP makes the cover, this time he gets the three count and the victory. This was a decent match but I expected better from these two. Not a must watch by any stretch of the imagination and could be skipped over. Match Time-10:21
Next we get an interview with two of the competitors in the next match that is an inter-gender bout with the Intercontinental and Women's Championships on the line. This is team Glamerella, which is made up of Beth Phoenix and Santino Marella. Maria Kanellis interviews the two and this is all really lame stuff here. We re-enter the arena after this tragedy and Lillian Garcia tells us that this is a winner takes all tag-team bout for the IC and Women's Titles. I find this quite offensive to one of my all-time favorite Titles, The Intercontinental Championship. Out first is the Women's Champion Mickie James, who receives a nice pop from the fans. The IC Champ is out next and the crowd has even more pop for Kofi Kingston. Glamerella is out next and incase you're to young to remember this name was a play on the common theme of combined celebrity names at the time. Most famously was the couple of Brad Pitt and Angelina Jolie, or Brangelina, if you will.
The Glamazon and Mickie James start the bout and the collar and elbow leads to a side headlock for Mickie. She tries to hip toss Phoenix, but she is overpowered and Phoenix tosses Mickie off of her. Phoenix is soon kneeling after James dropkicks her knee out from under her. James then hits the ropes and lands another dropkick, this time to the face of Phoenix. Phoenix reverses into a backdrop and this allows her to tag in Marella. As this is a inter-gender match Mickie James isn't forced to come out and lands a kick to the back of Marella's head. She avoids a clothesline from him and this gives her the opportunity to tag in her partner. After the tag is made, Kingston enters the ring via the top rope and nails Marella with a crossbody. Kofi lands a few flipping maneuvers before he sends Santino Marella flying from the ring with a European uppercut. Phoenix starts to yell at her partner and this is when James enters the ring and sends Phoenix sailing off the apron with a dropkick to the back. The crowd pops for this and Beth picks Santino up, as to protect him, because it looks like Kofi is coming out of the ring with a suicide dive. Kofi instead dives into the top rope, intentionally, and bounces back into the ring. Cool stuff here from Kingston.
Marella returns to the apron and when Kofi tries to pull him into the ring Marella hotshots him with a reverse neckbreaker. After Marella does a little more offense and delivers a thumb to the eye of Kingston, he tags Beth Phoenix back in. After a quick kick to the midsection of Kofi, she tags her partner right back in. Marella hits a snap suplex and goes for the cover. Kofi kicks it out at two. Marella responds to this by sitting on the back of Kofi and wrenching on the IC champ's neck. Kofi eventually stands this up and both men hit the ropes. The two collide in the middle and it looks as though they accidently bumped heads. Marella makes the tag and Kofi is able to do the same. Mickie comes in hot and nails the Glamazon with a series of forearms. Mickie then hits the ropes and takes Phoenix off her feet with a slingblade. She hits a second slingblade and when Marella tries to enter the ring James dropkicks him off the apron. After a hurricanrana, Mickie heads to the top rope and hits Phoenix with the Lou Thesz press from the air. She goes for the cover but Marella enters the ring to break it up. James hits him with a cool tornado DDT but this allows Phoenix to attack her from behind. Phoenix hits James with the Glam Slam and makes the cover. The ref counts the three and Beth Phoenix and Santino Marella are new Title holders. This is the first time the IC Title changed hands at SummerSlam since 2002 when Rob Van Dam beat Chris Benoit. (More on that here.) If you have taken the time to read about this match do yourself a favor and DON'T watch it. Pure trash and a disgrace to a Title that has been carried by some of the greatest bell-to-bell performers of all-time. Match Time-5:35
---
Always Use Your Head and visit the official Pro Wrestling Tees store for The Chairshot All t-shirt proceeds help support the advancement of your favorite hard-hitting wrestling website, The Chairshot!

---
Chairshot Classics: WCW WrestleWar '91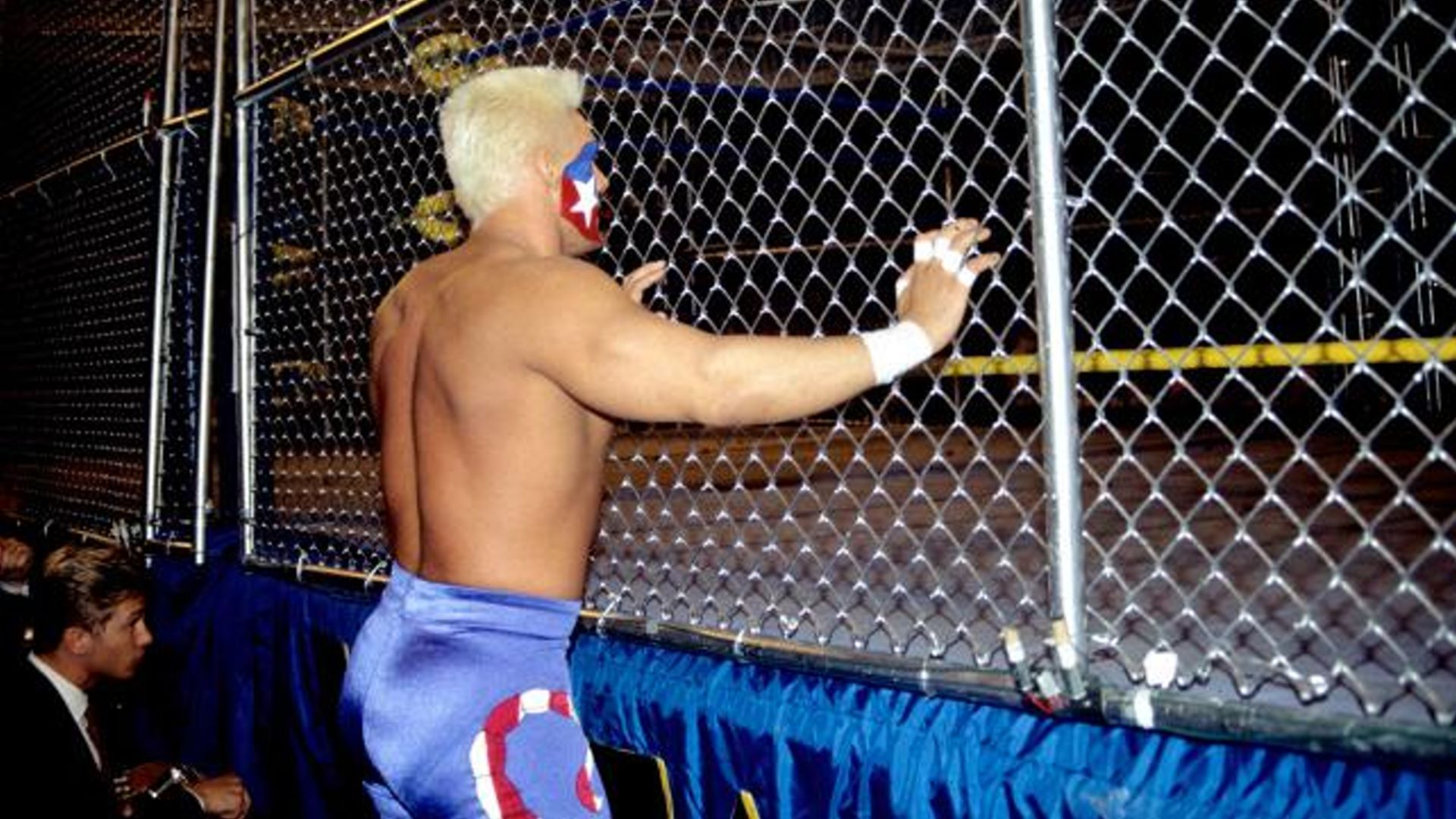 For the first time, WCW holds a pay-per-view fully on their own, as they continue their slow split with the National Wrestling Alliance. This event is not under the NWA banner any longer, but brings back the WarGames for the continued fallout from Starrcade. 'The Nature Boy' is also the new World Champion again, ending Sting's reign roughly a month and a half prior. Sting has now fielded his squad to even the odds with The Four Horsemen, but can his patchwork team match the cohesion of Ric Flair's men?
Match #1 for the WCW World Six-Man Tag Team Championships: WCW World Six-Man Tag Team Champions Junkyard Dog, Ricky Morton & 'Wildfire' Tommy Rich vs. The State Patrol (Lt. James Earl Wright & Sgt. Buddy Lee Parker) & Big Cat
Cat and JYD start the action. The two big men exchange rights and JYD catches his jaw. JYD ducks a clothesline and hits one of his own. He headbutts Big Cat who quickly tags in Wright. Side headlock and a tag to Morton. Wright sends Morton, but Ricky avoids contact and sends him down with a hiptoss and an armdrag. More arm drags from the RnR man. Tag is made to Rich and they double clothesline Wright. Wristlock into an armbar on Wright. He fights out of the hold and sends Rich to the ropes.
Wildfire reverses the offense and scoop slams him. Wright moves away from an elbow but Rich doesn't pull the trigger. An arm drag into a wristlock by Rich, Wright breaks it up with a poke to the eyes. He slams Rich and tags in Parker. Parker misses an elbow and is sent over with an arm drag and gets caught in an arm bar. Shoulder blocks to the midsection from Parker who sends Rich to the ropes. Shoulder tackles by Rich, who then reverses a hiptoss into one of his own. Another arm drag by Rich. Tag is made to Morton and Parker powers him into the corner. Morton reverses an Irish whip and delivers an inverted atomic drop. Wright rushes the ring and has the same fate. Arm drag by Morton and he pulls his opponent up, tagging in JYD. Snapmare and a stomp by the big man. A headbutt from JYD and Big Cat is tagged back in.
JYD looks for a test of strength, Big Cat has the early advantage but JYD reverses it with a back heel trip. They exchange head butts and Big Cat drops an elbow for two. Parker is tagged back in, he strikes JYD with no effect. JYD fights back and tags in Morton. They run the ropes and Morton is hit in the mid section. Wright is tagged in and the Patrol double teams Morton. More double team work by State Patrol after another quick tag. Big Cat is tagged in. Drop toe hold/elbow combo from the partners. Lateral press but Morton kicks out. Morton is sent and gets a dropkick by the big man. Cat headbutts him to the ground and kicks him into the corner. He slams Morton down but Ricky moves from the big elbow. Parker is tagged in and he exchanges rights with Morton. Powerslam in midair from Parker but Morton kicks out.
Another quick tag and a bulldog/elbow combo from the Patrol. Yet another quick tag and Morton is reeling from double team work. Big Cat is in. Morton tries a cross body but is caught with a back breaker. Big Cat gets some heat on his opponents and with the ref's back turned, Morton is triple teamed. Parker is tagged in and applies a reverse chinlock. Irish whip, but Morton moves and Parker hits the turnbuckle. Wright is tagged in, but Morton somersaults over and tags in big JYD. He goes right to work and hits Parker with the Big Thump. Cat breaks up the pin attempt as all participants rush the ring. JYD gets up and knocks Cat out of the ring and Morton jumps on the laid out Parker and picks up a three count.
Winners and STILL WCW Six-Man Tag Team Champions: JYD, Morton & Rich (Morton/Thump)
EA's Take: Well, I guess you don't have to be the legal man to pick up the win. I've seen he idea of a 6-Man Title in WWE being tossed around by some on social media and I can't even begin to imagine how much of an abortion that would be. Nevertheless, this one was just a way to just cluster mid-card guys together and the championships don't even last a calendar year in WCW. It just doesn't have the appeal and excitement you'd think outside of Mexico. I've never seen the need for it.
In The Arena: Tony Schiavone is standing by with Terry Taylor and Alexandra York. York explains that thanks to Taylor's in-ring success, the York Foundation is flourishing. They have been using computers to scientifically determine their opponent's weakness. York predicts Taylor will win in less than 15 minutes and 28 seconds, Taylor predicts pain.
Match #2: Brad Armstrong vs. 'Beautiful' Bobby Eaton
Eaton blindsides Armstrong right off the bat. Armstrong fights back and they run the ropes. Headscissor, dropkick and an arm drag by Armstrong. He hangs on for an armbar. Back to a vertical base, wristlock by Armstrong. It's broken in the corner and Eaton slaps Armstrong across the face. A reversed Irish whip, and Armstrong monkey flips Eaton and goes right back to the arm bar. He keeps the pressure on the arm. Back to their feet and Eaton breaks it with a knee before dumping Armstrong to the floor. He gives chase and Randy Anderson starts the count. Armstrong drives Eaton into the rail and ring post. Both men back to the ring and Armstrong returns to the arm.
He holds a wrist lock before transitioning back to the armbar. Eaton gets over to the ropes to break it. Tempers flare and they shove one another, Eaton cowers back to the ropes again. Eaton calls for a test of strength and Amrstrong obliges. Kick to the mid section by Eaton and Armstrong drops to his knees. Back to a vertical base for Armstrong. He disorients Eaton by climbing up over his shoulders, running up the turnbuckle and turning around with a flying cross body and a two count. Arm drag/Armbar combo once again for Armstrong. Back to their feet and to the corner, Eaton hits a cheap right. Eaton slingshots Armstrong over the ropes but it's reversed.
Armstrong with a right to the abdomen and goes back to work on the wrist and arm. Eaton reverses a waist lock and hits a huge clothesline. Eaton is slow to cover and only gets two. He sends Armstrong and lifts him for a back breaker. He leans in but Armstrong kicks out again. Scoop slam by Eaton  followed with an elbow, he can still only get two. Reverse chinlock by Eaton. Armstrong hits elbows but Eaton stops the breakup with a knee to the face. Slingshot backbreaker by Beautiful Bobby. He goes for the pin and Armstrong kicks out.
Eaton applies a modified Camel Clutch. The crowd gets behind Armstrong who works to his feet. Shots to the midsection, but Eaton counters the attempt with an elbow and he kicks Armstrong out to the floor. Bobby hotshots him across the railing and heads back to the ring. Armstrong is slow to return but he beats the count. An abdominal stretch is applied by Eaton who uses the ropes for leverage. Randy Anderson crawls in between Armstrong's legs to catch Eaton cheating and breaks it up.
The two exchange blows, Irish whip but Armstong moves and Eaton goes legs first into the turnbuckle. Drop kick followed by a side Russian leg sweep by Brad but Eaton is too close to the ropes to get the pin. Irish whip by Armstrong but Eaton reverses with a neck breaker. Eaton heads to the top rope and he lands a flying leg drop which earns him the win.
Winner: 'Beautiful' Bobby Eaton (Alabama Jam)
EA's Take: Cornette and Lane have both departed the company at this point. I miss The 

Midnight

 Express, but I'm happy to see Eaton putting on great singles matches. Unfortunately for him, we'd find out there was a reason why he was always in a tag team as he can't really talk well or change his look with the times. The Armstrong family has to be one of the most underrated families in wrestling. When I started watching WCW religiously in the mid 90's, Brad was doing a lot of jobs, but there's no doubt the guy could work. It's just too bad he was never able to show his personality on-camera, then later gets saddled with a gimmick blatantly ripping off his own brother.
---
Always Use Your Head and visit the official Pro Wrestling Tees store for The Chairshot All t-shirt proceeds help support the advancement of your favorite hard-hitting wrestling website, The Chairshot!

---
Chairshot Classics: Raw #7 [March 1st 1993]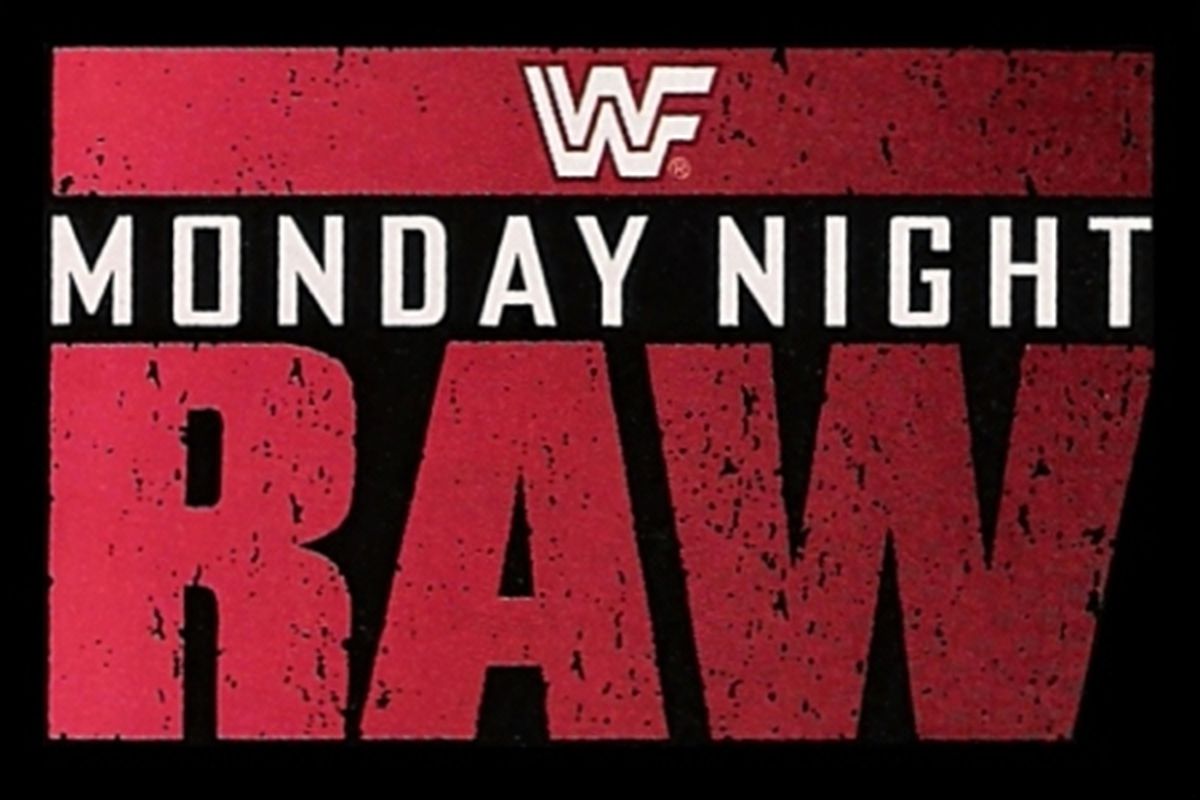 Hello from the Raw side where we chronologically wander through past episodes of WWE's Monday Night Raw episode by episode. Seven weeks in and it's time for a WWE Title match. To see who it was defended against and if it was defended at all (see what I did there?) lets head on to
Raw #7 [March 1 1993]
As soon as Raw opens, WWE Champion, Bret Hart is on his way down the isle for……
. Bret Hart vs Fatu [WWE Title]
Fatu pushes Bret out of a Collar and Elbow. Bret turns a second one into a Headlock but Fatu sends him off the ropes. Nobody moves as both men clash shoulders together in the centre of the ring. Bret charges at Fatu who catches Bret and Bodyslams him before an Elbow Drop that Bret rolls to avoid. Bret hits an Armdrag followed by knees to the shoulder before applying an Armbar. Fatu breaks it by throwing Bret into the turnbuckles. However, Bret avoids a charging Fatu and Armdrags him into another Armbar. Fatu breaks this one by sending Bret off the ropes. Again nobody moves when both men clash shoulders in the centre of the ring. Bret hits Fatu with another Shoulder Block and this time Fatu goes down. Bret runs the ropes and falls over Fatu (which Vince tries to pass off as a trip by Fatu's manager, Afa, despite Afa being nowhere near Bret) and clutches his knee. He's faking it. As Fatu celebrates his opponent's injury Bret runs at Fatu and rolls him up with a School Boy that gets him a two count.
Bret Arm Wringers his way back into the Armbar. Fatu tries to break it with a Bodyslam but Bret rolls through it still holding the Armbar. Fatu breaks it again by sending Bret off the ropes but Fatu telegraphs a Back Drop and Bret Faceplants Fatu into the canvas. Fatu is Samoan and apparently shots to the head (like a Faceplant) have no effect on him and he stands straight back up and Superkicks Bret for a two count. Fatu uses his hard Samoan head to hit Bret with a Headbutt. Fatu sends Bret off the ropes and tries to Hip Toss Bret. He counters it and, despite managing to Armdrag Fatu twice so far this match, can't Hip Toss Fatu because he's too heavy and gets Clotheslined by Fatu for another two count. Fatu applies a nerve grip to Bret's shoulder. Bret tries to fight his way out with Elbows to the gut but Fatu pulls Bret's hair and re-applies the nerve grip. It's eventually broken when Fatu gets hungry and bites Bret. Fatu catches Bret as he runs right into a Back Elbow and gets a two count. Samu walks down the isle. Bret ducks a Clothesline and hits a Cross Body for a two. Fatu kicks out hard enough to send Bret rolling out of the ring. Afa distracts the referee allowing Samu to Bodyslam Bret Hart onto the ringside mats followed by a series of Headbutts and finally Sam rams Bret into the ringside steps.
Back from the ads and Bret is still on the outside of the ring and not been counted out. (how short were the ads back in '93 and can we have those back?) Fatu is fanally bored waiting and hits Bret's head off the apron before rolling Bret back into the ring. Fatu Headbutts Bret and Irish Whips him hard into the corner. Fatu gets a two from a side Backbreaker. Fatu Irish Whips Bret again and drops with another Headbutt for another two count. Fatu gets another two count from a Piledriver. Fatu bites at Bret again and kicks him in one corner before Irish Whipping Bret chest first into another for yet another two count. Fatu gets another one from a Sidewalk Slam and a second rope Headbutt. Fatu climbs to the top turnbuckle but Bret stops him with a Right Hand and Superplexes Fatu for a two count as does a Bulldog. Bret hits a Side Backbreaker and a second rope Elbow Drop before applying the Sharpshooter. Afa distracts the referee while Samu Clotheslines Bret. Fatu rolls out of the ring and Samu gets a two count. Afa distracts again and Fatu is back in. Bret slips out of a Bodyslam attempt and pushes Fatu into Samu causing Samu to get tied up in the ropes. Bret hits Fatu with a Russian Leg Sweep and Dropkicks Afa to prevent him interfering. Bret locks Fatu in the Sharpshooter and this is over.
Winner: Bret Hart [still WWE Champion]
Time for a Wrestlemania Report. Mean Gene hypes the matches for Westlemania including Hogan & Beefcake vs DiBiase & IRS, Giant Gonzales vs The Undertaker, Shawn Michaels vs Tatanka, Lex Luger vs Mr Perfect and Bret Hart vs Yokozuna. Tickets are still available.
Via sattelite we link up with Crush. He demonstates his prediction for his Wrestlemania match by crushing a coconut.
. Doink vs Koko B Ware
Doink attacks Koko before the bell with a Running Knee and then stops on Koko before Elbow Dropping Koko's knee. He then stops Koko's knee. Doink applies a Half Crab that quickly becomes an STF. Doink kicks at Koko's hamstring. Doink hits Koko with a Neckbreaker. Doink applies the Stump Puller and this one is over. Night of Submissions this is.
Winner: Doink
"Elvis" or Rob Bartlet interviews Doink at ringside. Doink hands Bartlet a tiny cream pie. Bartlet shows it to the crowd and turns right into… Doink smushes a normal sized cream pie into Bartlet's face. I love Doink sometimes.
We get the Bret Hart IcoPro ad, the Savage Slim Jim ad and the action figure ad.
Vince McMahon is in the ring with Ted DiBiase & IRS. DiBiase says he thought Hogan had gone off into the sunset but "oh no, here he comes again". DiBiase says that insted of taking an asset, Hogan has taken an overpaid loss in Jimmy Hart. IRS says if they wanted they could have put Beefcake out of wrestling for good, but they didn't and calls their attack "a wake up call". DiBiase says not only will they put the titles on the line against Hogan and Beefcake, but they wll do so at Wrestlemania. He should watch Raw, Mean Gene told me about this match earlier in the show on the Wrestlemania Report.
The Wrestlemania ad airs. Slightly over a month away and tickets are STILL available.
. Lex Luger vs PJ Walker
Yes people it's Enhancement Time! This time it's PJ Walker. He will go on to become ECW alumni Justin Credible. We will see him turn up in about 2020 as masked jellyfish Aldo Montoya.
Luger starts with a Kick to the gut and an Elbow to the back of PJ's head. Luger then Irish Whips PJ hard into the corner twice. Luger then lifts PJ and drops his back across Luger's knee for a Backbreaker and then hits a Suplex. Luger then rams PJ head first into the corner twice and then catches PJ with a High Knee. Luger then lifts PJ for a Bodyslam but instead runs him into the corner (similar to an Oklahoma Stampede). With PJ hanging from the turnbuckles in a Tree Of Woe stylee, Luger kicks at PJ's gut. Down off the corner, Luger then Soccer Kicks PJ in the ribs. Luger then hits PJ with a running Forearm and pins him with his pinkie.
Winner: Lex Luger
. Rick Steiner & Scott Steiner vs Duane Gill & Barry Hardy
Yes people, it's another Enhancement Time! This match feel familiar to anyone? It should, this is basically the Executioners vs The Steiners from Raw #1 only the Executioners are maskless.
Scott and Barry start. Scott goes quickly from an Arm Wringer into a Double Leg Takedown but Barry quickly gets to the ropes. Scott turns a Collar and Elbow into a Headlock and Barry pushes him off the ropes. Scott hits him with a Shoulder Block as he rebounds which knocks Barry down. Scott goes off the ropes again, leapfrogs Barry and smashes a Forearm across his back. Scott grabs Barry and lauches him with an Overhead Belly To Belly Suplex. Scott hits a Snapmare and tags Rick who Clotheslines Barry over the top rope and out of the ring. Scott throws Barry back into the ring where Rick lifts him onto his shoulder and runs (similar to Luger's variation of the Oklahoma Stampede earlier) into the corner. Rick throws Barry into his own corner so he can tag Duane who runs straight into a Back Drop by Rick. Duane is then thrown off the ropes where Rick catches him with a Tilt-a-Whirl Backbreaker and an Elbow Drop. Scott tags in and hits Duane with a Pump Handle Slam. Scott sends Duane off the ropes and Dropkicks him. Rick tags in and briefly applies a Camel Clutch before tagging Scott back in. Scott hits a Double Underhook Suplex and a Frankensteiner. He covers Duane and to no surprise, this is over.
Winners: Rick Steiner & Scott Steiner
The ad for Mania airs again.
Commentary hype next weeks matches including Mr Perfect vs Rick Martel and Ted DiBiase & IRS vs El Matador & Virgil and we are done for another week.
Post Show: What can I say? Raw in 1993 is what it is and it will be that way for a couple of years yet.
Match Of The Night: Bret Hart vs Fatu. It was a WWE Championship match on TV and was at least given time for them to do something with. The rest was just filler.
MVP: Bret Hart AND Fatu. Fatu's offence plus Bret's selling made the match.
Rating: 6/10
With that I bid you farewell. I'll be back next week with Episode 8. In the meantime I can be found on Twitter @Callaweasy2220 where I live tweet Raw, Smackdown, NXT and (when there's one on like the other night with Extreme Rules) pay per view. I also talk Wrestling and post random pictures of what wrestling I am watching so feel free to pop over.
While you are here on TheChairshot.com we have news, views and reviews for you to amuse yourself with.
As I said, I'll be back next week so until then, #UseYourHead and ALWAYS have an Angle!
---
Always Use Your Head and visit the official Pro Wrestling Tees store for The Chairshot All t-shirt proceeds help support the advancement of your favorite hard-hitting wrestling website, The Chairshot!

---