WrestleMania 31: Bay Area Beatdown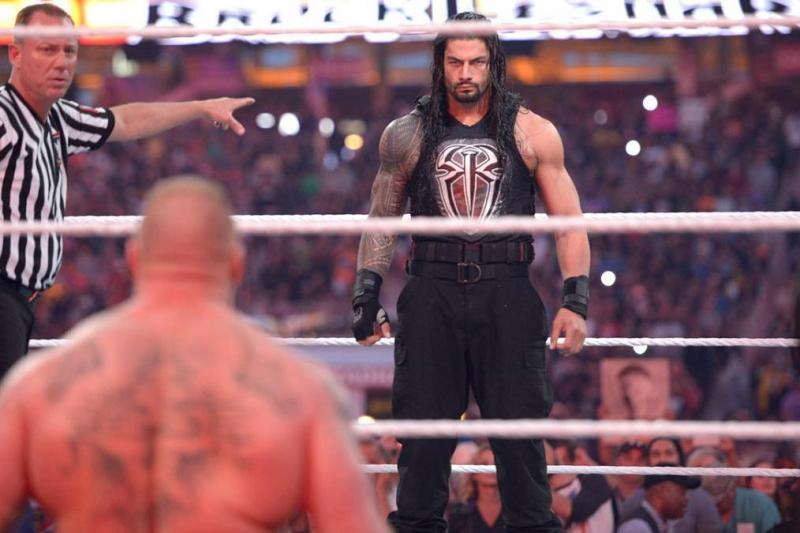 WrestleMania 31 is a very special one for your humble commentator, this is the very first WrestleMania I got to watch live, thanks to the Network. My parents aren't into wrestling and we couldn't afford the PPVs anyway, so getting to watch a WrestleMania live made it very special to me.
WrestleMania 31 comes to us from the San Francisco area and it marks the first time Roman Reigns main evented WrestleMania. It would also feature a dream match of the Monday Night Wars, the return of the Undertaker after his shocking defeat at the hands of Brock Lesnar at WrestleMania 30, and Daniel Bryan's return from a career threatening neck injury. So how does WrestleMania 31 hold up to all this potential? Let's find out!
Pre-Show
We start with LL Cool J talking about what 'Mania' means and a montage of Mania moment. Not much to talk about, it was really quick.
Fatal 4-Way Tag Team Match for the WWE Tag Team Championship: Tyson Kidd & Cesaro (with Natalya) vs Los Matadores (with El Torito) vs New Day (with Xavier Woods) vs The Usos (with Naomi)
Usos are coming out first to a really good pop, especially being announced from San Francisco. Los Matadores get no reaction. New Day get no reaction, which is weird to hear, considering how over they became. Kidd and Cesaro get the best pop.
I'm not sure why every team in this has a manager, but we start off with Cesaro and Kofi. Cesaro gets tagged out and attacks Jey Uso (I think).
This is a really good match, but all the teams made it a little hard to keep track of what was going on. All the teams looked great, and Jimmy Uso trying to win it all by himself was really over with the crowd.  All the managers at ringside just seemed to add to the chaos of this match and not in a good way. It was almost a 12 person mixed tag.
Winner: Cesaro retains the titles for his team by pinning Big E.
Highlights: Jimmy Uso trying to win the titles by himself. Los Matadores hitting a Powerbomb/Backstabber combo. El Torito taking out Kofi and Natalya taking out El Torito.
Comments: This was a good match, but there was too much going on that was unnecessary.
Andre the Giant Memorial Battle Royal
No one is getting an individual entrance for this, which is sad. I forgot that the tag teams from the previous match are also in this thing. Axel is running his mouth over the Royal Rumble (Dude, you were never IN the Royal Rumble, shut up) and is thrown out by the majority of the participants.
The final three comes down to Big Show, Miz, and Mizdow. Miz tells Mizdow that they'll take out Show together, but Mizdow refuses. Miz gets up in Mizdow's face and basically TELLS him that they're going to take on Big Show together. When Mizdow STILL refuses, Miz throws a fit and starts poking him in the chest, HARD. Mizdow's finally had enough and eliminates Miz, to Miz's fury. Meanwhile, Show just stands in the corner and waits for them to work their issues out.
Now that Miz is gone, Show and Mizdow can get down to business. Show doesn't think Mizdow has a prayer of getting him over, but Mizdow is going to try. Show throws Mizdow over the top rope, but Mizdow hangs on and takes it to Show. Mizdow gets Show into the ropes, but Show is just too big and strong. Mizdow gets Show over the top rope to the apron, but Show catches him in a chokeslam. Mizdown tries to pull a Benoit from 2004, but Benoit was a lot stronger than Mizdow and Show eliminates him.
Winner: Big Show by eliminating Damian Mizdow. Show finally won a battle royal.
Highlights: Axel being eliminated, Gabriel and Fandango eliminating each other. Mizdow FINALLY turning on Miz. Itami eliminating Bo Dallas.
Comments: That was a really good match. Good for Big Show.
Opener
We start with Aloe Blacc singing 'America, the Beautiful'. He sounds fantastic.
We start with LL Cool J talking about how people have been brought together since radio and TV and how WrestleMania is the same way. We get a montage of WrestleMania moments.
Ladder Match for the WWE Intercontinental Championship: Bad New Barrett vs Dean Ambrose vs Daniel Bryan vs Luke Harper vs Dolph Ziggler vs R-Truth vs Stardust
Bryan is out first to a huge pop. Barrett is out next a chorus of boos. Ziggler gets a great pop. Stardust gets little reaction, though his outfit looks…cool. Harper gets little reaction. R-Truth gets an okay reaction. Ambrose gets a huge reaction.
This was a really great match. Everyone got their spots in and it really could've been anyone's game. I darn near had a heart attack when Dean was put through the ladder.
Winner: Daniel Bryan retrieves the IC belt. The crowd LOSES it.
Highlights: Ambrose's elbow drop off the ladder. The 'Cody' chants. Stardust's special ladder. The fate of said special ladder.
Comments: That was a great opening to WrestleMania. This would be Bryan's last WrestleMania appearance for a few years due to his seeming retirement due to concussion-related brain injuries.
We get a promo for Tapout and a video package for Orton/Rollins
Randy Orton vs Seth Rollins (with J&J Security)
Seth and company get a great pop. Seth seems pretty chipper. I remember how much I hated him back then. Orton gets a great pop. He's achieved that status where he's cheered whether he's a face or heel.
This match gets off to a slow start, but these two are equally matched. Something I'm hearing that is irking me greatly is that somehow Rollins is a relative newbie in the business, when he's actually been working in professional wrestling about as long as Orton has, and most of the guys in the first few generations of NXT.
Randy is one of the few people who can take the turnbuckle bomb correctly and with Rollins out, he turns his attention to J&J, but that costs him because Seth hits the suicide dive.
The commentators make a good point, Randy's getting too caught up in the emotion, or he's too arrogant to take Rollins seriously.
This was a really great match in terms of story and ring work. Orton and Rollins have very similar styles and are equal in terms of experience, so it made the match very nice to watch.
Winner: Randy Orton by pinfall
Highlights: Orton countering the Curbstomp into an RKO.
Comments: I really enjoyed this match, they were a good pairing
We have a promo for the WWE Double Attack Figures.
We see Ronda Rousey in the audience and she's having a blast. Lawler jokes that Ronda looks like she wants to get in the ring herself.
We get a video package for Triple H vs Sting.
No Disqualification Match: Triple H vs Sting
There's a drum group with makeup like Sting's performing his entrance. Sting gets a really great pop. He looks like he really wasn't expecting that reaction. Something is smoking in the background, I hope that's supposed to happen.
Triple H's entrance starts with a video of the Bay Area and then it turns apocalyptic. Oh, that's right, they put Arnold in the Hall of Fame and he let them borrow the Terminator for Triple H's entrance. Even the robots know Trips is going to be booed.
ave to admit, Triple H's Terminator/Skull King gear is pretty cool, and he gets a great pop on top of it.
JBL tries to say Sting is intimidated, Sting doesn't look impressed, in my opinion. The man's faced off with a lot of legends, he's not worried about Triple H.
We start with a face off, both men trying to play mind games. This match really isn't going anywhere. Even if I didn't know what was going to happen, it looks like they're waiting for something to happen.
This commentary about Sting is getting on my nerves in a BIG way. I realize that Cole, Lawler, and JBL are more familiar with Triple H, but their shock over Sting being good and being dominate is really annoying me. Also, JBL saying that Sting tried to put WWE out of business is certainly not true and was uncalled for.
The whole DX/NWO thing would've been cool right after WCW went under, but almost fifteen years later, it's feeling a little flat.
All in all, this was a really good match, but I wish they hadn't waited until AFTER the run ins to pick up the pace.
Winner: Triple H by pinfall, but honestly, I really think Sting should have, so the fans see Triple H get his. Afterwards, both factions get into the ring to check on their guys and we have a standoff. Triple H extends his hand to Sting and they shake hands
Highlights: NWO/DX face off, even though the three original members of the NWO were top WWE guys first.
Comments: I liked this match, but I would've preferred Sting/Undertaker instead. The run ins of the NWO and DX made things a mess. Also, this would be Sting's only WrestleMania appearance. He would retire due to injuries in 2016.
Maria Menounos has an interview with Daniel Bryan and we get this really irritating (at least to me) segment where he gets congratulated by former IC champions.
Halftime show time: Travis Barker, Skylar Gray and Kid Ing (I think). This is okay, but I'm still against taking time out just for a musical act.
The Bella Twins vs Paige and AJ Lee
Paige and AJ both get good pops. Surprisingly, so do the Bellas, despite being the heels.
Paige draws first blood, but Nikki fights back, takes out AJ and hits Paige with an Alabama Slam. The Bellas take control pretty quickly and without AJ, this is pretty much a handicap match.
I really liked this match because the women of Total Divas, the Bellas especially, get a bad rap for only being on the roster for their looks. Nikki, Brie, and Paige really showed that they were every bit as athletic and talented as the guys or the women in NXT.
Winner: AJ gets the submission. The Bellas aren't happy, but Nikki's still the champion.
Highlights: The Bellas showing why they aren't people to dismiss or take lightly, despite what the naysayers want to believe.
Comments: The thing that annoys me most about this match is the fact that AJ did basically nothing but got the victory for her team. However, this would also be AJ's final WrestleMania. She would retire shortly after this match.
United States Championship Match: Rusev (with Lana) vs John Cena
Rusev's entrance starts 'Russian' soldiers, Russian flags, tanks, cannon, the Russian National Anthem. Lana comes down to the ring bearing the US Title, escorted by soldiers. The cannon and tanks fire blanks and Rusev comes out ON a tank. The crowd is not happy about this, but it looks cool. For whatever reason, Rusev's ACTUAL theme doesn't start until he gets to the ring. We also get the start of the falling out between Rusev and Lana that would be a big storyline (for better or worse) during the summer.
Cena's response is a tribute to American greatness and ingenuity. Even with all that, Cena's pop is mixed. And he doesn't come out in a tank.
Rusev is a jerk to Eden Styles and insists on being introduced first, much to Eden's annoyance.
Cena draws first blood and goes for the quick pin, not sure why, Rusev responds and this match gets physical very quickly.
This was a rough and physical match, but the story was really great and Rusev and Cena worked really well together. Rusev plays the arrogant heel very well, but he's not a coward, thankfully. This match was very back and forth and Rusev really looked great.
People griped at the time about Cena beating Rusev, but the way he beat him actually protected Rusev. Rusev was beaten because of a distraction after accidentally hitting Lana, so the win was a luck break for Cena, not a burial.
Winner: John Cena by pinfall, we have a NEW US Champion. Rusev is furious and berates an injured Lana and storms off, leaving Lana behind.
Highlights: Rusev's entrance. That was seriously awesome.
Comments: I really liked that match.
Triple H and Stephanie announce that WWE has set a new attendance record for Levi Stadium: 76,976!!!
The Streak: Undertaker vs Bray Wyatt
Wyatt comes out first and as he makes his way to the ring, seems to bring zombie scarecrows to life, which is really creepy. It's not dark enough for the fireflies to come out and the lantern looks a bit ridiculous, but it's an eerie entrance.
It's not dark enough for the lights to go out for Taker, but that's okay, the entrance is still creepy. The Deadman Cometh to a great pop. Wyatt looks like he's about to pee his pants. As JBL puts it 'Bray Wyatt wants to dance with the devil? Welcome to hell!'.
Taker looks much better than he did at WrestleMania 30 and Wyatt looks like it's just occurred to him what he's gotten himself into: He just called out the devil, and the devil isn't happy.
Wyatt tries some mind games, but it's like an amateur trying to outdo the master. Wyatt finally charges at Taker and gets a boot to the face for his trouble.
Oh, this is much better than last year. Taker looks in much better shape and he's taking this fool to the woodshed. Wyatt gets in his first offensive move, but Taker gets up. Wyatt clotheslines Taker to the outside, but Taker lands on his feet and pulls Wyatt outside.
This match was 100% better than the match with Lesnar. Taker looked terrible in the Lesnar match. He looked like a sick old man and the concussion he received during the match just made it worse. In this match, he looks much healthier and seems to be firing on all the cylinders.
Winner: The Undertaker by pinfall. The Streak is 22-1
Highlights: Taker sitting up during Wyatt's spider move and Wyatt folding like a cheap chair. Wyatt's face when Taker gets him in a chokeslam.
Comments: There was some controversy over Taker coming back. A lot of people didn't see the point because the Streak was over, and Taker had only been coming back for WrestleMania, but I love that he came back. It was as if he wanted to prove that the Streak was not the only thing about his career that mattered and to dispel the image of the old man who lost to Brock Lesnar.
WWE World Heavyweight Championship: Brock Lesnar (with Paul Heyman) vs Roman Reigns
Roman comes out to a mixed reaction. He got a lot of flack for all the security, but given the reaction and the amount of people, it's totally understandable.
Lesnar gets a good pop, Heyman insists on introducing Lesnar himself.
Roman makes the first move but Lesnar dominates this match, but Roman keeps getting up.
This isn't a technical match, this is a fight, and it was a stiff one. Lesnar dominated most of the match, but Roman gave as good as he got, especially when it came to slugfests when he found an opening. Neither man pulled punches and Lesnar's face was starting to look lumpy from all the bruises. I was a little disappointed that Roman didn't get more offense in, but I think it was to play up Lesnar being an arrogant heel.
Rollins got a huge pop when his music hit and everyone knew what this meant: He was going to cash in and not only be the first to cash in at WrestleMania, but the first to cash-in mid-match and we have a Triple Threat match. Seth makes a mistake though, but targeting Lesnar instead of Roman. Lesnar was bleeding, but he wasn't so far gone that someone Seth's size could take him out. Lesnar gets Seth up in a F-5, but Roman's spear saves Seth, who thanks him by giving HIM the curb stomp for three and we have a new champion!
Winner: Seth Rollins by pinfall on Roman Reigns. Seth stays just long enough to get his hand raised then takes off like a bat out of hell.
Highlights: Seth's cash in. Roman making Lesnar bleed his own blood. Seth celebrating with the title.
Comments: The ending of this match enraged me in 2015, but looking back, I can see that Roman wasn't ready to be the top guy just yet. He still needed to grow and develop his ring and promo skills, whereas Rollins was ready for that spot.
Overall Comments
So, how did WrestleMania 31 do? Overall, it did really well. I'll admit that I noticed issues that I didn't notice when I first watched it because I was so excited about getting to see my first WrestleMania LIVE, and enjoyed some matches more than I had the first time around. This was a really good show overall and it's one I recommend watching for its own merits.
Snoozers: Triple H vs Sting. It started too slow and they were clearly waiting for the run ins.
Stinkers: Tag Team match. The match was good, but every team having a manager and the managers getting involved made it too chaotic.
Match of the Night: Cena vs Rusev. That was really an awesome match.
Hall of Fame: Randy Savage, Rikishi, Alundra Blayze, Larry Zybszko, Tatsumi Fujinami, Kevin Nash, The Bushwhackers, Arnold Schwarzenegger
Warrior Award: Connor 'The Crusher' Michalek.
Final Thoughts: I enjoyed this show, and had a lot of fun watching it when my Network would cooperate.
Chairshot Classic: Andrew's 2019 AEW Double or Nothing Ratings & Analysis
Take a look back at AEW's first PPV effort, the 2019 Double Or Nothing in Andrew's Retro Ratings and Analysis!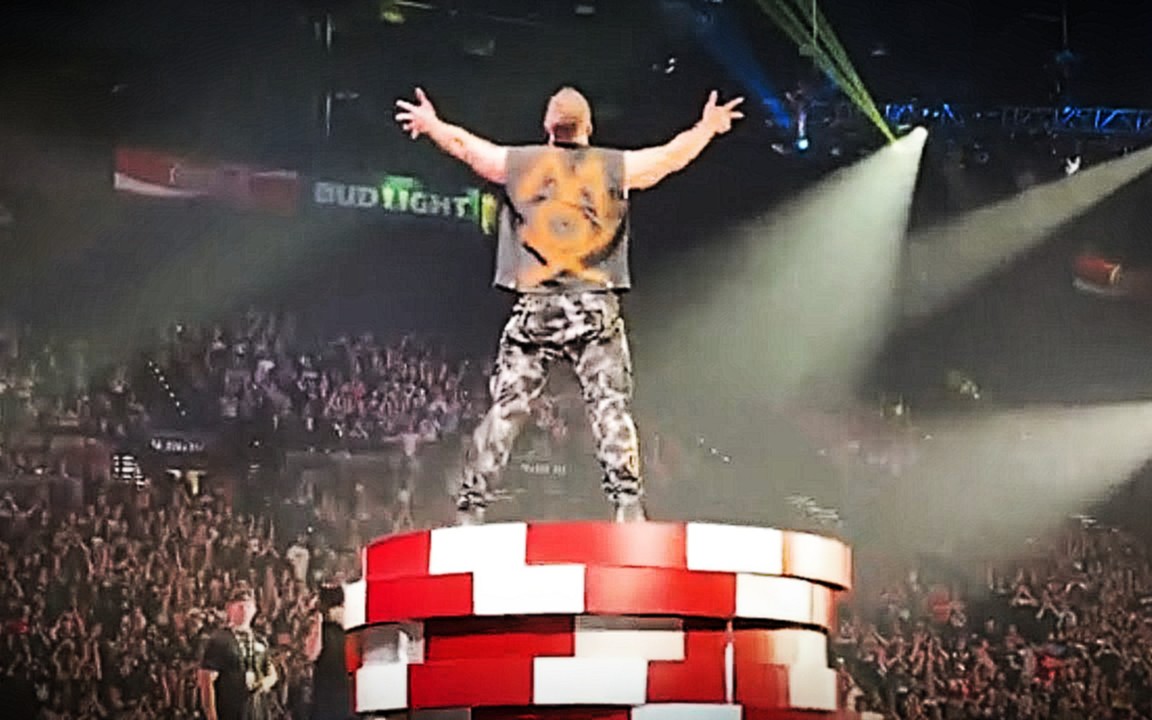 Take a look back at AEW's first PPV effort, the 2019 Double Or Nothing in Andrew's Retro Ratings and Analysis!
With AEW Double Or Nothing–the 2022 edition–on the horizon, enjoy this trip down memory lane as Andrew Balaz reviewed the inaugural Las Vegas AEW pay-per-view…spectacular?
Well this is history boys and girls. Good, bad or indifferent, it's the first show of the IWC's favorite t-shirt company. What becomes of Hangman since he's injured and PAC cancelled? What surprises will we get?
We all sit here with bated breath. Some want it to fail, many want it to succeed. Me? I just want it to not suck.
Let's see what we got!
Ratings:
Casino Battle Royal: Hangman Page wins @10:45 – **
Sammy Guevara vs Kip Sabian: Sabian wins Argentine Facebuster @9:55 – ***
So Cal Uncensored vs Strong Hearts: SCU wins via Best Meltzer Ever @14:00 – *** 1/2
Britt Baker vs Nyla Rose vs Kylie Rae vs Awesome Kong: Britt Bakers wins via Kneecap Brainbuster @11:05 – ***
Best Friends vs Angelico & Jack Evans: Best Friends win via Strong Zero @12:55 – ** 1/2
Riho, Hikaru Shida &  Ryo Mizunami vs Aja Kong, Yuka Sakazaki & Emi Sakura: Hikaru wins via Three Count @13:10 – *** 1/4
Dustin Rhodes vs Cody Rhodes: Cody wins via Crossroads @22:35 – *****
AAA Tag Team Championship: The Young Bucks (c) vs Lucha Brothers: Bucks retain via Meltzer Driver @25:00 – *****
Kenny Omega vs Chris Jericho: Jericho wins via Judas Effect @23:50 – **** 1/4
Analysis:
This was definitely a mess. A few spots, a bunch of messy spots and just generally awkward moments. Flying Brian Jr had a few decent spots, Luchasaurus looked good and Orange Cassidy is awful. Hangman being the 21st entrant made a lot of sense, but probably already upset a few people since it wasn't CM Punk or Jon Moxley. Of course Page won. He can fight with a bum leg, cause he has three of them. So yeah, not an awful match, but it had a lot of issues.
Sabian looked tremendous in this match. Guevara definitely did too much. Shooting Star onto Sabian draped over the outside barricade, a bad double Moonsault and standing Shoot Star hurt the match a little. But Sabian's technically proficient, charismatic and can hang in the air a bit too. So Sabian was the star here. Solid match.
Well now, this was great. Strong Hearts trio pulled off some great fluid offense and SCU did fantastic. This was just a great match, I can't really accurately describe more than great match. Best Meltzer Ever is a little dumb when it comes to names, but damn was this a good match.
So Brandi comes out in her gear to swerve us that she's adding herself to the match, but instead she adds Awesome Kong! So the Triple Threat turns into a Fatal 4 Way and it's not bad. A lot of the early portion is focused on taking out Kong, then Nyla becomes the target. Britt and Kylie are the ones left in the ring after the collateral damage. Kylie looks to be firing up for a finish, but Britt catches her in a Kneecap Brainbuster (Adam Cole's Last Shot in ROH).
Excessive spots, excessive near falls, I knew to expect it to a degree with these four, but that doesn't make it better. This was definitely an 'Indie style" match, but the crowd seemed to enjoy it. There was a lights out attack on both teams from…some team, with masked minions. The "Who Are You" chant kicks up and commentary doesn't lend any information. So that's really not helpful.
Everyone got their stuff in, we got to see a lot of personality from the different women and the action was solid. I also appreciated Emi Sakura trying to rally momentum doing We Will Rock You stomps (since she was dressed as Freddy Mercury). Save for the big mess up with the bell ringer calling the end of the match when the referee obviously held up 2 and said 2, just messed up the flow and gave away the finish since Hikaru's music played. Not bad, just the ending did kind of take the air out of a pretty good match.
Wow. Dustin and Cody brought it, Dustin bladed pretty deep, I think even Dusty would've blushed. New moves from Dustin like the Misawa style Apron Senton, a Code Red and a few classics. The blood, the desire to keep fighting, this was everything wrestling should be. It made sense for Cody to win the match of course, but wow after the match was a beautiful moment. Also call of the night might have to go to Excalibur when Cody hit a Pump Kick aka Bicycle Kick and you hear him say something like " He hit him with a BICYCLE".  In a huge homage to Dustin and Dusty's Heart to Heart promo, Cody tells Dustin he can't retire, because he needs a partner. He doesn't just need a partner, he needs his big brother. This was a great way cap off such a hard hitting personal match. Wow.
Belt reveal with a few extra curricular and Bret Hart. Much like Bret Hart, the belt doesn't do anything for me. It looks a lot like Big Gold, but it's so ostentatious it's hard to love it. Just too shimmery or whatever. It's not bad, but I in no way love the belt.
I'm very happy there was the unveiling ceremony between the Rhodes match and this one. Cause this was a great match and moving it out too quick could've hurt the crowd immersion. Great tandem moves, a decent thread of the ring rust playing a part against the Young Bucks early on and just generally great spots. There definitely was a lot of stuff, big spots and it was "spot monkey" style, but it all worked. The Lucha Brothers pulled out crazy moves to try and get the AAA belts back and the Bucks were trying to prove they still had it with most of the year off. Just really really good.
Well now Jericho and Omega pick back up where they left off. Referee Paul Turner allows for a lot of out of the ring shenanigans. Jericho busts Omega open, tries to use a table as a shield, but Omega still throws himself at Jericho.Jericho focuses on Omega's face with the Triangle Dropkick, a Lionsault went high and this was pretty damn solid. A few missteps and Jericho not countering the first One Winged Angel was car crash worthy, but aside from that, this was nice. Multiple Codebreakers followed by the new Judas Effect, leave Omega laying for the 1, 2, 3.
Jericho says AEW is for him not for fans, and he deserves a thank you. When the crowd pops, Jericho thinks it's for him, but Jon Moxley makes his debut through the crowd! Almost as if it were a reference to Lex Luger showing up on the first Nitro, it looks like Jericho basically says "You don't work here". Dirty Deeds to Jericho, Dirty Deeds to referee Paul Turner and Omega manages a burst of energy to brawl for a little bit. They end up on the poker chips, Moxley hits Dirty Deeds and then just dumps him off, onto some other stage item.
Overall Score: 8.5/10
Well damn, I was skeptical since All In didn't rate as highly for me as other fans, but this was great. Aside from a few personal gripes, and not really enjoying the cluster that was the Battle Royal, this was one of the better shows of the year thus far. Good surprises like Awesome Kong, Bret Hart and Jon Moxley. Jericho winning the main event breaks up The Elite getting the clean sweep, so that shows it's not as predictable as All In.
Oh and yes, I can't express how good the Rhodes match was. The match itself, the story it told, the promo after, everything was just beautiful. That is my number 1 match of the year personally, cause it was just too damn poignant.
Good job AEW. Great show, and the symbolic moment where Cody used the sledgehammer to break the replica throne Triple H used for his WrestleMania 22 entrance. It was awesome.
Chairshot Classics: "Stone Cold" Steve Austin vs. The Rock from WWE Backlash 1999
Ahead of WrestleMania Backlash, Chris King takes a stroll back to WWE Backlash 1999 as Stone Cold Steve Austin defends his WWE Championship against The Rock.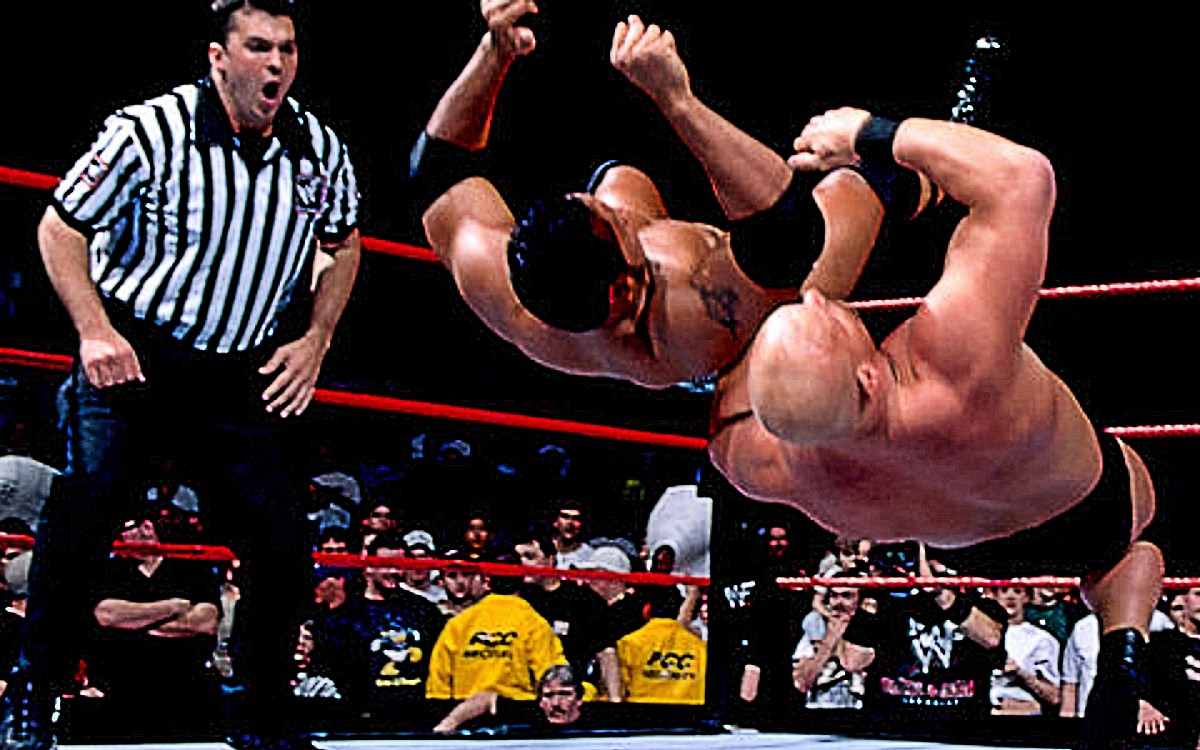 Ahead of WrestleMania Backlash, Chris King takes a stroll back to WWE Backlash 1999 as Stone Cold Steve Austin defends his WWE Championship against The Rock.
Let's set the scene for a minute, you've got "The Texas Rattlesnake" and Corporate Rock going one-on-one at WrestleMania XV. Austin wins the championship and the McMahon family is livid. Stone Cold wants his Smoking Skull Championship belt back, and Vince and Shane McMahon are trying to keep it from him by hook or by crook.
Damn, things were different during the Attitude Era, The Rock threw Stone Cold over a bridge and held a funeral for his rival. The storytelling was captivating and exciting, and it kept you guessing what would happen next. Keep in mind this match was conclusively built around a championship belt, something that would never work in the current product.
It was a high-octane no disqualification match with Shane as the special guest referee for their latest encounter. Austin began the match running straight into the ring for a brawl which spilled out all over the arena.  I miss how exciting these two superstars were. Rock hit a vicious Rock Bottom through the Spanish announce table and then got on commentary to talk some smack.
The arrogant challenger took the camera to talk trash while Austin laid on the other announce table, and ate a Stunner through the table. Man, the WWE Universe was on fire throughout the entire match. I feel like both superstars can't put on a bad match because they have such strong in-ring chemistry.
The finish of the match came when Austin had Rock set up for the three-count but Shane refused to count. Vince came down and struck Shane with the Smoking Skull belt. Austin hit another Stunner and decked the challenger with the belt for the victory. Vince then tossed his rival his precious Smoking Skull Championship.