Mathew's G1 Climax 28 B Block Results & Review: Day 18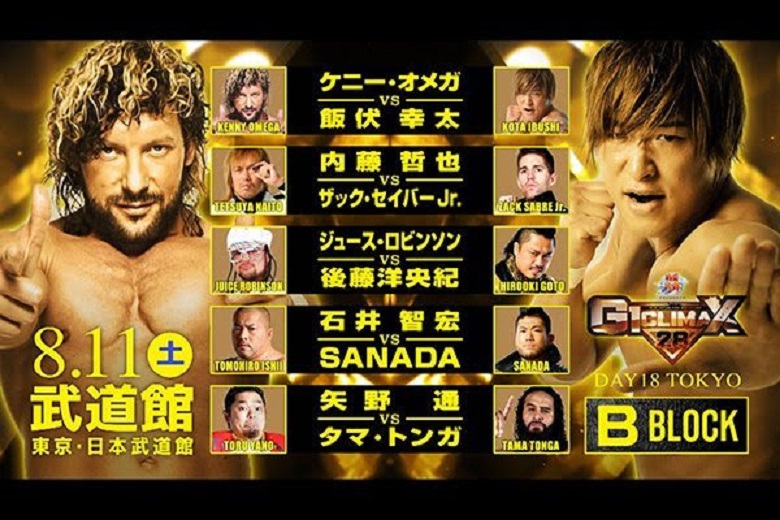 Welcome to the final day of B Block and for those that aren't aware, Hiroshi Tanahashi has won A Block after him and Kazuchika Okada had a thirty-minute draw.
I know I picked Okada to win A Block, but I'm very happy to see Tanahashi advance as he's still my favorite in the New Japan roster and how can you not be a fan of him? If you're not, then I'm not sure if I can trust you.
Anyway, now that A Block is all done, it is now time to see who moves on to fight Tanahashi tomorrow as our only options at this point are Kenny Omega, Kota Ibushi, and Tetsuya Naito. Yesterday, NJPW posted a ruling for today that if Tama Tonga or any of the OG Bullet Club members interfere in any of the B Block matches tonight, they would be fined and suspended for three months. Let's be honest, do you really think they care? Are they going to cooperate or keep doing what they're doing? Who will move on to B Block? Let's not waste any more time and…dive right in.
G1 Climax 2018 Block B Match
Toru Yano vs. Tama Tonga
Review: Looks like Tama is gonna have to do this one solo due to the ruling and I'm sure he doesn't need it since he's fighting Toru Yano, he even helped him at the last show with defeating Kenny Omega so Toru should be thanking him. But yes, Toru does have a win over Kenny Omega thanks to Tama despite him not being able to beat him in the tournament either and maybe Toru can rack up one final win. Since OG's are banned from ringside, what will Tonga's strategy be to defeat him? Is he gonna cheat and play along with Toru's games or is he going to actually play fair? I doubt it but let's see.
I wonder, could you really call it a match? I mean there kinda was one for a couple of minutes and it looked like Tama did have it under control for a while until Toru started getting the upper hand. It got to the point where Fale and Loa started to come out to try and come in ignoring the rule about being suspended. Tonga has choking Toru and the referee would try to break it up but gets ignored, which the referee pulls his hair Kento style. Tama didn't like that ine bit and goes ape shit hitting the Gun Stun to get disqualified as OG's are now kicked out of the building and Toru wins. Good job, Toru.
Recommended: It was more story driven than anything and guess they wanted to have them gone early. Still worth checking for 5 minutes.
G1 Climax 2018 Block B Match
Juice Robinson vs. Hirooki Goto
Review: These two are no strangers to each other as both men have fought for the NEVER Openweight Championship twice and Goto would always come out on top of those matches. Juice would always somehow get the lucky pinfall victory over him when it comes to tag matches to earn these opportunities, but when it comes to just fighting him one on one, he comes up short every time. However, Juice could maybe get that singles victory over Goto this time and potentially another Openweight Championship match or Goto could just knock Juice down again. Will this be the time for Juice to get the victory or does Goto stand tall once again?
Before the match starts, Juice decides to take off the wrist tape and I guess it's to show how serious he is about the match. Both of them appesr to have an injury with Juice and his hand while Goto has his arm taped up a little thanks to Zack. Juice looked like he had the upper hand for the beginning of it and wanted to keep it that way until Goto would stop his momentum. I like wheh they fight because ir shows a good story with Goto seeing potential in him and wants him to unleash that 'samurai spirit' and you see that in their matches. The last few minutes of the match were very back and forth with them trying to hit the GTR or Pulp Friction. Goto eventually hits an inverted GTR and looks like he was gonna get it this time but Juice shows his fire and hits a stiff left hook before hitting the Pulp Friction as Juice finally defeats Goto! Now that Juice pinned Goto one on one for the first time, will that lead to a NEVER Openweight Championship match? Right now, I'm gonna say no due to them having a lot of contenders lined up and just have Juice mark it up as I got a win over him and that's good enough right now.
Recommended: Great match, worth viewing.
G1 Climax 2018 Block B Match
Tomohiro Ishii vs. SANADA
Review: The two of them fought each other twice in a singles competition where SANADA defeated Ishii in 2016 during the G1 Climax and last year at the New Japan Cup where Ishii defeated SANADA. So this would technically be the rubber match between these two here to see who would come out on top. Ishii has been stocking up some pretty impressive victories lately and wouldn't be surprised if he wants to stock up one more to end it, but SANADA has also lost a few big ones and wants to fix that by getting that one more win as well. Who needs the win more?
I'm just gonna come out and say it, these two are the MVP's of not only B Block, but throughout the G1 Climax in general. Whether they have the best match on the show or just had a great performance, these two would always deliver to give us something memorable to watch with how they perform. For having them fight last on the final day, I thought the match was tremendous from beginning to end and gave us a fantastic story and plenty of nice sequences from their reversals and trying to do their moves like Ishii attempting the Skull End and SANADA countering it with Ishii's Sliding Lariat and just how they flowed together was beautiful.
There was also a nice little callback to Great Muta with SANADA attempting the Diving Moonsault and missing as Ishii catches him with a Shining Wizard as the crowd goes crazy. These two went to war together, but there had to be a winner as Ishii defeats SANADA with the Vertical Suplex Drop. Despite them having a pretty decent record, both of them did a fantastic job with all of their opponents whether they won or loss and nothing to be ashamed of. Ishii showed that he's still at the top of his game and SANADA has shown that he can be a key player in New Japan.
Recommended: Fantastic match, please watch.
G1 Climax 2018 Block B Match
Tetsuya Naito vs. Zack Sabre Jr.
Review: The only way for Naito to advance now is that he has to defeat Zack Sabre Jr. Last time they fought, it was the first round of the New Japan Cup and Zack would shock the audience when he made Naito tap out, but Naito did defeat Zack last year in the G1 Climax so it was them saying they're even now. This is another tiebreaker that needs to be taken care of since they both got a victory over each other and all Naito has to do is win and he will advance to fight Tanahashi. Can Naito meet Tanahashi in the finals one more time or will Zack ruin it for Naito to make Kenny or Kota advance?
It appears Naito has gotten into Zack's head pretty early with his little Tranquilo tactics since you can see Zack throwing a little temper tantrum outside with TAKA trying to calm him down until he got back in the ring. It appears to have worked because once Naito was about to do his little taunt, Zack would waste no time putting him in an Armbar and the body manipulations begin. Something about these two working together makes it feel rather unique at times and it's with the popularity of Naito from the fans and Zack showing his personality a little bit more with him compared to the other guys he fights in New Japan and it shows here.
I'm not exactly sure which match I like better out of the three but this one was still great and maybe a little weaker than their NJ Cup match, so still not really bad. Zack has been trying everything to get Naito to tap out because he knows Naito will be out if he can defeat him and wants to do that here but Naito kept on getting to the ropes to show that he won't quit at all. Zack would even come close with the European Clutches and he still kicks out of them and you can tell Naito wants this bad. Naito hits the Destino and Zack was sitting up, so he calls for another Destino but Zack caught him for the Zack Driver and Naito is….out…wait what?
No, it wasn't a typo there, Zack Sabre won the match meaning Naito is now eliminated from the G1 Climax. I know I picked Ibushi to advance from my predictions in the first day, but I did want Naito to win and finally get his WK win for the belt, but it appears to be once again put on hold. What's next for Naito? I'm not sure and I'll get to that at a later date, but I can't be mad and he did well at least.
Recommended: Great match and a rather heartbreaking ending. So yes
G1 Climax 2018 Block B Match
Kenny Omega vs. Kota Ibushi
Review: Six years ago, these two would fight each other in the very same arena in Nippon Budokan where they fought in DDT for the KO-D Openweight Championship where Ibushi defeated Kenny to retain the title and these two almost killed each other, and check the match out for yourself if you haven't. Now six years later, both of these men have matured completely compared to their DDT days and now it's time to see who's the better man out of these two. The outcome of this match will decide how things turn out for the final because Kenny will move on if he wins this match and Ibushi has a chance to advance if he defeats Kenny here. With OG being banned from ringside, should be safe to say there will be no interference to cause a no contest and risking them both to not advance at all. Which of the two Golden Lovers comes out on top?
Aside from Kenny having a bit of a serious face, Ibushi's face just tells it all with the story of this match and all the years they've known each other. They had the perfect pacing from beginning to end with them starting off with chain wrestling and doing the same move to each other whether they hit or block it. They knew when to hit the big moves or when to hype it up for a reversal and again, it was a very special match if you've been following the Golden Lovers and how their careers have played out, it shows their maturity and progression since they last time they fought together and it's quite amazing to see how far they've come whether you're a fan of them or not.
They did say they might kill each other the next time they fought in this arena and they weren't kidding here since some of the moves they do to each other or when Kenny dropped him on his head when he tried to do a Reverserana. Ibushi would hit the Kamigoye and Kenny would surprisingly kick out of that one, leaving Ibushi emotionally frustrated since he wants it over. Kenny had Ibushi on the top rope and Ibushi fights it off by delivering a Double Stomp right on the back of his head to knock him out and does an amazing Tiger Bomb off the top rope only to top it off with the Kamigoye for the victory over Kenny!
After the match, Ibushi would hug his unconscious body sharing an emotion moment together. Definitely a fantastic match with a great story to top it off and in my opinion might be my favorite match from the both of them this year. Since Ibushi defeated Kenny, that means he moves on to the finals to fight Hiroshi Tanahashi tomorrow. It looks like I got both my predictions right since I said these two would be in the finals, but I'm gonna have to go with Tanahashi winning it all.
Recommended: Fantastic match, worth watching.
Overall: B Block ended on a high note with some great stories along with excellent in-ring quality from top to bottom. An unexpected victor made it to the final and it's gonna leave a bunch of questions after tomorrow pretty much asking, what's next for everyone that didn't make it?
Favorite Match: Kota Ibushi vs Kenny Omega
Least Favorite Match: Tama Tonga vs Toru Yano
Score: 9/10
B Block Standings:
Kota Ibushi: 6-3 (12 Points) – Winner
Kenny Omega 6-3 (12 Points) – Eliminated
Tetsuya Naito: 6-3 (12 Points) – Eliminated
Zack Sabre Jr: 6-3 (12 Points) – Eliminated
Tomohiro Ishii: 5-4 (10 Points) – Eliminated
SANADA: 4-5 (8 Points) – Eliminated
Juice Robinson: 3-6 (6 Points) – Eliminated
Toru Yano: 3-6 (6 Points) – Eliminated
Hirooki Goto: 3-6 (6 Points) – Eliminated
Tama Tonga: 3-6 (6 Points) – Eliminated