Joe's Lucha Libre Weekly: News & Opinions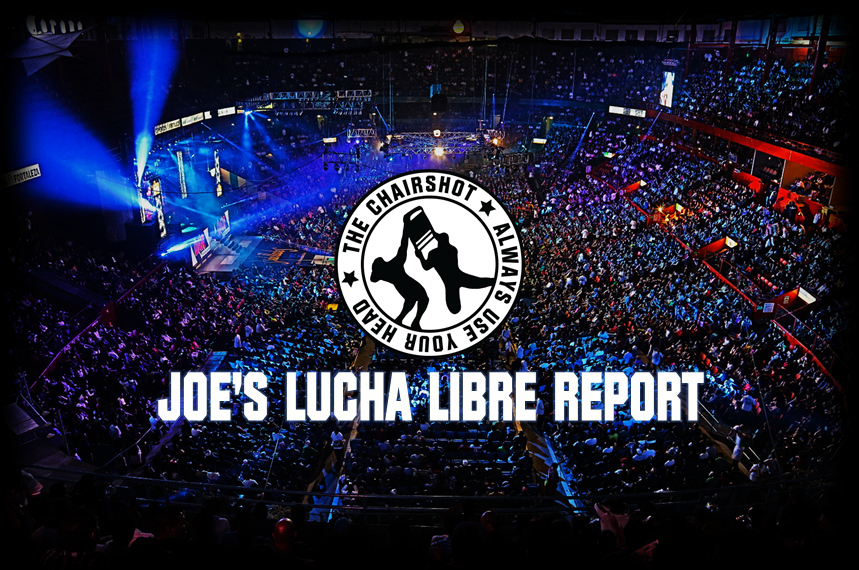 CMLL
Last Friday's show was relatively uneventful. Volador Jr was booked for the Crash and Rush, Cavernario, and Terrible faced Atlantis, Fenix, and Diamante Azul. It was a very good match, but it was also a nothing match. No promo at the end, no implications for future storylines. It was just a show, that's all. Volador Jr is booked for the show this week, however, so Arena Mexico can see him without his hair for the first time. Last Monday's Puebla show (9/24) featured LA Park and his son vs Rush and Cavernario. It was a great match, but I wouldn't say it was better than last weeks show in Puebla. There was also no promos after this match, the show just quickly went off the air. CMLL cut LA Park's mic last week, so I guess they didn't want him to say anything.
We also saw a return match between Klan Kaos and Los Guerreros which was a non title match that Los Guerreros won. So after the match they challenged them for the titles once again at this coming Friday's show. This is at least the 4th time they've done this match, so I wonder if there will be some viewer fatigue when it comes to this match. It is the main event of the show, which interestingly Hijo Del LA Park is featured on the show but his father isn't. That's the first time I've seen this seen the re-emergence of LA Park back in May. Another significant match was Negro Casas vs Mistico in a Lightning round match in which the finish was really creative. Mistico was tied in the ropes while Negro ran at him, the ref wasn't looking for some reason, so he removed his mask while kicking Casas in the groin. The ref saw him without his mask and declared him the winner. Really creative, you should check it out.
CMLL Future Shows
The card for this Friday's show is Princesa Sugehit, La Jarochita, and La Guerrera vs Dalys, Reyna Isis, and Metalica. Just your standard women's match. Angel de Oro, Niebla Roja, and Flyer face off against, Ephesto, Templario, and Mephisto. We get a lightning match between El Valiente and El Felino after that. Mistico, Hijo Del LA Park, and Soberano Jr face Negro Casas, Forastero, and Rey Bucanero. That should be an action packed match for those who like that. The Co-Main event features, Caristico, Volador Jr making his return, and Michael Elgin who will be featured in the Grand Prix (See next page) vs Cavernario, Sanson, and Cuatrero. The main event is Ciber the Main Man, the Chris, and Scharly Rock Star vs Ultimo Guerrero, Gran Guerrero, and Euforia for the trios title. LA Park is going to be headlining the Arena Puebla show for a third straight week on Monday. Their Grand Prix will be held on October 6th.
AAA
AAA on Twitch
AAA will be running another show this Sunday at around 7-7:30 pm eastern time. The headliner will be Dr Wagner Jr and Psycho Clown vs Jeff Jarrett and El Hijo Del Fantasma. They're building to the hair vs hair match between Jarrett and Wagner. The problem with that match is, after announcing they tentatively want to do Wagner vs Park in a hair vs mask match, you have to assume there's almost no chance that Wagner will lose the match, which will be taking place on October 28th. The other storyline match up on this show will be Texano Jr, Rey Escorpion, and La Mascara vs Mamba, Maximo, and Pimpinela Escarlata. The story there is simply the Mercenaries are beating and abusing Maximo. Aerostar and Drago facing Golden Magic and Puma King should be the match of the night, however.
Last Show summary
On their last show they started building towards the fatal four way women's match by having Keyra challenge Faby Apache after the match for the title. Starfire also does the same and she accepts both. On the billing for the match, there will be a surprise wrestler in the match. I don't know who it could be, but my money is on Scarlett Bordeaux. Konnan spoke highly of her first two appearances on AAA on his podcast, Keepin' it 100. Other important events saw Texano and Rey Escorpion continue their feud with Maximo and Mamba during a 3 team tag match that also featured Golden Magic and Hijo Del Dr Wagner. Maximo got the better of them this time.
There was within the match a story between La Parka and Hijo Del LA Park. Obviously stemming over the issue behind the rights to the name of La Parka. I wonder, whichever company Park decides to lose his mask in (Stipulation being that his son gets a spot in the company), if they have his son be the one to take the other La Parka's mask. Or maybe they do that sooner. AAA's La Parka is very beat up. He was recently in an accident and just hasn't recovered the same. There wasn't anything significant involving LA Park in the main event, but after Psycho Clown won the match the rest of the mercenaries beat him up. Which is interesting because Fantasma was his partner. I suspect they'll be facing each other in the near future.