Chairshot Classics: WCW Monday Nitro Episode 22
Hogan vs Flair, Giant vs Savage!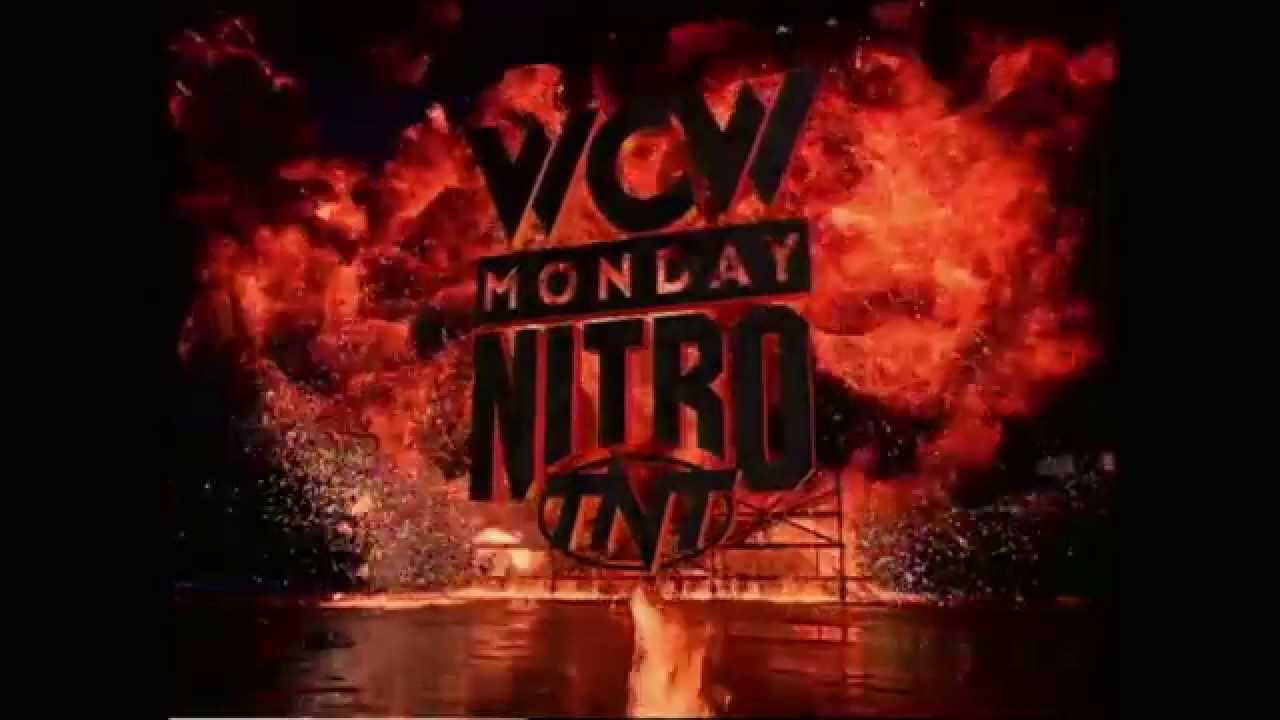 From the Canton Memorial Civic Center, in Canton, Ohio, WCW brings us Monday Nitro from January 29, 1996!
This show is advertised to feature Hulk Hogan taking on Ric Flair. There's a tease about tension between The Dungeon of Doom and The Four Horsemen while The Road Warriors battle The Faces of Fear. We also are slated to see Randy Savage facing The Giant. Bischoff, McMichael and Heenan are on the call as usual.
Ric Flair vs Hulk Hogan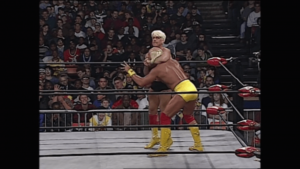 Hulk Hogan is jerking the curtain? How often did this happen? Hogan is getting a sizable amount of boos at this point in 1996. Miss Elizabeth is back too, out in Hulk's corner. Flair gets shoved a few times so Hogan can look strong to start the match, Flair goes for a couple of chops, but Hogan no sells them, hits a big back body drop and clotheslines Flair out of the ring and poses. Back in the ring, Flair chop blocks a leg to get his heat back after Hogan just ruined Flair's offense by no selling. Finally Hogan sells the chops, but Flair goes to the top rope and gets tossed off as Hogan starts to come back until he eats a back elbow. Jimmy Hart tries to get involved but Hogan kicks him off. Hulk comes back with strikes a forehead bite because he's a good guy. Outside the ring, Flair rakes the eyes to regain control and get back in the ring. Ric tosses him back out and Jimmy chokes Hulk with a bandana. Flair continues to work on the leg, hits a shin breaker and HOLDS ON! He locks on the figure four leglock in a sequence I've never seen, beautiful. Hogan reverses the hold and Flair gets to the ropes. Hulk blocks a suplex attempt and hits one of his own. Flair chops and strikes but Hogan no sells but his come back is cut off by a back elbow. Flair hits a stalling belly to back suplex, awesome, but only gets a near fall. Hulk starts to, well, Hulk up. Three punches, big boot and a leg drop. Arn Anderson with brass knuckles gets cut off by Hulk. Flair hits Hogan with Miss Elizabeth's high heel shoe and gets the pinfall victory. Elizabeth and Savage checking on Hogan, who is selling the eye big time. Very stereotypical Hogan match, but it was given some good time to breathe.
Winner: Ric Flair via pinfall
Faces of Fear vs Road Warriors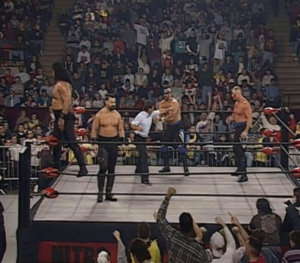 Hawk and Animal get a huge pop, out in black and blue spikes, looking ready to dominate. This is a pretty typical looking LOD match. Animal is in early, with some shows of strength, then tags in Hawk. Hawk takes a little punishment then no sells a piledriver. Animal back in and eats some more offense from both of the Faces of Fear, seeming to work on the back. Barbarian hits a big back breaker, and Meng is back in with a camel clutch. Animal slams the mat a few times….isn't that a submission? Apparently not, as Animal is sent out of the ring and into the barricade and turnbuckle by Barbarian. Meng hits a big dropkick, that was pretty impressive! Barbarian hits a big powerbomb on Animal but he kicks out at two. Animal sells a 2nd rope clothesline in a very strange way, falling forward. Barbarian tries it again but Animal clotheslines him and tags in Hawk. Hawk is on fire, striking both Barbarian and Meng before hitting a double clothesline on them. Barbarian puts Hawk up on the top rope and Animal goes for the Doomsday Device, but Meng pushes him off the top rope. Animal eats a piledriver, and Barbarian goes for another but Hawk comes off the top rope with a clothesline for a pinfall victory. Not the typical squash type match for the Road Warriors.
Winners: Road Warriors via pinfall
Mean Gene has Kevin Sullivan in the ring talking about the dissension between The Dungeon of Doom and The Four Horsemen with Hugh Morrus by his side. Arn Anderson and Brian Pillman come down and Sullivan says that Anderson should take care of Pillman. Anderson takes Pillman to task and tells him that all that's left is tough love. Sullivan and Morrus attack Anderson and Pillman but Anderson fights back and clears out the Dungeon. Anderson tells WCW executives that he demands a match with Sullivan and Morrus, Pillman says he'll get them out this mess since he got them into it.
Sister Sherri vs Madusa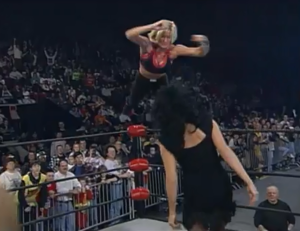 Mean Gene is back in the ring with Sister Sherri and Madusa comes out and attacks Sherri with a cross body from the top rope. Sherrie comes back and wraps Madusa's leg around the turnbuckle but Madusa comes back with a snap suplex on the outside of the ring. Bischoff is obsessed with calling these kicks silly martial arts type names like "back leg round kicks" and it really takes away from the action. Sherri comes back and goes up top, Madusa counters it and Sherri holds on to roll her up for the pinfall victory. Madusa snaps after the match, hits a german suplex that drops Sherri right on her head in an ugly landing. Madusa slams Sherri's head in the mat repeatedly before the refs get control. That all looked rough.
Winner: Sherri via pinfall
WCW Heavyweight Championship
The Giant vs Randy Savage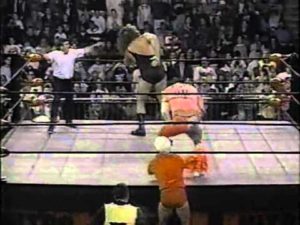 Savage attacks Giant from behind with the belt before the match and one shot after the bell rings. The ref calls for the bell and there's a disqualification. Ric Flair is out and attacks Savage before taking a big stalling suplex by The Giant. They knock the ref out and continue to work over Savage. Flair is directing Giant which is odd. Flair calls for the chokeslam and Giant obliges. Out comes Hogan with an eye wrap and chair, takes out Giant and the entire Dungeon of Doom as they come out. Flair grabs a mic and Jimmy Hart and The Giant join him and challenge Hogan and Savage. Flair challenges Savage for the World title in a cage and Giant challenges Hogan in an unsanctioned match in a cage for Superbrawl. Hogan and a ref are helping Savage out as the show closes.
Winner: The Giant via disqualification (title stays with Savage)
---
What a show this Nitro turned out to be. Entertaining with the story telling. The wrestling was alright, but the big factor was all the story progression here. They're building to WCW Superbrawl, and we'll see how that all goes down!