Chairshot Classics: WCW Monday Nitro Episode 23 (5/2/1996)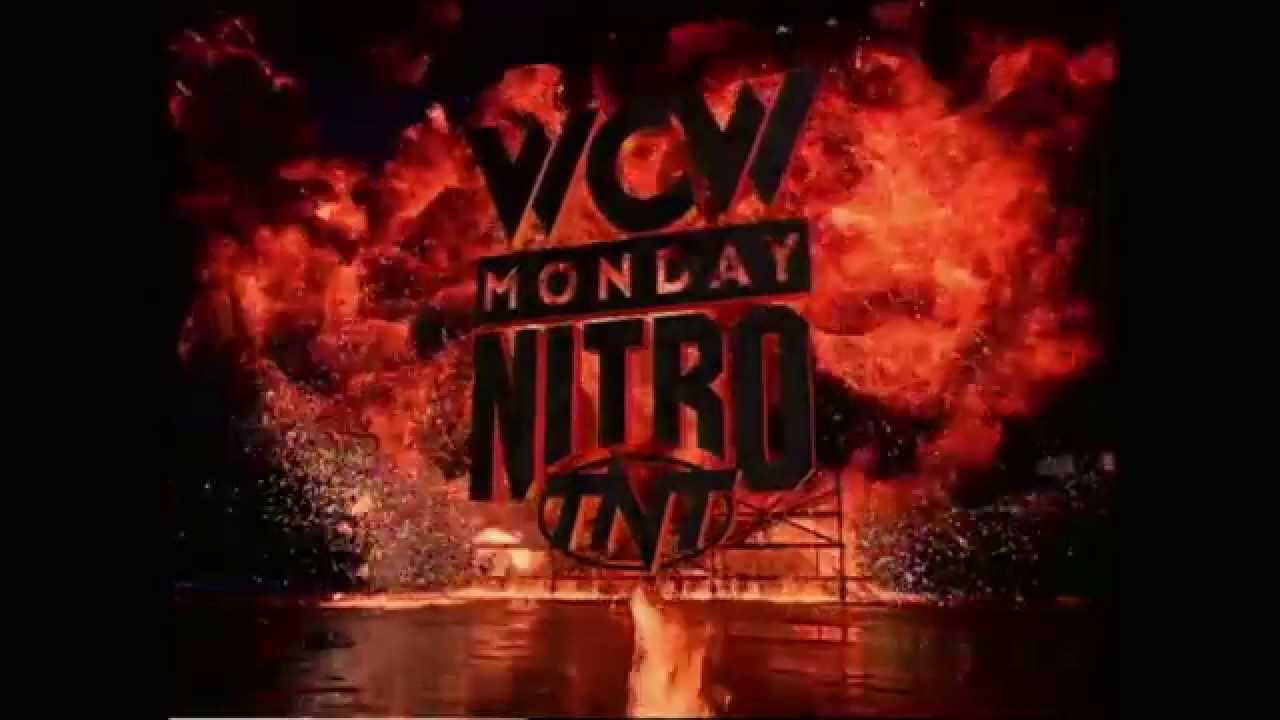 Josh Wennes is back to cover the 23rd edition of WCW Monday Nitro in this edition of Chairshot Classics!
From the Jenkins Center in Lakeland, Florida, we have episode 23 of Monday Nitro! This episode is touted to feature the Road Warriors taking on Lex Luger and Sting as well as Ric Flair battling Marcus Bagwell. Kevin Sullivan and Hugh Morrus are also set to team against Arn Anderson and Brian Pillman. As a teaser, the WWE Network also says "The rivalry between Hulk Hogan and The Four Horsemen takes a new turn." I can't lie, this doesn't exactly entice me too much, but let's see what the show brings!
WCW Heavyweight Championship
Chris Benoit vs Randy Savage (champion)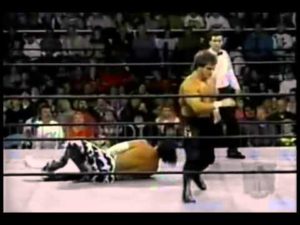 WHY NOT PUT THIS MATCH IN THE TEASER??? The two tie up and roll all the way around the ring before Benoit takes control by sending Savage outside and into the guardrail. Benoit seemingly chops the life right out of Savage's chest with some brutal shots. Benoit works the head with a sleeper and some strikes before hitting a stunning snap suplex. Benoit delivers a scoop slam and a top rope diving headbutt that, knowing the future, makes me a little uneasy. A big belly to back suplex nets a near fall for Benoit before using a backbreaker and stretching that back across his own knee. Outisde the ring, Benoit puts Savage into the ring post, rolls him back into the ring and sends him over the top rope again. Benoit goes for a suicide dive and Savage moves, sending Benoit careening to the floor and guardrail headfirst. Savage rolls Chris inside and hits a big elbow drop on the back of Benoit. Flair comes out and approaches Elizabeth and Savage goes out to stop him. Woman then attacks Randy from behind and Flair joins the party, ending the match via DQ. Arn Anderson comes down and joins the beatdown on Savage before Hogan comes to the rescue with 2 of the weakest chair shots I've ever seen. Mean Gene runs down to talk to Hogan about what has happened. Hogan says they need to put a stop to Ric Flair and Flair sneaks up behind Hulk and attacks the injured eye from last week. The Giant and The Zodiac join the ring and Giant delivers a chair shot to Hogan. Savage comes back and steals the chair while the heels powder out of the ring.
Winner: Randy Savage via Disqualification
Kevin Sullivan and Hugh Morrus vs Arn Anderson and Brian Pillman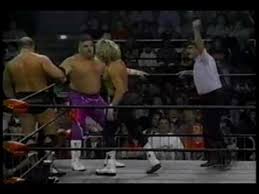 Morrus in charge early as he hits both Pillman and Anderson with military press slams before tagging in Sullivan. After a very unusual exchange, Anderson and Morrus are tagged in. Anderson hits the patented spinebuster. Morrus fights out of a reverse chin lock before Arn tags in Pillman. Morrus counters a corner attack and tags in Sullivan. Pillman rushes Sullivan and they trade what look like legit shots before it turns to a four person brawl. Anderson drags Sullivan towards the back, only to be hit by a broom. Morrus and Sullivan double team Pillman and the ref calls for the bell as the a belt is brought in to hit Pillman. This was strange and uncomfortable.
Winners: Anderson and Pillman via Disqualification
Marcus Bagwell vs Ric Flair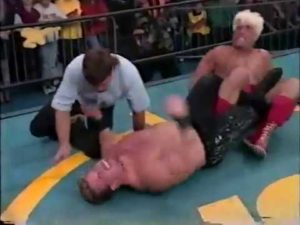 Paul Orndorff comes to the announce table and says you never know when payback is going to happen, insinuating he was behind the broom attack on Arn Anderson. Bagwell is in control early, tossing Flair from the ring and hitting a clothesline before Ric begs for mercy and gets a cheap shot kick in around the ref. Bagwell battles back with a bevy of strikes and Flair flops. Marcus gets a dropkick for a near fall and goes for another but no one is home. Both men run the ropes and an awkward exchange sees Bagwell go over the top rope. Flair brings him back in and hits a knee drop before laying in some chops and strikes in the corner but Bagwell fights back. Flair is whipped into the corner but gets the foot up. Flair climbs the turnbuckles and gets tossed to the mat to the shock of no one. Bagwell hits a second rope superplex and float over for a two count. Bagwell goes for his slingshot splash but Flair gets his knees up and locks in the figure four leglock for the submission victory. Not often would we see Flair win with that. Flair refuses to let go and hits the ref, but Randy Savage comes out and chases Ric to the back.
Winner: Ric Flair via submission
WCW Tag Team Championship
Road Warriors vs Sting and Lex Luger (champions)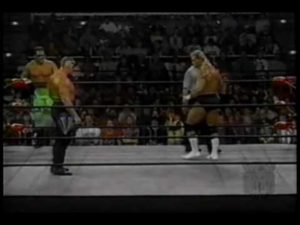 Sting and Animal start us off and Animal powers out of a top wristlock before powering out of a front facelock as well. Sting eats a big powerslam but avoids the elbow drop before hitting a facebuster and a top rope diving clothesline for a near fall. Hawk and Luger in off the tags, and Hawk no sells a piledriver to gain momentum. He hits a shoulder block and knee drop before Sting gets the tag. Hawk goes to work with strikes but eats a Stinger Splash. Sting tries to get the Scorpion Death Lock hooked, but Animal breaks it up and gets the tag. Running the ropes, Animal goes over the top rope after Luger pulls down the ropes. Luger is tagged in and goes to work on Animal's back. Sting is back in, but the crowd is behind the Road Warriors. Sting works a front facelock for a time, but tags in Luger who hits a big powerslam on Animal but takes too long celebrating. Animal no sells a suplex and hits a powerslam on Luger. Jimmy Hart comes out carrying something big and heavy that Luger gets and hits Animal with it for the victory. Sting is not pleased with the path to victory here at all. Mean Gene is in the ring with the Road Warriors who demand a match for the belts again.
Winners: Sting and Lex Luger via pinfall
Superbrawl is approaching, and we have 2 cage matches to look forward to. Let's see how the landscape of WCW changes going forward!
Full Results:
Dark WCW United States Heavyweight Title Match
Konnan (c) defeats Devon Storm
Dark Tag Team Match
Bunkhouse Buck & Dick Slater defeat The Barrio Brothers (Fidel Sierra & Ricky Santana)
Dark WCW World Television Title Match
Johnny B. Badd (c) defeats Diamond Dallas Page
WCW World Heavyweight Title Match
Randy Savage (w/Miss Elizabeth & Woman) (c) defeats Chris Benoit by DQ (8:17)
The Four Horsemen (Arn Anderson & Brian Pillman) defeat The Dungeon Of Doom (Hugh Morrus & The Taskmaster) (w/Jimmy Hart) by DQ (7:17)
Ric Flair (w/Woman) defeats Marcus Alexander Bagwell (7:01)
WCW World Tag Team Title Match
Lex Luger & Sting (c) defeat The Road Warriors (Road Warrior Animal & Road Warrior Hawk) (8:37)
Results courtesy of CageMatch.net.
What do you think of this edition of WCW Monday Nitro?
Let us know on social media @theCHAIRSHOTcom and always remember to use the hashtag #UseYourHead!
Chairshot Radio: Classic Shane Douglas Interview [072721]
ECW icon "The Franchise" Shane Douglas joins Greg DeMarco and Patrick O'Dowd for this classic interview!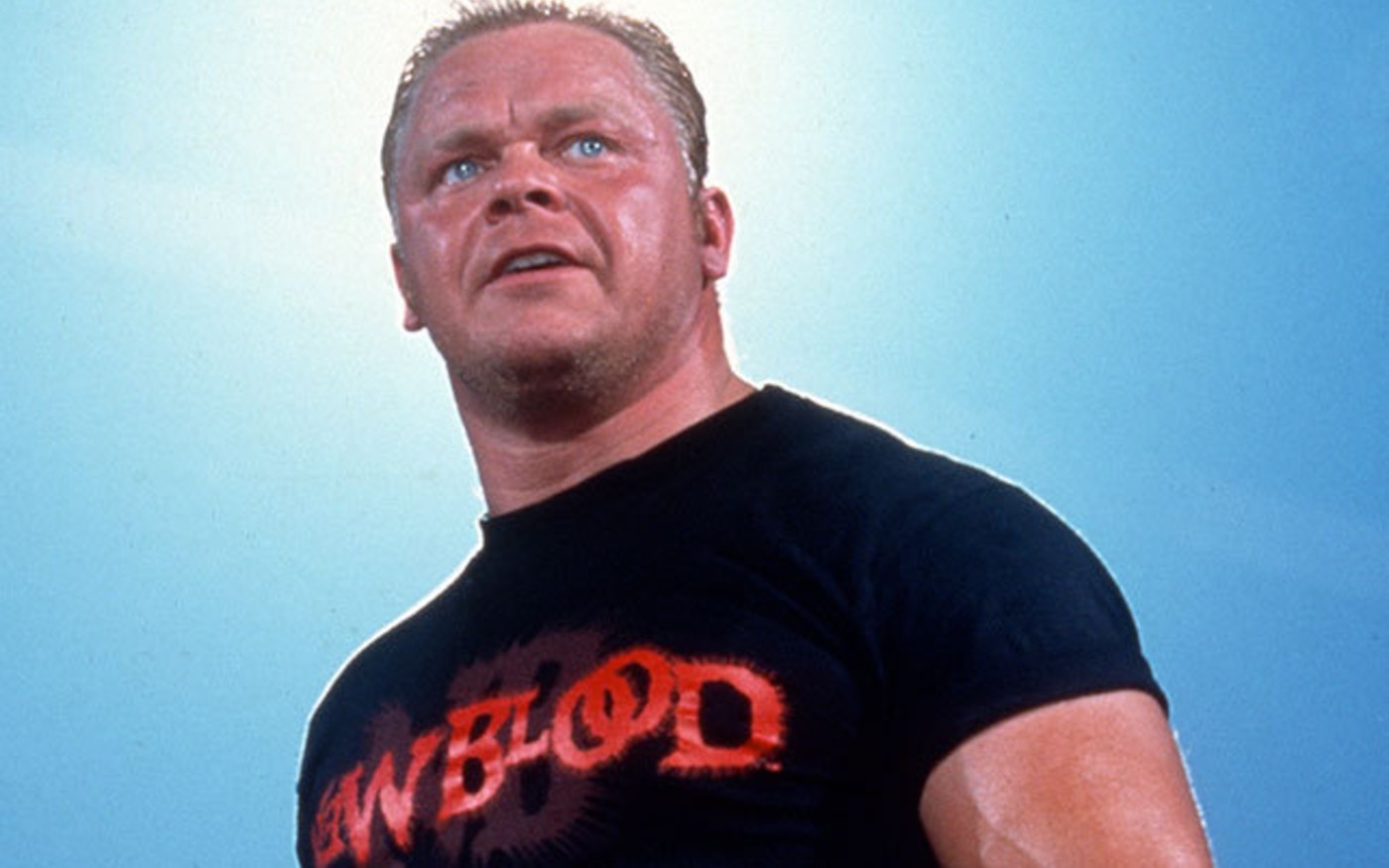 ECW icon "The Franchise" Shane Douglas joins Greg DeMarco and Patrick O'Dowd for this classic interview!
Powered by RedCircle
Today's hosts Greg DeMarco (@chairshotgreg) & Patrick O'Dowd (@wrestlngrealist) sat down with ECW legend Shane Douglas for an amazing 2012 interview that was slated for 10-15 minutes and went 45, all thanks to the engaging attitude of "The Franchise."
Shane talks about his relationship with Ric Flair and how it got there.
A discussion around Shane Douglas throwing down the NWA Worlds Heavyweight Championship, how it came to be, and how he really didn't want to do it.
Shane provides the background and details for his ECW reunion events (at the time).
All this and more with legendary wrestling figure "The Franchise" Shane Douglas!
About Chairshot Radio
The rebirth of Chairshot Radio will see a rotating cast of hosts delivering you a new show EVERY WEEK DAY. Sports, Entertainment and Sports Entertainment is the umbrella under which we seek to invade your earballs. So sit back, relax and LET US IN…
Your Weekly Chairshot Radio Schedule:
Monday – Patrick O'Dowd & Big Dave Ungar
Tuesday – Greg DeMarco and/or PC Tunney
Wednesday – Miranda Morales & Greg DeMarco
Thursday – Rey Cash & Mags Kirkby
Friday – PC Tunney
For the latest, greatest and "up to datest" in everything pro wrestling, sports and entertainment head to TheChairshot.com and remember to ALWAYS #UseYourHead.
About the Chairshot Radio Network
Created in 2017, the Chairshot Radio Network presents you with the best in wrestling and wrestling crossover podcasts, including POD is WAR, Women's Wrestling Talk, Chairshot Radio (daily editions), The #Miranda Show, DWI Podcast, the Babyface Heel Podcast, Badlands' Wrestling Mount Rushmores, The Outsider's Edge, Bandwagon Nerds, 3 Man Weave, Five Rounds, Turnbuckle Talk, The Reaction and more! You can find these great shows each week at theChairshot.com and through our distribution partners, including podcasting's most popular platforms.
---
The Chairshot Radio Network


Your home for the hardest hitting podcasts and radio shows!
Listen on your favorite platform!
iTunes  |  iHeart Radio  |  Google Play  |  Spotify
Listen, like, subscribe, and share!
---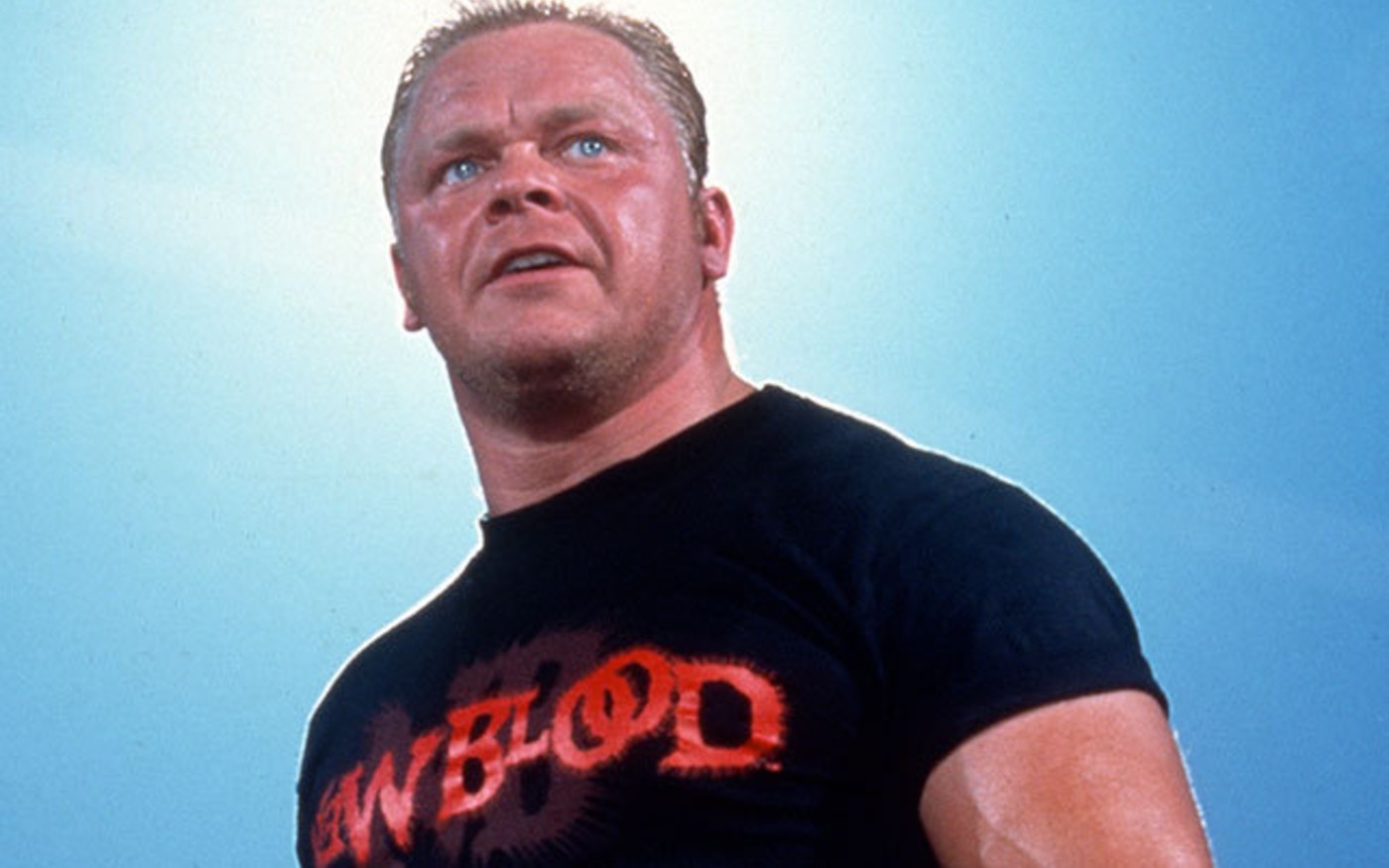 WWE's Top 50 Tag Teams – Was it Right?
Rob applies some of his genius in breaking down the hits, misses and which one WWE got exactly right on their Top 50 Tag Teams list. Check it out!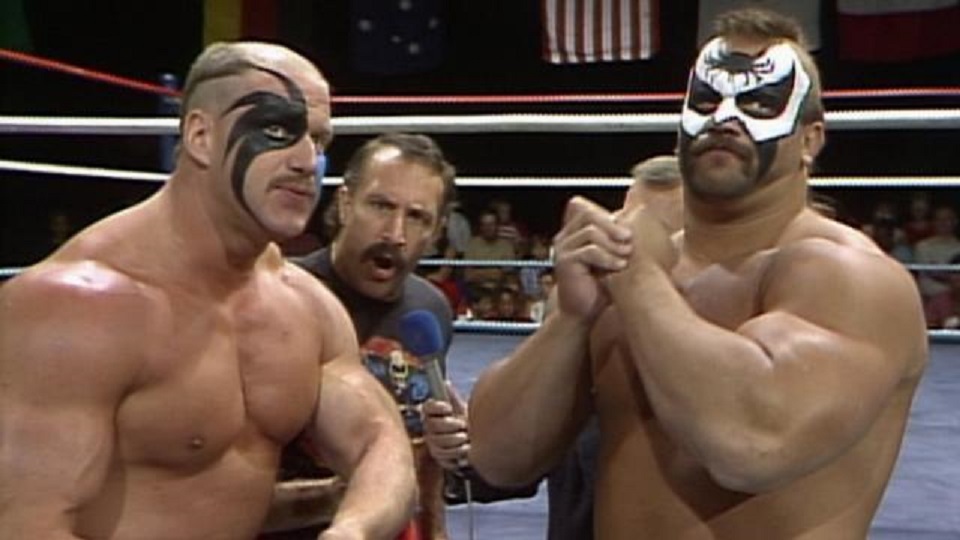 A few weeks ago the WWE began releasing their Top 50 tag teams in history, and now that the full list is out there I thought it would be a good time to reflect on it a bit.  Lists are subjective of course, but as is usually the case there were some choices made here that were flat out head scratchers.  Some too high and some too low.  And there was one in particular that was just right.  So to sum it all up in one question:
Who got robbed, who got hooked up, and who was just right?
Robbed:  The Usos
How could the number seven spot be a disservice?  Well, let's see.  Jimmy and Jey have been together longer than Edge & Christian (4), The Hart Foundation (3), and even the New Day (1).  They were in the WWE longer than The Legion of Doom (6), and the Dudleys (5).  And they have more titles than the LOD or the Harts.  They also have more memorable matches than the Harts or LOD did in the WWE.  And they assuredly faced stiffer competition than the LOD did during their time there.  When you add all that up you can definitely make a case for them being as high as number 2, and I'd say they should be no lower than 4th behind New Day, the Dudleys, and the Hardys.
Hooked Up:  The Legion of Doom 
Hawk and Animal are to this day my favorite tag team ever.  That being said, there is no way on God's green earth that their time in the WWF can be considered anything close to their best years.  By the time they arrived in the WWF in 1990 they were already past their peak as their best years were spent in the AWA, NWA, and Japan.  The only thing they did more in the WWF was win world titles (two vs one apiece in the NWA and AWA).  Putting them at number 6 is clearly a pander to old guys like me who saw them in their prime but trust me, I would have totally understood if they'd been like number 20 instead.
Speaking of guys who wore facepaint and all black…..
Robbed:  Demolition
As much as Hawk and Animal were my favorites, Demolition was the opposite.  Look, they were obvious knockoffs of the Road Warriors and as a big Road Warrior mark I was not here for them.  But that doesn't mean they didn't have the better WWF career.  In four years together they had three title reigns, which was unheard of at that time, including the longest reign ever until New Day broke it in 2016.  From WrestleMania IV through Summerslam 1990 Demolition held the tag team titles for 698 out of 883 days, 79 percent of the time.  But once Hawk and Animal finally came to the WWF their usefulness ended and they've been cast into the dustbin of history.  And while that was kind of the point of their whole existence it's not fair to these guys who beat every team in the division over a three years period to treat them as if they were together for six months or something.  Number 11 is just too low.
Hooked Up:  The Rockers
Putting them at 14 is clearly a nod to Shawn Michaels and his post Rockers career, because it damn sure can't be about what they did as a team.  In three and a half years they officially won zero championships and were basically a .500 team who were there to put over the top teams of the moment while getting enough wins to stay relevant.  Yes they were the most talented team of their time but they were never booked as more than guys to make someone else look good then lose.  Is that worthy of recognition?  Sure.  Is it good for being in the top half of the top 50?  Yeah.  But number 14, ahead of teams who won multiple championships?  Nope.
Speaking of which….
Robbed:  The Smoking Gunns
Billy and Bart Gunn were together for three years and won the tag titles three times, and they've seemingly been banished to the Shadow Realm because Billy went on to bigger and better things as part of DX and Bart made the mistake of winning the Brawl for it All.  They're listed at number 47 behind multiple teams who had fewer reigns and/or weren't together as long.  Should they be ahead of the Rockers?  I don't know about that but the gap should definitely be a lot smaller than 33 slots for sure.
Hooked up:  The Mega Powers
Another reward for two guys for their singles careers.  Hulk Hogan and Randy Savage are of course two of the biggest icons in wrestling history, but they teamed up in a proper tag team match a whopping two times.  That's it.  Need I say more?  To be honest they shouldn't even be on the list at all.
Robbed:  The Bar
In a little over two years Sheamus and Cesaro were champions 4 times between Raw and Smackdown, worked three WrestleManias and beat a Murderers Row of opponents – New Day, the Usos, Seth Rollins and Dean Ambrose, the Hardys – so putting them at 28 behind several teams that did less like the Steiners or teams that never really competed in the tag division like the aforementioned Mega Powers is a joke.
Just Right:  The New Day
Number one was correct.  Over ten times as champions across both Raw and Smackdown and they've faced everyone along the way from the Usos to the Bar to Harper and Rowan to the Hurt Business to Gallows and Anderson to the Lucha Dragons and more.  They've been in some of the most spectacular matches ever with those guys and the other teams like the Street Profits, Cesaro and Tyson Kidd, and the Shield.  They've been together for almost seven years now and became a big enough act to launch one of their members to a World Title victory at WrestleMania 35.  No tag team has accomplished more at any level as a unit in wrestling history, let alone the WWE.  When you sit down and really think about it there is no debate whatsoever.  This was the most important pick of the list and they nailed it.