Chairshot Classics: WCW Monday Nitro Episode 23 (5/2/1996)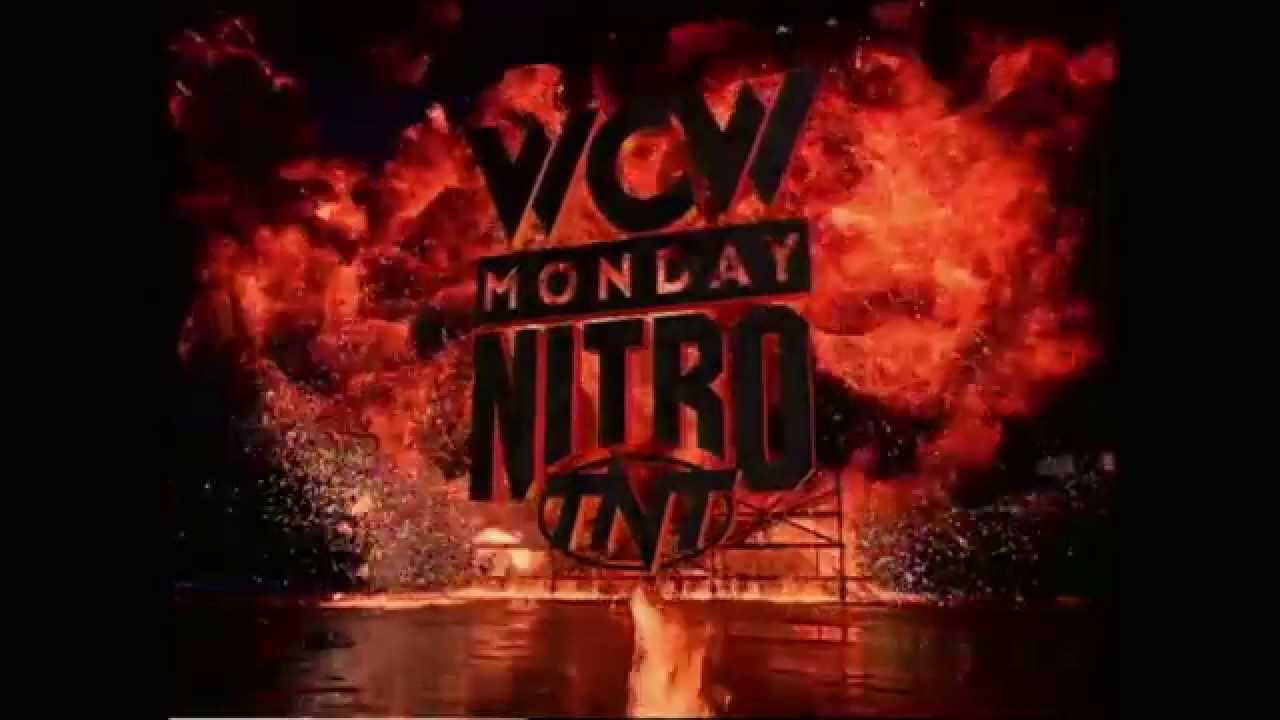 Josh Wennes is back to cover the 23rd edition of WCW Monday Nitro in this edition of Chairshot Classics!
From the Jenkins Center in Lakeland, Florida, we have episode 23 of Monday Nitro! This episode is touted to feature the Road Warriors taking on Lex Luger and Sting as well as Ric Flair battling Marcus Bagwell. Kevin Sullivan and Hugh Morrus are also set to team against Arn Anderson and Brian Pillman. As a teaser, the WWE Network also says "The rivalry between Hulk Hogan and The Four Horsemen takes a new turn." I can't lie, this doesn't exactly entice me too much, but let's see what the show brings!
WCW Heavyweight Championship
Chris Benoit vs Randy Savage (champion)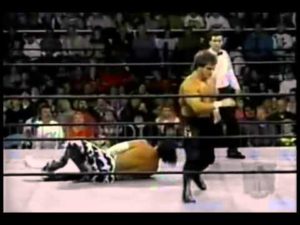 WHY NOT PUT THIS MATCH IN THE TEASER??? The two tie up and roll all the way around the ring before Benoit takes control by sending Savage outside and into the guardrail. Benoit seemingly chops the life right out of Savage's chest with some brutal shots. Benoit works the head with a sleeper and some strikes before hitting a stunning snap suplex. Benoit delivers a scoop slam and a top rope diving headbutt that, knowing the future, makes me a little uneasy. A big belly to back suplex nets a near fall for Benoit before using a backbreaker and stretching that back across his own knee. Outisde the ring, Benoit puts Savage into the ring post, rolls him back into the ring and sends him over the top rope again. Benoit goes for a suicide dive and Savage moves, sending Benoit careening to the floor and guardrail headfirst. Savage rolls Chris inside and hits a big elbow drop on the back of Benoit. Flair comes out and approaches Elizabeth and Savage goes out to stop him. Woman then attacks Randy from behind and Flair joins the party, ending the match via DQ. Arn Anderson comes down and joins the beatdown on Savage before Hogan comes to the rescue with 2 of the weakest chair shots I've ever seen. Mean Gene runs down to talk to Hogan about what has happened. Hogan says they need to put a stop to Ric Flair and Flair sneaks up behind Hulk and attacks the injured eye from last week. The Giant and The Zodiac join the ring and Giant delivers a chair shot to Hogan. Savage comes back and steals the chair while the heels powder out of the ring.
Winner: Randy Savage via Disqualification
Kevin Sullivan and Hugh Morrus vs Arn Anderson and Brian Pillman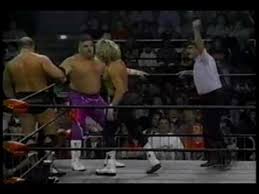 Morrus in charge early as he hits both Pillman and Anderson with military press slams before tagging in Sullivan. After a very unusual exchange, Anderson and Morrus are tagged in. Anderson hits the patented spinebuster. Morrus fights out of a reverse chin lock before Arn tags in Pillman. Morrus counters a corner attack and tags in Sullivan. Pillman rushes Sullivan and they trade what look like legit shots before it turns to a four person brawl. Anderson drags Sullivan towards the back, only to be hit by a broom. Morrus and Sullivan double team Pillman and the ref calls for the bell as the a belt is brought in to hit Pillman. This was strange and uncomfortable.
Winners: Anderson and Pillman via Disqualification
Marcus Bagwell vs Ric Flair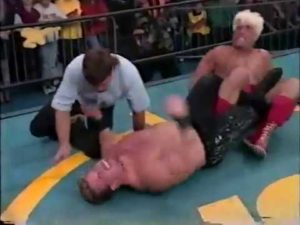 Paul Orndorff comes to the announce table and says you never know when payback is going to happen, insinuating he was behind the broom attack on Arn Anderson. Bagwell is in control early, tossing Flair from the ring and hitting a clothesline before Ric begs for mercy and gets a cheap shot kick in around the ref. Bagwell battles back with a bevy of strikes and Flair flops. Marcus gets a dropkick for a near fall and goes for another but no one is home. Both men run the ropes and an awkward exchange sees Bagwell go over the top rope. Flair brings him back in and hits a knee drop before laying in some chops and strikes in the corner but Bagwell fights back. Flair is whipped into the corner but gets the foot up. Flair climbs the turnbuckles and gets tossed to the mat to the shock of no one. Bagwell hits a second rope superplex and float over for a two count. Bagwell goes for his slingshot splash but Flair gets his knees up and locks in the figure four leglock for the submission victory. Not often would we see Flair win with that. Flair refuses to let go and hits the ref, but Randy Savage comes out and chases Ric to the back.
Winner: Ric Flair via submission
WCW Tag Team Championship
Road Warriors vs Sting and Lex Luger (champions)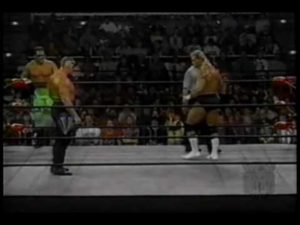 Sting and Animal start us off and Animal powers out of a top wristlock before powering out of a front facelock as well. Sting eats a big powerslam but avoids the elbow drop before hitting a facebuster and a top rope diving clothesline for a near fall. Hawk and Luger in off the tags, and Hawk no sells a piledriver to gain momentum. He hits a shoulder block and knee drop before Sting gets the tag. Hawk goes to work with strikes but eats a Stinger Splash. Sting tries to get the Scorpion Death Lock hooked, but Animal breaks it up and gets the tag. Running the ropes, Animal goes over the top rope after Luger pulls down the ropes. Luger is tagged in and goes to work on Animal's back. Sting is back in, but the crowd is behind the Road Warriors. Sting works a front facelock for a time, but tags in Luger who hits a big powerslam on Animal but takes too long celebrating. Animal no sells a suplex and hits a powerslam on Luger. Jimmy Hart comes out carrying something big and heavy that Luger gets and hits Animal with it for the victory. Sting is not pleased with the path to victory here at all. Mean Gene is in the ring with the Road Warriors who demand a match for the belts again.
Winners: Sting and Lex Luger via pinfall
Superbrawl is approaching, and we have 2 cage matches to look forward to. Let's see how the landscape of WCW changes going forward!
Full Results:
Dark WCW United States Heavyweight Title Match
Konnan (c) defeats Devon Storm
Dark Tag Team Match
Bunkhouse Buck & Dick Slater defeat The Barrio Brothers (Fidel Sierra & Ricky Santana)
Dark WCW World Television Title Match
Johnny B. Badd (c) defeats Diamond Dallas Page
WCW World Heavyweight Title Match
Randy Savage (w/Miss Elizabeth & Woman) (c) defeats Chris Benoit by DQ (8:17)
The Four Horsemen (Arn Anderson & Brian Pillman) defeat The Dungeon Of Doom (Hugh Morrus & The Taskmaster) (w/Jimmy Hart) by DQ (7:17)
Ric Flair (w/Woman) defeats Marcus Alexander Bagwell (7:01)
WCW World Tag Team Title Match
Lex Luger & Sting (c) defeat The Road Warriors (Road Warrior Animal & Road Warrior Hawk) (8:37)
Results courtesy of CageMatch.net.
What do you think of this edition of WCW Monday Nitro?
Let us know on social media @theCHAIRSHOTcom and always remember to use the hashtag #UseYourHead!