STARDOM Results: Draft Show 4/14/19 in Tokyo
See the results of the STARDOM Draft before the WWE Draft!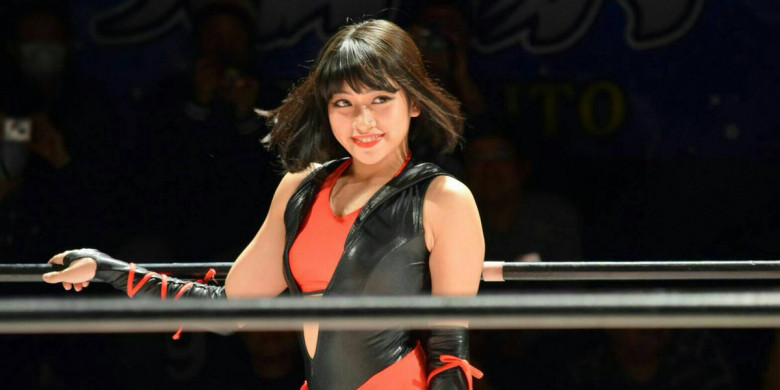 Results: Stardom Draft Show, Shinkiba 1st Ring, Tokyo, Japan on 4/14/19
STARDOM his Shinkiba 1st Ring in Tokyo for Draft Show on April 14.
STARDOM Show Results
Rina pinned her twin sister Hina with a bridge.
Tam Nakano won a 3-Way Match over Hanan Kimura and Kebel Kel by pinning Hanan.
Natsuko Tora, Leo Onozaki, and Saya Iida beat Hazuki, Natsu Sumire, and Andras Miyagi when Sumire pinned Iida after a brainbuster.
Arisa Hoshiki, Saki Kashima, and Starlight Kid beat Konami, Bea Priestley, and AZM when Kid pinned AZM.
Main event to determine the order of draft picks: Kagetsu vs. Momo Watanabe vs. Mayu Iwatani vs. Hana Kimura vs. Jungle Kyona in an Elimination Match (pin, submission, and over the top rope rule for eliminations)

Iwatani eliminated Kagetsu first sending her over the top rope. Iwatani gets first draft pick.
Watanabe eliminated Kagetsu over the top rope to get second pick.
Kagetsu eliminated Kimura over the top for third pick.
Kimura eliminated Kyona over the top.
Jungle Assault Nation must disband as a unit as the last place until in the match must disband per stipulation.
Draft results are located below the ad–buy a shirt!
---
Elisa looks great in her Chairshot t-shirts. You can too!
Get yours at https://www.prowrestlingtees.com/related/thechairshot.html
---
STARDOM Draft Results
Iwatani drafts Starlight Kid
Watanabe drafts AZM
Kagetsu drafts Hazuki
Kimura drafts Jungle Kyona
Iwatani drafts Arisa Hoshiki
Watanabe drafts Utami Hayashishita
Kagetsu drafts Andras Miyagi
Kimura drafts Konami
Iwatani drafts Tam Nakano
Watanabe drafts Bea Priestley
Kagetsu drafts Natsuko Tora
Kimura drafts Mary Apache
Iwatani drafts Saki Kashima
Watanabe drafts Viper (Viper must be allowed to still work some STARDOM dates by WWE just as Toni Storm will)
Kagetsu drafts Jamie Hayter
Kimura drafts Natsumi
Iwatani drafts Hanan
Watanabe drafts Chardonnay
Kagetsu drafts Session Moth Martina
Kimura drafts Rebel Kel
Iwatani drafts Xia Brookside
Watanabe drafts Leo Onozaki
Kagetsu drafts Natsu Sumire
Kagetsu/Oedo Tai says no more drafting from them as they are satisfied with their picks
Kimura drafts Bobbi Tyler
Iwatani drafts Saya Iida
STARS stop drafting
Watanabe drafts Hina
Queen's Quest stops drafting
Kimura picks Ruaka
Kimura picks Hanan
Kimura picks Kaori Yoneyama
Results courtesy Wrestling With Demons