Joe's AAA Review & Results (6/11/19)
Keeping up with AAA Lucha Libre? Joe Dinan is and he has your updates for the week!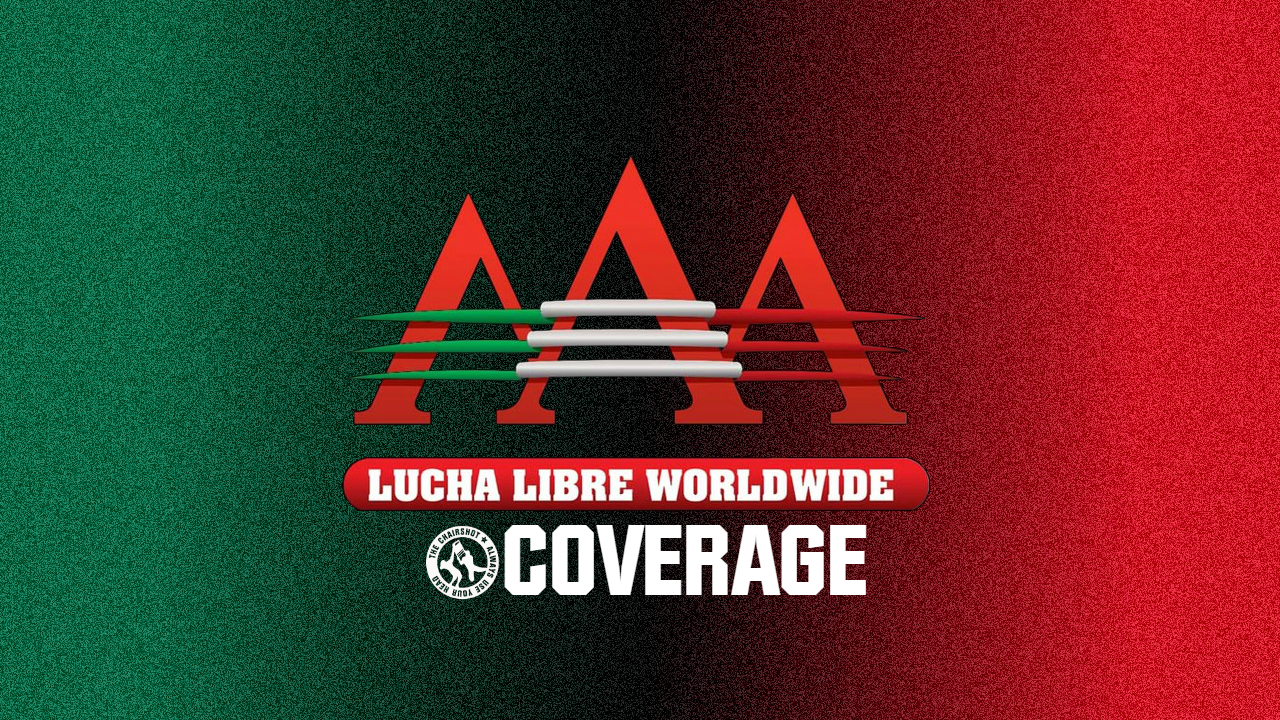 Keeping up with AAA Lucha Libre? Joe Dinan is and he has your updates for the week!
Catch-up on what happened in AAA last week…
AAA Live on Twitch
Konnan comes out and cuts a promo about the Bucks vs Lucha Brothers.
Baby Extreme, Big Mami, and Nino Hamburguesa vs Komander, La Hiedra, and Lady Maravilla
Mami wants to fight Maravilla to start. She gets jumped. Nino helps her make a come back hitting the running senton in the corner to all three. He still doesn't directly attack Maravilla. Maravilla has Mami in a submission and Nino doesn't know if he should stop it. Komander hits a big dive on Nino. Mami looks to brutalize Maravilla but Nino tries to stop her. She pushes him and hits a gory special on Maravilla. Mami pins her. Nino doesn't know what to do. Big Mami pins Maravilla with a gory special.
Mami tells Nino to make a choice but Daga comes out and eliminates him with a chair. He wants the mixed titles I imagine. He goes to hit Mami with the chair but Nino stops him and splashes him. Tessa comes and beats on him. Now Drago comes out to make the save.
Winners: Big Mami, Nino Hamburgeusa, and Baby Extreme
Tessa Blanchard and Keyra vs Lady Shani and Faby Apache
They start the match going back and forth trading offense. This has been a relatively normal tag team match by AAA standards. Nice back and forth with not much outside the ring action. Faby drop kicks Shani by accident. Keyra german suplexes Faby. Keyra hits a double foot stomp out of nowhere on Shani for the win. Keyra pins Shani with a double foot stomp.
Keyra yells at the fans. Probably wants a match with Shani. They brawl afterwards.
Tessa Blanchard and Keyra
Golden Magic and Myzteziz Jr vs Villano III Jr and Australian Suicide
Unlike the last match this match is basically tornado rules off of the bat trading big spots immediately. No build up here. Magic and Myzteziz work well together but Suicide hits a big dive. Villano power bombs Myzteziz on the ramp. The work over the tecnicos some more. Myteziz is laid out on the ramp still. Villano FUs Magic onto the ramp. Myzteziz jumps in the ring and neatly botches a hurricanrana. Magic does a jump up tornillo onto the pile. Myzteziz then hits a springboard shooting star press. Back in the ring Magic goes for a moonsault but Villano gets feet up. Myzteziz hits a Canadian destroyer on Villano and Suicide comes from behind with a poisonranna. Suicide does a dive and lands on his feet. Myzteziz hits a moonsault. Villano spears Magic for a two count. Fighting on the top, Magic hits a power slam Spanish fly off of the top. Golden Magic pins Villano III Jr with a powerslam spanish fly
Winners: Golden Magic and Myzteziz
(AAA Cruiserweight Champion) Hijo Del Vikingo vs Laredo Kid
Believe it or not they start the match with some actual wrestling. They start trading submission holds. They start to ramp up the pace doing more acrobatic things. Vikingo springboards off the second rope for a hurricanrana. Vikingo shot gun drop kicks him to the outside. Vikingo hits a huge dive over the turnbuckle. Wow. Back in the ring Laredo Kid shot gun drop kicks Vikingo to the outside and then hits a huge asai moonault. Laredo bomb. Laredo hits a michinoku driver then two moonsaults for a two. Back in the ring Vikingo rolls into a package suplex from a small package. Impressive. AEW needs to book Vikingo immediately. They both kick each other and fall. Laredo goes for a springboard move but Vikingo meets him for a spanish fly. Wow holy cow. Kid hits him with a face buster then gets a cloverleaf like submission. Vikingo selling his ankle bad. They're both babyfaces so Laredo helps him up. They both run to the outside and Laredo misses an asai moonsualt and Vikingo goes to the ramp and kicks Laredo and then does a shooting star off of the ramp. Back up, Laredo throws him against the ropes and does a spanish fly on the ramp. Vikingo stands on the post and does a double stomp to Kids back. Vikingo then leaps off the ropes and does a springboard 450 for a close two. They meet on the top rope and Laredo does a reverse Laredo Fly and Vikingo kicks out. Kid then does a 450 and is completely angry Vikingo kicked out. Vikingo then does running knees to the corner after avoiding a phoenix splash. Vikingo then does a imploder 450 and Kid gets his hand on the rope. Finally on the top rope Laredo Kid hits the Laredo Fly and Vikingo reaches for the ropes but can't kick out. Holy shit what a match. Top 5 match of the year in any company. Laredo Kid pins Vikingo with a Laredo Fly
Winner: Laredo Kid
---
Time to pick up a new Chairshot shirt!

Get yours at:
https://www.prowrestlingtees.com/related/thechairshot.html
---
Monster Clown and Daga vs Drago and Aerostar
Monster Clown meets Aerostar on the ramp and beats him up. Daga beats up Drago. Finally back in the ring Aerostar uses his speed against Monster Clown. Monster rips at Aerostar's mask. Aerostar back drops Monster Clown onto the ramp. Drago pulls down Daga from the apron. Aerostar rips at Monster Clown's mask. Aerostar hits a big dive on Monster Clown. Daga hits a bunch of strikes on Drago. Drago counters with a tornado DDT. Monster Clown misses a moonsault. Daga hits the ref by accident. Clown kicks Aerostar in the balls. Then Drago kicks Clown in the groin. He head scissors Daga to the outside. Aerostar then hits a sunset flip power bomb on Monster Clown for the pin. Aerostar pins Monster Clown with a sunset flip power bomb
Daga cuts a promo on Drago and Drago replies. I think it's for an eventual title match.
Winners: Aerostar and Drago
Psycho Clown, Dr. Wagner Jr, and Puma King vs Rey Escorpion, Texano, and Taurus (With Hiedra)
Wagner has a homage to Silver King on. His brother for those that didn't know. Clown is with children dancing on the way to the ring and Escorpion clunks him with a chair. Escorpion got pelted with drinks for that. Clown is getting his ass handed to him in the crowd. Hiedra is constantly getting involved. The Rudos are completely destroying the tecnicos. Wagner clotheslines Texano and Escorpion and then hits a samoan drop on Taurus. Puma King hits a splash onto Taurus. Wagner does a flip off of the ramp onto Texano and then Clown does it to Escorpion. Clown breaks a broom over his back. They put a trash can on Rey's head and Clown and Puma super kick it. The tecnicos celebrate by doing a 3 man fusion dance. Texano gets his bull rope and goes to hit Clown with it but he ends up hitting Hiedra and Escorpion with it. Clown then whips Texano's butt with the rope. Taurus brings a table in. Wagner hits a cutter on Taurus then rips his shirt off. Wagner does a samoan drop off of the apron onto a table on Texano. Clown goes to pin Rey but Taurus pulls the ref. Puma King leaps over the ref and dives. Rey then rips Clown's mask off then slams him into the table. He throws his mask on him then pins him. Rey Escorpion pins Psycho Clown with a slam through a table after mask removal the ref missed. 
Winners: Rey Escorpion, Texano Jr, and Taurus