Andrew's Impact Wrestling Rebellion Night 2 Results & Ratings
Night 2 of Impact Wrestling Rebellion! Who will face Elgin? Where is the Valkyrie? Will the Deaners get #canceled?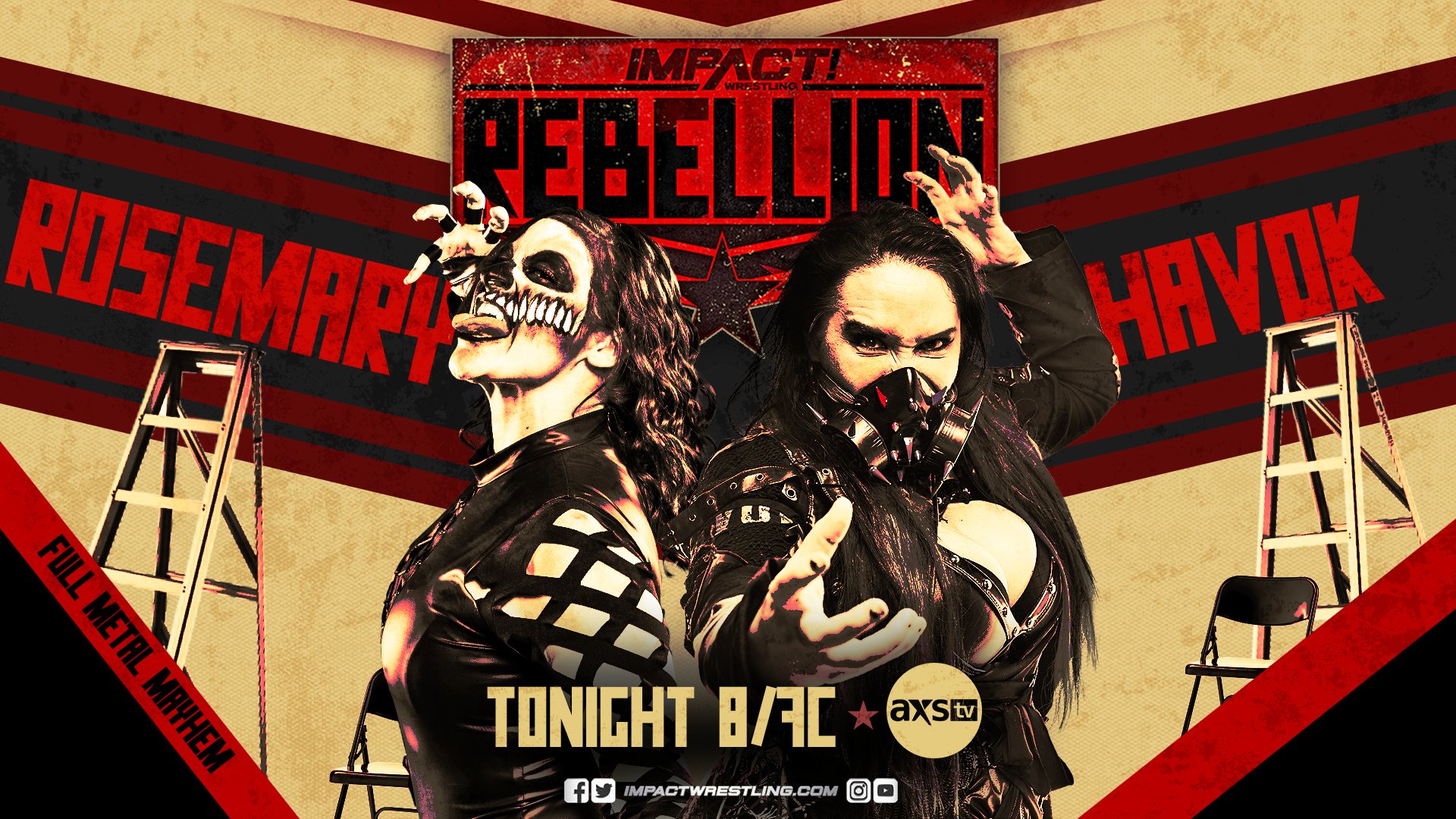 Night 2 of Impact Wrestling Rebellion! Who will face Elgin? Where is the Valkyrie? Will the Deaners get #canceled?
With Night 1 of Impact's Rebellion being received fairly well; one has to wonder what we're getting tonight. We were supposed to have the Triple Threat for the Impact World Championship, but quarantine measures have made it so only Elgin showed up. Taya and Jordynne Grace couldn't make it, so Rosemary and Havok will have a Full Metal Mayhem match in their stead.
Card subject to change has never been more true than with Rebellion. That's not a slight, since Impact has done a pretty solid job at making chicken salad out of chicken…well you know.
Let's get to Night 2!
Rebellion Ratings:
Suicide vs Chris Bey vs Rohit Raju vs Trey: Chris Bey wins via Brazilian Kick – *** 1/2
Joseph P Ryan vs Cousin Jake: Joseph wins via School Boy w/Ropes – ** 1/4
Full Metal Mayhem: Havok vs Rosemary: Rosemary via Lead Pipe to the Skull – *
TNA Heavyweight Championship: Moose (c) vs Michael Elgin vs Hernandez: Moose retains? via No Jackhammer Needed – ****
Rebellion Results:
Suicide vs Chris Bey vs Rohit Raju vs Trey
Well the match starts off with a little comedy. We've got a 4 man waist lock chain, where everyone takes a few passes as turning it around and changing places. Eventually, Suicide slides through everyone's legs, then Trey does the same; leaving the two heels to play ring around the rosy alone, basically. Trey and Suicide just sit and stare, the heels eventually notice and stop looking foolish; so the match can really get going.
Early on, Rohit and Bey work together to isolate Suicide and keep Trey on his backside. After Trey finds the opening with a leg pick, we see more back and forth X Division style action. Rohit is underrated because of the fact that he does great character work. Suicide had a double Abdominal Stretch in, Rohit slides in, and before breaking it up; he decides to laugh at Trey and Bey. Little things like that scream old school heel stylings, and it's kind of refreshing.
Some really solid action happens after that. Suicide pulls off the Suicide Solution, Trey hits a double 619 and then a Meteora on Suicide. Rohit pitches Trey to the outside to try and steal the win, but a swift Brazilian Kick to the back of the head from Bey; breaks up the pin and then Bey wins off that. Pretty good match, especially for an opening match.
Joseph P Ryan vs Cousin Jake
Ryan actually wrestles a smart match. He works over Jake's left arm and shoulder, rams it into the post a few ties, arm breakers and jaunts over the top rope.Jake's country strong power still brings him towards a few close pinfalls; but Joseph Ryan manages to find ways out of them. After a One Armed Sit Out Powerbomb, Ryan was looking for an opening. He manages a School Boy, while leaning over to grab the ropes to make sure it's a 3 count.
Decent enough for what was to be expected.
Rosemary and Taya clarify the card change…sortuv…
.@TheTayaValkyrie had a litany of excuses for why @WeAreRosemary is in the Full Metal Mayhem match tonight instead of her. #Rebellion pic.twitter.com/Y92vjKJoFt

— IMPACT (@IMPACTWRESTLING) April 29, 2020
Full Metal Mayhem: Havok vs Rosemary
Well this match starts off with a lot of Rosemary bargaining. So it's nice to see her doubling down into the shift in her now kind of drunken and aimless character. The match was kind of plodding, Nevaeh debuted by just standing off to the side and watching for a while. Madison named her, so that viewers knew that much, but wouldn't go into how she knew her.
Nevaeh is Hazard in WoW, Jake Crist's wife and former Shimmer tag champions with Madison herself. Aside from a few cute spots, like a hard hat to block with weapon shot, this was really uninteresting. Nevaeh's debut fell flat to me, Rosemary winning with a well placed pipe and hitting Havok is setting something up; sure I can accept that. I just didn't care for any of this.
.@nevaehOi4k is here!

She's watching Full Metal Mayhem from afar. #Rebellion pic.twitter.com/UdJsivQh38

— IMPACT (@IMPACTWRESTLING) April 29, 2020
ImpactPlus Flashback Moment: X Division Championship Match: Sami Callihan vs Rich Swann (c), oVe rules, Rebellion April 28,2019
Elgin comes out to announce himself as the winner, Moose comes out with the TNA Heavyweight Championship belt on claiming himself the champion of TNA since he beat all the older wrestlers. Hernandez pops out to make sure we get a 3 way dance…possibly for a title? Yes? No? Lucha o No?
.@TheMooseNation has arrived with the TNA World Heavyweight Championship around his waist. #Rebellion pic.twitter.com/bB481IuYbS

— IMPACT (@IMPACTWRESTLING) April 29, 2020
TNA Heavyweight Championship: Moose (c) vs Michael Elgin vs Hernandez
Now this was a cool set up for the impromptu triple threat. Even though there were three commercials that broke up the flow of the match a bit, it was a really well put together match. Elgin did a lot of good work with both men. Hernandez had some nice athletic moments to prove he can still go in the ring, Moose held his own really well and this was just enjoyable.
Numerous pinfall breakups, Moose hit the Go To Hell, Elgin was never able to finish his Buckle Bomb/Elgin Bomb combo. He did he a great Corkscrew Senton, but it was only for 2. Hernandez hit a Pounce, and wiped out Elgin and the second referee with a big Suicide Dive. Moose drags Hernandez back in, hits No Jackhammer Needed to continue his reign over the TNA originals, and pick up the big Main Event win.
Overall Score: 6.25/10
Impact Wrestling Rebellion night 2, had probably the best match of the whole event…but in total fell short. Bookended with really good matches, the stuff in the middle was definitely more niche. A comedy match and a gimmicked hardcore match won't be for everyone.
Perhaps Impact is expecting a few more weeks of not being able to get Tessa out of Mexico, so Moose getting a big win and being a focal point for Elgin is a really great pivot. For something that most likely didn't have a ton of pre-planning, the way they managed to set up future stories; while still making sense with what's already happened, should really be applauded.
I won't pretend to have been blown away by this night, but I definitely appreciate the small wrinkles. Rosemary's personality tweaks, Neveah's debut and tie to Madison, Elgin losing and Moose walking around with the TNA Heavyweight Championship like he's cock of the walk. So again, not fantastic, but still a solid show and pretty good with both nights combined.
Looking forward to where Moose, Kylie Rae and Chris Bey are headed!
Andrew's IMPACT Results & Match Ratings: 1.27.2022
BULLET CLUB! HONOR NO MORE! Royal Rumble Mentions! IMPACT is really proving to be the real Forbidden Door. How does this craziness continue?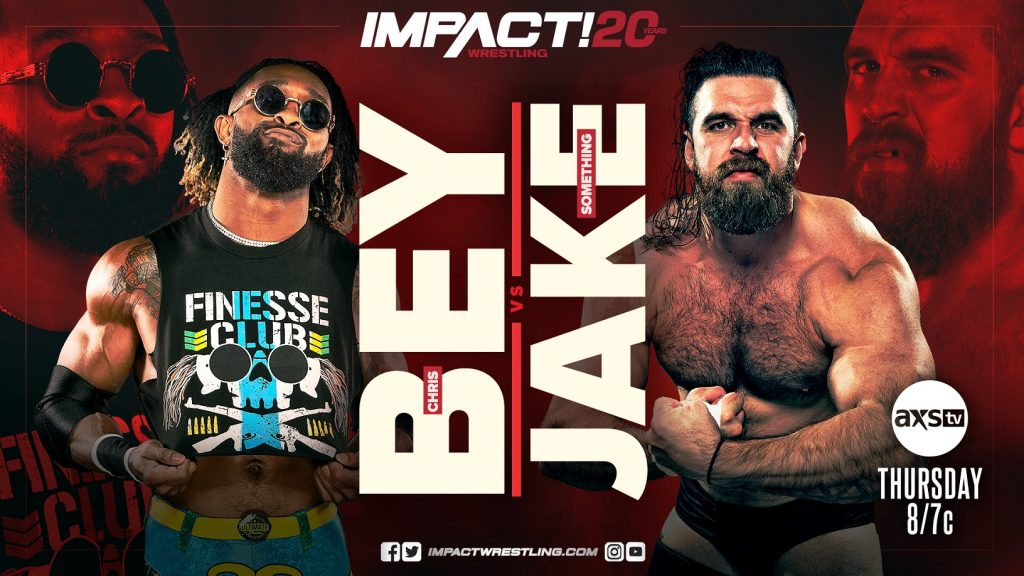 BULLET CLUB! HONOR NO MORE! Royal Rumble Mentions! IMPACT is really proving to be the real Forbidden Door. How does this craziness continue?
This was their first show from the most recent tapings. We know the Guerrillas of Destiny will be here, Jay White is also supposed to be around…plus everything keeping Ring of Honor relevant we've got a lot to try and fit into two hours.
Any more crazy debuts, returns, or what have you? Let's get to it!
The IMPACT Wrestling Knockouts World Tag Team champions The Iinspiration have arrived in the IMPACT Zone!@JessicaMcKay @CassieLee #IMPACTonAXSTV pic.twitter.com/Q4WOWMgNqJ

— IMPACT (@IMPACTWRESTLING) January 28, 2022
Ratings:
Chris Bey vs Jake Something: Something wins via Into the Void – *** ¼
The Influence (Madison Rayne & Kaleb) vs The IInspiration: Cassie Lee wins via Code Red Cradle Counter – ***
Massive Cassidy vs The Learning Tree: Cassidy wins via BQE – N/A
Johnny Swinger vs Jonah: Jonah wins via Tsunami – N/A
Chris Sabin vs PCO: PCO wins via Bubba Bomb – *** ¼
Results:
We see they are still selling the D'lo is injured angle, so we get 205 Live flashbacks! Tom is on commentary with Matthew Rehwoldt!
Chris Bey vs Jake Something
Bey starts things off quickly but Jake puts a stop to that with a big right hand that dazes Bey. Bey powders, Jake follows, but it set up Bey to hit an Apron Tiger Feint. He goes for an Asai Moonsault, but Jake catches him and hits Snake Eyes on the apron. Bey bounces to the post, Jake charges and Bey moves to have Jake crash himself into the pole.
We get more of the clash of styles where Bey goes for a few quick shots or high flying haymakers, but Jake seems to return 3 or 4 of Bey's moves just with one big power move.  There's a tenacious spot with Bey clinging to Jake with the Rear Naked choke and refusing to let go regardless of being driven into the corner and even flat on the mat.
Jake powers through and manages to drop Bey to break the Sleeper. The action is quick and could go either way. Bey counters Jake's corner spear, he counters Jake's Blackhole Slam and we see a beautiful Spinning Heel Kick. Huricanrana, but Jake holds on and turns it into a Sitout Powerbomb. Bey keeps everything moving quickly, he baits Jake into the corner, goes to the top rope and Jake catches him out of mid-air. A small pause for the cause, and Jake creates the momentum for Into the Void himself.
Post-Match G.o.D. run down beat the hell out of Jake, Speedball Mike Bailey makes a save until Jay White comes down and Bailey sells the involvement hilariously. G.o.D. tell us exactly why they're here and we all knew, Good Brothers gonna fall victim to the Firing Squad.
.@ScottDAmore just made it official!

"You win, you stay! You lose don't let the door hit you in the ass on the way out!"

Honor No More VS IMPACT WRESTLING at No Surrender! pic.twitter.com/6q7v4lfGso

— IMPACT (@IMPACTWRESTLING) January 28, 2022
The Influence (Madison Rayne & Kaleb) vs The IInspiration
This is a little stupid but it keeps the story moving. The IInspiration missed the first title match because of covid stopping them from going to Hard to Kill. Now Tenille isn't available for these tapings I guess, so this is a non-title match.
Madison starts off with Cassie and Madison gets out-wrestled. So Madison tags in Kaleb and Cassie immediately starts making a joke of the situation and Cassie feigns an old Jimmy tap. Cassie again out-wrestles Kaleb and tags in Jessie. Jessie and Kaleb have a weird moment where he pulls her up from a failed Sunset Flip and they have a pause where it almost looks like they're gonna kiss or something.
The hiccup in the action gives The Influence and opening and a big Superkick from Kaleb connects on Cassie. Madison controls the match and tags in Kaleb. He comes off the middle rope Jerry Lawler style but Cassie counters the move with a Manhattan Drop. Then she retreats to the ropes, he charges, and crotches himself on the middle rope. Madison tags back in since Kaleb has been having issues.
Jessie hits the Shades of Kay which causes Madison to DDT Kaleb. After some shenanigans, a blind tag from Kaleb gives The Influence a close call. But a Code Red kind of counter to a Powerbomb gives Cassie the victory. Watching Kaleb and Madison throw tantrums over the loss is pretty hilarious.
AHH Gisele Shaw is the Quintessential Diva! She's been on AXS TV before when she was Azteca during WOW from a few years ago. She's been in the business for a while and isn't terrible in the ring. I'm looking forward to her honestly.
Something says that did not go the way @The_Ace_Austin planned…@gailkimITSME loved the idea of @FultonWorld/@The_Ace_Austin/@SpeedballBailey & @JakeSomething_ vs The Bullet Club and made it official for next week on #IMPACTonAXSTV!#IMPACTWRESTLING pic.twitter.com/nxZ5Eu9N3x

— IMPACT (@IMPACTWRESTLING) January 28, 2022
Mickie holds a State of the Knockouts and it's just a big hype session for the Royal Rumble, to help set the stage that Chelsea Green is still somewhat relevant in the title picture even though Tasha Steelz is the rightful number one contender. It was fine, but went a bit long.
We get about 10 seconds of Jordynne Grace defending the Digital Media title against Kiera Hogan, then she officially accepts Zack, erhm…Matt Cardona's challenge. And Brian Myers adds like nine guys to the Learning Tree just to throw numbers at Massive Cassidy as he joins commentary.
Massive Cassidy vs The Learning Tree
Tom calls Zicky Dice "If the State of Florida were a person"; super accurate. This is a hilarious Squash match and the commentary makes it fantastic. BQE wins the match for Cassidy.
Brian Myers squares up to Cassidy, and Moose comes down to attack his next challenger. Morrissey fights them off mostly, gets buried under the Learning Tree and goes full Super Shredder but Moose cuts him in half with Lights Out! Myers is amused and Moose poses victorious and looking sharp as hell.
Johnny Swinger vs Jonah
Swingman gonna be a dead man. Jonah gonna take em to the morgue. We do see apparently Dan Lambert is in the crowd. So this could be a return of Dan Lambert to IMPACT. Yeah Tsunami wins, anyone surprised? Jonah tosses out Swinger and looks like he might do more damage, but Decay's music hits and they seem to have an interest in Swinger. So Jonah allows them to have their fun and do what they will.
Chris Sabin vs PCO
Definitely NOT a match I expected in 2022, especially with the faction seconds around the ring. PCO makes sure the pace is slow and works on Sabin's left arm. Driving it into the turnbuckles, wrenching over the ropes, dropping hammers into his elbow and of course Arm Wringers. Sabin needs to do a little Junior stylings to roll with the Wringer and now tries the rope runs. Frankenstein doesn't go down until Sabin goes for the low Dropkick, then a Flying Shoulder Tackle.
Sabin is moving nicely, but PCO calls the refs attention and Honor No More trips up Sabin running the ropes. Eddie Edwards tries to return it in kind, but the referee is staring right at him. Stupid good guy Eddie tries to cheat and he's just bad at it. Commercial break takes us to Sabin having PCO in the corner for 10 count punches. Springboard Flatliner attempt but PCO grabs him out of the sky and sends him to the outside. Brings him back in just to crush him over the top rope with a car crash lariat. Middle Ropes PCO Senton through the ropes to the outside onto Sabin.
PCO throws Sabin into the steps and just rocks him. Then we see the top corner Senton onto Sabin as he's draped on the apron. PCO doing those moves you're not expecting from someone his age or size, but it's been his bread and butter with his PCO resurgence the last 5 years or so. PCO SAULT – MISSES! Sabin has been getting destroyed and now finally has a second to put things together.
Missile Dropkick, Yakuza Kick and then a Missile Dropkick to the back of the head sending PCO to the outside. Suicide Dive sends PCO reeling into the guardrail! Top Rope Crossbody from Sabin for 2. Cradle Shock attempt but no, Crucifix Cradle near fall and then a big clubbing lariat from PCO and Sabin's momentum is stunted. Vader Bomb from PCO, Sabin gets the Knees up, kick, running Enzuigiri, Cradle Shock but Honor No More starts making their presence known. PCO is still selling so Sabin attacks all of them, Maria distracts the referee, and the numbers catch up with Sabin. PCO hits the Bubba Bomb and folds up Sabin for the victory!
Overall Score: 7/10
They set up the main event during the show, made it feel like a big deal, and it wasn't really over booked given all the people being involved. Massive Cassidy dismantling the Learning Tree was comedic and great given the commentary and the way the segment ended with Myers and Moose having their moments.
Bullet Club opened things and made it all feel important, I mean let's just put it this way. There were a lot of factions being involved, but no one felt lost, it all felt kinda cool and big and even the throw together group of Ace/Fulton/Jake/Speedball felt logical and of course a little campy, but works for the IMPACT presentation. Gisele Shaw being shown and named as the Quintessential Diva could be great since she's not a WWE hand me down, but she does have a little bit of stroke given her other work. The personality they gave her in the promo makes me feel like she'll fit into Inspiration/Tenille kind of style, but when they recently added Lady Frost and Masha Slammovich; it's really great to see a bunch of different women in the division.
Also not gonna lie, I'm a little curious what Dan Lambert will be doing. Given the fact that like 2018 ATT was positioned against Moose, I wonder if there will be any of that animosity or if Moose will align with them since 2018 Moose is not 2022 Moose. Fun threads in this show!
Andrew's IMPACT Results & Match Ratings: 1.20.2022
We're coming to the end of their first set of tapings. So I wonder what IMPACT has cooked up since the Florida tapings are supposed to have a few Bullet Club favorites. Let's find out!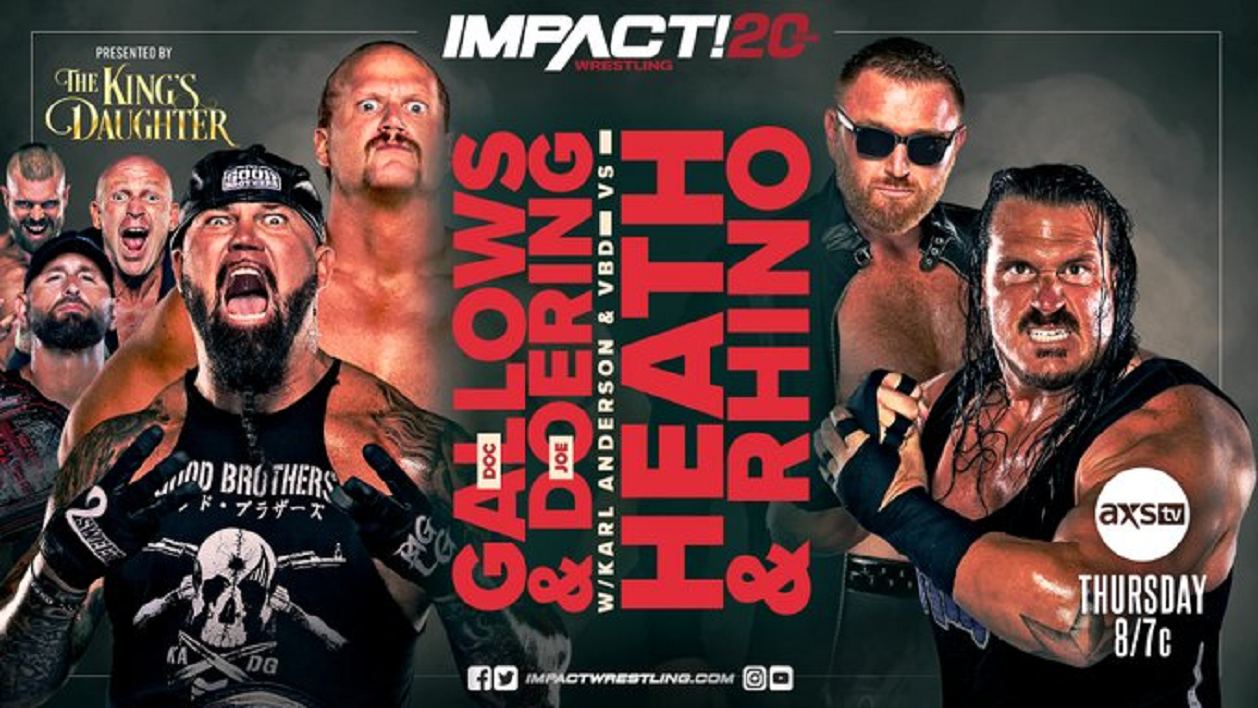 We're coming to the end of their first set of tapings. So I wonder what IMPACT has cooked up since the Florida tapings are supposed to have a few Bullet Club favorites. Let's find out!
Another week with Tom Hannifan as the play by play, and he just sounds right. We've got Charlie Haas' first match in IMPACT, Tasha Steelz versus Chelsea Green and Steve Maclin is aiming for the ROH Heavyweight Title.
There should be other things, but those take most of the initial attention. Let's see what else goes on!
.@MickieJames has arrived in the IMPACT Zone!#IMPACTonAXSTV pic.twitter.com/5PeTzlYyym

— IMPACT (@IMPACTWRESTLING) January 21, 2022
Ratings:
Tasha Steelz w/Savannah Evans vs Chelsea Green: Tasha wins via Crucifix Bomb – **
The Influence (Tenille Dashwood & Madison Rayne) w/Kaleb vs Decay (Havok & Rosemary): Influence wins via Kiss Kiss Bang Bang – *
The Learning Tree (Zicky Dice & VSK) w/Brian Myers vs Massive Cassidy: Cassidy wins via BQE – SQUASH
ROH Heavyweight Title: Steve Maclin vs Jonathan Gresham (c): Gresham retains via Rope Assisted Figure Four – *** ½
Doc Gallow & Joe Doering w/Karl Anderson & VBD vs Heath & Rhino: Gallows & Doering win via Double Chokeslam – **
Charlie Haas vs Josh Alexander: Alexander wins via Ankle Lock w/Grapevine – *** ¼
Results:
Tasha Steelz w/Savannah Evans vs Chelsea Green
Tasha is jawing with the crowd as the bell rings, Chelsea goes right at her and hits the Shotgun Dropkick as Tasha is turning to face her opponent. Chelsea stays on the offensive, baits Tasha to the apron, drops her on her face, Curb Stomp, attempt at an Unprettier…but no counter into a Codebreaker from Tasa and we see Chelsea's momentum slow down a little.
After some back and forth with Tasha having a lot of advantage, Chelsea makes her comeback. Chelsea hits a middle rope Crossbody but Tasha continues to rotate and rolls it into a pin attempt. Chelsea kicks out and pulls off a Package Flatliner, but only for a near fall. Chelsea goes to grab Tasha, Tasha kicks her to stun her, looks to get caught in a Crucifix, but turns it into a Crucifix Bomb. Tasha picks up the win with the Crucifix Bomb again.
After the win, Tasha cuts a promo that doesn't seem to really fit. Trying to portray herself as a savage, from the wrong side of town, but she's a smack talking 5 foot nothing brat. So the second half of the promo works a lot better than the first. She also took some shots at WWE's women's division being Barbie Dolls, NWA, Nick Aldis and then brought the son into the mix, so of course that got Mickie fired up. Things look bad for Mickie, but Chelsea Green manages to recover and make the save for Mickie.
Video Package courtesy of Ring of Honor showcasing some of Charlie Haas' work with Shelton Benjamin and CM Punk involved in certain clips.
The Influence (Tenille Dashwood & Madison Rayne) w/Kaleb vs Decay (Havok & Rosemary)
The Influence attack while Havok and Rosemary are distracted by Kaleb. Rosemary clutches her shoulder after the mugging, the doctors throw up the X and tell her she can't go. Rosemary asks if Havok can go, the doctor says yes, so Rosemary tells Havok to go destroy the Influence.
Havok put up a valiant fight but the heels prevail! Cross Rayne into a Spotlight Kick into…whatever their tandem finish is called. I'm going to call it Kiss Kiss Bang Bang.
The IInspiration have a reactionary video promo which is pretty solid. I do enjoy their work. Hopefully their match ends up being pretty solid because I'd like to see The IInspiration start getting over their abilities in the ring as much as their abilities on the mic.
The Quintessential Diva is Coming!#IMPACTonAXSTV pic.twitter.com/SUiLvfFeRu

— IMPACT (@IMPACTWRESTLING) January 21, 2022
The Learning Tree (Zicky Dice & VSK) w/Brian Myers vs Massive Cassidy
The highlight of this match is Hannifan and Myers on commentary. There was a like 4 second spot where the Learning Tree landed a move, but then Cassidy kills them. So we're in and out, double Pinfall murder happened.
Post-Match the Massive one goes on his search for Moose, D'Amore stops him in the back and says he's got a title shot coming. Then we see the OGK ROH invaders have tickets this time around, and I'm going to be sick saying this…but Matt Taven is pretty great in this segment. Jesus Christ, I popped for Taven. Shoot me now.
ROH Heavyweight Title: Steve Maclin vs Jonathan Gresham (c)
Early on it looked like Gresham was toying with Maclin as he forced early rope breaks, but Maclin returned the forced rope breaks in kind. Maclin eventually started coming into his own when he utilized the one closed fist warning rule. Maclin really worked over Gresham's back after a Butterfly Backbreaker, Boston Crab, Camel Clutch, and a lot of back work.
Gresham was really on the back foot until he managed to force Maclin to use his final rope break. Then we saw Gresham hyper extend Maclin's knee, and keeps working on the knee. It all made sense as we saw Gresham utilize the Figure Four for the victory. It was entwined in the ropes, Gresham used it for leverage and Maclin's will power gave out as he couldn't get his shoulders up fast enough and succumbed to the three count.
IMPACTPlus Flashback Moment: No Surrender 2009: Sarita & Taylor Wilde vs The Beautiful People – Innaugural TNA Knockouts Tag Team Championship Match
"We're gonna see ourselves out"

🤔@MattTaven @TheHorrorKingVM @RealMikeBennett @MariaLKanellis @PCOisNotHuman #IMPACTonAXSTV pic.twitter.com/UrfqiYdiwc

— IMPACT (@IMPACTWRESTLING) January 21, 2022
Doc Gallow & Joe Doering w/Karl Anderson & VBD vs Heath & Rhino
So Good Brothers and VBD looked really sloppy. Gallows got rocked by Rhino, Doering was caught off guard often by Heath and there was just a ton of odd moments where it looked like they tried to regroup and until we saw the extra members get involved, Heath and Rhino dominated the legitimate tag team aspects.
I'm wondering exactly how much of a shift the Guerrillas of Destiny will have in the tag scene and if we'll need to see the Good Brother and VBD implode first before we get the Bullet Club foundation match.
Charlie Haas vs Josh Alexander
They start with a classic grounded start with headlocks, hammerlocks, leg picks and positioning advantages. Alexander managed to take some early momentum before the commercial break, but when we come back we see Haas pop over out of the corner, striking Alexander's knee and starts focusing a body part. A very methodical attack on knee comes off far more aggressive and cruel than Haas usually goes for. Haas locks in the Indian Deathlock, and they begin slugging at each other. The hold breaks, Alexander goes for the Finlay Roll but Haas counters into a Crucifix Cradle for 2.
Alexander locks in the German Suplex, hits 2, obviously going for 3 to make a point, but Haas blocks the third. Haas pulls off 2, before Alexander blocks and hits one more German before Haas grabs the ropes, feeds in for a lariat but gets caught in another German Suplex this time with the bridge but only for 2.
Haas manages to charge Alexander in the corner, stumbled a bit but lands in the legs that he's been aiming for, and then goes back to the other corner and hits the mid-section. Haas looks for a leg pick, Alexander counters into his own Ankle Lock. Charlie tries to counter it a few different ways but Alexander holds on and locks in the Ankle Lock with the Grapevine so Haas taps out.
Things moved a little too quickly, so it was alright but could've been better. After the match they shake hands and the ROH invaders hit the ring. Haas, Alexander, Chris Sabin comes in, then Rich Swann and Willie Mack, Heath and Rhino…finally Eddie Edwards hits the ring with a kendo stick and drives the ROH guys out.
Overall Score: 6.25/10
I think Maria named the invading stable as Honor No More, so I suppose for like a Pop Punk or Emo band that sounds cool…but it's a bit dumb for a faction name. Can't really chant it, the abbreviation is dumb, H.N.M. sounds like a clothing company, but I guess this is them distancing themselves from ROH.
Either way, this was kind of a janky episode. The matches weren't great, a lot of stories were touched upon but left wide open, and the next major event being No Surrender on Feb. 19th, feels like a lot of time to fill. So maybe it was just a little too redundant, maybe it was also that the general match quality was down to further storyline angles…not sure. This still wasn't bad, just definitely felt extremely lacking.