Andrew's Impact Wrestling Rebellion Night 2 Results & Ratings
Night 2 of Impact Wrestling Rebellion! Who will face Elgin? Where is the Valkyrie? Will the Deaners get #canceled?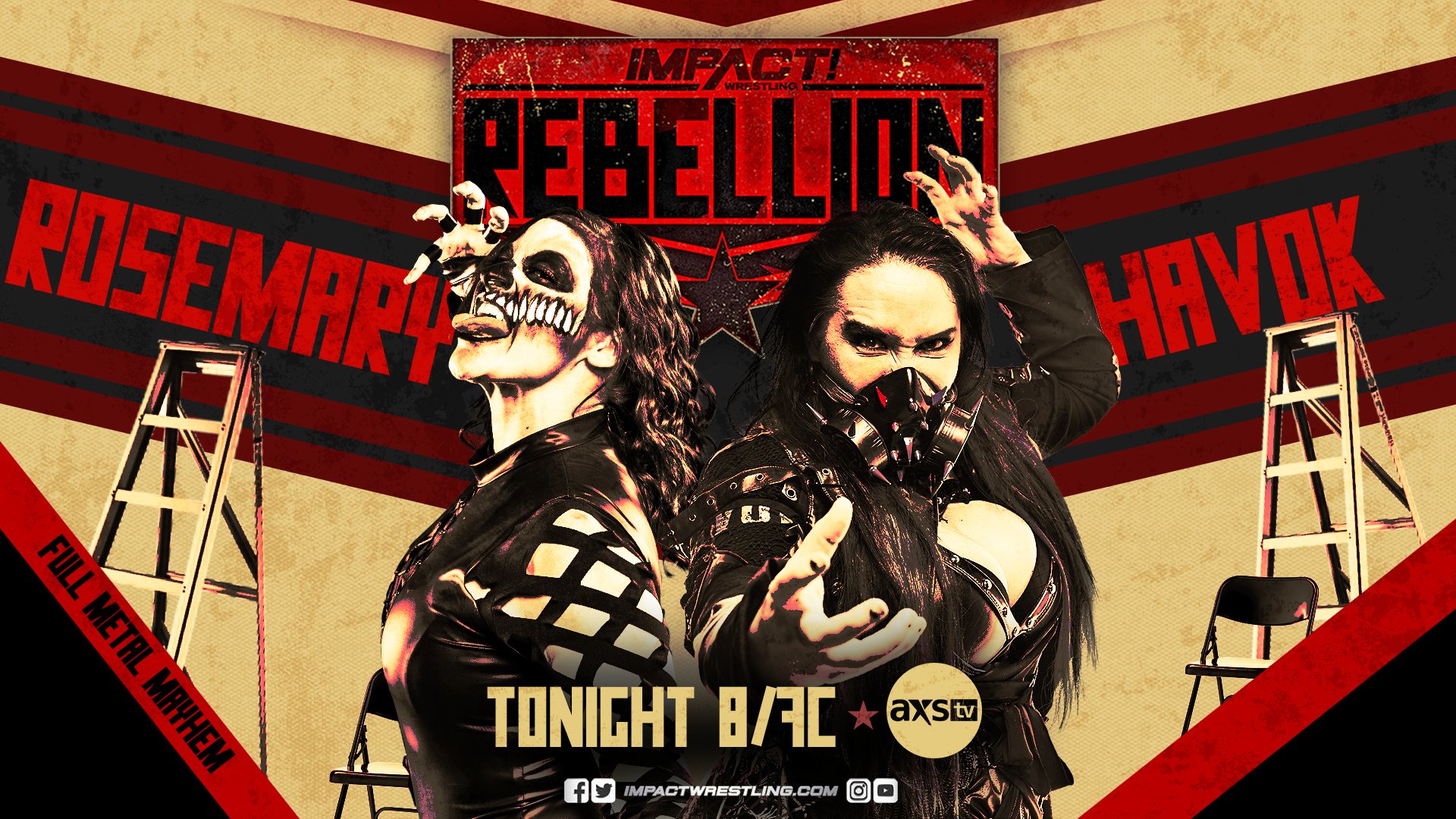 Night 2 of Impact Wrestling Rebellion! Who will face Elgin? Where is the Valkyrie? Will the Deaners get #canceled?
With Night 1 of Impact's Rebellion being received fairly well; one has to wonder what we're getting tonight. We were supposed to have the Triple Threat for the Impact World Championship, but quarantine measures have made it so only Elgin showed up. Taya and Jordynne Grace couldn't make it, so Rosemary and Havok will have a Full Metal Mayhem match in their stead.
Card subject to change has never been more true than with Rebellion. That's not a slight, since Impact has done a pretty solid job at making chicken salad out of chicken…well you know.
Let's get to Night 2!
Rebellion Ratings:
Suicide vs Chris Bey vs Rohit Raju vs Trey: Chris Bey wins via Brazilian Kick – *** 1/2
Joseph P Ryan vs Cousin Jake: Joseph wins via School Boy w/Ropes – ** 1/4
Full Metal Mayhem: Havok vs Rosemary: Rosemary via Lead Pipe to the Skull – *
TNA Heavyweight Championship: Moose (c) vs Michael Elgin vs Hernandez: Moose retains? via No Jackhammer Needed – ****
Rebellion Results:
Suicide vs Chris Bey vs Rohit Raju vs Trey
Well the match starts off with a little comedy. We've got a 4 man waist lock chain, where everyone takes a few passes as turning it around and changing places. Eventually, Suicide slides through everyone's legs, then Trey does the same; leaving the two heels to play ring around the rosy alone, basically. Trey and Suicide just sit and stare, the heels eventually notice and stop looking foolish; so the match can really get going.
Early on, Rohit and Bey work together to isolate Suicide and keep Trey on his backside. After Trey finds the opening with a leg pick, we see more back and forth X Division style action. Rohit is underrated because of the fact that he does great character work. Suicide had a double Abdominal Stretch in, Rohit slides in, and before breaking it up; he decides to laugh at Trey and Bey. Little things like that scream old school heel stylings, and it's kind of refreshing.
Some really solid action happens after that. Suicide pulls off the Suicide Solution, Trey hits a double 619 and then a Meteora on Suicide. Rohit pitches Trey to the outside to try and steal the win, but a swift Brazilian Kick to the back of the head from Bey; breaks up the pin and then Bey wins off that. Pretty good match, especially for an opening match.
Joseph P Ryan vs Cousin Jake
Ryan actually wrestles a smart match. He works over Jake's left arm and shoulder, rams it into the post a few ties, arm breakers and jaunts over the top rope.Jake's country strong power still brings him towards a few close pinfalls; but Joseph Ryan manages to find ways out of them. After a One Armed Sit Out Powerbomb, Ryan was looking for an opening. He manages a School Boy, while leaning over to grab the ropes to make sure it's a 3 count.
Decent enough for what was to be expected.
Rosemary and Taya clarify the card change…sortuv…
.@TheTayaValkyrie had a litany of excuses for why @WeAreRosemary is in the Full Metal Mayhem match tonight instead of her. #Rebellion pic.twitter.com/Y92vjKJoFt

— IMPACT (@IMPACTWRESTLING) April 29, 2020
Full Metal Mayhem: Havok vs Rosemary
Well this match starts off with a lot of Rosemary bargaining. So it's nice to see her doubling down into the shift in her now kind of drunken and aimless character. The match was kind of plodding, Nevaeh debuted by just standing off to the side and watching for a while. Madison named her, so that viewers knew that much, but wouldn't go into how she knew her.
Nevaeh is Hazard in WoW, Jake Crist's wife and former Shimmer tag champions with Madison herself. Aside from a few cute spots, like a hard hat to block with weapon shot, this was really uninteresting. Nevaeh's debut fell flat to me, Rosemary winning with a well placed pipe and hitting Havok is setting something up; sure I can accept that. I just didn't care for any of this.
.@nevaehOi4k is here!

She's watching Full Metal Mayhem from afar. #Rebellion pic.twitter.com/UdJsivQh38

— IMPACT (@IMPACTWRESTLING) April 29, 2020
ImpactPlus Flashback Moment: X Division Championship Match: Sami Callihan vs Rich Swann (c), oVe rules, Rebellion April 28,2019
Elgin comes out to announce himself as the winner, Moose comes out with the TNA Heavyweight Championship belt on claiming himself the champion of TNA since he beat all the older wrestlers. Hernandez pops out to make sure we get a 3 way dance…possibly for a title? Yes? No? Lucha o No?
.@TheMooseNation has arrived with the TNA World Heavyweight Championship around his waist. #Rebellion pic.twitter.com/bB481IuYbS

— IMPACT (@IMPACTWRESTLING) April 29, 2020
TNA Heavyweight Championship: Moose (c) vs Michael Elgin vs Hernandez
Now this was a cool set up for the impromptu triple threat. Even though there were three commercials that broke up the flow of the match a bit, it was a really well put together match. Elgin did a lot of good work with both men. Hernandez had some nice athletic moments to prove he can still go in the ring, Moose held his own really well and this was just enjoyable.
Numerous pinfall breakups, Moose hit the Go To Hell, Elgin was never able to finish his Buckle Bomb/Elgin Bomb combo. He did he a great Corkscrew Senton, but it was only for 2. Hernandez hit a Pounce, and wiped out Elgin and the second referee with a big Suicide Dive. Moose drags Hernandez back in, hits No Jackhammer Needed to continue his reign over the TNA originals, and pick up the big Main Event win.
Overall Score: 6.25/10
Impact Wrestling Rebellion night 2, had probably the best match of the whole event…but in total fell short. Bookended with really good matches, the stuff in the middle was definitely more niche. A comedy match and a gimmicked hardcore match won't be for everyone.
Perhaps Impact is expecting a few more weeks of not being able to get Tessa out of Mexico, so Moose getting a big win and being a focal point for Elgin is a really great pivot. For something that most likely didn't have a ton of pre-planning, the way they managed to set up future stories; while still making sense with what's already happened, should really be applauded.
I won't pretend to have been blown away by this night, but I definitely appreciate the small wrinkles. Rosemary's personality tweaks, Neveah's debut and tie to Madison, Elgin losing and Moose walking around with the TNA Heavyweight Championship like he's cock of the walk. So again, not fantastic, but still a solid show and pretty good with both nights combined.
Looking forward to where Moose, Kylie Rae and Chris Bey are headed!
Andrew's IMPACT Results & Match Ratings: 1.26.2023
This episode is gonna be a real dice roll. A shaky card means that the segments really need to make up for the lack of engagement on paper. Does it get there?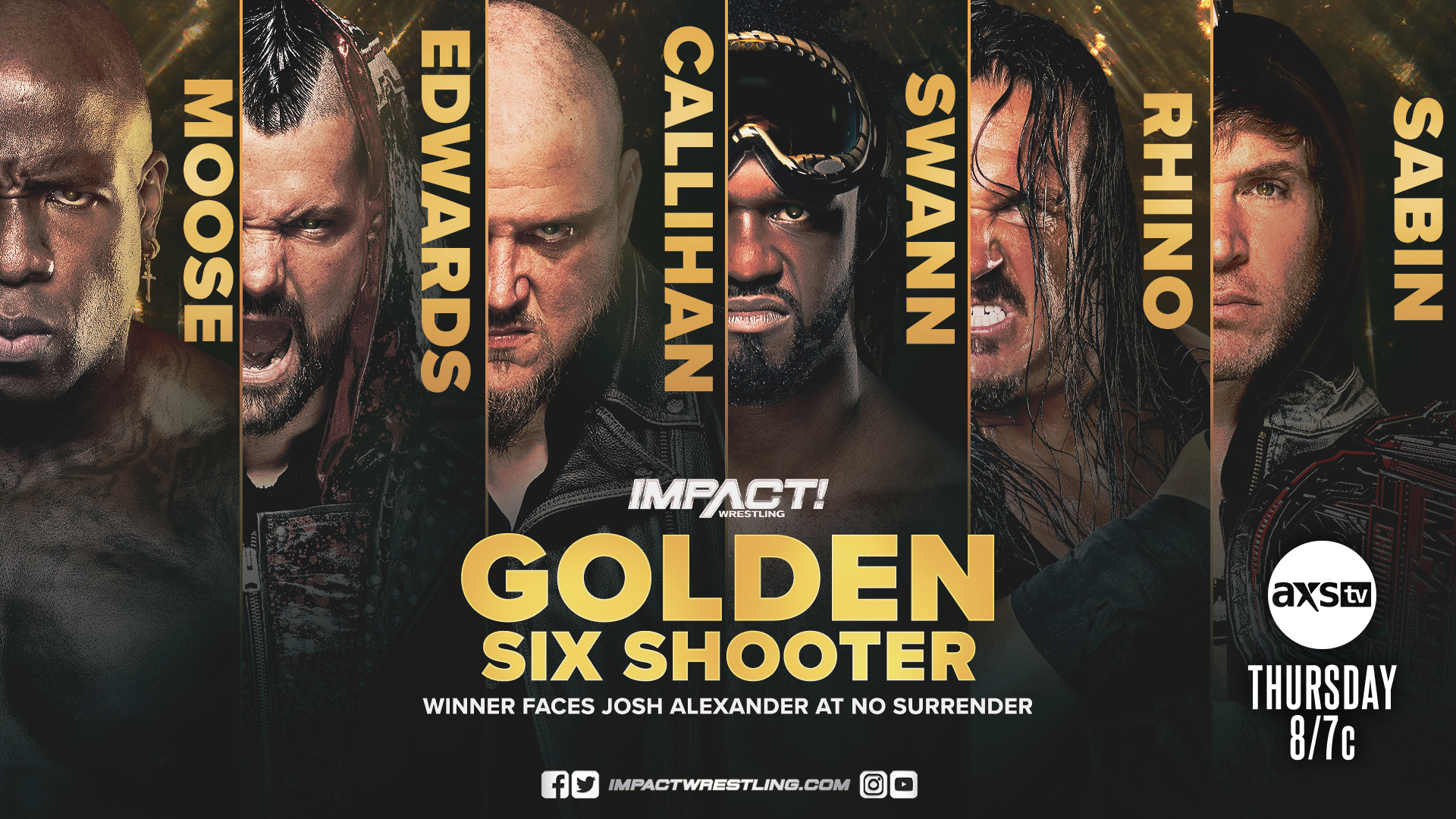 I have no real clue what to make of this episode. With a throw away X Division Championship match and most likely a Knockouts Tag to just perpetuate the Gisele is a shitty human concept, I don't see a lot of hope for this episode outside of the main event.
Every now and then there's a head scratching klunker from IMPACT because they get too wrapped up in their gimmicks and sometimes they all coalesce in the same episode. Hopefully we can salvage some entertainment in the first like 90 minutes as to not be struggle bussing to the final match.
At least the teaser for Gisele's partner seems to have potential.
.@TheJaiVidal seems to be a HUGE fan of the "legendary" partner @milanmiracle has chosen for @GiseleShaw08. #IMPACTonAXSTV pic.twitter.com/dwI27cZk4b

— IMPACT (@IMPACTWRESTLING) January 27, 2023
Ratings:
X Division Championship: Trey Miguel (c) vs Mike Jackson: Trey retains via Lightning Spiral – *
The Good Hands vs KUSHIDA & Kevin Knight: Kushida wins via Hoverboard Lock – **
Knockouts Tag Team Championship: Death Dollz (Taya Valkyrie & JesSICKa w/ Rosemary) (c) vs Gisele Shaw & Tara w/Jai Vidal: Death Dollz retain via Assisted Sickishi Driver – **
Major Players (Brian Myers & Matt Cardona) vs Bullet Club (Ace & Bey): Ace wins via Prawn Hold – ** 1/4
Jonathan Gresham vs Sheldon Jean: Gresham wins via Sliding D – *
Golden 6 Shooter Elimination: Rhino vs Moose vs Chris Sabin vs Callihan vs Rich Swann vs Eddie Edwards: Rich Swann wins via 450 Splash – *** 1/4
Results:
X Division Championship: Trey Miguel (c) vs Mike Jackson
Mike Jackson gets a few moments of Running Shoulder Tackles to knock down Trey since Trey is taking the challenge lightly. A near fall into some shoving and feigning an apology. Jackson is still a moron in his old age and takes the handshake bait to get snuck in the jaw.
Jackson does the straps down, back elbows, swinging Neckbreaker and then goes for some kind of punch combination and gets countered. Its very hard to care about this match since who's really going to put a title on a 76 year old man. Mike Jackson does the Oldest School, Prayer Walk…whatever you want to call it – before Trey pulls him down and starts kicking him around. Jacky Bryant Kick, into Lightning Spiral…and who cares.
After the match Trey looks under the ring for his spray paint, finds Crazzy Steve already tagged up and taunting Trey. Black Taurus comes out when Trey tries to powder, and I guess Decay isn't done with Trey yet. 
The playing field is stacked with the bodies of challengers that @SteveMaclin has already beaten. #IMPACTonAXSTV @Walking_Weapon pic.twitter.com/RHjbL1YPWG

— IMPACT (@IMPACTWRESTLING) January 27, 2023
The Good Hands vs KUSHIDA & Kevin Knight
Skyler starts off for the Good Hands, Knight technically starts but very quick tags. Tandem Arm Wringers and strikes until Skyler manages to powder, get chased and find a way to tag out and start working over Kushida. Hotch pulls off a Chaos Theory German Suplex, so I'm a fan of him now…and they do the tandem cover as Skyler hits the Jacknife cover for 2.
Kushida manages to get some space, tag out and Knight comes in with a hot tag and starts flying around. Some quick work, Cartwheel Dropkick from Kushida. Electric Chair/Dropkick combo as Knight wipes out Hotch and Kushida sinks in the Hoverboard Lock on Skyler.
Knockouts Tag Team Championship: Death Dollz (Taya Valkyrie & JesSICKa w/ Rosemary) (c) vs Gisele Shaw & Tara w/Jai Vidal
Tara comes out and JesSICKa starts bowing, Tara is emotional, Taya looks a little awe struck and actually respectfully shakes hands. Death Dollz are playing the perfect babyface role early on.
It looks like Taya and Tara are going to start, but before they touch, Gisele tags her out like a good heel should. Taya and JesSICKa are both mad they don't get to wrestle with Tara, so there moves have a little more oomph. Tara keeps holding her hand out for a tag but Gisele is ignoring her and actually says no when Tara tries to ask for the tag.
Tara is trying to be a good sport but Gisele's ego has her refuse to tag in Tara multiple times. Gisele disrespects Tara by using her old taunt and hitting the Spider Web only for 2. She plays to the crowd asking if they want Tara and then disrespects Tara. Tara walks in to argue while the Death Dollz are…eating popcorn. This is wonderful. Gisele slaps Tara and tries to talk more shit, Tara snaps and Widow's Peak…the Dollz throw their popcorn and look shocked. Assisted Sickishi Driver and the Dollz retain with an assist to a fed up Tara.
It seems there's a lot more @Kelly_WP in the future of @RealTaylorWilde. #IMPACTonAXSTV pic.twitter.com/7MsoqLswzg

— IMPACT (@IMPACTWRESTLING) January 27, 2023
Major Players (Brian Myers & Matt Cardona) vs Bullet Club (Ace & Bey)
Bey gets the best of Cardona early, tags in Ace and we see some solid tandem work with sweeps, kicks, Double Sentons, a lot of fluid Junior style movement. The Majors manage to catch Ace watching both of them, Myers pulls him face first into a rope and then they start working over Ace.
Ace finally rocks Cardona after eating offense for a few minutes, Bey takes the hot tag, cleans house, does a little homage to Shinsuke Nakamura before hitting Cardona with a Jumping Uppercut in the corner. Bey is rolling until Myers scoops Ace off the apron; which distracts Bey, so Cardona catches him with a Lariat and shifts the momentum. Reboot into a Guillotine Leg Drop for 2. Bey manages to defend, Ace tags, hits a rolling Headscissors, they try to set up a 1-2-Sweet but Bey is rocked so he's slow to the spot. Cardona blocks, a little back and forth before Ace rocks Cardona with a Triangle Kick. Bey turns it into a Victory Roll, but Bey isn't legal, so Ace tries to pull things apart and quickly figure out a Prawn Hold of sorts to get a sloppy victory.
Jonathan Gresham vs Sheldon Jean
Still surprised Gresham lost to Eddie, but I guess more enhancement matches are how to get right.
As much as Hannifan is trying to go over Sheldon's resume, no one is buying it. He's enhancement talent who's acting cocky but getting relatively worked over. Gresham shows Sheldon what a chainsaw does to a tree, hyperextends his tree, Sliding D to the back of the head…Gresham wins.
Golden 6 Shooter Elimination: Rhino vs Moose vs Chris Sabin vs Callihan vs Rich Swann vs Eddie Edwards
Early tie ups, turn into Moose and Rhino standing off, then Sabin and Rhino…and we just get a little bit of revolving door of square offs. Definitely a little silly to try and go through the play by play here since it's just different pair offs and a handful of high spots. Callihan gets set up for a Gore but Moose takes the shot to hit Rhino with Lights Out before the Gore. Callihan wipes out Moose and pins Rhino, to eliminate him first.
Moose stacks Swann and Sabin on the top corner, Okada Dropkick hits both, Eddie attacks Moose, Sabin takes advantage of the distraction for a Tornado DDT, but only 2. Sabin keeps the momentum against Eddie and Callihan before we get more interesting spots from everyone taking out 2 people. Swann looks to take out Callihan but Eddie crotches Swann, Gamengiri, Backpack…nope, Swann slips it, face kick, Sabin tries something but Eddie with the Inside Out Side Slam, Powerbombs Swann into Sabin for 2. Eddie looks to Tiger Driver Sabin but no, counter backslide, rope run, Pop Up Flapjack, Tiger Driver finally hits…but only 2. Eddie lines up Boston Knee Party but PCO's music hits and PCO is pointing at Eddie through the sea of security. Distract Eddie eats a Yakuza Kick from Sabin, Head and Arm Cradle to eliminate Eddie Edwards.
Moose clocks Sabin, a few big strikes and an Uranage for 2. Moose is trying to put Sabin away quickly. Corner charge, Sabin moves, Flying Enzuigiri, Tornado…nope…Lights Out, Chris Sabin is eliminated. Callihan, Swann and Moose are now all in and just trading strikes and headbutts. Back and forth, Callihan throws Swann into the ropes, Lethal Injection…but Callihan powders. Moose kicks out Swann's leg and starts trying to work over the leg. Great limb work…damn Moose even breaks out a Dragon Screw and then starts just punching the right knee relentlessly. Moose locks in some Stump Puller variation to continue the torture. Moose gets a little cocky, keeps trying to lift on the leg but Swann tucks, rolls and hits the Victory Roll to eliminate Moose.
The Design walks out to tell Callihan to take out Swann as the last step. Callihan goes for a Stretch Muffler on the good leg, Rich counters with a Cradle variation for 2. Swann then starts rocking Callihan with Vader Hammers, Swann tries to fire, kick to the gut, Powerbomb into an Ankle Lock on the back leg. Thumbs Up, Thumbs…kicked in the face. Rich keeps throwing kicks, finally drops Callihan, 450 Splash to eliminate Callihan.
Overall Score: 6/10
Only one decent wrestling match, but a few high points through the show. Death Dollz eating popcorn as Tara snaps to the disrespect, Tasha and Savannah finally breaking up, Maclin with a solid point in his promo and of course Hendry's new song. Major Players will always be Edge's Bitches to me as well Joe.
Aside from that, the show was a little slow and with predictable matches, the little moments had to really hit to keep some of the entertainment investment. Mike Jackson may be an amusing story, but it was totally worthless. Zero suspension of disbelief.
Not a terrible episode, but not a super strong one either. If you've been following IMPACT for a while, the show was better than a purely uninitiated perspective.
Andrew's IMPACT Results & Match Ratings: 1.19.2023
Mickie is the new champ and Josh Alexander retained! Do new challengers appear?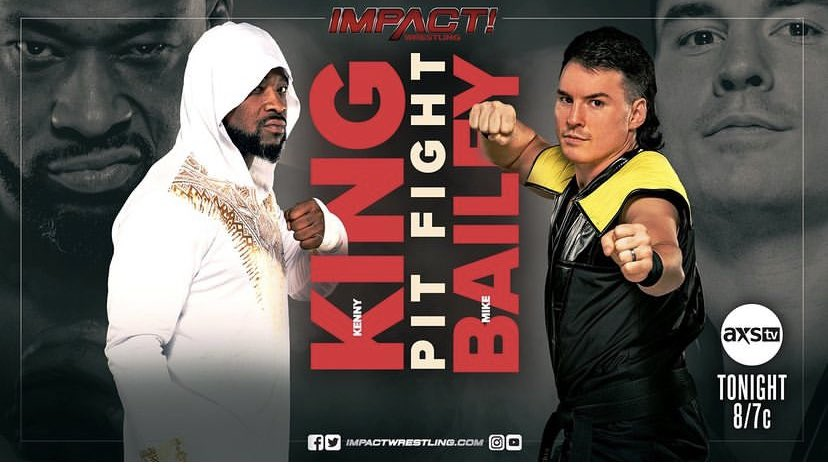 Coming off Hard to Kill, we've got fallout and set up for the next few weeks to establish. Mickie James is the new champion and not cutting a retirement promo! Josh Alexander defended against Bully Ray, so we have to figure out who's next for the Walking Weapon.
Aside from that, the show could go in a ton of different directions. So lets see if any of the title scenes get some love tonight.
.@TheSamiCallihan continues the & 7-step initiation process to joining The Design! NEXT WEEK Callihan joins the Golden 6 Shooter match BUT if he doesn't win there will be consequences! @CodyDeaner @Big_Kon1 @Alan_V_Angels #IMPACTonAXSTV pic.twitter.com/Yq5THbpp3z

— IMPACT (@IMPACTWRESTLING) January 20, 2023
Ratings:
Bully Ray, Tasha Steelz & Savannah Evans vs Jordynne Grace, Mickie James & Frankie Kazarian: Mickie wins via Avalanche Thesz Press – ***
Deonna Purrazzo vs Ashley D'amboise: Deonna wins via Queen's Gambit – N/A
Taylor Wilde vs Killer Kelly: Kelly wins via Killer Clutch – ** 1/2
Steve Maclin vs Dirty Dango: Maclin wins via K.I.A. – **
Pit Fight: Kenny King vs Speedball Mike Bailey: Speedball wins via KO – *** 1/2
Results:
The show opens with Hannifan saying some somber words over the in memorium photo of Jay Briscoe, Hard to Kill highlights…and then Mickie officially opens the show. She's starting up the thankful babyface legend promo, and then Bully Ray's music hits. He tries to tell Mickie to get out, she stands firm and flips the get out on him where the crowd is receptive to chanting along.
Bully tries to claim he was the main event/draw of Hard to Kill and it had nothing to do with Mickie or Josh. Bully tries to intimidate her, Mickie doesn't back down, and refers to Bully's past of knowing what he does to women, but she doesn't care. Before Bully does something, Tasha's music hits and she's picking a fight with Mickie while indirectly letting Bully know she's cool with his way of doing business. 
Tasha says if he's gonna hit her, Savannah attacks Mickie, don't leave them out. Kazarian and Jordynne Grace make the save. Santino's 70s Hanna-Barbera music hits, and he's insinuating a 6 person match…but Ernest "The Cat" Miller's music hits. Santino doesn't know how to make the match, Ernest reminds everyone he was the commissioner in WCW, so he helps teach Santino how to make a match. It's solid comedy, Santino even calls Bully…Bobby Ray. 
Bully Ray, Tasha Steelz & Savannah Evans vs Jordynne Grace, Mickie James & Frankie Kazarian
Grace and Tasha start off, where Tasha does actually pop Grace early on with some paint brush slaps. Grace eventually gets the best of her, tags in Savannah, Savannah gets dropped and Jordynne wants Bully. But Bully ignores her as the "Bobby Ray" chants kick up. Grace gets too distracted with trying to provoke Bully, so Savannah sneak attacks her.
Savannah tries to lock in her Full Neslon Bomb, but Jordynne gets out of it, and tags in Mickie. And Mickie starts lighting up Savannah. It's a solid back and forth, Mickie starts getting the momentum back and Bully pulls her hair while she heads to the ropes to drop her and give the heels the advantage before the commercial. Bully tags in, scoops up Mickie and drops her with a Power Slam as he then talks shit. Mickie slaps him, Scoop Slam keeps Mickie down, Savannah tags in and the beatdown continues. Tasha then tags in and keeps Mickie on the receiving end.
Mickie finally rallies with the crowd, Elbows, Forearms, Slaps and  Swinging Headscissors gives Mickie a chance…but Tasha cuts her off with a Pump Kick. Savannah gets the tag and Mickie still can't make an opening. Savannah tagged in, they try a tandem move, Mickie finally catches them, tags out to Jordynne and she starts cleaning house. Double Knees to the back, Sliding D into a Vader Bomb from Grace, for 2 but Bully breaks up the pinfall. Jordynne and Bully have a small moment but Kaz breaks things up and knocks Bully over the top rope. Bully leaves, Kaz double coconuts the girls, Mickie gets the tag for the Avalanche Thesz Press to win the match.
Masha's music hits, Death Warrant issued and Mickie doesn't back down. 
.@milanmiracle's hands are FULL as the NEW Director of Authority! Somebody call his Momma! @ernTHECATmiller #IMPACTonAXSTV pic.twitter.com/YVp9AmvceK

— IMPACT (@IMPACTWRESTLING) January 20, 2023
Deonna Purrazzo vs Ashley D'amboise
Deonna needs an enhancement talent match? Really?
Deonna bullies Ashley early, a little Pie Facing, Headlock Takeover, and Deonna is just leaning on her and not taking her seriously. Top Wristlock, but Ashley tries a few quick strikes and then a Sunset Flip, leads to nowhere. Liger Style Surfboard from Deonna into a Vertical Suplex for 2. Again, Deonna is not really trying, she's playing with her food. It gives Ashley a few moments to sneak in some offense, much like playing with a younger sibling, Deonna picks Ashley up during a pinfall to keep the punishment going. Slingshot Rolling Neckbreaker is Ashley's flashy moment, but Deonna puts the breaks on, Big Boot, Powerbomb into a Queen's Gambit for the easy win.
Taylor Wilde vs Killer Kelly
A match made in Hot Topic heaven. Our little Wilde Wiccan Witch and the Psychotic Portuguese Pain Provocateur.
Kelly feigns shakings hands, pulls in Taylor for a quick Backdrop Suplex, Kelly attempts a Senton but misses and they pause to smile at each other; getting across their darker unhinged personas. They trade similar moves, a Knee Lift, into a takeover and then Taylor floats over into a Guillotine. I'm curious if the opening is getting across their similarities because we might see Kelly and Taylor team in the future.
We continue the even fighting, Kelly catches both of Taylor's attempted strikes and they smile and get "Now Kiss" close, before Taylor turns it into an opportunistic suplex, and then a Codebreaker to give the witch the advantage. Taylor hits the Double Stomp in the ropes, into a Sunset Flip Cradle for 2. They continue to grin at each other while hitting and getting hit, so it really looks like they're becoming friends. Smart spot, where Kelly catches the two strikes again, but this time it's Kelly's turn to get the best of it, a few headbutts and a toss into the corner, sets up a Hesitation Dropkick. Kelly tries for the Killer Clutch, Taylor counters with a Wilde Ride…into locomotion Cradles…but Kelly slips the cradle and locks in the Killer Clutch for the win.
Steve Maclin vs Dirty Dango
Maclin is going to murder Dango…but it's amusing to have him around. 
Maclin smacks him around, tries the Sunset Flip, but Dango stays upright, drops a leg and gets some things going. A Hammerlock Suplex starts a bit of offense from Dango before Maclin lays him out and starts getting annoyed. Dango tries to fight out, but eats a High Angle Backbreaker for his troubles.
One more fire up spots for Dango, a few consecutive Euro Uppers in the corners, the Dirt Bag Shuffle leads into a Falcon Arrow. He heads to the top rope possibly for a Guillotine Leg Drop, Maclin powders, Dango tries to catch him and Tornado DDT into the ramp but Maclin stops it. Caught in the Crosshairs, K.I.A. – and Maclin wins as we all expected.
.@MeanGiaMiller caught up @TheMattCardona and @Myers_Wrestling to let them know they'll challenge @The_Ace_Austin and @DashingChrisBey NEXT WEEK on #IMPACTonAXSTV! pic.twitter.com/XM62slmRSv

— IMPACT (@IMPACTWRESTLING) January 20, 2023
Pit Fight: Kenny King vs Speedball Mike Bailey
Essentially, it's a Josh Barnett Bloodsport match. Not ropes, and only KO or Submission gets you the win. Bailey should win this, but he's been on a bit of a mixed run lately in IMPACT. 
A few wild early swings don't land for either man, King tries to shoot the double, Bailey goes into guard, fights a little so King lets him up. Bailey keeps throwing feet trying to get his distance, King is avoiding until he manages to lock in a partial Guillotine, but Bailey fights back, takes Kenny's back but Kenny fights up and pushes Bailey to the edge of the ring before stopping from just dumping him out. Arm Drag causes Kenny to powder and reevaluate.
Kenny grabs a foot, sweeps the leg and pushes Bailey out of the ring. Then Kenny doesn't let Bailey back in, a Big Boot keeps him on the outside, so Kenny starts using the outside of the ring to his advantage since it's no disqualification. They trade a few strikes, Bailey throws a kick, Kenny catches it, and throws Bailey over his shoulder face first into the ramp lights. Kenny then lowers a knee pad, Running Knee and Bailey is busted over. King is in control when we get back from the commercial, Bailey tries for some combo kicks but Kenny just grabs him and tosses him in a T-Bone suplex. Knee lifts and then a Dragon Screw is proving Kenny to be more than enough of a challenge. Eddy Gordo kick attempt, Bailey blocks and a straight kick to the chest sends Kenny flying to the outside.
King crawls back in and the Taekwondo exhibition is on full display. Kenny tries to defend, Bailey cartwheels past the guard and locks in a Cross Armbar. Kenny manages to get to his feet and turn it into a Power Bomb for a break. He tries to continue but Bailey grabs the arm again and bends it over the apron, eventually letting go because he's just in a weird spot. Back in, Dragon Screw from Kenny sends Speedball reeling, and then catches him with a Blockbuster once he's up.
Since it's NoDQ, Kenny goes fishing for a weapons and finds a chair. King wants a Tiger Driver on the chair, Bailey fights out, tries to throw a kick but connects with the exposed post. Kenny sees the opening and throws on a Figure Four before the roll and counter all the way out of the ring. Straight Side Kick from Bailey drops King, Bailey goes full Muta and runs up the ramp, charges down for a flying kick which connects. Bailey then ascends the ropeless post and hits a Corkscrew Senton. Ultima Weapon attempt, King counters with a Field Goal kick, Spinebuster onto the apron, Spinning Wheel Kick and Kenny wants the referee to check for a KO. Bailey is still with it enough to not get called knocked out, Figure Four from Kenny. Bailey grabs the chair to break the hold, and fires up. Double Knees to Kenny's chest, goes into full mount and starts raining down Elbows, the referee gets in the way to check but Kenny isn't quite out. Bailey puts the chair on Kenny's head and two swift short stomps is enough for the ref to call it. Speedball snapped a little.
Overall Score: 8/10
This did everything necessary to set up the next angles moving forward. The Major Players being wise to Moose's angle, but not disagreeing is a nice wrinkle to the usual comically stupid "bad guys conspire" way most wrestling companies do it. Maclin continuing to get screwed is a nice gimmick to keep moving forward, Dreamer vs Bully could finally give us the return to Lockdown (it was supposed to happen in 2020 I know…but between covid and Tessa going crazy, it has been too long since Lockdown has been a show).
Also I did personally really enjoy the Kelly & Taylor match. Not only because they are both aesthetically pleasing, but because their similarities makes it so they could be a great team. Honestly vignettes with them and DeathDollz could be like the old Hardyz & Decay stuff. I do also love Speedball's "nice polite guy" façade starting to crack. If he got more aggressive but didn't necessarily go full heel, that could be really cool.
Honestly, really hard to find anything objectively bad. Even Santino and Ernest Miller was charming. Will Santino get grating? Yes, most likely. But currently its still nice since he hasn't really done this gimmick in a hot minute. Good stuff from IMPACT.