Andrew's NXT In Your House Results & Match Ratings 6.7.20
Great wrestling, nostalgia, Zoolander references and Ice Cream Sandwiches. What's not to love?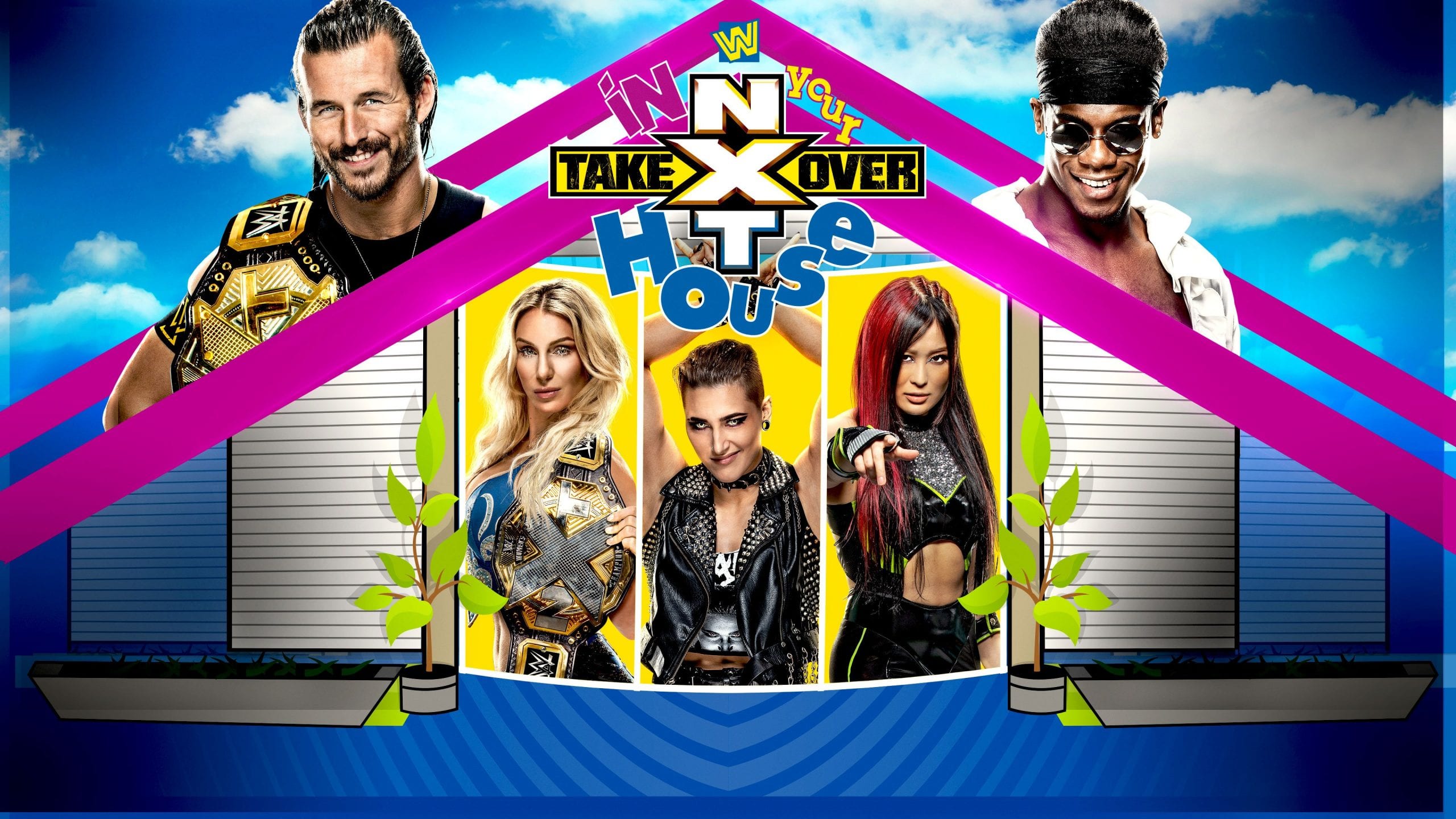 NXT revives the In Your House brand for the 25th Anniversary and even brought Todd Pettengill along for the ride.
So with the nostalgia insinuation we should be expecting 90s love and great wrestling. I don't see an issue with how this could turn out.
To actually discuss the matches, Karrion Kross should hopefully have a dominant showing and give the adorable Evil Genius of the Sky the damn title. Just do it. Insert a Nike commercial here WWE…cause JUST DO IT!
Okay…let's see how the show shakes out.
Ratings:
Shotzi Blackheart, Teagan Nox & Mia Yim vs Candice LeRae, Raquel Gonzalez & Dakota Kai: Nox wins via Shiniest Wizard @9:50 – ** 1/4 
Damian Priest vs Finn Balor: Balor wins via Coup de Grace @13:05 – ****
North American Championship: Johnny Gargano vs Keith Lee (c): Lee retains via Big Bang Catastrophe @20:35 – *** 3/4
Last Chance Backlot Brawl NXT Championship Match: Adam Cole (c) vs Velveteen Dream: Cole retains via Panama Sunrise @15:00 – ***
Karrion Kross w/Scarlett vs Tommaso Ciampa: Kross wins via Kross Jacket Sleeper @6:15 – ***
NXT Women's Championship Triple Threat: Io Shirai vs Charlotte Flair (c) vs Rhea Ripley: Io Shirai wins via Moonsault @17:35 – **** 1/2 – TITLE CHANGE!!!
Results:
Shotzi Blackheart, Teagan Nox & Mia Yim vs Candice LeRae, Raquel Gonzalez & Dakota Kai
When it comes to telling a story, this match worked pretty well. Mia and Candice had most of their moments together, including eventually battling to the backstage area to turn the match from 6 woman to tag match. There were a few close calls early on with Dakota missing kicks and nearly hitting Raquel, which lead to the finishing sequence. Shotzi pulled Tegan off Raquel's shoulder, so Dakota Pump Kicked her in the head. This gave Shotzi and Teagan chances to pull off some signatures. Chokeslam from Teagan to Dakota, assisted Shiranui from Shotzi to Raquel; and then Teagan won with the Shiniest Wizard.
As a match, it was clunky at times and forgettable, but the possible dissension between Raquel and Dakota, mixed with Mia and Candice not being over is good story telling.
WWE Cookie Sandwiches? Oh wow…CM Punk return confirmed. 
Damian Priest vs Finn Balor
Priest really went all out in this match. Granted some of his motions referencing Razor Ramon and AJ Styles were unnecessary since that didn't really have anything to do with the story of the match. That however, is nitpicking.
We saw fantastic work, a bevvy of strikes and martial arts kicks from Priest, a few big spots like a Crucifix Bomb on the apron and an Avalanche Side Effect. Priest took a huge bump when he tried to throw Finn from the apron on to steps, but Finn slipped out and launched Priest back first over the steps. Finn hits a Double Stomp to the back of Priest's neck and then Coup de Grace in the middle of the ring for the pinfall. It's a little surprising to see Finn win with the Coup de Grace, but given where the last big bump happened, it makes sense.
Adam Cole…with a throwback Ico Pro bumper. Triple H must be watching NWA Powerrr with all this nostalgia fueled commercial amusement. 
North American Championship: Johnny Gargano vs Keith Lee (c)
A LOT of character work early in this match. They played up the size difference, Lee's injuries that Johnny caused and amusing gif moments of Lee catching Gargano like a small child. This was fun to watch, but honestly went a little long and got slightly overbooked with the inclusion of the significant others. I did really appreciate the usage of the Plexiglas in the Pounce spot, though if it was sugar glass…that shatter would've been awesome.
The fact Gargano couldn't keep Keith Lee down after cheating, using the keys again and 5 or 6 Superkicks. It all played well, but like I said, just felt like a little too long and a little too much at points. It was still damn entertaining.
Last Chance Backlot Brawl NXT Championship Match: Adam Cole (c) vs Velveteen Dream
Well we get another cinematic match, and this had that same dark, serious tone that Ciampa versus Gargano had. Granted, entrances aside, this didn't really excite me. I loved Dream's Lamborghini and Cole's Monster Truck (I wanted a Monster Truck Sumo Match dammit). Lots of brawling, a stupid Uber Driver, a bad baseball bat against a car spot and random brawling around the block.
The action was decent, some of the help spots were alright, but I felt myself being much more bored than I should've been during this match. Fish and Strong getting nullified by Dexter Loomis was fun, but I'm also over the dozens of chairs in the ring for no real reason spot. This whole thing felt super forced. I like both men in it, and I guess it told the story decently enough.
Pettengil with more nostalgia. 900 number references and even the AOL chat, lead by D-generation X…doing their best Zoolander impression!
Technology, amirite? #NXTTakeOver @TripleH @ShawnMichaels @WWERoadDogg pic.twitter.com/7OlRNnpTSp

— WWE NXT (@WWENXT) June 8, 2020
Karrion Kross w/Scarlett vs Tommaso Ciampa
This was probably an obvious result to most of us, but how we get there is part of the fun. Kross showed himself to be fairly immune to pain. Ciampa came out of the blocks quickly, but Kross absorbed the attacks and smiled. Whenever it looked like Ciampa could put a few moves together, Kross used the pain and transferred it into punishment.
We got a small glimpse of the old sadistic Ciampa, but it was too little, too late and Kross overpowered him and put him to sleep. Fall and Pray.
Robert Stone is seen disheveled, leaning against the N in the NXT logo and stroking it like a man with no direction in life. 
NXT Women's Championship Triple Threat: Io Shirai vs Charlotte Flair (c) vs Rhea Ripley
Wow, just…wow. Be it a Triple Threat AND a match involving Charlotte, suffice it to say, I wasn't enthused. But Charlotte embodied her father (and every heel basically) early on by powdering and letting the other two get dirty first. After picking a few spots, we saw part of the story was going to be the size difference between Io and her opponents. Where Io was getting caught and stopped mid move quite often, so the others could vie for Alpha.
The match was laid out well (even if we did see the referee slow down Io for replay and appropriate build up before the Knees in the corner), I found myself really enjoying it. Charlotte took a lot of big bumps for Rhea in particular, and Io's dive off of the In Your House Set will be replayed for the foreseeable future. Also the fact the reintroduced the Keno Stick that Charlotte loves to go to out of desperation; was a nice thread to tug on for the finish. I would've preferred Io to Moonsault Charlotte, and yes it looked a little brutal when she landed on Rhea's face (mostly from how Rhea was selling the Figure Eight), but Io going over makes the most sense. Damn great match and I love the finish.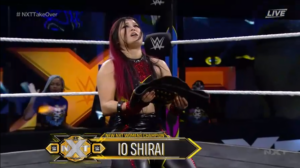 Overall Score: 8.25/10
So let's work backwards here. The main event was fantastic and if Rhea got the belt back, people would wonder why she lost it in the first place. So this is a great time/excuse to crown Io. Kross looking like a beast is great to build up a new big threat; coupled with Scarlett is just money. Velveteen losing does lend a lot of credence to the rumors of him being called up. Lastly, the opening 6 woman match did a lot for future TV storylines.
What else can I say? This show played well for stories, future stories, big crowning achievements and great moments. Great show, filled with fun nostalgia bits… AND THOSE DAMN COOKIE SANDWICHES BETTER BE REAL!