DeMarco Movie Review: My Spy (2020)
Greg DeMarco ventures outside of wrestling with his review of Dave Batista's unique buddy comedy, My Spy!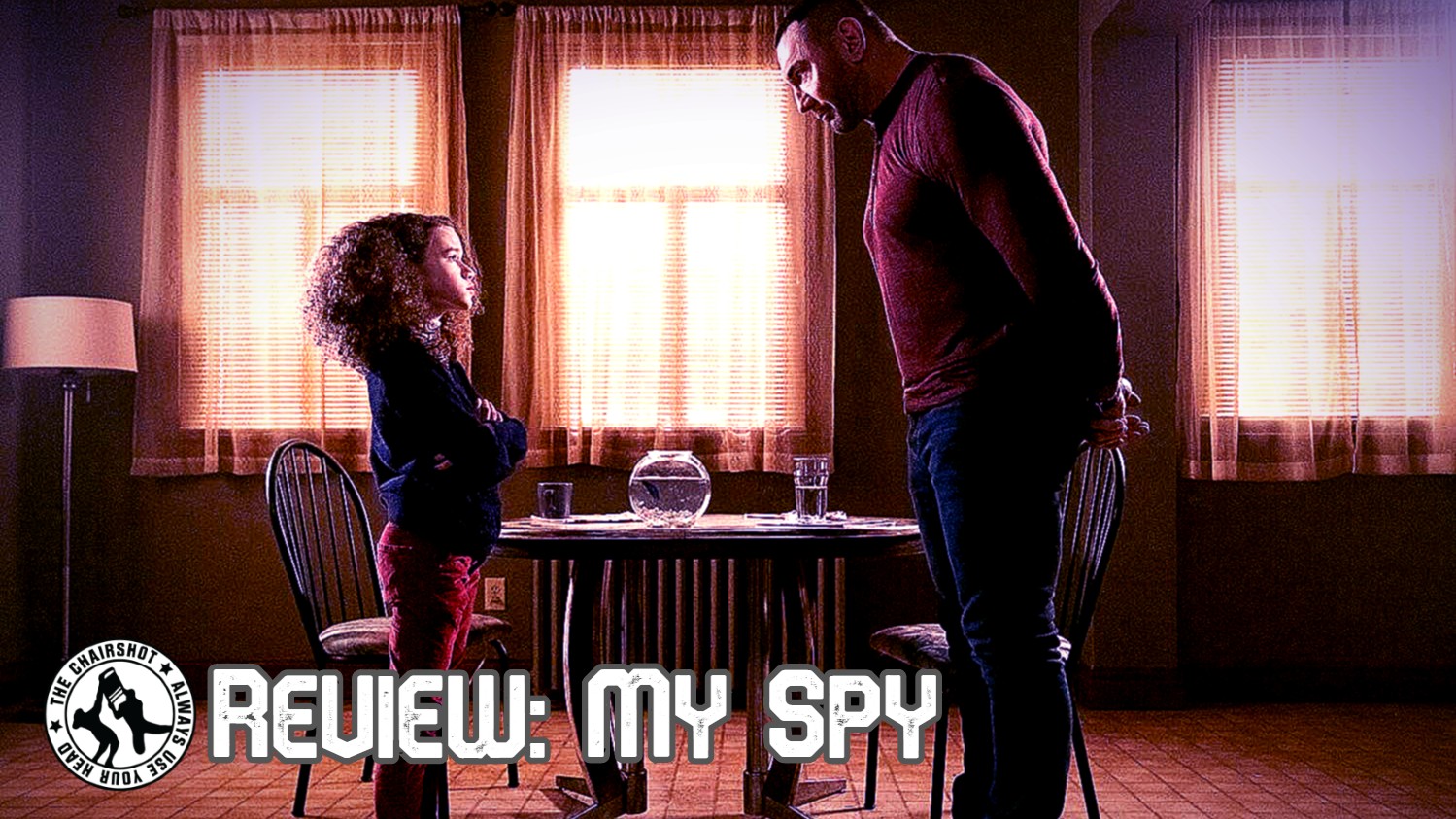 Greg DeMarco ventures outside of wrestling with his review of Dave Batista's unique buddy comedy, My Spy!
So as you obviously know, we're stuck in the world of COVID-19, and the coronavirus has taken away many of our fun outings, including going to the movies! While I can still sneak into CrossFit (and I am violating Rule #1 right now), I haven't been to the movies in far too long.
Many movies have been delayed due to the theaters being closed during the pandemic, but a few (including Trolls World Tour) have been released via streaming/on-demand. That plan was also used for My Spy, which was acquired by Amazon and released via Prime Video as an Amazon Original.
So last weekend I picked up some movie theater popcorn from my local Harkins Theater, fired up the ol' Amazon Prime, and checked out My Spy with the family. And I gotta say, I thoroughly enjoyed it.
My Spy (2020)
If you haven't seen My Spy, here is a spoilerific synopsis. And don't worry about the spoilers, I mean it's a family friendly comedy. You can figure out what's gonna happen. Except the gay turncoats. And the bad ass momma move at the end. But those are small moments that only add to this really fun, cute film.
Big Dave Bautista, formerly a 6-time world champion in WWE, 2-time Royal Rumble winner, and 2020 Hall Of Famer (I am guessing it still counts lol), stars as JJ, a newer CIA operative who was formerly a Special Forces soldier in the US Army. His first mission appears to be successful, as he gets out alive and blows a lot of shit up. But he seemingly kills all of the important people in the process.
JJ is sent off on a "babysitting assignment" by boss David Kim, played by Ken Jeong (it's every Ken Jeong role you've ever seen lol), and his partnered up with Bobbi, quirky tech/hacker who also happens to hero worship JJ. The assignment is in Chicago, where they have to watch Kate, the widow of David Marquez, and her 9-year old daughter Sophie. David Marquez was the brother of Victor Marquez, French arms dealer in search of nuclear bomb plans that he believes Kate is somehow in possession of.
JJ and Bobbi move into the same apartment building (and same floor) as Kate and Sophie, installing surveillance cameras so they can work on their assignment (which JJ sees as an insult, by the way). Sophie proves to be too smart for them, finding one of their cameras and tracing it back to the CIA, geolocating the IP address and making her way into their apartment.
Sophie uses this to blackmail JJ into becoming part of her life, which includes coming to her school, ice skating, a date with her mother, and more. This is also where we meet Carlos and mute Todd, the gay couple who also lives on the floor. They provide the perfect comedic interlude, but are also important later.
JJ is overtly socially awkward, including a moment where he embraces his inner Drax and tells Kate that the dinner she cooked is terrible. Kim discovers that JJ has gotten in too deep, and pulls he and Bobbi off of the assignment. Obviously, the movie can't end here.
Victor Marquez eventually fakes his own death (in front of Kim and fellow CIA agent Christina), travels to Chicago to locate the plans (which are in the collar of Kate & Sophie's pet), encountering JJ, Sophie, and Kate, only to have Carlos and Todd to burst in and reveal themselves as evil independent contractors sent ti disrupt this and obtain the plans themselves (but they are indeed still a couple). Bobbi predictably tries to intervene using JJ's firearms, and predictably fails.
Victor eventually kidnaps Sophie (who obtained and hid the plans in the process) and heads off to an airfield, where JJ tries to rescue her. It's Kate who eventually comes to the rescue, clubbing Victor before he can shoot them. JJ goes all Big Dave and pushes the plans off of a cliff, sending Victor plummeting to his death.
As a result of all this, JJ and now affirmed partner Bobbi (who JJ got a raise) are permanently assigned to Chicago, and JJ moves in with Kate and Sophie to live happily ever after.
Review
Here are the critical responses to My Spy:
Rotten Tomatoes critics score: 48%
Rotten Tomatoes audience score: 66%
Metacritic Metascore weighted average: 46%
IMDB user score 6.3 out of 10
If you know me, you know I don't give two shits about what movie critics think. I use trailers, cast members, writers, and directors to decide if I want to see a movie, and I am a sucker for sequels, trilogies, etc. Action movie? I'm in. Heist movie? SHUT UP AND TAKE MY MONEY.
I chose to watch My Spy, and with that choice comes the knowledge of what this movie is! It's the "Action Star meets Cute Kid" formula, where the kid has a profound impact on the action star, and thus the story. The action star does tend to fall in love with the kid's single parent, and that expectedly happens here. Batista does a solid job playing JJ, but it's Chloe Coleman's Sophie that steals the show. And that's the way it should be.
My Spy is a funny, endearing, cute, fluffy family comedy that fills the role it's supposed to fill. A fun little movie that makes you smile. If you go into it with the right expectations, you'll be fine.
DeMarco's Rating: 3.5/5 (using the Bandwagon Nerds rating scale)