NJPW Press Conference: Summer Struggle in Jingu!
What does NJPW have planned for Jingu?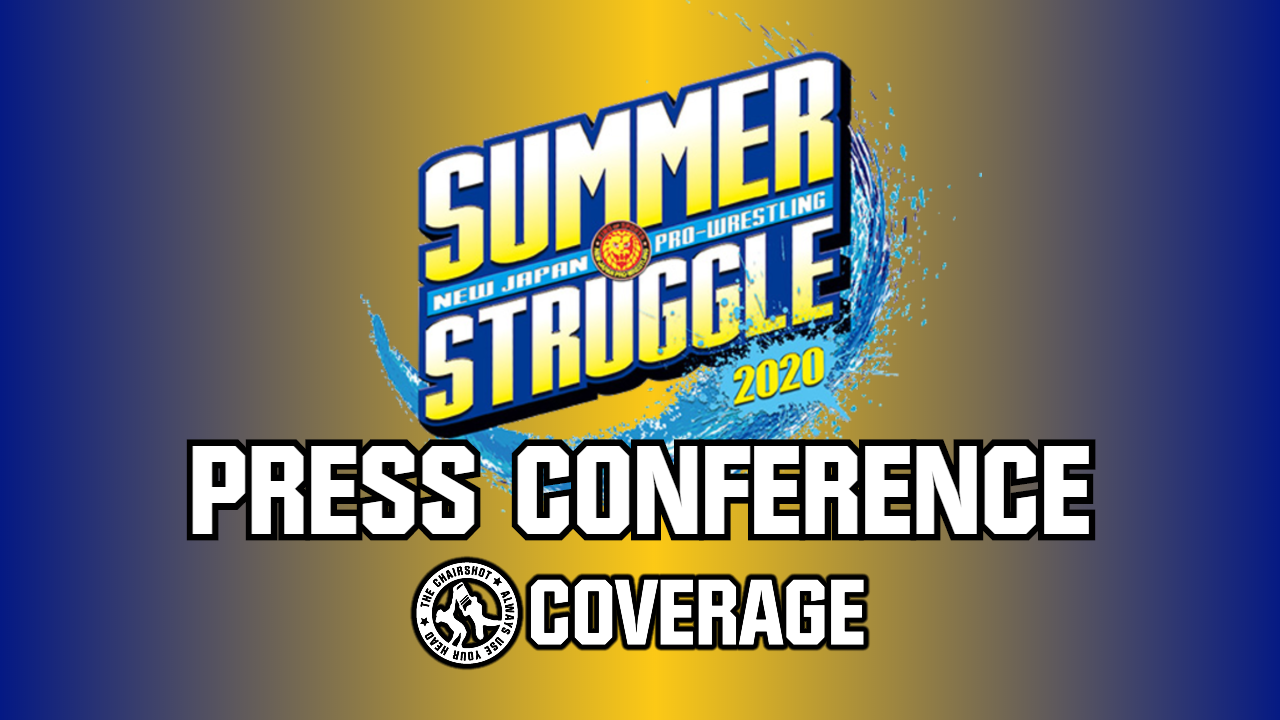 NJPW has big news for their big Summer Struggle finale!
Chairman Sugubayashi welcomes us to this press conference as it is being streamed online, and thanks press and fans alike for tuning in. As announced in Nagoya, NJPW will hold an event at Jingu Stadium, and these matches are already confirmed. for the IWGP Heavyweight and Intercontinental Double Championships, it will be Evil VS Tetsuya Naito! For the IWGP Junior Heavyweight Championship, Hiromu Takahashi VS Taiji Ishimori!
In regards to the IWGP Junior Heavyweight title, and per IWGP regulations, "each title should be defended within a six month period," though obviously states of emergency are taken into account. Therefore, further title matches will be announced once they've been decided. NJPW hopes fans are excited for their return to Jingu Stadium after 21 years. The match cards for Hamamatsu on 8/29 and Korakuen Hall on 8/31 have already been posted, please check their official site for details. And now, Kazuchika Okada shall present his proposed idea that NJPW discussed and approved. "We have decided to establish a new title." The chairman now hands it over to Okada.
"New Japan Pro-Wrestling's Kazuchika Okada here!"
He thanks the chairman for the introduction. And without further ado, he introduces his proposed idea. "It's known as KOPW 2020. Unlike other titles, this one will not be represented by a belt." This will be distinct from all other championships in NJPW. "There are already many established special match types," such as two out of three falls, Ladder matches, Cage matches. For such a title, they will ask each competitor to put up a stipulation. That is to say, in a 1v1 match, both wrestlers will suggest a match type. At that point, fans then vote on which one they want to see, and the winning choice will become the stipulation.
"Beginning on August 26th, 8 wrestlers will square off in a first-round set of 4 matches." The winners will all move on to a Fatal 4 Way for the 8/29 Jingu Stadium event, but under normal Fatal 4 Way rules. the winner will be the provisional KOPW 2020, and defend that title. "Another title match will take place around year's end," and the winner of that will be awarded a trophy. KOPW 2020 will conclude at that point, and then there will of course be a KOPW 2021 next year. This is much like a G1 Climax contract defense. The fan voting element "hearkens back to history." But unlike a traditional IWGP-sanctioned title, "this title exists on the edge of New Japan." Please, look forward to the event.
The chairman thanks Okada for his part, and says NJPW will reveal further details once they've been set. This concludes the online press conference, and thank you again for tuning in.
---
My Thoughts:
Wow, I didn't expect Okada's idea to be so ambitious! KOPW is of course from "King of Pro-Wrestling," NJPW's traditional October event. The way Okada is putting it, you can think of it as WWE's King of the Ring with a twist. I like the idea that, especially in an age where technology allows for fans to be even more connected to the promotion and its plans, a quick fan poll can decide a huge part of how the event goes. NJPW does on occasion use special stipulations but them going the extra mile and having four different special matches for Summer Struggle's later date, and then just a huge match for Jingu. This is a very interesting way to make up for not having many events they were hoping to have this year (Sakura Genesis, the Destruction series and Wrestling Dontaku, to name the big ones). I really look forward to who is in KOPW 2020, what matches are chosen and who gets to call themselves the inaugural NJPW KOPW.
Let us know what you think in the comments or on social media, and make sure to #UseYourHead.