Adam's UWN PrimeTime Live Ep. 4 Review 10-6-20
UWN PrimeTime Live has their fourth episode, with a few named main eventers in Zicky Dice and Elijah Burke. How was the show on a whole though?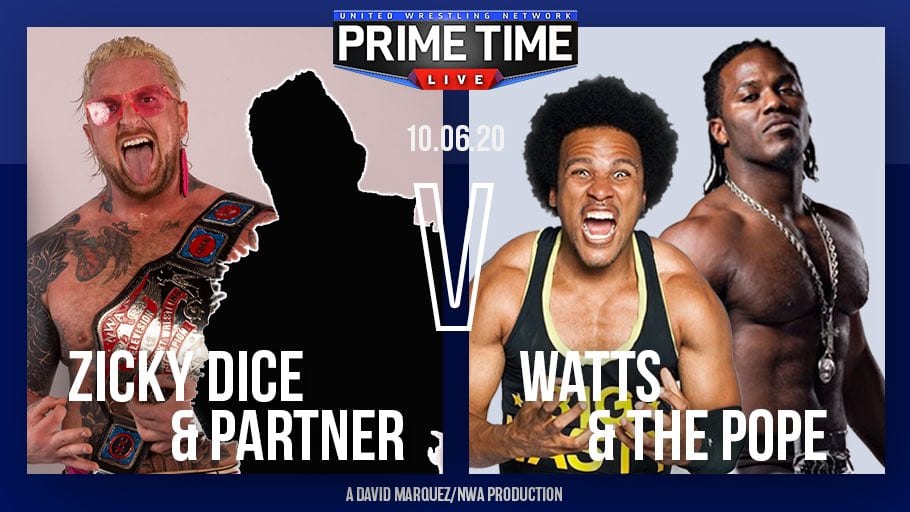 Another day, another United Wrestling Network Primetime Live is out and this… has potential. Love me some Zicky Dice and his outlandishness. Love me some Elijah Burke, D'Angelo Dinero whatever you want to call him because we all know him as the Pope Daddy and Pope is Pimpin' here tonight. We have tag team matches on the card, we have women's wrestling on and some names of the NWA and CWFH out for the main event with Zicky, Pope and Watts along with a mystery partner in the Outlandish One's corner tonight so let's get this party started.
Results:
Levi Shapiro (w/ Howdy Price) vs Bryan Idol: Shapiro wins via "Loaded" Punch – * ¾
Lacy Ryan vs Vipress for the FSW Women's Championship: Lacy Ryan wins via Knee Exploder – ** – TITLE DEFENSE!!
4 Minutes of Heat vs Beef Candy: 4MH win via Power Ballad – * ½
Chris Dickinson vs Max Caster: Dickinson wins via Death Valley Driver – * ¾
The Bodega vs Wolf Zaddies: Wolf Zaddies wins via Zad-isfaction – ** ½
Pope and Watts vs Zicky Dice & ???: Pope wins via Elijah Express – ** ¾
Review:
Levi Shapiro vs Bryan Idol
Bryan starts off fast and not letting up at all against Shapiro with a flurry of strikes, grapples, even going all out with a Slingblade and a suicide dive but if anyone who knows wrestling knows, if you have a manager on your side and you are a heel, there is going to be a some trickery. Idol gets rocked and the momentum goes a full 180 to Levi's side. Idol does come back at some point with a counter in the corner with a flat liner and hits a Moonsault to try to get the victory. Howdy throws a boot in to distract the ref (even if it was behind him and wouldn't be seen in any other form of fighting) and Levi loads up his glove gets the cheap victory.
Lacy Ryan vs Vipress
Both ladies go back and forth with their offense but Vipress gets the upper hand early on, always good to see a good old fashioned Back Rake for the momentum advantage and Three Amigas to take it to Ryan's back. (Sadly at this point, there were some technical difficulties during this so it came back to Lacy and Vipress going back and forth.) We come back and Lacy is going for broke with some of an advantage and attempt a 450 but nobody home as Vipress keeps going to her Sleeper Holds. Lacy Ryan hits her spin out, Knee Exploder for a defense.
4 Minutes of Heat vs Beef Candy
So… both these teams decided to go to the porn for women section for their tag names. I thought I clicked Incognito Mode by mistake. 4MH takes it early and you can tell who they are because their attires look like Harlem Heat and Sean Waltman when he was the 1-2-3 Kid join the Hart Foundation. I can take more jabs but, the match actually isn't awful with 4MH's signature tag move, a Russian Legsweep/ Backbreaker combination. Beef Candy makes a comeback after tossing… actual candy? Eh, at least they use the name properly since this has been longer than 4 Minutes and I can barely feel a sizzle. They come back against Beef Candy with their Powerslam/Neckbreaker combination.
Chris Dickinson vs Max Caster
Max actually has a form of offense against Dickinson after failing to end it quick with the Death Valley Driver. Something you can tell that Chris Dickinson doesn't care about is he doesn't even bother putting the strings in his trunks, he just wants to finish it because he finds his opponent to be a nobody. Caster gets move offense, doing his elbow drop (Mic Drop) signature but, you don't piss off Chris. You don't take him lightly. Step up Enziguri, Death Valley Driver. One, two, three. Come back with a better flow if you want to beat Dickinson.
The Bodega vs Wolf Zaddies
The King Big Boy is sizing up the Zaddies until Limelight wants in and starts losing control of their momentum. Limelight desperately needs a tag a lot of the time to get things in their favor. The Zaddies though get things done and cut the ring, taking care of the big man and then taking out Danny Limelight with a Wheelbarrow Slam/Cutter combination.
Pope and Watts vs Zicky Dice & ???
Zicky goes to insult his opponents at first, asking how the Pope is getting jobs and if Watts was supposed to be here today (he was on today's episode of Dark if you want to go see why that makes sense) but that isn't why we are here. Zicky needs an outlandish, over-the-top, a really Zicky like partner so who better than Effy!
Zicky and Effy actually take it to Watts in their corner and after Watts got disgusted by the um… outlandish flamboyance and Watts takes control, tagging in The Pope but yet again, Effy and Zicky get the advantage again, now against The Pope. Watts and Pope get some advantage after a cradle pin attempt and paying homage to the late great Road Warriors, they hit the Doomsday Device and all hell starts to break loose. When the dust settles and Watts gets to the Pope and he's pimpin' out the punches and Watts and Pope beat down Effy and Zicky but Zicky breaks the punches against Watts. Effy goes to hit The Pope with a big boot but he hits Zicky after Pope moves out of the way. Now that Zicky is out of the way, Pope tells Effy what the 4UP means on his glove strike and takes Effy to the station for the Elijah Express.
Overall Score: 4/10
Ah, what's the old saying? Three is a crowd? What does four make because if having three is bad, the fourth didn't hold up until Pope spoke. The women's match cut out for me a handful of times, the Levi match was very hokey but nothing deviates that from the fact there was a tag team match I had to cover between teams called "4 MINUTES OF HEAT" & "BEEF CANDY". I will let that sit for a little bit… Nothing really brought that special spark until the main event. Yeah, I'm a bit of a new fan to Chris Dickinson now and I like the whole "Somebody provide me with a real challenge" storyline so that's something I like a lot out of the UWN this week and continuing it then with Pope looking to issue a challenge to Zicky for the NWA Television Championship was perfect as well where they did something not many promoters have done. They made 'The Pope' Elijah Burke a babyface.
As far as this one is concerned, this was the meh one like an awkward filler episode to a series because they needed an episode. I need a lot more than four minutes and candy to take this out of my memory bank… Sheesh.