Adam's UWN PrimeTime LIVE Ep. 6 Review 10-20-20
UWN bringing us an NWA Television title match as the main event! Can Elijah Burke walk away as new champion?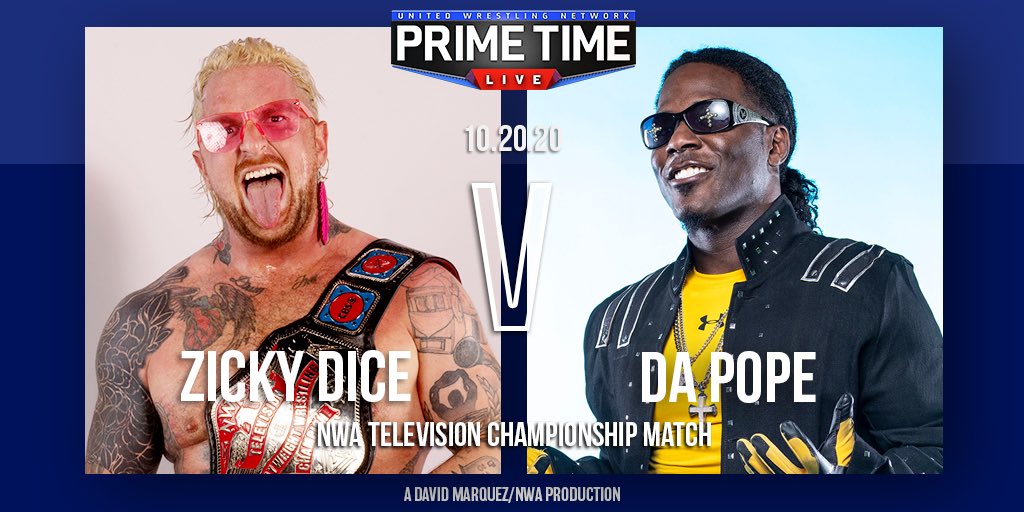 Another day, another episode of UWN and this one is actually somewhat jam packed with a main event of the NWA Television Championship on the line in the main event.
Hopefully the streams won't crash, making me miss another week but, I have as much faith in FITE Network as an atheist does God; so we shall see how this goes.
Results
Jesse James vs Max Caster – Max Caster wins via Roll-Up: * 3/4
Christi Jaynes vs Miranda Alize – Miranda Alize wins via Shining Wizard: ** 1/4
Friendship Farm vs SoCal Distancing (c) for the United Tag Team Championships – SoCal Distancing wins via Flying Forearm : ** – TITLE DEFENSE!!
JR Kratos vs Mike Bennett- Mike Bennett wins via Hail Mary: ***
The Pope vs Zicky Dice(c) for the NWA Television Championship- The Pope wins via Elijah Express: ** – TITLE CHANGE!!!
Review:
Jesse James vs Max Caster
Caster in this match had pure control bell to bell no matter how much Jesse James tried to get something going for him. Caster was weakening the arm of James not only for his Platinum Lock but, making James' Lariat weaker too. Jesse might be very roughneck, southern tough guy look but, Max had a game plan and stuck to it and as a shocking surprise, whether he grabbed the tights or not, rolled Jesse James up for a three count.
They announce the competitors for the United World Championship Tournament: Peter Avalon, Mike Bennett, Chris Dickinson, Karl Fredericks, Erick Redbeard, Fred Rosser, Davey Boy Smith Jr. and Watts.
Christi Jaynes vs Miranda Alize
A very technical, back and forth with counters and holds at the start are a good change than usual wrestling. Neither woman has an advantage until Alize neutralizes Jaynes' hand by stomping it in the turnbuckle screw. This match actually would have been given a little higher but, glaring mistakes were made like a slip on the Lionsault from Jaynes that made it a little… hard to watch but everything was brought back with Jaynes going to the well again with a moonsault and finding it's dry and gets hit by a Drive-By (Shining Wizard) from Alize with the pinfall.
Friendship Farm vs SoCal Distancing
SoCal are trying to get the advantage but Friendship Farm is ahead of that and Big Robin Shaw wants to take it to SoCal and start for Friendship Farm until Jervis comes in and takes a beating from SoCal. Andy Brown plays some mind games during this beatdown and pisses off Robin Shaw. That becomes a mistake once he gets in and takes it to both Quest and Brown with a suplex. All hell soon breaks loose with all four members coming in and taking it to each other. Adrian Quest takes care of the big man with  an Asai Moonsault and 450 on the outside as Andy Brown cleans up, gets the victory and retains the Tag Championships.
JR Kratos vs Mike Bennett
So from the women's match being technical and hold heavy as it was, let's flip the script and make it a big boy strike fest. Kratos daring Bennett to take him down and turning into a big time striking, slugfest going inside and outside the ring with the fighting and Kratos begins to take over this match. Bashing Bennett's knee into the steps, launching Bennett with a release Suplex and the resilience of Mike Bennett has him kick out. Bennett not giving up the striking though, going to use his cunning and takes the big man down with a superkick and Death Valley Driver on the ramp to weaken Kratos. More resilience and determination from both men have them going to the ground and pulling out all of the stops, Kratos clotheslining Bennett for a near fall and Bennett cutting Kratos down and getting his legs and head. They show their defiance and strength but it's all for not because there was a little prayer involved and a bit of a Miracle with Bennett's Hail Mary Piledriver.
The Pope vs Zicky Dice
Pope comes out but Zicky attacks The Pope early on before the bell and putting Pope through the table. In all honesty, a smart play by Zicky since the NWA TV Title has to be defended in Six Minutes and Five Seconds. After taking Pope down, he starts to shit talk not only Pope but… I mean… everyone in general between Billy Corgan, UWN, Dirt Sheets and NWA with the rumor mill.
Pope gets back up to the ropes and pulls himself up to get this match started and Zicky does the same as he did earlier and takes it to Pope. The Pope getting a little bit of offense in with fists but being weakened, Zicky takes it back over. The Pope, getting a second wind though and taking it back to Zicky Dice, trifecta of German Suplexes and an elbow drop to make it even against Zicky but Zicky, ever dirty, goes low without the ref seeing it, gets a small advantage. Dice goes for a Shake, Rattle and Roll but since he took too much time with his gyrations and got pushed into the corner then took a one way trip on the Elijah Express, double knees to the back and Zicky in his first defense, loses it.
Overall Score: 6/10
I would say that FITE Network has the advantage of two and zero against me but, I'm stubborn and I needed my stuff done so I'm gonna make sure I don't miss another episode again… or at least for a long while because like Pope said, "The only thing in the future is uncertainty" so it's one on one due to the lagging and chopping audio I had for the feed. This was a lot better of a show than the last one I covered when it came to the stuff in the ring though with; great wrestling with a few bad hiccups, that happens though, the introduction of the UWN World Championship that they will have a tournament for and names that a lot of people know but preach it from the rafters so Sting can even hear it… Zicky Dice is out and The Pope is (Pimp) In. This is probably one of the better episodes they have produced.