Greg DeMarco's ROH #470 Review: Finlay/Romero & Delirious/Sydal
Greg DeMarco continues his catch-up on ROH as the Pure Championship tournament continues with David Finlay vs Rocky Romero and Delirious vs Matt Sydal.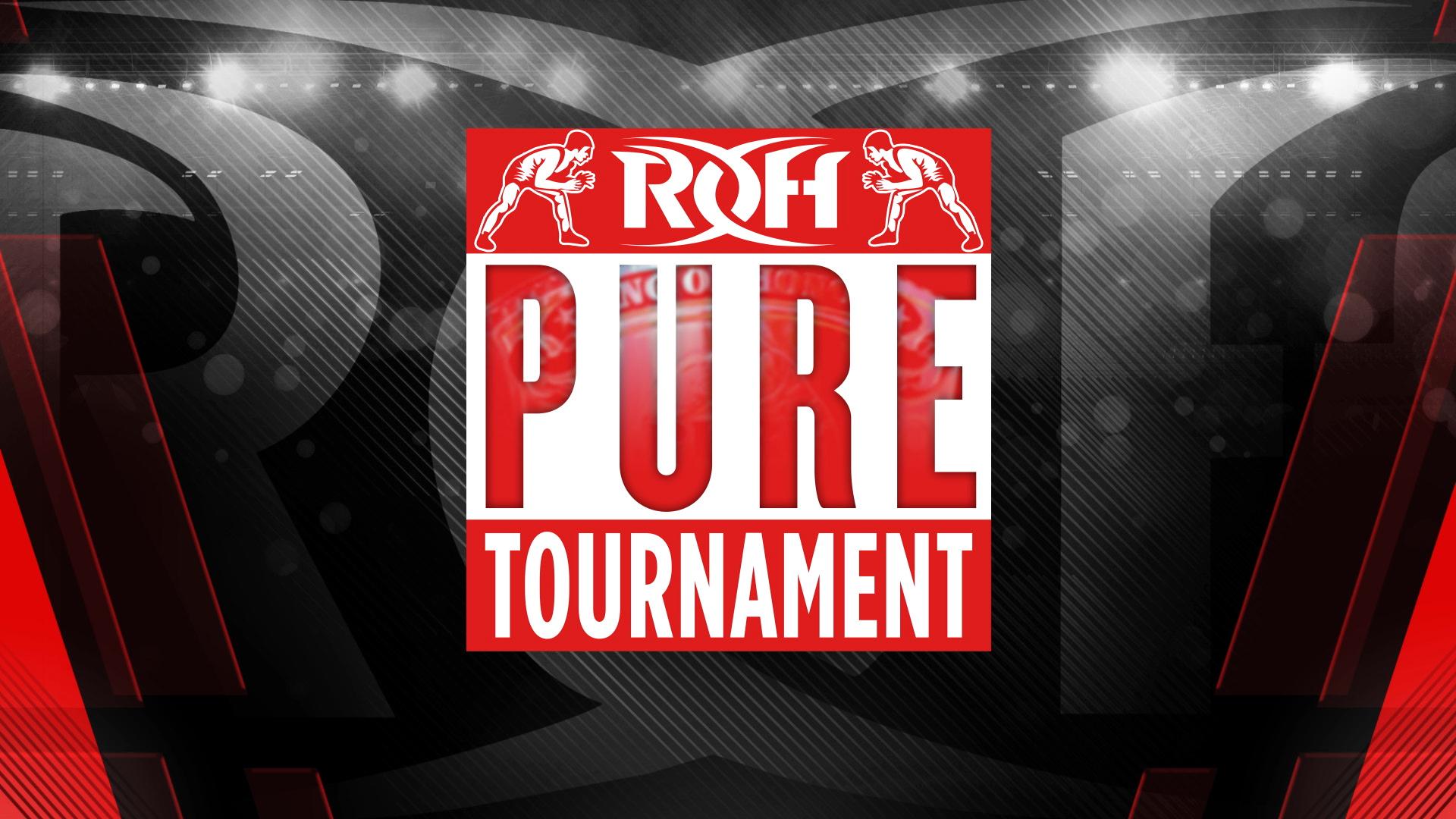 Greg DeMarco continues his catch-up on ROH as the Pure Championship tournament continues with David Finlay vs Rocky Romero and Delirious vs Matt Sydal.
If you know me, you know I am a huge ROH fan going back to the "old days" when the company featured stars like CM Punk, Samoa Joe, Christopher Daniels, AJ Styles, Tyler Black (Seth Rollins), Kevin Steen (Owens), El Generico (Sami Zayn) and many more. Recent years turned me off of the of the product, but with ROH making a return and focusing on the Pure Championship, I am ready to make my own return…to honor.
ROH episode #470
Quinn McKay welcomes us and we see the end of both matches from last week, followed by comments from the winners. I don't hate it, but this show (on FITE.tv) is 50 minutes long. Both promos were effective, addressing their possible block semifinal opponents, all of whom are wrestling on this episode.
Quinn then introduces our upcoming matches for this week, before we head to commercial. At this point, I don't know if we're getting the promo packages like we got last week.
David Finlay promo
I enjoy Finlay's backstory–fourth generation pro wrestler, injured in his last ROH match, and his history with Rocky Romero (including Finlay doing Romero's laundry). My problem is simple: he comes off as a geek. He's not imposing as an athlete, and doesn't jump out as anything special. I know what he's capable of, and in the ring he suits ROH. But…he's just so blah.
"We have to figure out who the best one is. I think  that's me." You think? Okay…
Rocky Romero promo
Man, these sit down promos aren't helping either guy. Rocky Romero is a great athlete, charismatic wrestler, and someone who can still deliver on all fronts. But here he seems boring and bland. Maybe it's the sit down concept? I don't know, because Jonathan Gresham and Wheeler Yuta delivered in these last week, and Jay Lethal showed a ton of intensity. But these two are just boring.
I do have to praise Rocky for the way he talks strategy in terms of his match with Finlay. He plans to focus on his armbar submission and make Finlay exhaust his rope breaks early. THAT is great. Just zero intensity.
Pure Championship Tournament Block A First Round: David Finlay vs. Rocky Romero
Fifteen minutes and 2 commercial breaks later, we have a match! Love the stats for Rocky, including his record over Finlay in Japan and his notable wins in ROH (including Daniel Bryan and Cesaro–but they insist on avoiding those names). David Finlay enters still devoid of any charisma. Code of Honor is respected with a handshake before the bell, and we are reminded that the winner will face Jay Lethal in the Block A Semifinal.
Caprice Coleman with the great point about both men being active in New Japan this year, meaning they have less ring rust than most. Of course, they're opponents, so it gives neither the advantage. Ian Riccaboni gives the rules during the opening moments of the match, which at least wastes less time.
Three minutes into the match and David Finlay is finally showing some charisma.  This tournament is all about athleticism and in-ring prowess (a fact which Coleman just remind me of on commentary), but it's STILL pro wrestling, and you need the whole deal to keep people engaged. Also, we go to commercial 4 minutes into the match, giving us three commercial breaks and less than 4 minutes of wrestling in the first 22 minutes of the program.
No offense to Riccaboni, but reminds me of how much I miss Dave Prazak calling ROH matches. Ian is a great host and would do well if ROH utilized panels, but this just isn't working as well for me.
Rocky cuts off Finlay seven and a half minutes in, meaning that we are halfway through the time limit of the match and nothing of significance has happened. But with Rocky in control, and with a face towards the camera, the storytelling finally begins. I really hope Rocky wins, because this tournament needs personality.
Rocky shows some fire after not getting three, using his warning on a closed fist. He moves to another Diablo Armbar, getting Finlay to use another rope break. Finlay reverses Sliced Bread into a back breaker for a nearfall, then gets the win with his Last Shot
Winner and advancing to the Block A Semifinals – David Finlay
Rating – ***
Impression: Good match, started off slow, but picked up. Watch for the brilliance of Rocky Romero.
I am bummed that Rocky Romero was eliminated here, because he was really shining in the match.
Matt Sydan promo
In the opening 30 seconds of Matt Sydal's promo, he's outclassed everyone on this episode. He speaks with a certain urgency that was lacking. He puts over himself, his opponent in Delirious and their history, and the importance of Ring Of Honor both historically and today.
Delirious promo
I remember when Delirious took over the ROH Academy, and all the talents suddenly started to have personas. This man is a fantastic character, and proves so here. Talking in jibberish with subtitles, he tells a better story than Finlay or Romero before him.
"I'm doing this because I'm bored, and I want to play chess with the best wrestlers in the world" is a brilliant line that perfectly sums up this character.
Pure Championship Tournament Block B First Round: Matt Sydal vs. Delirious
Lots of intensity despite the opening being an obvious "feeling out process." These two know each other so well, and it shows. The intensity also minimizes the need for commentary, making it complimentary to the product, it doesn't have to make up for anything like we saw earlier.
Both guys are also, for lack of a better word, noisy. And that really makes a difference as we don't have fans. Four and a half minutes in, Delirious uses a rope break to impact Sydal's shoulder, showing how smart he is in the ring. He had been focusing on the leg, but commentary brilliantly points out that Sydal had shoulder surgery in 2010 and it's always bothered him, proving that Delirious had this set-up in mind all along.
Delirious kicking out multiple times with his legs trapped under him tells me two things: you can still do something new in wrestling in 2020, and Delirious is obviously a fan of yoga. Sydal then taps Delirious' out with his own move, the Cobra Clutch, right before the 10 minute mark.
Winner and advancing to the Block B Semifinals – Matt Sydal
Rating – ***1/2
Impression: Match of the night, you can tell they've done this more times than we know. Great intensity, great wrestling, and great finish.
Matt Sydal advancing makes total sense, since he was wrestling the booker. Glad to see him moving on and I am looking forward to his match with Gresham.
Overall Impression – 7/10
Honestly, my quips are the same: goofiness outside of the ring that makes this look like we are "playing wrestling promotion." In-ring action was great, but we went nearly 20 minutes before getting to the action. Cut down the promos, and add in a third non-tournament match. It's a simple idea, and it would add so much.
BWN Nerds' Movie Review: Godzilla vs Kong (2021)
Big boy monster throw down of the year! The Nerds return with a current movie review, and this one should be interesting. Is Dave too forgiving? Is Patrick taking his role as the German judge too seriously? Find out where the overall ratings lands between these two!
Welcome to this week's edition of the Nerd Review!  Every week the Nerds give you their take on a different movie from the Nerdosphere.  This week Dave and Patrick review the fourth installment of kaiju cinematic universe Godzilla vs. Kong!
The Flick:  Godzilla vs. Kong (2021)
What's it About:  A researcher believes a hollow world beneath the Earth's surface is the birthplace of the mighty Kaiju.  He convinces and old friend to help him take the mighty Kong to find his birthplace even if it means incurring the wrath of the King of Kaiju Godzilla.   The battle between the two alpha Kaiju could result in the end of all mankind.
Metacritic Score: 59
The Nerds' Take on Godzilla vs Kong (2021):
Dave It is time for the Main Event of Legendary's MosterVerse, the showdown we have been waiting for: Godzilla v. Kong. If you have been following along with our Nerd Reviews, then you knew this was coming. What you don't know is whether we feel the climax to the series is worth your time or not. Well allow me to give you my take on that topic.
Plot wise, it has been some five years since Godzilla defeated Ghidorah and things have been relatively quiet and peaceful. Meanwhile, on Skull Island, Monarch has created a dome like structure to observe and try and control Kong. Kong has developed a relationship with a little girl, Jia, who seems to be the last surviving member of her clan. Jia has, for lack of a better term, been adopted by Dr. Ilene Andrews. Jia is deaf and she seems able to communicate with Kong through sign language.
Halfway across the globe, Apex Cybernetics is engaged in some sort of experimentation that attracts the attention of Godzilla, who shows up and annihilates their facility in Florida. Godzilla's attack shatters humanity's notion that he is their friend. Bernie Hayes is an employee of Apex, but he also hosts a Podcast focusing on conspiracy theories involving the Titans. He is soon joined by Madison Russell (from Godzilla: King of the Monsters) who is a fan of the Podcast, and her friend Josh as they start poking around the remains of the Apex site in Florida. We soon discover that Apex is looking for a massive power source that they believe is located in Hollow Earth. Hollow Earth is really more of an Earth within the Earth (Middle Earth, perhaps?) and the quandary is how to survive the trip to Hollow Earth. Nathan Lind is a Hollow Earth expert whose brother perished in a prior expedition to Hollow Earth due to a reverse gravitational effect. But Apex has developed vehicles that can survive the voyage. They just need Kong to lead them there.
In the process of transporting Kong to Antarctica, which has an entry point to Hollow Earth, Godzilla senses his old rival and attacks. Godzilla definitely gets the better of this battle, forcing the expeditionary force to transport Kong by air to Antarctica to avoid detection by Godzilla. Kong gets the group to Hollow Earth and it becomes clear there has been an ancient rivalry between Kong's ancestors and Godzilla's. Kong discovers an axe made out of portions of Godzilla's ancestor's skins. Back on the surface, Bernie, Madison, and Josh have been whisked away to Hong Kong and they discover what Apex is really up to….Mechagodzilla. Mechagodzilla can be telepathically controlled and it is Dr. Serizawa's son who is pulling the strings, using the severed head of Ghidorah to do so. The problem is that to utilize Mechagodzilla to its full potential, they require more power, much more power to be exact. This is where the search for the Hollow Earth power source comes into play.
Mechagodzilla is activated and this attracts Godzilla. Godzilla also senses what Kong is doing in Hollow Earth and he sends a blast of atomic breath from Hong Kong to, in essence, the center of the Earth. Kong and the Hollow Earth expeditionary force follow the hole made by Godzilla to the surface. Everyone emerges in Hong Kong for a massive fight between Kong and Godzilla. Kong fares better this time around but is ultimately rendered near death by Godzilla. At about this time, Mechagodzilla is imbued with the power source from Hollow Earth and he also achieves sentience. This leads to the big brawl between Godzilla and Mechagodzilla and it is a mismatch in favor of Mechagodzilla…. until Kong is revived, evening the odds in an enormously predictable moment. Godzilla supercharges Kong's ax with his atomic breath and the two Titans take down Mechagodzilla. Godzilla and Kong show each other a sign of respect and go their separate ways. Apparently, there can be two alpha Titans after all.
Let's talk about the good stuff first: the monster fights. They are all fantastic. The battles between Kong and Godzilla feel as big as you would expect. They are titanic clashes in every sense of the word. Godzilla fans will have bragging rights after watching this movie because it is clear that Godzilla whups Kong's ass on more than one occasion. Kong fans save face though by noting that without Kong, Mechagodzilla would surely have triumphed. As for Mechagodzilla, his appearance in the movie was not a secret and he did not disappoint. The clash between Godzilla and Mechagodzilla was done very well to show just how much more powerful Mechagodzilla was and why it took the combined might of Godzilla and Kong to turn the tide. If massive Kaiju action is your thing, then Godzilla vs Kong is definitely your movie.
Now for the bad: The people. Now, I know what Patrick is going to say. That the movie shifts the focus to the people too much and detracts attention from the monsters. I know he thinks the concept of humans using a defibrillator on Kong is absurd. I am OK with those points in a movie like this. The problem I have with the people is this: They don't matter. Not at all! They are white noise in the purest sense of the word. 90% of the characters are wholly uninteresting and meaningless. They add little to the plot and just get in the way. So, to be real, Patrick and I are, to a certain extent, talking about different sides of the same coin. The exceptions to this involve Jia, who is quite important to the whole notion of establishing Kong as the "good guy", and Bernie, who is a fun character and kind of represents a microcosm of conspiracy theorists that are quite common in the real world today. Bernie epitomizes the notion that just because you are paranoid, doesn't mean they aren't watching you. But, beyond those two, the characters are quite dull and just felt very pointless.
As far as this being the series finale, I greatly enjoyed the movie. The dynamic between Kong and Godzilla is interesting and keeps you engaged, regardless of whether you are rooting for one, the other, or both. There are some interesting concepts in the movie, specifically how Hollow Earth is different than you might expect and much more interesting, no matter how far-fetched the idea might be. Interestingly, this movie really showcases just how bad ass Godzilla is. I am not sure why it took three movies to get it right, but I digress. Then there is Kong, who ends up being a multi-layered creature that is shown even more heroically than he was in Kong: Skull Island. As for me, I always favored Kong over Godzilla and I left the movie feeling fine with the outcome of everything. If there is a downside it's that it appears the MonsterVerse has come to an end, just when it was getting really good. That's too bad. As for Godzilla vs Kong, the awesome action sequences and special effects vastly outweigh the issues involving the people. This is a very good final installment (we think) in this franchise. It is the best of the movies involving Godzilla. I still liked Kong: Skull Island more, but this was a close second.
Dave's Rating: 4/5
Patrick:  Here we are again covering the fourth film in the Warner Brothers/Legendary produced Kaiju Monster universe.  And once again this film somehow finds a way to mess up a simple concept.  If you recall, in my review of Godzilla King of the Monsters I said good kaiju movies minimize the involvement of human beings in the film and let the monsters take center stage.  Unfortunately, the folks at Warner Brothers still have not quite grasped the concept here in its fourth Kaiju film. The result is an uneven film that shines when the monsters are on screen and leaves me tuning out when the focus shifts to the little primates.
In this fourth installment, we learn that Monster research organization Monarch I closely monitoring Kong.  Going so far as to create an enclosure around Skull Island so that he is safe from Godzilla.  This of course will not last because, well, humans.  One human in particular, a man named Nathan Lind comes with the backing of a mysterious tech corporation called Apex to search for "Hollow Earth." Hollow Earth is a world beneath the surface of our Earth that is believed to be the birthplace of all Kaiju.  Lind visits his friend and Monarch researcher Ilene on Skull Island.  Lind believes Kong is the key to finding this hidden world.  Despite knowing, Godzilla will attempt to kill Kong, Ilene agrees to embark on the expedition.  Of course, Godzilla attacks and we get the first of three rounds of monster battling that we paid for.
Unfortunately, to get to round two and three, the audience has to sit through overwrought dialogue and subplots all in an attempt to help the audience connect to the experience.  It's all really boring.  You know why?  PEOPLE DON'T WATCH KAIJU MOVIES FOR THE HUMANS. But, I digress.  Naturally the tech corporation Apex is not on the up and up with Lind.  Color me stunned, but Apex turns out to be the real enemy to both Kong and Godzilla.  I haven't even covered the conspiracy theory guy and his gang of teenagers trying to expose Apex from the inside.  Again, no one cares because, read it aloud…NOBODY WATCHES KAIJU MOVIES FOR THE HUMANS.
But this isn't the end of the dumb.  The audience is treated to an ancient history between Kong's ancestor and the other Kaiju where we see Kong find the ancient axe of his ancestors.  Because a monkey wielding an axe is cool looking.  Did I mention Kong can charge the thing up with Godzilla's radioactive breath?  AWESOME?  How about the humans using a high tech battery as defibrillator to revive a dying Kong?  Just dumb on top of dumb followed by more dumb.  And humans.  All of the humans.
The cast for Godzilla vs. Kong is quite the list of names.  Alexander Skarsgard essentially fills the role of human protagonist Nathan Lind.  Honestly, he is the only human character given anything to work with.  Kyle Chandler is back in his role as researcher Mark Russell, but if you blink you miss him.  Millie Bobby Brown is also back as Madison Russell, but horribly wasted in a sidekick sort of role to the previously mentioned conspiracy theorist.  She is limited to trying to discover why Godzilla has started attacking human cities.  Someone of her talent could have and should have been used better.  There are tons of other folks in this movie, and yet I struggle to understand why we needed them all.  All they do is distract from what the audience wants to see which is GODZILLA and KONG FIGHT.
Ok.  So what's good about this film?  Well, the Kaiju.  The special effects team outdid themselves crafting these battles.  Kong and Godzilla's bouts all feel epic.  I was also impressed with how much more well lit some of the night scenes were.  As Kong and Godzilla battle at night in a Chinese city, everything is well lit without appearing phony.  The choreography of the battles are terrific, albeit a little silly at times.  Again, radioactive monkey axe.  But the joy of Godzilla vs Kong is in these epic clashes.  I watched the movie on HBO Max, I can only imagine how amazing it would have appeared on an IMAX movie screen with Dolby sound shaking my eardrums.
I came into Godzilla vs. Kong with pretty low expectations.  I want to stress that I loved, loved, loved the action sequences involving the Kaiju.  Unfortunately, you have to sit through an inordinate amount of human exposition to get to those epic moments.  That's not to say the humans and their stories need to be gone entirely.  The audience does need a guide and some context.  But Godzilla v. Kong would have been so much stronger with a pared down human side of things and a focus on the monsters. It seems Warner Brothers and Legendary pictures still haven't learned the key to Kaiju: it' all about the monsters.
Patrick's Rating: 2.24/5.0
Overall Nerds' Rating on Godzilla vs Kong (2021): 3.12/5.0
NXT Minus 6: Stand and Deliver…After
Brad breaks down the NXT Takeovers and his favorite matches! Do you agree?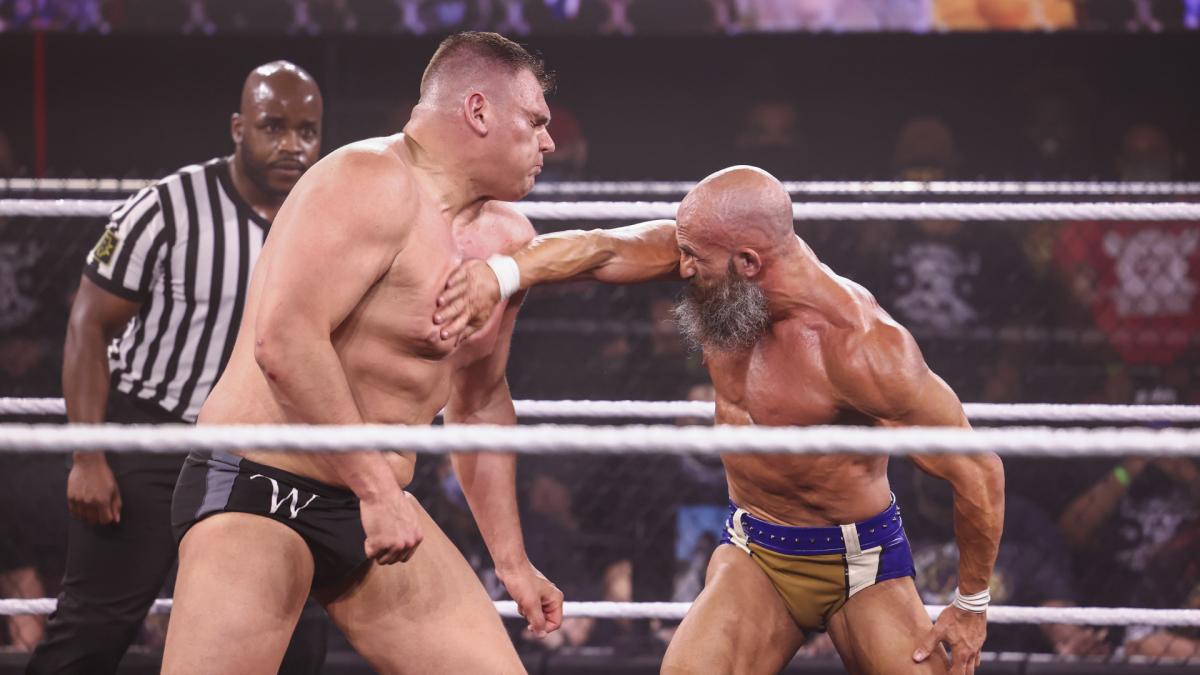 These are the six best matches from Takeover week, plus a new bonus feature! 
6. Jordan Devin versus Santos Escobar, 4.3 stars Devlin turned in a star making performance. His moonsault off the ladder was absolutely perfect and batshit crazy. Escobar is technically so sound, everything he hits looks great, and he's top notch on the mic. But he's not a cruiserweight, and I will never forget that fact. Still, an exciting match that surpassed my expectations.  
5. Tyler Bate versus Noam Dar, 4.3 stars This match was a blast. Both guys have such a wide array of moves, you'll never see the same match twice from either of them. The only thing holding this back was the Heritage Cup format. I like it, but it's hard to have the sustained exchanges necessary to elevate a match to greatness. The breaks slow things down right as they are speeding up. Give these two a straight 20 minutes for the NXT UK championship #1 contender, and you're look at a MOTY.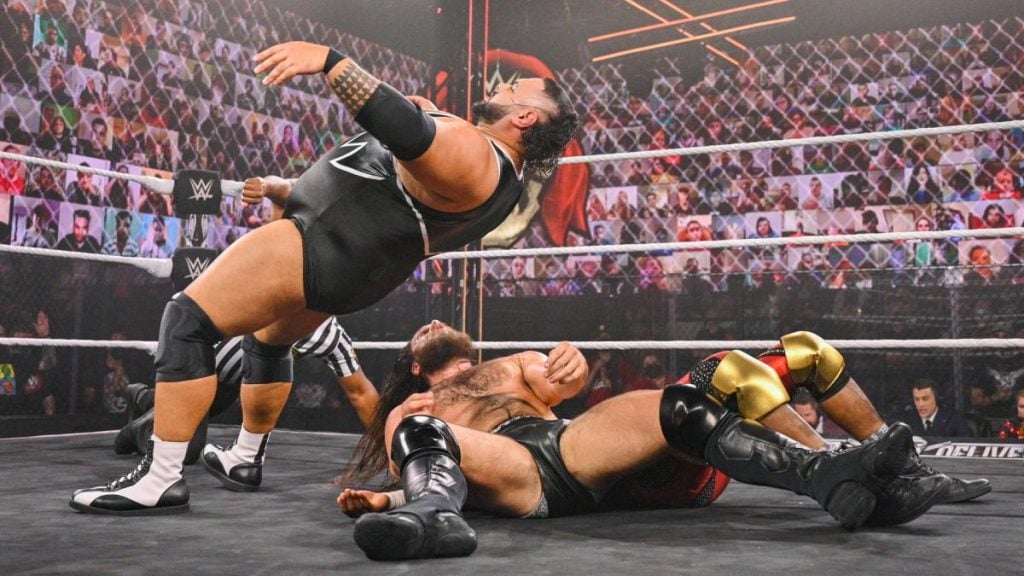 4. Gauntlet Match, 4.4 stars Another match that was just pure fun. Leon Ruff continues to prove he's not a fluke champion. Cameron Grimes is 100% working the rich hillbilly gimmick. They made the right call by getting L.A. Knight and Dexter Lumis out quickly. And in another star making performance, Swerve Scott started the match against flyweight Ruff and ended it against Bronson Reed. That kind of versatility is enough to earn my #3 Star of the Night. 
3. Io Shirai versus Raquel Gonzalez, 4.5 stars
This was the intense, inspired Shirai I don't think I've seen since her match with Dakota Kai at Takeover 30. If this was her last match, as some are speculating, then she's leaving on a high note worthy of her greatness. As good as Gonzalez was in ring, her performance after the match was even better. You could tell she kept flipping from "Holy crap, this is real and I couldn't be happier" to "Yes, I'm a bad ass and I'll power bomb every one of you chumps." 
2. MSK versus Legado Del Fantasma versus Grizzled Young Veterans, 4.5 stars
Some other federation might be on their level, but nobody does tag teams better than NXT. All three teams got considerable time to shine. In a match stuffed with terrific action & individual performances, Wes Lee shined the brightest. His hot tag was Cesaro-level awesome, and his athletic ability rivals Ricochet. He is a star in the making, and his performance earned him my #2 Star of the Night.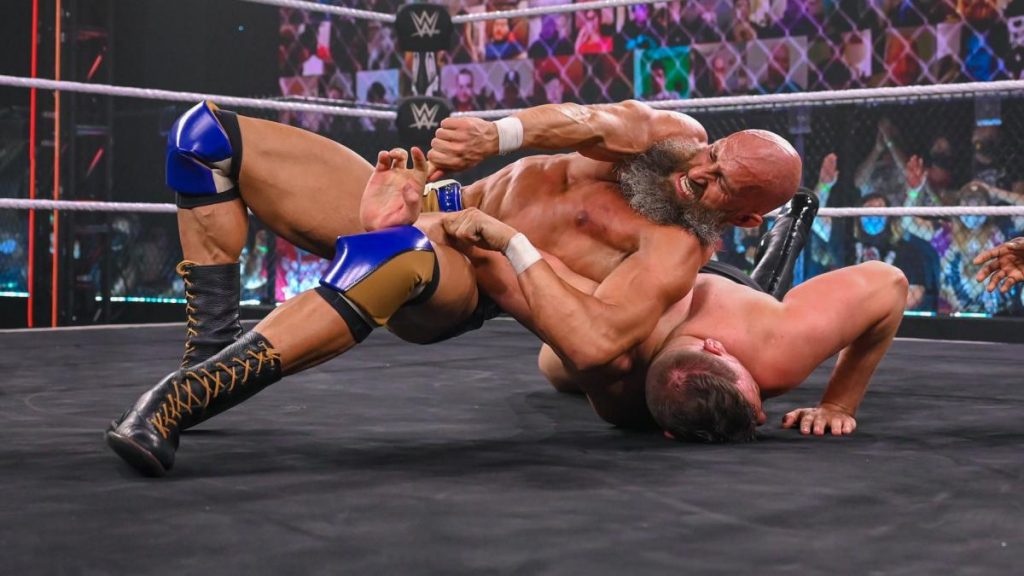 1. WALTER versus Tommaso Ciampa 4.7 stars
I gave Ciampa about a 1% chance of winning. Despite the lack of necessary drama, these two told a masterful story with near flawless execution. Something about WALTER brings out the best in whoever he faces. He did it with Tyler Bate and Ilja Dragunov. He did it with Ciampa. This was easily his best performance since his return from neck surgery. People say he's a brawler, while guys like Johnny Gargano and Roderick Strong are known for their gas tank. Ciampa showed that he can run with the best. His effort against WALTER earned him the respect of Imperium and my #1 Star of the Night.