Greg DeMarco's ROH #470 Review: Finlay/Romero & Delirious/Sydal
Greg DeMarco continues his catch-up on ROH as the Pure Championship tournament continues with David Finlay vs Rocky Romero and Delirious vs Matt Sydal.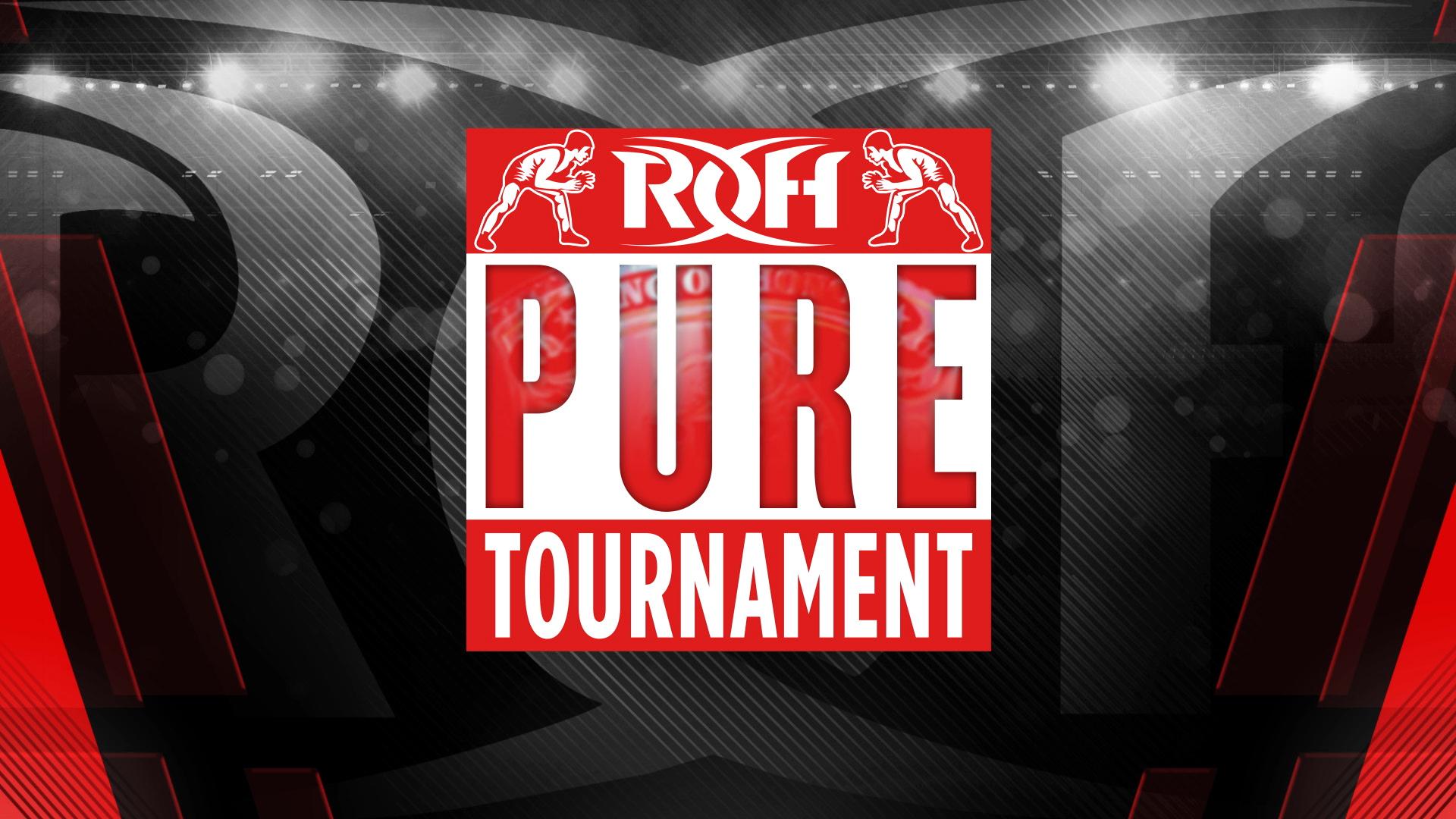 Greg DeMarco continues his catch-up on ROH as the Pure Championship tournament continues with David Finlay vs Rocky Romero and Delirious vs Matt Sydal.
If you know me, you know I am a huge ROH fan going back to the "old days" when the company featured stars like CM Punk, Samoa Joe, Christopher Daniels, AJ Styles, Tyler Black (Seth Rollins), Kevin Steen (Owens), El Generico (Sami Zayn) and many more. Recent years turned me off of the of the product, but with ROH making a return and focusing on the Pure Championship, I am ready to make my own return…to honor.
ROH episode #470
Quinn McKay welcomes us and we see the end of both matches from last week, followed by comments from the winners. I don't hate it, but this show (on FITE.tv) is 50 minutes long. Both promos were effective, addressing their possible block semifinal opponents, all of whom are wrestling on this episode.
Quinn then introduces our upcoming matches for this week, before we head to commercial. At this point, I don't know if we're getting the promo packages like we got last week.
David Finlay promo
I enjoy Finlay's backstory–fourth generation pro wrestler, injured in his last ROH match, and his history with Rocky Romero (including Finlay doing Romero's laundry). My problem is simple: he comes off as a geek. He's not imposing as an athlete, and doesn't jump out as anything special. I know what he's capable of, and in the ring he suits ROH. But…he's just so blah.
"We have to figure out who the best one is. I think  that's me." You think? Okay…
Rocky Romero promo
Man, these sit down promos aren't helping either guy. Rocky Romero is a great athlete, charismatic wrestler, and someone who can still deliver on all fronts. But here he seems boring and bland. Maybe it's the sit down concept? I don't know, because Jonathan Gresham and Wheeler Yuta delivered in these last week, and Jay Lethal showed a ton of intensity. But these two are just boring.
I do have to praise Rocky for the way he talks strategy in terms of his match with Finlay. He plans to focus on his armbar submission and make Finlay exhaust his rope breaks early. THAT is great. Just zero intensity.
Pure Championship Tournament Block A First Round: David Finlay vs. Rocky Romero
Fifteen minutes and 2 commercial breaks later, we have a match! Love the stats for Rocky, including his record over Finlay in Japan and his notable wins in ROH (including Daniel Bryan and Cesaro–but they insist on avoiding those names). David Finlay enters still devoid of any charisma. Code of Honor is respected with a handshake before the bell, and we are reminded that the winner will face Jay Lethal in the Block A Semifinal.
Caprice Coleman with the great point about both men being active in New Japan this year, meaning they have less ring rust than most. Of course, they're opponents, so it gives neither the advantage. Ian Riccaboni gives the rules during the opening moments of the match, which at least wastes less time.
Three minutes into the match and David Finlay is finally showing some charisma.  This tournament is all about athleticism and in-ring prowess (a fact which Coleman just remind me of on commentary), but it's STILL pro wrestling, and you need the whole deal to keep people engaged. Also, we go to commercial 4 minutes into the match, giving us three commercial breaks and less than 4 minutes of wrestling in the first 22 minutes of the program.
No offense to Riccaboni, but reminds me of how much I miss Dave Prazak calling ROH matches. Ian is a great host and would do well if ROH utilized panels, but this just isn't working as well for me.
Rocky cuts off Finlay seven and a half minutes in, meaning that we are halfway through the time limit of the match and nothing of significance has happened. But with Rocky in control, and with a face towards the camera, the storytelling finally begins. I really hope Rocky wins, because this tournament needs personality.
Rocky shows some fire after not getting three, using his warning on a closed fist. He moves to another Diablo Armbar, getting Finlay to use another rope break. Finlay reverses Sliced Bread into a back breaker for a nearfall, then gets the win with his Last Shot
Winner and advancing to the Block A Semifinals – David Finlay
Rating – ***
Impression: Good match, started off slow, but picked up. Watch for the brilliance of Rocky Romero.
I am bummed that Rocky Romero was eliminated here, because he was really shining in the match.
Matt Sydan promo
In the opening 30 seconds of Matt Sydal's promo, he's outclassed everyone on this episode. He speaks with a certain urgency that was lacking. He puts over himself, his opponent in Delirious and their history, and the importance of Ring Of Honor both historically and today.
Delirious promo
I remember when Delirious took over the ROH Academy, and all the talents suddenly started to have personas. This man is a fantastic character, and proves so here. Talking in jibberish with subtitles, he tells a better story than Finlay or Romero before him.
"I'm doing this because I'm bored, and I want to play chess with the best wrestlers in the world" is a brilliant line that perfectly sums up this character.
Pure Championship Tournament Block B First Round: Matt Sydal vs. Delirious
Lots of intensity despite the opening being an obvious "feeling out process." These two know each other so well, and it shows. The intensity also minimizes the need for commentary, making it complimentary to the product, it doesn't have to make up for anything like we saw earlier.
Both guys are also, for lack of a better word, noisy. And that really makes a difference as we don't have fans. Four and a half minutes in, Delirious uses a rope break to impact Sydal's shoulder, showing how smart he is in the ring. He had been focusing on the leg, but commentary brilliantly points out that Sydal had shoulder surgery in 2010 and it's always bothered him, proving that Delirious had this set-up in mind all along.
Delirious kicking out multiple times with his legs trapped under him tells me two things: you can still do something new in wrestling in 2020, and Delirious is obviously a fan of yoga. Sydal then taps Delirious' out with his own move, the Cobra Clutch, right before the 10 minute mark.
Winner and advancing to the Block B Semifinals – Matt Sydal
Rating – ***1/2
Impression: Match of the night, you can tell they've done this more times than we know. Great intensity, great wrestling, and great finish.
Matt Sydal advancing makes total sense, since he was wrestling the booker. Glad to see him moving on and I am looking forward to his match with Gresham.
Overall Impression – 7/10
Honestly, my quips are the same: goofiness outside of the ring that makes this look like we are "playing wrestling promotion." In-ring action was great, but we went nearly 20 minutes before getting to the action. Cut down the promos, and add in a third non-tournament match. It's a simple idea, and it would add so much.
Random NXT Stuff 2.0: Worlds Collide
Brad gives his 2.0 cents about some Worlds Collide fantasy booking! So the NXT opinion isn't over…just…different. Check it out!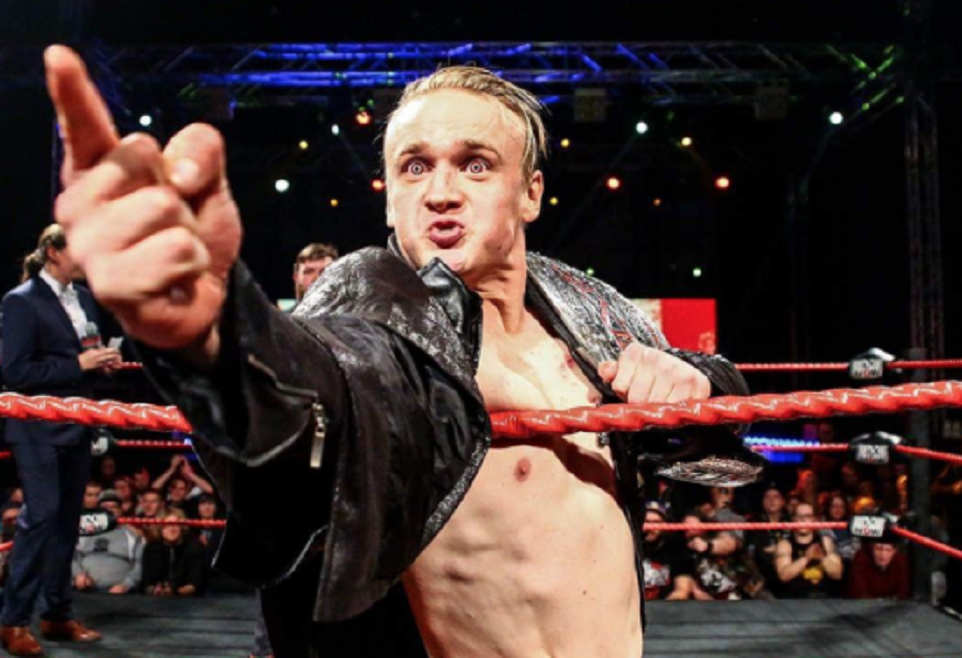 It's time to fantasy book NXT Worlds Collide, the mashup special that always produces top quality matches. And I renamed my column. Catchy, right?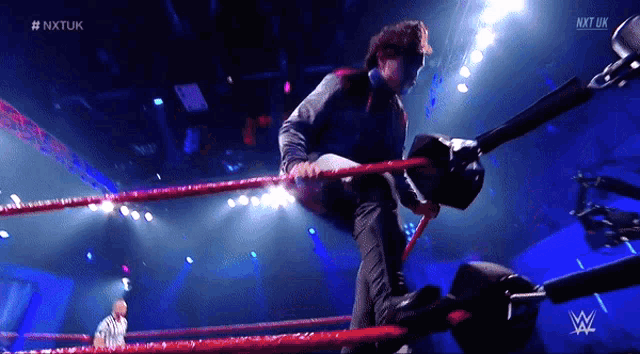 6. Noam Dar versus Swerve Scott for the North American Championship – Dar deserves a bigger platform so the entire world can experience his greatness. It might as well be for a title. The personality clash between these two would produce more fireworks than any bloated, overproduced WrestleMania opener. 
5. Meiko Satomura versus Dakota Kai for the NXT UK Women's Championship – Champion versus champion is too easy and lacks drama. Kai can hold her own against Satomura, and it is entirely believable that she could win and move to NXT UK. That is the extra level of storytelling and drama we wouldn't get with Satomura versus Raquel Gonzalez. And I'm still a Dakota Guy.
4. Johnny Gargano versus Kenny Williams versus Jordan Devlin – I love triple threat matches. I love all three of these guys. I love that the winner of this match gets a title shot of his choosing on either NXT brand. 
3. Tyler Bate versus Pete Dunne for the Heritage Cup – So much history between two of the founding fathers of British Strong Style. This rivalry should be Flair/Steamboat of British wrestling. Let's add another chapter to what I hope is a very long story between two of the best wrestlers on the planet.
2. Tommaso Ciampa versus Ijla Dragunov – Remember when I said champ versus champ would lack drama? Forget that. I want to see these two stiff shot the stuffing out of each other to see who is the roughest, toughest, most violent champion in the company. And in the spirit of NXT 2.0, they are also fighting for control of Cameron Grimes' estate, because he's currently MIA after his one-man space flight goes horribly wrong.     

1. MSK versus Pretty Deadly – The main event. Yes, the main event. I want to headline a show with the two best tag teams in a place where tag team wrestling still gets the respect it deserves. For now. Both teams have been absolutely crushing it in 2021. It really is too close to say who has been better, so we might as well settle it in the ring. And it might as well be for the first time ever winner takes both titles.  
Cook's WWE Extreme Rules 2021 Gambling Picks
Did you forget Extreme Rules was Sunday? Cook didn't! And he brought Gambling Picks!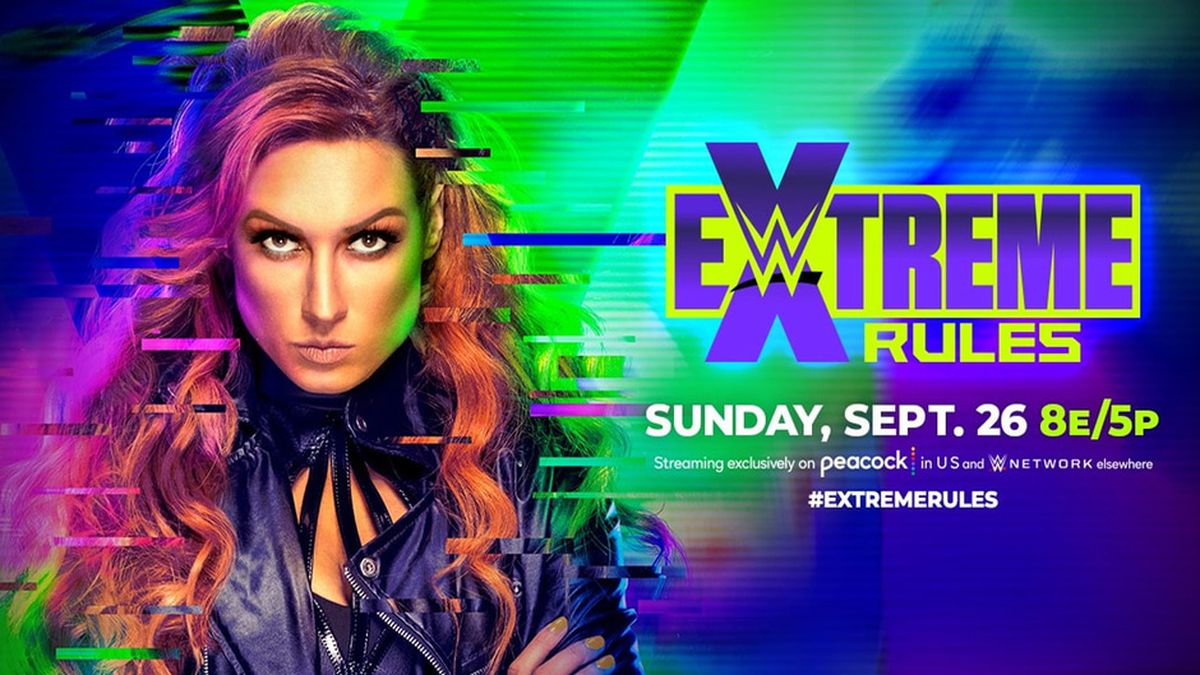 Extreme Rules takes place this Sunday! With everything happening in WWE right now, it's easy to forget which Peacock special is next on the agenda.
When WWE has ratings to keep at a certain level, they feel the need to blow through things at a rapid pace. Just last week I was reading about how New Day vs. The Bloodline would be great to do on Survivor Series. The next day, it was announced for Raw. Then, people thought about how great a match between Big E, Roman Reigns & Bobby Lashley would be. It happened on the same episode of Raw.
This is an important time for WWE. A Draft is on the horizon. Football is taking a chunk out of their viewership, though not as much as usual since much of the regular viewership either moved on to other things or are viewing the show through other means. Then there's AEW getting neck & neck with Raw in the demo, which people say shouldn't matter that much but you know drives Vince McMahon insane. What happens at Extreme Rules and events surrounding the no-longer Horror Show could impact things for years to come. Or at least days. Maybe even weeks!
So what's happening on this show? Let's find out! As usual, odds are provided by BetOnline, and are purely for the purposes of entertainment.
Becky Lynch (-400) vs. Bianca Belair (+250)
Don't you want to go shopping with Becky & Seth Rollins? I bet that'd be nothing but a great time. Going to all the big stores and finding the drippiest clothes one could find! I'll bet that kid of theirs has some really rockin' onesies too. I was a bit skeptical of turning Lynch so soon after her return, but it's worked out well enough. A new spin on Becky's character that still embraces being The Man and all that it entails.
I kinda feel bad for Bianca because of the way her title reign ended and the fact she isn't winning here. No reason for Becky Lynch to drop the SmackDown Women's Championship unless they plan on moving her & Seth to Raw, and I don't really see any reason to do that. I'd keep Bianca & Becky on the same brand and keep things going until Survivor Series, or an important SmackDown episode. Whichever.
Charlotte Flair (-200) vs. Alexa Bliss (+150)
Above we see Charlotte & Alexa addressing the problems that most of us have with their personas. They also play with dolls. Some people really, really loved this segment. Some people really hated it. As the Gemini I am, I see both sides of the argument. Even though I'm not big on Alexa's character, I see it has value for a portion of WWE's audience. And if you're into shooty promos with wrestlers addressing things that annoy us about other wrestlers, I can see this scratching that itch.
One thing I don't get is the complaint that Charlotte's character is nothing without a championship. Shouldn't all wrestlers be trying to win championships? Why else would they be there? To play with dolls? You can do that at home if you like, it's a lot harder to win championships at home unless fantasy sports is your bag.
The most likely finish here? Spooky nonsense. I don't see this thing having a proper winner or loser. Alexa will do something silly and we'll be asked to act like it's groundbreaking television. I think Charlotte Flair retains the Raw Women's Championship, so if you need to bet on this for some reason that's what I'd go with.
Damian Preist (-275) vs. Sheamus (+230) vs. Jeff Hardy (+500)
The simplest booking is the best booking. The result that makes the most sense is Priest going over at the expense of Sheamus & Hardy, both of who have been around for ages and will remain at the same level no matter what happens. Neither Sheamus or Hardy will get more over if they win. They are what they are after their decades with WWE. Damian Priest still has room for growth.
Granted, Sheamus has an outside shot at winning, and maybe they throw Hardy a bone to make Twitter happy. I wouldn't bet on it though, and isn't that why we're here?
Liv Morgan (-400) vs. Carmella (+250)
Liv is one of those people that we want to see do well. She's very easy to root for, and frankly WWE could use more challengers for their Women's Championships. You could see her doing well as an underdog against somebody like Charlotte or Becky. Nothing against Carmella, it's just that we've already seen her get chances. Now, hopefully, will be Liv Morgan's time.
Roman Reigns (-1000) vs. Finn Balor (+500)
The Demon King returns at Extreme Rules! I suppose that's what's supposed to make the match extreme, right? Typically, the Demon emerges after a lengthy feud between Finn Balor and another wrestler. Once Finn has taken all he can stands and can't stands no more, the Demon shows up to even the score. This time, the Demon has appeared because Balor lost a championship match against Roman Reigns.
Usually it takes more than that, but Balor surely realizes that he has no chance of beating Roman Reigns for the Universal Championship unless he becomes the Demon. I'd hate to think what the odds here would be if it was regular ol' Finn Balor! BetOnline would probably take this thing off the board. Even by Roman match standards, Demon Finn is being given no chance in hell.
There's an argument for Brock Lesnar costing Roman the match to set up their match in Saudi Arabia. I just don't see it happening. Even if that match doesn't need a title, it's getting one. The Demon's gonna lose to Roman Reigns. It is acknowledged.
(Remember when wrestlers demanded to be worshipped? Now they just want to be acknowledged. Expectations get lower by the year.)
The Usos (-250) vs. The Street Profits (+170)
For one thing, we need to pick an underdog here. Gotta make things interesting. For another thing, the story being told here is that the Usos can't beat the Street Profits without help from Roman Reigns. Roman will still be in the building, but he's got an Extreme Rules match with a Demon to prepare for. He doesn't have time to take care of his cousins' business for them. Too bad for their SmackDown Tag Team Championship reign.
The Street Profits deserve a big win, and we deserve to make a profit from this show.