Adam's Survivor Series 2020 Results & Review
Thirty years ago to the day, Ted DiBiase revealed his mystery partner for Survivor Series and with seven WWE Championships, the twenty-one consecutive WrestleMania wins that became a legend in itself – Oh… we also have SmackDown versus RAW matches.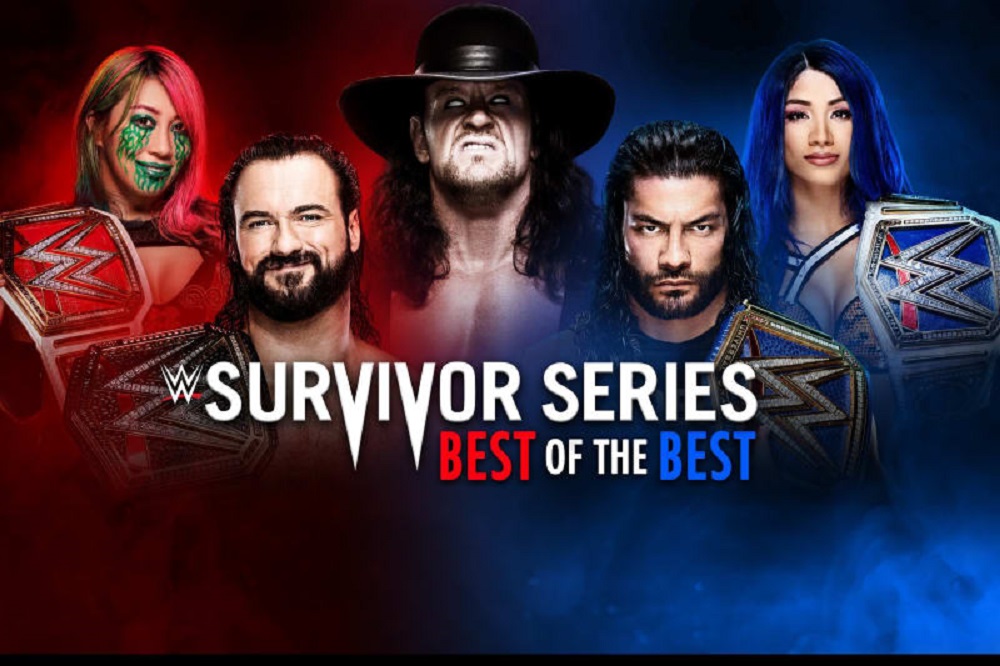 "Everybody's got a price for the Million Dollar Man so without further ado, allow me to introduce to you my mystery partner. Led to the ring by his manager, Brother Love, weighing in at 320 pounds from Death Valley. I give you, The Undertaker!"
Thirty years ago to the day, Ted DiBiase revealed his mystery partner for Survivor Series and with seven WWE Championships, the twenty-one consecutive WrestleMania wins that became a legend in itself, that most likely will never be able to replicate in our life time, The Undertaker seems to be looking to do his final appearance at the Pay-Per-View that started it all…
Oh… we also have SmackDown versus RAW matches. I thought we were just here for Taker.
Results:
PreShow Battle Royal: John Morrison, Kalisto, Rey Mysterio, Huberto Carrillo, Angel Garza, Cedric Alexander, Ricochet, Shelton Benjamin, Apollo Crews, Murphy, Robert Roode, Dolph Ziggler, Shinsuke Nakamura, Elias, Jeff Hardy, Chad Gable, The Miz and Dominik Mysterio: Miz wins last eliminating Dominik Mysterio – **
Team SmackDown (Jey Uso, Kevin Owens, Otis, Seth Rollins & King Corbin) vs Team RAW (Riddle, Sheamus, Braun Strowman, Keith Lee & AJ Styles)- Team RAW SWEEPS Team SmackDown- ***
Champion vs Champion: New Day vs Street Profits – Street Profits win via Electric Chair/Blockbuster Combo – ****
Champion vs Champion: Sami Zayn vs Bobby Lashley (w/ Hurt Business) – Lashley wins via Hurt Lock – * ¾
Champion vs Champion: Asuka vs Sasha Banks – Sasha Banks wins via Pinfall – *** ¾
Team SmackDown (Bayley, Bianca Belair, Ruby Riott, Liv Morgan & Natalya) vs Team RAW (Nia Jax, Shayna Bazler, Lana, Peyton Royce & Lacey Evans) Team RAW wins with Lana being Sole Survivor – ** ¾
Champion vs Champion: Roman Reigns vs Drew McIntyre – Roman Reigns wins via Guillotine – *** ½
Review:
PreShow Battle Royal
This was a normal cluster of people that do things because I guess Vince doesn't believe in social distancing but, there are two take aways from this match. The Miz is still sneaky and cleaver as always so him with the Money in the Bank is still a good threat but, Dominik Mysterio getting about four or five eliminations varying from long time vets to former world champions to being runner up to this event. I wonder how this wave of momentum is going to play out for him.
Traditional Men's Survivor Series Match
So they all have problems with each other and everything on both teams but, to break down a clean sweep since Team DX vs Team Rated RKO.
Rollins played Marytr due to losing Murphy, thinking he's going to right a wrong by being eliminated with no problems. Next, Styles takes out Owens with a Phenomenal Forearm to make it 5 to 3. Team RAW actually shows up and takes it to King Corbin with the Floating Bro to remove Corbin. Keith Lee and Braun Strowman remove Otis with big boi moves because that was… destructive in all honesty but, Strowman powerslams Otis to make Jey Uso the only man to take on all of RAW. Looked promising but, I'm sure people have seen enough Dragon Ball that you don't underestimate the Spirit Bomb. RAW up 1-0.
New Day vs Street Profits
This had to be the most even match up that WWE could have produced. Woods and Dawkins have the strength with some agility to them and Kingston and Ford with their excellent agility. Every time there was a momentum change, it could have been a victory in any way from them. At the end, Montez hitting a Trouble in Paradise on Kofi and gets the last tag for the victory over the New Day. Both of them give each other a show of respect and that actually was a damn good match. Tied 1-1
Sami Zayn vs Bobby Lashley
This match basically has Bobby Lashley ragdoll Sami Zayn the entire match but Sami is trying every "cowardly" heel tactics like rolling out of the ring, saying he's hurt when he's not. If only the Hurt Business wasn't out there to take care of their best asset. Sami tries to escape for one last time and trips on… ahem… wiring of some kind. You could say it was the MVP of the match but, pure domination throughout the whole match. RAW up 2-1
Asuka vs Sasha Bank
Both women go to the technical side of things, trading holds, strikes and even roll up pins all unique and different but Sasha actually… pinned Asuka. It wasn't a fluke either, they gave it everything and after all that crap that happened between Bayley controlling Sasha, it's a change of pace and good step forward for the Mando—ahem… for The Boss. Tied 2-2.
Traditional Women's Survivor Series Match
So in typical Nia and Shayna fashion, they tell Lana to go sit in the corner so she couldn't screw this up for the team. Bayley, the "Captain" of the Blue Brand goes down first by Peyton Royce to make them go "5" to 4 before Natalya comes in and evens it up before Lacey eliminates her next with the Women's Right. Ruby Riott is the next one to fall to the Kirifuda Clutch as Liv goes berserk and takes out Lacey Evans in her frenzy. With Nia and Shayna putting Lana in the corner because she'll mess things up, it's a two on two with Belair and Morgan facing the Tag Team Champions. Nia takes Liv out in fashion as Shayna holds Bianca so she can't break it up. Baszler actually goes too far with another Clutch and gets DQ'd for holding onto it after the five second rope break so we have Nia vs Bianca and they both take it to the outside, fighting out there all the way to ten and they are both eliminated…
So… Lana is still on the team. Lana was the only one there. Lana actually was the Sole Survivor. I guess you can put 'baby in the corner' because RAW is up 3-2.
Roman Reigns vs Drew McIntyre
This match was diabolic with the two powerhouses taking it back and forth with a lot of good spots. Roman putting Drew through the announce table and barricade, Drew applying the Kimora Lock right in front of Paul Heyman like someone else that Drew fought. Sadly, with a Claymore Kick reversing a spear attempt, the ref got taken out and Jey Uso came back to help the Chief win the match after making Drew pass out with the Guillotine. Jey regained his place at the table and the final result was a tie with 3-3.
People start to come out for Undertaker's Final Farewell with former opponents and feuds throughout the years; Shane McMahon, Big Show, JBL, Jeff Hardy (with the Taker symbol facepaint), Mick Foley, Godfather, Henry O. Godwin and Phineas I. Godwin, Savio Vega, Rikishi, Kevin Nash, Booker T, Shawn Michaels, Ric Flair, Triple H and Kane. Vincent Kennedy McMahon is in the ring after a promo with all of Undertaker's matches and moments in the last thirty years, giving his respects to quite possibly his greatest creation in all of WWE and introduces the man of the hour one more time. Undertaker makes his speech, saying "For thirty years he buried his opponents and now it's time for the Undertaker to Rest in Peace. A hologram and soundbyte of the late Paul Bearer plays in front of Taker as he kneels down to his signature kneel down and the music plays one last time, the throat slash and the slow walk back up the ramp way with his fist raised in the air before he exits stage right.
Overall Score: 7.5/10
This really was good even if we had very low expectations of it. I love how they tied in Lana getting her "redemption" it seemed as being Sole Survivor, RAW sweeping the men's survivor series match and even Sasha finally getting the win over Asuka for the first time ever and of course; seeing all the legends show up for Undertaker and all their story connections with the Deadman over all these years. Of course, there are things that I didn't like. For instance, a Survivor Series tie? I know in technicality, RAW won since Miz won the preshow match but, when does WWE say that the pre-show counts with those results? We also all know that Lashley was going to win, at least that they gave us some laughs with the tripping. It was still a good show though, stories made sense with Drew and Roman, Sasha and Asuka, the teams trying to work together and others falling apart. All in all, it was a good show to end on and for now… because Vince has a way of talking… this is Undertaker's Last Ride.