Adam's UWN PrimeTime LIVE Ep. 8 Review 11-3-20
Corona mixes up some of the UWN World Championship tournament matches! Fill ins, different match ups and helpers we haven't seen on UWN so far. How'd it all play out?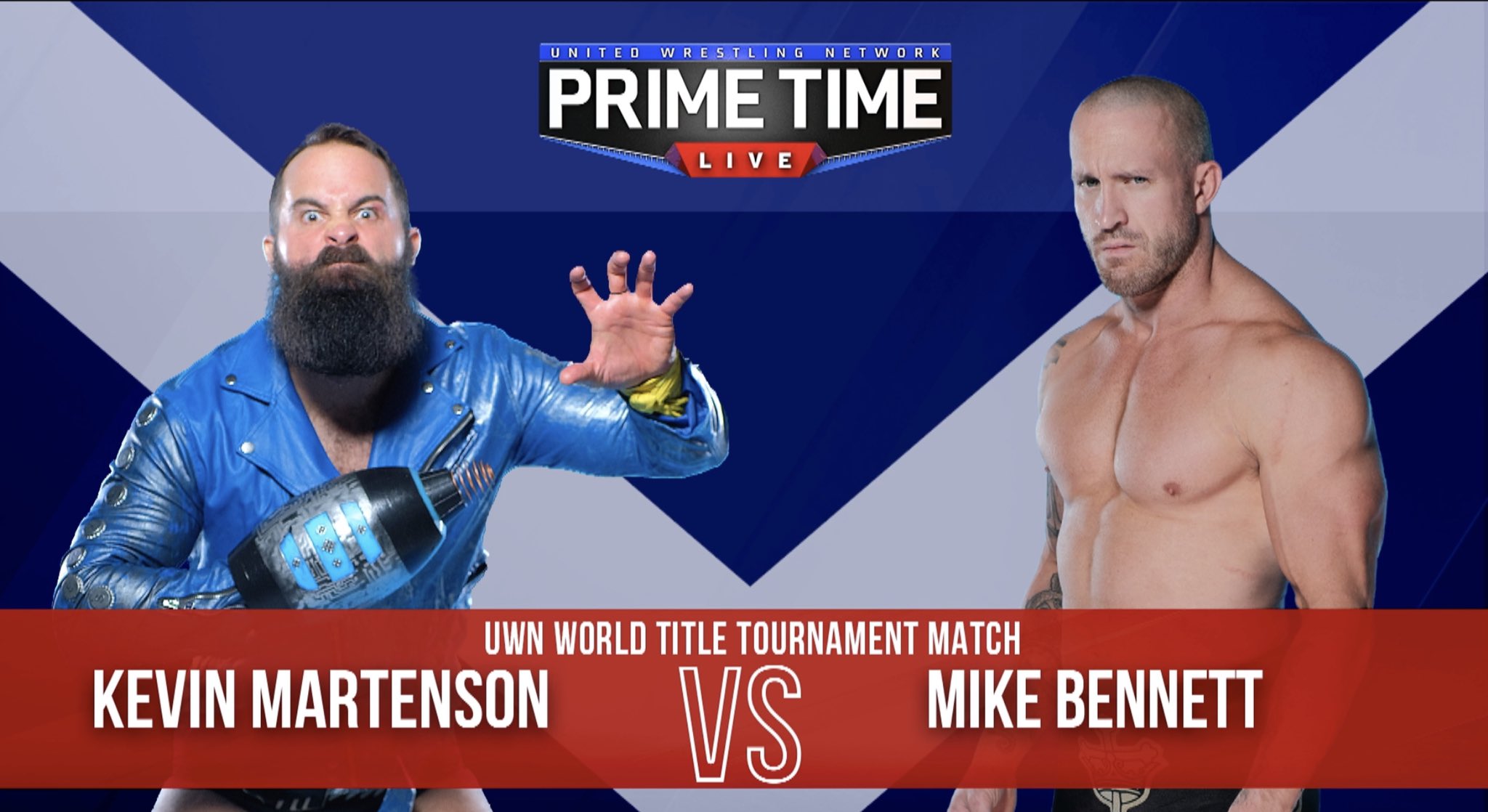 UWN rolls on with their World Championship tournament in the first round with such names as Fred Rosser, Erick Redbeard, Mike Bennett and others being announced. Sadly, there needs to be replacements with the first rounds now with the pandemic still going on.
So let's see who they have gotten to try to become the Inaugural UWN World Champion.
Results:
Fidel Bravo vs Lio Rush: Lio Rush wins via Final Hour – **
Fred Rosser vs Erick Redbeard: Rosser wins via DQ – ** ¾ –  Rosser Advances
Heather Monroe vs Miranda Alize: Monroe wins via Michinoku Driver- ** ½
Rocky Romero vs Shawn Daivari: Daivari wins via Roll-Up – *** ½  –  Daivari Advances
Kevin Martenson vs Mike Bennett: Bennett wins via Hail Mary- ***  – Bennett Advances
Review:
Fidel Bravo vs Lio Rush
Lio Rush comes out during the announcement of competitor changes for the UWN Tournament and puts whoever wins the championship on notice since he is not one of the competitors. The match starts after the proper intro and trying to get the match started off the bat, not losing control from the start. After slapping Bravo in the face, Lio's hubris gets the best of him for a minute and momentum goes to Fidel Bravo, almost getting a pinfall but, Lio misdirects Fidel in the ropes and takes control again, getting cocky once again. Lio Rush gets a full head of steam, tornado Enziguri, quick rolls and flips and trying the Final Hour Frog Splash but misses. It doesn't slow Rush down though with rapid kicks and knockouts to Fidel Bravo and looking at the clock, hitting the Final Hour.
They announce the changes to the UWN Tournament. Chris Dickinson still advances but Fred Rosser goes to the other side of the bracket to face Erick Redbeard instead of Watts. Kevin Martenson will replace Davey Boy Smith Jr and a brand new match up has to be announced for the fourth match. Shawn Daivari will face Rocky Romero in a first round match up.
Fred Rosser vs Erick Redbeard
So here on WWE Main Event, Erick Rowan will take on Darren Youn—oh… ahem. Let me correct myself. Erick causes Rosser to go and powder out to get a feel of how to take it to Redbeard. After putting a headlock on and failing some shoulder tackles against the big man, Erick takes over. Rosser gets a small advantage, taking it to the big man's legs to get some offense in but it slowly fails as Erick takes over with his intimidating offense. After Redbeard gets some damaging offense, he does one mistake and misses in the corner, losing the momentum of the match as Rosser takes it to Erick as much as he can, getting the big man down for a moment. Erick gets more offense started, Side Effect and Spinning Leg Lariat with a near fall right after that heavy offense and yelling at the ref, shoving him. Since he shoved the referee, Redbeard gets disqualified and Fred Rosser advances.
Aftermath: Redbeard gets infuriated and dismantles Fred Rosser after the match for getting disqualified and attempts to shatter the arm of Rosser following the match.
Heather Monroe vs Miranda Alize
The match begins with Alize messing with Monroe's hair and taking it to her technically. Both women getting lucha offense against each other with springboard arm drags, quick pins and Alize even doing a Tijeras into a La Magistral just to no avail as they get back to even ground. Heather gets some offense started but her cockiness getting the better of her and losing the momentum and taking it to Heather Monroe with mind games and physical beat down. After more and more back and forth, Heather gets a slight advantage and catches Alize in a Michinoku Driver after Alize is sent to the ropes.
Rocky Romero vs Shawn Daivari
I… would lie if I said this didn't excite me to see as a REPLACEMENT of all things but, Daivari will face Romero and I am so happy about this. Daivari showing he still has it in the early goings with his power but Rocky picks up the pace and takes over with the speed and wit. Both men doing a lot of back and forths, Daivari hitting hard and going for the back of Rocky but, Rocky taking it to Shawn's shoulder. Rocky putting Daivari to the corner for some Lariats that look like they will go on Forever but Daivari moves out of the way after the second and does a lariat of his own to make them both go down and go to the ramp. Daivari goes to do more back damage to Romero but gets counter into a Sliced Rocky to the outside ramp but still kicks out once they both get back in the ring. Rocky goes for another Sliced Rocky but, going to the well too many times and gets caught, hitting the post and gets rolled up. Former X Division Champion defeats the former IWGP Junior Heavyweight Champion.
Kevin Martenson vs Mike Bennett
There is no give between both of these men, nobody getting an early advantage going from the ring, to the ramp and back in, nobody getting an advantage until Bennett gets some steam going. After taking Martenson to the outside of the ropes and taking Bennett's legs out from under him and more back and forth outside of the ring between the two. Bennet gets the advantage again with a Death Valley Driver on the ring apron and Spear, setting up the Hail Mary Piledriver but gets his legs taken out and gets two  Stomps, one Mushroom Style and the other across Bennett's neck. Instead of going for a pin, Martenson goes for possibly a third stomp from the top but tricks Bennett to put his legs up, putting him in a Sharpshooter on the way down. Martenson has to let go because of his back but still fighting, getting more near falls against Bennett with a massive brainbuster and hitting a suicide dive and trading punches with Bennett after the fact, looking for an Avalanche Brainbuster to the ramp but pushed off the ropes. Bennett capitalizes on the opportunity with another Spear and finally getting that Hail Mary to advance to the next round.
Overall Score: 6.5/10
Well, COVID strikes again with replacements in the tournament. As much as I wanted to see Davey Boy going wild against Mike Bennett, the Romero and Daivari matchup was a great surprise and a great match up. Next week, those semifinal matches will happen along with the NWA Tag Team Championships being defended with The Question Mark and Aron Stevens getting their match against Eli Drake and James Storm. Will we see new Tag Champions within the National Wrestling Alliance or will the two Dummies be Sorry 'Bout Their Damn Luck?
We'll see next week on UWN PrimeTime LIVE!