Chairshot Classics: Impact Wrestling Homecoming 2019
Harry takes us on a few, more recent Impact Wrestling classics. He lends his experience to this new look Homecoming PPV! How does it stack up?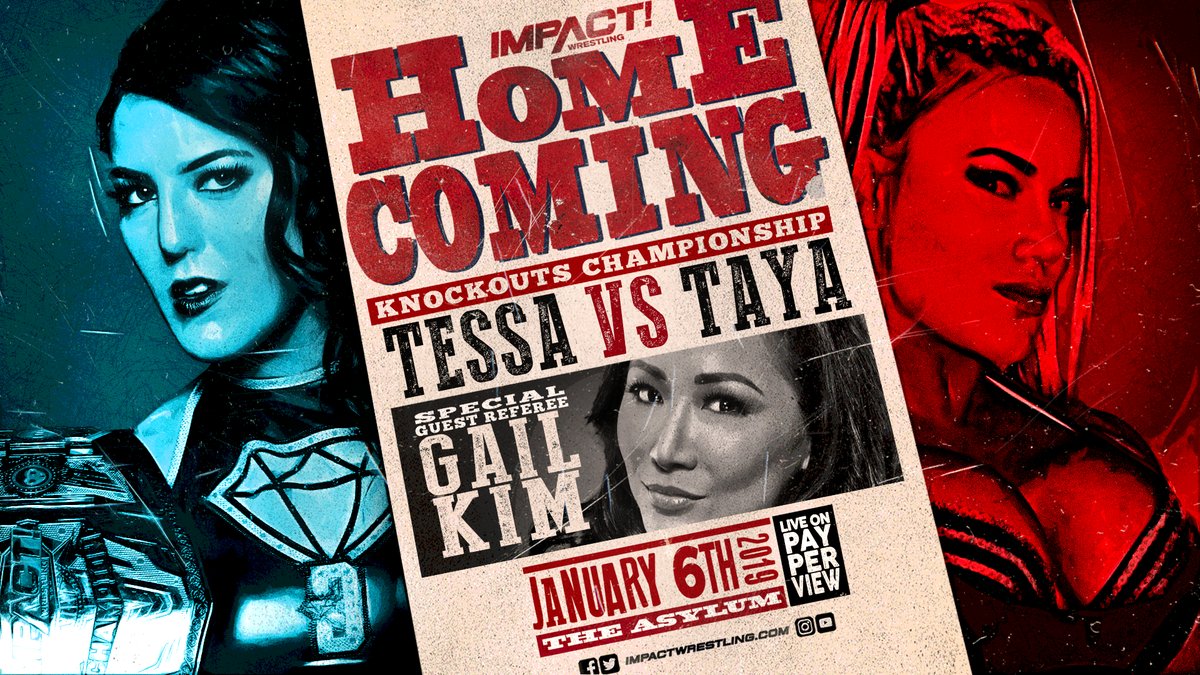 Harry takes us on a few, more recent Impact Wrestling classics. He lends his experience to this new look Homecoming PPV! How does it stack up?
Welcome back into 'What I Watched', everyone. As you all know, Rebellion has come and gone from Impact Wrestling. Andrew does an excellent job of covering the show, which you can see (HERE). The idea for 'What I Watched' was to cover the PPV prior to Rebellion as a way to get everyone hyped for the show. Thankfully, the United We Stand review going up when it did basically served that purpose. Now, I get the chance to take my time and give Homecoming a fair and honest shake as opposed to the rush job that would have had to happen to get it up in time. As far as where 'What I Watched' goes from here…obviously back to PROGRESS for Chapters 6 and going forward. Chapter 5 is already in the queue as discussed before. Having subscribed to IWTV (Independent Wrestling TV) for the time being at least, I now have access to new CHIKARA, Glory Pro, Black Label Pro and much more. Plus classic independent wrestling shows as well. The Club WWN thing is still in the planning stages as well, though that may be a tougher nut to crack.
That brings us to why we're here today. As mentioned, Impact Wrestling had the Rebellion PPV on the 28th of April. As has been the tradition of 'What I Watched', I usually look at the PPV before it to see what they need to improve and what stood out from the prior show. I honestly don't remember anything about the card for Homecoming since I've been focusing on looking at the build to Rebellion as well as my coverage of 'United We Stand'. All this said, it's into the way back machine where we head to January 6th, 2019 as 'What I Watched' presents Impact Wrestling's 'Homecoming' 2019.
WRITER'S NOTE #1: My reviews will not be a play by play recap. I've done that style in the past and honestly, I don't especially care for it. Instead, it'll be more of a stream of consciousness review as I talk about the wrestlers, the matches, the storylines and whatever else happens to pop into my head while I watch.
WRITER'S NOTE #2: As much as I'd like to let everyone make their own decisions on the matches, giving away match results in the review will be a necessary evil. The reason being is that I will discuss what I think everything means going forward and maybe even doing a little fantasy booking of where I would go from where they presently are. I will still post the results as one big listing at the end of the articles as well as my ratings for the contests. The final show review will be after that as well as the 'Final Reaction' for the show. If you are interested in reading any of my previous reviews here at the Chairshot, feel free to click my name at the top of this article to go to my archive of posted material.
MY RATING SCALE: Excellent, Very Good, Good, Above Average, Average, Below Average, Bad, Very Bad, Terrible and SKIP. Some matches will occasionally get a 'N/A' rating as well. That will be reserved for matches that I feel don't warrant a rating.
Impact Wrestling: 'Homecoming'
From: The Asylum in Nashville, Tennessee
Date: January 6th, 2019
Run Time: 2:50:01 (Impact Plus (the new GWN)
*GENERAL NOTES: The nostalgia is strong with this show. I can remember watching some of the early TNA weekly PPVs, so for them to be back where it all started almost seventeen years later is quite the feat. Looking forward to see how much of the history of the building comes into play and if they bring in any blasts from TNA/Impact's past…the building looks really well set up and most importantly, full.
*COLD OPEN: Narrated by Johnny Impact. It's not bad. I think I liked the Bound for Glory narrated by LAX more but part of that is LAX comes off as more themselves, where as Impact comes off as playing a character most of the time. Still a nice way to look back at days of TNA past. It does a pretty good job of letting us know a good portion of the card for tonight.
*Match #1: 'Ultimate X' for the vacant 'X Division' Championship- Rich Swann vs. Trey Miguel vs. Ethan Page vs. Jake Crist
The Who: Rich Swann is the former WWE Cruiserweight champion, After personal issues, he left the WWE and ended up in Impact where his wife also is. He defeated Dave Crist to get into this match. Trey Miguel (just Miguel in Impact) got here by beating Trevor Lee. He's one third of the Rascalz as Wentz (Zachery) and Dez (Dezmond Xavier) came out to the stage with him but then went to the back. Ethan Page beat his mentor (and the man he teamed with back at Bound for Glory) Matt Sydal to qualify here. Still doing the 'Third Eye' gimmick here, he has thankfully since dropped that and gone back to the much more familiar 'All Ego' Ethan Page. Jake Crist got here by beating Willie Mack. He's one half of Irish Airborne and (at this point) was one third of oVe (Ohio Versus Everything) with his brother Dave and the leader of the group who we will probably see later in Sami Callihan.
The Why: Brian Cage was the X Division champion, however he cashed in that belt for this opportunity at the Heavyweight title later tonight. On the road here, the four men listed above had the qualifying matches where they advanced to compete for the title in 'Ultimate X'. I believe they used the same format back in 2012 when Austin Aries cashed in his X Division title for a shot at Robert Roode's heavyweight title and I want to say that DJ Z (Zema Ion) won the title in that 'Ultimate X' match.
The Match: Having just watched the one at 'United We Stand', I'll be curious to see how it compares. I know I'm not supposed to compare one match to another, but it's human and reviewer nature to do so…opening bell goes here…Ethan is a little big by X Division standards. Doesn't really wrestle the X Division style either. But I like him as a character and a performer so I wouldn't have been opposed to him winning here…opening sequence is everyone rushing the belt and then dropping off into frankensteiner when they can't get to it. Different way to start, I suppose…well, that'll work. Page body slams Miguel off the top onto Swann and Jake…admittedly choreographed sequence with all the kicks, but the fans liked it…Josh announces that the X Division title went into abeyance when Brian Cage got his opportunity at Johnny Impact later. Man, they sign all the former WWE people…double cutter by Jake to take down Swann and Miguel…showstopper elbow off the cables by Page. Damn, son. Prove me wrong why don't you…Swann catches Page with a beautiful handspring cutter. His reward for doing so is a double stomp to the back of the head by Trey…so, one cool thing about this match is the guys using the cables to amp up their moves. Does it make a bit of sense? No. But it's visually impressive and that's also part of the point of wrestling too…someone needs a Heel Section sign in that crowd…did someone just grab a ladder? That seems moderately unsporting in this match…Trey uses Swann as a projectile off the Ultimate X holder and does a moonsault off it himself. Again, visually impressive and took out all three opponents…different take on the Tower of Doom…just noticed that the ref is 'Kid Ref' Kris Levin…Tombstone on the floor. Fuck that noise…Crist tries going across the cables and Ethan spears him off. The one at United We Stand looked better though…leap of faith (Jigsaw) style 'rana by Swann. Miguel tries to return the favor but Swann lands on his feet and races to the other side. He travels down the cable and right as Trey tries to reach out to him, Swann grabs the belt to win the match at 14:01…well, as I said, it'll be hard not to compare this to the 'Ultimate X' match we had at United We Stand. While I thought that match was a better athletic display, I think this one tells a better story with all four men being first time competitors in this match type. Ethan Page impressed me the most with the way he adapted his style to the 'Ultimate X' playground. However, I can't be mad at Swann getting the win here as he's one of the better Jr. Heavyweight or Cruiserweight wrestlers in the world. Call this one GOOD but a slight step below the 'Ultimate X' from 'United We Stand', in my opinion.
*Announcers run down the card. Don Callis attempts in vain to keep his cowboy hat in place. The card itself looks pretty good. There isn't a match here that looks like it'll be bad. Impact has had two good PPVs prior to this so they seem to be in good shape to keep that run up…we then go backstage to a Brian Cage interview with McKenzie Mitchell. Cage isn't the best promo but when you look like he does, you don't have to be. Mitchell isn't a bad interviewer, but this would have been a good opportunity to go into the Impact past and bring back someone like Goldilocks here.
*Match #2: Allie/Su Yung vs. Jordynne Grace/Kiera Hogan
The Who: Allie is the former Cherry Bomb on the indies and is a former Impact Knockouts champion. Su Yung is a former champion as well, having lost the title in between the Slammiversary and Bound for Glory PPVs last year. Jordynne Grace is making her Impact PPV debut here, but had been on quite the roll in the company up to this point having not lost. At this point in time, she may be the most sought after female talent on the indies. Kiera Hogan, I honestly don't know much about. I'm starting to go back and watch some of the SHIMMER and SHINE shows, but she's the wild card here to me.
The Why: Allie was feuding with Su in an attempt to save her friend Kiera, even traveling to the Undead Realm to rescue Kiera when Su abducted her (it's Lucha Underground rules at Impact these days). However when she did, she made a deal with Father James Mitchell to get into the Realm at the expense of her soul. A darker and more vicious Allie began to emerge and she eventually sided with Su against her former friend. That led to Jordynne making the save for Kiera during a two on one attack and thus bringing us to this tag match.
The Match: Knowing what we know now (Allie has since left Impact Wrestling and signed with AEW), I feel like Jordynne pinning Allie would have been a good way to announce Jordynne's arrival into the upper tier of the Knockouts division. As they say though, hindsight is twenty-twenty, so let's see what did happen…what the sam hill is Kiera wearing? Did she steal Natalya's side gig as a dominatrix?…Josh: 'Is Jordynne Grace the most powerful Knockout you've ever seen?' Me: 'Not in a world where Awesome Kong existed. But she might be second'…I like Jordynne. I am happy to report that she would eventually take her place in said top tier of Knockouts, getting the title shot at the next PPV. Su is a strong character but I'm not sold on her in-ring work. Allie, I like and I always have. But she's now part of AEW, so I guess that's irrelevant around Impact these days…opening bell goes here…Grace goes for a powerbomb to open the match. Yeah, I got nothing for that…a snapmare into a sliding clothesline is a much more appropriate opening spot however…tags made on both sides…Kiera's dropkick does not look good…the hip attack and sliding kick do look better though…lengthy distraction sequence leads to Su pulling Kiera into the buckle…Dark Allie and Su take over at this point…man, Allie has quite the ass (I'm a guy, sue me)…tree of whoa neckbreaker by Su looks really nice. She's gotten better in the ring in the several years she's been doing this…good double team work by Allie and Su with the Arachnidrana into a lungblower…neither Kiera nor Su throws a good looking strike. Even the forearms look like they wouldn't break a piece of paper…Jordynne's strikes look much better…I actually think Kiera's gear may be actually be a Harlem Heat tribute. Just saw the flames on the back. Wonder if she broke into the business at Reality of Wrestling…double team suplex and cross body to the floor. Give Su credit, that is a hell of a bump, even with the mats…Allie goes to the eyes and Kiera tags herself in. Allie takes advantage of that, but Kiera catches a swinging fisherman's suplex…Jordynne with a fall-forward slam to Allie at the same time as she powerbombs Su…Su mists Jordynne sending her to the floor. Allie catches Kiera with a Codebreaker. Instead of going for the cover, she crawls over to Su and gets the glove that Su has used for the Mandible Claw in the past. Allie then applies the Mandible Claw herself on Kiera and the referee notes that Kiera is out, calling for the bell at 8:52…better then I thought it would be, but it wasn't anything you need to see either. Su is much more sizzle then steak and while Allie isn't a bad worker, she's nothing to write home about either. Jordynne has the potential to be something special down the line and while Kiera is getting better, she's by far the lowest of the four on the totem pole. Again, knowing that Allie would soon be gone, I think I'd have given the win to Jordynne and Kiera here, but all in all, it's an AVERAGE match with a strong finish due to the mind games that Su has worked on Allie.
*Post match- the attack on Kiera continues and it leads to the Undead Bridesmaids bringing a casket onto the stage, much the same way Madison Rayne found herself inside of it at Slammiversary…Su grabs Kiera and sends her toward the casket, calling for it to be opened. When it is opened, Rosemary pops out. It would be the first time we've seen Rosemary at ringside since she tore her ACL back in early 2018…Rosemary lays out a few of the Undead Bridesmaids before throwing a charging Su into the pack…Rosemary and Allie come face to face and Rosemary goes for the 'bunny pat' but Allie slaps her hand away and escapes the ring.
*Match #3: 'Falls Count Anywhere'- Moose vs. Eddie Edwards
The Who: Moose is a former NFL player who has made the transition to wrestling, first stopping at ROH on his way to Impact. Eddie Edwards is, well at this point, a crazy person. He's also one of the few who can claim they are an Impact 'Grand Slam' champion, having held the Heavyweight, X Division, Tag and Grand Championships for the company.
The Why: This match was supposed to happen at Bound for Glory, but Killer Kross got involved at ringside and the match got turned into a tag match between Kross and Moose against Edwards and Tommy Dreamer. That didn't settle the score and Impact management has given them a 'Falls Count Anywhere' match here to hopefully settle their differences once and for all.
The Match: Video package before as is the norm and man, that powerbomb onto the ramp had to hurt like hell. Screw that noise…they put Eddie in a mental asylum. The irony of that is there have been times where Impact's booking has made me feel like I should be in one of those myself…Raven being used in the build makes sense though, given that they are in the Asylum for this show…Moose makes his entrance and Eddie jumps him in the aisle way, giving us our opening bell…Josh calls Eddie a 'loose cannon'. Let's not go throwing that around so flippantly, shall we?…that plancha looked really awkward…the suicide dive catch into the apron powerbomb looks a lot better…and that's a double your pleasure moment…Moose uses the ring steps (one piece ring steps) to bridge a guardrail off the side of the ring. This probably ends poorly for someone…if at first you don't succeed, suicide dive again…weekly PPV flashback time as they begin to brawl all around the Asylum…start my own 'I can't see shit' chant at this point…we finally catch up as they make it to what used to be Raven's Nest…plancha out of the Nest by Edwards. Nice move…Josh points out that 'Anarchy Rules' in the Asylum. Don's microphone goes silent for a bit as I assume that popped him…Edwards is on those 'red equals green' types. For the second time in a big singles match at a PPV I've covered, he's busted open…Edwards chair chucks at Moose twice, hitting him in the head both times. Sabu wouldn't show back up until 'United We Stand', so someone had too…superplex into a chair stack…strike exchange and it actually looks good. Both guys are very believable strikers…and Moose goes through the guardrail. Well, it is Wrestling 101. 'He who sets it up usually goes through it'. Usually works for tables, but I guess guardrails bridged like a table works much the same…it's Falls Count Anywhere, Eddie. Just pin him there…kendo stick shots to the quad. That's such a jerk move…Eddie's wife Alisha comes down and pulls the kendo stick from him, yelling that it's enough. She then proceeds to beat Moose with the stick herself. When in Rome, I suppose…Edwards gets in one last shot himself that splinters the cane. Eddie follows up with a double arm DDT and that's three at 13:20…so, I'm a little torn here. The match itself was very good. Exactly what it needed to be with the physicality and Edwards finally able to overcome the size disadvantage to stand tall. I don't care for the ending. I get that Moose has been mean to Alisha as well as Eddie, but her going off on Moose with the cane seemed like she took Eddie's moment to me. I'm still going with a GOOD rating here, but I think it's higher if Alisha isn't involved.
*Sami Callihan promo to get us to the next match, which will be Callihan vs. Willie Mack. Callihan delivers his usual strong promo here, but for as much as I like Willie Mack, I can't help but feel like Sami is underutilized here.
*Match #4: Willie Mack vs. Sami Callihan
The Who: Willie Mack made his Impact debut right around Bound for Glory last year, where he teamed with Rich Swann to beat Ethan Page and Matt Sydal. Sami Callihan had my best match of 2018 in Impact with Pentagon Jr. at Slammiversary. Sami was also voted Impact Wrestler of the Year and for those more into the WWE, was briefly known as Solomon Crowe in NXT.
The Why: Guessing it goes back to Jake Crist beating Willie Mack to get into the 'Ultimate X' match. Willie wasn't cool with that after Sami cost him the match and went after Sami, despite Rich Swann telling Willie that Sami isn't a war worth fighting.
The Match: Sami makes friends with everyone around ringside before eventually yelling at Don Callis. Who does he think he is, Austin Aries?…as soon as Sami gets into the ring, Willie charges in with a clothesline and an opening bell…Willie with a tope con hilo and lands on his feet. I'll point out at this time that if you aren't familiar with Willie, he also weighs about three hundred pounds. That's insane agility for a guy his size…weird to see Mack controlling the opening part of this match. I do like he's getting the chance to showcase some of his moveset…Willie decides to go after Dave and it turns the tables to put Sami in control…bicycle knee while Mack is trapped in the apron. Unique offense…that's just fucking gross, Sami…pretty lengthy rest hold here. Not what you'd expect from these two…jaw-jacker by Willie to escape another sleeper. Not the Stunner he was using back in Lucha Underground though…that Samoan Drop->nip-up->standing moonsault combo by Willie always impresses me. An incredible blend of strength and athleticism…jesus, that cannonball…Stunner attempts gets countered but Mack catches the Sky-High (called such by Matthews) for a close two…speaking of bicycle knees. (Callis cant help but call it the 'V Trigger')…Mack does get the Stunner but Callihan is able to get a foot on the rope. Mack to the top but while Sami has the ref, Dave Crist distracts Mack long enough for Sami to get over and bring Willie down with an avalanche DVD…for a ONE COUNT! DISRESPECTFUL!…burning lariat gets another one count…fans rally behind Willie as Sami lays in strikes. Willie tries a lariat of his own, but it's ducked and Sami turns him inside out with another burning lariat. Callihan then catches Mack with a piledriver (Memphis style) for the three count at 10:20…there we go. Leave it to Sami to once again deliver. I'm not going to say excellent, because I don't think it's long enough to justify that. That being said, it's one of the better ten minute matches I've seen. I'll go with a VERY GOOD here and these Impact PPVs just keep killing it.
*Eli Drake interview with McKenzie Mitchell here about Monster's Ball up next…forget the promo for a second here…how did Impact let this guy fall so far? Yes, he's not exactly great in the ring, but the guy has the kind of promo skills that can carry a company. For the longest time, he did carry the company. I get the whole 'he was fired because of disparaging remarks about Impact' thing. At the same time, his character at this time is anti-Impact Wrestling management. There's nothing there that couldn't have been worked out. Honestly, I would not be surprised to see him signing with AEW or the WWE by the time people are reading this if not shortly thereafter.
*Match #5: Monster's Ball- Eli Drake vs. Abyss
The Who: Eli Drake, I talked about just above. Former Impact world champion and while he's not anything special in the ring, he can talk them into the building. Abyss is the most homecoming of all the people at this show as he broke out as Abyss here in the Asylum in the early (ish) days of TNA. He was even on the first weekly PPV for TNA as Prince Justice (though that wasn't here in the Asylum. That was in the Von Braun Center, I believe)
The Why: Eli has been speaking out against hardcore wrestling. Who better in TNA/Impact world to defend it then Abyss? There was also the whole Abyss put Eli through a table with a Chokeslam at Bound for Glory situation too.
The Match: Eli brings out what looks to be an ore as weapon. Why the hell not?…and yet again, another jumpstart as Eli attacks Abyss before the opening bell at…Abyss throws his jacket at Eli and misses, but Eli catches it in time for continue what they had planned. That's a professional…Abyss has a staple gun. Eli tries a sunset flip. This goes about as well as you would expect for Eli…we're almost two minutes in and Eli still hasn't gotten his ring jacket off…Abyss sets up tables and goes for a Chokeslam but Eli goes to the eyes…they then begin brawling into the crowd which would have been a lot more effective if Eddie and Moose hadn't done it less then an hour ago…traveling case as a weapon. That works…Eli calls himself the 'last of a dying breed'. Well, he break into TNA with Eddie Kingston…JESUS! Overhead belly to belly from the ring to the floor through the tables! That's a dummy no for Eli…and Abyss has the thumbtacks…Abyss calls for the Chokeslam but Eli escapes. Drake gets a handful of tacks, but Abyss ducks and Kid Ref takes them in the face. With Levin being attended to, Abyss hits the Black Hole Slam, but there's no zebra to count, despite the crowd's best attempt…corner charge attempt by Abyss meets a chair that was placed there I think at the start…Eli has a chair. Abyss has Janice. Eli proceeds to beg before a gut shot with the chair. Eli tries to use Janice but Abyss catches Eli in a goozle and this time, it is the Chokeslam into the tacks complete with full 'FML' face from Eli…jesus christ, his back is a pincushion…face full of tacks to Abyss this time and Eli tries to use zip ties. That does not work, so instead it's a series of chair shots. I lost count around 10…it was an attempt at the Rock-Austin Mania X7 finish but Abyss out at two…Eli grabs the paddle (the thing I thought was an ore) and breaks it over Abyss' head. That's your three count at 12:12…by Monster's Ball standards, it was a little tame. Having the Falls Count Anywhere match earlier in the show may have taken some of the shine off it as well. That said, I enjoyed the match. I thought Eli looked really good here and for as long as it's been for Abyss to be a regular competitor in Impact, he more then held his own. Eli getting the win here made sense too because you could use it to springboard him back up the card (which they kind of were going to with Eddie Edwards before Drake got fired). Neither one of these guys is still with the company, but it was an ABOVE AVERAGE match to go out on.
*Killer Kross promo backstage with McKenzie Mitchell…and his promo ain't make a damn bit of sense. He seemed to still be channeling his Lucha Underground Rabbit Tribe gimmick then anything that checks inside of Impact. He does call out Johnny Impact and hopefully, that's not foreshadowing his involvement in the main event.
*Match #6: Impact Tag Team titles- LAX © vs. Lucha Brothers (Fenix and Pentagon Jr.)
The Who: LAX (Ortiz and Santana) come into this match after having successfully defended their tag belts at Bound for Glory in the 'Concrete Jungle' match, teaming with Konnan to beat the original LAX of Hernandez and Homicide along with Eddie Kingston. Lucha Brothers come into this on a PPV losing streak for Fenix, as he dropped the fall in the four way at Slammiversary and alongside Brian Cage and Pentagon Jr., they were bested by the Crist brothers and Sami Callihan at Bound for Glory.
The Why: LAX wanted to know if they could beat the Lucha Brothers. Sometimes, you don't need a complicated story. Just a battle for respect.
The Match: I really didn't feel the need to the talk about the who much here. I'm actually debating dropping that going forward. I can talk about people here on the match section and for some of these people, the who becomes very redundant…having watched Rebellion live, I know what they did in the match that followed this. I'm curious to see how this goes without the stipulation to guide it…then again, Pentagon Jr. might just have been the hottest wrestler in the world at this point not named Becky Lynch…Josh and Don do bring up a valid point going into this match as LAX is not accompanied by Konnan. The last time they had a PPV title defense not with Konnan, they lost the tag belts. Though Josh and Don don't name who, the answer is Eli Drake and Scott Steiner…there is a sign at ringside they keep showing that does make sense. "LAX vs. Lucha Brothers. Los Ganadores: Nosotros". Despite my limited knowledge of Spanish, the sign translates to "LAX vs. Lucha Bros. The winners: All of us" or something similar…opening bell here…and the opening double team starts just about a minute into the match. If I'm the referee here, it's Lucha rules. Let them go balls to the wall. Everyone wants to see it, why the hell not?…double stomp powerbomb combo lands Santana square on the back of his head. Oops…man, Fenix eats shit to the floor…once Santana is able to cause shit-eating, LAX brings the double teams. I go back to what I've said before. I think LAX is one of the top three best tag teams in the world when it comes to double team work. I'd also put the Lucha Brothers either in the top five or really close to it…Ortiz with a tope con hilo of his own and almost eats it into the barricade. The adrenaline is flowing for all four guys to start this one…top rope Asai Moonsault by Santana. Yep, balls to the wall…I don't even know how to describe some of the double team work in this match…what the hell was that? Like an overhead throw assisted suicide dive by the Lucha Brothers. That's a new one for me…you get a tope, you get a tope, you get a tope. Everyone gets a tope…your referee is Brandon Toll. Or as he's known for this match: 'that poor bastard'…360 kick by Fenix sets up a Codebreaker with double stomp combo…that's it. I'm out. I got nothing. Top rope splash by Ortiz on Fenix. He goes the cover which Pentagon Jr. breaks up with a double stomp. Pentagon Jr. goes forward from that double stomp into a Canadian Destroyer on Santana as well…and a near standing ovation breaks out from it…that whole exchange looks cool but comes off really choreographed…double stomp Fear Factor lands this time but Ortiz throws Fenix into Pentagon to break up the count…Fenix is the man of 1000 double stomps. This one breaks up the cover after the Street Sweeper. He came from completely out of camera range to hit it, which did make for a nice visual…shortly after the breakup, Pentagon Jr. rolls out to the floor, leaving Ortiz and Fenix in the ring. Santana gets the tag and a series of moves that I don't try to describe leads to a double team chicken wing into a facebuster that gets the three count at 11:31…exactly what I wanted from this match. I'd put it as good as the 'Full Metal Mayhem' match they'd go on to have at Rebellion. This match here though had none of the toys to work with that match had. Instead it was just four dudes going out there and busting their asses to entertain the fans in attendance and the paying audience at home. A VERY GOOD match here but given the four, that's probably not that much of a surprise.
*Post-match: Konnan comes out and puts over all four guys as well as the building itself. Josh wants to see more and we would.
*McKenzie Mitchell is now backstage with Gail Kim, who has quite the little referee outfit on. If I didn't know better, I'd say Gail may have had some work done…Gail mentions everything that's been going on with Tessa and says that she's here to call it down the middle to make sure the right women is the Knockout's champion.
*Match #7: Impact Knockouts title- Tessa Blanchard © vs. Taya Valkyrie with Gail Kim as the special guest referee
The Who: Tessa Blanchard is the current champion and is a third generation wrestler (Grandfather is Joe, father is Tully). Taya Valkyrie is still relatively new to Impact at this point but was a key player in Lucha Underground. Gail Kim is the most celebrated Knockout in TNA/Impact history. However, she's been retired from wrestling (as a competitor) since Bound for Glory 2017.
The Why: Tessa beat Taya at Bound for Glory, albeit under some controversial circumstances with a referee paying more attention to a ring apron than to Taya's pin after the Road to Valhalla. Taya was granted the rematch and Tessa began disrespecting everyone, referees and staff alike at Impact to the point where Gail Kim stepped up and said she'd be the referee for the rematch here at Homecoming.
The Match: Let me first say that I don't dislike Taya. I'm just not a huge fan of hers. If I had to sum it up with one word, it would probably be indifference. That's not a good thing. My adoration of Tessa is well documented by this point and I don't wish to expand…the cameraman for Gail's entrance is getting fired…crowd seems pretty evenly split here though…Gail and Tessa get into a verbal spat before the opening bell. Let's go ahead and telegraph this one way out in front, why don't we…opening bell here…and the opening collar and elbow looks awkward. Not a great start…most of the Lucha sequence that follows looks good, until a mess is made of a tilt-a-whirl head scissors attempt. Not on the same page at the start of this one…it has been the night of the double stomp. Taya with a standing one to Tessa's back…DDT onto the apron turns the table, though…the Survivor schmucks they showed earlier (I did not make mention of it) have a "Dicks Out 4 Taya" sign. The fuck is wrong with you morons?…basement dropkick into the guardrail by Tessa. Looked vicious…well, that's quite the arm bar…looked like a Zig Zag with the hair there by Tessa…Gail and Tessa goes nose to nose. It leads to Taya fighting back for a brief moment before Tessa regains control…release German by Taya looks good…charging hip attack by Taya leads to the double knees in the corner…Buzzsaw DDT attempt by Tessa is countered nicely into a northern lights suplex by Taya. Tip toe bridge too until Taya rolls back and hits another double stomp, this time to a flattened Tessa…Taya goes for and misses a moonsault leading to a Tessa spear for two…Taya ducks and Tessa drills Gail. Accidentally, but I don't think Tessa cared. Tessa gets the Buzzsaw DDT, but Gail is down so there's no count. Turnabout being fair play from the referee at Bound for Glory…Tessa grabs the belt, but by the time she tries to use it, Gail tries to pull it away from her. A tug of war leads to Gail smacking Taya with the belt as Taya smirks. Tessa demands a count and Gail does, not even looking at the shoulders for two…Tessa shoves Gail. Tessa with a second shove and Gail shoves back into a roll-up for two by Taya. Glad that wasn't the finish…Taya also gets out of the corner trap chestblower. Tessa grabs Gail by the throat, forcing her into the buckle. Tessa takes a swing at Gail. Gail ducks and catches Tessa with Eat Defeat. Tessa stumbles forward towards Taya, who lifts Tessa up and plants her with Road to Valhalla. With no ring apron distraction this time, it's a three count at 10:41…definitely had it's ups and downs. The booking of the match made sense with the story they are trying to tell so I won't be too upset about that. Unfortunately, there was a lot of other moments here and there where they didn't seem to be on the same page that hurt the flow of the match. For as relatively good as I thought their match was at Bound for Glory, this is a bit of a disappointment to me. Call it AVERAGE, but slightly better then the tag match that went on second on this show.
*Post-match, Taya seems to be genuinely happy that she's won the belt. I can't hate that. Tessa looks furious and the stage is set for a Rebellion…we then go to Josh and Don who run down everything that's happened before giving us the Impact to Twitch announcement. The announcers then set the stage for Johnny Impact and Brian Cage.
*Johnny Impact promo, once again with McKenzie. I still say they missed an opportunity with not using old Impact interviewers since they were back in the Asylum…Impact has become a little better at promos but he's still not great.
*Match #8: Impact Heavyweight title- Johnny Impact © vs. Brian Cage
The Who: Johnny Impact is the former John Morrison, of course. He's been the champion since Bound for Glory when he beat Austin Aries. At this point, he was still a baby face as well. Brian Cage was also loved by fans here (and still is). Bound for Glory was not so kind to him as he suffered his first loss in Impact when he was pinned in that previously mentioned six-man tag by Sami Callihan.
The Why: This is an 'Option C' match up, where Brian Cage cashed in his Impact X Division title for a shot at Johnny Impact and the Heavyweight title. To this point, I don't believe Cage had been beaten in a singles match either.
The Match: Cage comes out looking like he found the Gauntlet from Lucha Underground…Josh puts over Johnny during his entrance. Callis then puts over Cage. I think we know who is siding with who here…I feel like Johnny's and Survivor don't mix. Whatever you do, don't bring back Fairplay…opening bell here…Cage snuffs a single leg attempt and it ends up as a stalemate…Impact teases a test of strength before clocking Cage with a kick. Obviously, Impact is going to have to use stamina and intellect here…that was kind of a northern lights. I'm not sure what it was supposed to be but I'm guessing that's not it…fans seem to be leaning Cage but Impact catches a pretty good looking springboard spear gets two for Impact…well, that's one way to turn the match. Cage sweeps the leg and Impact goes back into the buckle before face into the mat…Cage's strength does allow him to combine offense like few can…monkey flip. Because of course Cage does a monkey flip…Impact escapes a power slam attempt and sends Cage into the cover. Leverage is also going to be key for Impact here…Cheeky Nandos! And Callis gives credit to Will Ospreay on the call. Never change, Don! It sets up a really nice looking electric chair facebuster too…Cage going for more of a grounded match then I thought he would. It's like he's intentionally trying to throw Impact off his game…Impact with a big dive to the floor and flushes Cage in the face with his knee! Jesus, Johnny. Fans chant 'TNA' too, so they have been hit with the knee as well…that definitely turns the tide as Impact takes over…Johnny Impact with a discus forearm. He's never been a strike guy though, so Cage takes over almost immediately thereafter…apparently Josh has forgotten that the neckbreaker is called 'Moonlight Drive'…Impact goes for the Razor's Edge Urinage but Cage escapes. Cage goes for the Drill Claw, but Impact escapes. Impact catches some, but not nearly all, of the rope-hang German suplex. Sometimes, I think Johnny's offense is too fancy just for the sake of being fancy…that was a pathetic looking kickout…they are just trading bombs at this point…Impact out of the discus lariat which I believe was one of Cage's primary finishers in Lucha Underground…Impact catches Starship Pain but it's a clean kickout by Cage. I'm trying to remember if Aries kicked out of it at Bound for Glory. I think he did, but I'm not sure…Impact with a top-rope Spanish Fly. For one. Because of course…Cage looking for Weapon X and this time gets it, but Impact gets the rope at the last split second. Maybe even just after what would have been the three. Given what we know now, that moment makes a lot more sense in hindsight…and Cage launches a Survivor douche three rows deep with a shove. Hahahahaha!…Drill Claw but there's no referee as he's dealing with the Survivor schmucks. Referee finally in and it's a last second kickout from Impact. Cage looks for the Cesaro superplex but Impact counters it twice. Impact finally swings around and it's a sort of powerbomb kinda that just barely gets a three count (again, what we know now) at 19:12…the finish was blown to an extent but they recovered it enough to make it work for where it was going. In addition, I could have done without the involvement of the dumb asses from Survivor as well. As far as Impact and Cage alone go, the match was GOOD but never anything above just because it came off kinda clunky. Neither one of these guys is known as a match leader and it showed here as they battled some miscommunications. Middle of the pack match for the title, sad to say.
*Cage is fuming after the way the match ends, grabbing the belt from referee Johnny Bravo. Cage debates what to do before throwing the belt at Impact and storming off. Seems to be a theme around here…Impact slowly makes his way back up as Taya makes her way out to the ring. Fans are booing and I saw a couple water bottles chucked, but the final thing we see are Impact and Valkyrie celebrating their wins and titles…right as I type that Killer Kross jumps Impact. Valkyrie tries to defend Impact and Kross powerbombs her off the ramp into the crowd onto black shirt security (hey, a throwback) and Killer Kross celebrates as the last thing we actually see.
RESULTS
Match #1: 'Ultimate X' for the vacant X Division title- Rich Swann wins 4 way by grabbing X Division title @ 14:01 in a match that also included Ethan Page, Jake Crist and Trey Miguel (GOOD)
Match #2: Allie/Su Yung def. Jordynne Grace/Kiera Hogan, referee stoppage when Allie has Mandible Claw on Hogan @ 8:52 (AVERAGE)
Match #3: Falls Count Anywhere- Eddie Edwards pins Moose, double-arm DDT @ 13:20 (GOOD)
Match #4: Sami Callihan pins Willie Mack, piledriver @ 10:20 (VERY GOOD)
Match #5: Monster's Ball- Eli Drake pins Abyss, series of paddle shots to head @ 12:12 (ABOVE AVERAGE)
Match #6: Impact Tag Team titles- LAX (Ortiz/Santana) © defeat Lucha Brothers, Santana pins Fenix after a double team facebuster @ 11:31 to retain (VERY GOOD)
Match #7: Impact Knockouts title- Taya Valkyrie pins Tessa Blanchard ©, Road to Valhalla after Eat Defeat @ 10:41 to win the title (AVERAGE)
Match #8: Impact Heavyweight title- Johnny Impact © pins Brian Cage, quasi avalanche powerbomb @ 19:12 (GOOD)
FINAL SHOW THOUGHTS
Another Impact PPV, another banger of a show to me. Was it to the level of Slammiversary or Bound for Glory? No. But to expect that on a consistent basis is to set yourself up for disappointment. There are two really good matches that are well worth your time (Sami-Willie and the tag titles) and two others that are almost to that level (Ultimate X and Eddie-Moose). That's half the PPV at GOOD to VERY GOOD or above. You can't argue quality like that.
THE FINAL REACTION
Best Match/Moment: Whoever made the decision to let the Lucha Brothers and LAX go out there and just bust ass. The match itself, officially. But honorable mention to that guy (probably Scott D'Amore). You da real MVP.
Worst match/moment: Dark Allie and Su Yung vs. Jordynne Grace and Kiera Hogan. Wasn't a bad match but was the worst thing on the show. The booking in the main event is the runner up.
MVP: They call him 'The Draw' for a reason. When I saw that Sami Callihan was facing Willie Mack, I was disappointed. I like Willie but Sami has been the best thing in Impact for close to a year now. The match itself was a ton of fun though.
FINAL SCORE: 7/10
The next time I come at you guys with a review will be when I cover "All In" right before the 'Double or Nothing' offering from AEW. After that, my next review that comes to you guys will be PROGRESS Chapter 5, "For Those About to Fight". Hopefully, I'll get some more shows into the archive for you guys as well. I would also hope that you guys will check out the Raw Reaction every Monday night at 11:30 PM (EST) to hear Tony Acero, Andrew Balaz and myself break down the important news and cover Monday Night Raw over on the Chairshot Radio Network.
Chairshot Classics: WWE TLC (2015) featuring Sheamus vs. Roman Reigns
As we approach the 2020 edition of WWE TLC, we look back at one from the past featuring  a very different Sheamus against a very different Roman Reigns!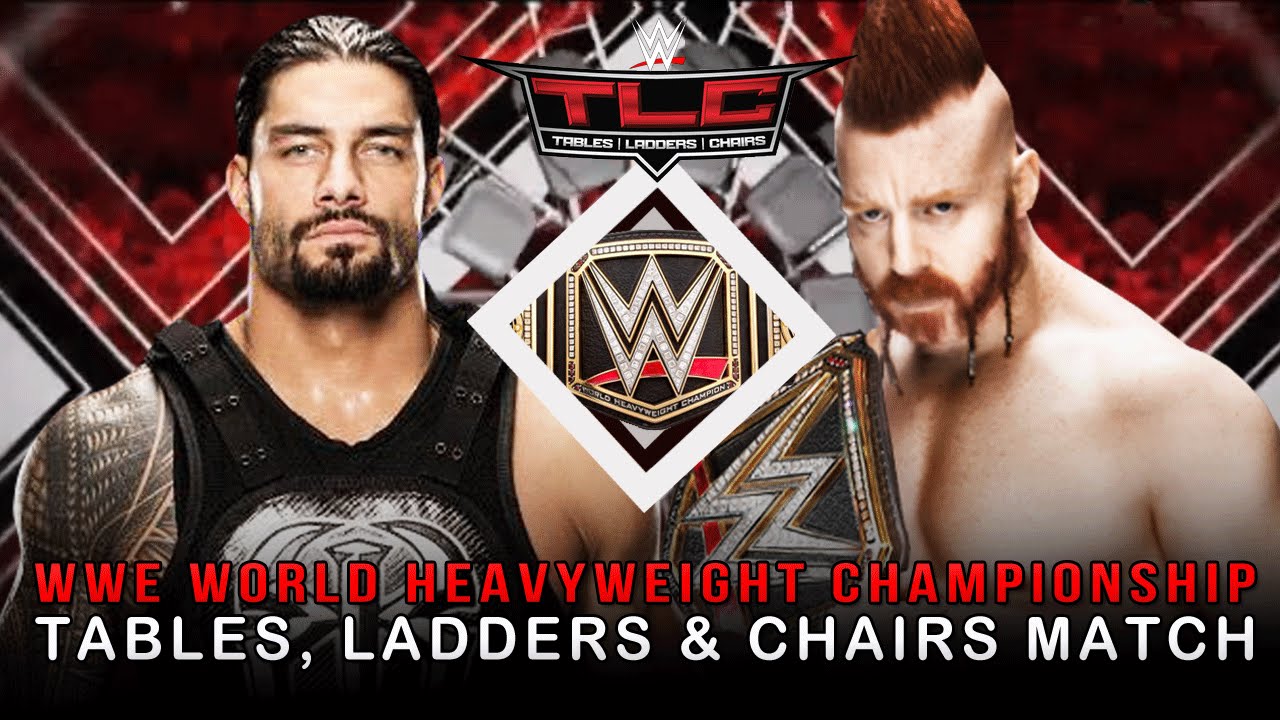 As we approach the 2020 edition of WWE TLC, we look back at one from the past featuring  a very different Sheamus against a very different Roman Reigns!
As we get closer to closing the book on 2018, we're approaching WWE's December pay-per-view TLC, so today we're looking back at one from the past with TLC 2015! After cashing in Money In The Bank on Roman Reigns after a grueling tournament to crown a new WWE World Heavyweight Champion, Sheamus must now face Reigns fair and square in a TLC Match! Let's get into the action…
Kickoff Show Match: Sasha Banks w/Naomi & Tamina vs. Becky Lynch
Collar & elbow tie-up to kick things off, Sasha with a side headlock, Becky counters into one of her own, Banks attempts to roll her away, but Lynch hangs on. The Boss reverses an irish whip to the corner, charges in and scores with a monkey flip into a cover, celebrates a little early and Becky rolls her up for a quick 2. Banks tries to pick the leg, Becky counters and gains a side headlock, Sasha pushing her to the ropes and scoring with a shoulder knockdown for a count of 2. Back to the ropes they go, The Boss tries a leapfrog, Lynch hooks the leg and Banks faceplants into the canvas, The Lass Kicker looking for the Dis-Arm-Her, but Sasha squirms to the ropes to escape.
Lynch tries to slingshot The Boss to the mat, Sasha lands on her feet and connects with a big forearm, rushes in and gets caught in an armbar. She pushes Becky off to the ropes, follows in and Lynch with an armdrag, going right back to the armbar. Banks attempts to roll her away, Becky maintaining the hold, ducks a right hand and rolls Banks up for multiple 1 counts, then slaps the armbar back on. The Boss creates some separation with stiff forearms, sends Lynch to the corner and charges in, The Lass Kicker hopping up and over, controlling Sasha with another armbar. The Boss backs her into the corner using the hair, briefly breaks clean and tries to sneak in a forearm, Becky avoids it and connects with a springboard kick.
Naomi climbs to the apron and gets dropped back down for her troubles, Lynch turns back to The Boss and rushes in, Sasha side-steps and Becky hits the ring post shoulder-first. Banks planks her across the middle rope and drops down the double knees, taking control as we head to a break….The Boss chokes Lynch on the bottom rope when we come back, Tamina with a cheap shot behind the official's back. The Lass Kicker tries to battle back with forearms, sends Sasha to the ropes for a clothesline, Banks counters into a tilt-a-whirl and cracks her with a backstabber. She rolls through, crosses Becky's arms across her faces and wrenches back, grinding Lynch down to the canvas.
The Lass Kicker powers to her feet with Banks on her shoulders The Boss turns it into a victory roll for a near fall, Becky with a roll-up off the kick-out and she gets 2. She catches Banks rushing in with another roll-up for 2, drops The Boss face-first on the 2nd turnbuckle, then builds momentum with a flurry of clotheslines and a heel kick. She drops a leg, tries for another and Sasha avoids it, planting her with a cross-arm neckbreaker, covering numerous times and only getting 2 counts. The Boss slaps Lynch in the face, Becky comes back with a heavy shot, pushes Sasha to the ropes and throws her with a LassPlex, Banks grabbing the bottom rope at a count of 2.
Sasha kicks her way back to her feet, Becky takes her down with an armwhip, slaps on a cross armbreaker, The Boss tries to roll her way out and Lynch hangs on for the Dis-Arm-Her. Banks switches the momentum into a roll-up for 2, The Lass Kicker hangs onto the arm on the kick-out, going right back to the Dis-Arm-Her, Tamina getting to the apron to distract the referee, allowing Naomi to sneak in and kick Lynch in the face. The Boss takes the opening and scores with the backstabber, rolls through into the Bank Statement and Lynch is forced to tap.
Winner: Sasha Banks (Bank Statement)
EA's Take: Solid showing on our Kickoff match from both ladies, The Boss getting the big win in her hometown with help from the unity of Team B.A.D. Becky's in an odd spot right now, seemingly playing the 3rd wheel between her former Team PCB members, Paige & Charlotte. With performances like this it will be very difficult to keep Becky & Sasha near the bottom tier of the Divas division for much longer, especially if the "We Want Sasha" chants continue.
Open: After Seth Rollins cashed in his Money In The Bank briefcase at WrestleMania, Roman Reigns' luck as it pertains to winning the WWE World Heavyweight Championship has been less than stellar. He finally reached the mountaintop at Survivor Series, winning a tournament to gain the vacant title, only to have Sheamus cash in his Money In The Bank and steal the championship. Tonight, Roman looks for revenge with tables, ladders and chairs.
Match #1 – Triple Threat Ladder Match for the WWE Tag Team Championships: WWE Tag Team Champions The New Day (Big E & Kofi Kingston) w/Xavier Woods vs. Lucha Dragons (Kalisto & Sin Cara) vs. The Usos (Jimmy & Jey)
Xavier joins commentary for this match, the bell rings and the brawl is on, Jimmy & Sin Cara send Big E to the ropes, Jimmy drops down and Sin Cara scores with a dropkick. Jey, Kalisto & Kofi attempt to bring ladders in, Big E clears the ring, pushes back on Kalisto & Jey, then pulls Kingston's ladder inside. New Day stand it up and start to climb, The Usos are there to meet them, toss Kofi outside and then pair-off with Big E & Sin Cara. Kingston & Kalisto climb up opposite sides of the apron, springboard into the ring and land on their feet on the ladder.
The Usos playing defense, everyone takes a turn climbing up with no success. Big E & Kofi get thrown outside, climbs to the 2nd rope on the apron and fly with synchronized moonsaults to New Day. The Usos grab the ladder in the ring, knock The Lucha Dragons off the apron with it, then throw it outside, New Day & Luchas catching it in the air. The Usos hit the ropes and take flight with crossbody planchas onto the ladder, taking all 4 of their opponents out. They head back in and set the ladder up under the titles, Kingston slides in, hops through the middle of the ladder for a dropkick, gets his feet caught and The Usos dump him over the top to the floor. Big E rolls in behind them, pushes the ladder into The Usos and sends Jimmy flying outside.
Kofi smashes him with a ladder as Big E stomps a hole into Jey in the corner, Kingston comes in and they sandwich him behind the ladder. Big E whips Kingston in for a basement dropkick, Jimmy rolls inside and gets caught, E tossing him onto the ladder with an overhead belly to belly suplex. The Dragons are back in the ring and clock Kingston with another ladder, attempt to smash Big E, but he powers them back to the corner. Kalisto climbs to the top, hops through the ladder and lands on Big E with a seated senton, Kofi gets to his feet and drills him with a superkick. Sin Cara goes to the 2nd rope with the ladder, Kingston scales up to meet him, gets knocked down and Sin Cara rides the ladder down into a splash on him.
He takes The Usos out on the outside with a baseball slide into a ladder, hits the ropes and jumps onto the ladder on the floor with a somersault senton on Jimmy & Jey. Kalisto spears Big E with a ladder back inside, sets it up over his prone body and starts the climb up, Big E benchpressing him up, but Sin Cara hops on it to bring it back down. E benchpresses it again with both Luchas on it, Sin Cara falls and gets hanged on the top rope, The Usos slide in and Kalisto jumps off with a crossbody. Jimmy & Jey catch him in the air, Jey plants him with a spinning side slam, then they drop Big E with a double superkick. The Usos prop him in the corner and sandwich him with a ladder, Kingston comes in for a save and gets leveled, Jimmy & Jey charging into the corner with a dropkick to the ladder.
Kofi comes to and elevates Jimmy to the outside, Jey pulls a smaller ladder into the ring, slams Kingston on it then heads up top. Kingston crotches him on the top turnbuckle, climbs up and gets sent back down, getting his foot caught in the ropes and hanging in the tree of woe. Jimmy passes a ladder to Jey and he hammers Kingston, holds it in front of Kofi and Jimmy charges in with the hip attack. The Usos are alone in the ring now, stand a ladder up, The Dragons are their to meet them and we get a staredown before everyone takes a shot at climbing. Sin Cara assists Kalisto into a senton on Jimmy, they place a ladder over his body and Sin Cara flips his partner into a 450 splash on top.
Lucha Dragons now holding the ring and starting to ascend the ladder, Kofi's back in to lay them out with forearms, then planks another ladder between the ropes and the standing ladder. He attempts to drive Kalisto into it, Kalisto slides under, pushes the ladder into Kingston's ribs, springs off of it with a hurricanrana and Kofi hits the ladder head-first, spilling to the floor. Kalisto heads up after the titles, The Usos hit the ring climbing up opposite sides, Sin Cara pulls Jimmy down to the canvas as Kalisto is sent down as well. Kalisto springs back up, climbs over Jey, hooks him for Salida Del Sol and they both go crashing through the planked ladder. Sin Cara climbs upstairs and follows with a somersault senton.
Kalisto & Jimmy drag themselves up the ladder and reach for the championships, Kalisto gets knocked down and Jimmy's all alone. Big E hits the ring to make the save, pulling him down and pushing the ladder over, looks to toss Jimmy to the floor, but he turns tables and E is sent outside. Jimmy attempts a suicide dive and runs into a forearm, E grabs a ladder to bring into the ring and Jimmy hits with a baseball slide. He looks to the corner, scales to the top rope and jumps to the floor onto the ladder, squashing Big E with the Uso Splash. Kalisto stirs around in the squared circle and drags himself up the ladder, Woods leaves commentary, grabs the trombone and throws it into Kalisto's back, Kingston quickly sliding in and flipping him off the ladder to the mat. Kofi climbs up, unhooks the titles and The New Day retains.
Winners and STILL WWE Tag Team Champions: The New Day
EA's Take: Wow, the tag division just spat on the rest of the roster and proclaimed "Follow that!" with this match. Amazing high-spots and some pretty innovative stuff here, Kalisto's Salida Del Sol being the showstealer. This is going to be very difficult for anyone to measure up to the rest of the night and we're just getting started. I think it's a little odd that New Day retained, they're starting to run out of babyface challengers at this point after running through everyone for the majority of 2015. Unless someone's getting called up from NXT, they may end up having to turn themselves.
Match #2: Rusev w/Lana vs. Ryback
Rusev jumps Ryback right at the bell, clobbers him in the back and whips him to the ropes, The Big Guy hanging on and catching Rusev coming in with a back elbow. He sends The Bulgarian Brute to the outside after a shoulder tackle, follows him out and drives Rusev into the barricade before rolling him back in. The Big Guy heads up top and scores with a double axe handle, presses Rusev over his head, drops him face-first and follows with a splash for a count of 2. He rams The Bulgarian Brute back into the corner and fires away, climbs to the 2nd rope for right hands, Rusev powers him out and drops him on the ropes with a hot shot.
He takes control and chokes Ryback on the bottom rope, rams him head-first into the top turnbuckle and drives shoulders to the solarplexes, flattening The Big Guy with a short-arm clothesline. Rusev grabs the neck with a nervehold to ground Ryback, The Big Guy fights to a vertical base, gets clubbed in the back and The Bulgarian Brute hooks him for a vertical suplex. Ryback blocks and they trade suplex attempts back and forth, The Big Guy finally plants Rusev and starts to build a head of steam with multiple shoulder blocks. He squashes The Bulgarian Brute in the corner, Rusev reverses a whip across, charges in and runs into a boot, Ryback following up with a 2nd rope dropkick that gets a 2 count.
The Big Guy's ready to finish it, picks Rusev up and gets driven into the corner, The Bulgarian Brute attempting a splash, but Ryback side-steps and goes to the top rope. He connects with a crossbody that gains a near fall, drops the straps and sets Rusev in his crosshairs for a Meat Hook. The Bulgarian Brute wisely rolls out of the ring and walks off with Lana at his side, Ryback giving chase up the aisle and brings him back by the hair. Rusev breaks the grip with a back elbow, he pushes The Big Guy and he falls back, running into Lana and sending her down. Ryback is distracted, turns around and gets clocked by a superkick, Lana springing to her feet and celebrating after deceiving The Big Guy.
The Bulgarian Brute rolls Ryback in the squared circle and covers for 2, calls for The Accolade, but The Big Guy blocks it, powering to his feet with Rusev on his shoulders for Shellshocked. Rusev slips out of it, scores with a roundhouse to the head, locks in The Accolade to a knocked out Ryback and the official calls for the bell.
Winner: Rusev (The Accolade)
EA's Take: Now don't get me wrong, it's not that this was a bad match. It's just that…who cares? The story was a little absurd heading into it and both of these guys have really fallen off the map in comparison to where they were at the height of their WWE runs thus far. Ryback is still missing something, it's tough to put my finger on exactly what it is. It's certainly not his ability, which you can also say about Rusev as well.
Backstage: Dean Ambrose warms up for his match when Roman Reigns comes in. He tells Dean he was just speaking to The Usos and it's down to them tonight to hold it down for the family. Reigns is excited for tonight, describing how good it will feel to regain the WWE Title and put a hole in Sheamus' head with a ladder. Win, lose or draw, tonight's about making a statement. Ambrose says he had a different vision and that's for both of them to be standing in the ring later as champions.
Match #3 – Chairs Match for the WWE United States Championship: WWE United States Champion Alberto Del Rio vs. Jack Swagger
Ringside is littered with set-up chairs, both guys slide out to the floor after a chair at the bell, roll back in and the duel is on. They drop the chairs and Swagger hits a clothesline, the champion rolls to the outside, The Real American in pursuit and Del Rio tries to drive him into the post, only to get rammed into the steel instead. The challenger bounces Alberto's head off a chair multiple times, back into the ring they go and The Real American looks for the Swagger Bomb, El Patron sticking a chair up and catches him in the throat. The champion scores with a clothesline that gets 1, sends Swagger sternum-first into the turnbuckles, then rams the chair to the ribs and smacks it over his back.
He props the chair flat between the ropes in the corner, the challenger firing away with right hands, Alberto reverses a whip into the chair, The Real American puts on the brakes to avoid it, but Del Rio makes him pay with a backstabber for a count of 2. El Patron hammers the challenger in the back with a chair, sets his sights on a superkick, but Swagger is able to throw the chair in his face to avoid it. He ducks a clothesline, hits the ropes for one of his own, follows with another, then connects with two more in the corners. The Real American wants the Swagger Bomb again, Del Rio gets the feet up, Swagger catches the foot and goes for the Patriot Lock, but the champion is able to kick him away. Swagger rushes right back in and is split with a tilt-a-whirl backbreaker for a near fall, tosses The Real American out to the floor, then throws a pile of chairs onto him.
He sends the challenger back in the squared circle and covers for 2, calls for the Cross Armbreaker, Swagger counters out and sends him shoulder-first into the ring post, follows with a roll-up and nearly gets the 3 count. The Real American pounds Del Rio's back with a chair, wraps his ankle in it and slaps on the Patriot Lock, the champion crawling to grabs the apron, but there's no breaks in this match. El Patron works his way out of the ring using the ring skirting, Swagger ducks his head out to grab the champion and takes a chair shot to the breadbasket. Alberto heads upstairs with a chair-in-hand, The Real American catches him coming down with a slam, finally hits the Swagger Bomb and Del Rio kicks at 2.
The challenger slides to the outside and sends a handful of chairs into the ring, pummels Alberto in the back again, then props him on the top turnbuckle and climbs up. The champion pushes him away, picks the arm and hangs over the ropes with the Cross Armbreaker, releasing the hold on his own accord. He heads back inside and unleashes a barrage of chair shots to the back in the corner, stacks the chairs up under Swagger, climbs up top and delivers tree of woe double stomp for the 1-2-3.
Winner and STILL WWE United States Champion: Alberto Del Rio (Tree Of Woe Double Stomp)
EA's Take: Brutal, physical match between two of the better technicians in the company, showing they can also deliver a good brawl. The chairs were really used to perfection and were a real focal point of the match, which is what you'd expect from a chairs match. I get that Swagger & Del Rio have a history, so it only makes sense for The Real American to be one of the first challengers to Alberto's title. I just don't like that I'm supposed to take Swagger as a serious contender after months and months of being relegated to Superstars, most of the time on the losing end.
Chairshot Classics: 2015 WWE Hell In A Cell
With WWE Hell In A Cell 2020 looming, Eric takes a look back at the 2015 edition featuring The Undertaker vs. Brock Lesnar inside the Cell!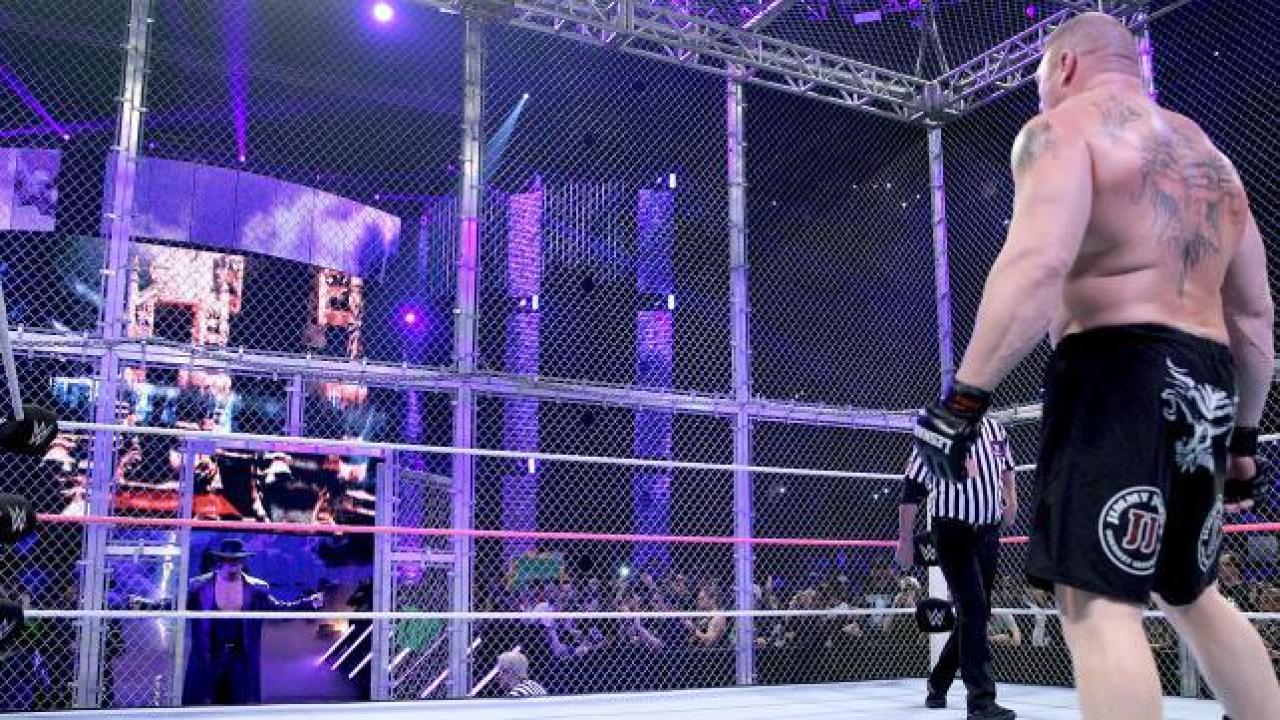 With WWE Hell In A Cell 2020 looming, Eric takes a look back at the 2015 edition featuring The Undertaker vs. Brock Lesnar inside the Cell!
Before you get to Sasha vs Bayley, Roman vs Jey and Drew vs Randy, check out the happenings of the 2015 version of WWE Hell In A Cell, emanating from the Staples Center in Los Angeles!
Kickoff Show Match: Dolph Ziggler, Cesaro & Neville vs. Rusev, King Barrett & 'Mr. Money In The Bank' Sheamus
Stardust & The Ascension are sitting at ringside again with a "Stardust Section" sign. The Man That Gravity Forgot & The Celtic Warrior to kick things off, collar & elbow, Sheamus powers Neville into the corner and goes to the midsection. He whips him into the ropes, Neville slides through the legs and scores with a flurry of kicks, misses a dropkick, then slips out of a slam attempt for an enzuigiri. Cesaro gets the tag, slams Sheamus, goes to all fours and Neville jumps off his back into a corkscrew splash on Mr. MITB that gets 2 for The Swiss Superman. He quick tags back out to Neville, Sheamus sends him hard into the corner and brings in Barrett.
The King fires away a headbutt, quick tags out to Rusev and The Bulgarian Brute pummels The Man That Gravity Forgot. The Celtic Warrior off the tag with more heavy shots, Neville tries to battle back, but Sheamus catches him for a suplex. The Man That Gravity Forgot counters and lands on his feet, gets the tag to Ziggler and he comes in on fire, dropping Mr. MITB with a jumping clothesline. The Show Off splashes Sheamys in the corner, drops him with a neckbreaker and plants an elbow drop to the chest. Dolph knocks Rusev & Barrett off the apron, goes for a Fameasser, The Celtic Warrior catches him into a powerbomb, but Ziggler with a reversal back into the Fameasser for a near fall. Barrett slides in and distracts the ref, Rusev coming in from behind and decapitates Dolph with a superkick, Mr. MITB slides over into a cover and Ziggler kicks out at 2 as we go to break…
The King controls The Show Off with a rear chinlock when we come back, Dolph tries to gain his footing and gets slammed to the canvas by the hair. Barrett maintains control, posting his knee to Ziggler's spine and wrenching back on the arms. The Show Off powers to a vertical base, gets sent into the corner, tries to hop over a charging Barrett and takes a kick to the midsection for 2. Sheamus off the tag with stiff right hands, The Bulgarian Brute takes a turn and stomps away at Ziggler in the corner. He eggs The Show Off on to make a tag, but unloads with clubbing blows when Dolph reaches out. Rusev scores with a kick to the back for a count of 2, The Celtic Warrior re-enters the match and plants Ziggler with a release vertical suplex before going to a rear chinlock.
Dolph battles to his feet and spikes Sheamus with a jumping DDT, Rusev gets a tag and barely prevents Ziggler from making it to his corner. He props The Show Off up in the corner, runs to the other side to build a head of steam and goes to splash Dolph, but misses and hits the ring post. Barrett gets a tag as Cesaro enters, he drops Sheamus off the apron with a big boot, then unleashes a series of running uppercuts to the King, going from corner to corner. The Swiss Superman levels Barrett with a running big boot, the King reverses a whip into the ropes and Cesaro flips himself out to the apron, lifting a boot to Barrett's face. The King Of Swing jumps onto Sheamus from the apron with a somersault senton, runs around ringside and unloads an uppercut to Rusev, then back around to deliver one to Mr. MITB.
Cesaro heads to the top rope, connects with a crossbody back in the ring to Barrett, but only gets a 2 count. The Swiss Superman calls for the Cesaro Swing, Rusev slides in to stop it and takes a back body drop. Neville hits the ring, Cesaro tells him to hit the ropes and sends The Man That Gravity Forgot to the outside onto Sheamus & Rusev. Barrett sets for the Bullhammer behind Cesaro, Dolph slides in and hits a superkick, Cesaro puts him in the swing and Neville tags to finish the King with the Red Arrow.
Winners: Dolph Ziggler, Cesaro & Neville (Neville/Red Arrow)
EA's Take: GREAT opening contest here, the babyfaces get the win, but Cesaro looks like a million bucks coming out of this. I would have preferred to see the heels win with help from either Stardust at ringside or Tyler Breeze, generally I prefer to advance a story when it comes to who wins matches. Certainly one of the better kickoff show matches I can remember seeing though.
Open: "Hell comes in many forms." Tonight, Seth Rollins looks to hang on to his WWE World Heavyweight Title, while Kane looks to keep his job as Director Of Operations. After a controversial finish at SummerSlam, Brock Lesnar & The Undertaker walk into Hell In A Cell seeking revenge in the final chapter of their rivalry. "It all ends…in hell."
In The Arena: WWE United States Champion John Cena heads to the squared circle to a chorus of boos. The champ says he had a long winded speech, but it sounds like everyone's ready to get down to business. The US Open Challenge starts….now. Zeb Colter comes out on a motorized scooter, talking about how some people like Cena and some people don't. He calls Cena a divider and it's time for people from all different countries and backgrounds to come together. More importantly, it's time for John to lose the US Title to this man…
Match #1 for the WWE United States Championship: WWE United States Champion John Cena vs. Alberto Del Rio w/Zeb Colter
Collar & elbow tie-up to start, Cena goes to a side headlock, Del Rio pushes him into the ropes and John scores with a shoulder knockdown. They lock-up again, Alberto grabs a side headlock this time, Cena pushes him into the ropes, leapfrogs over and Del Rio with a kick to the leg that forces John to regroup outside. Loud dueling Cena chants as John goes to the striking game, firing away with right hands in the corner, whips Del Rio across, charges in and Alberto side-steps, going into an armdrag and holding an armbar. Alberto goes back to a leg kick, Cena crawls to the 2nd rope, Del Rio attempts a running senton and misses, spilling to the outside. The champ rolls Alberto back inside, charges at him and Del Rio splits him with a tilt-a-whirl backbreaker for a count of 2.
El Patron heads upstairs, connects with an overhead chop and gains another 2 count before utilizing a rear chinlock. The champion powers to his feet, Del Rio with a kick to the breadbasket and an attempted suplex, Cena blocks and hits one of his own. John climbs to the top, the challenger quickly scales the corner and scores with an enzuigiri, dropping the champion to the canvas for another near fall. Del Rio climbs to the top once more and again hits an overhead chop for a count of 2, then calls for the Cross Armbreaker.
Cena explodes to his feet, flattening Alberto with a clothesline. They exchange right hands, Cena hits his shoulder tackles, plants Alberto with a spinning back suplex and hits the 5 Knuckle Shuffle. He sets for the AA, Del Rio slips out and cracks Cena with a backstabber, follows with a superkick and we have a new champion.
Winner and NEW WWE United States Champion: Alberto Del Rio (Superkick)
EA's Take: What a surprise return, it takes a lot for me to not see something coming and I was stunned, eventhough I knew there had been talks between Del Rio and WWE about coming back. I'm a little shocked at the way that it happened also though, as I feel like the execution was not as it should have been. Cena has had incredible US Title matches during his reign and successfully defended it, but this match didn't quite live up to any of those. Great coup for WWE either way, hopefully they can keep the title relevant as Cena is slated to step away until the end of December.
Backstage: The Authority is watching with enjoyment at the start of the show, Seth Rollins comes in and agrees with them. However, Rollins has some thoughts about tonight when Kane interrupts. He tries to apologize, but Seth isn't buying it and they bicker back and forth. Hunter stops them and says this is a private meeting, Kane's attendane isn't required. Kane wishes Seth luck, telling him he's going to need it.
Match #2 is Hell In A Cell: Bray Wyatt vs. Roman Reigns
Roman strikes first with a kick to the gut and right hands, drives Wyatt into the top turnbuckle and continues to fire away. Bray takes it right back to Reigns, shoots him into the ropes and The Big Dog explodes with a jumping clothesline, then tosses Wyatt with multiple pumphandle throws. He goes for a Samoan Drop, Bray battles out, but eats a big right hand, crawling to the ropes. Roman to the outside, looks for the Drive-By, Wyatt avoids it, but Reigns comes right back with another right hand, this time hitting the Drive-By. The Big Dog introduces Bray to the cage, sends him into the steps, then rolls him into the ring.
The New Face Of Fear rolls back to the outside, goes to Reigns' eyes, then pulls out a kendo stick and goes to work, taking control of the match and swinging away at Roman's back. Wyatt tries to send The Big Dog into the corner, Reigns fights back briefly, but Bray goes to the lower back with the kendo stick again. He clotheslines Roman to the outside using the cane, heads out after him and tosses him into the cage. The Eater Of Worlds finds a chair under the ring, goes to swing at Reigns, changes his mind and instead sits down, whacking Roman with the kendo stick and begging him to fight back. Bray props the chair and cane in the fencing, Reigns with a quick burst of energy, but Wyatt drives him into the cane, splitting it in two.
The Big Dog with another adrenaline rush, hammers Bray with fists and sends him into the chair, then back into the cage. He finds 2 kendo sticks and stalks Wyatt before combining them and unloading to Bray's chest. Roman seeks out a table and slides it in the ring, then pulls out another and sets it up on the floor. Wyatt throws the other table out of the ring, Reigns notices and connects with another Drive-By, setting the other table up on the opposite side of the ring. Reigns pulls himself to the apron, avoids a charging Bray and hits a series of kicks, goes to suplex Wyatt through the table, but gets put through it himself with a one-arm slam.
The Eater Of Worlds rolls Roman in and covers for a count of 2, squashes him with a running senton for another 2. Wyatt dumps Roman to the outside, rushes at him and squashes him into the side of the cell. He pins Roman's head up against the ring post, gains some speed and squashes him again. The New Face Of Fear pulls another table out and slides it in the ring, places Reigns in the corner and drives a knee to the head before setting the table up. Bray props The Big Dog on the top turnbuckle, hooks him for a superplex, Reigns blocks, drops down and powerbombs Wyatt through the table for a near fall. Both guys struggle to their feet, Roman unleashes a flurry of clotheslines in the corner, hits the ropes and Bray catches him for Sister Abigail.
Reigns counters into a schoolboy for a count of 2, then comes right back with a Superman Punch, Wyatt kicking out at 2. The New Face Of Fear rolls out to the apron, Roman goes out to meet him, hitting a Spear off the apron to the floor and going through a table. The Big Dog drags Wyatt into the ring, crawls to a cover and still can't get a 3 count. Roman sets up for a Spear, Bray gets his boot up and plants him with Sister Abigail, but he can't get the 3 either. The Eater Of Worlds goes to the 2 kendo sticks, delivers a shot to the midsection and hooks them up in the turnbuckles like javelins. Bray goes to drive Reigns into it and he blocks, connecting with kendo stick shots, sends Wyatt into the cane instead, then follows with a Spear to get the win.
Winner: Roman Reigns (Spear)
EA's Take: Excellent brawl here with a couple of nice spots. Reigns finally seemingly gains revenge on Bray which makes me wonder if he'll turn his attention back to the WWE Title. I can't find much to complain about with the match, however the "No Color Policy" always seems to put a bit of a damper on these kinds of matches. Cage matches are supposed to be brutal, bloody brawls and these kind of matches make me miss those days.
Match #3 for the WWE Tag Team Championships: WWE Tag Team Champions The New Day (Big E & Kofi Kingston) vs. The Dudley Boyz (Bubba Ray & D-Von)
Prior to the match, Kofi thanks the WWE Universe for all their support towards Xavier Woods. Big E calls today a sad day, almost as sad because the broken trombone is all they have of Woods. They promise to play the drums with D-Von's head and Bubba's belly. Kingston & D-Von kick off the action, Big E provides a distraction and Kofi takes quick control. He sends D-Von into the ropes, D-Von with a jumping back elbow, follows with a diving headbutt and covers for a count of 2. Bubba tags in, The Dudleys with a double shoulder knockdown and double elbow drop for 2, Bubba whips Kofi to the corner and he scales to the top, but gets caught and slammed to the canvas.
New Day collects themselves on the outside, Big E tries to give Kofi another distraction to no avail, Bubba shooting him into the corner for a splash. D-Von back in, The Dudleys go for a double team move and botch it terribly. D-Von whips Kofi into the ropes, ducks his head and eats a kick, Big E tagging in and leveling D-Von with a clothesline. New Day with frequent tags in their corner, taking turns stomping away at D-Von, Big E eventually whipping Kofi into a corner dropkick. Kingston chokes D-Von on the 2nd rope, spikes him with a DDT and covers for a 2 count before going to a wristlock. D-Von battles to his feet, Kofi hits him with a jawbreaker, then drags him to the corner and brings Big E in for a splash that gets a count of 2.
Kingston back in, they set D-Von up for a Wazzup Headbutt, but D-Von kicks Kofi away and crawls to a tag. Bubba with clotheslines to Kingston, elevates him with a back body drop, then scores with lefts and rights to Big E. The Dudleys connect with the Wazzup Headbutt, Bubba is about to call for the tables, but Kofi springboards in the ring, taking them out with a dropkick. He slides out and grabs the trombone, tosses it to Bubba and drops to the mat as if Bubba nailed him with it The ref argues with Bubba and goes to call for the bell, but decides against it because he didn't see it.
Bubba snaps the trombone in half over his knee, D-Von tags and they plant Kingston with a combination back suplex/neckbreaker for a near fall. Bubba tags back in, they call for 3D, Big E slides in and drills Bubba with the trombone behind the ref's back, then disposes of D-Von. Kingston scores with Trouble In Paradise to Bubba, makes the cover and retains.
Winners and STILL WWE Tag Team Champions: The New Day (Kofi/Trouble In Paradise)
EA's Take: Maybe it's just me, but the shine of The Dudley Boyz's return seems to be wearing off already. I'm not sure what move they were going for during the match, but they botched it horribly and couldn't cover for it. I still believe that The Dudleys will get their 10th title run, but the time just isn't right. There are not enough heel teams to justify taking the titles off New Day, not to mention the fact that New Day are arguably the hottest heels in the company.
Match #4 for the WWE Divas Championship – Everyone Banned From Ringside: Nikki Bella vs. WWE Divas Champion Charlotte
They lock-up to start, Charlotte backs Nikki into the ropes, the ref forces a clean break and they tie-up again, this time Charlotte backing Nikki into the corner. Nikki doesn't break clean, charges out of the corner with a clothesline, Charlotte ducks it and scores with a modified neckbreaker. She puts the challenger in the corner, climbs to the 2nd rope and reigns down right hands, Nikki tries to counter to a powerbomb, but the champion reverses with a hurricanrana. Charlotte with more right hands, hits the ropes and the challenger fires a stiff forearm that sends the champion to the outside.
Nikki gives chase, tosses Charlotte out into the crowd, the champion looks to bring the fight back at her and gets caught, Nikki jumping off the barricade with a kick. She drives Charlotte spine-first into the ring post, tosses her into the barricade, then rolls her in the ring for a count of 2. Nikki sticks the point of the knee into the back and pulls back on the champion's neck, drags her to her feet and hits a snap suplex for another 2 count. The challenger goes for a slingshot suplex, Charlotte lands on her feet, delivers a plate of patented Flair chops, Nikki ducks one and goes to a backslide for a near fall, then turning it into a modified facebuster, but still can't get 3.
Nikki uses a single leg crab to punish the champion, breaking it on her own accord. She catapults Charlotte off the ropes down on the knees, covers for 2 and then sends the champion into the corner. Charlotte flips around, explodes out and levels the challenger with a big boot for a near fall. The champion tries a suplex, but her back gives out and Nikki keeps control, continuing to pummel the lower back. The champion ducks a right hand, turns around into a spinebuster and Nikki gets another count of 2 before trash talking Charlotte and slapping her in the face. Charlotte comes back with chops, the ref has to seperate them and Nikki takes advantage, looking for a springboard kick and missing, hurting her knee in the process.
The champion takes the opening planting Nikki and then climbing to the top for a moonsault. Nikki sees it coming climbs up with her for a german suplex and Charlotte lands on her feet, splitting the challenger with a spear. She locks in the Figure Eight, but can't bridge due to her injured back, Nikki crawling to the ropes to force the break. Charlotte charges Nikki and gets dumped to the floor, the challenger following her outside and scoring with an Albama Slam on the apron. She rolls Charlotte back inside, attempts the Rack Attack and the champ counters, locking in the Figure Eight and Nikki's forced to tap.
Winner and STILL WWE Divas Champion: Charlotte (Figure Eight)
After The Bell: Paige & Becky Lynch hit the ring to celebrate with Charlotte, raising her hand in victory.
EA's Take: Finally a good Divas match for the main roster. Not anything on par with what Sasha Banks & Bayley have been doing down in NXT, but I really enjoyed this one. The Divas Division has been begging for a 1 on 1 match like this and while it won't change things overnight, WWE keeps making steps in the right direction. Too bad they couldn't have taken those steps at the beginning of the 'Divas Revolution'.
Backstage: Sitting in the locker room is Roman Reigns when Dean Ambrose comes in offering congratulations on finishing things with Bray Wyatt. Dean talks about them knowing what's next, but Reigns wants to talk about that tomorrow. Ambrose agrees because tonight they'll celebrate.
Match #5 for the WWE World Heavyweight Championship – If Kane Loses, He's No Longer Director Of Operations: WWE World Heavyweight Champion Seth Rollins vs. Kane
The champion has some harsh words for the challenger at the bell, pushes him and ducks a right hand, delivering a series of his own. He shoots Kane into the ropes, ducks his head and The Devil's Favorite Demon spikes him with a DDT, following with a low dropkick. He knocks the champion to the floor with a right hand, goes out after him and drives him head-first into the announce table. The challenger clears the spanish announce table, Rollins tries to scurry away into the ring, hits the ropes for a suicide dive and gets caught, then planted on the floor. Kane rolls him back inside, whips Seth into the ropes and hits with a flapjack.
The Director Of Operations heads to the top, The Architect sees it and drops Kane to the apron, then hangs him on the top rope, dropping Kane to the floor. Seth flies to the outside with a somersault plancha, places The Devil's Favorite Demon on the apron and drives elbows to the throat. Back in the ring, Seth scores with a sling blade that only gets a 1 count, chokes The Big Red Machine on the 2nd rope, then plants him with a neckbreaker that barely gets 2. The champion goes to a rear chinlock, Kane attempts to battle up and Rollins with a kick to the chest. He scales the top turnbuckle, jumps down and meets a big right hand, but side-steps a big boot in the corner.
Seth splashes him and stomps away, runs to the other side to build momentum and scores with a running forearm. The Architect goes to the well again and gets leveled with a clothesline, but again avoids a charging Kane in the corner. Seth climbs up top, Kane catches him with a right hand and then connects with a superplex. The Big Red Machine hits multiple corner clotheslines, attempts a tilt-a-whirl slam, Rollins lands on his feet, hits the ropes and runs into a big boot that gives Kane a 2 count. The Devil's Favorite Demon goes to the top again, the champion runs up the turnbuckle to meet him, gets pushed off and Kane scores with a top rope clothesline. He grabs Seth for a Chokeslam, Rollins slips out and hits an enzuigiri, tries to follow with the Pedigree, the challenger powers out and plants the champion with a Chokeslam, but only gets 2.
He calls for the Tombstone, The Architect slips out and retreats to the outside, Kane in pursuit to drive the champion spine-first into the apron. Kane drops Rollins back-first on the announce table, clears it off and tosses Seth over it. He drags Rollins up, Seth slides out and powerbombs the challenger on the spanish announce table, but it doesn't break. Rollins rolls in the ring and the ref starts his count, Kane making it back in at a count of 8. The Architect goes for another Pedigree, gets tossed to the apron, Seth scores with an enzuigiri, then comes off the top with a flying knee.
The champion goes back up and connects with another flying knee, then lands two superkicks to finally drop the challenger. Seth goes up once more and hits a frog splash, but still can't put The Devil's Favorite Demon away. The champion can't believe it and seemingly has a conversation with himself, goes back over to The Big Red Machine and he gets Seth by the throat. Rollins delivers a kick to the breadbasket, drives Kane into the canvas with a Pedigree and picks up the 1-2-3.
Winner and STILL WWE World Heavyweight Champion: Seth Rollins (Pedigree)
EA's Take: I'm not certain that I'd call this match good or not. I wouldn't say it was bad, but it went exactly the way I figured it would go. There was never any doubt in my mind that Seth wouldn't retain, so this didn't do a whole lot for me. I am glad however that they allowed Rollins to win clean. They've done a good job of weening Seth off of the tainted wins which will serve his character well (not to mention whoever finally beats him) in the long run.
Match #6 for the WWE Intercontinental Championship: Ryback vs. WWE Intercontinental Champion Kevin Owens
The bell rings and The Big Guy goes right at the champion, Owens trying to retreat to the outside, then back in and catching Ryback with boots. KO hits the ropes and runs into a big shoulder, the challenger powers Owens into the corner and drives shoulders to the midsection, lifting him and tossing KO with a back body drop. The Big Guy goes for a military press, the champion slips out, attempts a suplex and Ryback counters into one of his own. He charges KO in the corner, Owens side-steps and Ryback goes shoulder-first into the ring post. The champion looks to take control, Ryback uses his power again and plants Owens with a powerslam, KO rolling to the apron and getting blasted to the floor with a clothesline.
Ryback tosses Owens back inside, puts him in the corner and reigns down rights from the 2nd rope. The champion escapes out, crotches the challenger on the 2nd turnbuckle, following with a running senton for a 2 count. Owens sets his sights on a Cannonball, The Big Guy pops to his feet and catches him in a spinebuster, then puts Owens in his crosshairs for the Meat Hook. KO ducks it, but can't avoid Ryback's powerbomb and the challenger gains a near fall before climbing to the top. Owens has it scouted, dropping the challenger to the apron and then connecting with a superkick, spilling Ryback to the floor.
The Big Guy makes it back in the ring at the ref's count of 9, charges into the ring and gets dropped throat-first across the 2nd rope, KO grabbing him in a schoolboy for a near fall. He sends the challenger into the ropes for a Pop-Up Powerbomb, Ryback counters with a Meat Hook, then lifts him for Shellshocked. KO grabs the ropes to get out of it, goes out to the apron and rakes the eyes, following with the Pop-Up Powerbomb to finish it.
Winner and STILL WWE Intercontinental Champion: Kevin Owens (Pop-Up Powerbomb)
EA's Take: It's officially time for both of these guys to move on. I'll be honest, I completely forgot this match was even on the card and it appears as if most everyone else did too. It shows how much the company really cares about this feud, as they're given the spot between the WWE Title match and the main event. Generally, this spot on the card is the one that gets time taken away from it or cut completely. This rivalry has done nothing for either of these guys.
Match #7 is Hell In A Cell: Brock Lesnar w/Paul Heyman vs. The Undertaker
They meet face to face in the ring, Taker giving Lesnar the throat-cut sign and the bell rings. Lesnar uses his quickness to duck right hands, looks for a german right off the bat, but Taker hangs onto the ropes. The Beast goes to the midsection, drives shoulders into the breadbasket in the corner, The Deadman reverses a whip across and follows in with a clothesline. The Conqueror buries a knee to the ribs, hooks The Phenom for a german suplex again and Taker sends him flying to the outside. Undertaker follows, delivering right hands, Lesnar countering a whip into the cage and he elevates Taker for an F5. The Demon Of Death Valley slips out of it, pushes Brock face-first into the ring post and he's been busted open.
The Phenom uses the cell to his advantage, driving Lesnar face-first into the cage, then pulls a chair out and heads back inside. The Beast is there to meet him, planting Taker into the mat with a double leg, getting his hands on the chair and smashing it into The Deadman's back. Brock falls into the corner and the ringside doctor comes in to check on Brock's cut, cleans him up a little bit and Lesnar takes the chair again, smashing it into Undertaker on the floor. The Conqueror tosses Taker into the cage again, attempts a suplex on the floor and The Phenom blocks, delivering one of his own. The American Badass has been cut now, rolls Lesnar inside, props the chair under his throat and slams down on it, covering Brock for a count of 2.
Undertaker hammers away at Lesnar's cut, shoots him into the corner, Brock rebounds out and ducks a right hand, snapping off a german suplex. The Beast scores with a couple more, elevates Taker and connects with an F5, but The Deadman kicks out at 2. The ringside doctor comes in the ring again to check on both guys, Lesnar tosses the doctor aside and plants The Phenom with another F5, but still can't get 3. The Conqueror goes out to grab the steel stairs, tosses them in the squared circle and clobbers The Deadman for a near fall. He takes the steps again, attempts to slam them on Taker's leg, but he's able to roll out of the way. The Beast goes for it again, Taker kicks him away and the stairs land on Lesnar's head, cutting him open again.
The Deadman locks in Hell's Gate, Brock fires off lefts and rights and pounds Taker into the mat to break the hold. Lesnar notices a rop in the ring mat, tears it open and exposes the boards underneath, allowing The Phenom time to get to his feet, grab Brock and plant him with a Chokeslam on the wood. Taker powers Brock up, spikes him with a Tombstone, covers and The Conqueror kicks out at 2. The Deadman calls for another Tombstone, Brock goes with a low blow, delivers an F5 on the exposed boards and finally ends it.
Winner: Brock Lesnar (F5)
After The Bell: Lesnar gets help getting to the back from Heyman, leaving Undertaker in the ring alone. It takes a couple of attempts for him to be able to sit-up, but he finally does to a loud "Thank You Taker" chant. Undertaker makes it to his feet, but the lights go out and The Wyatt Family makes their way to the ring. They surround the ring, step-up to the apron and go on the attack with Bray watching. Strowman, Harper & Rowan hold The Deadman up for Bray and he continues the beatdown, mocking The Phenom in the process. They carry Taker out of the arena as the show comes to an end.
EA's Take: What an absolute war and rightfully so, the end to this rivalry needed to be done justice and this match provided it. I'm left wondering about the "No Color Policy" I spoke about earlier, as both men get busted open here. I completely understand why they do it, but nobody can sit there and tell me with a straight-face that it didn't add to the drama of this match. This was one of the few times where the match lived up to all of the hype and now we have another classic Lesnar/Taker Hell In A Cell match to go back and watch on the WWE Network.
EA's Finisher: This PPV is one of those "in-betweeners" for me, there were some decent matches and some nice moments, but it was not the greatest thing WWE has ever produced either. The return of Alberto Del Rio was a great surprise and choice to hold the US Title while Cena's away, as long as WWE can capitalize on Del Rio's return. Both HIAC matches delivered to me, especially Taker/Brock as it was an absolute war, the likes of which we don't see enough of at this point in time. The Divas stepped up to the plate tonight finally as well, but the other 3 title matches were nothing to write home about. Owens/Ryback was completely forgettable, the tag match was basic at best and the WWE Title match went exactly how I pictured it would.
Top Three To Watch
1 – Brock Lesnar vs. Undertaker
2 – Roman Reigns vs. Bray Wyatt
3 – Nikki Bella vs. Charlotte