Chairshot Classics: WWF SummerSlam 1990
Eric Ames takes you back to Philadelphia for WWF SummerSlam. Tune in for Ultimate Warrior vs Rick Rude in a cage and Hulk Hogan vs. Earthquake!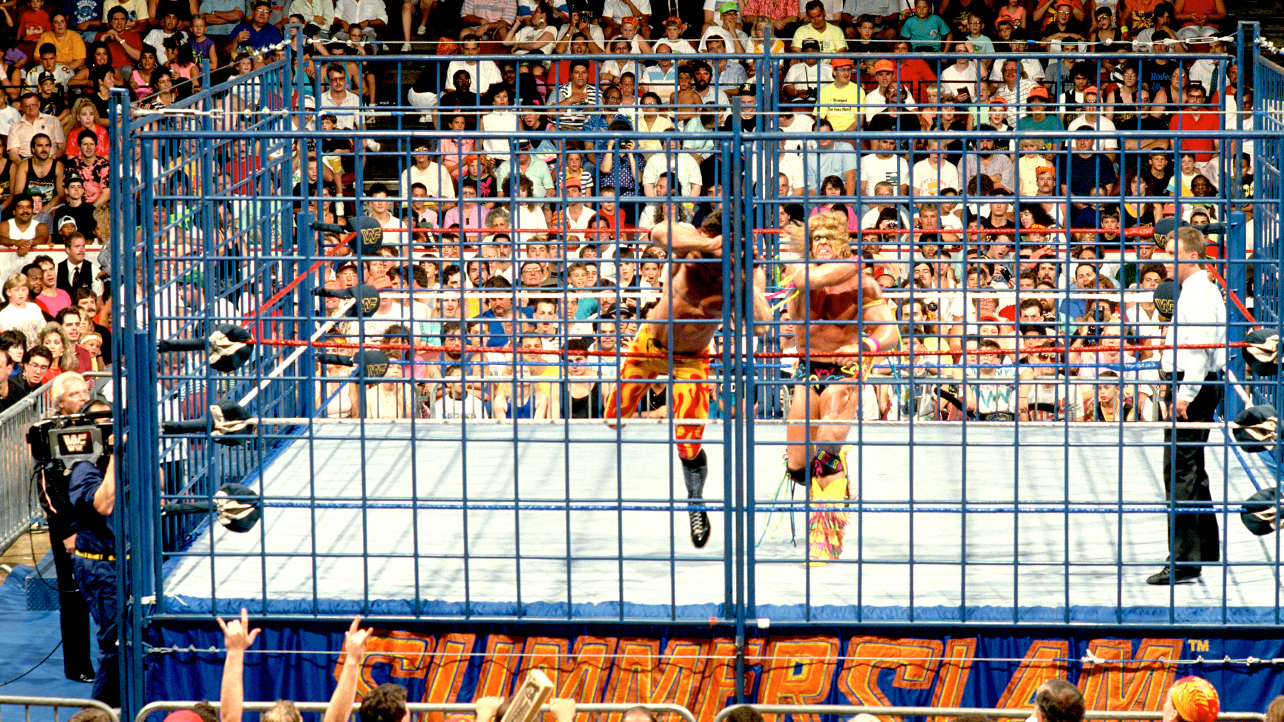 Eric Ames takes you back to Philadelphia for WWF SummerSlam. Tune in for Ultimate Warrior vs Rick Rude in a cage and Hulk Hogan vs. Earthquake!
'The Heat Returns' with WWF's SummerSlam 1990! We're off and running with the new WWF Champion Ultimate Warrior looking to cement himself as the top name in the company, while a familiar foe has his sights set on putting the belt around his 'Ravishing' waist. As for the former champion, he's got the 400+ pound Earthquake in his crosshairs, forming an alliance with an old heated rival to even the odds. Mr. Perfect defends his Intercontinental Title against a replacement for Brutus Beefcake and The Hart Foundation looks to regain tag gold in a 2/3 falls match. Let's get to the action!
Match #1: Power & Glory (Paul Roma & Hercules) w/Slick vs. The Rockers (Shawn Michaels & Marty Jannetty)
The Rockers go after Slick on the outside during their entrance, Power & Glory go outside to meet them, Hercules taking Michaels out at the knee with his chain, Roma rolls Jannetty inside and the bell rings. He pummels Marty in the corner with clubbing shots, Jannetty reverses a whip across, charges in, Roma hops up and over, charges in himself and misses. Marty with a hip toss, catches Hercules with one too, Roma hits the ropes for a crossbody, Jannetty ducks and Herc catches his partner, Marty connects with a double dropkick.
He rams them together with a double noggin knocker, continues to fight them both off, but the numbers catch up to him. Power & Glory hammers away as Slick has the ref distracted, they whip Jannetty in for a double back body drop, he hits Hercules with a kick and rolls Roma with a small package that the referee doesn't see. The ref turns around and counts 2, Herc breaks it up with an elbow drop, Marty dumps him over the top rope and Roma takes the advantage as Shawn finally pulls himself to the apron, only to get dropped by Hercules. Roma whips Jannetty hard into the turnbuckle, fires away with right hands, shoots Marty in for a back body drop, Jannetty with a sunset flip and Roma reaches back to tag out.
Michaels pulls himself to the apron only to get dropped again, Hercules planting Jannetty with a military press slam for a count of 2. Herc goes for a slam, Marty counters into a small package, Roma tagging himself in and he splits Jannetty with multiple backbreakers for a near fall. Jannetty reverses a whip into the ropes, plants Roma with a powerslam, hits Hercules off the apron with a superkick, then climbs to the top for a fist drop. He covers and Hercules comes in to break the count, Roma reverses a whip in, Marty slips out of a slam, pushes into the ropes and Hercules scores with a clothesline from the apron.
Power & Glory now with a double team, sending Jannetty into the ropes and elevating him high in the air for a flap jack. Herc takes the ring and takes Marty's head off with a clothesline, props him on the top turnbuckle and makes the tag to Roma. Power & Glory combines to hit Jannetty with the Power-Plex, Roma puts a boot on Marty's chest and gets the victory.
Winners: Power & Glory (Roma/Power-Plex)
After The Match: Roma rolls Michaels in the ring for the first time, Power & Glory pounding away at the injured knee until a gang of referees come out to restore order. The EMTs come out to the ring and they stretcher Shawn out of the arena.
EA's Take: Paul Roma & Hercules were kind of thrown together as a team and weren't ever meant to amount to much. This match would serve as the most significant moment they'd ever really have. After a beatdown of The Rockers, Power & Glory looked to use them as a stepping stone in the tag team division. Their victory here seems a bit odd and out of place, especially the way that it went down with Michaels not even getting involved in the match. In reality, Shawn was legitimately suffering from a knee injury and this story was used to give him some time off. Upon his return, The Rockers would seek revenge on Roma & Herc
Backstage: Sean Mooney is standing by with WWF Intercontinental Champion Mr. Perfect & Bobby 'The Brain' Heenan. Perfect talks about accepting The Texas Tornado's challenge just 10 days ago, but for a perfect man like himself, he doesn't need a lot of time to prepare. The Brain says if you've seen one, you've seen them all. He believes The Texas Tornado has his head in the clouds, which means his feet aren't on the ground.
Match #2 for the WWF Intercontinental Championship: WWF Intercontinental Champion Mr. Perfect w/Bobby 'The Brain' Heenan vs. 'The Texas Tornado' Kerry Von Erich
Collar & elbow to start, Tornado with the power edge shoves Perfect into the corner, the champion immediately going to the outside to convene with Heenan. Back inside they lock-up again, The Perfect One with an armdrag and he soaks in the accomplishment. Another tie-up and Perfect with a hip toss this time, The Brain wiping the sweat from the champion's brow. Another collar & elbow, the champion backs Tornado into the corner, Tornado reversing a whip across and he hits Perfect with a hip toss coming back out.
He slams Perfect, clotheslines him over the top to the floor and the champion takes a breather. Back inside now, Tornado goes to a wristlock and works over the shoulder joint, Perfect breaking the hold with a clothesline and he takes control with right hands. He snapmares the challenger over, hits his patented neck snap, shoots Tornado into the corner and locks in a sleeper as he rebounds out.
Perfect breaks the hold on his own, placing Tornado in the corner and unloading with right hands while berating him. The challenger with an adrenaline rush, catapults Perfect into the corner, grabs him with the Iron Claw, then lays him out with the Tornado Punch and we have a new champion.
Winner and NEW WWF Intercontinental Champion: 'The Texas Tornado' Kerry Von Erich (Tornado Punch)
EA's Take: In an unlikely turn of events, Mr. Perfect's IC Title reign comes to an end rather abruptly. Originally, Brutus 'The Barber' Beefcake was scheduled to be the challenger, but suffered a legitimate brutal injury to his face in a boating accident and missing nearly 2 years of ring time. The Texas Tornado is Kerry Von Erich is a former NWA World Heavyweight Champion, a Texas wrestling legend and the most promising talent of the famed Von Erich family. After the fall of his father's promotion WCCW, Kerry would stay in Texas for another year and a half before arriving in the WWF in July of 1990. Interestingly enough, Kerry wrestled from 1986 on with a prosthetic right foot that not many people knew about until years and years later. His foot was amputated following a devastating motorcycle crash that nearly took his life.
Backstage: 'Mean' Gene is set to interview Sapphire, but she has yet to arrive to the building. Bobby 'The Brain' Heenan & Mr. Perfect barge in, Heenan beside himself and claiming The Texas Tornado broke every rule in the book. The Perfect One claims he has a lump on his head from the ring post, vowing to be back to claim what's rightfully his.
Match #3: Queen Sherri vs. Sapphire
Sapphire's music plays and she doesn't come out, they play it again, but still no Sapphire. Somebody comes out from the back and gives Howard Finkel some info, The Fink announcing that Sapphire only has 30 seconds to get to the ring or she'll be forced to forfeit. Sapphire still doesn't show and Sherri is awarded the match.
Winner: Queen Sherri (Forfeit)
After The Bell: Gene Okerlund is in the locker room with 'The American Dream' Dusty Rhodes to shed a little light on Sapphire's whereabouts, but he doesn't know. Dusty states they arrived to the building together, but she disappeared 10 minutes later and nobody's seen her. 'Hacksaw' Jim Duggan walks in to inform The American Dream there's still no sign of her, but everyone's still looking. Rhodes talks about his concern with the lavish gifts Sapphire has been receiving lately, but he's tried to stay out of it because it's made her happy.
EA's Take: Usually when I say "Move along, nothing to see here" that means the match wasn't very good. This time, there is literally nothing to see here. This is all storyline as Sapphire has started to become corrupt due to the lavish gifts she's been receiving. In reality, Sapphire would leave the WWF shortly after this. Rumor has it that she was such a Dusty Rhodes mark that when she was told they'd be splitting, she broke down and no longer had a desire to work for the company.
Match #4: The Warlord w/Slick vs. Tito Santana
Tito with a side headlock out of the lock-up at the start, Warlord lifts him in the air and throws him across the ring to break it. They tie-up again, Warlord pushes Santana into the corner, Tito fires out with right hands and goes to a wristlock, Warlord shoots him into the ropes and ducks down, Santana drops an elbow. Tito scores with multiple dropkicks to take the big man down, Warlord rolling under the bottom rope to the outside to huddle up with Slick.
He slides back in and Tito goes back to the wristlock to work over the shoulder joint, Warlord scoops Santana up and slams him, but misses a follow-up elbow drop. Santana hits the ropes, jumps onto Warlord's shoulders and fires off right hands, taking him to the canvas in a pinning predicament for a 2 count. Santana gets tossed to the outside on the kick-out, Slick distracts the referee and Warlord hops outside, ramming Tito back-first into the ring post.
Warlord slides inside and takes the ref's attention, Slick tries to sneak around ringside to nail Tito with his shoe, the referee stops him and Warlord hops out to bring Santana back inside. He clobbers away at the back of Tito, buries right hands to the breadbasket in the corner and whips him across. Warlord rushes into a Santana boot, Tito levels him with a clothesline and covers for 2. He fires off right hands, Warlord reverses a whip into the ropes, Santana ducks a right hand and connects with the Flying Forearm, hooks the leg and Warlord gets a foot on the rope at 2. Tito looks for a monkey flip in the corner, Warlord powers out of it, plants Santana with a running powerslam for the 1-2-3.
Winner: The Warlord (Running Powerslam)
EA's Take: Thanks to Tito Santana, this match was at least watchable. The Warlord is nothing more than just a big guy with a good look and can't work a lick. He was able to hide his deficiencies somewhat when he was in a team, but not so much during his singles run. Both of these guys have pretty well been relegated to the lower portion of the card by this time.
Backstage: Sean Mooney is standing by with WWF Tag Team Champions Demolition. Ax talks about their opponents not knowing which two members will defend the titles against The Hart Foundation. He explains that's the advantage they have and The Hart Foundation will be demolished.
Backstage: Gene Okerlund is in the locker room with The Hart Foundation, Hitman talking about how confusing it's been to not know which members they'll face-off with. Gene wonders what Neidhart thinks, but he doesn't get paid to think. It doesn't matter to him which two it is, he doesn't care. Bret states it's like Phil Collins says, they're two hearts beating as one.
Match #5 is 2/3 Falls for the WWF Tag Team Championships: WWF Tag Team Champions Demolition (Smash & Crush) vs. The Hart Foundation (Bret 'Hitman' Hart & Jim 'The Anvil' Neidhart)
Bret & Smash to kickoff the action, some posturing to start, Smash grabs Hitman by the hand and pulls him towards his corner. Crush looks to enter the ring, the referee thwarts the attempt, allowing Neidhart to come in for a double back elbow on Smash. He counters an irish whip into the ropes, looks for a slam, Hitman slips out and rolls Smash up for a quick 2 count, then takes him over with an armdrag and grabs an armbar. Bret hammers at the shoulder joint, The Anvil with the tag and he maintains the hold. Smash shoots Neidhart into the corner, charges in and misses, The Anvil going back to the shoulder and tags Bret.
Hitman comes off the 2nd rope with a shot to the lower back, takes Smash over with an armwringer and drops a leg, going back to an armbar. Smash powers to his feet, slams Bret to break the hold and tags out. Crush with a slam, tries a follow-up knee drop and misses, Hitman attempts to work over his shoulder, gets sent into the ropes, Bret ducks a clothesline for a crossbody, but gets caught and slammed again. Crush works over Bret in the corner, whips him across, charges in and meets boots to the face. Hitman with a schoolboy for a 2 count, Smash & Neidhart tag in, The Anvil with a side headlock, gets pushed into the ropes and knocks him down with a shoulder. Back into the ropes he goes, Crush with a cheap shot from the apron and Smash takes control before tagging out.
Crush whips The Anvil into the corner, rushes in, gets laid out by a clothesline and we get tags on both sides. Bret with heavy right hands, irish whip into the ropes and he drops Smash with a clothesline, then catches Crush coming in with a dropkick. Hitman gets Smash in the corner, climbs to the 2nd rope to fire off right hands, sees Crush coming from behind and jumps on him, taking him to the canvas with punches.
He hits Smash with an inverted atomic drop, he whips him into his own partner, then plants him with a side russian leg sweep for a near fall. Bret splits Smash with a backbreaker, drops an elbow from the 2nd rope and covers, but Crush drops a leg to break it up. Smash tags out, they connect with the Demolition Decapitation and Crush makes the cover for the first fall.
First Fall: Demolition
Demolition double teams Bret as the referee gets Neidhart out of the ring, order is restored, Crush whips Hitman into the ropes and drives him to the mat by the throat. Smash tags in, plants Bret with a back suplex for a count of 2, then tags back out. Crush snapmares Hitman over and goes to a chinlock, Bret gains a vertical base, but gets dropped by a right hand and Smash re-enters. He drives Bret into the top turnbuckle, irish whip for a right hand, Hitman ducks it and scores with a clothesline.
He crawls to try and tag, Smash hangs on to prevent it, but Bret makes it and The Anvil comes in like a house of fire, laying out both of the champions. He levels Smash with a back elbow out of the ropes for 2, shoots him in again and plants him with a powerslam for another near fall. Bret tags in, The Hart Foundation with a double team spear in the corner, they hit Smash with the Hart Attack, Hitman covers and Crush jumps on the referee to stop the 3 count, but causes a disqualification.
Second Fall: The Hart Foundation
The Hart Foundation celebrate the pinfall, Crush ambushes Bret from behind and he goes spilling to the outside. Neidhart goes to the floor to check on him, Demolition holds the ref's attention and Ax comes running out from the back, hiding himself under the ring.
Smash pulls Bret to the apron by the hair, Hitman with a shoulder to the midsection, slingshots in with a sunset flip and gains a 2 count. He hits an inverted atomic drop, The Anvil comes in for a double team move, Smash ducks away as Crush tries to enter the ring, distracting the referee. Neidhart lays Smash out with a clothesline, lifts Bret in a reverse powerslam and powers Hitman onto Smash with a splash for a count of 2. Hitman sends Smash to the outside with a right hand, Ax switches out behind the referee's back and slides into the ring, clubbing away at Hitman. Bret battles back, shoots Ax into the corner and charges in, but gets flattened by a clothesline.
He slams Bret for a 2 count, plants him with a side russian leg sweep for another 2, then whips Hitman sternum-first into the turnbuckles, Neidhart breaking the count at 2. Crush switches out illegally as the ref gets The Anvil out of the ring, he cracks Hitman with a tilt-a-whirl backbreaker and Neidhart's had enough. The Anvil tussles with Crush in the ring as Ax & Bret battle outside, Smash comes out from under the ring and they double team Hitman, swapping out again. Smash throws Bret back inside and hangs him on the middle rope, the ref finally gets Crush to the apron as The Legion Of Doom make their way to ringside, pulling Ax out from under the ring.
Crush & Smash set-up for the Demolition Decapitation again, Hawk trips up Crush on the top while the ref is busy with Animal. Smash turns his attention to The Legion Of Doom leaving Crush all alone, The Anvil slingshots into the ring with a shoulder tackle, Hitman with the trip and he covers Crush for the win.
Winners and NEW WWF Tag Team Champions: The Hart Foundation
EA's Take: No contest as to what's been the match of the night so far, very entertaining and it was great to involve Ax & The Legion Of Doom. Demolition added Crush as their 3rd member after Ax began having health issues, Crush was eventually to replace Ax full-time. When The Legion Of Doom (the team Vince supposedly created Demolition in the mold of) arrived in June of 1990 after leaving WCW due to heat with Jim Herd, it was an obvious choice for their first rivalry. This would be the 2nd go-around for The Hart Foundation with the tag titles.
Backstage: 'Mean' Gene is back in the locker room with The Legion Of Doom. Animal talks about challenging Demolition week after week, he hopes they have their attention now. Hawk states Demolition have been running over everybody, but they're here to run them over. The Hart Foundation come in, Bret claiming they won't hide behind the titles and will take on all comers.
Backstage: Sean Mooney is outside Demolition's locker room where there's a mighty commotion going on. Mooney reporting that Demolition's anger isn't directed at The Hart Foundation, but Legion Of Doom.
Backstage: Gene Okerlund is now in the interview area with Queen Sherri. The Queen states that Sapphire has been seen throughout the day, but she may be smart to not show up to their match. Sherri has heard some rumors, but she won't spill the beans for Okerlund. On the other side of the intermission, Gene welcomes in Big Boss Man. Boss Man talks about upholding the law in the match between Jake Roberts & Bad News Brown. He states that he's not afraid of snakes or rats and will see justice prevail.
Backstage: Sean Mooney is joined by Nikolai Volkoff & 'Hacksaw' Jim Duggan in the locker room. Duggan talks about presenting Nikolai with the American flag a few weeks ago, but tonight he's proud to have him as a partner. Volkoff is happy to be joined by Hacksaw and calls him an idol, looking forward to meeting The Orient Express tonight.
Backstage: Gene Okerlund is with Earthquake, Dino Bravo & 'Mouth Of The South' Jimmy Hart. Quake claims there will be a disaster here tonight at SummerSlam, last time he was face to face with Hulk Hogan, Hulkster got carried out on a stretcher. Tonight, Hogan makes the most foolish decision of his career by stepping into the ring with him. He wonders where Hulk's friend Tugboat is, reminding us he squashed him with an Earthquake Splash. Dino ensures Earthquake that he will handle Big Boss Man, Jimmy warns that Hogan & Boss Man will be carried out on stretchers side-by-side.
Backstage: Sean Mooney welcomes Jake 'The Snake' Roberts in the locker room, wondering if he's afraid of rats. Roberts states that he's not afraid of rats and Damian is hungry. He wants to know how hungry Bad News Brown is, stating that hunger is what seperates a man like him from a mouse like Brown.
Match #6 – Special Referee Big Boss Man: Bad News Brown vs. Jake 'The Snake' Roberts
Bad News attacks Jake from behind while Boss Man makes his entrance and the bell rings. He whips The Snake into the corner, charges in and Roberts side-steps him, looks for an early DDT and Bad News escapes under the bottom rope. Back in the ring, Jake with an armbar, Bad News breaks it with a right hands, whips Roberts into the ropes for a hip toss, then drops a leg and makes a nonchalant cover for a 2 count.
Brown argues with Boss Man about the count, Roberts gets to his feet behind him and attempts the DDT again, but Bad News rolls outside. The Snake goes out after him, Bad News with a right hand, grabs a chair and spears Jake in the breadbasket with it. Boss Man hops outside to restore order, Brown tosses Roberts back into the ring and whips him hard into the corner. He shoots Bad News hard into the opposite corner, then continues to punish The Snask with right hands, another hard irish whip to the turnbuckles and he follows with a clothesline.
Brown to the 2nd rope for a fist drop, Roberts rolls out of the way, gets sent into the ropes for a back body drop and scores with a knee lift. Jake drops Bad News with a short-arm clothesline, calls for the DDT, but Brown with a back body drop to counter it. He kicks The Snake under the bottom rope to the floor, grabs the chair and again rams it into Jake's ribs, Boss Man calling for the bell.
Winner: Jake 'The Snake' Roberts (Disqualification)
After The Bell: Bad News argues with Boss Man about the decision, Boss Man hops outside to check on Jake and Brown grabs the bag containing Damian. He tries too drop a leg on Damian, Boss Man pulls the bag out of the way and Brown ambushes him from behind. Jake slides in the ring, unveils Damian from the bag and chases Bad News out of the ring.
EA's Take: This was pretty rough right here, none of it really made much sense to me. The feud here was pretty brief and rightfully so, it was made to be about Jake's snake Damian vs. Bad News Brown's 'Harlem sewer rats', although we never got any kind of appearance from the supposed rat. Bad News would leave the WWF following SummerSlam after a dispute with Vince McMahon, claiming Vince never came through on his promises to Brown. Roberts would turn his attention to an 'arrogant' Superstar, looking to deflate his over-blown ego.
Backstage: Gene Okerlund is joined by Demolition, who are still hot over losing the tag titles. They claim The Hart Foundation didn't play fair, needing The Legion Of Doom to defeat them. They vow that LOD will regret the day they walked in Demolition's shadows.
In The Ring: The red carpet has been rolled out in the squared circle for Brother Love. He talks about when the fans were all snot-nosed kids that were told what to do by their parents. Now that they're all adults, they still need someone to boss them around because they are soft. Brother Love introduces his guest and just the man to give the orders, Sgt. Slaughter. The Sarge shakes Brother Love's hand and gives him a big hug, stating there are only two reasons he came to Philadelphia. In his search for the one man deserving of the 'Sgt. Slaughter Great American Award', he Slaughter found that America had become weak. He presents the award to Brother Love, Brother talks about Nikolai Volkoff receiving a much smaller award previously. Slaughter says he's declared war on Volkoff and is not happy that America has accepted 'that commie' into their hearts. Sarge warns that America having his back won't help him as Nikolai is soft like the USA has become. Just like Saddam Hussein will kick the US's butt, he will kick Volkoff's. "And that's…an order."
Backstage: Joining Sean Mooney in the locker room is The Orient Express & Mr. Fuji. Fuji talks about the 'superpower' of the US and Russia joining together to face-off with Japan tonight. He warns Nikolai Volkoff & 'Hacksaw' Jim Duggan that they will show no mercy and will clock Duggan so hard that he has two cross-eyes. Mooney interrupts for some breaking news and sends us to Gene Okerlund outside of a locker room as Sapphire enters, then shuts the door in his face.
Match #7: The Orient Express (Sato & Tanaka) w/Mr. Fuji vs. 'Hacksaw' Jim Duggan & Nikolai Volkoff
Hacksaw & Nikolai sing 'God Bless America' prior to the match, the whole crowd singing along with them. The bell rings and Hacksaw sends out his thoughts to the troops in the Middle East. The Orient Express with an attack from behind, Nikolai & Duggan turn the table and hit atomic drops on both of The Express, bumping them into one another and then booting them out of the ring. Order is restored, Nikolai & Tanaka take the ring, collar & elbow tie-up and Volkoff uses his power advantage to toss Tanaka aside.
Tanaka hits the ropes and runs into a big shoulder, runs into the them again, ducks a clothesline and gets caught attempting a crossbody. Sato climbs to the top rope and delivers an overhead chop to Nikolai from behind. The Orient Express double team Volkoff in their corner, Duggan tries to help, but distracts the ref and Fuji delivers a cane shot. Sato tags in and delivers strikes, tags out to Tanaka who hits the ropes for a splash and misses. Hacksaw gets the tag and unleashes lefts and rights, gives one to Sato coming in, The Express attempts a double team move by shooting Duggan into the ropes and they get leveled by a double clothesline.
Hacksaw with a series of lefts and rights to both, rams them together with a double noggin knocker and drops them with clotheslines. Volkoff enters the ring, they whip The Express into each other from opposite corners, Nikolai disposes of Sato and Hacksaw goes into the 3 Point Stance and flattens Tanaka with a clothesline for the 3 count.
Winners: 'Hacksaw' Jim Duggan & Nikolai Volkoff (Duggan/3 Point Stance)
EA's Take: Complete squash match victory for the new team of Duggan & Volkoff. Nikolai had a change of heart following the fall of the Soviet Union and adopted the storyline of being a liberated Lithuanian. He and Hacksaw would enter into a feud with the retuning Sgt. Slaughter, who had done the opposite of Volkoff and denounced America. The duo would continue to see The Orient Express in competition into late 1990, as The Express sided with Slaughter.
Backstage: 'Mean' Gene is standing outside Sapphire's locker room as Dusty Rhodes pounds on the door for her to let him in. The American Dream doesn't understand what's going on with her, he needs her in his corner, but he has to head to the ring for his match.
Match #8: 'The American Dream' Dusty Rhodes vs. 'Macho King' Randy Savage w/Queen Sherri
'The Million Dollar Man' Ted DiBiase is on a microphone on the other side of the arena with Virgil, talking about how everyone has a price for him. DiBiase states that his money can buy anybody or anything, tonight it has purchased Dusty's humiliation. He introduces Sapphire who comes out wearing a fur coat and expensive jewelry. She has a bag full of money and The MDM explains that he's been showering her with gifts. It's not Sapphire's fault, she had her price. Rhodes tries to make his way after DiBiase, but gets ambushed from behind by Savage in the aisleway.
The bell rings and Macho tosses Dusty back inside the ring, climbs to the top and drops down with a double axe handle. He chokes The Dream, Sherri delivers a cheap shot behind the referee's back and chokes him some more. Macho King unloads with stiff left hands in the corner, the ref forces Savage out and it gives Dusty an opening to turn the tables. He delivers a series of shots himself, drops elbows on the top of Savage's head and then sends him to the outside with a dropkick.
Rhodes goes to the floor after him, Macho puts Sherri in between them and the ref steps out to break it up. Sherri hands Savage a foreign object before sliding in the ring to get Dusty's attention, Macho clocks The Dream with something behind the officials back, covers and gets the W.
Winner: 'Macho King' Randy Savage (Foreign Object)
EA's Take: A pretty disappointing match that should have been a lot better, especially considering the greatness of the workers involved. It's too bad that the finale of this rivalry ended this way, as it was seemingly only used to transition Rhodes into his next feud with DiBiase. Dusty would drop the polka-dots after Sapphire's departure and a new generation of The Rhodes Family would be introduced in the coming weeks to help his father battle the crooked Ted DiBiase. For 'Macho King', he'd look to gain back the company's top prize as we head towards the new year.
Backstage: Sean Mooney tries to get a word from Ted DiBiase, Virgil & Sapphire, he explains that there's nothing his money can't buy. Dusty Rhodes runs to the back, but DiBiase & company load into a limousine and quickly take-off.
Backstage: Gene Okerlund is standing by with Hulk Hogan & Big Boss Man. The Hulkster remembers what it felt like when Earthquake crushed his ribs and the way Dino Bravo & Jimmy Hart enjoyed it, but most of all he remembers the outpouring of support he received from all his Hulkamaniacs. They may have taken out his buddy Tugboat, but tonight he has Boss Man watching his back. This match is dedicated to the 'Tugster'. Another chapter in American history will be written tonight, as they chop Earthquake down like George Washington chopped down the cherry tree.
Match #9: Earthquake w/Dino Bravo & 'Mouth Of The South' Jimmy Hart vs. Hulk Hogan w/Big Boss Man
Collar & elbow tie-up and we have a stalemate, they lock-up again and Earthquake powers Hogan to the mat. Hulk charges into another tie-up and gets pushed back to the canvas, yet another lock-up and Hulk grabs a side headlock, Quake pushing him into the ropes and knocks Hulkster down with a shoulder. Hogan rolls under the bottom rope and has a conference with Boss Man, heads back inside and goes to right hands. Hogan attempts a slam, Quake blocks it and hammers down on the back with double axe handles. Earthquake whips Hogan hard into the turnbuckles, shoots him back across and runs in, meeting a boot to the face.
Hulkster with a clothesline, fires away with chops and right hands, but can't get the big man off his feet. Dino & Hart hop on the apron, Hulk drops them with fists and finally puts Quake on his backside with a big right hand, Bravo & Jimmy get dropped off the apron again and Quake rolls out to take a break. The Hulkster doesn't allow them to regroup, hops outside and goes to work alongside Boss Man. They rolls Dino & Quake into the ring, whip Bravo into the ropes and hit a double big boot, then the same for Earthquake. The referee tries to get Big Boss Man out of the ring, Dino attacks Hogan from behind and hits a double slam with Earthquake, the big man follows with an elbow drop for a count of 2 as order is restored.
Quake climbs to the top rope and comes down with a club to the back, then proceeds to stomp on Hogan's hands before locking in a Boston crab. The Hulkster gains the bottom rope to force a break, falls to the floor and Dino delivers a slam behind the referee's back, Boss Man arguing with the official on the apron. Bravo tosses Hogan back inside Earthquake with a slam, but misses a follow-up elbow drop. Hogan gets back to his feet and attempts a slam, can't hold the weight and Quake falls on top for a 2 count. He puts Hulk in a bearhug, Hogan starts to fade, but finds a rush of adrenaline and breaks the hold with right hands.
He hits the ropes for a shoulder block, then another and he gets the big man reeling, hits the ropes for a crossbody, but Earthquake catches him in the air and plants Hogan with a powerslam. He makes an arrogant cover for a 2 count, then hits the ropes and delivers an Earthquake Splash, but doesn't go for the cover. Earthquake connects with another, gets a count of 2 and Hogan gets another adrenaline boost, Hulking up. Quake's right hands have no affect, Hogan fires off right hands, shoots Quake into the ropes and connects with a big boot.
He finally slams the big man off his feet, drops the big leg, but Dino is on the apron with the ref's attention. Jimmy jumps in the ring and breaks up the cover, Hulk gets ahold of him and presses him over his head, tossing Hart onto Earthquake and they go to the outside. Boss Man disposes of Dino and they brawl, Quake drags the Hulkster to the floor, holds him for Jimmy to deliver a megaphone shot, but Hulk side-steps and Earthquake gets nailed. He slams the big man on a table, slides into the ring and the ref's count reaches 10.
Winner: Hulk Hogan (Count-Out)
After The Bell: Dino & Earthquake hop in the ring as Hulk is celebrating and ambush him from behind, Boss Man slides in with a chair and clocks The Canadian Strongman. Quake holds Hogan in the air with a choke, Boss Man delivers multiple chair shots to the back and Quake finally relinquishes the hold. Dino & Earthquake surround Boss Man, but he pulls out his nightstick and they quickly retreat.
EA's Take: Hulk gains a small measure of revenge after Earthquake (kayfabe) put him out of action with an injury. The fire that raged between these two was really just getting started, as they'd continue to do battle through the end of the year and into 1991 with Dino & Boss Man involved.
Backstage: Sean Mooney is standing by with 'Ravishing' Rick Rude & Bobby 'The Brain' Heenan. Rude demands to be called the next WWF Champion, then speaks about Philadelphia being full of history. The story of Rocky vs. Apollo Creed was Hollywood and this is reality, a steel cage is his kind of match. When the door is slammed on the cage, it will symbollically shut the door on Ultimate Warrior's title reign. The Brain reminds us that Rude has beaten Warrior for a title before, the only difference is this one's in a cage.
Backstage: Dusty Rhodes is with 'Mean' Gene in the locker room, The Dream is overflowing with emotion. He's fine with Sapphire taking the money, but she paid him back in scorn. The people may be wondering when he's going to get mad and get even, that time has come. If DiBiase thinks everyone has a price, he's about to pay a heavy one.
In The Arena: Lord Alfred Hayes is at ringside to give us the details on the steel cage as it's being constructed. The crew is looking to beat their time for putting it together in about 8 minutes.
Backstage: Gene Okerlund is now in the interview area and welcomes in Hulk Hogan, the Hulkster stating the only thing left to do is ride up to WWF President Jack Tunney's office to inform him that Hulkamania is alive. Hogan vows to defeat Earthquake across the country until Tunney makes him the #1 Contender to the WWF Championship. Hulk states there's now 4 demandments; training, saying your prayers, eating your vitamins and now believing in yourself. He plans to ride the "title wave" straight back to the top of the WWF.
Backstage: In the locker room is Sean Mooney, surrounded by an irate Earthquake, Jimmy Hart & Dino Bravo.Quake vows that he's not finished with him and the war has just begun, including Boss Man. Earthquake shows off the marks on his back from the chair, next time Hulk won't be walking out on his own power. Dino talks about Boss Man needing a nightstick and a chair, but still couldn't stop the Earthquake.
Backstage: WWF Champion Ultimate Warrior is with Gene Okerlund, Warrior cracking a joke about Rude, Heenan and the Liberty Bell. He talks about doing what our fore fathers did, stepping into a new frontier when he steps inside the steel cage. He's prepared to make the sacrifice and has no fear of the unknown.
Match #10 is a Steel Cage Match for the WWF Championship: 'Ravishing' Rick Rude w/Bobby 'The Brain' Heenan vs. WWF Champion The Ultimate Warrior
Rude climbs up the cage, Warrior climbs up from the outside and they meet, exchanging right hands, Warrior drives Rude into the cage and he falls to the canvas. The champion comes off the top with a double axe handle, rams The Ravishing One into the cage numerous times, charges in for a splash and tastes the steel himself. The challenger is busted open, scales the side of the cage, Warrior grabs a foot and gets kicked away, Rude coming off the top with a double axe.
The Ravishing One sends the champion into the cage over and over making Warrior bleed, they exchange right hands and Rude gets the better of it. He grinds The Ultimate One's face on the steel, the champion tries to fight back, but takes a boot to the breadbasket. The challenger attempts the Rude Awakening, Warrior powers out and flattens him with a clothesline, looks to follow with a splash, but Rude gets the knees up. He connects with the Rude Awakening, climbs to the top of the cage and comes down with a right hand to the head.
Heenan pleads with Rude to leave the ring, The Ravishing One heads to the top of the cage again, but this time takes a right hand to the ribs on the way down. Warrior crawls for the door, The Brain grabs it and slams it on the champion's head, Rude crawls to a cover and gets a near fall. He grabs a side headlock, The Ultimate One pushes him off into the ropes and they collide heads, both going down. The challenger crawls towards the door, Warrior grabs his foot as Heenan tries to pull Rude out, getting pulled into the cage himself.
The Ultimate One drops Heenan with a big right hand, sends him flying out of the cage with an atomic drop, but turns around into a clothesline from The Ravishing One. The champion with a rush of adrenaline, Rude's blows have no affect and Warrior scores with multiple clotheslines. He presses Rude over his head and drops him, climbs over the cage and mocks the challenger as he drops to the floor.
Winner and STILL WWF Champion: The Ultimate Warrior
EA's Take: We've definitely seen better out of these two in their previous rivalry, which is odd because Warrior is actually somewhat bearable in the ring by now. His previous encounters with Rude & Hogan have really helped him make his matches smoother, provided he has the right opponent of course. The champion would take part in a rivalry including other "brothers in paint" heading into the fall and later stages of the year, while this would serve as the final PPV match in the WWF for 'Ravishing' Rick Rude. He'd take some time off and work a light independent schedule before returning to WCW in the fall of 1991.
EA's Finisher: Meh. That would describe the entire event. You had matches that served little purpose or were meant to get over talent that had very little…well, talent such as The Warlord. Matches that could have and in all seriousness should have been, much better than they were. Perfect & The Texas Tornado could have given us a much better effort had they been afforded more time, the drama surrounding Sapphire far overshadowed the finale between Dusty Rhodes & Savage. I'd imagine Macho was probably not happy about that one as he was notorious for being a stickler when it came to the quality of his matches. Hulk got a little revenge on Earthquake, but it was a count-out victory and the Warrior/Rude match also seemed to be the victim of time. The only match that delivered tonight was by far the 2/3 falls, overall a most forgettable pay-per-view in the annals of history.
Top Three To Watch
1 – The Hart Foundation vs. Demolition
2 – Ultimate Warrior vs. Rick Rude
3 – Hulk Hogan vs. Earthquake
Chairshot Classic: Andrew's 2019 AEW Double or Nothing Ratings & Analysis
Take a look back at AEW's first PPV effort, the 2019 Double Or Nothing in Andrew's Retro Ratings and Analysis!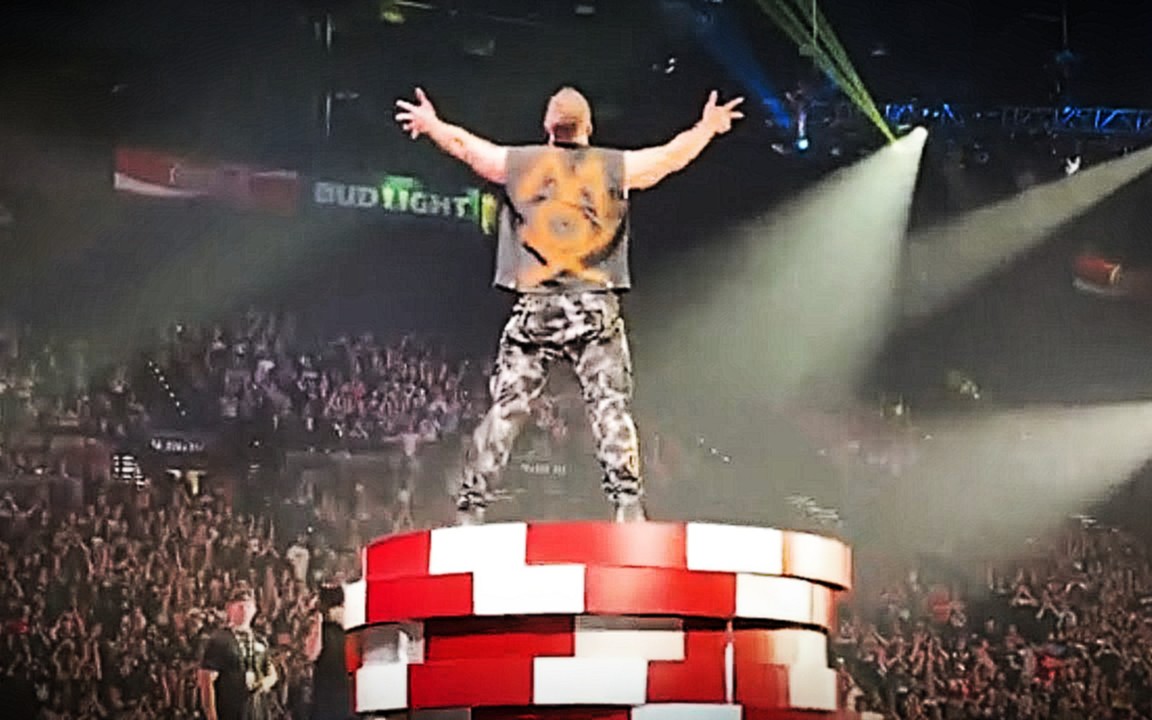 Take a look back at AEW's first PPV effort, the 2019 Double Or Nothing in Andrew's Retro Ratings and Analysis!
With AEW Double Or Nothing–the 2022 edition–on the horizon, enjoy this trip down memory lane as Andrew Balaz reviewed the inaugural Las Vegas AEW pay-per-view…spectacular?
Well this is history boys and girls. Good, bad or indifferent, it's the first show of the IWC's favorite t-shirt company. What becomes of Hangman since he's injured and PAC cancelled? What surprises will we get?
We all sit here with bated breath. Some want it to fail, many want it to succeed. Me? I just want it to not suck.
Let's see what we got!
Ratings:
Casino Battle Royal: Hangman Page wins @10:45 – **
Sammy Guevara vs Kip Sabian: Sabian wins Argentine Facebuster @9:55 – ***
So Cal Uncensored vs Strong Hearts: SCU wins via Best Meltzer Ever @14:00 – *** 1/2
Britt Baker vs Nyla Rose vs Kylie Rae vs Awesome Kong: Britt Bakers wins via Kneecap Brainbuster @11:05 – ***
Best Friends vs Angelico & Jack Evans: Best Friends win via Strong Zero @12:55 – ** 1/2
Riho, Hikaru Shida &  Ryo Mizunami vs Aja Kong, Yuka Sakazaki & Emi Sakura: Hikaru wins via Three Count @13:10 – *** 1/4
Dustin Rhodes vs Cody Rhodes: Cody wins via Crossroads @22:35 – *****
AAA Tag Team Championship: The Young Bucks (c) vs Lucha Brothers: Bucks retain via Meltzer Driver @25:00 – *****
Kenny Omega vs Chris Jericho: Jericho wins via Judas Effect @23:50 – **** 1/4
Analysis:
This was definitely a mess. A few spots, a bunch of messy spots and just generally awkward moments. Flying Brian Jr had a few decent spots, Luchasaurus looked good and Orange Cassidy is awful. Hangman being the 21st entrant made a lot of sense, but probably already upset a few people since it wasn't CM Punk or Jon Moxley. Of course Page won. He can fight with a bum leg, cause he has three of them. So yeah, not an awful match, but it had a lot of issues.
Sabian looked tremendous in this match. Guevara definitely did too much. Shooting Star onto Sabian draped over the outside barricade, a bad double Moonsault and standing Shoot Star hurt the match a little. But Sabian's technically proficient, charismatic and can hang in the air a bit too. So Sabian was the star here. Solid match.
Well now, this was great. Strong Hearts trio pulled off some great fluid offense and SCU did fantastic. This was just a great match, I can't really accurately describe more than great match. Best Meltzer Ever is a little dumb when it comes to names, but damn was this a good match.
So Brandi comes out in her gear to swerve us that she's adding herself to the match, but instead she adds Awesome Kong! So the Triple Threat turns into a Fatal 4 Way and it's not bad. A lot of the early portion is focused on taking out Kong, then Nyla becomes the target. Britt and Kylie are the ones left in the ring after the collateral damage. Kylie looks to be firing up for a finish, but Britt catches her in a Kneecap Brainbuster (Adam Cole's Last Shot in ROH).
Excessive spots, excessive near falls, I knew to expect it to a degree with these four, but that doesn't make it better. This was definitely an 'Indie style" match, but the crowd seemed to enjoy it. There was a lights out attack on both teams from…some team, with masked minions. The "Who Are You" chant kicks up and commentary doesn't lend any information. So that's really not helpful.
Everyone got their stuff in, we got to see a lot of personality from the different women and the action was solid. I also appreciated Emi Sakura trying to rally momentum doing We Will Rock You stomps (since she was dressed as Freddy Mercury). Save for the big mess up with the bell ringer calling the end of the match when the referee obviously held up 2 and said 2, just messed up the flow and gave away the finish since Hikaru's music played. Not bad, just the ending did kind of take the air out of a pretty good match.
Wow. Dustin and Cody brought it, Dustin bladed pretty deep, I think even Dusty would've blushed. New moves from Dustin like the Misawa style Apron Senton, a Code Red and a few classics. The blood, the desire to keep fighting, this was everything wrestling should be. It made sense for Cody to win the match of course, but wow after the match was a beautiful moment. Also call of the night might have to go to Excalibur when Cody hit a Pump Kick aka Bicycle Kick and you hear him say something like " He hit him with a BICYCLE".  In a huge homage to Dustin and Dusty's Heart to Heart promo, Cody tells Dustin he can't retire, because he needs a partner. He doesn't just need a partner, he needs his big brother. This was a great way cap off such a hard hitting personal match. Wow.
Belt reveal with a few extra curricular and Bret Hart. Much like Bret Hart, the belt doesn't do anything for me. It looks a lot like Big Gold, but it's so ostentatious it's hard to love it. Just too shimmery or whatever. It's not bad, but I in no way love the belt.
I'm very happy there was the unveiling ceremony between the Rhodes match and this one. Cause this was a great match and moving it out too quick could've hurt the crowd immersion. Great tandem moves, a decent thread of the ring rust playing a part against the Young Bucks early on and just generally great spots. There definitely was a lot of stuff, big spots and it was "spot monkey" style, but it all worked. The Lucha Brothers pulled out crazy moves to try and get the AAA belts back and the Bucks were trying to prove they still had it with most of the year off. Just really really good.
Well now Jericho and Omega pick back up where they left off. Referee Paul Turner allows for a lot of out of the ring shenanigans. Jericho busts Omega open, tries to use a table as a shield, but Omega still throws himself at Jericho.Jericho focuses on Omega's face with the Triangle Dropkick, a Lionsault went high and this was pretty damn solid. A few missteps and Jericho not countering the first One Winged Angel was car crash worthy, but aside from that, this was nice. Multiple Codebreakers followed by the new Judas Effect, leave Omega laying for the 1, 2, 3.
Jericho says AEW is for him not for fans, and he deserves a thank you. When the crowd pops, Jericho thinks it's for him, but Jon Moxley makes his debut through the crowd! Almost as if it were a reference to Lex Luger showing up on the first Nitro, it looks like Jericho basically says "You don't work here". Dirty Deeds to Jericho, Dirty Deeds to referee Paul Turner and Omega manages a burst of energy to brawl for a little bit. They end up on the poker chips, Moxley hits Dirty Deeds and then just dumps him off, onto some other stage item.
Overall Score: 8.5/10
Well damn, I was skeptical since All In didn't rate as highly for me as other fans, but this was great. Aside from a few personal gripes, and not really enjoying the cluster that was the Battle Royal, this was one of the better shows of the year thus far. Good surprises like Awesome Kong, Bret Hart and Jon Moxley. Jericho winning the main event breaks up The Elite getting the clean sweep, so that shows it's not as predictable as All In.
Oh and yes, I can't express how good the Rhodes match was. The match itself, the story it told, the promo after, everything was just beautiful. That is my number 1 match of the year personally, cause it was just too damn poignant.
Good job AEW. Great show, and the symbolic moment where Cody used the sledgehammer to break the replica throne Triple H used for his WrestleMania 22 entrance. It was awesome.
Chairshot Classics: "Stone Cold" Steve Austin vs. The Rock from WWE Backlash 1999
Ahead of WrestleMania Backlash, Chris King takes a stroll back to WWE Backlash 1999 as Stone Cold Steve Austin defends his WWE Championship against The Rock.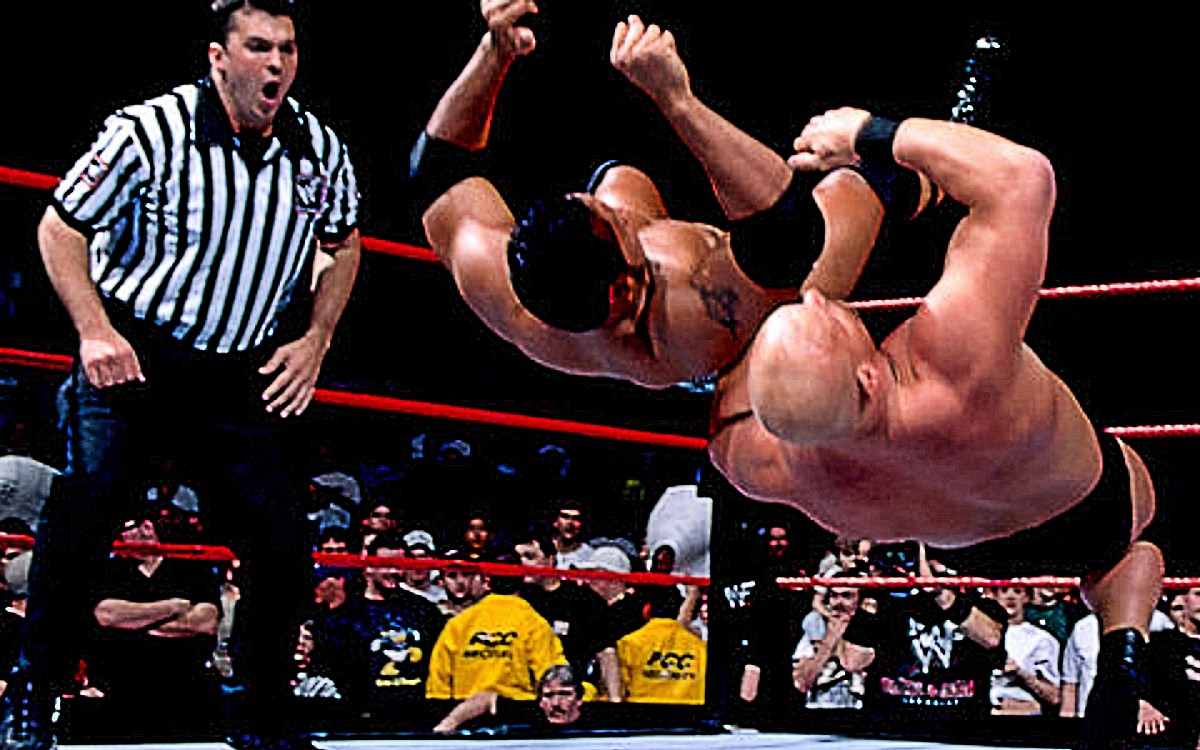 Ahead of WrestleMania Backlash, Chris King takes a stroll back to WWE Backlash 1999 as Stone Cold Steve Austin defends his WWE Championship against The Rock.
Let's set the scene for a minute, you've got "The Texas Rattlesnake" and Corporate Rock going one-on-one at WrestleMania XV. Austin wins the championship and the McMahon family is livid. Stone Cold wants his Smoking Skull Championship belt back, and Vince and Shane McMahon are trying to keep it from him by hook or by crook.
Damn, things were different during the Attitude Era, The Rock threw Stone Cold over a bridge and held a funeral for his rival. The storytelling was captivating and exciting, and it kept you guessing what would happen next. Keep in mind this match was conclusively built around a championship belt, something that would never work in the current product.
It was a high-octane no disqualification match with Shane as the special guest referee for their latest encounter. Austin began the match running straight into the ring for a brawl which spilled out all over the arena.  I miss how exciting these two superstars were. Rock hit a vicious Rock Bottom through the Spanish announce table and then got on commentary to talk some smack.
The arrogant challenger took the camera to talk trash while Austin laid on the other announce table, and ate a Stunner through the table. Man, the WWE Universe was on fire throughout the entire match. I feel like both superstars can't put on a bad match because they have such strong in-ring chemistry.
The finish of the match came when Austin had Rock set up for the three-count but Shane refused to count. Vince came down and struck Shane with the Smoking Skull belt. Austin hit another Stunner and decked the challenger with the belt for the victory. Vince then tossed his rival his precious Smoking Skull Championship.