Andrew's Impact Wrestling Emergence Night 2 Results & Match Ratings 8.25.2020
Night 2 of Emergence! Main Evented by the first Knockouts Ironman Match! Also – #Heath4IMPACT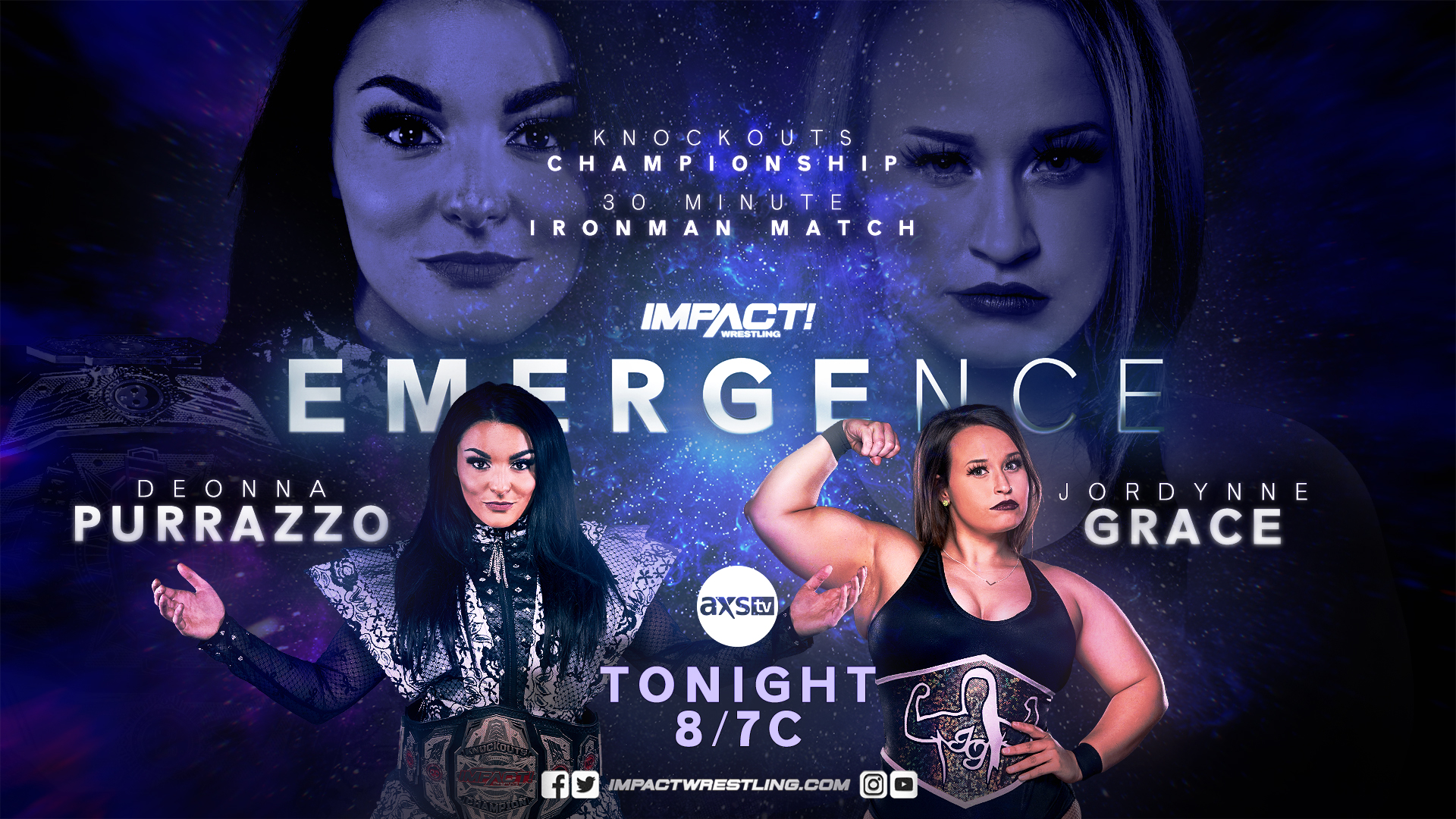 Slammiversary was great, night 1 of Emergence was awesome; so we're setting ourselves up for disappointment tonight, right?
Looking at what we know, the card is a little light. Eddie Edwards open challenge. Big Willie style against Most Professional Myers? Sure the Knockouts Iron Man Match sounds fantastic, but that's only 3 matches for two hours.
Let's see how they fill out the rest of the show, and maybe an impromptu match here or there.
Reply to this with #Heath4IMPACT and show the WORLD that Heath should team with @Rhyno313 next week. #Emergence #IMPACTonAXSTV @HEATHXXII pic.twitter.com/54kx9iNTSX

— IMPACT (@IMPACTWRESTLING) August 26, 2020
Ratings:
Impact World Championship: Eddie Edwards (c) vs RVD w/Katie Forbes: Eddie retains via Boston Knee Party – *** ¼
Brian Myers vs Willie Mack: Myers wins via O'Conner Roll w/tights – *** ½
Knockouts Championship Ironman Match: Jordynne Grace vs Deonna Purrazzo (c): Purrazzo retains 2-1 – ****
Results:
Open challenge kicks off the second night! Rob Van Dam answers the call!
Impact World Championship: Eddie Edwards (c) vs RVD w/Katie Forbes
This match might be the most effort RVD has put into a match since returning to Impact. Eddie starts off hot, a few strikes and Dives rattle RVD, but Katie is there to provide…support? After RVD gets the upper hand, Katie wants a make out session, so that gives Eddie the opening to wipe out RVD.
Realizing her mistake, Katie starts jawing at and being a big distraction for Eddie. Which allows RVD to drape Eddie over the guardrail and hit that Spinning Guillotine Leg Drop as Eddie is over the rail. Now even without Rolling Thunder, we got most of the RVD classics. Split Legged Moonsault, Springboard Side Kick, and even Katie used her ASSets in a running hip attack when the referee wasn't looking.
Things go a little longer, and RVD seems to be a little slow to his Five Star. Eddie dodges the Frog Splash and eats a Boston Knee Party.
Eric Young jumps him after the match, and declares next week is Edwards vs Young.
Everybody knows the famous Chaggatoga, Tennessee right? #Emergence #IMPACTonAXSTV @THETOMMYDREAMER @MrsAIPAlisha pic.twitter.com/c0TEdnZY6w

— IMPACT (@IMPACTWRESTLING) August 26, 2020
Shaga-Toga…I love how Alisha is steering further into the dumb Boston angle. And I need to start hitting people with the Fuji! Swingman reblinds a blind man and has a blindfold match with a clown horn. Dude…this is the best stuff. I am sports entertained.
Rhyno challenges Reno Scum to a tag match, and he wants his buddy Heath. #Heath4Impact
Eddie stomps through the building, comes back out to the ring and calls Eric Young out for right now! Eric Young gives a maniacal promo about being 5 steps ahead, and it's still next week.
Who can defeat Rohit? #Emergence #IMPACTonAXSTV @HakimZane pic.twitter.com/J8AqrWKPHc

— IMPACT (@IMPACTWRESTLING) August 26, 2020
Locker Room Talk with Dez and Wentz as new co-hosts. Guests are Madman and Fulton. If he fits he sits…Dez leaves but Wentz stops him. There's just great stupidity and tension with The Rascalz and two guys that have made Trey's life hell. Fun moments, a nice offer from The Rascalz to Madison to visit the Treehouse.
Sami Callihan promo discusses how RVD lost because he was in his head. Then states he'll be in the ring next week so RVD and Katie know where to find him.
EC3 reflective promo about his first TNA title win over Kurt Angle .Punctuated with him deciding he needs to destroy the championship. The embodiment of what he needs to overcome to FREEC3.
"Destroying this title is the only way I'll be free."

The destruction of the TNA World Heavyweight Championship is the only way @therealec3 can leave the past behind. #Emergence pic.twitter.com/b8bjNgt3hO

— IMPACT (@IMPACTWRESTLING) August 26, 2020
Brian Myers vs Willie Mack
Myers has come in looking damn good. It's surprising what a little bit of time does to allow someone to look like they know how to wrestle.
This was surprisingly close, with Myers wanting to talk about things mid match, causing Mack to shut him up and continue talking crap as he beat on him. As Mack was talking, he attempted his Standing Moonsault, only to prove he may have been talking too much. Myers didn't do anything really flashy, but nice strikes, a great overhead kick, and hints towards old finishers. We saw him go for an Elevated DDT but Willie fought it off and Myers hit the Elbow Drop, but Willie kicked out.
It started looking like Willie was getting the momentum, but push into the ropes, O'Connor Roll with a handful of tights, gives Myers his first AXS era IMPACT victory!
.@JohnEBravo1st FINALLY declared his feelings for @WeAreRosemary but @TheTayaValkyrie is NOT happy. #Emergence #IMPACTonAXSTV pic.twitter.com/ycTdXEkgIM

— IMPACT (@IMPACTWRESTLING) August 26, 2020
Hmm, interesting how Bravo finally man's up and Taya adds a stipulation to the match. That winner takes all, including Bravo. So I'm curious if this is how Taya leaves Impact, since given timelines and Johnny Last Name being back in WWE…one had to figure it was only a matter of time. Hmmm…
Knockouts Championship Ironman Match: Jordynne Grace vs Deonna Purrazzo (c)
We get a well-paced slugfest. Both women do a good job at find spots to pick up the intensity to create hope spots and pushes for a first fall. Deonna starts working on the arms, to set up for her Fujiwara, and newly revealed name for the double Fujiwara that she calls the Venus de Milo. Jordynne however takes an interesting approach. She starts out by wrestling with Deonna, the "best technical female wrestler", and frustrates Deonna for a while.
The interesting aspect here was that Jordynne seemed to be trying to prove something to Deonna. Jordynne focused more on wrestling and submissions, less on her power advantage. The first fall comes from Jordynne and the Rear Naked Choke she pulled out a few weeks ago. This leads to interesting angles in the match.
With only about five minutes left, Deonna is down 1-0. Deonna then drags the referee in the way of a splash, which sets up Deonna getting hit by the Grace Driver, but there's no one to count. Deonna then recovers, gets her belt, hits Jordynne with it when she isn't paying attention, and gets her pinfall to tie up the match.
Looking at only about 3 minutes to go, Deonna starts scrambling and searching for the arm. Jordynne counters a few attempts with pinfalls but as they show us the final fifteen seconds on the clock, Deonna hooks in the Venus de Milo and Jordynne submits with about four seconds left in the match.
Overall Score: 7/10
Now this episode was a tangible step down from night 1 of Emergence, but not bad. There was a lot more story segments, promos, vignettes and non-wrestling action in a row, that the show felt a little odd. While I love Wrestle House, Heath's bid (which yes is a rehash of his SmackDown Free Agent bit, but it's still good), and EC3's angle is compelling tying together a relic of the past that was brought back out to patch up during covid times.
Then we had a great Knockouts Ironman match with a weird finish, but 98% great stuff. I love how Jordynne wrestled and Deonna took a heel shortcut, which aren't the major character descriptors for them.
So yeah, I found the show entertaining, but 15-20 minutes of straight segment or talking promo is a little awkward. At least the wrestling we did get was solid, Myers gets the time in the ring to prove himself to people who don't remember he can wrestle. It's just an odd show man. I enjoyed it, but I don't blame anyone for fast forwarding most portions.