Adam's UWN PrimeTime LIVE Ep. 7 Review 10-27-20
UWN brings us two title matches, one being an AEW rematch & a first round match for their UWN Championship tournament! Let's see what happened!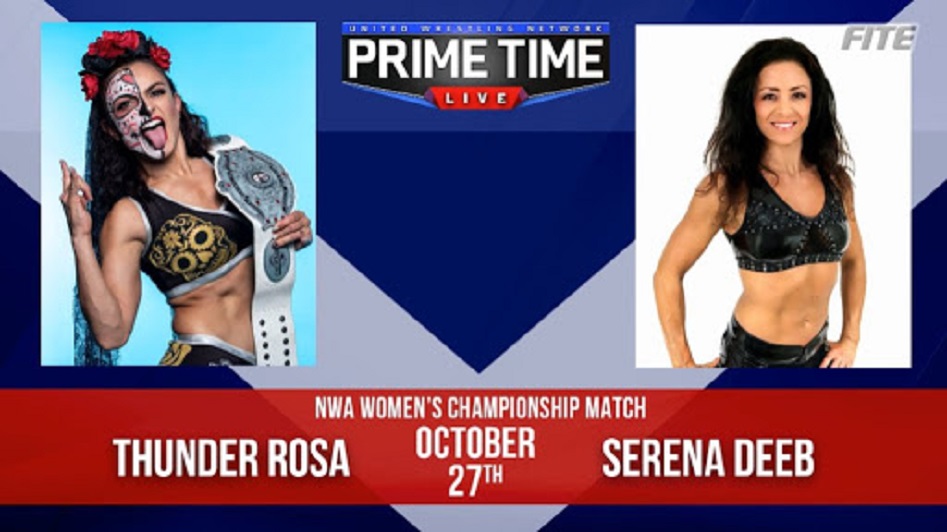 It must be AEW's lucky night with Avalon and Deeb showing up in very high stakes matches, Avalon to try to become the UWN World Champion by progressing past the first round of the tournament and Serena getting a rematch for the NWA Women's Championship from Dynamite weeks ago.
Another day and another good amount of matches on the card so who will we see this week on PrimeTime LIVE?
Results:
Kevin Martenson vs Ray Rosas(c) for the CWFH Heritage Championship:  Ray Rosas wins via Bed of Rosas- *1/2 – TITLE DEFENSE!!
The Bodega vs Real Money Brother$:  The Bodega wins via Bodega Bomb- **
Serena Deeb vs Thunder Rosa(c) for the NWA Women's Championship:  Serena Deeb wins via Roll Up –*** 1/2 –
TITLE CHANGE!!!
Peter Avalon vs Chris Dickinson: Chris Dickinson wins via Burning Lariat- ** 1/2
Review:
Kevin Martenson vs Ray Rosas
The match starts very back and forth, Rosas doing more heel tactics by going into the ropes to separate himself from Martenson. Martenson goes to target the neck and back of Rosas and tries to take to the skies along with a flurry of German Suplexes but, that was the beginning of the end. Rosas sweeps Martenson's legs from under him on the top rope and breaks down his back so he can't do his offense of suplexes and finishes the match up with the Bed of Rosas backbreaker.
The commentary team announces the first rounds of the World Championship Tournament and the tag team action later on until Aron Stevens awkwardly comes out for commentary and keeps repeating that he was robbed from his NWA National Championship and challenges Eli Drake and James Storm for the NWA Tag Team Championships when he can get the Question Mark.
The Bodega vs Real Money Brother$
Since the beginning of the bell, The Bodega takes it to the Real Money Brother$, well… mainly Suge with frequent tags between Limelight and Papo Esco, cutting the ring ring between Suge and Clutch. Finally after taking too much time, RMB gets enough time for the momentum to change with Danny Limelight getting the two on one this time around. After getting the King Fat Boi in the ring with a tag, Real Money Brother$ lose the head of steam they had and The Bodega hit a very… awkward looking Bodega Bomb to score the victory. (And when I say awkward, I mean Limelight hit a short springboard splash and landed on Suge's knees awkward)
Serena Deeb vs Thunder Rosa
Serena takes it early to Rosa at first but Rosa goes to counter and the two begin to take it to the ground and exchange holds, nobody getting the early advantage for a while until the champion gets a little bit of steam. Deeb goes to the corner, takes one body splash in the corner before moving out of the way, dealing a neckbreaker to Rosa in the ropes and getting the momentum shift. Serena keeps this momentum too, making sure Rosa's neck is compromised with a straight jacket hold and more neckbreakers. Rosa gets a little bit of separation after breaking Deeb's Serenity Lock (Neck Crank) and gets the ball—er… Thunder rolling I suppose. Northern Lights Driver but taking too much time after Serena kicks out, doing more neck damage to Rosa with a rapid Swinging Neckbreaker and keeping hold for a traditional swinging neckbreker. Serena getting full advantage against with a unique pinning hold to pin Rosa and going to the Figure Four (because y'know… NWA) and after the pressure goes down, Deeb hits her Hammerlock Clash and only gets a two since Rosa's leg gets on the ropes. Rosa gets pissed and takes it to Deeb on the outside but after a while, Rosa's knee gives out right before she uses the Thunder Driver and Serena played Possum to get the pinfall and we have a new Women's Champion for the National Wrestling Alliance.
Peter Avalon vs Chris Dickinson
They are making this go on for a while? Oh wait… Avalon tried to tell the Dirty Daddy to shush. You don't do that because he doesn't care. Dickinson hits a kick to Avalon's back and after a quick pin attempt, countering a corner move and Avalon hits a leg lariat and takes Dickinson down. We all know that it won't work for long, Dickinson takes full advantage again and overpowering Avalon until the ref gets hit from the Death Valley Driver attempt. Avalon escapes Dickinson and traps Dickinson's leg, swinging a chair while the referee is down, getting an equalizer. Avalon now having the advantage with knee bars, twisting the leg and when there is a rope break, Avalon chop blocks Dickinson to take him back down and puts on a Half Crab to take more damage to the leg. Avalon goes to the top for a moonsault but, his hubris go the better of him and Dickinson moves out of the way so they are equal again. Dickinson get pissed off and even with his leg damaged, he still puts away Peter Avalon with a Burning Lariat, advancing in the tournament.
Overall Score: 6.5/10
Well I wasn't too thrilled with the first two matches in all honesty; the Heritage Championship match felt like it went on too long and the tag match was… okay. I've seen Limelight before and he often gets a little too much with the flight like he did today by overshooting the finish of the match and instead of a short splash on the chest or stomach, he landed on knees and legs instead. At least the last two were good matches, I mean we know Thunder can put on a match and Serena isn't bad at all, after all, as JR said on Dynamite the first time they fought, "That was the best Women's Match on AEW."
I'm more surprised however that the Women's Championship wasn't the main event because speaking of AEW, nobody really cares about The Librarian. They made him look good by taking it to Dickinson's legs, making Avalon a somewhat cunning heel and not the 0-28-2 jobber on Dark. Good on them.