Adam's UWN PrimeTime LIVE Ep. 7 Review 10-27-20
UWN brings us two title matches, one being an AEW rematch & a first round match for their UWN Championship tournament! Let's see what happened!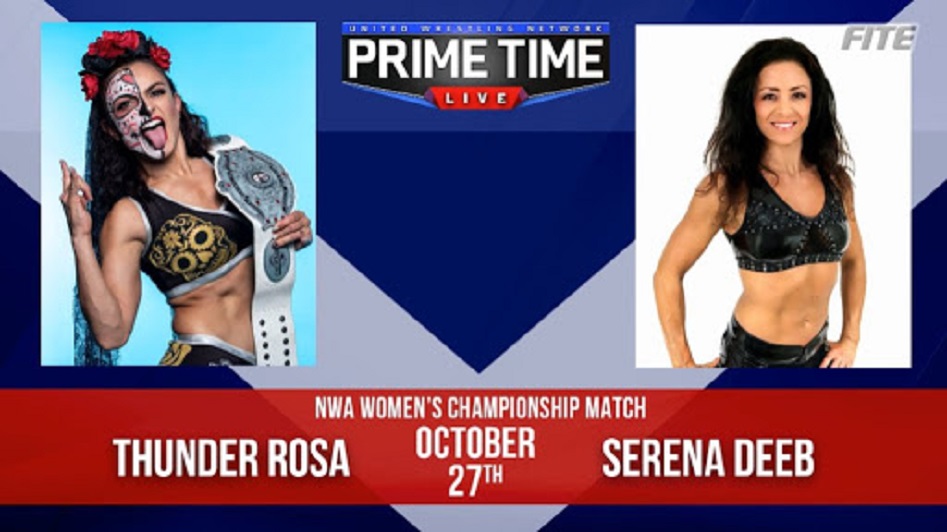 It must be AEW's lucky night with Avalon and Deeb showing up in very high stakes matches, Avalon to try to become the UWN World Champion by progressing past the first round of the tournament and Serena getting a rematch for the NWA Women's Championship from Dynamite weeks ago.
Another day and another good amount of matches on the card so who will we see this week on PrimeTime LIVE?
Results:
Kevin Martenson vs Ray Rosas(c) for the CWFH Heritage Championship:  Ray Rosas wins via Bed of Rosas- *1/2 – TITLE DEFENSE!!
The Bodega vs Real Money Brother$:  The Bodega wins via Bodega Bomb- **
Serena Deeb vs Thunder Rosa(c) for the NWA Women's Championship:  Serena Deeb wins via Roll Up –*** 1/2 –
TITLE CHANGE!!!
Peter Avalon vs Chris Dickinson: Chris Dickinson wins via Burning Lariat- ** 1/2
Review:
Kevin Martenson vs Ray Rosas
The match starts very back and forth, Rosas doing more heel tactics by going into the ropes to separate himself from Martenson. Martenson goes to target the neck and back of Rosas and tries to take to the skies along with a flurry of German Suplexes but, that was the beginning of the end. Rosas sweeps Martenson's legs from under him on the top rope and breaks down his back so he can't do his offense of suplexes and finishes the match up with the Bed of Rosas backbreaker.
The commentary team announces the first rounds of the World Championship Tournament and the tag team action later on until Aron Stevens awkwardly comes out for commentary and keeps repeating that he was robbed from his NWA National Championship and challenges Eli Drake and James Storm for the NWA Tag Team Championships when he can get the Question Mark.
The Bodega vs Real Money Brother$
Since the beginning of the bell, The Bodega takes it to the Real Money Brother$, well… mainly Suge with frequent tags between Limelight and Papo Esco, cutting the ring ring between Suge and Clutch. Finally after taking too much time, RMB gets enough time for the momentum to change with Danny Limelight getting the two on one this time around. After getting the King Fat Boi in the ring with a tag, Real Money Brother$ lose the head of steam they had and The Bodega hit a very… awkward looking Bodega Bomb to score the victory. (And when I say awkward, I mean Limelight hit a short springboard splash and landed on Suge's knees awkward)
Serena Deeb vs Thunder Rosa
Serena takes it early to Rosa at first but Rosa goes to counter and the two begin to take it to the ground and exchange holds, nobody getting the early advantage for a while until the champion gets a little bit of steam. Deeb goes to the corner, takes one body splash in the corner before moving out of the way, dealing a neckbreaker to Rosa in the ropes and getting the momentum shift. Serena keeps this momentum too, making sure Rosa's neck is compromised with a straight jacket hold and more neckbreakers. Rosa gets a little bit of separation after breaking Deeb's Serenity Lock (Neck Crank) and gets the ball—er… Thunder rolling I suppose. Northern Lights Driver but taking too much time after Serena kicks out, doing more neck damage to Rosa with a rapid Swinging Neckbreaker and keeping hold for a traditional swinging neckbreker. Serena getting full advantage against with a unique pinning hold to pin Rosa and going to the Figure Four (because y'know… NWA) and after the pressure goes down, Deeb hits her Hammerlock Clash and only gets a two since Rosa's leg gets on the ropes. Rosa gets pissed and takes it to Deeb on the outside but after a while, Rosa's knee gives out right before she uses the Thunder Driver and Serena played Possum to get the pinfall and we have a new Women's Champion for the National Wrestling Alliance.
Peter Avalon vs Chris Dickinson
They are making this go on for a while? Oh wait… Avalon tried to tell the Dirty Daddy to shush. You don't do that because he doesn't care. Dickinson hits a kick to Avalon's back and after a quick pin attempt, countering a corner move and Avalon hits a leg lariat and takes Dickinson down. We all know that it won't work for long, Dickinson takes full advantage again and overpowering Avalon until the ref gets hit from the Death Valley Driver attempt. Avalon escapes Dickinson and traps Dickinson's leg, swinging a chair while the referee is down, getting an equalizer. Avalon now having the advantage with knee bars, twisting the leg and when there is a rope break, Avalon chop blocks Dickinson to take him back down and puts on a Half Crab to take more damage to the leg. Avalon goes to the top for a moonsault but, his hubris go the better of him and Dickinson moves out of the way so they are equal again. Dickinson get pissed off and even with his leg damaged, he still puts away Peter Avalon with a Burning Lariat, advancing in the tournament.
Overall Score: 6.5/10
Well I wasn't too thrilled with the first two matches in all honesty; the Heritage Championship match felt like it went on too long and the tag match was… okay. I've seen Limelight before and he often gets a little too much with the flight like he did today by overshooting the finish of the match and instead of a short splash on the chest or stomach, he landed on knees and legs instead. At least the last two were good matches, I mean we know Thunder can put on a match and Serena isn't bad at all, after all, as JR said on Dynamite the first time they fought, "That was the best Women's Match on AEW."
I'm more surprised however that the Women's Championship wasn't the main event because speaking of AEW, nobody really cares about The Librarian. They made him look good by taking it to Dickinson's legs, making Avalon a somewhat cunning heel and not the 0-28-2 jobber on Dark. Good on them.
Adam's UWN PrimeTime Live Ep. 4 Review 10-6-20
UWN PrimeTime Live has their fourth episode, with a few named main eventers in Zicky Dice and Elijah Burke. How was the show on a whole though?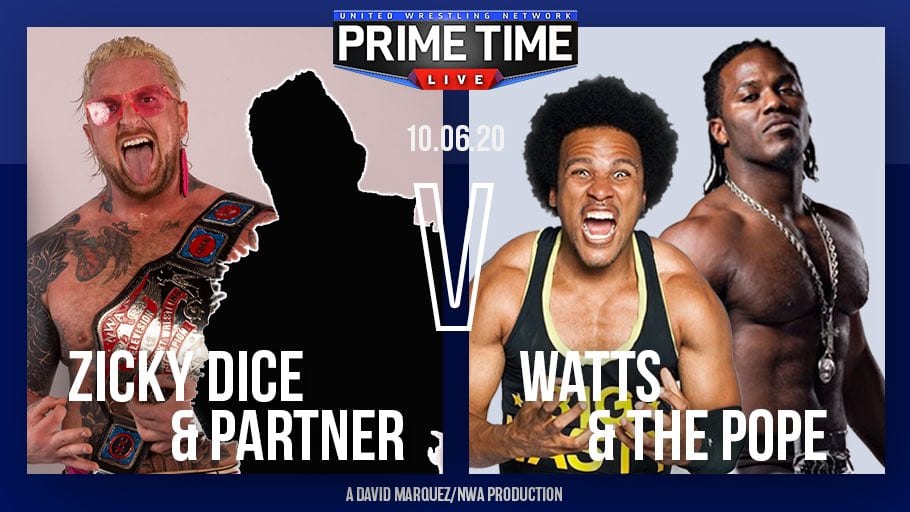 Another day, another United Wrestling Network Primetime Live is out and this… has potential. Love me some Zicky Dice and his outlandishness. Love me some Elijah Burke, D'Angelo Dinero whatever you want to call him because we all know him as the Pope Daddy and Pope is Pimpin' here tonight. We have tag team matches on the card, we have women's wrestling on and some names of the NWA and CWFH out for the main event with Zicky, Pope and Watts along with a mystery partner in the Outlandish One's corner tonight so let's get this party started.
Results:
Levi Shapiro (w/ Howdy Price) vs Bryan Idol: Shapiro wins via "Loaded" Punch – * ¾
Lacy Ryan vs Vipress for the FSW Women's Championship: Lacy Ryan wins via Knee Exploder – ** – TITLE DEFENSE!!
4 Minutes of Heat vs Beef Candy: 4MH win via Power Ballad – * ½
Chris Dickinson vs Max Caster: Dickinson wins via Death Valley Driver – * ¾
The Bodega vs Wolf Zaddies: Wolf Zaddies wins via Zad-isfaction – ** ½
Pope and Watts vs Zicky Dice & ???: Pope wins via Elijah Express – ** ¾
Review:
Levi Shapiro vs Bryan Idol
Bryan starts off fast and not letting up at all against Shapiro with a flurry of strikes, grapples, even going all out with a Slingblade and a suicide dive but if anyone who knows wrestling knows, if you have a manager on your side and you are a heel, there is going to be a some trickery. Idol gets rocked and the momentum goes a full 180 to Levi's side. Idol does come back at some point with a counter in the corner with a flat liner and hits a Moonsault to try to get the victory. Howdy throws a boot in to distract the ref (even if it was behind him and wouldn't be seen in any other form of fighting) and Levi loads up his glove gets the cheap victory.
Lacy Ryan vs Vipress
Both ladies go back and forth with their offense but Vipress gets the upper hand early on, always good to see a good old fashioned Back Rake for the momentum advantage and Three Amigas to take it to Ryan's back. (Sadly at this point, there were some technical difficulties during this so it came back to Lacy and Vipress going back and forth.) We come back and Lacy is going for broke with some of an advantage and attempt a 450 but nobody home as Vipress keeps going to her Sleeper Holds. Lacy Ryan hits her spin out, Knee Exploder for a defense.
4 Minutes of Heat vs Beef Candy
So… both these teams decided to go to the porn for women section for their tag names. I thought I clicked Incognito Mode by mistake. 4MH takes it early and you can tell who they are because their attires look like Harlem Heat and Sean Waltman when he was the 1-2-3 Kid join the Hart Foundation. I can take more jabs but, the match actually isn't awful with 4MH's signature tag move, a Russian Legsweep/ Backbreaker combination. Beef Candy makes a comeback after tossing… actual candy? Eh, at least they use the name properly since this has been longer than 4 Minutes and I can barely feel a sizzle. They come back against Beef Candy with their Powerslam/Neckbreaker combination.
Chris Dickinson vs Max Caster
Max actually has a form of offense against Dickinson after failing to end it quick with the Death Valley Driver. Something you can tell that Chris Dickinson doesn't care about is he doesn't even bother putting the strings in his trunks, he just wants to finish it because he finds his opponent to be a nobody. Caster gets move offense, doing his elbow drop (Mic Drop) signature but, you don't piss off Chris. You don't take him lightly. Step up Enziguri, Death Valley Driver. One, two, three. Come back with a better flow if you want to beat Dickinson.
The Bodega vs Wolf Zaddies
The King Big Boy is sizing up the Zaddies until Limelight wants in and starts losing control of their momentum. Limelight desperately needs a tag a lot of the time to get things in their favor. The Zaddies though get things done and cut the ring, taking care of the big man and then taking out Danny Limelight with a Wheelbarrow Slam/Cutter combination.
Pope and Watts vs Zicky Dice & ???
Zicky goes to insult his opponents at first, asking how the Pope is getting jobs and if Watts was supposed to be here today (he was on today's episode of Dark if you want to go see why that makes sense) but that isn't why we are here. Zicky needs an outlandish, over-the-top, a really Zicky like partner so who better than Effy!
Zicky and Effy actually take it to Watts in their corner and after Watts got disgusted by the um… outlandish flamboyance and Watts takes control, tagging in The Pope but yet again, Effy and Zicky get the advantage again, now against The Pope. Watts and Pope get some advantage after a cradle pin attempt and paying homage to the late great Road Warriors, they hit the Doomsday Device and all hell starts to break loose. When the dust settles and Watts gets to the Pope and he's pimpin' out the punches and Watts and Pope beat down Effy and Zicky but Zicky breaks the punches against Watts. Effy goes to hit The Pope with a big boot but he hits Zicky after Pope moves out of the way. Now that Zicky is out of the way, Pope tells Effy what the 4UP means on his glove strike and takes Effy to the station for the Elijah Express.
Overall Score: 4/10
Ah, what's the old saying? Three is a crowd? What does four make because if having three is bad, the fourth didn't hold up until Pope spoke. The women's match cut out for me a handful of times, the Levi match was very hokey but nothing deviates that from the fact there was a tag team match I had to cover between teams called "4 MINUTES OF HEAT" & "BEEF CANDY". I will let that sit for a little bit… Nothing really brought that special spark until the main event. Yeah, I'm a bit of a new fan to Chris Dickinson now and I like the whole "Somebody provide me with a real challenge" storyline so that's something I like a lot out of the UWN this week and continuing it then with Pope looking to issue a challenge to Zicky for the NWA Television Championship was perfect as well where they did something not many promoters have done. They made 'The Pope' Elijah Burke a babyface.
As far as this one is concerned, this was the meh one like an awkward filler episode to a series because they needed an episode. I need a lot more than four minutes and candy to take this out of my memory bank… Sheesh.
Adam's UWN PrimeTime Live Ep. 3 Review 9-29-20
UWN Episode 3 gives us 2 championship matches, 2 women's matches and a few well known independent names! How was the show?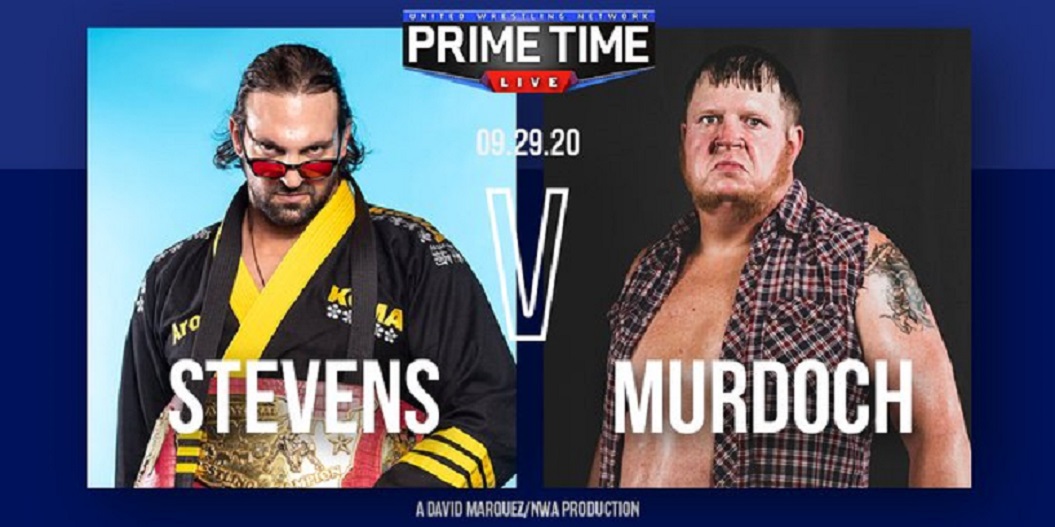 Another day and another episode of United Wrestling Network is out and it's supposed to be a good one. Aron "Shooter" Stevens has a match against Trevor Murdoch for the NWA National Championship and if anyone knows, this is a rematch. Can Aron Stevens get rid of the thorn in his side that is Trevor Murdoch or will Trevor finally get his victory that he deserves?
No Question Mark in his corner and this might be a Ranking Match for Aron Stevens like it's Virtua Fighter, let's get on with the show!!
Results:
Real Money Brother$ vs SoCal Distancing(c) for the United Tag Team Championship – SoCal Distancing wins via Phoenix Splash: *** – TITLE DEFENSE!!
Greek God Papadon vs Remy Marcel- Greek God Papadon wins via Piledriver: **
Anthony Idol vs Chris Dickinson- Chris Dickinson wins via Death Valley Driver: ** ½
Allysin Kay vs Nicole Savoy – Allysin Kay wins via Prawn Hold: ** ½
Cece Chenel vs Ruby Raze- Ruby Raze wins via Backpack Tombstone: * ¾
Jack Cartwright vs Robert Banes- Banes wins via submission: * ½
Trevor Murdoch vs Aron Stevens(c) for the NWA National Championship- Trevor Murdoch wins via Roll-Up: *** 1/2 – TITLE CHANGE!!!
Review:
Real Money Brother$ vs SoCal Distancing
The Real Money Brother$ starts the match taking it to the champions and trying to make this is a light work day by taking down Adrian Quest but after a small distraction from his partner, Andy Brown, the momentum shifts over to the champions. Multiple shifts in momentum, a showing of tag team wrestling on both sides in display and everything but they are the champs for a reason and retain by being one step ahead with a Superman Punch and Phoenix Splash for the victory.
Greek God Papadon vs Remy Marcel
So I've heard of Hades, God of the Underworld; Poseidon, God of the Sea and Dionysus, God of Wine so… Greek God Papadon must roughly translate to God of near falls from the amount of times we had to hear him complain about how the count should have been three. He takes over throughout the entire match though, no matter how loud he wants to be but, Remy does show a lot of impressive high flying offense as well as taking Papadon down but as the old saying says, Icarus flew too close to the Sun and the mighty fall to a classic Piledriver.
Anthony Idol vs Chris Dickinson
Dickinson comes early to take the fight to Idol and Idol actually takes it to Dickinson early with a bunch of power moves in the early going doing spinebusters and Chokeslams. After some good ol' fashion big boy fight, Chris Dickinson takes the advantage one final time and hits him with a nice, hard Dickin……son Driver. Not really much to say about it in all honesty. Dickinson proving he is going to take it to people and look for good competition for himself.
Allysin Kay vs Nicole Savoy
Usually when seeing an Allysin Kay match, I usually see power and brute force during her matches but, this was a very technical match up. Knee bars, grapevine leg locks and just targeting it the leg in general from AK. Granted, Nicole did get a few of her suplexes out and do what she does best but in the end, you can't use power on a bad leg and with a modified version of a leg capture prawn hold, Allysin Kay comes up with the victory.
Cece Chenel vs Ruby Raze
So this is the classic case of David versus Goliath in this match where you have the towering and dominant big person in the match facing the spunky, determined smaller person and… it went like any other time we see this in wrestling . Ruby teases her opponent; Cece tries to be aggressive after getting agitated too many times. Remember when I said this was David vs Goliath? This is if you went back in time and David forgot the slingshot because Cece gets a head of steam going for her and gets put down with a reverse Tombstone.
Jack Cartwright vs Robert Banes
Another case of David vs Goliath and yet another false rendition of the classic tale and don't get me wrong, Cartwright doing flips and cartwheels was impressive along with at one point taking his larger opponent down and landing a Standing Corkscrew Moonsault but, we all know how this happens. I made a bunch of references already to how this match ended with David forgetting his slingshot to beat Goliath and then little David Icarus flew too close to the Sun, missing his Shooting Star Press to fall victim to the choke hold by Robert Banes.
Trevor Murdoch vs Aron Stevens
Aron Stevens… actually fights back in this match up. I mean usually we see Aron run off to make sure his pedometer goal is met when the title has to be defended but, he actually fights back. Murdoch hits Stevens with hard punches and some open hand smacks from time to time to disorient the champion but, Stevens gives his opponent actual offense back by attacking the legs of the big man. Murdoch tries a couple of times to go for the Diving Bulldog but Stevens scouts it every time and makes it so Murdoch is putting more and more damage to his leg. Of course we get some of the desperation moments out of Stevens with him using a spotlight to blind Trevor, using the ropes to his advantage during each hold and even choking Murdoch with the third degree black belt in Mongrovian Ka-Ra-Te (it has been soooo long since I've said that) to get an advantage. Aron Stevens goes for a Sunset Flip to get the win but, you already weakened the man's knees and he's bigger so Stevens got him down right? Yup, made Trevor go and fall… on top of Aron for the stack up and the victory.
Overall Score: 5.5/10
Well out of the three episodes so far, not going to lie, this was the weakest one. I liked Murdoch finally winning the championship off of Aron Stevens and Chris Dickinson is still looking for decent competition, continuing this story. Yes I am praising storytelling like I typically do but when you have back to back squash matches before the main event; it kind of makes the matches… lackluster to say the least. Good wrestling though from a lot of people with a feel good ending for Trevor Murdoch (if you pay attention to my articles or NWA Powerrr, you'll know what I mean), just the back to back squash matches made me a little sour to be fair.
We still have one promoted episode left next week and they floated the concept of the UWN World Championship. Maybe we might see a physical championship or championship match then… who knows. Just doing my job with speculations and analysis.