Adam's WWE Hell in a Cell 2020 Results & Review
Hell in a Cell doesn't have a bloated card and we have 3 cell matches to look forward to! Does WWE knock it out of the park?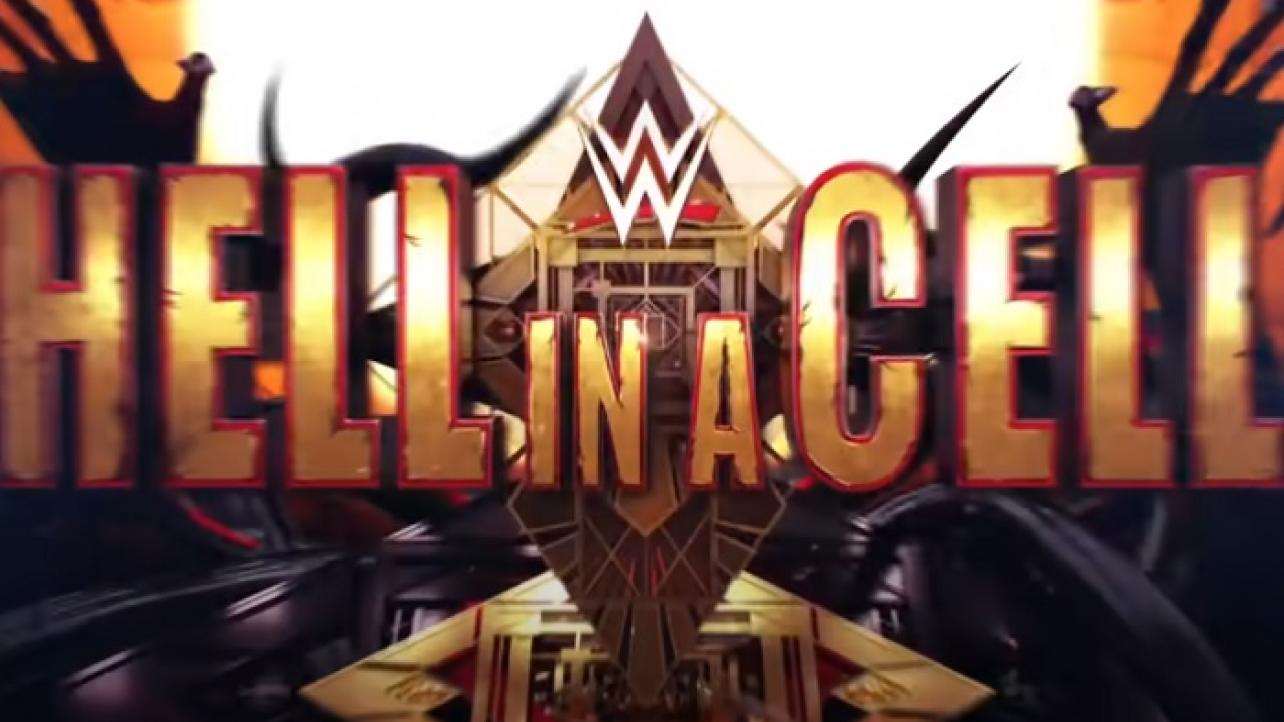 Another WWE Pay-Per-View, another Andrew pulling rank with the Buccaneers playing right now. When will I ever learn since UWN is running beautifully now? Anyway, with five or… well I guess Six with the 24/7 Title being defended on the kickoff show announced during the weekend. Miz winning a trial with JBL for the Money in the Bank briefcase, three Hell in a Cell matches with one in a special added stipulation in an I Quit Match within the Hell in a Cell. Hopefully TB12 doesn't distract me too much from the show… oooo Scotty Miller with—oh wait on the three… Chris Godwin with another Touchdown!
Oh uh… right.
WWE Hell in a Cell. It's… It's that right now.
Results:
Drew Gulak vs R-Truth(c) for the 24/7 Championship:  Truth wins via Jackknife Pin- **–  TITLE DEFENSE!!
Hell in a Cell "I Quit" Match: Jey Uso vs Roman Reigns(c) for the Universal Championship: Jey Uso quit – **** ½ – TITLE DEFENSE!!
Elias vs Jeff Hardy: Elias wins via DQ – **
Otis vs The Miz for the Money in the Bank Briefcase: Miz wins Money in the Bank- ** ½
Hell in a Cell Match: Sasha Banks vs Bayley(c) for the SmackDown Women's Championship:  Sasha wins via Bank Statement- *** ¾ – TITLE CHANGE!!!
Slapjack vs Bobby Lashley for the United States Championship:  Lashley wins via Hurt Lock- * ¾
Hell in a Cell Match: Randy Orton vs Drew McIntyre for the WWE Championship: Randy Orton wins via RKO- **** – TITLE CHANGE!!!!
Review:
Drew Gulak vs R-Truth
So Gulak wanted to have a little fun in the expense of Little Jimmy, doing holds and having him sit on his lap (and no, I'm not joking). Truth actually gets angry and goes after Gulak but, you don't brawl a technician because he'll pick you apart which is what Drew Gulak does best. Truth finally getting a head of steam with a little Five Knuckle Shuffle like his childhood hero John Cena and after getting more of a flurry of speed and offense and after a quick scramble, Truth does to a Jackknife Pin attempt to retain his 24/7 Championship.
Jey Uso vs Roman Reigns
Okay… for everyone reading the review and saying, "Really man? Four plus Stars? He did three spears, there was a leather strap involved. That wasn't a real match." No… That wasn't a match in all honesty. It would be about two stars but everyone loves how Bayley and Sasha had a story? This was a God damn amazing story. Jey had an out, he could have quit and none of this would have happened. The entire thing felt like it was legit and each hit told a story. Roman did enough to take Jey down every now and again to make sure that it didn't go too far. Being stubborn comes with consequences however and Jey wanted to be resilient through and through. Drive by with steps, hell, the Referee wanted to call the match but Roman didn't want that. People wanted to see this work out and Jimmy going out at the end of it, getting choked out and having Jey quit the end of the match to protect Jimmy. Roman wins, all hail the Tribal Chief. Don't believe that? The Wild Samoans do because they gave Roman the lei of being Head of the Table.
Elias vs Jeff Hardy
So after Elias sings about Jeff Hardy hitting with the car from the story five months ago, Jeff interrupts him and starts the match. Very typical Jeff and Elias wrestling match, Jeff high risk and Elias with some power to his offense. After an awkward looking Electric Chair Powerbomb and one of Jeff's better looking Whispers in the Wind, Elias rolls out of the ring to dodge a Swanton Bomb attempt and grabs the guitar. Jeff sees this, stops him and out of frustration, hits him with the guitar. I guess he misheard guitar with car but whatever, feud continues.
Otis vs The Miz
Otis getting his high powered offense and getting his own music so all things are looking big boi in this one right? Oh Morrison is getting involved I guess that this isn't all Otis. Otis is coming back after getting hit with "It" Kicks, I guess this is Otis' match because of the… and in the corner with Morrison hitting him with the—WAIT THE REFEREE SAW THAT WAS GOING HAPPEN?! MORRISON IS KICKED OUT?!?!?! Oh my God, Otis might actually win. Oh wait, there we go. Ashes to ashes. Dust to Dust. Tucky hit Otis with the briefcase to prove he is a bust.
Sasha Banks vs Bayley
Sasha taking out her frustration and anger early on, kicking the symbolic steel chair out of Bayley's hands and outside of the cell. Sasha taking it to Bayley heavy until Bayley begins to target Sasha's neck more and more, even grabbing her neck constantly from it but Sasha doesn't give up at all. Spraying a fire extinguisher in Bayley's face to cause separation, hitting a Meteora to the outside on a table and still fighting to the end. Bayley trying to get innovated with weapons in and out of the ring, taping Kendo sticks together, using them to clothesline and hit Sasha in the throat, it becomes more and more devilish as it goes on. Desperation and frustration, Sasha doing a Bayley to Belly on a Ladder but even then, it's not even enough to put Bayley away. The chair however, is the end of the match. The chair that signified the injury that Sasha had to the neck… put Bayley away with a Bank Statement, chair wrapped around Bayley's neck and stomping on the leg to close around Bayley's neck for the victory.
Slapjack vs Bobby Lashley
I guess we need a little bit of filler since we had a handful of matches named on the card so… sure? Bobby and Shane Th—Slapjack… sorry, will fight for the United States title match but it's like picking meat off of the bone. Slapjack gets a little offense in when Bobby gets a little too cocky and not care of this fight. Slapjack goes to the top rope and gets caught and launched off. Much like clockwork, Spinebuster and Full Nelson. Lashley retains. The mighty might kneel but, not the Almighty.
Randy Orton vs Drew McIntyre
Randy goes to attack Drew early, both men outside of the cell and beating each other up until Drew throws Randy in the ring and the cell is locked for this to start. Drew since the bell rang is dismantling Orton early on, bashing and breaking Orton's back on the cage walls. Drew getting his frustration and throwing the steps into Randy but Randy moves, dodges a Claymore attempt and swinging a chair at the leg of McIntyre and digging the steel chair into Drew's jaw.  Orton with control now and goes for Drew's jaw, head and neck as he beats and breaks McIntyre down more and more. Orton getting his licks in, breaking and hitting Drew hard but McIntyre gets a new head of steam going to take it to Orton, dropping Randy Orton down with a neckbreaker and attempts a Fireman's Carry maneuver but, Orton slips out to the outside, getting momentum and tossed through a table set on the outside. More back and forth, more destruction and carnage is dealt and Randy breaks the chain to get the cell unlocked, bluffing a leave but climbing to the top of the cell. Drew sees this and answers to the top of the cell for the Hell to become even more… well… Hell.
Orton swings a pipe at Drew but misses and takes Orton down with a takedown. Orton hits Drew low and proceeds to climb down but McIntyre catches up to Randy, fighting on the side of the Cell until Orton strikes McIntyre's arms and back to make him lose balance and the champion goes through the announce table. Drew actually begins to crawl away after a while and Randy looks, somewhat confused and impressed with the fact that he is still moving. They get back to the ring, Randy is stalking, coiling and… McIntyre somehow hits a Claymore to counter the RKO after trying to replicate the SummerSlam, backslide finish. McIntyre goes to the corner after, readying the Claymore but Orton watched the Peanuts recently and moved himself to hit the RKO to win his fourteenth WWE Championship with a third Hell in a Cell.
Overall Score: 8/10
Um… this was surprisingly very put together. This was a lovely Pay-Per-View, amazingly done. Nearly heaven-sent… which ironic that it's Hell in a Cell. Had to throw the joke, so sue me. – Editor's Note: He thinks he's Funny
That was perfectly done with the Tribal Chief story, granted the story we made on DWI with Bayley and Banks but it was pretty well done. The only thing that I have to double check is the year because I don't know if Vince knows. Miz with the Money in the Bank, Randy as the WWE Champion… is this 2020 or 2010? It's near the same time Miz cashed that in November that year. That is the next month and to be specific, November 22nd which happens to be the same date for Survivor… Series. Foreshadowing?
Ah who knows. I'm a writer for Chairshot, not WWE and we shall see what will happen on RAW and forward.